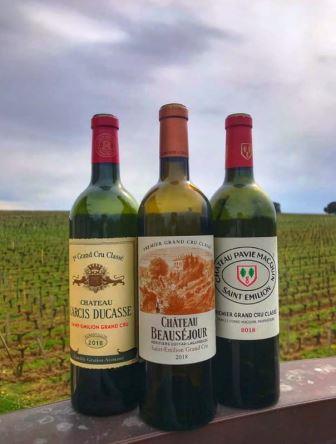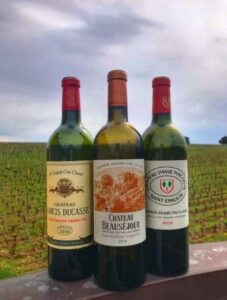 2018 Saint Emilion was not an easy vintage for producers. The winter months were easy, but the spring is one of the wettest in history. Depending on where you located in St. Emilion,during the initial 6 months of the year, between 550 mm to 600 mm (21″-24″) of rain soaked your soils. This is more than the normal amount of rain the region experiences in a year!
From there growers fended off violent attacks of mildew, which struck fast and furious. 2018 Saint Emilion was saved by the hottest, driest, sunniest vintage conditions since 2003. Barely any rain fell from July to harvest.
Picking took place under warm, sunny and dry conditions. On average, production was down 10-20% for many vineyards. Conditions were so good between late September and mid October, vignerons were able to pick at their chosen level of maturity. Harvesting took place from mid September to mid October. If you want to read details on the 2018 Bordeaux vintage 2018 Harvest Report
The terroirs that were able retain enough moisture to feed the vines produced incredible wines. The peak of the limestone plateau, the gravels next to Pomerol and deep clay soils found in communes like Saint-Christophe-des-Bardes were the most favored terroirs this year. For many soils, especially sandy terroirs, there was not enough water to allow the grapes to reach full desired levels of ripeness.
At their best, 2018 Saint Emilion are just great! Across the board the wines are deeply colored. They are concentrated, ripe, opulent and velvety on the palate. Many are alcoholic. But the top estates held everything in check, maintaining balance between ripeness and freshness. There are wines that pushed the envelope, and as you can see from my comments, they can be over the top.
But if you focus on the wines from the better terroirs, there are numerous gorgeous examples of wines that belong in your cellar. More importantly, there are several wines that are score in the mid 90 Pt range, with beautiful styles that are selling for $30 or less! Wine lovers and value seekers should be all over those wines, supporting their efforts.
With close to 600 wines tasted, you can expect more 2018 Bordeaux reports for every major appellation to be published daily. In a day or so, we will release our report on the best value wines from several regions including the Cotes de Bordeaux, Fronsac, Bordeaux Superieur and more.
The following wines were tasted between late March and early April 2019 in non-blind conditions. Several wines were tasted more than once, with consistent results.
2018 Saint Emilion Tasting Notes
2018 Adaugusta – Fruity, medium-bodied, soft, easy-drinking, round-textured expression of earth, licorice and cherries, which will be charming on release. 88 – 90 Pts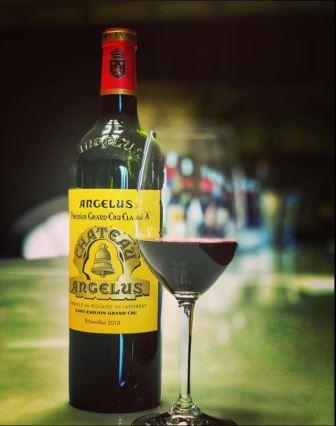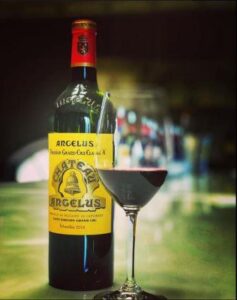 2018 Angelus – Opaque in color, the nose sense just picked black raspberries, wet earth, smoke, licorice, flowers and liqueur of blackberry. On the palate, the wine balances power, elegance, refinement and depth. Clearly this is concentrated but there is a lightness in the touch with a refined, precise character. The finish keeps on going with groundswells of sensually textured fruits, spice, licorice and earth for over 50 seconds! With the 2018 you have an evolution not a revolution; there is a small shift in style moving to a more refined elegance while retaining all its power. The wine was made from blending 65% (oops forgot the grape) and 35% Cabernet Franc, reaching 14.5% alcohol. it is interesting to note that with the 2018, only the oldest Cabernet Franc vines were used in the blend. The harvest took place September 24 to October 11. The yields were low at 30 hectoliters per hectare. This is the first vintage where all the vineyards used to produce Angelus were farmed 100% organically. The aging process has shifted as well, now 10% of the wine is aged in neutral foudres which will also go through malolactic fermentation in vat. 98 – 100 Pts
2018 Le Carillon de l'Angélus – No longer a second wine as the parcels once produced, Le Carillon de l'Angélus 2018 is undoubtedly a step up in quality. The floral nose with its licorice, ripe plum and smoke, seeks out your attention. On the palate, the wine is medium-bodied and fresh and the finish is all about the elegance and sweetness in the fruit. The wine was made from 85% Merlot and 15% Cabernet Franc. 91 – 93 Pts
2018 Les Asteries – Firm with a distinctive stony edge, this wine offers fresh red berries, flowers, minerals and a nice purity in the red berry finish. This is not vinified for early consumption so you will need to wait at least a decade before popping a cork. The blend was made from 83% Merlot and 17% Cabernet Franc. 93 – 95 Pts
2018 Ausone – The color of purple ink, this wine displays an incredible level of density. It is hard to understand how they place so much fruit in a glass of wine and yet it is light on its feet! There is a purity here that resembles eating fruit off the vine seconds before it was picked. The finish is packed with minerals, red, black and blue fruit, flowers, spice, earth, rocks and stones and it has a 60 second impact. The cashmere tannins, freshness on the palate, density, length and purity are remarkable. The wine is made from a blend of 60% Cabernet Franc and 40% Merlot, reaching 14.5% alcohol with pH 3.65 and is aging in 100% new, French oak for 20 months. The Merlot was harvested on two days, September 25 and September 27 and the Cabernet Franc was picked October 3, 8 and 9. The wine was made from low yields of 32 hectoliters per hectare. If you have the money there are few wines at this level of quality produced from any vineyard in the world. 98 – 100 Pts
2018 Chapelle d'Ausone – Deeply colored, the wine is rich, lush, round and concentrated. There is focus, precision, length and purity with notes of ripe, sweet, fresh, black cherries, plum, licorice, smoke and crushed stones on the nose and palate. It is difficult to believe that this is their second wine. 93-95 Pts
2018 Badette – Juicy, ripe, fresh and showing concentration, freshness and character with layers of ripe dark fruits, earth and licorice on the nose and in the long, voluptuous finish. The wine was made from blending 85% Merlot, 10% Cabernet Franc and 5% Petit Verdot, reaching 14% alcohol. 93 – 95 Pts
2018 Balestard La Tonnelle – Medium-bodied, soft and polished with freshness, silky tannins, sweet plums, ripe cherries, licorice and earth in the supple, polished finish. 91 – 93 Pts
2018 Barde Haut – Dark in color, the wine is loaded with licorice, truffle, smoke, and a background note of mint. Full-bodied, rich, dense and multi-layered, the wine exudes, dark, juicy, ripe, dark fruits on the nose and palate. The wine is made from a blend of 80% Merlot and 20% Cabernet Franc and will be aged in 60% new, French oak barrels. 94-96 Pts
2018 Beausejour Duffau Lagarrosse – This is another off the hook vintage from Beausejour Duffau. I do not know where to start or to stop praising this wine. The texture is surreal. The level of density, concentration and power combined with more than ample energy is incredible. The wine tastes like you grabbed a handful of berries off the vine and placed them in a Vita mix blender with rocks and stones and drank it on the spot! After a recent vertical at Beausejour I was convinced they could never make a better wine than the 2010. Wrong! Very little of this elixir is made. So if you have the chance to buy it, do not pass. This is a cellar gem! The wine is made from blending 80% Merlot with 20% Cabernet Franc, reaching 14.5% alcohol. The harvest took place September 25-October 5. Only 1,150 cases were produced. 98 – 100 Pts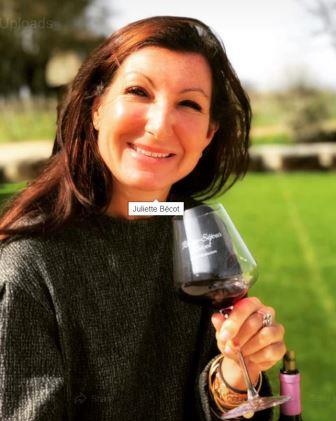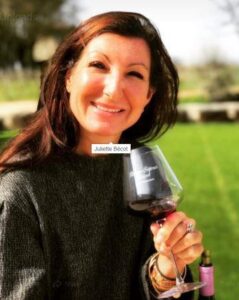 2018 Beau-Sejour Becot – Just when I was sure the 2016 Beau-Sejour Becot was the best wine ever produced at the property, along comes the 2018! Deep in color, the wine shows a strong floral and mint accent with dark chocolate, black plums and even darker cherries. This is the highest level of concentration experienced with their wine, but it is also remarkably energetic. There is lift, vibrancy, minerality and multiple platforms of fleshy, opulent, sensual ripe, dark pit fruits. The silky finish coats your mouth with flavor and the essence of pure fruit. This is perfectly balanced between power and sensuality. The wine is a blend of 80% Merlot, 15% Cabernet Franc and 5% Cabernet Sauvignon, aging in a combination of 65% new, French oak with 35% of the wine raised in amphora and used oak casks. The Merlot was harvested from September 12-25 and the Cabernet's was picked between October 4 and October 10. 96 – 98 Pts
2018 Belair-Monange – Inky in color, the purple flecked ruby hue is impossible to see through but upon taste and reflection there is more than what meets the eye. The wine is built around a solid core of perfectly ripe black cherry, plums, crushed rock, spice and espresso sensations. Full-bodied, deep, rich, long and opulent, this is stunning! The finish hangs with you for over 50 seconds, which is a good thing as you don't want to lose sight of all this hedonistic pleasure. With the 2018 Belair-Monange has made an announcement — they are moving to the next level. This should age for 2-3 decades or more with little effort. Give it time before popping a cork. 98 – 100 Pts
2018 Bellefont-Belcier – Flowers, crushed rocks, ripe, fresh stony fruits, silky textures and elegance. There is volume, refinement, length and character found here from start to finish. The wine was made from blending 70% Merlot, 25% Cabernet Franc and 5% Cabernet Sauvignon, reaching 14.3% alcohol. The wine is aged in a combination of new and used French oak casks with 10% of the harvest being aged in amphora. 95 – 97 Pts
2018 Bellevue-Mondotte – On the floral and licorice side, the wine is ostentatious, fleshy, full-bodied, opulent and powerful. With fabulous viscosity, density, length and power, the fruit, rocks and crushed stones get you hooked as it coats your palate. This is not a shy wine. It is big, powerful and comes with a massive wall of fruit, stones and tannin. The finish keeps on going with its powerful, flamboyant character. This is not a wine to enjoy young. So be prepared to cellar it for close to a decade before popping a bottle. The wine is made with 90% Merlot, 5% Cabernet Franc and 5% Cabernet Sauvignon. 96 – 98 Pts
2018 Bellevue – Dark in color, this wine is packed with cashmere textured, black, red, and blue fruits, licorice, cocoa and truffle. Opulent in nature with layers of velvet drenched berries, smoke, spice and chocolate, this is going to need at least 6-8 years or longer to begin expressing itself. Undoubtedly, this is the finest vintage ever produced here. The wine is made from 100% Merlot. 95 – 97 Pts
2018 Berliquet – Espresso, flowers, rocks, anise, stones and ripe fruits only tell part of the story. The wine is rich from all the plump, lushly textured, pure fruits, licorice and dark cocoa. The wine has volume, depth, complexity and velvety textures. This is just a joy to taste. The wine blends 78% Merlot with 22% Cabernet Franc and is aging in 45% new, French oak. 93 – 95 Pts
2018 Cadet Bon – Medium bodied, forward, soft and fresh, the sweet cherry essence of the wine arrives with thyme and mineral accents. You can enjoy this within a year or two of release. 90 – 92 Pts
2018 Calicem – With a black raspberry, licorice and smoke-filled character, this wine is ripe, round, lush and fruity. The berries are sweet, pure and fresh with depth, length and volume. From the owners of Couvent des Jacobins, this wine comes from a parcel selection of 100% old vine Merlot which was planted in 1961. 92-94 Pts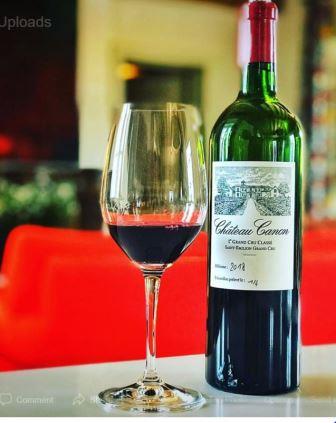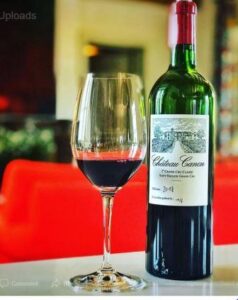 2018 Canon – With delicate, cashmere tannins, the wine is lavish, opulent, fresh and loaded with ripe black fruits, licorice, smoke, plums, minerals, flowers and cherries. The wine balances perfectly with elegance and a wealth of sensuous fruits. There is length, which is what the doctor ordered as you want to enjoy as much of this for as long as possible. The wine blends 72% Merlot and 28% Cabernet Franc, 14% alcohol. Picking took place September 7 to October 9, making 2018 the longest harvest in the history of the property. 97 – 99 Pts
2018 Croix Canon – Medium bodied, elegant, forward, soft and fresh, with ample ripe, red fruits and licorice to keep you busy, waiting for its big brother to mature. 89 – 91 Pts
2018 Canon la Gaffeliere – Full-bodied, graceful and sensuous, this wine is packed with layers of luscious fruits. The purity of the berries stands out this year, as does the length, density and energy. In the finish you'll find velvety plums, cherries, licorice, chocolate and spice. The wine was made from a blend of 55% Merlot, 35% Cabernet Franc and 10% Cabernet Sauvignon, reaching 14% alcohol, the harvest took place September 17 to October 4. 96 – 98 Pts
2018 Clarendelle Saint Emilion – Round, forward, soft and showing a nice display of sweet, red cherries and licorice, drink this easy-going, Merlot dominated crowd pleaser in its youth. 86 – 88 Pts
2018 Clavis Orea – Very ripe, fleshy, dense and oaky, the wine is plush, polished and packed with layers of dark red fruits, licorice, smoke, espresso and chocolate. Hedonistic in style, give this a few years of age, allowing it to become an even better wine. 92 – 94 Pts
2018 Clos Badon Thunevin – Licorice, smoke and wet earth with ripe dark plums on the nose and a blast of black cherry, licorice and dark mocha on the palate work perfectly here. The wine needs only a few years in the bottle before it all comes together. 92 – 93 Pts
2018 Clos-de-lOratoire – Medium bodied, elegant, fresh and charming! At the core of this wine you'll find licorice, smoke, cherry, flowers, wet earth, soft tannins and a dried, red pit fruit finish. The wine was made from blending 85% Merlot and 15% Cabernet Franc. 92 – 94 Pts
2018 Clos des Baies – Floral and polished, the deeply colored fruit is ripened and comes along with dark chocolate, licorice and black cherries. Lush, round textures and freshness in the finish, this Clos des Baies is produced by Philippe Baillarguet, the cellar master of Chateau Ausone. 89 – 91 Pts
2018 Clos des Jacobins – Round, supple, fresh and fruity, the dark, red fruits and licorice pop with energy and the freshness and soft tannins come with a nice cocoa and plum note in the finish. 91 – 93 Pts
2018 Clos Dubreuil – Blackberry, boysenberry, licorice and dark chocolate are all over the place here. Lush, round and silky with sweetness to the fruit, concentration, opulent textures and length in the finish, this is the best vintage for Clos Dubreuil I have ever tasted. 93 – 95 Pts
2018 Clos Fourtet – Inky in color, the wine is almost opaque. The fruits are ripe, dark and deep. There is a touch of fig, black cherry, dark chocolate, flowers and licorice. Full-bodied, concentrated, intense, dense and yet with ample lift keeping the wine energized on your palate. The finish hangs in there with multiple shadings of ready pit fruits, luscious textures and purity. The yields are quite small for 2018 at only 33 hectoliters per hectare. 96 – 98 Pts
2018 Clos Junet – Forward, round and easy to drink, the wine shows an oaky, espresso and licorice dominated, red berry character. This is an early drinking, Right Bank wine of pleasure. 86 – 88 Pts
2018 Clos La Madeleine – Medium bodied, silky and vibrant, the ripe, bright plums and cherries are accompanied by a strong sense of minerality and a background note of licorice which really shines. The long finish is lifted by the vitality of the ruby red fruits. Give this 4-7 years in the cellar for the wine to round — it is going to be quite nice. 92 – 94 Pts
2018 Clos Romanile – With depth of color, the medium-bodied wine moves with a core of smoke, licorice and juicy plums. Round in texture with a black plum and espresso finish, give it a bit of time in the cellar to flesh out. 89 – 91 Pts
2018 Clos Saint Julien – The wine is floral, full-bodied and shows a strong mineral component to all the ripe, dark fruits, licorice and crushed stone that you'll find from start to finish. The wine was made from an even split of Cabernet Franc and Merlot. 92 – 94 Pts
2018 Chauvin – Medium-bodied, polished, earthy and leafy with succulent cherries, plums, soft textures and roundness. The finish with its thyme-infused red fruits really hits the spot. 90 – 92 Pts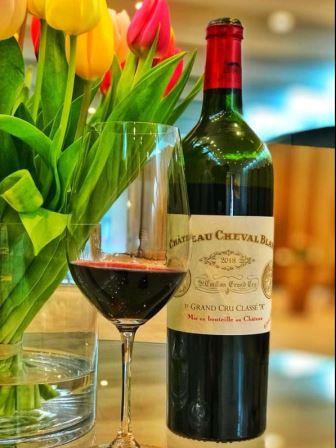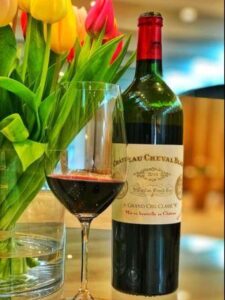 2018 Cheval Blanc – Resembling the color of a dark ruby gemstone, this outstanding experience begins with roses, violets, roasted plum, oyster shell, fennel and spice. From there you'll move to the velvet drenched, decadent, opulent, silky palate. The depth of fruit is off the charts. The sensual, sexy feel on the palate is unique. The over 60 second finish is too short because you'll never want it to end. This is bottled decadence. If you can afford it, it is a wine you should have in your cellar and you'll want to age this for at least 15 years before popping a bottle. The wine was made using 54% Merlot, 40% Cabernet Franc and 6% Cabernet Sauvignon, reaching 14.5% alcohol with a pH of 3.75. The Merlot was harvested September 10-October 1, Cabernet Franc was picked September 24-October 10 and the Cabernet Sauvignon was picked October 11. 98 – 100 Pts
2018 Le Petit Cheval – Floral in character, the wine is round, supple, silky, opulent and ripe. The velvet textured fruit is already easy to drink. The wine shows a resemblance to Cheval Blanc on the attack. In fact, if it was just a little longer the wine would be quite similar to Cheval Blanc. Produced from a blend of 70% Merlot and 30% Cabernet Franc, only 8% of the harvest was placed into the wine this year. 91 – 93 Pts
2018 Clos de Sarpe – Fresh and stony with a sweet edge to the plums, cherries and licorice, this wine offers a distinctive crushed rock and floral character to the fruit on the nose and on the rotundly lavish palate. From a blend of 85% Merlot and 15% Cabernet Franc, the wine reached 15% alcohol. 93 – 95 Pts
2018 Clos St. Martin – Velvet textured red berries, smoke, spice, licorice, wet earth and stone are all over the place. The wine is opulent, concentrated and polished. The berries are ripe, sweet, fresh and silky. This decadent offering from the plateau of Saint Emilion is going to offer pleasure for at least two decades and probably longer. 96 – 98 Pts
2018 Corbin – With a profundity of color, the wine is fresh, juicy, elegant, ripe and multi-faceted. On the palate and in the finish you find decadent cherries and licorice with lift, length and opulence. The wine blends 90% Merlot with 10% Cabernet Franc, reaching 15% alcohol but there is no touch of heat or jammy sensations. This is a beauty and it is the best vintage of Corbin I have ever tasted! 92 – 94 Pts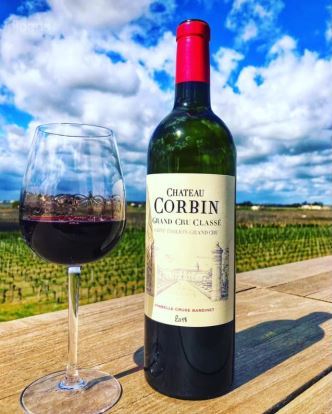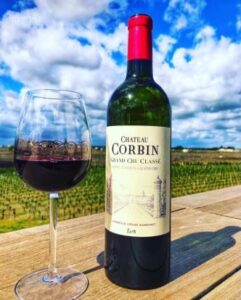 2018 Corbin-Michotte – Medium-bodied and spicy with a drop of licorice and herbs, this wine is forward, bright and light and will be ready for drinking upon release. 84 – 86 Pts
2018 Cote de Baleau – With a strong floral nature, the wine is medium bodied, silky, soft and fresh. Red pit fruit, smoke, licorice and berries with just a hint of cocoa, this forward, open, fruity, early drinking charmer hits all the right notes. 89 – 91 Pts
2018 Couvent des Jacobins – With a silky, juicy, forward character, the wine is lush, plush and polished. The espresso, wild cherry, stone and fennel is apparent from start to finish. There is depth but you also find energy, giving it lift in the finish. 91 – 93 Pts
2018 Croix de Labrie – Black plum liqueur, clay, smoke, licorice and spice are all over the place. Concentrated and quite sexy, the wine is polished, sensuous velvety and stony. The fruit on the palate runs the gamut from black to blue to red. The wine shows more minerality and tension due to the inclusion of fruit from recently purchased vineyards. The wine is a blend of 90% Merlot, 7% Cabernet Sauvignon and 3% Cabernet Sauvignon, it reached 14.2% alcohol. This is the second vintage for Hubert de Bouard as the consultant for Croix de Labrie. 94 – 96 Pts
2018 Chapelle de Labrie – Smoky with licorice, blackberry, dark cherry and even darker chocolate on the nose, the wine is forward, opulent, lush and silky. This supple textured, ripe wine can be enjoyed early or aged for a few years before popping a cork. 91 – 93 Pts
2018 – Stella Solare Croix de Labrie Blanc – Yellow and orange citrus with honeysuckle and white peach on the nose and in the mouth. The wine is juicy, fresh and with the pop of acidity to lift the wine on your palate and a shot of slightly honeyed citrus in the finish. You can enjoy this on release. – 93 Pts
2018 Dassault – Smoke, licorice and espresso jump before you'll find the juicy black cherries. The wine is round, supple and oaky. Produced in a modern style, this is going to please some more than others. You will be able to enjoy this wine early. 90 – 92 Pts
2018 Daugay – Medium-bodied, elegant, soft and forward, the ripe, sweet red fruits are already showing their gentle character. This is a wine to enjoy young for its plum, thyme and cherry charm. 89 – 91 Pts
2018 de Candale – Round, juicy, mature and fresh, there is an admirable sweetness to the juicy red fruits. There is energy in the cherries, cocoa and licorice which powers through to the finish. 89 – 899 Pts
2018 L'Eveche – On the fruity side of the style range, the wine is forward, soft, round and easy to drink, leaving you with ripe, cherry and plum notes. 87 – 89 Pts
2018 de Ferrand – Floral in nature, the red fruits are fresh, spicy, earthy and bright. The wine is medium bodied with lift and vibrant red plums in the finish. 89 – 91 Pts
2018 Fonbel – A nose of spice, licorice and black raspberries, the wine is medium bodied with a bright character to the fruit. The tannins are ripe with a hint of chocolate and you'll really feel the addition of the spice from the Carmenere and Petit Verdot, which lends all the piquant qualities. Give this a few years to age. The wine was made from a blend of 70% Merlot, 16% Cabernet Sauvignon, 7% Carmenere and 7% Petit Verdot. The harvest began September 29, starting with the Merlot and finishing October 15 with the Carmenere. 89 – 91 Pts
2018 Destieux – Round, forward and oaky with an assertive smoke, espresso and licorice accent, the wine is ripe, sweet and in a modernist style that will appeal to some more than others. You can drink this on release or age it for 4-5 years. 88 – 90 Pts
2018 Edmus – Medium bodied and forward with soft textures and an herbal edge to the sweet red fruits, this will be at its best in the first decade of life. 86 – 88 Pts
2018 Faurie de Souchard – Espresso, licorice, smoke and red fruit define the core of this wine. Medium-bodied, round and soft, the wine will be nice to enjoy early in life and for at least 10-12 years after release. 89 – 91 Pts
2018 Figeac – Pitch black in color with purple accents, my glass seemed like it was packed with an orchard of berries! The fruit pops from the get go. Blackberry, smoke, licorice, flowers and earthy black plums are impossible to avoid. And why would you want to miss out on all this complexity? Everything is in balance here as the volume is matched by the freshness and level of purity in the fruit. And to top things off, the tannins are incredibly velvety. The fruit coats your palate in all the right ways with a finish that never wants to leave. The wine was made from a blend of 37% Merlot, 33% Cabernet Sauvignon and 30% Cabernet Franc. The wine reached 14% alcohol and the picking took place from September 17 to October 12. 98 – 100 Pts
2018 Fleur Cardinale – Loaded with licorice, chocolate, coffee bean and black fruits, the wine is fleshy, round, fruit-filled and finishes with lusciously textured, espresso, dark plums, licorice and even darker cocoa. The wine is a blend of 70% Merlot, 25% Cabernet Franc and 5% Cabernet Sauvignon. The harvest took place September 27 – October 24. 93 – 95 Pts
2018 Croix Cardinale – Medium/full bodied, silky, polished, forward and juicy, this wine is a show off with its ripe fruits, licorice, smoke and chocolate. Enjoy this early drinking charmer while waiting for its big brother to develop. 90 – 92 Pts
2018 Fombrauge – Clearly the most concentrated vintage of Fombrauge ever produced, the wine is round, supple, sweet and charming. The fruit offers freshness with licorice, smoke and just an accent of cocoa. The amount of oak used to age the wine has been dramatically reduced. The wine was made from blending 90% Merlot and 10% Cabernet Franc and is aging in 40% new, French oak barrels. 91 – 93 Pts
2018 Fonplegade – Deep in color, the showy nose with its easily findable flowers, rocks, licorice, smoke, black raspberries and black cherries asserts its presence. But the real show takes place when all that perfectly ripe, velvet textured, silky, mineral driven fruit hits your palate. The volume, intensity, sweetness, lift and oceanic influences vibrate in the finish. After 14 years of a spare no expense attitude from Denise and Stephen Adams to make the best wine possible, clearly they have upped their game with the 2018 Fonplegade. The wine was made from a blend of 90% Merlot and 10% Cabernet Franc and reached 14% alcohol. The harvest took place September 13 to September 29. 94 – 96 Pts
2018 Fonroque – Flowers, black raspberries and a bit of truffle create the perfume, the wine is medium bodied with fresh cherries and mint on palate. 88 – 90 Pts
2018 Franc-Mayne – On the fruity and floral side, this wine is packed with silky textured, fresh, ripe cherries and licorice with a richness and a soft, elegant, supple, berry-filled finish. 90 – 92 Pts
2018 Godeau – Black raspberries, licorice and flowers pop up nicely. This wine is silky, polished, elegant and fresh with sweet, ripe red fruits in the finish. I am no longer waiting for Godot — it is here! 91 – 93 Pts
2018 Gracia – Concentrated and fresh with lift as well as volume, the wine reveals crushed rock, licorice and flowers. This wine is refined and mineral driven and delivers a lusciously textured finish but it is going to take some aging to be at its best. Made from a blend of 70% Merlot, 25% Cabernet Franc and 5% Cabernet Sauvignon, it reached 14% alcohol. 94 – 96 Pts
2018 Les Angelots de Gracia – Espresso, flowers, black cherry and licorice form the perfume. The wine is dripping with opulence and packed with mocha, cocoa, black cherry and plum. Polished in nature, the texture is truly fine this year. The wine blends 90% Merlot with 10% Cabernet Franc. 93 – 95 Pts
2018 Grand-Barrail-Lamarzelle – Forward in style, the wine is fresh, easy to drink and delivers its cherry-filled charm with ease. 86 – 88 Pts
2018 Grand-Corbin – Medium-bodied, floral, soft and polished, this wine delivers a streak of sweet, red fruits on the mid-palate. Give it a few years or so to age and this will be an even better wine. 91 – 93 Pts
2018 Grand-Corbin-Despagne – With a strong floral accent, the wine is silky, polished, sweet, ripe and soft with licorice and black cherries throughout and especially in the finish. 91 – 93 Pts
2018 Grand-Corbin-Manuel – Medium bodied, forward, round textured and already offering fresh, sweet ripe cherries, licorice, smoke and coffee bean. You can drink this with just a few years in the cellar, or less. 89 – 91 Pts
2018 Grand Mayne – With a floral accented perfume, you also find ripe, black cherries, thyme, smoke and espresso. Medium-bodied, elegant, round, soft, silky and fresh, the sweet, red fruit in the finish hits the spot. 93 – 95 Pts
2018 Grandes Murailles – Flowers, black raspberries, licorice and plums are in the nose. The wine is concentrated, lushly textured, fresh, silky, fruity and opulent in nature. Made from 100% old vine Merlot, the wine is being aged in a combination of 65% new, French oak, 20% in amphora and 20% in used oak barrels. 92 – 94 Pts
2018 Grand Pontet – Medium-bodied, juicy and already showing its dark cherry and espresso bean profile, the wine is round and fruity. With just a few years of age, it will be perfect for consumption. 89 – 91 Pts
2018 Guadet – Medium bodied, bright red berry, thyme and espresso filled wine for early drinking. 87 – 89 Pts
2018 Haut-Sarpe – Flashy, fleshy and juicy, this is the most concentrated wine I have ever tasted from the estate. There is a strong eucalyptus note to the dark red fruits as well as a jammy, fatness in the mouth. This is a good wine to drink young, for all its up-front, ripe juiciness. 87 – 89 Pts
2018 Haut Brisson – Soft, silky and juicy with sweetness, lift and elegance, give this a few years of aging to allow for all the complexity to develop. The wine was produced from a blend of 90% Merlot and 10% Cabernet Franc. 91 – 93 Pts
2018 Haut Simard – Licorice, vanilla and dark plums make up the nose. From there you'll find a round, soft, juicy, fresh, open wine that will serve up a lot of pleasure in its youth. Made from a blend of 70% Merlot and 30% Cabernet Franc, the wine is aging in 20% new, French oak barrels. 90 – 92 Pts
2018 Jean Voisin – Medium bodied, the licorice, plums, cherries and floral notes are already formed. The wine is soft, silky and elegant on the palate and in the blushing cherry finish. 90 – 92 Pts
2018 Jean Faure – With flowers, black raspberries, dark cherries, licorice, sap and just a bit of jam in the nose, the wine is rich, fresh, sweet, round and refined. There is a nice energetic pop on the palate with plenty of ripe sweet fruit in the end note. 90 – 92 Pts
2018 La Bienfaisance – Medium-bodied, elegant soft and forward with a juicy, cherry and licorice profile and a round, supple textured, plummy finish. 90 – 92 Pts
2018 La Chapelle-Lescours – A forward, early-drinking, Merlot dominated charmer with a plummy personality. 86 – 88 Pts
2018 La Clotte – Medium/full-bodied, silky, fresh and pure, the wine has richness, depth, minerality, lush palate texture, length and a luxurious finish. This is a step up in quality for Chateau La Clotte. There is a real depth of flavor and opulence here in this vintage. 93 – 95 Pts
2018 La Commanderie – You can taste the licorice laced plums on the palate and the nose will confirm it. Medium bodied and in an open style, the fruit is ripe, sweet and round. You can drink this with pleasure within a year or two of release. 90 – 92 Pts
2018 La Confession – Round and with aromas of just picked fruits, you'll also find flowers, licorice and a touch of smoke. On the palate, the lush cherries feel great with round tannins and supple textures. The wine was made from a blend of 73% Merlot and 27% Cabernet Franc. 92 – 94 Pts
2018 Couspaude – Full-bodied, round, luscious with fat notes of espresso, licorice, smoke, chocolate and roasted red fruits on the nose and on the palate. The wine offers early approachability due to its opulently textured nature. 90 – 92 Pts
2018 La Dominique – Rich, round and silky, here you'll find ripe, dark plum, black cherry, licorice and smoke in its core. Sensuous and even a little showy but still holding on to its elegantly balanced nature, the wine is perfectly ripe but not over ripe. You do find more concentration than usual here but everything remains composed and fresh with length. Is this the best vintage for Chateau La Dominique? Perhaps it is. Made from blending 85% Merlot, 12% Cabernet Franc and 3% Cabernet Sauvignon, the harvest took place September 20- October 4, reaching 14% alcohol. 93 – 95 Pts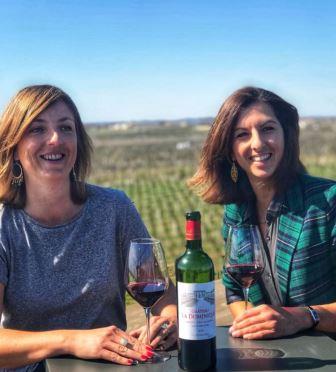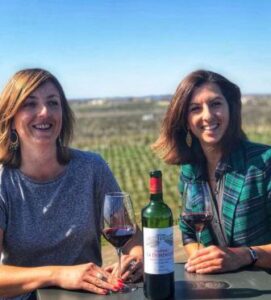 2018 La-Fleur-Morange – Silky and fresh with density that comes from 100 year old vines, this wine is vibrant, spicy and long, focusing on the vivacity in the juicy plums and its soft, round finish. 92 – 94 Pts
2018 La Fleur Morange Mathilde – Round, fresh, ripe and focused on its core of black cherry, smoke, licorice and mineral notes, this is going hit the tip with just a few years of age. 90 – 92 Pts
2018 La Gaffeliere – Lush, polished and pure, the wine has a roundness to the fruit, flesh, concentration, silky tannins and a floral, licorice, espresso, cocoa and red pit fruit, plummy finish. 92 – 94 Pts
2018 La Marzelle – Inky and dense, the wine is lush, ripe, floral and loaded with dark cherries, espresso, smoke, licorice and round, silky textures. Vibrant and fruity with flesh on its bones, the finish is packed with dark black fruits. 92 – 94 Pts
2018 La Serre – Rich, fat and juicy with more fruit and substance than I have ever seen here, the wine is fleshy, fresh, fruity and fun to drink. 90 – 92 Pts
2018 La Tour du Pin Figeac – Plummy, earthy, smoky and fresh, the wine is medium bodied with soft, polished tannins, ripe, red berries and lift in the refined finish. 91 – 93 Pts
2018 La Tour Figeac – Licorice, smoke, flowers and cherry aromatics are right there when you want them. Medium bodied, silky and juicy, the red fruits are ripe, pure, polished and fresh. 90 – 92 Pts
2018 La Voute – Deep, dark, ripe and fleshy, with loads of ripe black cherries, licorice, smoke, plums and chocolate. Lushly textured and rich, the plush textured finish serves up ripe fruits and cocoa. 92 – 94 Pts
2018 Laforge – Charcoal, black raspberry and vanilla bean aromas open the wine. From there, you'll move to a medium-bodied, elegant, polished wine with a nice note of fresh blackberries and licorice in the finish. The wine was produced from blending 92% Merlot and 8% Cabernet Franc. 91 – 93 Pts
2018 Larcis Ducasse – The purple hue announces this is a wine to take notice of and the 2018 is up to the task. Full-bodied, the wine hits your palate with layers of decadently textured fruit that never quits. It is hard to say what I was digging more, the opulence on the mouth or the cage match between the density and freshness. The match came to a draw. The seamless finish is nearly endless. The wine coats your palate and stains your teeth, remaining perfectly in balance. Made from blending 89% Merlot with 11% Cabernet Franc, it reached 14.5% alcohol. The harvest took place September 21 to October 4. 97 – 99 Pts
2018 Larmande – Easily the most concentrated vintage of Chateau Larmande ever produced, the licorice, espresso and dark red berries really shine. The wine has much more depth than usual. The round finish is all about the ripeness in the fruits this year. 89 – 91 Pts
2018 Laroque – Inky in hue, the wine looks like a dark gemstone with purple around the edge. With just one swirl, you get black and blue fruits, flowers, incense, licorice, dark chocolate and smoke. Powerful, full-bodied, concentrated, and intense, this vintage is at an entirely new level for Laroque. The wine manages to remain balanced between its opulent nature, incredible level of density, silky palate feel and length. The wine was made with 97% Merlot and 3% Cabernet Franc, reaching 14.5 alcohol with a pH of 3.48. This is your hot tip of the day: Chateau Laroque is a diamond in the rough and the wine sells for a pittance despite the high level of quality. This will change as the wine gets discovered so buy it now if this reads like your style of wine. 93 – 95 Pts
2018 Laroze – Medium-bodied, elegant, soft and fresh, this wine shows ripe, black cherry, plum and cocoa on the nose, palate and finish. Just a few years of age and this will be even better. 90 – 92 Pts
2018 Le Carre – Spiced black cherries and espresso form the core of the wine. From there, the wine offers polished, elegant tannins and a creamy, dark cherry and vanilla tinged finish. The wine is a bend of 85% Merlot with 15% Cabernet Franc. 93 – 95 Pts
2018 Le Dome – Dark in color, intensive aromas of vanilla, blackberry, five spice, plum, spring flowers and jam bring you to a full bodied, polished, refined wine. Slightly austere but in a good way. There is length, complexity and a uniqueness of character. Created from 80% Cabernet Franc and 20% Merlot, reaching 14.7% alcohol, the harvest took place October 1-October 10. 95 – 97 Pts
2018 Le Prieure – Silky, refined and soft in texture, the wine focuses on its unadulterated fruit and elegant, medium-bodied character. The addition of spring flowers, crushed rock, licorice and smoke adds to the experience. 92 – 94 Pts
2018 Lif – Full-bodied, lifted, juicy and graceful, the wine rolls over your palate like spun silk. The fruit shows a beautiful purity and vivacity. The cherries, boysenberries, spice and plums continue to resonate in the finish long after the wine has left the glass. With the addition of more Cabernet Franc in the blend and now that the vines are coming into their own, the wine has taken on more elegance and finesse in its style. Made from blending 74% Merlot and 26% Cabernet Franc, the wine reached 14.5% alcohol with a pH of 3.55. 96 – 98 Pts
2018 Louis – The fruit is ripe, rich, fleshy and round. The tannins are silky and the palate is loaded with plums, cherry, licorice and espresso. You can drink this fairly early for pleasure. 91 – 93 Pts
2018 Lucia – Forward, round, ripe, dark in color and loaded with licorice, espresso, smoke, cocoa and dark plums, this modern-styled wine will be ready to drink on release. 90 – 92 Pts
2018 Lusseau – Ripe black cherries and licorice are at the core of this medium-bodied, round, lush, soft, fruit-filled wine. 89 – 91 Pts
2018 Lynsolence – Medium bodied, juicy and fresh, the fruits are red, ripe and bright with a floral, cocoa and fennel accent in the finish. The wine is produced from 100% Merlot. 91 – 93 Pts
2018 MagrezFombrauge – Opaque in color, the wine is showy on the nose with its black and blue fruits, licorice and smoke profile. Full-bodied and concentrated, the wine packs a fruit-filled punch. The long finish with its strata of fruit, rocks, stones and smoke keeps on going. This is not an early drinking wine so be prepared to lay it down for close to a decade. The wine was made from a blend of 70% Merlot and 30% Cabernet Franc. Only 250 cases were produced so if you find a bottle and this is your thing, grab it. 94 – 96 Pts
2018 MagrezFombrauge Blanc – Juicy, bright, crisp and fresh, this is loaded with lemons, pomelo, vanilla, honeysuckle and just a bit of tropical fruit. Refreshing and fruity with a nice pop of citrus on the palate, this will be great on release and better with a few years of age. 92 Pts
2018 Mangot – Black cherry liqueur, smoke and floral aromas lead to a silky, soft, fresh, clean wine focusing on the ripeness and purity in the fruit. This is a innovative, tidy style of wine, which in part comes from their move to a different way of aging — both new, French oak and clay amphora. 91 – 93 Pts
2018 Mangot Todeschini – Showing a dark color, the wine offers flowers, black cherry, licorice, cocoa yielding almost velvet textures in the opulent finish. This represents a new direction here as the wines are now aged in a combination of new, French oak and clay amphora. Give this a few years in the cellar before popping a cork. 92 – 94 Pts
2018 Monbousquet – Round, juicy, concentrated and loaded with licorice, smoke, espresso, black cherry and blackberries, the wine offers more volume than usual but there is more energy in this vintage so you'll find lift in the finish. The wine is a blend of 60% Merlot, 30% Cabernet Franc and 10% Cabernet Sauvignon. 91 – 93 Pts
2018 Monbousquet Blanc – Honeysuckle, green apple, lemon chiffon, tangerine, flowers and tropical fruits with just a bit of honey is what you find in the nose and in the bright, juicy, fruity finish. The wine was made from 60% Sauvignon Blanc, 30% Sauvignon Gris, 5% Semillon and 5% Muscadelle. 91 Pts
2018 La Mondotte – Inky in color, the wine is incredibly dense on the palate. The crushed rock and stone essence of the terroir comes through loud and clear. The wine is floral, finesse in style, long with a serious depth of flavor. The blackberry, boysenberry, plum and red pit fruit build and expand in the finish. 2018 saw an increase in production and close to 1,600 cases are going to be released. The wine was made from 75% Merlot and 25% Cabernet Franc reaching 14.2% alcohol. 98 – 100 Pts
2018 Monlot – Deep in color, the wine pops with licorice, flowers, espresso and black raspberries. On the palate, the wine is medium bodied, soft, silky and polished. The fruit is ripe, fresh and carries its sweet cherry essence like a prize for the finish. Give it a few years in the cellar and it will be even better. 91 – 93 Pts
2018 Montlabert – Smoky dark red fruits and a hit of fennel bulb strut their stuff in this medium-bodied, soft, early drinking, elegant, fruity wine. 89 – 91 Pts
2018 Moulin du Cadet – From 100% old vine Merlot, you'll find layers of ripe, lush black cherries and plums along with smoke, dark chocolate, licorice and coffee bean on the nose and palate. Full-bodied, rich and hedonistic, this is going to be great with just a few years of age. 92 – 94 Pts
2018 Moulin Saint Georges – Ripe black plum, cocoa, flowers and black cherry create the nose. On the palate, the wine is round, polished, ripe and fleshy with soft, silky tannins and a fruity finish. Made from a blend of 80% Merlot and 20% Cabernet Franc, the harvest was picked from September 28 to October 9. 91 – 93 Pts
2018 du Parc – Medium-bodied and open, the wine focuses on plum, cherry, coffee bean and licorice that is delivered in an easy-to-like style. You can drink this on release or age it a few years. 87 – 89 Pts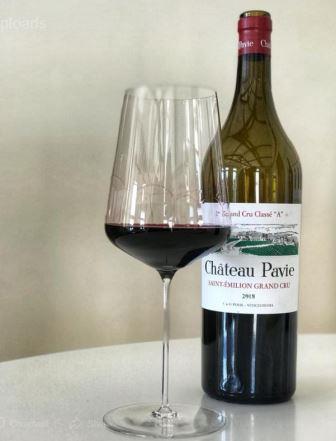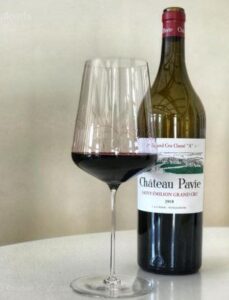 2018 Pavie – Pitch black in color with a deep purple sheen, the wine brings intensity to a new level. Massive, the wine coats your palate, teeth and gums with incredible levels of fruit, rocks, smoke and espresso. In fact, the first sip had so much going on you take a step back. But as the fruit fills your mouth, painting it deep purple, you are simultaneously aware of the balance, purity, minerality and flamboyance. The finish holds its place for over 60 seconds. Made from a blend of 60% Merlot, 22% Cabernet Franc and 18% Cabernet Sauvignon, the wine reached 14.48% with a pH of 3.51. The harvest took place September 28 to October 10. There is an addendum here, the wine is so packed, it's as if a double magnum of wine was placed into a standard bottle. Is it too much for its own good? It is going to take up to 20 years to know if this wine morphs into a 100 Pt legend or not, (Which is possible) hence the wide score range. 96 – 100 Pts
2018 Aromes de Pavie – The second of wine of Pavie should be a brand of its own. Ripe, rich and stony, the fruit is ripe, round, juicy, fresh and stylish, leaving with ample fruits and minerality in the finish. You can enjoy this young while waiting for its big brother to develop. 91 – 93 Pts
2018 Pavie Decesse – The espresso, black and blue fruit, smoke and licorice join forces with the essence of the limestone soils with salty minerality. The wine is powerful, concentrated, dense, balanced, opulent and long. The finish serves up waves of fruit, crushed rock and licorice. This demands time, least 8-10 years before it will be close to peak. The wine is made from blending 90% Merlot and 10% Cabernet Franc. 95 – 97 Pts
2018 Pavie Macquin – The licorice, smoke, plum liqueur, boysenberry and floral aromas are breathtaking. And then you get to your palate, which feels like velvet and tastes like pure essence off the vine while offering a melange of berries ranging from black to blue to red. Produced from 78% Merlot, 20% Cabernet Franc and 2% Cabernet Sauvignon, the wine reached 14.5% alcohol. The harvest took place September 20 to October 12. 97 – 99 Pts
2018 Petit Faurie deSoutard – The wine combines flowers, crushed rocks, spice and perfectly ripe, silky, dark red fruits. Medium/full bodied with concentration and zest in the mouth, the fruits pop and you find yourself really liking the spicy character the fruitastic finish. 91 – 93 Pts
2018 Petit Gravet Aine – Spicy, floral, lush, ripe and loaded with strata of rocks, stones, herbs and fruit. The wine has density, ripe tannins and a strong mineral essence that adds to the ripe, spicy red fruits. This is the best vintage of Petit Gravet Ainé ever produced. The wine was made from 80% Cabernet Franc and 20% Merlot. 92 – 94 Pts
2018 Pierre de Lune – Powerful, rich, lush with an oaky lean to a sweet and fleshy, licorice and cocoa round, plush finish. The wine is a blend of 85% Merlot with 15% Cabernet Sauvignon. 91 – 93 Pts
2018 Pindefleurs – Medium-bodied with smoke, licorice, flowers and red fruits, the wine is forward, juicy, fresh and leaves you with thyme and ripe, cherries in the finish. 87 – 89 Pts
2018 Poesia – Inky in color, the wine is loaded with dark, sweet, plush, rich, fruits, licorice, smoke and chocolate. There is depth and harmony here. The fruit shows purity, freshness, length and volume with velvety textures. 94 – 96 Pts
2018 Pressac – Medium/full-bodied, you'll find, smoke, licorice, espresso and plum in the nose. The wine is elegant, energetic, soft and polished with sweet, red fruits and silky textures. One of the few Bordeaux wines to use all five allowable grape varieties, the wine blends, 74% Merlot, 16% Cabernet Franc, 7% Cabernet Sauvignon, 2% Carmenere and 1% Malbec. 92 – 94 Pts
2018 Puy-Blanquet – Medium bodied, bright and juicy with more depth and fruit than usual, which provides the backdrop for flowers, black cherry, spice and licorice to come through on the nose and palate. 89 – 91 Pts
2018 Quinault LEnclos – Espresso, licorice, and red plums provide a bright, fruity character. The wine is medium bodied, focusing on its precision and freshness in the red fruits. The wine is a blend of 71.5% Merlot, 14.5% Cabernet Franc and 14% Cabernet Sauvignon. 89 – 91 Pts
2018 Quintus – The flowers, spice box, crushed rock, licorice and sweet red fruits on the nose really work this year. Dark garnet in color, the wine is sensuality and elegance. More unctuous than usual, the velvet textured, black plums that coat your palate really hang in there. Even though the wine reached 15.2% alcohol, there is only a slight touch of heat in the finish but there is no sensation of jamminess. The wine was made using 70% Merlot and 30% Cabernet Franc harvested from September 20-October 8. 94 – 96 Pts
2018 Quintus Le Dragon de Quintus – Medium bodied, soft, silky, open and accessible with a sweet, cherry and red plum profile, this is perfect for ordering in a restaurant or just easy going pleasure. 88 – 90 Pts
2018 Ripeau – Rich, fat and loaded with juicy, black fruits, licorice, earth and espresso bean. With all that you'll also find lift, persistence, lavish amounts of fruit and round, silky textures. With all the investments made here by the new owners, you can expect the wine to continue improving and for prices to rise, so check it out while prices are still low. 93 – 95 Pts
2018 Roc de Boisseaux – The wine is built on its medium-bodied, round, lush, chocolate, plum, smoke and truffle character. Already delicious, the wine is perfect for early drinking pleasure. 89 – 91 Pts
2018 Rochebelle – Medium-bodied, earthy with a strong espresso and licorice nose, the red fruits come through in the round finish. You can drink this on release. 87 – 89 Pts
2018 Rol Valentin – Elegant and fresh, soft and silky, this medium-bodied charmer remains focused on the purity and refined textures in the fruit. This is probably best in its first 12-15 years of life. 91 – 93 Pts
2018 Saintayme – Luscious plum and licorice forms the core of the wine. It is medium bodied, fresh, ripe, forward and easy to like with all its elegant, red cherry and plum charms. The wine is always made from 100% Merlot. Give it a few years of age and it will be even better. 89 – 91 Pts
2018 Saint-Georges-Cote-Pavie – Forward, medium bodied, ripe and fresh, the red fruits are soft, easy to like and full of juice. You can drink this on release. 88 – 90 Pts
2018 Sanctus – Round, fleshy, ripe and centered around its layers of dark, ripe fruits, there is vibrancy and a spicy edge to the smoky plums, licorice and wet earth. 91 – 93 Pts
2018 Sansonnet – What a beauty! The wine is round, fleshy, supple and loaded with licorice, dark red fruits and silky tannins. The finish tastes and feels great with seemingly countless layers of sweet, juicy, black and blue fruits. The wine blends 90% Merlot, 7% Cabernet Sauvignon and 3% Cabernet Franc. 94 – 96 Pts
2018 Simard – Flowers and black raspberry are found in the nose and on the palate. The wine is medium bodied, forward and fresh with juicy, black cherries and licorice in the finish. The wine is a blend of 70% Merlot, 25% Cabernet Franc and 5% Cabernet Sauvignon. 89 – 91 Pts
2018 Soutard – Medium-bodied, fresh, stony and fruity, the wine is round and fleshy with an herb, tobacco leaf and licorice accent on top of the red berries in the finish. 90 – 92 Pts
2018 SoutardCadet – Deep, dark, fresh and with a stony essence, the wine is fresh, fleshy, concentrated, round and most-importantly — delicious! The wine was made from 90% Merlot and 10% Cabernet Franc. 93 – 95 Pts
2018 St. Christophe – Medium-bodied, soft and approachable with a red plum and cherry profile, the wine is an early-drinking charmer. 84 – 86 Pts
2018 Teyssier – With licorice, ripe red fruits, smoke and espresso bean on the nose, the wine is forward, soft and fruity with dusty tannins and a red plum note in the medium-bodied finish. The wine was produced from blending 70% Merlot and 30% Cabernet Franc. 89 – 91 Pts
2018 Tour Saint Christophe – Inky with purple accents, the minerality, licorice, espresso, dark red fruits and luscious, velvet-like textures really works this year. There is concentration, supple textures, fruit and vibrancy. The wine is made from blending 80% Merlot with 20% Cabernet Franc. 94 – 96 Pts
2018 Trianon – Forward in style, the wine is open, fresh, soft and juicy with a touch of oak, licorice and spice in the finish. You can drink this on the young side. 88 – 90 Pts
2018 Trimoulet – Medium-bodied, soft, round and forward, elegant red fruits with an earthy, tobacco leaf and dark cherry edge — quite nice this year. Another wine that has taken a big jump up in quality, which is due in part to bringing in Jean-Luc Thunevin as a consultant. 89 – 91 Pts
2018 Troplong Mondot – Full-bodied, lush, ripe and rich, the wine is concentrated as well as refined. The purity in the fruit stands out as one of the key points in its character. There is a richness and vivacity to the wine that works on the palate and in the luscious, silky finish. The wine was produced from a blend of 85% Merlot, 13% Cabernet Sauvignon and 2% Cabernet Franc, reaching 14.5% alcohol. The harvest took place September 7 to October 9. Yields were 49 hectoliters per hectare and the wine is aging in 60% new, French oak. Interestingly, Troplong Mondot now makes the final blend in January — after the vintage. 96 – 98 Pts
2018 Mondot by Troplong Mondot – Medium bodied, fresh, bright, forward and fruity, this is quite nice for early drinking while waiting for Troplong Mondot to mature. The wine is made from 100% Merlot. 87 – 89 Pts
2018 Trotte Vieille – Trottte Vieille has really upped their game this year. The wine is more distinctive with better concentration and focus. The ripe, lush plums, minerality, underbrush, spice, licorice and smoke show the aromatic complexity. On the palate the wine is elegant, rich and sensuous. I am certain this is the finest wine ever produced from Chateau Trotte Vieille. The wine was made from blending 54% Cabernet Franc, 44% Merlot and 2% Cabernet Sauvignon, reaching 14% alcohol. The harvest took place September 20 – October 5. 94 – 96 Pts
2018 La Vieille Dame de Trotte Vieille – Medium bodied, fresh, bright and earthy, with soft textures, an open forward approach and a charming, cherry and licorice finish. 88 – 90 Pts
2018 Valandraud – Gird yourself for a hue akin to squid ink and then get ready… Swirling brings out the campfire embers, flowers, licorice, espresso, incense, black cherry liqueur, chocolate and plum. This is concentrated, rich and powerful. It's easy to notice the vitality on the palate. The finish is dense, long, fresh, fruity and spicy with vanilla, cherry and licorice in the end note. The wine is made from blending 90% Merlot, 4% Cabernet Franc, 3% Cabernet Sauvignon and 3% Malbec, reaching 14.5% alcohol and is now aging in 100% new, French oak for 24-36 months. 96 – 98 Pts
2018 Valandraud Blanc – Ripe, juicy, lemon rind, pineapple, mango and green apple with a splash of acidity that brings it all together, providing lift and vibrancy. The wine is made from 50% Sauvignon Gris, 40% Sauvignon Blanc and 10% Semillon with aging on its fine lees for 10 months before bottling. 94 Pts
2018 Virginie de Valandraud Blanc – Grapefruit, spice, apricot and lemon combine perfectly. The fruits are ripe and sweet, but it is the juicy freshness giving the wine lift that creates its character. 91 Pts
2018 Vieux Chateau Mazerat – Spicy roasted plums, caramel and espresso join forces with intensive minerality. The salty tannins add complexity and structure but before you can enjoy all the ripe, juicy red fruits, flowers, licorice and espresso, you are going to need to age this for at least a decade. The wine is a blend of 65% Merlot with 35% Cabernet Franc. 94 – 95 Pts
2018 Vignobles Rollet A Capella – Inky and dark, packed and stacked, this is a boatload of dense, intense, lusciously textured, deep black fruit, licorice and dark chocolate. This powerful wine is as interesting as it is hard to find. Less than 100 cases are produced each vintage. 93 – 95 Pts
2018 Villemaurine – Lively, fresh, concentrated and filled with a parfait of dark red fruits, licorice and cocoa, the wine is plush, full bodied, rich, ripe, round and fruity with ample crushed stone notes concurring with the fruit. 93 – 95 Pts
2018 YonFigeac – This soft, early-maturing, medium-bodied wine is focused on a licorice, herb-accented, earthy, red berry essence and a finesse styling in the finish. 85 – 87 Pts