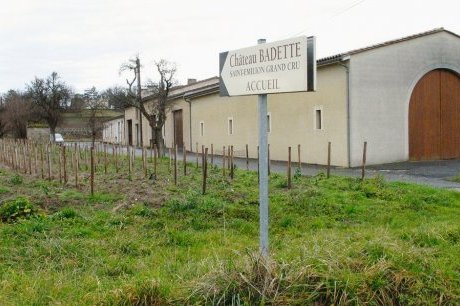 Learn everything about Chateau Badette St. Emilion with wine tasting notes and wine with food pairing tips. Learn the best vintages, the history of the property, and information on the vineyards and winemaking. If you want to read about other important, Bordeaux Chateaux: Links to all Bordeaux Wine Producer Profiles
Chateau Badette History, Overview
Chateau Badette might have remained one of the many St. Emilion estates that gain little attention outside the appellation if it was not for a recent sale, court battle, and legal decision. While the estate dates back to at least the late 1800s, most of the attention is focused on the modern era for the vineyard.
By 1998, Chateau Badette had become the property of the St. Emilion village when the owner, William Arreaud, gifted the chateau and vineyards to the city in exchange for allowing him to live rent-free.
The city also agreed to pay for the upkeep and maintain the vineyards and produce the wine. After the death of William Arreaud, the city put the vineyard up for sale in 2008.
It took 4 years until the property sold for close to 5 million Euros to a member of the Janoueix family. The Janoueix family owns numerous vineyards in Bordeaux, many of which are in the Right Bank in Saint Emilion and Pomerol.
However, it took a lengthy court battle for this to take place. Christian Pascaud, the illegitimate son of William Arreaud filed suit claiming the property was his. The French and European courts agreed and 2.75 million Euros was awarded to Pascaud.
The sale was allowed to continue and the new, Belgian owner, Marc-Andre Vandenbogaerde set about to renovate the estate, wine-making facilities, and replant portions of the vineyards. The complete renovations and modernization of Chateau Badette were completed in 2016.
Since 2008, the vineyard has been expanded from 8 hectares to its current 10.5 hectares of vines. Jean-Philippe Forts was brought in as their consultant. Starting with the 2012 vintage, you can see continued, marked improvement in their wines.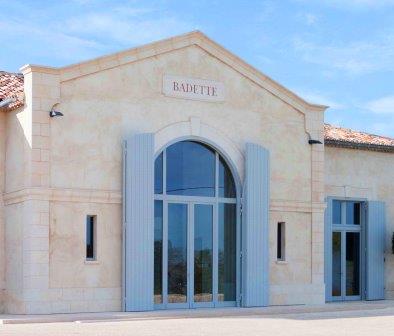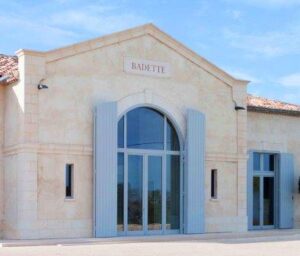 Chateau Badette Vineyards, Terroir, Grapes, Winemaking
The 10.5 hectare Right Bank vineyard of Chateau Badette is planted to 75% Merlot, 15% Cabernet Franc, 7% Cabernet Sauvignon and 3% Petit Verdot. The terroir is clay, limestone, and gravel soils.
The vineyard is divided into 2 terroirs, with 9 hectares in 1 large, block of vines located not too far from Chateau Pavie Macquin or Chateau Troplong Mondot, as you continue heading east from the village of Saint Emilion. There you find more clay and limestone.
The remaining 1.5 hectares of vines situated close to Chateau Figeac have more gravel and small stones in the soil. The vines are old as they are maintained at an average of 30 years of age. Although they have some old vines that are close to an impressive 50 years of age.
To produce the wine of Chateau Badette, the wine is vinified in a combination of wood and traditional cement vats that range in size from 40 hectoliters up to 70 hectoliters to allow for a parcel by parcel vinification. A portion of the harvest is also micro-vinified in 100% new, 500 liter, French oak barrels.
Malolactic fermentation takes place in barrels. The wine is then aged in a combination of vats and 100% new, French oak barrels for between 12 and 18 months, depending on the vintage.
The best vintages of Chateau Badette are: 2022, 2021, 2020, 2019, 2018, 2017, 2016, 2015, 2014 and 2012.
There is a second wine La Fleur de Badette and a 3rd wine, a special cuvee, Chateau Badette cuvee Bellerose. The production is close to 4,000 cases per vintage.
When to Drink Chateau Badette, Anticipated Maturity, Decanting Time
Chateau Badette is usually better with 3-4 years of bottle age. Of course, that can vary slightly, depending on the vintage. Chateau Badette is best enjoyed in the first 5-15 years of life.
Young vintages can be decanted for up to 1 hour or so. This allows the wine to soften and open its perfume. Older vintages might need very little decanting, just enough to remove the sediment.
Serving Chateau Badette with Wine and Food Pairings
Chateau Badette is best served at 15.5 degrees Celsius, 60 degrees Fahrenheit. The cool, almost cellar temperature gives the wine more freshness and lift.
Chateau Badette is best paired with all types of classic meat dishes, veal, pork, beef, lamb, duck, game, roast chicken, roasted, braised, and grilled dishes. Chateau Badette is also good when matched with Asian dishes, rich fish courses like tuna, mushrooms, and pasta.
Château Badette Wine Tasting Notes
10 Vintages 37,303 Views Sort by Vintage-Rating
2022
Château Badette (St. Émilion Grand Cru)
Richly colored, toasty oak is what you initially notice before discovering its wealth of ripe, sweet, black fruits, dark chocolate, licorice and fudge. Yes, the wine is rich, corpulent, and hedonistic, but it is also fresh, creamy, long, and complex. Drink from 2026-2045. 93-95 Pts.
1,210 Views
Tasted

May 8, 2023
2021
Château Badette (St. Émilion Grand Cru)
Chocolate-covered black cherries, licorice, flowers, espresso and spice are found in the nose and on the soft, round, plush and polished, fruity palate. Drink from 2023-2039. 91-93
1,048 Views
Tasted

May 20, 2022
2020
Château Badette (St. Émilion Grand Cru)
Flowers, chocolate, espresso, licorice, smoke, blackberries and plum notes shoot from the glass. The wine is rich, lush, full-bodied and opulent, with layers of non-stop fruits in the long finish. This is not only an estate to keep your eye on as they are on a roll, but this is clearly the best vintage they have produced yet. Drink from 2023-2042.
573 Views
Tasted

Mar 21, 2023
Dark in color, the wine shows off its espresso, licorice, chocolate-covered black cherry and smoky perfume without hesitation. On the palate the wine is lush, rich, deep and polished, finishing with layers of velvety plums. The juicy, sweet, cherry liqueur finish really sticks with you. 92-94 Pts
1,633 Views
Tasted

May 20, 2021
2019
Château Badette (St. Émilion Grand Cru)
Black cherries, smoke, licorice, chocolate and a touch of spice hits your nose. Luscious, full-bodied, rich and hedonistic in texture, the finish packs a punch with its toasted vanilla, boysenberry, black cherry, espresso and touch of singed plums in the endnote. While it's easy to enjoy this on release, give it a few years for the oak to better integrate and it will be a much better wine. Drink from 2025-2038.
993 Views
Tasted

Mar 29, 2022
Almost inky in color, initially you notice the toasty oak before moving to the array of spices, dark red pit fruits, licorice and oak. Full-bodied, fleshy, flashy, generous and lush, the finish is all the layers of avoirdupois mouth-filling ripe fruits and the oceanic tannins in the endnote. 92-94 Pts
2,321 Views
Tasted

Jun 8, 2020
2018
Château Badette (St. Émilion Grand Cru)
Deeply colored, with an assertive nose of espresso, licorice, cocoa, black cherry and smoke, the wine is concentrated, full-bodied, ripe, round, opulent and fruity. There is lift, energy and length here on the palate along with loads of sweet, dark fruits, licorice, oak and chocolate in the voluptuous finish. The wine was made from blending 85% Merlot, 10% Cabernet Franc and 5% Petit Verdot.
2,514 Views
Tasted

Mar 9, 2021
Juicy, ripe, fresh and showing concentration, freshness and character with layers of ripe dark fruits, earth and licorice on the nose and in the long, voluptuous finish. The wine was made from blending 85% Merlot, 10% Cabernet Franc and 5% Petit Verdot, reaching 14% ABV. 93-95 Pts
3,970 Views
Tasted

Apr 19, 2019
2017
Château Badette (St. Émilion Grand Cru)
Forward, rich, ripe, lush, and fruity, with black cherries, chocolate, licorice, smoke, and espresso in every delicious, sniff and sip. You can already enjoy this or give it further aging. Drink from 2022-2034.
2,053 Views
Tasted

Oct 12, 2022
Fleshy, ripe, silky, sweet and fresh, the wine has length, polished tannins and freshness with dark chocolate and juicy, ripe plums in the finish. The wine was made from blending 80% Merlot, 15% Cabernet Franc and 5% Cabernet Sauvignon. This is becoming a new wine to watch in Saint Emilion!
2,285 Views
Tasted

Apr 26, 2018
2016
Château Badette (St. Émilion Grand Cru)
Located close to Troplong Mondot, this is a new player in the Saint Emilion hit parade. The new owners have a spare no expense attitude to produce the best wine possible and it shows. The wine is dark in color, intense, lush, powerful and silky. There is heft, but also freshness and the finish, with its dense layers of black fruit, licorice and earth leave a long impression. This still sells for a song for a wine of this quality.
3,265 Views
Tasted

Sep 21, 2019
Inky, dark, juicy, deep, round and lavishly textured, the wine is long, sweet, rich, fleshy and concentrated. With density and flavor and sweetness of fruit, this is a wine to keep your eye on.
4,779 Views
Tasted

Apr 29, 2017
2015
Château Badette (St. Émilion Grand Cru)
Lush, round, forward and packed with black licorice, smoke, black cherry, espresso and cocoa, the wine is plushly textured and filled with loads of delicious, ripe fruit with a blast of dark espresso in the finish.
2,992 Views
Tasted

Sep 23, 2019
Truffle, cocoa, black cherry and earthy notes create the perfume. Made from 95% Merlot and the rest Cabernet Franc, there is a bit too much oak, which might better integrate as the wine evolves. Still, this wine has fleshy, ripe, character-driven fruit and no sensation of heat, even though the wine reached 15% ABV. 91-93 Pts
3,455 Views
Tasted

Apr 29, 2016
2014
Château Badette (St. Émilion Grand Cru)
This medium-bodied wine is rich with red fruit and licorice character and will be best in its youth. 85-87 Pts
1,932 Views
Tasted

Apr 27, 2015
2012
Château Badette (St. Émilion Grand Cru)
Sweet, jammy berries, soft tannins, licorice, chocolate and black cherries are found in the wine. 88-90 Pts
2,280 Views
Tasted

Apr 26, 2013