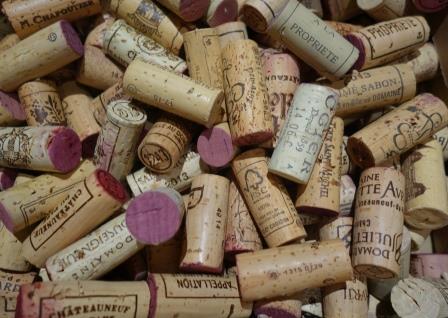 The Chateauneuf du Pape and Southern Rhone Vintage Chart gives you rankings for every Chateauneuf du Pape vintage from 1978 to today and information on when whether you should drink or hold your wines with wine and food pairing tips. You'll find detailed information every vintage including details on the wines, growing seasons, weather reports, harvest conditions, style and character of the wines and vintages from 1978 to today in the Southern Rhone Valley and of course Chateauneuf du Pape.
The vintage chart can also be used a general guide to much of the Southern Rhone Valley. While each appellation can be different, the information on the Chateauneuf du Pape vintage chart will help you find the wines you like, with the style and characteristics you like the best. You can also use this page as a Southern Rhone Vintage Chart.
The purpose of the Southern Rhone, Chateauneuf du Pape Vintage Chart
Rankings and scores in the Chateauneuf du Pape, Southern Rhone Vintage Chart are not produced using a mathematical average of scores. The ratings in the Chateauneuf du Pape Vintage Chart are put together using a rough average that is based on your chance of walking into a store or choosing from a wine list in a restaurant and randomly purchasing a bottle of Chateauneuf du Pape, or Southern Rhone wine from the vintage of your choice and have it offer a reasonably good, wine tasting experience.
This is the best use of the Chateauneuf du Pape Vintage Chart. That means vintage charts by their very nature are quite general. But it's a good place to start. Knowing something about the vintage and producer is going to give you help when you are not able to try before you buy, which is most of the time.
Of course there are always some good and even great wines produced in moderate years. But one good wine, or even a few good wines does not make a great vintage. And there are disappointing wines produced in the best vintages.
Vintage guides are just that, they are intended to guide to the best vintages while explaining the characteristics that go into each year. It's important to keep in mind, all years are not equal, and all tasters are not alike. There are years in the Southern Rhone Vintage Chart that on the one hand, provide you with a few great wines. But the majority of wines from that vintage were not successful.
For example, take 2003 Chateauneuf du Pape. There are some truly great wines that really deliver the goods! But there are far more wines that matured too early, can be flabby or far too jammy and alcoholic. So 2003 does not get a high vintage score.
When to drink Chateauneuf du Pape and Southern Rhone Wines
When to drink wines is always subjective and depends more on the personal taste of the consumer than the wine. Setting that aside, as a general rule, most Southern Rhone wines can be enjoyed in their youth and they improve with age, providing the widest array of years for when these wines are can be enjoyed.
It's also important to note that after 10 years of age, Chateauneuf du Pape wines can be quite variable. As the wines age, if you're buying older vintages, it's better to seek the wines from the top domaine's as for my taste, the majority of Chateauneuf du Pape wines are at their best between 5 to 15 years of age.
You could even make a case for a smaller window, perhaps 8 to 12 years of age. Yes, of course there are wines that are better at 20 and 30 and perhaps even 40 years of age. But that list is quite small when you think about it.
The best food to pair with red and white Chateauneuf du Pape and other Southern Rhone wines
Southern Rhone, Chateauneuf du Pape wines are easy to create wine and food pairings. Northern Rhone red wines make perfect wine and food matches with all types of classic meat dishes, veal, pork, beef, lamb, duck, game, roast chicken, roasted, braised, grilled dishes, sausage and cassoulet. Chateauneuf du Pape Rouge wines are also good with Asian dishes, hearty fish courses like tuna, mushrooms and pasta.
White Chateauneuf du Pape and white Southern Rhone wines are best served with a myriad of different seafood dishes, shellfish, crab, lobster, sushi, sashimi, chicken, pork and veal, as well as Asian cuisine.
There is another point to consider, important to remember, the majority of large format bottles will extend the aging ability of the wines. And as the wines get older, provenance is key. Grenache needs love and care in good, dark, humid cold cellar to age well.
Potential buyers of the truly scarce, older bottles of Rayas, Bonneau Celestins and others should exercise extreme caution and purchase them from only known and trusted sources, or through major auction houses that thoroughly vet the wines. The reason is, many of those wines have been counterfeited.
What makes a great Chateauneuf du Pape or Southern Rhone vintage
A great Chateauneuf du Pape and Southern Rhone vintage, does not happen every year. But when it does, it can be defined as a vintage producing produced high quality wines from the best domaines and the small houses in all price ranges.
That means the wines at the top are of extreme quality and so are the value wines from more humble terroirs. The wines form great years should offer a unique character, freshness, vibrancy, concentration of flavor, purity of fruit and have the ability to age and evolve. Those are the years in the Chateauneuf du Pape, Southern Rhone Vintage Chart that earned the highest scores.
2018 – The vintage is a winemakers year. Some vintages are easy and others require more effort. 2018 was a difficult year due to the torrential rains early in the year brining mildew attacks. This was exacerbated by the unusual lack of the mistrals. The humidity was the worse the region has experienced since 1973. Yields are down due to the mildew. The red wines are medium-bodied, forward and fruity. Many of the white wines are lower in acidity than usual. The quality varies widely in 2018, so one should buy judiciously. 90 Pts
2017 – This is a solid vintage for Chateauneuf du Pape and the entire Southern Rhone Valley. Tg=he wines are elegant, yet fruity with supple textures and freshness. Not quite at the level of 2015 or 2016, the wines will show just great on release. The year is the product of a mild, dry winter coupled with a fairly dry spring and growing season. The harvest was a bit earlier than usual and yield were low for many growers. 93 Pts
2016 – The hot, dry, summer conditions were made even better with late season rains that fell just before harvest, pushing the grapes to true, phenolic ripeness. Due to sublime weather, the harvest was long, allowing growers to take advantage of seldom seen conditions. This is easily the best vintage since 2010 for red and white wines. 98 Pts
2015 – Based on the weather, growing season and harvest, it looks like there is a lot to like about 2015 Southern Rhone wines. The wine are rich, plush, ripe, fruity and pure. There is an elegance to the textures and a lush, sensuous character in the palate that really hits the spot. 96 Pts
2014 – In this year, Southern Rhone wines are the product of a wine makers vintage. With mild winter temperatures, things got off to a good start before the massive rains began to fall. September did a lot to improve the vintage, but it could not fix everything. The opposite of the previous vintage because now, there was more Grenache used to produce the blends than usual. Generally speaking, the white wines turned out better than the red wines this year. This is an early drinking vintage. Drink. 88 Pts
2013 – The year was shaped by the problems with the Grenache. Many of the blends featured more Syrah and Mourvedre, as well as the other grapes than you'd find in normal years. Light in style, with good freshness, this is an early drinking vintage. 89 Pts
2012 – An above average growing season that began with a difficult, dry, spring before the August rains. The Grenache did much better than the Mourvedre. The wines are stylish, forward and show good character, especially at the top estates. 92 Pts
2011 – A nice drinkable vintage for consumers to enjoy while waiting for for their 2010 and 2009 wines to develop. Producers in the better terroirs had an advantage this year. After a mild spring, warm June and cool July, the hot, sunny, dry August and September made the growing season. Drink or hold. 89 Pts
2010 – It's hard to believe, but 2010 Southern Rhone wines could be even better than the almost perfect 2009 vintage, especially in Chateauneuf du Pape! The wines are full bodied, intense, ripe, powerful, yet plush, opulently textured, alcoholic, energetic and age-worthy. From top to bottom, this is a vintage to take seriously. Drink or hold 99 Pts
2009 – A beautiful growing season, not only in the Southern Rhone, but in all of Europe. The wines are rich, concentrated, luscious, full bodied, deep, ripe, sweet and age worthy. The growing season enjoyed hot, dry, sunny weather, rain at the right moments and strong mistrals. This is a super vintage. Drink or hold. 96 Pts
2008 – Light wines from a wet, rainy year with difficult growing conditions from start to finish. These are quite early drinking wines. Drink 87 Pts
2007 – Sensuous, sexy wines with silky, lush textures, ripe, sweet fruits that drink well on release and have aged nicely. The vintages was one of the driest years on record. The flowering was early and even. Summer temperatures were perfect with more than 2 weeks of mistrals at the end of August and early September. Drink or hold. 97 Pts
2006 – Very good wines that have aged nicely/ The cold winter was capped by frost in January. The strong summer mistrals, average growing season with some rainy periods and rains during harvest time shaped the vintage. Growers with the nerves to wait for as much maturity as possible made the best wines. Drink or hold. 93 Pts
2005 – A beautiful growing season for the Rhone Valley and all of Europe. The vintage was shaped by warm, sunny dry days and cool to cold nights and a long growing season. This all helped to produce rich, ripe, concentrated, sweet, fresh berries. The wines combine great style, depth of flavor and the ability to age and evolve. Drink 96 Pts
2004 – The cool, moist spring and strong June Mistrals led to a late growing season. Classic in style, with firmness to the tannins, the wines were good, but perhaps not great. 91 Pts
2003 – A mixed vintage with some estates making stunning wine, while many wines were over ripe and matured much too quickly. 2003 is the product of relentless heat and drought all over Europe. Generally speaking, wines from the clay soils did better than sand, which did better than gravel. Drink 91 Pts
2002 – The Noah's Ark vintage of the Rhone. Rain, rain, and more rain. Much of the region suffered flooding. Many wines were declassified. What little was produced needed to be drunk up in its first few years of life. Do not buy these wines today. 60 Pts
2001 – Stunning vintage that has it all, great concentration of flavor, ripeness and uniqueness of character. Plus, the wines have aged quite well. It was rainy and wet until the mid to late summer. The strong mistral that hit at the end of August, followed by sunny warm conditions really helped everything. August and September were picture perfect. Drink 98 Pts
2000 – A beautiful vintage. The wines are lush, forward, soft and silky, with great kirsch character. Rains fell off and on during the growing season. But this was accompanied by an early bud burst and flowering. More rain fell close to the end of the harvest. Producers that had already brought in their grapes, made better wine. Drink. 95 Pts
1999 – Lighter, early drinking, styled vintage with a lot of freshness and red fruit characteristics. This is the product of a mild winter, mild summer and mild growing season that produced some good, but never great or consistent wines. Drink 90 Pts
1998 – The second great vintage of the modern age. This was the first year when numerous estates started making special cuvee's from single vineyard sources, parcel selections or producing wine from their best barrels or oldest vines. The vintage was sublime. It was the perfect time to try something new in Chateauneuf du Pape. The producers took advantage of the opportunity and the market place loved it! After a rainy early spring, everything fell into place. The flowering was even, the summer and harvest seasons were warm, sunny and dry. The grapes really ripened. You can taste this in the wines. Drink 97 Pts
1997 – An underrated vintage. Some estates made quite charming wines, even if they were on the light side. The growing seasons was slightly cooler than normal. Most of the problems were from the irregular ripening due to the uneven flowering. 89 Pts
1996 – A mixed success, due to the mild, wet winter, on and off sun in the summer and cool temperatures during the harvest. Close, but not quite there. Dink 88 Pts
1995 – It was a hot summer, finally! After 4 years of rain, this was desperately needed in the region. The only drawback to the wines was the hard style of the tannins, which while they aided in longevity, they did not add to the pleasure. Still, some nice wines were produced. Drink 91 Pts
1994 – The fourth year in a row when it was just too wet for the vines. It was not nearly as bad as the 3 previous years and a few estates managed to produce good wine, through vigorous selection. Drink 83 Pts
1993 – Too much rain and not enough sun did help to produce very good wine. Drink now, or pass, as the wines are in serious decline. 75 Pts
1992 – Only slightly better than the horrendous 1991, the year suffered from the same issues. When it wasn't raining, it was pouring. Drink now, or pass, as the wines are in serious decline. 72 Pts
1991 – If you have something else to drink, open it, because this was a terrible vintage for Chateauneuf du Pape. 1991 Cote Rotie on the other hand made stunning wines and Hermitage was not far behind. When it wasn't wet during the growing season. It was pouring rain. it took slightly more than a decade to hit another vintage this bad. Drink now, or pass, as the wines are in serious decline. 70 Pts
1990 – Now we're talking! 1990 was the first great vintage that kicked off the start of the modern era in Chateauneuf du Pape. Robert Parker went crazy for the wines, as he should have. They are rich, luscious, sexy, sweet, fresh and well, sublime! The dry winter, wet spring and warm, dry, sun filled conditions in the summer were exactly what the doctor ordered. Drink 97 Pts
1989 – An outstanding Chateauneuf du Pape vintage in every sense of the meaning. The grapes were ripe from a sunny, warm, summer and harvest. The high yields left some wines with a rustic texture however that never really went away with time. Drink 93 Pts
1988 – A perfectly average year in every respect during the growing season and harvest. But the wines are for the most firm and masculine, which is too bad, because they were very long lived. Drink 90 Pts
1987 – Nothing like snow, rain and a lack of sun to create a disaster of a vintage. Look for wines from California, which produced some very nice wines. Drink 78 Pts
1986 – A wet year that did not allow the grapes to ripen fully or evenly. The wines are hard, firm and tannic. Drink 85 Pts
1985 – A beautiful year for Chateauneuf du Pape. Once past the very cold winter, the warm summer really turned things around. The only drawback was the large crop, which reduced concentration. The wines lack consistency with some producers making outstanding wines, while others under performed. At 30 years of age, there is no reason to hold these wines any longer. Drink 90 Pts
1984 – Another year where you are better off looking in other regions for wine. Look for Cabernet Sauvigno from the Napa Valley. The vintage was wet and cold, the Grenache did not ripen well. It was a difficult vintage for most, if not all of Europe.Drink now, or pass, as the wines are in serious decline. 80 Pts
1983 – Some nice wines were produced in the 1983 Chateaunaeuf du Pape vintage. Although most are no longer providing much pleasure today. The Grenache did not ripen well and the blends suffered for many producers. Drink 88 Pts
1982 – Much better for Bordeaux and the Northern Rhone Valley. Early, difficult flowering, high yields and low acidity did not help the situation. 83 Pts
1981 – Some stunning wines were produced this year. Beaucastel is the wine of the vintage. The vintage was marked by uneven flowering and multiple heat spikes. In it's day, I imagine there were quite a few nice wines. But that was more than 30 years ago. Drink 90 Pts
1980 – I'd pass on 1980 Chateauneuf du Pape. The vintage has long since past its best days. The flowering was late and uneven. Drink now, or pass, as the wines are in serious decline. Drink 80 Pts
1979 – Most wines should have been opened years ago. 1979 Chateauneuf du Pape had a cool, wet spring and it rained more during September. 87 Pts
1978 – Stunning vintage for Chateauneuf du Pape. The best since 1961. It was probably the equal of the top vintage from the 1950's or 1940's as well. Today, few 1978 Chateauneuf du Pape wines are worth buying or drinking. One wine worth seeking out is Vieux Telegraph! 1978 Chateauneuf du Pape was the product of a wet spring, which gave the growing season a late start. The beautiful, warm, sun filled summer more than made up for it. Drink up, as most wines are well past their prime. So you know, 1978 was not just perfect in the Southern Rhone Valley, Cote Rotie and Hermitage both made stunning wines! Drink 98 Pts
Ancient vintages of Chateauneuf du Pape are dangerous to buy as most wines have long since faded away, which is a polite way to say, they are dead. There are a few old wines that have really turned me on. For example, 1945 Clos des Papes remains of the great Rhone Valley wines of my life! If you're intent on buying older Chateauneuf du Pape, look for 1967, 1966, 1961, 1959, 1955, 1949, 1947, 1945, 1934, 1929 and 1928. If you find any of those really old, pre war years, feel free to invite me to dinner. I'd love to taste those wines with you!
If you're interested in reading about the wines and vintages from the Northern Rhone Valley with a focus on Cote Rotie and Hermitage, please read our Northern Rhone Vintage Chart 1978 to Today