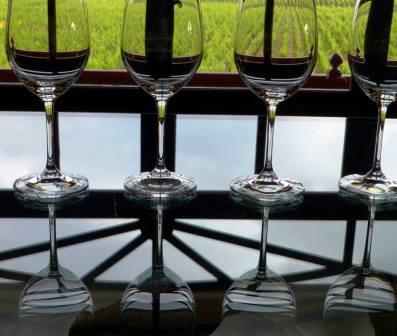 This page offers a myriad of easy to read articles to help you better understand, learn about and enjoy wine. You will also find articles written to help you start a wine collection, cellar your wine, serve you wine and if you find you have too much wine, to help you sell your wine as well.
All wine lovers start out the same way. We are moved by the simple act of tasting a wine. There is something in that wine that captures our attention. It could be the aromas, the texture on your palate, or just the moment frozen in time that leaves you wanting to repeat that experience. In time, something else happens to every wine lover. At first, they want to know more about the wine they were initially moved by. The next step comes when your interests began expanding. Perhaps you start tasting or buying more wines from the same producer, or at least from that appellation. In time, your horizons continue widening and your branch out to satiate your curiosity and begin trying wines from other regions or countries.
By this point, your intellectual curiosity kicks in and you want to learn about wine. You begin subscribing to wine magazines, buying a few books and possibly joining a wine group or two. Before you know it, you're visiting the wine regions that move you. By this point, you want to know even more, because wine has become a passion. Trust me, I know, because that is exactly what happened to me. To this day, I still enjoy learning more about wine, especially from the regions I am most of.
To help you learn, understand and enjoy wine, on this page, you'll find several articles covering a myriad of topics ranging from collecting wine, cellaring bottles, how wine is made, tasting wine and even selling wine.
Guide to Becoming a Better Wine Taster and Learning About Wine Easily will help you not only improve as a wine taster, but you'll also understand how to express and share with others what you're tasting in a wine. To accomplish this, we have provided you with a wine dictionary, wine aroma wheel and a guide on the how and why wine critics rate and score wine.
Tips on Pairing Wine with Food and Health Benefits from Wine provides you with 10 easy tips on wine and food pairing, along with an in-depth look at the potential health and nutritional benefits from drinking wine. Aside from pure pleasure of course. Just in case you over-indulge, or end up with the dreaded red, wine headache, we have you covered there as well.
All you Need to Know about Wine Collecting, Cellaring, Investing and Selling Wine If you spend enough time with wine, getting hooked to the point where you start putting together your own collection, or if you're considering building a wine cellar and stocking it full of your favorite wines, we have a series of articles to guide you through that.We'll tell you what's hot, and what's not, when it comes to buying wine. And if you find you suffer from having too much wine and want to sell some, or all of your cellar, we have articles to help you gain the most money possible from the sale of your wines.
Right Bank wines and Left Bank wine.
Buying Wine En Primeur, Pre Arrival, or Futures, Explained Buying En Primeur wine or wine futures and can difficult to understand. Today, is it even worth spending your money so far in advance of delivery for wines? We answer all those questions and more, along with letting you in on what a Bordeaux negociant does exactly.
Wine Bottles, Corks and Corked Wines are all important things to know about. Large format wine bottles are covered in full. The 4 saddest words any wine collector or drink will ever hear is, "Your wine is corked." If you want to know more about wine corks and the causes of corked wine, we have detailed articles on the topics. We even cover recorking wines for you!
How to Make Wine and Various Wine Making Techniques Discussed will give you a good idea on everything that goes into make red wine, white and even sweet wine. In addition, you'll find a few, exclusive, guest articles on related wine making topics.
Wine Laws in France, Production Facts and Figures for French Wine can be more than confusing, even for my French, wine loving friends. We make the most important rules and AOC laws easy to understand.
Kosher and Mevushal Wine are clearly different. If you've ever wanted to know more about Kosher wine and Mevushal wine, you came to right place. You can easily understand these two different wines. If you're a Kosher wine drinker, even if it's only on High Holidays, we put together a list for you on all the Kosher wines that are being produced Bordeaux today.
Wine Histories are fascinating. Discovering how some of the world's most famous wine regions came into being is clearly worth an entire book. We break it down for you in just one article per region.
How to Visit the Bordeaux Wine Region is a must read series of articles if you're planning a trip to Bordeaux. Not only will you learn how to book great visits to Bordeaux, but we also provide you with the largest amount of tips on where to eat and stay when you are in the Bordeaux wine region.