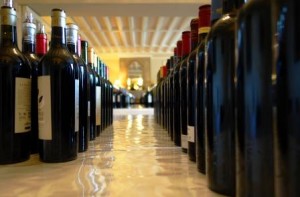 Bordeaux Futures… Where is the Bordeaux wine En Primeur system headed today?
A detailed look at the current state of the market for 2010 Bordeaux wine futures and the unique system of selling Bordeaux wine en primeur following the Bordeaux 2010 futures offerings. In a nutshell, what is the future of Bordeaux futures in America, China and other important Bordeaux markets today?
To buy or not to buy Bordeaux futures. That is the question.
For centuries Bordeaux wine buyers have complained about rising prices, yet Bordeaux wine continues selling to new markets and increasing in price. Is this a continuing trend? Is Bordeaux wine priced at such a high level, the wines will no longer rise in price? Or worse, will they decline? Some very strong 2010 Bordeaux wines were produced in every appellation. Pauillac, St. Julien, Margaux, Pessac Leognan and St. Emilion were favored. But compared to choices in the marketplace today, the wines are expensive. No, make that very expensive.
For tasting notes, reviews and ratings for the 250 best Bordeaux wines from 2010   www.thewinecellarinsider.com/?p=14184
Wines sell for what the market is willing to pay. Sometimes prices rise. At other times they decline. With the lukewarm reception the 2010 Bordeaux campaign received, the market seems to be in a state of flux. From the reception many of the wines received, consumers are saying, "If Bordeaux wine is priced is priced too high as a future, with little potential remaining to buy early, the lucrative futures market could go the way of the dodo."
It is not in the interest of Bordeaux to overprice their wine.
While it's not in their long term interest to overprice wine that does not mean it does not happen. Generally speaking, in the best vintages, Bordeaux prices their wines correctly.  It's the moderate years that often lead to over pricing. Over priced wines hurts the lucrative, futures system for Bordeaux. If the wines get a reputation for not moving in price, consumers will stop buying futures. This does not imply they will stop buying Bordeaux. It means they will refuse to buy futures if there is nothing to gain for their willingness to risk their money prior to the wines being bottled.
2010 Bordeaux wine was it too expensive?
The only way true way to know if 2010 Bordeaux is priced fairly is the end result. Customers willing to pay 2-3 years in advance need to know they were rewarded for their risk.  This means that by the time the wines are bottled, to be considered a good investment, they should have risen in price by at least 20% to 30%.  If not, why should customers pay for the wines so far in advance?
The previous campaign for 2009 Bordeaux appears to be a mixed success.  Some wine sold better than others due to the magic combination of high scores from Robert Parker and fair prices.  However, one year later, many wines have not moved in price, at least, not yet.  When consumers become aware of how much more 2010 Bordeaux is priced at, I expect most 2009 to hit the same level as 2010.  In part, the soft prices for 2009 are due to the lingering effects from a recession.  Blame also goes to the new, high price levels being sought for the wine.  Similar to 2010, but one year in advance, the level of success of 2009 futures will not be known until the wines are in bottle and available for sale in the stores.  If prices escalated enough to have offered a fair rate of return to consumers that purchased the wine, all is well with the future of futures for another vintage.  If the wines are available for the same price when they are in the stores, or worse, if they need to be discounted to sell through, that is a problem for the Bordeaux En Primeur system.  Perhaps that's an exception.  If the same thing takes place with 2010, you have a trend. That is not what any business needs.
2010 Bordeaux appears expensive to many of us that have been buying Bordeaux wine for years. But for people not used to paying less money, who knows? With no previous access to purchase Bordeaux futures, current prices might appear like good buys.  At least that is a good part of what the chateaux owners and negociants are hoping for.
The America marketplace and Bordeaux Futures
America has been a key market for Bordeaux wine since 1982.  No other current, active market has purchased as much Bordeaux wine as the United Stated in the best years.  While that vintage selection mentality irks the Bordeaux trade, the willingness of American wine enthusiasts to buy unlimited amounts of Bordeaux made for a great relationship.  In 2011, things are different.  America is still having economic difficulties.  The exchange rate for the dollar continues to decline and the enormous previous buyers, Costco, Deutsch and Diageo are no longer buying and selling Bordeaux wine.
In previous campaigns like 2005, numerous small American stores bought and sold 2005 because they had access to the wines.  Today, that is not the case. Fewer stores will offer 2010 Bordeaux than at any time in recent memory. This is not a good trend for Bordeaux. You don't need a Harvard MBA to know a decrease in sales is bad for business.
American merchants and Bordeaux negociants all agree the United States is not an active market for 2010 futures.  Some wines are meeting price resistance. 2009 was a much better campaign in America.
Where does the China and the Asian market fit in with 2010 Bordeaux?
The Chinese market has unlimited potential. The size of the population and the amount of discretionary money is staggering. While that's lovely music for some chateaux owners, along with negociants holding stock, that has caused supply problems for mature Bordeaux markets. In turn, that shortage triggered price hikes for collectors. Some of those older consumers are not willing to pay current prices for Bordeaux. But is China prepared to buy Bordeaux futures? And not just a limited amount of brands?
According to Stephen Browett of Farr Vintners, perhaps the world's leading trader of Bordeaux wine.  Farr maintains offices in London and Hong Kong. Browett said, "The concept or Bordeaux futures are not yet taking hold in China."  Much of the wines selling in China today are being purchased investors seeking to make profits when the wines are released."  Browett shares my view that things will change in Asia and in time, they will become a powerful marketplace.
Based on conversations with negociants, coupled with what I learned during my time in China, I conclude that current demand remains focused on specific wines. With a few well-known exceptions, those wines are the same labels being sought by wine funds. More importantly, the Asian culture has not lent itself to paying for wines that are not going to be delivered until the wines are in bottle, close to two years after the payment has been made. That was the case with 2009 Bordeaux.
Eventually China will become a wine buying country. In time, the Chinese will purchase a wide range of wines. There are differing opinions on the Chinese market. Chateau owners and negociants say, "China is already prepared to purchase futures." Collectors and wine merchants not doing business with the Chinese are convinced that's never going to happen. The truth is probably resting comfortably someplace in the middle, while we wait to see what will happen as the campaign continues to unfold. While some brands have sold well in China as futures, Beychevelle, Grand Puy Lacoste and Pontet Cantet in 2010, it is too early to tell what will happen with all the wines from 2010.
What went wrong with the 2010 Bordeaux wine campaign?
High prices alone have not stunted this campaign. Exacerbating the problem was the painfully, slow release schedule of wines for sale. In theory, small wines are released to whet the appetite and test the market, before more costly wines are offered for sale. The campaign ends with a rousing crescendo when the First Growths, Cheval Blanc, Ausone and possibly Lafleur come out. The First Growths are being offered now at close to $1,000 per bottle.
But this campaign's initial slow tempo quieted demand.  By the time the wines were finally appearing at a torrid pace, they were being offered too quickly for the market to absorb them.  Adding to the problem were price increases ranging from 10% to over 30% from 2009! For American's suffering from currency exchange rates, price increases ranged from 30% to 50%!
Consumers are balking. Robert Parker wrote on his web site calling for a 20% reduction from 2009. I would not go that far. In Email exchanges with a myriad of the better known Bordeaux negociants, I asked for 5% – 10% discounts from 2009 prices.  If a chateau lowered their price, the first thing they should do is hire a publicist trumpeting that fact.  They would earn a lot of good will. That gesture would go a long way to help retain established customers a continued strong presence in the American market.
Bordeaux is under no obligation to reduce prices from what they charged in 2009.  Having tasted several hundred 2010, many of the wines are sublime.  In my view, 2010 is a better fit for much of the world than 2009.  2009, with its sexy, opulent, rich, hedonistic style is tailor made for the American market.  2010, with its classical, more structured nature offers more appeal to European markets.  Is style enough of a reason to raise prices?  Some chateaux made better wine in 2010 than they did in 2009. In those cases, price increase is easier to understand.  In several instances pricing looks aggressive.  Several chateaux are asking record prices for their wines!
Bordeaux wine and their image in the world market place today
High prices are not the only issue Bordeaux faces.  The region has an image problem. Due to the extreme high selling prices of some wine, for example the First Growths and some of the more glamorous Right Bank wines, consumers wrongly surmise most, if not all Bordeaux is overpriced.  Nothing could be further from the truth!  The majority of good Bordeaux remains affordable.  World class Bordeaux often sells for less than their counterparts in Burgundy, Italy, America and other regions. Plus Bordeaux wines are available in quantity and remain easy to find.  When it comes to futures, most wine buyers are seeking to secure allocations of the top 50-100 wines.  The problem with 2010 futures is, consumers are asked to pay for those wines a few years in advance of bottling and delivery. If the chateaux are not going to allow buyers to profit from buying early, the wines will probably sell in bottle, but not as a future.
Bordeaux wine futures and the word on the street
Many writers, bloggers, merchants and critics wrote 2010 was off to a slow start due to high prices and low demand.  Posters on web sites have been saying for years that Bordeaux wine prices are a bubble ready to burst.  They seem to have forgotten that as recently as 2008, the wines dropped in value by close to 50%.  Today, prices have rebounded with a vengeance.  Today's consumers are faced with a new age for wine prices. The good old days are gone. How far in the future will we need to look before 2010 is considered the good old days? 3 years, 5 years or even 10 years, is the question.
I have a strong track record for making wine market prognostications. When 2005 was first offered, I wrote numerous times Bordeaux fans should buy those wines. They were they great wines in a beautiful style and the next great vintage would make them look cheap. I had no idea that only 4 more years later, 2009 would make 2005 look cheap and 2010 would be more expensive than 2009! That is not healthy for the Bordeaux futures market.
What is the future for Bordeaux futures?
.
These are the prices consumers will need to get used to paying.  2010 has been a long, slow campaign. Few 2010 wines are going to move in price. . The truth is, few wines are finding homes with end users today.
All the high scoring back vintages selling for less than 2010 will move in price to match the prices being asked for 2010. Years like 2004, with good but not great wines will continue offering value. Wines scored in the low 90 Pt. range by Robert Parker will continue selling at fair prices.  But the strong wines from the best previously released vintages will quickly move up in price. Smart consumers will take advantage of those opportunities before those wines rise in price to meet current 2010 price levels.
The situation is worse for Americans. Very little 2008, 2009 and now 2010 will be sold to America. Merchants will not take the risk on holding stock at these prices. There will be no major dumping of back stock because the stores are not willing to buy more than they need. The exchange rate for Americans is a major concern.  A shift in the economic tide could allow Americans to buy the wines at a later date for 20% less than they are currently being asked to pay.
Should you buy 2010 Bordeaux futures today?
2011 is off to a good start as a growing season.  It's dry, warm and the vintage is on target to harvest almost a month earlier than usual.  It's too early to know how 2011 Bordeaux will turn out.  But what would happen if Bordeaux produced another great vintage?  How much wine can the market absorb at the current price levels?  If 2011 turns out to be a strong vintage, for the wines to sell, in all probability, the prices will need to be lower than 2010.  If that happens, consumers who purchased the expensive 2009 and more costly 2010 are going to be upset and lose faith in the futures of futures if their investment does not produce positive results.
My advice for buying 2010 Bordeaux futures is; pay what you are willing to spend to drink the wine. The days of instant profit for wine buyers are over.  No longer can you buy a wine hoping to make 20% in a week or month.  You might not even make much money when the wines are in bottle. If that low level of return happens with increased infrequence, the future of Bordeaux futures does not look as bright as it used to be.
The price is the price for Bordeaux wine, just like every other wine
"The price is the price" is a common refrain in Bordeaux.  Truer words are seldom spoken. But just because a wine is priced, does not mean the consumer needs to buy it as a future. Many things are considered before an owner prices their wine.  Part of the thought process is pricing at the same or higher levels than your competitors.  Current selling prices for equal quality vintages are also a consideration.  2005 and 2009 are both quality competitors for 2010.  Prices for 2010 futures should have been less than 2005 and 2009 to allow for some margin in favor of the consumer.  Having tasted the vintage twice, the quality is there.  But for most 2010 Bordeaux, it's reasonable and prudent to wait until the wines are in bottle before buying. Please note, I said, "most."  There are some wines worth purchasing as futures, fair, but many wines are too high at this point.
Future trends for Bordeaux futures
Vinexpo is an annual event.  It takes place in Bordeaux every other year. More than 50,000 people attended Vinexpo in Bordeaux this year. Negociants reported strong sales.  But the sales were not for 2010 Bordeaux.  Most of the business was written for vintages from 2000 to 2008.  Demand remained extremely light all over the world for 2010 futures.
If the trend for higher release prices continues, it's possible a different model of selling Bordeaux could develop.  It's important to remember, while futures have been sold for centuries, it was less than 30 years ago that consumer for futures was almost non-existent. It is not out of the question for the system to change.  Lack of consumer demand for futures could force that to happen. Taking this one step further, chateaux owners might one day hold their wines until they are bottled and ready for delivery.  While the top 50 properties have the funds to wait years before they are forced to sell for cash flow.  This would be a hardship for many chateaux that are not amongst the elite. The top chateaux look at the business model for Harlan Estate wines with envy. Harlan sells all their wines approximately 18 months before they deliver the wines. The bottles are sold directly to the consumer for prices close to $600 per bottle!  Harlan sells about 1,500 cases a year. The top Bordeaux chateau produce a lot more wine, which would make this a daunting proposition. But one can dream.
Following Vinexpo; Robert Parker on his website wrote, "Think we are witnessing the killing of the golden goose… my instincts also suggest the EU will have to monetize their debt problems (the PIGS-Portugal, Spain, Italy, Greece), and while I "ain't no" economist, this could very well seriously weaken the euro… buying these wines with the current USA dollar value seems like throwing money down a rat hole… and 2011 is already 3 weeks ahead of schedule."
Customers will eventually pay for the best Bordeaux wines, but not as futures. There is too much risk and not enough reward to buy most 2010 Bordeaux wine today. These are interesting times to be a wine lover, wine buyer, chateaux owner, wine merchant, negociants or drinker.  Like a fine Bordeaux that needs time to develop, this situation will require time before it's sorted out.  But unlike a fine wine, this campaign is not developing well.