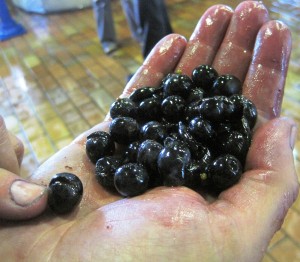 This page is a Guide to California Wine Grapes for Red and White Wine that focuses on the main grapes used to produce California wines that are usually covered in The Wine Cellar Insider.
Every grape has its own unique, character and flavor. These traits shape the important characteristics found in a wine. Any grape can be planted in any soil. In fact, that's what used to happen. Today, with better vineyard management techniques, most vineyards plant the type of fruit that is best suited to its soil types and weather.
This understanding of which grapes work best in which terroir allows winemakers to produce the best wines possible from their vineyards as this will allow the fruit to achieve the desirable level phenolic ripeness the grower is seeking.
California wines are produced in all shapes, sizes and colors. In fact, today, wine is made in all 50 states!  While there could be hundreds of grape varieties grown in America, we are focused on the most important varietals that we taste the most often in red and white wine that are planted in California.
In California, more than 60 different varieties of grapes are planted for use in making wine. However, we're going to focus on the main types of grapes that are used to produce red and white Bordeaux blends; Cabernet Sauvignon, Merlot , Cabernet Franc, Petit Verdot and Malbec for the red wine and Sauvignon Blanc and Semillon for the white wine.
We'll look at Syrah, which is used in Cote Rotie and Hermitage in the Northern Rhone as well as in other countries along with Grenache and Mourvedre, the other most popular grapes used in Chateauneuf du Pape, in the Southern Rhone Valley.
We'll cover the Burgundian grapes Pinot Noir, Chardonnay and two grapes that are often identifiable with California wine, Zinfandel and Petit Sirah. As you can see,California consists of a diverse array of appellations. Due to its size and variety of different terroirs, all the noble and important, as well as many of the lesser grapes are planted in the Golden State.
Bordeaux Grape Varieties for Red and White California Wine
Rhone Valley Grape Varieties for Red and White California Wine
Burgundy Grape Varieties for Red and California White Wine
Other Grape Varieties for Red and White California Wine