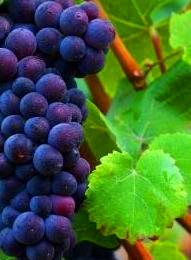 Pinot Noir, the only red wine grape of Burgundy is thought to have been born from a seldom seen grape that is grown in only a few select areas of France, Gouais Blanc.
Pinot Noir as a plant is quite complicated and seems to have spread its wings, giving birth to several off springs of various Pinot Noir clones. In fact, there are 16 known, unique different types of Pinot noir grapes grown today.
Pinot Noir is a popular grape that has become even more wide spread over the past 40 years. Recent studies show that Pinot Noir is the 10th most widely planted grape in the world! Today there are a total of 117,358 hectares and probably more under vine of Pinot Noir cultivated all over the world.
Pinot Noir, the red wine grape of Burgundy, takes its name from a combination of the French word for pine, (Pinot), due to its tight, pine cone shaped, fruit clusters. The word Noir comes from the grape skins natural dark color.
While Pinot Noir grows in countless other countries, it reaches its highest peaks of expression in the cool climates and stony soils found in the Burgundy region in France. Pinot noir is also an important grape in Champagne, where it is either used on its own, or as a blending grape with Pinot Meunier and, or, Chardonnay.
Like all the noble grape varieties, Pinot Noir also has its own holiday, International Pinot Noir Day is celebrated every August 18.
Pinot Noir wine is produced in a myriad of styles, depending on the terroir the vines are planted in and the desires of the wine maker. In France, the grape has naturally high acidity levels, which can vary, depending on if the grape is whole cluster vinified, meaning the stems are not removed, or not.
Also, the degree of ripeness will have a lot to do with the style of the wine. The levels of ripeness can vary depending on the ambient temperatures, hours of sunshine, soils, picking dates, micro climates and rootstock.
In California, Pinot Noir is often a few degrees higher in alcohol than you find in France. The increased alcohol levels producers a fleshier, ripe, darker, more concentrated wine, than you find in its European counterparts.
One of the oldest grapes used for wine, Pinot Noir has a long history dating back to the first century, when the ancient Romans began enjoying it, due to its popularity in the recently conquered Gaul regions, in what later became France.
In part, much of the early popularity of Pinot Noir is thanks to its continuing use by the Church and Catholic Monks. It was the wine of choice for Sacraments. If it was good enough for the Church, the thinking was, it was perfect for everyone and in time, of course the public came to love it as well.
Pinot Noir is a finicky, less hardy grape than Cabernet Sauvignon. It requires low yields and is subject to numerous issues in the vineyard that can be brought on by wind, cold or hot weather, fungus or rot, due to its thin skin and susceptibility to disease. The grape does best in cool, dry climates with well drained, stony, or chalk infested soils.
Pinot Noir, due to its more delicate nature and red berry profile is perfect for many wine and food pairings. Pinot Noir matches well with duck, pork, veal, chicken, squab, tuna, salmon and other meaty fishes.
Pinot Noir is often ap perfect match for Asian cuisine. Depending on the dish, and its seasoning or dipping sauces, Pinot Noir works well with many sushi or Sashimi dishes. Due to its high level of acidity, Pinot Noir stands up to foods and sauces that are higher in acidity. Pinot Noir also pairs well with a myriad of different hard and soft cheeses as well.
Pinot Noir produces a heavily perfumed wine with scents of earth, spice, cherries, strawberries, herbs and raspberries when ripe. It is a light to medium bodied wine, with high acidity that can age well.
Burgundy is an expensive wine region to taste from. While great wines are produced in Burgundy, many wine collectors state, finding a good Burgundy is a bit of minefield. While the best wines of Burgundy are amazing, as often as not, the bottles of high-end, Burgundy wine they buy and open do not always deliver their desired levels of pleasure. They also add, the hunt and failure to find a good wine is part of the fun.
The most famous and expensive of producer of Burgundy is Domaine Romanee Conti, which makes numerous wines including the two wines at the top end of their range, Romanee Conti and La Tache. Domaine Romanee Conti takes credit for producing the world's most expensive wine. A case of the 1978 Romanee Conti sold in 2013 for almost $500,000! We told you it was expensive!!!
Following Romanee Conti, many of the world's most expensive wines are also from Burgundy. Rounding out the list you find Henri Jayer, Roumier Musigny, Leroy, Domaine Romanee Conti La Tache and Comte Liger-Belair La Romanee.
These wines all routinely sell for thousands of dollars per bottle. They are also the world's most counterfeited and faked bottles of wine, so you need to be very careful buying them, especially older vintages and large format sizes.
In Burgundy, Pinot Noir reaches its peak in the Cote d'Or, which consists of Cote de Beaune and Cote de Nuit. Pinot Noir is also planted in the adjacent communes of Cote Maconnaise and Cote Chalonnaise, which produce more affordable, early drinking expressions of French, Pinot Noir.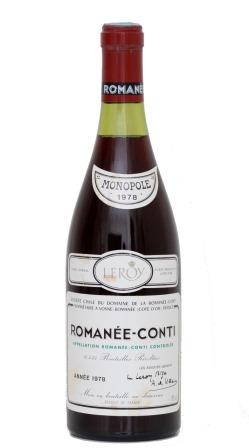 While France has the perfect terroir for Pinot Noir, which is where the grape provides its finest expression, Pinot Noir is planted all over the world. Aside from offering the best expression of Pinot Noir, France has the most planted hectares of the grape with 30,351 hectares planted to vine.
The United States has the second largest cultivated area with 29,542 hectares under vine. This is followed by Moldova, Italy, New Zealand, Australia, Switzerland, Chile, Argentina, Germany and other vineyard areas.
The finest producers of Pinot Noir in California are located in Sonoma, especially in the Russian River Valley appellation, the Central Coast regions including Santa Rita Hills, Santa Maria Valley and Santa Barbara.
Some of the better producers of Pinot Noir from Northern California are: Marcassin, Aubert, Peter Michael, Rochioli, and Kistler. There are now numerous producers of Pinot Noir in the central coast of California that are making very good wines including; Brewer Clifton and Ojai.
In California, the degree of ripeness and alcohol has become an issue of contention between some growers, producers and wine lovers. Proponents of the riper style of Pinot Noir in California are headed by Loring and Siduri. The popularity of Pinot Noir in America is not limited to California.
The grape has enjoyed a string of successes in Oregon and Washington State. Robert Parker, the famous wine critic until recently, owned a vineyard there, Beaux Freres, located in the Willamette Valley appellation that was dedicated to producing Pinot Noir.