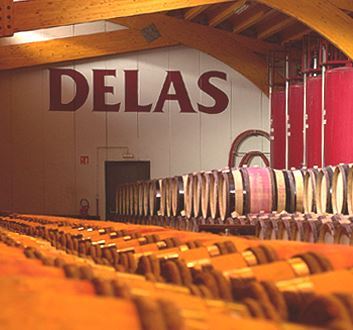 Learn everything about Delas Freres, Hermitage with wine tasting notes, wine and food pairing tips, best vintages, a history of the property and information on the vineyards and winemaking. If you want to read about other important wineries and wine makers from the Rhone valley: Links to all Rhone Valley Wine Producer Profiles
Delas Freres Hermtiage History, Overview
Delas Freres is one of the top producers of Rhone wine in a myriad of appellations. Delas Freres makes outstanding wine from Cote Rotie and Hermitage in the Northern Rhone.
The company also produces one of the top value wines from the region with their Cote du Rhone. Delas Freres has one of the longest histories in the appellation.
What we know of as Delas Freres today was formed in 1835 when Philippe Delas and Charles Audibert agreed to purchase Maisons Junique. The new company changed their name to Audibert and Delas.
Philippe Delas had two sons, Henri Delas and Florentin Delas. Florentin Delas eventually married the daughter of his fathers partner, Charles Audibert. In 1924, the two brothers took over management of the company and altered the name to what is still in use today, Delas Freres.
When the next generation took over management of Delas Freres in 1960, the company had become one of the top producers of Rhone wines with holdings in Cote Rotie, Hermitage, Cornas and Condrieu in the north as well as in the south in Chateauneuf du Pape.
In 1977 the company merged with the well-known Champagne firm, Deutz. In 1993, Delas Freres was in turn taken over by another Champagne producer, Louis Roederer in 1993.
Delas Freres also produces wine from a myriad of Northern Rhone appellations including Cote Rotie from La Landonne, Crozes Hermitage, St. Joseph, Cornas, St. Peray and Condrieu.
In 2016, Delas Freres hired the highly, respected, Architect, Carl Fredrik Svenstedt to design the most modern facility in the Rhone Valley. The winery will be located in Tain Hermitage.
Delas Freres Hermitage Vineyards, Grapes, Wines, Winemaking
Currently, Delas Freres produces 2 Hermitage Rouge wines and 1, Hermitage Blanc wine.
Delas Freres Les Bessards is their flagship, Hermitage wine. As you can surmise from the name, the wine is produced solely from grapes planted in the Bessards vineyard.
Les Bessards is perhaps the most famous vineyard in Hermitage. Les Bessards has a terroir of steep, granite hillside soils. The grapes are planted in the Bas de Coteau area of the lieu-dit.
While Delas Freres Les Bessards is one of the top wines in the Hermitage appellation. Interestingly, the company thinks a better judge of the quality they produce is in their high volume wines. They also own vines in the L'Hermite and Les Grandes Vignes vineyards.
With Les Bessards, they have been striving to produce a higher quality wine since they released their outstanding 1990 vintage. All of the grapes are 100% destemmed. The grapes are cold macerated before fermentation, there are minimal rackings and the wine is aged on its fine lees, giving the wine more richness.
At Delas Freres, for the barrel aging, they stopped using large 40 hectoliter barrels and have since moved to small, 225 liter, French oak barrels. Generally speaking, the wine is aged on average for about 18 months in barrel before bottling. In 1999, they renovated their fermentation cellars and added new temperature controlled vats.
Made from 100% Syrah, vinification takes place in concrete tanks. The wine is aged in a combination of new and used, French oak barrels, with a large percentage of their wine aged in new French oak. On average, about 500 cases are produced each vintage.
Delas Freres Domaine des Tourettes Hermitage. Until 2007, the wine was sold under the name of Marquise de la Touretts. The grapes are 100% destemmed.
The wine is produced from 100% Syrah and is aged in an average of 15% to 30% new, French oak barrels for about 18 months before bottling. Domaine des Tourettes is one of the larger productions in Hermitage as close to 3,000 cases of wine are produced each year.
Marquis de la Tourette is a lighter style of Hermitage that can be enjoyed in its relative youth, while wait for their Bessards to mature.
Delas Freres Hermitage Domaine des Tourettes Blanc comes fruit planted in the southern part of the Bessards lieu-dit and from vines placed in the Grandes Vignes lieu-dit.
Produced from 100% Marsanne in some vintages, and blended with Roussane in other years, the wine is aged for 8 months in 50% new, French oak barrels before bottling. Not much wine is made, as the production averages about 300 cases per vintage.
The best vintages of Delas Freres are: 2022, 2021, 2020, 2019, 2018, 2017, 2016, 2015, 2012, 2010, 2009, 2007, 2005, 2003, 2001, 1999, 1998 and 1990.
Delas Freres has annual sales of almost 1.7 million bottles per year. They produce Hermitage Blanc as well as wines from St. Joseph and Crozes Hermitage. Their fruit comes from a combination of vineyards they own as well as from other growers.
In Hermitage, they own 6 hectares of prime vineyard land on Les Bessards, along with plots in L'Hermite and Les Grandes Vignes. Aside from Les Bessards, their top red wine, they also produce an affordable Hermitage wine called, Marquis de la Tourette.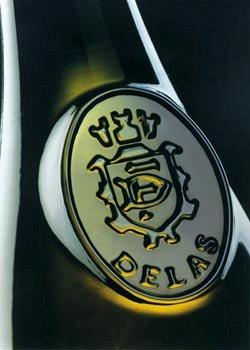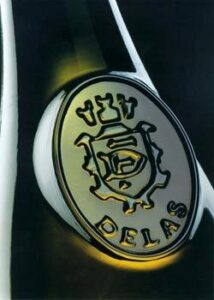 When to Drink Delas Freres Hermitage, Anticipated Maturity, Decanting Time
Young vintages can be decanted for 2-4 hours, depending on the character of the vintage. This allows the wine to soften and open its perfume. Older vintages might need very little decanting, just enough to remove the sediment. Delas Freres Hermitage is best with 10-15 years of aging, and can remain at that peak level for at least 15-25 years.
Serving Delas Freres with Wine, Food, Pairing Tips
Delas Freres is best served at 15.5 degrees Celsius, 60 degrees Fahrenheit. The cool, almost cellar temperature gives the wine more freshness and lift.
Delas Freres is best served with all types of classic meat dishes, veal, pork, beef, lamb, duck, game, roast chicken, roasted, braised and grilled dishes. Delas Freres is also good with Asian dishes, hearty fish courses like tuna, mushrooms and pasta.
The white wine of Delas Freres is best served with a myriad of different seafood dishes, shellfish, crab, lobster, sushi, sashimi, chicken, pork and veal, as well as Asian cuisine.
Delas Freres Bessards Hermitage wines are big, ripe, rich, deep, bold and powerful wines demanding 15-20 years of bottle age before maturity in the top vintages.
Delas Frères Wine Tasting Notes
41 Vintages 181,682 Views Sort by Vintage-Rating
2017
Delas Frères Les Bessards (Hermitage)

Rich, dark, deep, and smoky, the olive-infused blackberries and black cherries offer purity, as well as length and persistence. Full-bodied, concentrated, and fresh, the wine leaves you with vibrant, creamy fruit. Drink from 2024-2042.

1,428 Views

Tasted

Oct 9, 2022

2017
Delas Frères Clos Boucher (Condrieu)

Spicy white peaches, flowers, apricot and spice create the nose. The wine is unctuous, round, fat and juicy, with sweetness to the fruits, length and purity, along with a gentle touch of honey in the finish.

2,418 Views

Tasted

Feb 23, 2019

2017
Delas Frères La Galopine (Condrieu)

Lush, round and vibrant, with a white peach and floral perfume, the wine is ripe, rich, round and fresh. You can enjoy this now and over the next few years.

2,216 Views

Tasted

Feb 23, 2019

2017
Delas Frères Haute Pierre (Châteauneuf-du-Pape)

Dark black raspberries, garrigue, thyme and pepper pop easily in the nose. With a hint of dust in the tannins, the wine is fresh, juicy, fruity and reserved. You can drink this young with pleasure.

2,323 Views

Tasted

Sep 21, 2019

2016
Delas Frères Les Bessards (Hermitage)

Inky, full bodied, deep, long and intense, the wine is meaty, fresh, powerful, tannic, full bodied, long, fresh and rich. The fruit is ripe, and so are the soft, polished, yet persistent tannins. This should age for decades.

3,191 Views

Tasted

Feb 9, 2019

2016
Delas Frères La Landonne (Côte-Rôtie)

Deep in color, the espresso, licorice, smoke and flint, paired with layers of juicy, ripe fresh, red fruits show up with ease. On the palate, the wine offers richness, density, purity of fruit, herbs, crushed stones and a wall of ripe, lushly textured, dark red berries. This will age quite nicely.

2,301 Views

Tasted

Feb 9, 2019

2016
Delas Frères Seigneur de Maugiron (Côte-Rôtie)

Earth and herbs pop right away before reaching all that sweet, silky, fresh, red fruit. The tannins are soft, the wine has lift and energy, leaving with you a trail of olives and fresh cherries in the finish.

2,480 Views

Tasted

Feb 9, 2019

2016
Delas Frères Haute Pierre (Châteauneuf-du-Pape)

Best Chateauneuf ever produced from Delas. This has volume, texture and depth of flavor, with all of its juicy, sweet, ripe, kirsch, underbrush, licorice and herbs. The lush, red fruit filled finish is a treat.

2,558 Views

Tasted

Feb 23, 2019

2016
Delas Frères Clos Boucher (Condrieu)

Slightly honeyed yellow fruits, minerality, length and persistence are found here. Round in texture, the wine is rich and full, with fresh, pears and white fruits in the finish.

1,630 Views

Tasted

Feb 9, 2019

2015
Delas Frères Les Bessards (Hermitage)

Almost opaque in color, the first thing you notice is the minerality, with all those crushed rocks and stones. From there you quickly move to salty, red berries, smoke, herbs and spice. Full bodied and rich, the wine fills your mouth, coating your palate layers of ripe, deep, black fruits and freshness that builds in intensity.

6,049 Views

Tasted

Feb 9, 2019

2015
Delas Frères La Landonne (Côte-Rôtie)

With the backbone to age, this is all about the intensity of flavor, purity of the fruit and the deep gravel that comes through on the nose and peppery, red berry palate. Give it 7-9 years and this will rock!

3,391 Views

Tasted

Feb 10, 2019

2015
Delas Frères Le Clos (Crozes-Hermitage)

Smoke, earth, truffle, and deep black fruits on the nose get you ready for the blast of ripe, rich fruits and salty tannins. This is a parcel selection from their vineyard that truly competes with many more expensive Hermitage wines.

2,092 Views

Tasted

Feb 9, 2019

2015
Delas Frères Domaine des Grands Chemins (Crozes-Hermitage)

Deep in color, with a smoky, grilled meat and dark red fruit nose, the wine is lush, rich, round, ripe, full-bodied and generous with its fruits.

3,245 Views

Tasted

Feb 11, 2019

2015
Delas Frères Domaine des Tourettes (Hermitage)

Silky, polished, round and lush, with ripe, sweet, red fruits, tannins that add strength, structure and the ability to age. Give this 6-8 more years and you're going to be quite happy with this wine.

3,147 Views

Tasted

Feb 9, 2019

2015
Delas Frères Seigneur de Maugiron (Côte-Rôtie)

Cracked black pepper galore is the first thing you find. From there you enjoy a blend of herbs, spices, truffle, crushed rocks and red fruits. In the mouth, the wine is vibrant, focused, fresh and clean, with a crisp, peppery, red berry finish. Give it a few years before pulling cork to develop more secondary notes and softness.

3,281 Views

Tasted

Feb 10, 2019

2015
Delas Frères Haute Pierre (Châteauneuf-du-Pape)

Garrigue, pepper and wild cherries here open the nose. On the palate, the wine offers sweet, lushly textured fruit, soft tannins and a bright, crisp, fruity, kirsch and red berry finish.

2,035 Views

Tasted

Aug 21, 2017

2014
Delas Frères Les Bessards (Hermitage)

Medium/full-bodied and relatively forward for a young Hermitage, the wine is smoky, floral and almost lush in its palate presence. The deep red fruits come along with spice, flowers, espresso and thyme. Give this another 7 years or so and it should be showing well.

3,472 Views

Tasted

Nov 20, 2019

2014
Delas Frères Haute Pierre (Châteauneuf-du-Pape)

Loads of spicy, red fruits, kirsch, olives, flowers and garrigue. There is decent concentration and freshness in the kirsch finish.

1,955 Views

Tasted

Jun 23, 2016

2014
Delas Frères Saint-Esprit (Côtes du Rhône)

Deep in color, with a garrigue, black raspberry and spicy tone, the wine is medium bodied, forward, early drinking with black cherry, spice and herb finish. I'd drink this over the 1-3 years. Clearly this is uncomplicated, but for $10-$12, it's a solid value wine.

2,326 Views

Tasted

Jan 9, 2017

2013
Delas Frères La Landonne (Côte-Rôtie)

Medium-bodied, round, soft, open and fresh, the wine offers lifted, crisp red berries, plums, pepper, herbs, smoke, vanilla and floral essences on the nose and palate. The wine is already easy to drink.

2,641 Views

Tasted

Nov 16, 2020

2012
Delas Frères Blanc Domaine des Tourettes (Hermitage)

Concentrated, richly textured and loaded with flowers, vanilla, nectarines, orange and yellow citrus notes, with just a drizzle of honey, the wine is buttery, juicy, fresh and clean. Still young, this is one of those Northern Rhone white wines that will better in a decade. The wine was made from 100% Marsanne.

2,849 Views

Tasted

May 17, 2017

2011
Delas Frères Haute Pierre (Châteauneuf-du-Pape)

Unadorned, simple, but correct, the wine is on the short and sweet side.

1,930 Views

Tasted

Aug 19, 2014

2010
Delas Frères Les Bessards (Hermitage)

This just gets going and never quits. The wine is incredibly intense, perfectly balanced and the purity in the fruit coats your palate with layers of lush, powerful, ripe, mineral-driven, salty, deep, dark red fruits. The seamless finish stays with you for about 50 seconds. Wines this good can be enjoyed young, but the real fireworks should kick in between 2025 and 2030. It is going to be worth the wait.

5,918 Views

Tasted

Oct 1, 2018

2010
Delas Frères La Landonne (Côte-Rôtie)

Powerful, long, concentrated and intense, the wine is full bodied, richly textured and packed with perfectly ripe, dark red fruits. There is a purity to the fruits that stands out, and is made even better by the appearance of spice box notes, truffles, wet earth, licorice and pepper. Lay this down for another 6-10 years and this will be a superb wine.

2,742 Views

Tasted

Mar 12, 2018

2010
Delas Frères Domaine des Tourettes (Hermitage)

Forward, expressive, charming and surprisingly voluptuous for an Hermitage this young, there is freshness, and a vibrancy to the sweet, spicy, peppery, dark red fruits, hints of licorice and smoke. Full bodied and already fun to drink, I'm sure this will age for at least a decade or longer with ease, but if you are sitting on more than a few bottles, feel free to pop a cork.

6,284 Views

Tasted

Feb 26, 2017

2009
Delas Frères Les Bessards (Hermitage)

Voluptuous, dense, full-bodied and deep, the wine is powerful and loaded with tannin to age for decades, but the tannins are so ripe and soft, the wine feels well defined. The dark red fruits taste, smell and feel great.

4,113 Views

Tasted

Oct 4, 2018

2009
Delas Frères La Landonne (Côte-Rôtie)

What a knockout. with its intense levels of concentrated, powerful, ripe, dark red fruits that come at you in layers, you also find smoke, thyme, wet earth, licorice, black pepper, espresso and hints of flowers. Long and complex, wait another 4-5 years and things will be even better.

3,096 Views

Tasted

Oct 1, 2018

2009
Delas Frères Domaine des Tourettes (Hermitage)

The last few years have brought this around. With 20 minutes of air, the wine pops with grilled meat, olives, sea salt, herbs, and black fruits. Rich, supple, and full on the palate, there is weight, richness, and plushness in the finish. Drink from 2022-2032.

3,008 Views

Tasted

Oct 7, 2022

Not mature, but definitely ready to go the fruit shows a beautiful cherry note, with loads of smoke, thyme, pepper and earth, full bodied, amazingly soft for a young Hermitage, give it an hour or two in the decanter before imbibing.

4,150 Views

Tasted

Feb 3, 2019

2009
Delas Frères Seigneur de Maugiron (Côte-Rôtie)

Young, but with an hour or so of air, this seductive, supple, medium/full bodied wine is making it hard to resist its sweet, fresh, kirsch, pepper, black raspberry, spice, floral and earthy pleasure. Lots of freshness and soft textures in the fruit filled finish. Drink this while you are waiting for the La Landonne to come around.

3,633 Views

Tasted

Feb 12, 2017

2007
Delas Frères Les Bessards (Hermitage)

Medium/full bodied and very forward for this wine, the round, soft textured wine is filled with fresh black plums, cherries, licorice, earth and espresso. This is already fun to drink with 1-2 hours in the decanter.

3,137 Views

Tasted

Feb 16, 2014

2005
Delas Frères Les Bessards (Hermitage)

Still opaque in color, this intense wine opens with mineral, smoke, blackberry, boysenberry, earth and spice. This powerful, full bodied wine is packed with layers of ripe fruit and tannins that require at least 10 -15 more years to come around. Not much of this stunning Hermitage wine is made as the production hovers at close to 500 cases per year. Fortunately, for fans of the wine, prices remain reasonable for a Northern Rhone of this quality.

4,662 Views

Tasted

May 2, 2012

2005
Delas Frères La Landonne (Côte-Rôtie)

Still young, tannic and demanding time, the perfume pops with kirsch liqueur, espresso, blackberries, earth, smoke and pepper. Full bodied, fresh, long and rich, when this comes around, I imagine it will be even better and deserving of a higher score. As my 1998's are still young, this is going to need some time.

2,967 Views

Tasted

Jun 1, 2013

2003
Delas Frères Les Bessards (Hermitage)

I really like how this is showing now. Good levels of concentration, lush, sweet, ripe, but not over ripe, dark red fruits, licorice, roasted meat, round tannins and length in the finish. The wine improved in the glass. No hard edges to the tannins in this wine, it's really quite supple.

4,170 Views

Tasted

Oct 16, 2017

Wow! With little encouragement other than splash decanting, the perfume blasts with dark berries, smoke, licorice, oak and black pepper. Full bodied, long, concentrated, big and rich, every mouth coating sip is packed with flavor. This is young, yet it drinks well and will only keep getting better and better. If you're not hung up on modern vs traditional, this is worth checking out.

3,033 Views

Tasted

Nov 30, 2013

2003
Delas Frères La Landonne (Côte-Rôtie)

I have to say, I was disappointed in this bottle tonight. The attractive perfume delivered blackberries, earth, coffee bean, dark cherry and mocha notes. On the palate, the wine was missing the fresh acidic pop I get from Cote Rotie. It was not nearly as good as it was a few years ago. This is a wine that needs to be consumed over the next year or two, before it declines further.

2,627 Views

Tasted

Oct 2, 2015

With a nose filled with sweet, ripe, black and blue fruits, oak, coffee, earth, licorice and spice, the wine is rich, round and supple in style. Yes, it's modern. But I really liked it. It continued to fill out and the oak became less prominent as the wine sat in the glass. This is a nice expression of La Landonne.

3,199 Views

Tasted

Aug 8, 2012

1999
Delas Frères Les Bessards (Hermitage)

A super wine that is just starting to deliver on its youthful promise. The silky texture, full body and concentration of ripe, sweet, pure fruits, coupled with complex, earthy aromatics really hits all the right spots.

3,573 Views

Tasted

Jan 17, 2016

Deep ruby in color, the color has not moved much since the day the wine was delivered. Licorice, garrigue, black raspberry, stone, coffee, blackberry and iron create the potent perfume. On the palate, the big, concentrated wine is intense, rich, fresh and filled with sweet, dark, rich, ripe, juicy, dark berries. After 2 hours in the glass, the texture developed voluptuous, silky sensations along with a sense of minerality. The wine improved in the glass throughout the night. This is just starting to drink well. And the best is yet to come.

4,331 Views

Tasted

May 26, 2012

1999
Delas Frères La Landonne (Côte-Rôtie)

This is gorgeous to drink today, with all of its earthy, vibrant, peppery, smoky, red fruits, wet heart, and crushed rock nuances. With good concentration, vibrancy, and sweetness to the cherries on the nose and palate, no decanting is needed, just pop, pour and enjoy. Drink from 2022-2032.

1,860 Views

Tasted

Aug 9, 2022

Fully developed, soft, cherry, kirsch and red plum wine. Medium-bodied, elegant and fresh, this is clearly ready to go.

3,168 Views

Tasted

Dec 15, 2020

I was shocked by how young this wine tasted. With 90 minutes of air, the truffle, licorice, cigar box, black cherry, charcoal, earth and herb character began to come out. The wine filled out, softened and delivered silky, lush, concentrated layers of fresh, sweet black cherries and spice. I'd wait another 4-5 years before popping another cork.

2,947 Views

Tasted

Jun 5, 2016

Still deeply colored, with an attention grabbing perfume filled with pepper, red and black fruits, coffee, black cherry liqueur, bacon fat, spice and earth. Rich, concentrated and powerful, this Cote Rotie is still youthful and tannic. Give it another 2-4 years. I am not sure why the top wines from Delas do not command more attention. Perhaps with its the small production, (250 cases of Landonne), people do not get to taste the wines enough. Oh well... This is better for fans of the wine, as it keeps prices down.

3,033 Views

Tasted

Nov 13, 2011

1998
Delas Frères La Landonne (Côte-Rôtie)

Flowers, smoke, ripe, red, fruits and wet earth, with sprinkles of thyme on the nose hit the spot. The wine has filled in, fleshed out and softened over the years, morphing into a really tasty treat, with character and freshness.

3,426 Views

Tasted

Oct 10, 2017

A late night bottle, popped and poured. This is clearly at peak. Medium/full bodied, soft, silky and no hard edges. The fruit with is fresh, clean and filled with fresh cherries. The aromatics are there, the only drawback was the finish just did not last long enough. There is no reason to hold this any longer. I'll finish my last remaining bottles of the next few years.

3,076 Views

Tasted

Oct 7, 2015

Licorice, smoke, minerality, boysenberry, flowers, lavendar and cherries pop from the bottle before the wine is poured! Voluptuous, concentrated and open, this fresh, ripe Cote Rotie is developing well. This can be enjoyed now, or over the next 12-20 years.

2,471 Views

Tasted

Nov 3, 2012

Spice, pepper, Provencal herbs, strawberry, earth and kirsch aromas led the way to soft, polished textures, freshness and a peppery, black raspberry filled finish. This is showing great today. It's in the prime of its life. I'd drink it over the next 7-10 years.

2,395 Views

Tasted

Feb 4, 2011

1998 Delas Landonne opens up with bacon fat, cassis, dusty chocolate powder, boysenberry, coffee and violets. The full bodied texture, freshness and sweet, black raspberry flavored, rich, mid palate gives way to a silky garrigue, boysenberry and light coffee flavored finish. This is drinking perfect today.

2,485 Views

Tasted

Sep 14, 2010

This delivered a splendid perfume of ripe dark cherry and bacon fruit. Great concentration and a long, fruit filled, fresh finish with an array of black and red fruits.

2,354 Views

Tasted

Jul 1, 2008

1998
Delas Frères Les Bessards (Hermitage)

With 90 minutes of air, the bottle was really singing with its fresh, mineral driven, cherry, licorice, smoke, stone and caramel nose. Full bodied with a lot of peppery, fresh red cherry filled charm. Still young, this is serving up a nice dose of pleasure. I liked it a lot. Time and air are only going to add more complexity and softness to the wine.

3,480 Views

Tasted

Jan 4, 2014

Rich, concentrated, fleshy and refined, this voluptuously styled Hermitage wine offers mineral, sweet, ripe black raspberry, cherry liqueur, spice and earth. With a short 20 minute decant, this is already showing well.

3,558 Views

Tasted

Aug 30, 2012

Still deep in color, with 3 hours of decanting and 2 more in the glass, this was still youthful. Licorice, blackberry, earth, iron, smoke, baked cherries, coffee, pepper and cinnamon scents, this big wine is packed with soft, pure, blackberry, blueberry, black raspberries and round textures. Give it another 2-5 years. I'm looking forward to popping my first bottle of 1999 Delas Bessards and a 1990 Bessards before the end of the year.

3,994 Views

Tasted

Nov 13, 2011

1998 Delas Bessards was decanted about 2 hours before consumption. This dark colored wine has a powerful perfume that's filled with smoke, ripe plums, blackberries and spice. Still young, with fleshy textures, concentration and intensity of flavor, this round wine is approachable for a young Hermitage. The polished, black fruit filled finish lasts for close to 40 seconds! This can be enjoyed now, or over the next 12-20 years.

3,803 Views

Tasted

Oct 5, 2010

Dark ruby with a nose resembling cherries, black fruits and spices blended with iron and minerals. Good concentration and depth of flavor. Well balanced. A lot of weight on the palate with a long finish packed with ripe, juicy fruits.

3,097 Views

Tasted

Oct 12, 2008

1997
Delas Frères Les Bessards (Hermitage)

Initially tight when popped and poured, with coaxing, smoke, blackberry and peppery scents could be found. This full bodied wine ends with a red fruit finish coupled with hints of tart cherry, that detracted from the wine.

2,631 Views

Tasted

May 26, 2010

1990
Delas Frères Les Bessards (Hermitage)

Really nice wine, with its meaty, olive tapenade,, blackberry and earthy profile. Big, bold and concentrated, the wine has depth of flavor and complexity in the nose, leaving you with a big dose of fruit in the finish.

3,730 Views

Tasted

May 17, 2015

As wines age, every bottle is differernt. Some are better and of course, some are worse. We got lucky with this bottle of 1990 Delas Bessards, as it was much fresher and more interesting than the previous bottle from the same case. The debut vintage of Delas Bessards offers smoke, earth, minerality, black cherry, spice, truffle, tobacco and tar. Soft, elegant in a masculine sense, ripe, spicy cherries and strawberry complete the finish. This is fully mature. There is probably not much to gainied by holding it any longer.

4,530 Views

Tasted

Aug 13, 2012

1990
Delas Frères La Landonne (Côte-Rôtie)

A complex nose of licorice, bacon fat, spice, cherry, garrigue, smoke and ripe, black raspberry and barbeque filled the perfume. Medium/full bodied, soft and supple, this fully mature Hermitage wine finished with fresh, spicy dark berries.

2,043 Views

Tasted

Dec 4, 2011