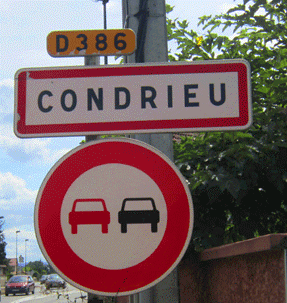 Condrieu is the most famous, white wine producing appellation in the entire Northern Rhone Valley. And with good reason. The wines of Condrieu are fresh, vibrant, mineral driven, rich, often oily textured, rich concentrated wines that showcase ripe, summer fruit sensations with subtle honeysuckle or floral accents. Plus, they are well priced too!
While the Romans clearly cultivated what we know of as Condrieu, the Condrieu appellation was only recently created in 1940. Since its founding, the appellation has continued expanding its boundaries. For example, in 1982, Condrieu was a mere 14 hectares of vines. Aside from the Viognier planted in the nearby appellation of Chateau Grillet, there were almost no other vineyards with Viognier planted in the world! Fortunately, the rebirth of Viognier began taking place, thanks to growers in California. In France, the resurrection of Viognier came about with the help of Marcel Guigal, who bought much of wine, promoted the appellation and helped consumers buy the wine during the 1990's. Today, Condrieu has close to 135 hectares planted with vines! Condrieu is located not far from Cote Rotie only produces white wine from Viognier grapes.
The Condrieu vineyards are distributed into 7 communes. The entire appellation of Condrieu is small, with only 135 hectares of vines. Condrieu has a terroir with mostly steep hillsides packed with mica, schist, granite and clay soils. The Rhone river also plays an integral part in the environment, helping to add moisture to the vines. Condrieu needs to be made from old Viognier vines. The wines can be thin, if the vines are younger than 10 years of age. The Northern Rhone Valley appellation fortunately has old vines, some of which more than 80 years of age.
To produce the wine of Condrieu, most growers vinify in French oak barrels. Some growers use a combination of stainless steel tanks and oak barrels for the vinification. The amount of new oak varies from producer to producer, and the influence of the vintage. There is skin contact and malolactic fermentation, which take place in barrel. The wines are often aged on their lees for some or all of the aging process. The aging period varies quite abut, with ranges from 6 months to 18 months. However, the majority of producers prefer to age Condrieu for 6 to 9 months before bottling.
Condrieu is available as both dry and sweet wines, and of course at some place in the midway point depending on the desires of the producer and the vintage. Sweet Condrieu can be very sugary, and almost cloying at times. The wines of Condrieu offer notes of ripe, sweet peaches, orange, honey, pears, apricot, flowers and honeydew melon. They are dry, but often taste and feel of sweet fruits. The wines can provide luscious, and at times, oily textures.
Condrieu, like all Viognier makes great pairings with a wide variety of foods. Seafood of all types, sushi, sashimi, oysters, clams, lobster and most rich, as well as delicate seafood dishes are perfect with Condrieu. Chicken, pork, veal, vegetables and all cheeses also make great wine and food pairings with Condrieu.
For many wine lovers, Condrieu is not a wine for long term aging. The best examples taste better on release or in their first few years after bottling than they do with age. Although, I must admit, I have friends that like Condrieu with age. Oh well… more for them. The best producers of Condrieu are: Guigal, Rene Rostaing, Georges Vernay, Delas Freres, Chapoutier, Alain Paret, Andre Perret, Bonnefond, Yves Cuilleron, Madame P. Dumazet, Facchin, Saint Cosme, Michel Ogier, Nicolas Perrin, Jaboulet, Pierre Gaillard, Jean Michel Gerin, Vidal Fleury and Tardieu Laurent.