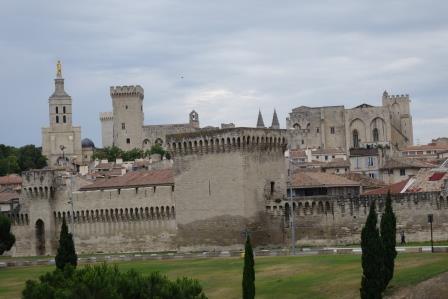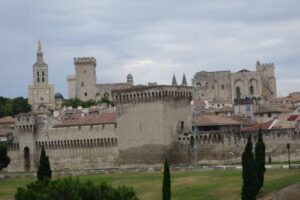 Learn everything about Chateauneuf du Pape Wine with complete profiles on the all the best wines, vineyards and wineries. With wine tasting notes, wine and food pairing tips, tips on the best restaurants in the region, images, details on the best wines, styles and characteristics of each estate in the Southern Rhone with histories on the top properties in the Chateauneuf du Pape appellation.
You can also read about the different grapes planted in Chateauneuf du Pape to produce wine. Guide to grapes for wine making in the Rhone Valley
The links just below, on the left side of the page connect to detailed pages to all the wines, producers you want to read about in Chateauneuf du Pape. You can easily learn which are the best and most difficult vintages for the Southern Rhone and Chateauneuf du Pape as well as the best time to drink your wines by reading the Chateauneuf du Pape Vintage Chart 1978 to today
History of Chateauneuf du Pape
The first vines in Chateauneuf du Pape were planted by the ancient Romans. Historic ancient Roman ruins are easy to find in the Southern Rhone Valley. In fact, one of the best preserved, ancient amphitheaters built by the Romans in all of Europe is in Orange, not far from Chateauneuf.
Chateauneuf du Pape takes its name from the time when the Pope moved to Avignon in 1309. The move was due to issues between the King of France and the Papacy. 8 different Popes served in Avignon as the Papacy remained in Chateauneuf du Pape until 1378.
The first Pope to move to Avignon was Pope Clement V, who was an avid wine lover. Pope Clement V also spent time in Bordeaux at what is now called Chateau Pape Clement in Pessac Leognan. The Pope moving to Avignon is of course where the region takes its name, as Chateauneuf du Pape is translated to mean; "The Pope's New Castle."
The actual village was called Chateauneuf Calcernier, as well as Castronovo Calcernarium by about 1200. Calcernier and Calcernarium refer to the local limestone quarries in the area. It took almost 6 centuries however, before the region was officially named Chateauneuf du Pape, which took place in 1893
At this time, most of the local wine being produced was made by the Church, or for the Church and religious activities. While Clement V was interested in wine and vineyard management, his tastes and interest ran more to Burgundy, which he tried to help promote. The next Pope, John XII was a fan of Chateauneuf du Pape wine who improved viticultural practices in the region. John XII erected a castle and planted vines in 1317. At the time, the wines were known as "Vin du Pape."
By 1344, 45% of Chateauneuf du Pape was devoted to producing grapes for wine. As a point of comparison, many of Europe's future famous vineyards were still planting cereal crops. In these early days, vineyards were divided into small parcels. Most vineyard owners in the Southern Rhone Valley had small parcels to work with. This could explain how the holdings of some estates are spread all over the region.
Chateauneuf du Pape was no longer a thriving community once the Pope moved back to Rome in the late 1300's. However, wine remained important to the region and its identity. In fact, many of the citizens at the time owned at least a small parcel of vines for growing grapes.
By the late 1700's, Chateauneuf du Pape had earned some fame for the quality of its wines, which were said by tasters of the day to combine the best qualities of the Languedoc and Bordeaux. In those days, the wines were meant to be drunk within a few years of production. By the early 1800's some of the properties that we know today were already being formed and earning a good reputation; Chateau La Nerthe, Fortia, Saint Patrice and Solitude.
Like the vast majority of Europe, much of the vineyards of Chateauneuf du Pape were destroyed by the Phylloxera epidemic which struck the region in about 1866. In fact, the Chateauneuf du Pape appellation was the first major French wine growing region hit by phylloxera.
Phylloxera was first discovered in the commune of Sorgues, which is a part of Chateauneuf du Pape. By 1880, only 200 hectares of vines remained in the entire appellation. Growers lost their livelihood, left the area, abandoning their vineyards. It took several decades for the region to rebound.
In part, the vineyards were not rapidly replanted at the time because in those days, the wines of Chateauneuf du Pape sold for so little money, it was too expensive to replant as there was no money to be made. Chateauneuf du Pape had more than 700 hectares under vine by 1900.
From the turn of the century until some time after World War 1, it's said that negociants purchased wine from Chateauneuf to blend with the wines of Burgundy to add color and backbone to their wines.
In 1919, the official boundaries of the Chateauneuf du Pape appellation were drawn up. In 1924, Chateauneuf du Pape applied for official appellation status. By 1932, the first major land holder in the appellation was starting to control a lot of land.
Baron Puerre Le Roy owned several famous names including; Fortia, Rayas, La Nerthe, Vaudieu and others. The Baron Le Roy was also involved with creating the rules for the about to be created, and soon to be famous appellation of Chateauneuf du Pape.
The Modern Era and Creation of the Official Chateauneuf du Pape Appellation
In 1936, the INAO, Institut National des Appellations d'Origine officially created the Chateauneuf du Pape appellation and created laws and rules that growers needed to follow, if they chose to sell their wines under the now, official Chateauneuf du Pape designation.
It was agreed that the appellation would be created based on terroir and perforce, to a limited extent geography for vines planted in Chateauneuf du Pape and some areas of Orange, Courthezon, Sorgues and Bedarrides. A few other important rules were set in place for estates making wine in Chateauneuf du Pape.
15 different grape varieties are allowed to be planted in the appellation. The vine density must not be less than 2,500 vines per hectare and cannot exceed 3,000 vines per hectare. Vines must be at least 4 years of age to be included in the wine. Machine harvesting is not allowed in Chateauneuf du Pape. All growers must harvest 100% of their fruit by hand.
Vines are allowed to be irrigated no more than twice a year. However, irrigation is only allowed when a vintages is clearly suffering due to a severe drought. If a property wishes to irrigate due to drought, they must apply for permission from the INAO. Any watering must take place before August 15. Chateauneuf du Pape wine must be at least 12.5% alcohol and chaptalization was not allowed. These were the minimum requirements for producers seeking to have their wines sold as Chateauneuf du Pape.
The Taste and Character of Chateauneuf du Pape Wine
While the red wines of Chateauneuf du Pape are produced in a wide and diverse array of styles, they share the common characteristics of fresh red and black cherries, strawberry, kirsch, black pepper, black raspberry, spice, earth and garrigue, which is the fresh herbs typical of the region. The textures can be lush, lusty and luscious when young, and take on silky characteristics with age.
One of the great qualities most red Chateauneuf du Pape wines share is the wide range of drinkability. Most Chateauneuf du Pape wines are delicious young. The majority of wines do not need to be aged or cellared before they can be enjoyed. The fact that they have the ability to age and develop is equally important.
I find the sweet spot for most Chateauneuf du Pape wines is between 8 and 12 years of age. Some estates produce wine that can age for decades, but that is not the case for most wines from the region. That is fine as this is more than balanced out due to the early drinkability of most Chateauneuf du Pape wine.
Close to 95% of the production of Chateauneuf du Pape is devoted to the production of red wine. About 5% of Chateauneuf du Pape is devoted making white Chateauneuf du Pape wine.
Most Chateauneuf du Pape Blanc wines are best in their fruit forward, luscious, spicy youth with their rich display of fresh, sweet, tropical, citrus, honeysuckle, orange and occasional exotic fruit and spice notes. Many of these white Chateauneuf du Pape wines also deliver rich, lush textures. A few of the top white Chateauneuf du Pape white wines can age for decades, most notably Beaucastel Vieille Vignes.
A few estates also make small amounts of Vin de Paille, a sweet wine made most often by taking clusters of grapes and drying the fruit on straw mats or racks before fermentation.
Chateauneuf du Pape Wine and Food Pairings
Chateauneuf du Pape is one of the most versatile wine regions for wine and food pairing. Chateauneuf du Pape is an exciting wine region making great character filled, red wines that age and evolve and most of the wines still sell for fair prices making it perfect for the dinner table.
The red wines come in a wide variety styles, from big, bold and rich, to opulent and sexy, as well as elegant and refined. The diverse array of styles, coupled with the natural freshness and spicy quality of red Chateauneuf du Pape make it perfect to serve with everything from grilled beef, veal, pork, game, duck, sausage and lamb, to stews, and braised dishes, cassoulet or rich seafood dishes. Chateauneuf du Pape is also easy to pair with many different Asian dishes as well.
White Chateauneuf du Pape wine makes great wine and food pairings for all types of fish, shell fish, lobster, crab, sushi, crudo, veal, chicken, pork, dishes with cream sauces, select vegetable courses and a widely diverse array of hard or soft cheese.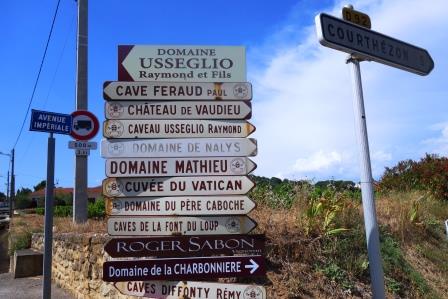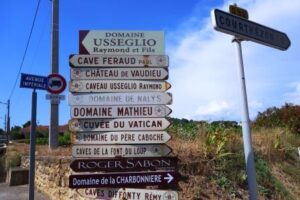 The Appellation of Chateauneuf du Pape
The appellation of Chateauneuf du Pape is 3,231 hectares in size. The entire area is about 8.5 miles long and 5 miles wide. Its boundaries are set by the city of Orange with its Roman ruins in the north, the town of Sorgues to the south, The Rhone River to the west and the main road, the A7 to the east. In an average vintage, 13,750,000 bottles of Chateauneuf du Pape are produced every year.
In 2014, close to 320 different growers were active in the Chateauneuf du Pape appellation. About 250 produce, bottle and sell their own wine. The remaining growers sell their harvest to negociants or cooperatives.
Brotte is the largest of the negociant/cooperatives active in Chateauneuf selling close to 45,000 cases of wine per year. Guigal is the second largest domaine selling close to 35,000 cases of wine per vintage.
Generally speaking, most estates in Chateauneuf du Pape are small. However, there are a few very large vineyards. Mont Redon is the biggest estate in the region with 100 hectares of vines. Only 24 winemakers control vineyards that are 30 hectares or larger. The majority of producers as you can see are small, family owned and managed estates.
The appellation is divided into 5 communes, Chateauneuf du Pape, which is the largest area, followed by Orange, Courthezon, Sorgues and Bedarrides. Out of the 5 communes that create the appellation, each of those communes are further divided into 134 different Lieux-Dits.
A lieu-dit is a small, specific named place. Of these lieux-dits, the most famous is the La Crau area. Vines in that area produce some of the best wine in the entire Chateauneuf du Pape appellation. These various lieux-dits are the source and inspiration for many of the most famous names for wineries in the Southern Rhone. The majority of the lieux-Dits are situated in Chateauneuf du Pape. In fact, more than 75 different vineyards located in just that one commune.
The 5 communes that create the appellation occupy a total of 3,231 hectares. These 5 communes and their lieux-dits are divided as follows;
Chateauneuf du Pape, which is in the western part of the region has 1,706 hectares of vines in 76 lieux-dits and takes up 53% of the appellation.
Courthezon, located in the north east section of the region has 663 hectares of vines in 26 lieux-dits and takes up 20% of the appellation.
Orange, in the far north and western sector of the region has 398 hectares of vines in 6 lieux-dits and takes up 12% of the appellation.
Bedarrides, placed in the southwest of the region has 353 hectares of vines in 23 lieux-dits and takes up 11% of the appellation.
Sorgues, situated in far south of the region has 128 hectares of vines in 3 lieux-dits and takes up 4% of the appellation.
The Terroir and Soil of Chateauneuf du Pape
The soils found in Chateauneuf du Pape, with its combination of rocks, stone, sand, limestone and clay terroir would be poor for most living things. But it's perfect for the grapes grown in the appellation. An easy way to look at the terroir of Chateauneuf du Pape is to follow the compass and move from the west to the north, to the east and finally look at the southern part of the appellation.
In the west, where the commune of Chateauneuf du Pape is located, you find soils with various sizes of rocks, stone, sand, clay and pebbles. In France, the various rocks, stones and pebbles are referred to as galets roules. These rocks, stones and pebbles play an integral in the terroir and the development of the grape.
The various stones reflect light to the vines, leafs and grapes. They also absorb heat during the day and radiate that heat to the vines during the cooler evenings, which aids in the development and ripening of the fruit.
The rocky, stone filled terroirs produce ripe, concentrated, full bodied, intense wines. While many of the soils are riddled with stones, in the cooler terroirs found in the west, you also have deposits of limestone, which is perfect for the white wines. Red wines from limestone provide intense garrigue aromatics. In the northern part of the appellation, where Orange is located, you have more sand, clay, pebbles, limestone and marl, but less large stones and rocks.
The sandy soils often produce the wine elegant, supple wines in all of Chateauneuf du Pape. To the east you find Courthezon and Bedarrides with sand, pebbles and marl and in the southern part of the appellation, the soils have more sand, gravel, marl, clay and limestone in the terroir. The clay soils are perfect for making wines with richness and concentration.
There are two other important factors that help create the uniqueness of the wines from Chateauneuf du Pape is the proliferation of old vines. Some of the oldest vines in France are in the vineyards of the Southern Rhone. There are numerous vineyards and parcels with vines that are more than 100 years old!
Most of these old vines are for Grenache. Old vines naturally produce low yields, delivering intense levels of concentration in the fruit, which adds a great depth of flavor, character and complexity to the wine. These old vines are not allowed to grow very tall.
They must be kept close to the ground and are head pruned out of necessity. This is to protect the vines from the often continuous, fierce mistral winds that can tear its way through the region. The effect of the Rhone river that runs through the often, hot, dry, appellation is paramount, because it provides much needed moisture to the vines, especially in the hot, dry vintages.
The Weather and Climate of Chateauneuf du Pape
The soils and old vines are not the only thing shaping the character of the wines. You also need to consider the weather. Generally speaking, Chateauneuf du Pape is a Mediterranean climate that often delivers hot, dry, sunny weather in the summer, with cool, but seldom freezing winter conditions. The climate in the Southern Rhone is also shaped by its close proximity to the Rhone river.
The mistrals, the name for the strong, cold, dry winds that blow from north to south are a major factor in the character of the wines. These winds, which can reach a velocity of more than 60 miles per hour, help keep the air and the fruit clean, while removing excess water.
The mistral winds, with their positive effects are a part of why so many growers are able to use organic and biodynamic farming techniques in Chateauneuf du Pape. The winds whip through the region about 100 days a year. When the mistrals hit the region, they last from one to three days before dissipating.
The mistrals are a key component to the region. In part, it is what allows so many growers to use organic and biodynamic farming techniques. The often fierce cold winds keep the vines, soils and grapes cleaner, more hygienic and help reduce potential disease as well as insect pests. In the extreme hot, dry years, the mistrals can also help cool down the soils and vines. Of course there are also negative potential issues, especially to young shoots and vines, which can break, during the strong winds.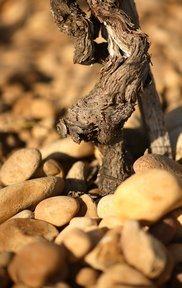 From a weather point of view, Chateauneuf du Pape is a contender for the most consistent, luckiest wine producing region since 1998. Of course some vintages are better than others. But with the exception of the massive flooding that devastated the region in 2002, vintage after vintage has ranged from good, to great and some years have even exceptional!
Chateauneuf du Pape is sunniest major wine producing region in France, with an average of 2,700 hours of sun per growing season. The region gets less rain than most of the major wine producing appellations with an average rainfall of 680 millimeters, (27″) per year. Climate change, due to global warming has affected Chateauneuf du Pape. The main change that has taken place is the dates for harvest, which have jumped from October to early September.
Vineyard Management and the Grapes of Chateauneuf du Pape
When it comes to vineyard management in Chateauneuf du Pape, the trend at the top estates is a move to organic or sustainable, farming techniques. There is also a movement that is taking a serious look at biodynamic farming techniques.
While most Chateauneuf du Pape wines are produced from blends, there are some wineries that use 100% Grenache, while others feature as much as 90% or more Grenache in the blend.
Domaine la Barroche Pure, Domaine la Barroche Terroir, Bonneau Marie Beurrier, Bonneau Celestins, Bosquet Des Papes, La Glorie de Mon Grand Pere, Chapoutier Barbe Rac, Chapoutier Croix de Bois Domaine de la Charbonniere Vieille Vignes,Clos Saint Jean Sanctus Sanctorum, Domaine Crista, Domaine Ferrand, Isabel Ferrando Colombis, Domaine de la Janasse Chaupin, Domaine de la Mordoree La Plume de Peintre, Domaine de Marcoux Vieille Vignes, Domaine Pegau da Capo, Chateau Rayas, Domaine de la Solitude CDP "Cornelia Constanza, Domaine Pontifical, Domaine Giraud Les Gallimardes, Domaine Galevan Tardieu-Laurent Cuvee Speciale, Pierre Usseglio Mon Aieul, Pierre Usseglio Deux Freres, Raymond Usseglio Imperiale and Vieille Julienne Reserve are a few examples of Chateauneuf du Pape producers using an overwhelming portion of Grenache in their blend.
A total of 15 grape varieties are allowed by AOC laws, Grenache, Syrah, Mourvedre, Picpoul, Terret Noir, Counoise, Muscardin, Vaccarese, Picardan, Cinsault, Clairette, Roussanne, Bourboulenc, Red Picpoul, White Grenache and White Picpoul.
As you can see in the chart below, Grenache remains the dominant grape in the region. However, very few producers make Chateauneuf du Pape from 100% Grenache. Most feel the wine lacks complexity without a blend. Plus some growers also claim Grenache becomes too hot, or alcoholic if it's not blended with any of the other allowable grapes in Chateauneuf du Pape.
With that in mind, blending is of key importance in Chateauneuf du Pape. Syrah and Mourvedre were planted during the 1950's and 1960's in part to help lower alcohol levels and add more structure in the Grenace based, Chateauneuf du Pape wines. However, today, the trend in Chateauneuf du Pape is to reduce the amount of Syrah in the blends.
While Syrah is still added in small amounts to help add more color to the wine, producers have been slowly removing Syrah from the vineyards and replacing it with other grape varietals. In the future, you might see a slight increase in plantings of Counoise and Cinsault to help reduce alcohol as temperatures continue to rise.
It is interesting to note that there are a few Chateauneuf du Pape wines produced 100% from Syrah; Maravilhas Espirito, La Mereuille Cuvee d' Aure, St. Paul L'Insolite and Jean Royer Sola Syrah Regalis.
In addition, there are also at least 3 wines from Chateauneuf that are made using 100% Mourvedre; Semelles Pur Mourvedre, Mas de Boislauzon Tintot and Chante Perdrix Henri Perges.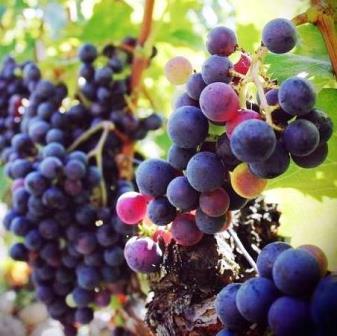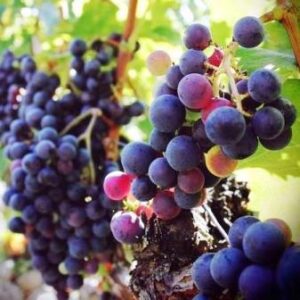 Grenache is the dominant grape in the region. Close to 75% of the vineyards in Chateauneuf du Pape are planted to Grenache. After Grenache, the next two important grapes used to produce blends in Chateauneuf du Pape are Syrah and Mourvedre.
Grenache is not only prized by local growers in Chateauneuf du Pape today, it has been sought after by winemakers from other regions for centuries to add depth and soft textures to their wines for ages.
There was a time when Bordeaux blended Syrah from Hermitage hoping to add more tannic backbone to their wine. Burgundy was a major importer of Grenache for ages. Several Burgundy producers blended a portion of Grenache into their wine with the purpose of adding sweetness, silky textures and body to their wine. This practice no longer takes place in either region.
The unique climate and Southern Rhone terroir of Chateauneuf du Pape helps the grapes achieve ripeness that few other regions can come close to. However, being so far south has its good and bad points. The high summer heat coupled with a lack of moisture can actually block the grapes, especially the Grenache from developing full, phenolic ripeness, even when sugars continue to develop, which can lead to wines very high in alcohol.
If, or when that happens, Chateauneuf du Pape is one of the places where the art of blending really shines. Quite often the blend of Grenache with Mourvedre and some of the other assorted varieties truly makes the wine. If the climate continues to become warmer over the next few decades, I would guess grapes like Mourvedre could become even more important.
Today, there are hundreds of growers and winemakers in the Chateauneuf du Pape region. More producers than ever are committed to making the best wines possible. This was not always the case. Much of the credit for the growth in quality and popularity in the region belongs to the wine critic Robert Parker
His constant championing of the wines from the Rhone earned the area fame and a lot more fortune. Prior to Robert Parker, very few producers from the region made great wine. In the 21st century, More than 100 domaines make fabulous wines at a myriad of different price points.
Of course people bought some wines from the region prior to Robert Parker. But prices were low and producers did not have the money to reinvest in their estates in those days. In a conversation with a well known vintner, they said to me, "We were fine before Robert Parker. We did not have much money. We were happy. But we could not buy new cars and even our bicycles were handed down from our older brothers or sisters. These days, we can afford to buy new things and most importantly, we can invest in the equipment and make the choices needed to produce the best wines possible."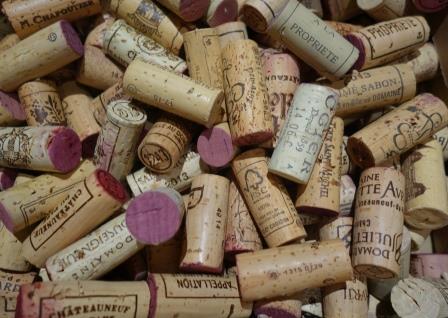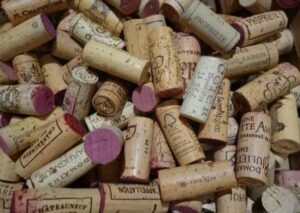 The Styles of Chateauneuf du Pape, Traditional and Modern
A myriad of styles exist from Chateauneuf du Pape that range from earthy, spicy, rich, jammy, concentrated and light. Many wine lovers look at the main differences between wine styles in Chateauneuf du Pape as traditional or modern. The modern age of special cuvees probably begins to get going starting in 1989.
That year began a trend with the advent of making special cuvees. Today, there are close to 100 special cuvees and selections being made. Prior to the Hommage to Perrin from Beaucastel, which made its debut in 1989, not many wineries made a separate, high end wine. One could say the title for the oldest special cuvee belongs to Chateau La Nerthe with its Cuvee des Cadettes which was first produced in the 1800's!
The award for the next special, high end, production wine goes to Bonneau Cuvee Celestins, which has been in production since 1927 started the trend. That is not the case today. In fact, over 100 special wines are now made in the region. Many of the new, special, high end cuvee's from Chateauneuf du Pape are made in a more modern style. Most of these luxury production wines are made in small amounts that vary from 100 cases to a few hundred cases. Some of these wines are among the finest wines in the world!
Much of the difference between traditional and modern, is the ripeness of the grapes, effective yields, amount of stems used and most importantly, the percentage of new oak barrels used in aging the wine.
Producers making wines in a more traditional style do not use oak, preferring to age the wine in older, neutral, massive barrels, cement lined vats or foudres that are widely used in the region. They do not destem the grapes. In other words, they follow the traditional practices of the region. There are numerous high quality traditional Chateauneuf du Pape wines made all over the appellation today.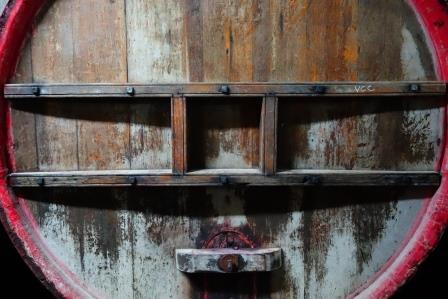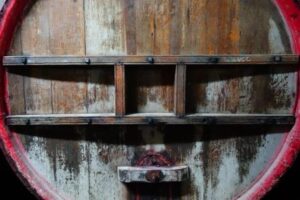 But the line between traditional Chateauneuf du Pape wine and modern Chateauneuf wine is actually quite blurry. Destemming is clearly a modern technique. Yet, there are exceptions to destemming being modern. At Chateau La Nerthe, they destemmed a large percentage of their harvest in the 1800's!
Something else to consider, high alcohol Chateauneuf du Pape wines is not a recent trend. During the 1950's and 1950's grapes were as high or even on occasion higher than they are today. In those days, not many producers bottled and sold their own wine.
More often than not, the harvest or wine was sold to negociants who paid a bonus for high alcohol wines. You also need to keep in mind that in the 1950's and 1960's, yields were low as the vineyards were not in the best shape and Grenache was even more dominant in the region than it is today, which naturally produced higher alcohol wines. In fact, it was the in part, the higher level of alcohol in the wine that led to planting Syrah and Mourvedre, both of which helped lower alcohol.
The fruit can be picked riper, with lower yields. The grapes could be partially or fully destemmed. The fruit can be whole cluster or whole berry fermented. They can also for example use a percentage of new oak, to age the wine in. Syrah and Mourvedre see more new oak barrels than Grenache, which usually works well. The use of oak adds soft textures, giving the wines a lush, polished texture.
But the drawback seen by some people is the overt vanilla or coffee smell that can become apparent. Some producers have embraced this technique, which in most cases in not something I personally do not like with Grenache. While it does round out the wine adding body and finesse, the oaky scents for me are less interesting.
I am a big fan of the creation of special cuvee's, blends and vineyard or parcel specific wines, when they work. Bonneau with its Cuvee Celestins and Beaucastel with Hommage Perrin were some of the first estates to produce special, limited bottlings. However, some producers in the southern Rhone have a long history of producing special cuvees.
For example, Chateau La Nerthe Cuvee des Cadettes has been in production since the end of the 1800's! At the time it was produced from 100% Grenache. The wine became a blend in the early 1900's. An interesting fact for those that think special cuvees is a completely modern creation.
Today, numerous estates have followed the trend for producing special cuvee's. At the end of the day, the creation of special cuvee's is a positive development for Chateauneuf du Pape. It has helped raise the image and further the race for quality in the appellation. However, not every producer has embraced this trend. For example, Clos des Papes and Rayas do not make a special cuvee, as they feel that would only lessen the quality of their main wine.
The Best Vintages of Chateauneuf du Pape 2020, 2019, 2018, 2017, 2016, 2015, 2012, 2010, 2009, 2007, 2006, 2005, 2003, 2001, 2000, 1998, 1995, 1990, 1989, 1988, 1985, 1981, 1978, 1970 and 1961. Keep in mind, most wines from Chateauneuf du Pape are at their best during their first 8 to 12 years of life. While some wines, especially in the top years can age longer, it's still nice to know which years were and are the best for Chateauneuf du Pape wine.
As far aging Chateauneuf du Pape for decades, there a few wines that can offer stunning tasting experiences at more than 30 years of age. As a tip, those are far and few between and are usually among the most expensive wines in the appellation.
For an extensive look the vintages of Chateauenuf du Pape for past several decades, as well as get tips on which years are ready to drink or not, please read: Chateauneuf du Pape Vintage Charts 1978 to Today
How to make wine in Chateauneuf du Pape
Making wine in Chateauneuf du Pape is a similar process as to what takes place in most wine regions, However, the aging of the wine in Chateauneuf du Pape is unique to the region. Following the initial sorting in the vineyards, the next choice the wine maker needs to make is how much of the stems they want to remove, if any.
This varies from estate to estate with some properties removing all the stems, others remove a portion of the stems and some winemakers leave the stems on entirely. Generally speaking, the more traditional estates leave the stems and the more modern styled producers remove the stems.
The fermentation process in Chateauneuf du Pape usually lasts between 7 to 30 days, taking place in traditional, cement vats, stainless steel tanks or large, oak barrels. Next is the malolactic fermentation process, when the hard malic acids are turned to softer lactic acids for red wines. White Chateauneuf du Pape wine do not go through malolactic fermentation. This is because the white wine grapes from the Southern Rhone do not have high levels of acidity.
White Chateauneuf du Pape wines are usually aged for less than 12 months in stainless steel vats and or small, french oak barrels and are bottled and sold quickly to retain their freshness. That is not the case with red Chateauneuf du Pape wine.
There are numerous choices wine makers must decide on when it comes to the again of red Chateauneuf du Pape wine. The choice of the aging vessel and the length of time the wine is aged for is a determining factor in the style, character and quality of the wine.
Many traditional producers prefer to age their wine in foudres. Foudres are large and even giant oak casks that can hold from 30 hectoliters to 60 hectoliters. Some estates change their foudres every few years. Others prefer old foudres. There are foudres in the region that are close to 100 years of age.
Small French, oak barrels, barriques or demi-muids are also used. These are made from French oak. Depending on the style of the wine, the winemaker must decide if they are going to use a portion of new, French oak barrels, or only use older, used aged barrels. Traditional producers usually prefer older, aged casks. Modern producers will use a varying portion of new oak barrels. It is more popular to age Syrah or Mourvedre in new oak than Grenache.
Depending on the specific wine and the desire estate, the aging process usually lasts for between 12-24 months. However, some estate's age their wine for years. The famous wine of Henri Bonneau Cuvee Celestins can be aged for 5 years or longer before bottling. Pegau Cuvee da Capo also sees an extended aging of their wine.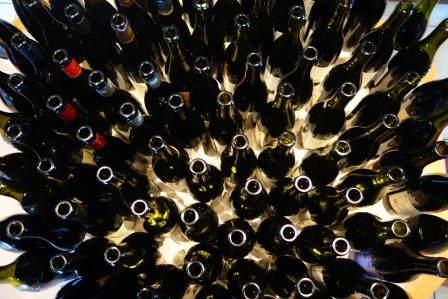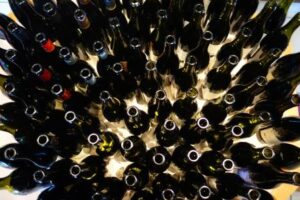 Where to eat in Chateauenuf du Pape
I don't know about you, but as much as I like wine tasting, wine with food makes a better combination. There are several choices for restaurants in both Chateauneuf du Pape and of course Avignon to enjoy lunch and dinner. This is a short list of all the best restaurants in Chateauneuf du Pape and Avignon.
In Chateauneuf du Pape, I like all of the following, Bistro de la Nerthe, Au Caveau Gourmand, Chateau Fines Roch, La Garbure, La Marmite, La Maisouneta, La Mere Germaine, Le Mule de Pape, La Part des Anges, Le Pistou, La Sommellerie and Le Verger des Papes for its food, wine list and amazing view. In Sourgues, which is in Chateauneuf du Pape, La Table de Sourges is another winner!
Not too far away in Giogondas, don't miss l'Oustalet owned by the Perrin family of Beaucastel fame. And of course, last, but definitely not least, there is the famous La Beaugraviere in Mondragon, especially when its truffle season! The all truffle menu is a great experience. La Beaugraviere is a bit of a drive, but it's worth it. While they no longer have all those famous older vintages available, they still maintain perhaps the strong wine list in the entire Southern Rhone Valley with wines from the Northern Rhone including the top wines from Cote Rotie and Hermitage!
If you're outside the village of Chateauneuf du Pape, and prefer the beautiful, walled French, city of Avignon, there are numerous choices of where to eat as well. Christian Etienne, La Diapason, Estaminet Aromes et Tentation, L'Essentiel, La Fourchette, Fou de Fafa, Hiely Lucullus, Hotel d'Europe, La Mirande, Le Petit Gourmand, Restaurant Des Teinturiers and La Vieille Fontaine are some of my favorite places to eat when in Avignon. Just outside Avignon, about 20 minutes away, just over the bridge if you're walking, La Prieure and L'Enclos de Saveurs Salines in Villeneuve.
Where to Stay in Chateauenuf du Pape
If you're planning on staying the region to visit your favorite Southern Rhone wineries, the first thing you need to decide is, do you stay in the vineyards of Chateauneuf du Pape, or in the nearby city of Avignon.
In Chateauneuf du Pape, you have numerous choices. There are domains that offer gites, which are small, furnished houses for rent that often come with breakfast. There are also private owners offering gites for rent. There are a few nice hotels as well:
Chateau des Fines Roches is at the top of the list followed by La Garbure, La Mere Germaine and La Sommellerie. Just outside the village, about 3 kilometers away, Chateau de Varenne and Hotel Le Clement are also available. In Orange, there is a Mercure and in Sorgues, you can find a Novotel. You can also find numerous bed and breakfast choices.
If you're like me, and you prefer to stay in the picturesque, walled city of Avignon, with its numerous restaurants, shops and streets for walking, there are several hotels to choose from. Avignon is between 20 to 30 minutes from Chateauneuf du Pape by car.
At the high end, La Mirande, Hotel d'Europe, Auberge de Cassagne and Le Prieure all provide a great place to stay, but they are pricey, especially La Mirande. For a more budget conscious visit, there are two Mercures, the Avignon Center and Palasis de Papes, Novotel, Les Agassins, Le Cloitre, Les Frenes,de l'Horloge and de Varenne.
Next to Avignon, about 20 minutes away, if you're walking across the bridge, in the quaint village of Villeneuve, the La Magnaneraie and La Suite hotels are available and you can also find nice guest houses.
The Village of Chateauneuf du Pape
There is more to the area than just the vineyards. The medieval village of Chateauneuf du Pape is located in the Vaucluse region right in the middle of Avignon and Orange. With its narrow, windy, cobble stone streets, outdoor cafes, restaurants, bakeries, ancient ruins of the Pope's summer home and 360 degree view of the vineyards, it is worth the visit.
Plus many of the famous estates have shops in the village where you can taste the wine and buy many of the top wines for less money than you would pay at home.
Visiting the beautiful village really gives you a nice glimpse into the life and lifestyle of Provence. There is a nice open air farmers market that takes place on Friday morning in La Place de la Renaissance. There are a few hotels in the village as well.
I prefer staying in Avignon, a charming city with lots to see and do with a picturesque square. Avignon is about a 20/30 minute drive to the vineyards, give or take. Other interesting day trips could include a visit to the medieval village of Courthezon or the well preserved, ancient Roman ruins which features one of the best remaining amphitheaters in Europe, which is located in Nimes.
If you are in Chateauneuf du Pape in July, Avignon has been hosting one of the great theater festivals since 1947. The entire city turns into a live theater event! The Festival d'Avignon which is held yearly in early July is the best event in the entire French theatrical calendar.
By train from Avignon, Paris is about 2.5 hours, Lyon is about 1.5 hours and if you're in the mood for real bouillabaisse, Marseille is only 45 minutes away. Lyon and Marseille both have airports and Avignon is serviced by train and the TGV.
The Federation of Producers in Chateauneuf du Pape
Chateauneuf du Pape is not only a special wine, but for many producers that belong to The Federation des Syndicats des Producteurs de Chateauneuf du Pape, the bottles with the embossed logo are special. As you have probably seen, not every bottle of Chateauneuf du Pape has that unique, trademarked logo.
The logo, created in 1937 pictures a Papal tiara played on of the keys of Saint Peter. The logo comes with the inscription reading "Chateauneuf du Pape Controle." The famous logo is the trademark of the Federation des Syndicats des Producteurs de Chateauneuf du Pape, formed in 1968, which is a group of wine makers that agree to mutually help promote everything that makes Chateauneuf du Pape one of the world's top wine producing appellations.
In 2004, the Supreme Court of France rules that the Chateauneuf du Pape was a unique, recognizable symbol of the area that deserved legal protection against forgery, copyright infringement and other potential issues. While not every producer in the region belongs to The Federation des Syndicats des Producteurs de Chateauneuf du Pape, with over 200 members, it's clear most wineries in Chateauneuf do belong to the Federation. Rayas and Clos des Papes are the two most famous domaine's that does not belong to the Federation.
Grapes Planted in Chateauneuf du Pape Vineyards
Even though Grenache is the king of the grapes in the region with close to 75% of all of the vines planted in the region, most of the wines from Chateauneuf du Pape are made from a blend. You can read details on all 15 of the different grape varieties allowed in the production of Chateauneuf du Pape: Guide to grapes for wine making in Chateauneuf du Pape
The chart below provides insight as to which grapes are the most popular in the Chateauneuf du Pape region today and lets you look at which grapes are gaining or losing popularity with growers in the appellation over the past 4 decades. On the left side of the chart, that is the percentage of the grape planted in 1989. In the middle, you can see what was planted in Chateauneuf du Pape in 2004 and in the column on the far right, we have listings for how the vineyards of Chateauneuf du Pape are planted today, as of 2014.

% Planted in 1989
Grenache 79.25%
Syrah 5.66%
Mourvedre 4.76%
Cinsault 3.33%
Clairette 2.34%
Grenache B 2.02%
Bourboulenc 1.02%
Roussanne .50%
Counoise .43%
Muscardin .33%
Vaccarese .13%
Picpoul .11%
Terret Noir .02%
Picardan .10%
% Planted in 2004
Grenache 72.0%
Syrah 10.50%
Mourvedre 7.00%
Cinsault 2.50%
Clairette 2.31%
Grenache B 2.0%
Bourboulenc 1.0%
Roussanne 1.20%
Counoise 50%
Muscardin .40%
Vaccarese .15%
Picpoul .15%
Terret Noir .05%
Picardan .05%
% Planted in 2014
Grenache 72.03%
Syrah 2.84%
Mourvedre 6.61%
Cinsault 2.57%
Grenache B 2.47
Clairette 2.31%
Bourboulenc 1.0%
Roussanne 1.11%
Counoise .44%
Muscardin .34%
Vaccarese .13%
Picpoul .06%
Terret Noir .03%
Picardan .01%