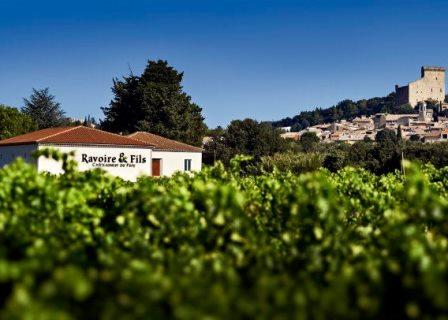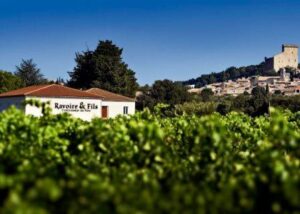 Learn everything about Olivier Ravoire Chateauneuf du Pape with wine tasting notes, wine and food pairings, best vintages, a history of the property, information on the vineyards and winemaking. If you want to read about other important wineries and wine makers from the Rhone valley: Links to all Rhone Valley Wine Producer Profiles
Olivier Ravoire History, Overview
The wine of Olivier Ravoire is relatively recent. The wines came about after Roger Ravoire created their negociant firm in 1987. Their negociant company was named Cellier Val Durance. The next step came about in 2004 when the son of Roger Ravoire joined the company, Olivier Ravoire. Once Olvier joined the company full time, they changed the name of the firm to Rovoir & Fils.
Ravoier & Fils produce a wide range of wines from not only the Chateauneuf du Pape appellation, but they also make wine in Gigondas, Vacqueyras, Violes and the Cotes du Rhone appellation in the southern Rhone Valley. In the Northern Rhone Valley, they produce and sell wines from Cote Rotie and Crozes Hermitage.
Olivier Ravoire Vineyards, Wines, Winemaking
In Chateauneuf du Pape, Olivier Ravoire produces a red Chateauneuf du Pape wine and 1 Chateauneuf du Pape Blanc.
Olivier Ravoire Chateauneuf du Pape Rouge is produced from a blend of 80% Grenache, 10% Mourvedre, 8% Syrah and 2% Cinsault. The wine is aged in used French oak barrels.
Olivier Ravoire Chateauneuf du Pape Blanc is made from a blend of Grenache Blanc, Clairette and Bourboulenc.
When to Drink Olivier Ravoire, Anticipated Maturity, Decanting Time
Olivier Ravoire can be enjoyed on the young side. Young vintages can be popped and poured, or decanted for about 1 hour, give or take. This allows the wine to soften and open its perfume. Older vintages might need very little decanting, just enough to remove the sediment.
Olivier Ravoire is usually better with 2-4 years of bottle age. Of course that can vary slightly, depending on the vintage. In the best vintages the wine should be consumed within 3-10 years after the vintage.
Serving Olivier Ravoire with Wine, Food Pairing Tips
Olivier Ravoire is best served at 15.5 degrees Celsius, 60 degrees Fahrenheit. The cool, almost cellar temperature gives the wine more freshness and lift.
Olivier Ravoire is best served with all types of classic meat dishes, veal, pork, beef, lamb, duck, game, roast chicken, roasted, braised, stewed, barbecue and grilled meat dishes, sausage and cassoulet. Olivier Ravoire is also good with Asian dishes, hearty fish courses like tuna, mushrooms, cheese, pasta, eggplant and tomatoes.
The white wine of Olivier Ravoire is best served with a myriad of different seafood dishes, shellfish, crab, lobster, sushi, sashimi, chicken, pork and veal, as well as Asian cuisine.
Olivier Ravoire Wine Tasting Notes
22 Vintages 33,029 Views Sort by Vintage-Rating
2021
Olivier Ravoire Caparacon (Châteauneuf-du-Pape)

Cherries, herbs, olives, espresso, and a hint of mocha are found on the nose and medium-bodied, fruity, soft palate. This is going to be best in its youth. Drink from 2023-2028.

1,437 Views

Tasted

Oct 31, 2022

2020
Olivier Ravoire Caparacon (Châteauneuf-du-Pape)

Medium-bodied, elegant, forward and peppery, the wine is all about its sweet, spicy kirsch that shows in the perfume, on the palate and in the finish. The wine was produced using mostly old vine Grenache, with Mourvedre and Syrah. Drink from 2023 - 2032

1,087 Views

Tasted

Jan 27, 2023

2020
Olivier Ravoire Espee (Crozes-Hermitage)

Medium-bodied, round, forward, soft, and herbal, with a plummy, olive, and smoke finish. Drink from 2023-2032.

1,342 Views

Tasted

Oct 31, 2022

2020
Olivier Ravoire Armatura (Gigondas)

Fresh, juicy, fruity, peppery, medium-bodied, forward, and already quite nice and easy to enjoy. Drink from 2023-2028.

1,304 Views

Tasted

Oct 31, 2022

2020
Olivier Ravoire Hallebarde (Côte-Rôtie)

Medium-bodied, soft, supple, round, and already easy to like, with its smoked, cherry character on the nose and palate. Drink from 2023-2033.

1,377 Views

Tasted

Oct 31, 2022

2020
Olivier Ravoire Oriflamme (St. Joseph)

Forward, medium-bodied, fresh-styled wine made for early drinking, fruity, elegant pleasure. Drink from 2023-2030.

1,112 Views

Tasted

Oct 4, 2022

2019
Olivier Ravoire Caparacon (Châteauneuf-du-Pape)

Floral in character, the wine is medium-bodied, spicy and fresh with a soft, elegant, silky texture and a forward approach, finishing with peppery, olives and cherries. The wine was produced using mostly old vine Grenache, with Mourvedre and Syrah to flesh out the blend. Drink from 2023 - 2033

2,866 Views

Tasted

Jan 9, 2022

2019
Olivier Ravoire Hallebarde (Côte-Rôtie)

Floral in nature, you also find a touch of smoke, peppery plums, and wet earth in the nose. Medium-bodied, soft, silky, and fresh, the finish is all about the vibrant, sweet, juicy black cherries and plums in the spicy, chalky finish. Drink from 2024-2037.

1,153 Views

Tasted

Oct 4, 2022

2019
Olivier Ravoire Caparacon Blanc (Châteauneuf-du-Pape)

Dominated by Grenache Blanc, with Roussanne, Clairette and Bourboulenc, the wine exudes flowers, crushed rocks and yellow citrus peel. Medium-bodied, lush and forward, you can enjoy this on release for all its sweet, ripe, fruits and freshness. Drink from 2022 - 2027

2,778 Views

Tasted

Jan 9, 2022

2019
Olivier Ravoire Armatura (Gigondas)

Dark ruby in color, the wine is bright, fresh, crisp, and fruity, focusing on its herbs and bright red raspberries, kirsch, and sweet, earthy cherries. You can enjoy this on release.

1,632 Views

Tasted

Nov 19, 2021

2019
Olivier Ravoire Oriflamme (St. Joseph)

Forward, soft, medium-bodied, ready-to-drink, fruity wine with softness as well as lift in the peppery, red berry finish. Drink from 2022-2029.

1,249 Views

Tasted

Oct 9, 2022

2018
Olivier Ravoire Oriflamme (St. Joseph)

Medium-bodied, fresh, light and with nice lift and sweetness in the peppery fruit that is already quite easy to drink.

1,189 Views

Tasted

Feb 14, 2021

2018
Olivier Ravoire (Châteauneuf-du-Pape)

With a strong herbal tone to the red fruit, the wine is round, lush and fruity. The tannins are ripe, the wine is rich, but the garrigue and green olive tone is quite strong this year.

1,446 Views

Tasted

Oct 12, 2020

2018
Olivier Ravoire (Crozes-Hermitage)

Medium-bodied, very fresh, bright and tart, the fruit has a lot of lift and crisp, crunchy qualities if that is what you are looking for.

1,231 Views

Tasted

Feb 23, 2021

2017
Olivier Ravoire Hallebarde (Côte-Rôtie)

Medium-bodied, the smoke, oak, earth, herbs, truffle and deep red fruits are the first thing you notice. The wine is fresh, elegant, lifted, vibrant and spicy with sweet, juicy cherries in the finish. This should drink well with just a few years of aging.

1,105 Views

Tasted

Feb 14, 2021

2017
Olivier Ravoire (Châteauneuf-du-Pape)

Medium bodied, forward, soft and approachable, the wine is on the sweet, refined cherry side of the style range, with a hit of spice in the soft, kirsch oriented finish. This should be easy to like on release. The wine was produced from blending 80% Grenache with 10% Syrah and 10% Mourvedre.

1,885 Views

Tasted

Sep 24, 2019

2017
Olivier Ravoire Armatura (Gigondas)

Lush, sweet, juicy red fruits and spice with a nice slice of crushed stone and round tannins help finish everything off nicely. Quite stylish.

1,285 Views

Tasted

Feb 23, 2021

2015
Olivier Ravoire (Côte-Rôtie)

With an interesting citrus note to the ripe, sensually textured red fruits, the wine is loaded with soft, juicy, ripe, spiced black raspberries, cherries and enough, chalky tannins to allow for aging and evolution.

1,556 Views

Tasted

Feb 11, 2019

2015
Olivier Ravoire (Châteauneuf-du-Pape)

With a nose of florals, kirsch and spice, the wine is medium bodied, soft and polished, with a peppery, fleshy, cherry note that kicks in with the finish. This should be charming on release. The wine was produced from blending 80% Grenache with 20% Syrah.

1,893 Views

Tasted

Aug 21, 2017

2014
Olivier Ravoire (Châteauneuf-du-Pape)

Medium bodied, fresh, soft and polished, with an elegant, charm and loads of sweet, ripe, peppery cherries, kirsch and strawberry that are already showing their character.

1,165 Views

Tasted

Jun 23, 2016

2012
Olivier Ravoire (Châteauneuf-du-Pape)

Oak, licorice and waxy red fruits combine to produce a soft, easy drinking, medium bodied wine with a kirsch finish.

1,733 Views

Tasted

Sep 10, 2014

2011
Olivier Ravoire (Châteauneuf-du-Pape)

Medium bodied early drinking wine with an herbaceous, cherry center.

1,204 Views

Tasted

Aug 19, 2014