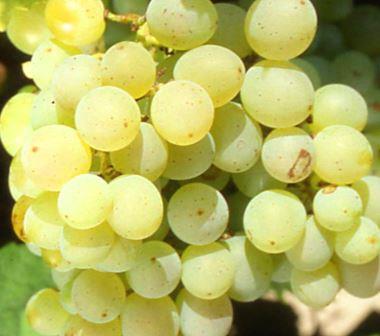 Bourboulenc is a popular white wine grape varietal that is used mostly as a blending grape in the production Chateauneuf du Pape Blanc. The addition of Bourboulenc provides floral, citrus, and occasionally smoky notes. The grape has a long history for use in making white wine. When it was used initially, it was known under the name of Asprokondoura in ancient Greece.
Interestingly, wine historians are now concluding the grape was first cultivated in the Rhone Valley and is related to another popular white wine grape, Clairette.
Aside from its use in Chateauneuf du Pape as a blending grape in their white wine, Bourboulenc is also planted in other areas of the Southern Rhone Valley including the Languedoc and Minervois appellations.
You van also find plantings of the grape in Provence, Lirac, Tavel, Luberon, Ventoux, Costieres de Nimes and the Vacqueyras appellations. Bourboulenc grows best in limestone soils with a warm, dry climate. Those conditions allow the grape to achieve the best level of ripeness and maturity.
Bourboulenc, a high-yielding grape, which ripens late and requires a lot of warmth and sun to mature, adds strong citrus, floral and herbal characteristics to the wine along with freshness, due to its high acid and low alcohol personality. Wines made with high percentages of Bourboulenc are best drunk in their youth. The grape is prone to oxidation if aged too long.
Most of the time, Bourboulenc is used as a blending grape and is often paired with Roussanne and Grenache Blanc. However, that is not always the case. The vines for Bourboulenc can get quite old if they are planted in the right terroir. For example, at Domaine de la Solitude in Chateauneuf du Pape, they have vines that are prized as they are over 100 years of age!
There are a few producers that make wine from 100% Bourboulenc, for example, Chateau Rouquette Sur Mer Blanc, Christophe Barbier and Chateau d'Angeles, all make wine in the La Clape region of the Languedoc. Chateau d'Angeles is singled out because it's owned by Eric Fabre. Eric Fabre was previously the technical director at Chateau Lafite Rothschild in Bordeaux.
Also in the Languedoc, Domaine Supply-Royer Mont Baudile produces Le Bourboulenc de Nega Saumas, and in the Burgundy region, Alice et Olivier De Moor produce Le Vendangeur Masque Le Bourboulenc de Marie et Er. In the Lodi AVA, in California, Acquiesce Vineyards also makes a 100% Bourboulenc wine.
Not quite 100%, but close, Chapoutier also produces a wine from the Cotes du Rhone with a large percentage of Bourboulenc in the blend.
Bourboulenc, due to its unique, fresh, citrus characteristics is best paired with different types of seafood and shellfish. It's also a perfect match for the famous dish of southern France, bouillabaisse.