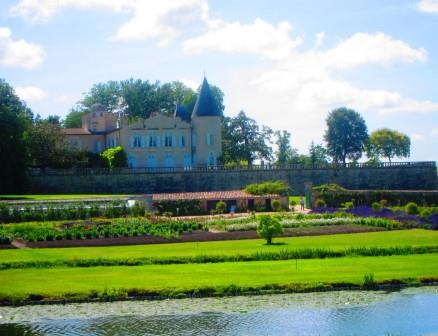 Learn everything about Chateau Lafite Rothschild, Pauillac, First Growth with wine tasting notes, and wine with food pairing tips. Learn the best vintages, a history of the property, and information on the vineyards, and winemaking. If you want to read about other important, Bordeaux Chateaux: Links to all Bordeaux Wine Producer Profiles
Chateau Lafite Rothschild History, Overview
Chateau Lafite Rothschild is known for producing what some tasters think is the best Bordeaux wine in the appellation. It's also thought of as one of the most famous, as well as most expensive wines in the world.
Lafite Rothschild has a long and interesting history dating back to 1234! Even though the property was not in the Bordeaux wine business at that time. In those days, the main crops were grain for cereal and cattle.
Though it is possible some vines were planted on their unique terroir. The owner of the estate at the time, Gombaud de Lafite left his mark. Almost 1,000 years after he owned it, the chateau still bears his name! As we mentioned, while vines were probably in existence at Lafite for over a century, it was not until around 1680, that the majority of the vineyards of what we know of as Lafite Rothschild today were created.
We know this because, on the 1680 estate manifest, there are six mentions Of their Bordeaux vineyards. Jacques de Segur earns credit for the initial cultivation of the vineyard. In 1695, Alexandre de Segur married Marie-Therese de Clauzel, heiress to Chateau Latour.
So, within a generation, the Segur family married into two of the greatest Bordeaux vineyards, Chateau Lafite and Chateau Latour! When their son, Nicolas-Alexandre passed away, Chateau Lafite and Chateau Latour were separated.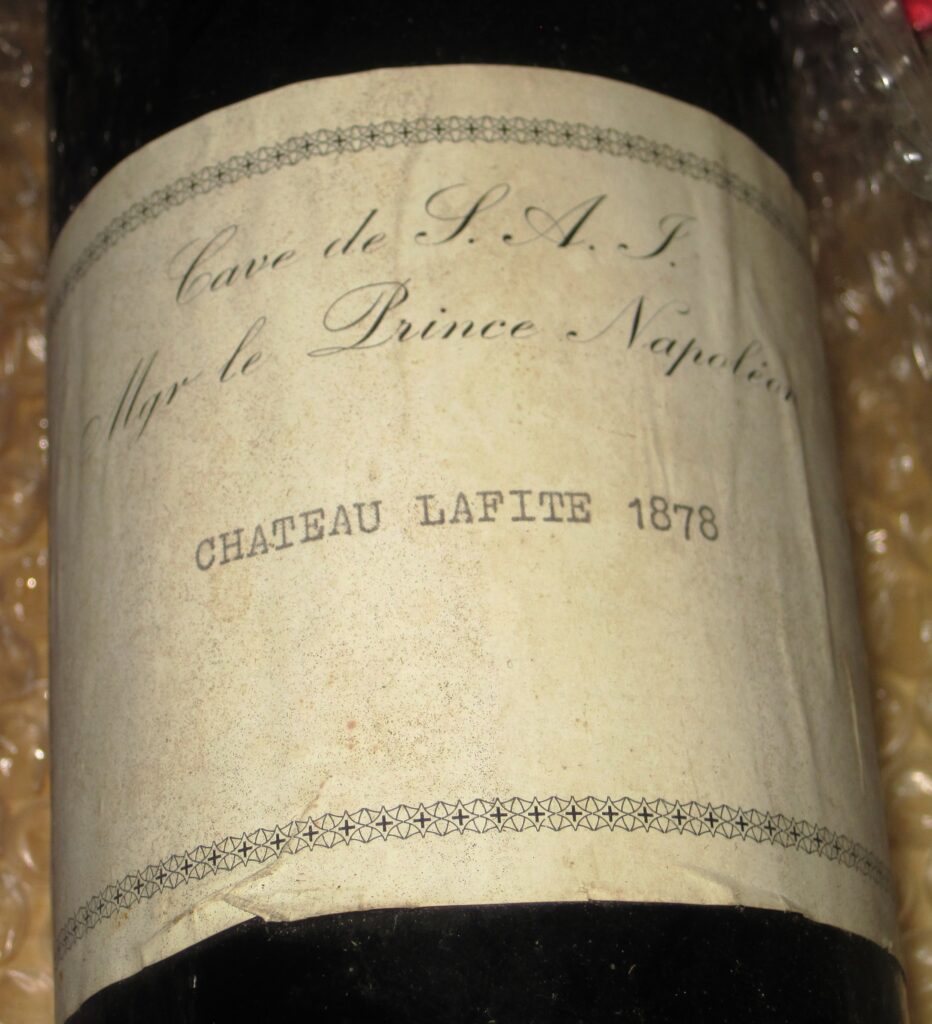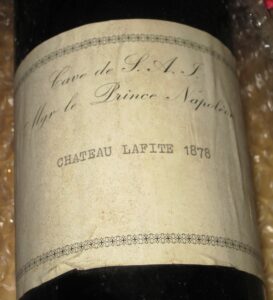 In 1797, Chateau Lafite was sold again. In the deed of sale, Chateau Lafite was described as a Premier Cru of Medoc. This is one of the earliest mentions of what we know of today as Lafite Rothschild producing wines of what would later be classified as an 1855 First Growth.
At the time, the affairs of Lafite were managed by the Goudal family. Thanks to the arrival of Goudal, wine-loving historians are able to read accurate records and details of the viticulture and marketing plans for Chateau Lafite in the estate's formative years.
Credit goes to the Goudal family for creating the cellar and saving many of the oldest bottles that remain in the cold, dark cellars, including their oldest bottle, the 1797 Lafite! Thomas Jefferson, the third president of the United States favored the wine of Chateau Lafite purchasing multiple cases of their wine while he was in France, just a few years earlier.
The start of the Rothschild family begins in 1744, with the birth of Amschel Meyer. Amschel Meyer began creating his fortune while working as a merchant at "Zum Roten Schild," which eventually became the family name of Rothschild.
In 1798 his sons were sent to various cities to create their own fortunes as well. Needless to say, his sons all prospered as did their children in turn. This eventually led to their desire to own a chateau in Bordeaux. In 1853, Baron Nathaniel de Rothschild, an English member of the Rothschild family, purchased Chateau Brane-Mouton. As was the custom of the day, the new owner renamed it using his name, and what we know of as Chateau Mouton Rothschild today was born.
The Rothschild Family buys Chateau Lafite
This was followed in 1868, when James Rothschild, another member of the family purchased Chateau Lafite, which was now a coveted First Growth chateau.
On 8 August 1868, Baron James de Rothschild purchased Chateau Lafite, which was sold at a public auction in Paris. It's a reasonable assumption to look at buying the property as simply a way of one-upping his brother, the owner of Mouton Rothschild. After all, Mouton Rothschild was only a Second Growth at the time, and Lafite was a First Growth.
But that does not paint the entire picture. You need to go back in time and realize that in those days, the 1855 Classification had not taken on the critical importance associated with it that we see today. Plus, buying Lafite was a reasonable investment, as the vineyard sold for about 8 times its earning potential.
The actual chateau is one of the oldest remaining structures in Bordeaux, as part of the building dates back to the later part of the 16th century, 1562.
In 1868, the vineyard took up 135 hectares, of which 74 hectares were cultivated with vines. Production was much smaller in those days than it is today as it hovered between 4,000 and 5,000 cases per vintage at the time.
Just 3 months after the purchase, Baron James Rothschild passed away and Chateau Lafite Rothschild became the joint property of his three sons: Alphonse Rothschild, Gustave Rothschild, and Edmond Rothschild. Since 1868, Chateau Lafite Rothschild has remained in the hands of the Rothschild family. The new owners renamed the estate, Chateau Lafite Rothschild.
Jumping ahead to the modern age, in 1962, the Rothschild family added to their holdings when they purchased Chateau Duhart-Milon, the Fourth Growth vineyard also located in Pauillac. Owned by the Casteja family for more than a century, Chateau Duhart Milon suffered from neglect and was in a dilapidated condition.
In fact, By the time Duhart Milon was obtained by the Rothschild family, the vineyard was down to only 17 hectares of vines, which required extensive renovations.
Baron Eric Rothschild, the nephew of Baron Elie Rothschild, took over the management of Lafite Rothschild in 1974. Baron Eric Rothschild was part of the fifth Rothschild generation to inherit Chateau Lafite Rothschild. In 1984, the Rothschild family added to their holdings in Bordeaux with the purchase of Chateau Rieussec in Sauternes.
1987 was not a strong vintage, but because that was the year Lafite celebrated the inauguration of their wine new cellar, the owners had much to be excited about.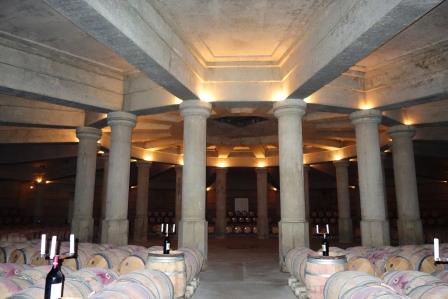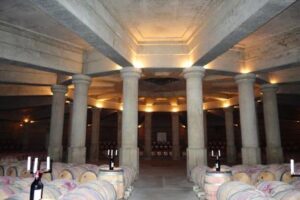 The new cellars built under the supervision of Catalan architect Ricartdo Bofill is both underground and circular, with a vault supported by 16 columns, giving the structure a majestic, airy architectural style.
The cellar holds 2,200 barrels, which is about 55,000 cases of wine. The construction took two years to finish and was completed in 1988.
Domaines Baron Rothschild became one of the first Bordeaux properties to invest in South America when they purchased Vina Los Vascos from a Chilean family. The owners of Lafite Rothschild continued expanding their holdings with the purchase of Chateau lEvangile in Pomerol from the Ducasse family, who owned the property for almost 100 years.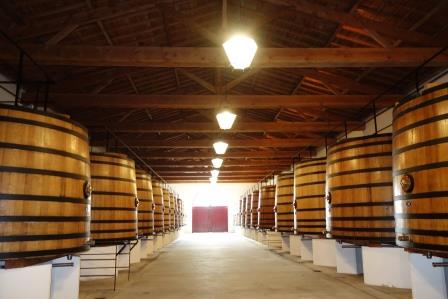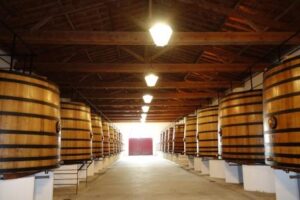 Chateau Lafite Rothschild The Modern Age
Winemaking and vineyard management at Chateau Lafite Rothschild was managed by Charles Chevallier, who began his position in 1994. Charles Chevallier was replaced by Eric Kohler in January 2016.
2017 saw an even bigger change at the estate when Jean Guillaume Prats replaced Christopher Salin as the named President of Domaines Baron Rothschild. In April 2018, Saskia de Rothschild was named the first female chairwoman of Domaines Barons de Rothschild.
Saskia de Rothschild, who was previously working as a top, investigative journalist, is the daughter of Baron Eric de Rothschild, who has been in charge of the estate since 1974. Saskia de Rothschild is not new to wine, having worked at Chateau L'Evangile in Pomerol when she was only 19. She has been involved with Lafite Rothschild on a full-time basis starting in 2015.
Style of Chateau Lafite Rothschild
Lafite Rothschild produces an elegant style of Pauillac. Its qualities show cedar, cassis, tobacco, truffle, lead pencil, and spice along with the freshness and purity of dark red fruits. Perhaps, it's the most refined of the First Growths. Lafite Rothschild is not about power or concentration. Instead, it focuses on its width of flavors and aromatic nuances. The wine, like all First Growth's, takes decades to mature. It has remarkable staying powers.
Bottles of 1870 Lafite Rothschild discovered in the Glamis castle remain profound at more than 140 years of age! Although I have yet to see one. Chateau Lafite Rothschild is one of the earliest major Bordeaux estates to bottle their own wine. In 1890, they bottled a large portion of the wine, and again in 1906.
Part of the estate bottling was due to requests from negociants who were willing to pay more for Chateau bottled wines. Also, it's important to note that part of estate bottling was conducted to combat piracy. At the time, it was known that merchants in some countries, like Russia, were bottling cheap wine and placing labels from Lafite Rothschild on the bottles.
The Popularity of Chateau Lafite Rothschild in the Modern Age
Prior to 1996, Lafite Rothschild had its share of ups and downs. Frankly, the 1960s and 1970s were a dismal period for Chateau Lafite Rothschild. Unless they can be picked up for a song, wines from those vintages should be avoided. Part of the problem with those vintages is due to the wines being bottled barrel by barrel until 1970. This created excessive bottle variation. Blending vats were added to the cellars in 1970.
The wines began improving at Lafite Rothschild starting with the 1981 vintage and took another step up in quality in 1982. Since 1996, Chateau Lafite Rothschild has been producing some of the best wines in its history!
Sadly, only multi-millionaires can afford to purchase it today. But, price aside, there is no denying the level of quality. In 2003 Lafite Rothschild produced a wine that is possibly unequaled by the estate at any time in its long history. 2009, 2010, and 2016 are not far behind. Though 2018 could be better than any previous vintage produced in time!
Starting in about 2008, Lafite Rothschild became the most collectible wine from Bordeaux. Prices exploded due to ever-increasing demand from China. Lafite Rothschild became the status symbol of choice for millionaire wine collectors. There are multiple theories as to why this happened.
The most widely accepted reason is, Lafite Rothschild paid for product placement on the number one rated Chinese soap opera on television.
Characters in that television show were pictured enjoying life with Lafite Rothschild and since that time, prices for Lafite Rothschild have shot up and continue to rise! They were also one of the initial First Growths to begin promoting their brand in China.
However, Issac Newton had it right when he declared "What goes up, must come down." Prices for Lafite Rothschild plummeted after 2011. By 2013, prices were finally starting to hold firm, but many of the vintages that were setting price records on a daily basis had lost close to 50% of their value.
Starting with the 2012 vintage, Chateau Lafite Rothschild began instituting anti-counterfeiting measures. From 2012 forward, to help fight, rampant counterfeiting, the estate places a seal of authenticity on the capsules of both Lafite Rothschild and Carruades de Lafite. The seal features a unique, numbered code that can be checked on their website, to verify if the wine is real.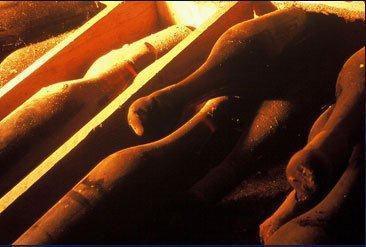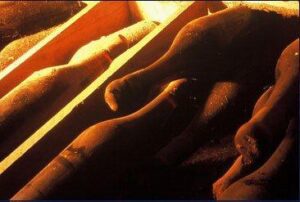 Chateau Lafite Rothschild Vineyards, Terroir, Grapes, Winemaking
The 112-hectare vineyard of Chateau Lafite Rothschild is planted to 70% Cabernet Sauvignon, 25% Merlot, 3% Cabernet Franc, and 2% Petit Verdot. This shows a moderate change in the vineyard.
While the Cabernet Sauvignon has remained at 70%, today, there is slightly more Merlot, less Cabernet Franc and Petit Verdot has been added since the mid-1990s. However, it is important to remember that Chateau Lafite Rothschild is almost always close to 90% Cabernet Sauvignon.
Located in the far north of the Pauillac appellation, only the small, Jalle de Breuil stream separates the vineyards from the St. Estephe appellation. One could divide the vineyards of Chateau Lafite Rothschild into 3 sections with 100 separate parcels in all.
The estate has close to 50 hectares of vines located close to the chateau, on both sides of the D2 highway, which offers gentle rises in elevations of up to 27 meters. They also have about 50 hectares of vines planted on the plateau in the Carruades sector, where they have 2 blocks of vines, one of which is inside the vineyard of Chateau Mouton Rothschild.
It is interesting to note that even though the parcels on the Carruades plateau give their name to the second wine of the estate, those vines are almost always placed in the Grand Vin. There are also vines adjacent to and interspersed with the vineyards of Chateau Duhart Milon.
The property also includes a 4.5-hectare parcel of vines located in the Saint Estephe appellation, "La Caillava". The vines in St. Estephe are situated not that far from Cos dEstournel, which are located on a larger parcel known as Blanquet.
The vines in Saint Estephe are allowed to be placed into the wine of Chateau Lafite Rothschild because those vines were used to produce Chateau Lafite in 1885, at the time of the classification. The vineyards are close to their famous neighbor, Chateau Mouton Rothschild is situated just to the southwest of the estate.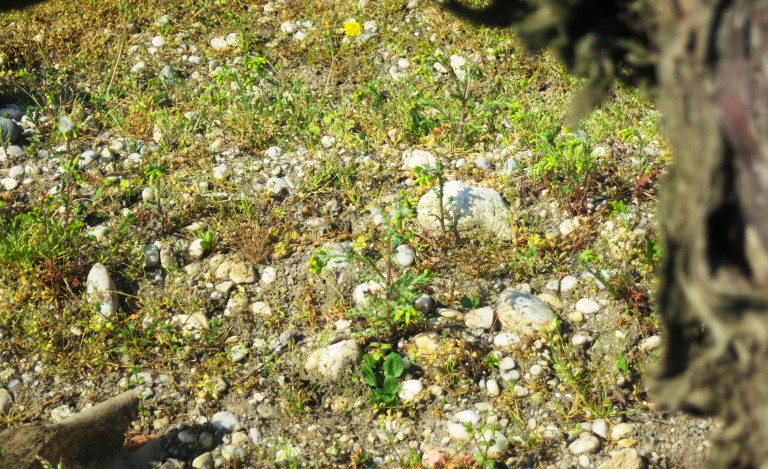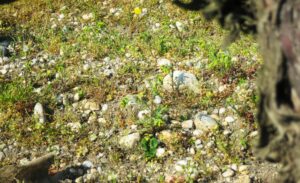 Located just south of the chateau, the best terroir of Lafite Rothschild has a thick layer of gravel with sand, clay, marl and limestone in the soils with rolling, gravel slopes. The gravel can be as deep as 10 meters in some parcels. That incredible depth of gravel is a large part of what makes Lafite Rothschild such a unique wine.
It is important to note that even though their vineyards are in the far north of Pauillac, most of the soil is pure gravel, rocks, and stones. With more than 50% of the soil consisting of gravel, that is a large part of the reason Lafite Rothschild has such elegant, feminine textures and that coveted sensation of minerality.
On average, the vines are close to 40 years of age. But Chateau Lafite Rothschild has much older vines. In fact, they have some vines that are more than 100 years of age planted in the La Graviere section. That small parcel of Merlot vines dates back to 1886. Less than 1% of their vines are that old.
Additionally, they have a small section of Cabernet Sauvignon that dates back to 1922! Other old vines range from 50 to 90 years of age! They also maintain some of the oldest Petit Verdot vines in the Medoc that were planted in the early 1930s.
At Chateau Lafite Rothschild, between 1% to 1.5% of the vineyard is replanted every year. Vines less than 20 years of age are never included in the Grand Vin.
The vineyard of Chateau Lafite Rothschild is planted to a vine density that ranges from 7,500 to 8,500 vines per hectare. Starting with the 2017 vintage, the vines used to produce the Grand Vin began converting to 100% organic farming. By 2019, 50% of the vineyard was farmed organically and by 2021, all the vines used to produce Lafite Rothschild were organically farmed.
During harvest, the goal is not to pick at the maximum level of ripeness. Instead, they are seeking a blend of grapes at differing levels of maturity, which gives the wine its unique textures, freshness, aromatic complexities, and elegant sensations.
Lafite Rothschild is the largest of the First Growth vineyards with close to 112 hectares of vines. A large portion of the estate is taken up with stunningly, beautiful landscaping, lakes, trees, and parkland. Lafite Rothschild also maintains close to 50 hectares of marshland and greenery where they allow an ancient species of wild cow to live and graze.
The breed of cow is nearly extinct. The cows do not produce milk, nor are they raised like cattle for meat. This division of planted vineyards and open land has not changed much since 1868 and is close to what the property looked like in 1855 when it was deemed a First Growth in the 1855 Bordeaux Classification of the Medoc.
At one point in time, Chateau Lafite Rothschild produced a dry white, Bordeaux wine that was sold as Vin de Chateau Lafite. The wine was produced from a large percentage of Semillon, blended with a small amount of Sauvignon Blanc. The last vintage of their white wine was in 1960. The wine was sold as a generic AOC Bordeaux blanc with a simple, scripted black-and-white label.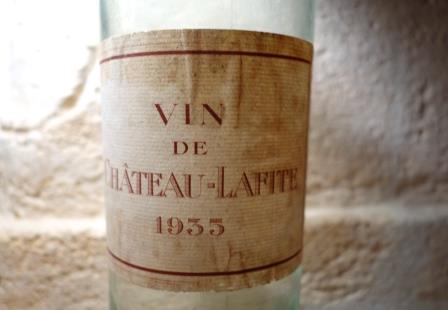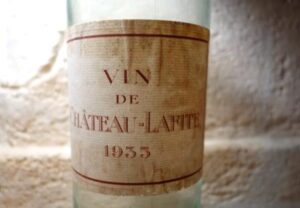 Chateau Lafite Rothschild Winemaking
To produce the wine of Lafite Rothschild, vinification takes place in 66 vats that are a combination of 29 wood vats, 20 stainless steel tanks, and 17 concrete vats that range in size from as small as 45 hectoliters up to 123 hectoliters in the concrete and as large as 270 hectoliters for the wood.
The wide range of vat sizes coupled with different materials allows Chateau Lafite Rothschild to vinify depending on the needs of each specific parcel and grape variety. The stainless steel tanks and oak vats are used for Cabernet Sauvignon. The Merlot is vinified in the concrete tanks.
Malolactic fermentation occurs in smaller, stainless steel tanks that vary in size from 25 hectoliters up to 60 hectoliters. At this point, Chateau Lafite Rothschild does not yet use gravity to move the fruit and juice into the cellar.
My guess is, they will build a new cellar, or at least raise the roof of their vat room to allow for this in the future. Chateau Lafite Rothschild is aged in 100% new, French oak barrels for 18 to 20 months, depending on the vintage. Many of the barrels are produced at a cooperage located on the property, which has the ability to manufacture up to 2,000 barrels per year.
The blend for Chateau Lafite Rothschild changes with each vintage depending on the character and quality of the vintage. Generally speaking, the amount of Cabernet Sauvignon in the blend ranges from 80% to 95%. Merlot is usually 5% to 20%. Cabernet Franc and Petit Verdot usually vary from 0 to 5%.
Note that there are a few different cases such as in 1994 when the wine was made from almost 100% Cabernet Sauvignon and in 1961 when the blend was 99% Cabernet Sauvignon and 1% Petit Verdot.
That high percentage of Cabernet Sauvignon was most recently used in 2013, which was also close to 100% Cabernet Sauvignon. The vintages with almost all, or 100% Cabernet Sauvignon clearly show the value of blending in Bordeaux wines, as they lack the stylish levels of complexity available in Lafite Rothschild.
The average annual production of Chateau Lafite Rothschild ranges from 15,000 to 20,000 cases of wine per year, depending on the vintage. There is a second wine, Carruades de Lafite, which due to its name and association with the Grand Cru, has also become extremely collectible. Carruades de Lafite takes its name from a specific section of their vineyard that is located near Mouton Rothschild.
Carruades is actually one of the older second wines in Bordeaux, as it was first produced in the mid-1850s. About 100 years later during the mid-1960s, the estate reintroduced its second wine naming it Moulin de Carruades. The name was changed again in the 1980s to Carruades de Lafite.
Lafite Rothschild added a third wine that is produced from declassified fruit from both Chateau Lafite Rothschild and Chateau Duhart-Milon.
Anseillan – In 2018, the estate reintroduced Anseillan. The vines for Anseillan have been owned by Lafite Rothschild since its creation. While Chateau Anseillan was produced for a short time during the mid-1980s, until 1991, the name went dormant until the 2018 vintage.
However, it is important to note that previously, the wine was only sold to specific markets. Starting in 2014, Lafite Rothschild began conducting soil tests and determined that Anseillan could be produced from terroir quite different from Lafite.
The grapes used for Anseillan come from a single vineyard parcel in Pauillac, not far from Lafite Rothschild, due north of Chateau Clerc Milon and close to the Gironde estuary. The terroir is gravel, clay, and limestone. The blend for Anseillan is often dominated by Merlot. For example, the 2018 is produced by blending 48% Merlot, 39% Cabernet Sauvignon and 13% Petit Verdot. Clearly, Anseillan is a wine to watch.
The best vintages of Chateau Lafite Rothschild are 2021, 2020, 2019, 2018, 2017, 2016, 2015, 2014, 2012, 2010, 2009, 2008, 2006, 2005, 2003, 2000, 1998, 1996, 1995, 1990, 1989, 1988, 1986, 1983, 1982, 1981, 1959, 1953, 1934, 1929, 1928 and 1900. For ancient vintages, the 1870 Chateau Lafite Rothschild remains, perhaps the most legendary older Bordeaux wine of all time! I've tasted a fair amount of older wine, but that wine is at top of my all-time dream list.
When to Drink Chateau Lafite Rothschild, Anticipated Maturity, Decanting Time
Chateau Lafite Rothschild is not a wine to drink on the young side. The wine is usually far too tannic and reserved in its youth. Young vintages can be decanted for an average of 3-6 hours, give or take. This allows the wine to soften and open its perfume.
Older vintages might need very little decanting, just enough to remove the sediment. Chateau Lafite Rothschild is usually better with at least 15 years of bottle age. Of course, that can vary slightly, depending on the vintage character. Chateau Lafite Rothschild offers its best drinking and should reach peak maturity between 15 and 60 years of age after the vintage.
Serving Chateau Lafite Rothschild with Wine and Food Pairings
Chateau Lafite Rothschild is best served at 15.5 degrees Celsius, 60 degrees Fahrenheit. The cool, almost cellar temperature gives the wine more freshness and lift.
Chateau Lafite Rothschild is best paired with all types of classic meat dishes, veal, pork, beef, lamb, duck, game, roast chicken, roasted, braised, and grilled dishes. Chateau Lafite Rothschild is also good when matched with Asian dishes, rich fish courses like tuna, salmon, mushrooms, and pasta.
Chateau Lafite Rothschild is the most elegantly styled of the three First Growths from Pauillac. But do not confuse the term elegant with light. Chateau Lafite is perhaps the most aromatic of the First Growths as well, with a perfume that fills the air with cedar, cassis, spice, tobacco, truffle, lead pencil, dark, red berries, and earthy notes.
In the best vintages, the wine requires decades to develop to its full potential. Trust me on this, it is worth the wait!
Lafite Rothschild is also involved in several diverse wine investments in countries outside of France. Vina Los Vascos in Chile was their first venture outside of Bordeaux, where they make several red and white wines primarily from Coloagua Chile.
In 1999, they joint ventured with the Catena family in Mendoza, Argentina to produce Bodegas Caro.
Continuing to expand, in 1999, they purchased Domaine d'Aussieres in the Languedoc-Roussillon appellation, located just below the Southern Rhone Valley. Their first move to Asia came in 2011 when they planted vines in the Penglai Peninsula in the Shandong Province in China. The vineyards were planted by Cabernet Sauvignon and Syrah.
Since 1995, the DBR group has also produced "The Collection," which is a series of generic, low-priced wines from various Bordeaux appellations sold under the name of Legende.
Château Lafite Rothschild Wine Tasting Notes
81 Vintages 1,129,122 Views Sort by Vintage-Rating
2022
Château Lafite Rothschild (Pauillac)

Garnet in color, a single swirl brings out its cornucopia of scents: flowers, currants, cherries, smoke, leather, lead pencil, Cuban cigar wrapper, orange rind and smoke. The wine is pure silky, elegance in texture. This is perhaps the most sensuous vintage of Lafite ever produced with its dream texture on the palate. In the mid-palate, the wine shifts from black to red to black fruits before moving to its wave of orange citrus, ending with refreshing mint notes. The purity in the fruits is striking. The over 60-second finish is seamless, which is a good thing, because this wine is so good, you never want it to end. The wine is complete from start to finish. The wine blends 94% Cabernet Sauvignon, 5% Merlot, and 1% Petit Verdot. It is interesting to note that the wine includes 17.5 % press wine in the blend, which sets a record for Lafite. 13.6% ABV, 3.85 pH. Harvesting starting August 31 for the young Merlot vines, for the grapes used in the Grand Vin, September 5, - September 23. Yields were 35 hectoliters per hectare. 40% of the harvest went into the Grand Vin. This is an earth-shattering vintage of Lafite that buyers with the disposabile income should add to their cellar. Drink from 2030-2065. 98-100 Pts.

998 Views

Tasted

May 8, 2023

2022
Carruades de Lafite (Pauillac)

Once past all its florality, the wine moves to its red, and black fruit side. With a racy, freshness, the palate offers sweet, ripe, berries, lift, energy, purity and elegance. The finish is where its racy edge shines most with all of its layers of black currants, black plums, spice and flowers. The wine is a blend of 53% Cabernet Sauvignon, 40% Merlot, 4% Cabernet Franc, and 3% Petit Verdot. 13.7% ABV, 3.7 pH. The wine consists of roughly 35% of the harvest. Drink from 2026-2042. 93-95 Pts.

602 Views

Tasted

May 8, 2023

2021
Château Lafite Rothschild (Pauillac)

Flowers, blackberries, charcoal, cigar box, black currants, spice, cedar, graphite and tobacco come through on the nose with a bit of coaxing. On the palate, the wine offers a pure expression of red fruits, black cherries, spice and a touch of orange rind, along with boysenberry, licorice and red plums on the backend. This is an elegant, regal, classic style of Lafite Rothschild that will age and evolve quite well. The wine is complete from start to finish and was produced from blending 96% Cabernet Sauvignon. 3% Merlot, 1% Petit Verdot. 12.6% ABV, 3.9 pH. Drink from 2032-2060. 96-98

2,996 Views

Tasted

May 20, 2022

2021
Carruades de Lafite (Pauillac)

Tobacco leaf, wet forest floor, leafy herbs, cedar and red currants create the perfume. On the palate, the wine exudes freshness, elegance, crisp, bright, sweet, energetic fruits and a finish with a touch of spice in the zesty endnote. This wine was made from a blend of 55% Cabernet Sauvignon, 36% Merlot , 5% Cabernet Franc and 4% Petit Verdot. Drink from 2025-2042. 91-93

1,147 Views

Tasted

May 20, 2022

2020
Château Lafite Rothschild (Pauillac)

The compelling nose, with its showy notes of lead pencil, tobacco leaf, cedar, cigar box, currants, spice and wet forest leaf comes through easily. The palate is pure silk in texture. Seamlessly moving from the beginning, middle and end, the wine is fresh, bright, long and intense. The purity in the fruit, paired with its energy and lift linger for more than 50 seconds. Refined, elegant, complex and compelling, if you have the patience to wait for 15-20 years before opining a bottle, this is going to be one of the great vintages for Lafite Rothschild. The wine is a blend of 92% Cabernet Sauvignon, 7% Merlot and 1% Petit Verdot 12.8% ABV. The harvest took place September 14 - October 4. With yields of 37 hectoliters per hectare, the Grand Vin represents 45% of the harvest. 97-99 Pts

11,128 Views

Tasted

May 20, 2021

2020
Carruades de Lafite (Pauillac)

Flowers, cedar, tobacco, spice, exuberant black raspberries, kirsch and plums open the perfume. Medium-bodied, elegant, fresh and lifted on the nose and palate, this is good example of a baby Lafite in its youth. The finish is all about its silky elegance and purity of fruit. The wine is a blend of 52% Cabernet Sauvignon, 42% Merlot, 3% Cabernet Franc and 3% Petit Verdot. 93-95 Pts

1,432 Views

Tasted

May 20, 2021

2019
Château Lafite Rothschild (Pauillac)

A stunning example of Lafite Rothschild, the wine is deep, ruby in color. The attention seeking perfume serves up its Cuban cigar wrapper, roses, spice box, cedar, lead pencil and array of red fruits and blackberries easily. The most refined of all the First Growths, the 2019 is a modern version of classic Bordeaux at its best. Perfectly balanced, elegant, and deftly situated on the corner of power and harmony, the finish lingers and expands with its layers of sweet, fresh, pure, bright, crisp red fruits, spice, and herbs. The wine blends 94% Cabernet Sauvignon, 5% Merlot and 1% Petit Verdot. Patient consumers will be rewarded if they are willing to wait before opening a bottle. Drink from 2030-2065.

6,495 Views

Tasted

Mar 29, 2022

This is a beautiful example of what Chateau Lafite Rothschild does best. Dark garnet in color and aromatic, you find lead pencil, cedar, forest, tobacco wrapper, mint and black with red fruit scents. The most elegant of all the First Growths, the wine, classic in nature, is refined, pure, bright, focused, precise and long. There is an intensity that expands as the wine graces your palate, before moving to the finish that is all about the extraordinary purity in the fruits. The wine blends 94% Cabernet Sauvignon, 5% Merlot and 1% Petit Verdot. The Merlot was harvested September 19-September 25. Cabernet Sauvignon was picked September 22-October 7. The wine reached 13.4% ABV with pH of 3.9. The Grand Vin was produced from only 40% of the harvest with yields of 38 hectoliters per hectare. 98-100 Pts

16,346 Views

Tasted

Jun 8, 2020

2019
Carruades de Lafite (Pauillac)

Elegant and fresh, this baby Lafite offers flowers, sweet, lifted red currants, red plums, tobacco leaf and a touch of spicy cranberry on the nose and palate. Medium-bodied, vibrant, crisp, refined and a bit reserved, the wine finishes a mélange of crisp, fresh, red fruits, spices and savory herbs. Drink from 2026-2040.

1,233 Views

Tasted

Mar 29, 2022

Flowers, cocoa, earth, cherries, and tobacco leaf on the nose. The medium-bodied wine is refined, elegant, and lifted, with a focus on the sweetness and purity in the fruits. Bright, polished, and classic in nature, this is a definitive look at the stylings of Lafite Rothschild. The wine was made from blending 68% Cabernet Sauvignon, 27% Merlot, and 5% Cabernet Franc. 93-95 Pts

3,042 Views

Tasted

Jun 8, 2020

2018
Château Lafite Rothschild (Pauillac)

Compelling in every sense of the word, you know you're in for something special just from the depth of color. From there you experience a cornucopia of aromatics meshing tobacco leaf, cigar box, cedar chest, red currants, cherries, red plums, 5 spice, flowers and earthy scents. Rich yet incredibly refined, the wine offers incredibly silky textures, a beautiful purity to the fruit and a seamless finish that exceeds 60 seconds. Produced from a blend of 91% Cabernet Sauvignon, 8.5% Merlot and .5% Petit Verdot,13.3% ABV.

5,769 Views

Tasted

Mar 9, 2021

The color matches a long obscured ruby jewel. The initial sip shows its sophistication, grace and refinement and there is an extraordinary purity in the fruit. Before taking a second sip for confirmation, you'll find tobacco, lead pencil, cedar, flowers, cherry pipe tobacco and if you dig really deep, you'll discover a subtle essence of orange in the background. On the palate, the wine is supple, silky, long and focused. Precision is an often misunderstood term used by wine writers. 2018 Lafite Rothschild is the poster child for precision in a wine. Never the most powerful of the First Growths, instead here, you find a wine of perfect balance, elegance and harmony with a unified, seemingly endless finish. Produced from a blend of 91% Cabernet Sauvignon, 8.5% Merlot and .5% Petit Verdot, the wine reached 13.3% ABV with a pH of 3.73. The Grand Vin represents 40% of the harvest, which took place September 17 to September October 4. 98-100 Pts

7,575 Views

Tasted

Apr 19, 2019

2018
Carruades de Lafite (Pauillac)

Even with all the Merlot in the blend, there is a clear family resemblance with this baby Lafite. Soft, elegant and refined, texturally the wine is pure silk. There is good energy and purity to the fruit with loads of sweet, fresh, ripe cherries and kirsch in the finish. The wine was made from blending 56.5% Cabernet Sauvignon, 38% Merlot and 5.5% Cabernet Franc.

1,140 Views

Tasted

Mar 9, 2021

A medium-bodied, elegant, black currant-filled wine that is refined, forward, fresh and clean. Silky textures and spicy, red pit fruits in the finish, the wine was made from blending 56.5% Cabernet Sauvignon, 38% Merlot and 5.5% Cabernet Franc. 92-94 Pts

2,676 Views

Tasted

Apr 19, 2019

2018
Anseillan (Pauillac)

This is a semi-new wine from Lafite Rothschild. The last time the name was used by Lafite was back in 1991. The wine emanates from a specific parcel in the Lafite vineyard, making it its own, unique wine. With little effort, you find flowers, herbs, tobacco leaf, and spicy currants. On the palate, the wine is medium-bodied, bright, crisp, and chewy, with a touch of crunch to the sweet, ripe, soft red currants, and green, earthy olives on the mid-palate and in the finish. This is a mini, mini version of Lafite Rothschild, so you get a nice. true Pauillac character and the best part is, the wine sells for a song. Plus, you can enjoy this with pleasure on release. The wine is a blend of 48% Merlot, 39% Cabernet Sauvignon and 13% Petit Verdot. Drink from 2023-2035.

2,176 Views

Tasted

Dec 17, 2022

2017
Château Lafite Rothschild (Pauillac)

This most graceful of the First Growths is brimming with luster, tranquility and refined textures. The wine glides in discreetly, slowly building intensity as it expands on your palate while quietly and effortlessly moving from sweet red fruits to darker plums and cherries. There is a flawless ascendancy here with length, purity of fruit and balance. This is a wine of finesse. Produced from a blend of 96% Cabernet Sauvignon, 3.5% Merlot and .5% Petit Verdot, the wine reached 12.8% ABV with a pH of 3.75. The Grand Vin represents 40% of the harvest, which took place September 11 to September 29.

12,371 Views

Tasted

Apr 26, 2018

2017
Carruades de Lafite (Pauillac)

Sweet cherries and cassis enhanced by brushed tannins and earthy nuances, this is soft, forward, fruity and drinkable upon release. The wine was made from blending 60% Cabernet Sauvignon, 35% Merlot and 5% Cabernet Sauvignon.

3,781 Views

Tasted

Apr 26, 2018

2016
Château Lafite Rothschild (Pauillac)

Showing a serious depth of color, the wine offers a wealth of dark fruits on the nose. From there you find spice box, leafy tobacco, cigar box, cherry pipe tobacco and sweet coffee bean aromas. On the palate, which is where the show really takes place, the wine is silky, elegant, long, refined and concentrated. It is impossible not to notice the volume, length and especially the wonderful purity in the fruit. The wine is rich, yet incredibly light on its feet. This is destined to be an immortal vintage for Lafite Rothschild that future generations will reap the benefit from. The wine is complete from start to finish and was produced from blending 92% Cabernet Sauvignon with 8% Merlot.

13,122 Views

Tasted

Sep 21, 2019

Silky, luscious, refined with profundity and sophistication, the fruit has the concentration, depth, structure and tannins to fill your mouth with flavor, coating your palate with deeply energetic fruits. Balanced between concentrated and fresh, this is regal but not stuck up. There is no attitude here, just pleasure. While intellectual, this does not loft past you. Produced from a blend of 92% Cabernet Sauvignon and 8% Merlot, the wine reached 13.3% ABV with a pH of 3.7. The Grand Vin represents 45% of the harvest, which took place September 23 to September 28 for the Merlot and September 29 to October 12 for the Cabernet Sauvignon.

15,409 Views

Tasted

Apr 29, 2017

2016
Carruades de Lafite (Pauillac)

Medium-bodied, forward, fruity and earthy, with soft, lush, ripe, sweet, fresh dark, red berries on the nose and palate. The wine has fruit, lift and freshness in the finish. You can drink this young while waiting for the Grand Vin to develop.

1,914 Views

Tasted

Sep 21, 2019

The wine was made from a blend of 49% Merlot, 44% Cabernet Sauvignon, 0.5% Cabernet Franc and 0.2% Petit Verdot, producing a showcase for sweet, ripe fruits, freshness with elegant tannins in a forward style.

3,254 Views

Tasted

Apr 29, 2017

2015
Château Lafite Rothschild (Pauillac)

Lafite Rothschild is not a wine to imbibe in its youth. As a youngster, all the elements are there, the intense purity of fruit, the impossibly, silky textures, freshness that gives lift without ever feeling acidic. In fact, the qualities and character as it builds in intensity, volume and length. Like all great vintages of Lafite, this is going to take time, at least 15-20 or more years to deliver its experience at its best.

5,045 Views

Tasted

Oct 24, 2018

Finesse and elegance are what you hope to find at Lafite, which is exactly what is in the bottle this year. An exotic fragrance of smoke, thyme, cedar, damp earth and the wrapper of a Cuban cigar, this wine is vibrant and juicy, flowing with seasoned cassis, black raspberries, spice box and cherries. This wine combines silk and freshness in the mouth with length and purity. The Merlot harvest took place between September 17 and September 23, the Cabernet Sauvignon was picked between September 23 and October 6. Neither Cabernet Franc or Petit Verdot was used in the blend this year. The wine represents 42% of the harvest, reaching 12.8% with a pH of 3.69. 95 - 97 Pts

5,474 Views

Tasted

Apr 18, 2016

2015
Carruades de Lafite (Pauillac)

Medium-bodied, forward, fresh, elegant and refined, you can always find secondary development with its tobacco, herb and herbal nuances. The fruits show sweet ripe, red berries with good purity, You can always enjoy this soft, elegant Pauillac.

2,873 Views

Tasted

Oct 24, 2018

- The aroma of licorice, cassis and a sweet, smoky zest is the overture to this medium-bodied, enchantingly fresh, energetic wine. The tannins are soft, closing with a note of pure cherries and cassis. This wine was made from a blend of 57% Cabernet Sauvignon, 36% Merlot and 7% Cabernet Franc. 89 - 91 Pts

2,887 Views

Tasted

Apr 18, 2016

2014
Château Lafite Rothschild (Pauillac)

Dark fruits, Cuban cigar wrapper, spice, cedar and wet forest scents open the wine. Elegant, fresh and sweet, the wine has put on weight during its aging time. The tannins are silky, the wine is fresh, pure and clean. The finish has energy, length and purity. For Lafite, this will drink well young, but by young, that means you still need to wait at least 20 years. A difficult vintage because of the various levels of maturity. This resulted in a lot of sorting, which made the effective yields lowers than in most vintages.

3,888 Views

Tasted

Jul 12, 2017

An earthy mélange of cedar and ripe berries on the nose, this wine is smooth, soft and fresh with the aroma of cassis and blackberries. Its refined tannins evoke the silky finesse of a crisp, dark red berry finish. The harvest took place between September 22 and October 10, beginning with the Merlot, followed by the Petit Verdot and representing 38% of the crop. A combination of 87% Cabernet Sauvignon, 10% Merlot and 3% Petit Verdot, the wine reached 12.7% ABV. Chateau Lafite Rothschild is often a difficult wine to taste young. This could easily out on weight, improving in bottle and beyond. 94-95 Pts

9,742 Views

Tasted

Apr 14, 2015

2014
Carruades de Lafite (Pauillac)

Earthy, black cherries, cedar and a bit of smoke on the nose. Medium bodied, there is fresh, spicy juicy cassis sensation with just a hint pyrazines in the otherwise, fruity finish. The wine is surprisingly ready to drink.

2,925 Views

Tasted

Jul 12, 2017

Medium-bodied, with freshness and crisp, cassis notes, the wine serves up an easy tasting finish with a whiff of blackberry and cassis. 88-90 Pts

4,133 Views

Tasted

Apr 14, 2015

2013
Château Lafite Rothschild (Pauillac)

Tobacco, cassis and gravel open the perfume, transitioning to a medium-bodied, polished and fresh—but slightly short and light, cherry finish. From a blend of 98% Cabernet Sauvignon and 2% Merlot, the blend is the highest percentage of Cabernet Sauvignon in the blend since 1994. Before that, 1961 was produced from 100% Cabernet Sauvignon. From yields of 30 hectoliters per hectare, the wine represents 33% of the harvest. 90-92 Pts

10,601 Views

Tasted

Apr 20, 2014

2013
Carruades de Lafite (Pauillac)

Light in color with medium body, this sweet, tart wine features cassis and a light finish filled with strawberry and cherry finesse. 87-88 Pts

4,451 Views

Tasted

Apr 20, 2014

2012
Château Lafite Rothschild (Pauillac)

Light in body, better on the nose with its tobacco, cedar, leaf and herbal profile than on its almost rustic, light palate, the wine ends with a strong, green olive and tobacco leaf finish. I am not sure time will bring this much more depth.

4,017 Views

Tasted

Jul 5, 2021

91% Cabernet Sauvignon, 8.5% and .5% Petit Verdot produced a restrained, medium bodied, lighter style of Lafite Rothschild which offers an elegant, refined, red berry profile with polish and freshness. A strict selection and extensive sorting was required for the vintage. In fact, optical sorting was performed for the first time at the estate. 37% percent of harvest was used the grand vin. This is the highest percentage of Cabernet Sauvignon used in the blend since 2000, when it was 94% 92-94 Pts

15,143 Views

Tasted

Apr 23, 2013

2012
Carruades de Lafite (Pauillac)

53% Cabernet Sauvignon, 42% Merlot, 3% Cabernet Franc and 2% Petit Verdot – Light in color, medium bodied, with a short, blackberry and cherry finish. 87-89 Pts

6,580 Views

Tasted

Apr 23, 2013

2011
Château Lafite Rothschild (Pauillac)

Produced from a blend of 80% Cabernet Sauvignon and 20% Merlot. Spice, blackberry liqueur, licorice, earth, graphite and gravel scents lead to a full-bodied wine with supple tannins, freshness and good concentration. The wine ends with a bright, elegant cassis-filled finish. 95-96 Pts

9,101 Views

Tasted

Apr 10, 2012

2011
Carruades de Lafite (Pauillac)

55% Cabernet Sauvignon, 39% Merlot, 3.5% Cabernet Franc and 2.5% Petit Verdot produced a wine with scents of forest floor, cassis and black cherry. Medium bodied with cassis, spice, black olive tapenade and bright sensations. 88-90 Pts

7,091 Views

Tasted

Apr 10, 2012

2010
Château Lafite Rothschild (Pauillac)

The potential is here. The nose is strong complex and haunting. But on the palate, the dusty tannins are front and center, keeping most of what the wine has in check. Give it 10-15 more years and this could blossom.

4,474 Views

Tasted

Nov 8, 2019

2010 Lafite Rothschild – Produced from a blend of 87.2% Cabernet Sauvignon and 12.8% Merlot, (which is close to what the estate used in 2005,) the wine opened with cedar, earth, minerality, cassis and forest floor aromatics. In the mouth, the wine is suave, polished and fresh, with layers of pure blackberry and spicy cassis. This is pure refined elegance. While not the most powerful First Growth, it's the most regal in bearing. According to the Director, Charles Chevalier, part of the reason for the success in 2010 was due to less pumping over than usual. Chevalier added, with the high 13.5% ABV level, his team spent more time watching over each individual vat during fermentation. 97-99 Pts

27,971 Views

Tasted

Apr 20, 2011

2010
Carruades de Lafite (Pauillac)

2010 Carruades de Lafite With cedar, earth, forest floor scents, this medium bodied wine offers cassis, cranberry and bright spicy flavors. 88-90 Pts

14,782 Views

Tasted

Apr 20, 2011

2009
Château Lafite Rothschild (Pauillac)

Elegant, fresh, vibrant, lively, focused and refined, there is a beautiful purity to the fruit found here. Classic Pauillac here, but the wine is also lush and almost opulent in nature. Medium/full-bodied, with delicious array of red and black fruits, tobacco leaf, crushed stone, smoke and crisp red fruits in the end note, this beauty demands at least 15 more years to start delivering its true potential. The wine was made from blending 82.5% Cabernet Sauvignon, 17% Merlot and .5% Cabernet Franc. This is the highest percentage of Merlot in the blend since 1995. The wine reached 13% ABV.

10,090 Views

Tasted

Sep 20, 2019

2009 Lafite has an inky, deep ruby color. Cassis, plums, cedar, lead pencil, fennel, coffee, and cedar pop from the glass. The elegantly textured wine melts in your mouth. Its flavors are intense, pure, and supple. The tannins are ripe and round. The wine finishes with exotic plums and chocolate covered dark cherries. 97-99 Pts

21,748 Views

Tasted

Aug 26, 2010

2009
Carruades de Lafite (Pauillac)

Medium-bodied, elegant, fresh, soft and forward, this energetic, polished, silky, floral and, spicy red berry dominated wine, with its tobacco nuances is in its prime time drinking window. The wine was made from a blend of 50% Cabernet Sauvignon, 42% Merlot, 4% Petit Verdot and Cabernet Franc.

2,182 Views

Tasted

Sep 20, 2019

2008
Château Lafite Rothschild (Pauillac)

Elegant, refined, pure, focused, vibrant, fresh and classic in its nature, it is easy to discern the cedar, tobacco leaf, lead pencil cassis and blackberry nuances, with just a little effort. On the palate, the wine offers refinement and purity, with a silky, yet energetic, bright edge. Give this 12-15 more years to develop. The wine was made from blending 83% Cabernet Sauvignon, 13% Merlot and 4% Cabernet Franc.

4,418 Views

Tasted

Sep 17, 2018

I know, baby killer, right? Well, it wasn't my bottle, and I can promise you, I was happy to taste it. Elegant, fresh, polished and right between medium/full bodied, there is a brightness to the cassis that stands out, especially on the palate. Aromatically, tobacco, cigar box, cassis, blackberry and earthy scents abound. This is a very aromatic wine. On the palate, the wine is light on its feet, bright and fresh. There is clearly good length, but it lacks the levels of density found in subsequent vintages like 2009 and 2010. The wine was made from a blend of representing 83% Cabernet Sauvignon, 13% Merlot and 4% Cabernet Franc. Only 40% of the harvest was placed in the Grand Vin. As far as the market goes, it is hard not to recall that the wine was initially offered at $200 per bottle. Due in part to placing the symbol for 8 in Chinese on the bottle, prices shot up to $1,600 per bottle. Today, 2008 Lafite can purchased for about $650 per bottle. A big jump from $200, but a longer fall from its $1,600 peak.

7,444 Views

Tasted

Sep 16, 2016

2007
Château Lafite Rothschild (Pauillac)

Fully mature, this medium bodied, elegant, fresh, bright charmer serves up its tobacco, spicy, green leafy, cedarwood, plum and cherry nose without being asked twiced. Elegant, fresh and refined, there is a sweetness to the fruit, but without the depth you hope to find in a First Growth. Still, this shows good character, freshness and refinement. It is one of the wines of this difficult vintage. The wine was made from a blend of 84% Cabernet Sauvignon, 15% Merlot, and 1% Petit Verdot.

5,474 Views

Tasted

Dec 7, 2017

2006
Château Lafite Rothschild (Pauillac)

Tightly knit, as you would expect at only 9 years age, this blend of 82% Cabernet Sauvignon, 16% Merlot, and 2% Petit Verdot starts off with an earthy, forest floor, cedar chest, smoke, tobacco and cedar wood nose. Full bodied, structured and showing a crisp, firm, yet, elegant and ripe Cabernet Sauvignon character, with the tannins and concentration to age, this demands 10-20 more years before the fun starts.

8,907 Views

Tasted

Feb 27, 2015

2005
Château Lafite Rothschild (Pauillac)

Youthful, classically styled, full-bodied, fresh, bright, crisp, chewy, and tannic, the red fruits offer purity, vibrance, and length, along with lead pencil, flowers, spice, cigar box, thyme, and oceanic characteristics. Still in its infancy, the wine needs time to soften, open, and expand, so if you are lucky enough to have a bottle, patience is a virtue here. Drink from 2030-2065.

4,851 Views

Tasted

Jul 9, 2022

Looking quite young, with only a minor change of color, the wine is slowly starting to develop secondary characteristics, with tobacco, cedar, charcoal, wet earth, forest floor and cassis in the bouquet. The wine has the smoothness of silk, with layers of soft, polished, ripe, sweet cassis in its long finish. Still young, this will be better in 15 years, or is that 30 years?

12,878 Views

Tasted

Jun 28, 2015

2004
Château Lafite Rothschild (Pauillac)

If you prefer your elegance and refined character-filled wines on the young, buy reaching adolescent side, where the fruit, with its trail of tobacco leaf, cedar, cigar box, lead pencil, and salty rocks is just starting to fold into the secondary stage, you came to the right place. While another 5-10 years will really bring this to center stage, due to its forward style, this is starting to work in your glass.

10,260 Views

Tasted

Oct 24, 2018

Silky, polished and refined, there is a sweet, fresh quality to the wine, as well as a beautiful purity of fruit that even at just 12 years of age is already starting to shine through. Still young, if you like wines at just past their initial, primary stage of development, pop a cork. If you're seeking more secondary character, you'll need to wait a decade. Produced from a blend of 90.5% Cabernet Sauvignon, 9% Merlot and 0.5% Petit Verdot, this is one of the wines of the vintage.

4,862 Views

Tasted

Dec 9, 2015

Medium bodied, with a nose of cedar, earth, tobacco, fresh, spicy, red and black fruits and cigar box aromas. Soft, elegant and refined, but lacking a depth of flavor and concentration expected from a First Growth in the fresh, mineral driven finish.

8,290 Views

Tasted

Jan 4, 2015

Inky dark, almost opaque in color. The aromatics remain primary with cassis, cedar and earthy notes in the lead. The tannins are ripe, soft and round. This incredibly rich, powerful and opulently styled wine is not open, unless you're seeking a science project. The power and finesse of this stylish wine only hint at what consumers will taste in 15 or more years.

10,997 Views

Tasted

Jan 3, 2013

This is dark, almost opaque in color. The aromatics remain primary with cassis, cedar and earthy notes in the lead. The tannins are ripe, soft and round. This incredibly rich, powerful and opulently styled wine is not open, unless you're seeking a science project. The power and finesse of this stylish wine only hint at what consumers will taste in 15 or more years. As a comparison, an 04 La Mission Haut Brion was paired against the 04 Lafite, and the La Mission was eviscerated. The La Mission was light and boring next to the Lafite, none of us paid it much attention! 04 Lafite is a definite contender for wine of the vintage.

11,029 Views

Tasted

Jan 4, 2010

2003
Château Lafite Rothschild (Pauillac)

It has been several years since I lasted this wine, and the years have been kind to the wine. Now, it is supple, ostentatious, showy and also, rich with layers of ripe, red berries, cedar, herbs, tobacco leaf, and spice. The wine is full, deep and concentrated with an opulent finish that is drinking just great today.

3,249 Views

Tasted

Apr 5, 2022

This is one of those honey, it's not you, it's me wines. Meaning, I do not always find the greatness in the bottles I've had. Almost for sure, the intense ripeness of the vintage causes bottle variation. At least that's my theory and I'm sticking to it. I've had that same sensation with other 2003 Bordeaux wines as well. On to this bottle, it had it all. It was rich, silky, polished, complex, aromatic, long and deep. OK, it was advanced for its age in color and maturity, but it was truly a stunner!

6,137 Views

Tasted

Feb 27, 2015

With the color of a wine that is at least 15-20 years older than its true chronological age, the fully mature wine offers truffle, cigar box, cedar wood, tobacco, earth and dark, roasted berries. The wine is open, silky and sensuous, with an exotic texure on the palate that is sublime. There is no sensation of jammy flavors. But there is not a lot of stuffing here. This is not a wine to age for decades.

8,149 Views

Tasted

Dec 18, 2013

Off the charts aromatics with its pungent lead pencil, truffle, toffee, earth, cassis, spice and floral aromatics, which explode in your face. This is insanely concentrated with perfectly, pure, ripe juice. Intense, pure and harmonious. The silky, mouth coating finish offers everything you could ask for in a wine. This is seamless! This was probably the hte best wine I tasted on this trip. Anyone who took Parker's advice early and bought this wine on futures made some serious coin at today's prices.

19,867 Views

Tasted

Jun 30, 2009

2003
Carruades de Lafite (Pauillac)

Tobacco and earth in the nose, not much fruit remains. It's past its prime time drinking age, however, it's still interesting to taste at 10 years of age. Drink up, this is not a wine to hold.

4,260 Views

Tasted

Dec 18, 2013

2002
Château Lafite Rothschild (Pauillac)

Elegant, refined, charming and displaying more ripeness than you'd expect from the vintage, after a 2 hour decant, the wine opened with cassis, cigar box, blackberry, cedar wood, earth, stone and forest floor aromatics. Silky, smooth and round, still youthful, this stylish blend of 87% Cabernet Sauvignon, 9.5% Merlot and 3.5% Cabernet Franc will easily age for decades.

8,929 Views

Tasted

Nov 26, 2013

2001
Château Lafite Rothschild (Pauillac)

Continuing its march towards maturity, the cassis, cedar chest, tobacco, blackberry and forest floor aromas are right there. Supple, regal, polished, lush and fresh, the elegant charm of this wine is starting to poke through.

7,183 Views

Tasted

Dec 3, 2015

If the criteria for looking at wines took QPR into consideration, this would not score well. It was however, a classy Pauillac with finesse and refined tannins that displayed a wealth of cassis, tobacco, cedar chest and stone. Medium bodied, silky and fresh, but lacking the volume and length to make the wine a great tasting experience, overall it was quite charming. Young but developing secondary characteristics, this should age for at least 20 more years. For my money, it's not worth the time or the coin.

11,463 Views

Tasted

Jul 17, 2013

2000
Château Lafite Rothschild (Pauillac)

The past 5-6 years have added a lot here. 2000 is bottled elegance. Everything is in place here. The wine has a beautiful sense of refinement, balance, silky tannins and layers of sweet, soft, red fruits that do not want to quit. This is one of the few vintages of Lafite that is better on the palate than it is on the nose. This is an incredible tasting experience that is only getting started. Unless you have a case and you cannot wait to dig in, give it a few more years in the cellar. With time, perhaps a decade or so, this will probably hit triple digits. Drink from 2025-2075.

6,440 Views

Tasted

May 8, 2022

This is all about the obvious potential, as the wine is young, tight and needs coaxing to bring out much of its charm. Clearly, the fruit is ripe, elegant, fresh and present, the tannins and soft and there is length, but it's not much fun to drink today. Give it another decade and call me in the morning.

7,240 Views

Tasted

Aug 12, 2016

This is very good. Not great, but really fine. The fruit has a regal quality, the tannins are ripe, soft and polished. There is ample concentration, but perhaps not at the same level that the top of wines of the vintage show. My guess is, there is more here than meets the eye at the moment and that with 15 or more years, this could really deliver the goods.

6,068 Views

Tasted

Feb 27, 2015

Normally, Lafite Rothschild is not as expressive as the other First Growths when tasted young. This specific bottle on this single was a completely different tasting experience as it was firing on all 12 cylinders. Text book Pauillac Aromatics with lead pencil, cedar wood, cassis, floral, spice, earth and tobacco notes flooded your nose. And that was not even the high point of the wine! Full bodied, intense, lush and rich in texture, the wine was all about class, elegance and refinement. Do not mistake this positive note that this is mature. It's not. But like all great Bordeaux today, this shows well young, even though it's only a quick peek into the future. Ridiculously expensive, but stunning, if you have a spare million laying around, grab a case, pop a cork 10 years from now and pass the remaining bottles down to your grandchildren.

9,114 Views

Tasted

Aug 29, 2013

An aromatic display of spice, cedar, graphite, blackberry and cassis. Plush, rich and mouth filling with round tannins, freshness, purity and an intensity of flavors. Another decade or two will add a lot to this wine.

18,756 Views

Tasted

Mar 5, 2010

2000
Carruades de Lafite (Pauillac)

Light, bright, fresh, perhaps a bit too fresh and the wine is showing more acid than fruit. For lovers of crisp, bright red berries, cassis and spice, who enjoy a very fresh style of wine, you might like this more than I did. If I owned this, I'd sell it, or drink it sooner than later.

5,823 Views

Tasted

Feb 18, 2015

Tobacco, licorice, oak, earth and cassis made a complex perfume. The tannins were slightly rustic. The wine ended with a fresh cassis filled finish making for a text-book, lighter style of Pauillac.

9,330 Views

Tasted

Dec 1, 2012

1999
Château Lafite Rothschild (Pauillac)

Quite young, but fine to drink today, if you enjoy a wine in the middle of the primary stage that is just starting to become secondary. The medium bodied, elegant wine is on the bright, fresh, crisp, red berry side of the style range. Here you find forest leaf, tobacco, cedar, cassis, cherry and spice notes. Softly textured, with fresh, spicy, red fruits, tobacco and herbs in the finish.

7,361 Views

Tasted

Apr 16, 2017

1998
Château Lafite Rothschild (Pauillac)

With 2 hours, give or take of decanting, the wine has body and depth, but it's also reticent. Tobacco leaf, cigar box, cedar, herbs, green peppers, and red currants show, but there is a distinctive green note on the nose and palate that is becoming more apparent, along with some dryness in the finish. Lovers of old-school-styled Bordeaux will probably like this more than I did.

5,814 Views

Tasted

Aug 28, 2021

Still young, with a lot of tannin to resolve, the wine seemed tightly hemmed in and took effort to bring out its textbook cedar wood, tobacco, cassis and earthy, spicy nose. Concentrated and deep, with a lot of its ability held tightly in check, this will require at least another decade or more to really begin to gets all it has to offer.

7,724 Views

Tasted

Feb 27, 2015

With aromatics filled with tobacco, cassis, earth, minerality and spice, this elegant, regal wine feels great on your palate as the wine offers no hard edges. Supple and refined, another 10 years in the bottle will add a lot of complexity to this vintage of Lafite Rothschild. 1998 was much for successful in Pomerol and St. Emilion. It was a difficult year for Bordeaux in the Medoc. Part of the reason for the quality of Lafite in this vintage is due to the sever selection. Only 34% of the crop was used in the Grand Vin. That level of dedication shows in the quality and style of the wine.

13,399 Views

Tasted

Jun 18, 2011

This is not yet showing much of its potential. With intense coaxing and swirling, this very tight wine offered hints of cassis, tobacco, cedar, herbs and chocolate. The intense levels of sophisticated, concentrated fruit that flowed over your palate offered glimpses to how great this wine will be for owners with patience. The wine displays incredible class, breed, finesse and elegance, balanced with power. This will turn out to be an amazing Lafite, but it will require 20 more years of bottle age. There is no reason to open this wine today unless you have a case and want to see how it's developing. It will give a glimpse into its future, but will not deliver much joy.

8,259 Views

Tasted

Oct 13, 2008

1996
Château Lafite Rothschild (Pauillac)

Not as expressive, or as interesting as my last bottle 6 long years ago, with 2 hours of air the wine opened to a cornucopia of notes, flowers, cassis, herbs, leaf, tobacco, cigar box, earth and spice. Refined, elegant and fresh, the fruit seemed hidden behind the tannins, asking to rest for another 5 years or so.

4,453 Views

Tasted

Aug 28, 2021

I'm hearing Etta James with "At Last." I've wanted to taste this wine for years. And finally, or should I say, at last, you're here in my glass, and I can say without reservation, where that wine went next. Right where it was supposed to be! If you're looking for the wine of the vintage, stop your search. I am thinking we have a winner, and that says a lot for 1996 Left Bank Bordeaux! The intense powerful, complex nose with its attention grabbing forest floor, earth, some, cassis, Cuban tobacco and cedar wood is off the hook. And that's just the start of the party. The wine has this beautiful purity of fruit, velvet textures and lushness to it, that makes impossible not to want to take another sip. The finish lingers, expands and gains in complexity for well over 60 seconds! Yes, this is more than expensive. But if you have the money, or very wealthy friends, this is real deal.

9,329 Views

Tasted

Feb 27, 2015

1995
Château Lafite Rothschild (Pauillac)

Medium bodied with a strict, tannic edge, the nose is there, but on the palate, the wine falls short for a First Growth that sells for this much money. There is a good purity in the fruit, but the rustic edge to tannins really shows. I'd be a seller not a buyer of this vintage.

6,854 Views

Tasted

May 6, 2018

Overcoming many of the issues having to do with severe tannins found in several wines from 1995, the nose offers its cassis, tobacco, cedar chest, spice and earthy aromatics with only a short decanting. More air is needed for the wine to soften and deliver its elegant, refined, fresh, mineral driven, bright, earthy, spicy red fruit charm. At 22 years of age this is still youthful, but it has entered its secondary phase. The wine was made from a blend of 74% Cabernet Sauvignon, 18% Merlot and 8% Cabernet Franc. A large part of the reason this wine was so successful is due to the severe sorting that took place, as only 30% of the harvest was used in the Grand Vin.

8,680 Views

Tasted

Jan 3, 2017

1994
Château Lafite Rothschild (Pauillac)

Medium bodied, lean and with a definite, crunchy crisp, bright, red berry character, the nose with its cedar, tobacco, earth and red fruit leanings is better than the classical palate, which shows the green peppery side of the vintage. The wine will continue to age, but frankly, it is not worth the money in this vintage.

6,041 Views

Tasted

Aug 17, 2017

1990
Château Lafite Rothschild (Pauillac)

Firm, reticent, classic-styled Pauillac with loads of spicy red, crisp currants, cedar, tobacco, cigar box, herbs, and forest leaves. The fruit is crunchy and the tannins are a bit on the rustic side. If you are seeking an old-school, classic with a green edge, you are going to like this more than I did. Drink from 2023-2050.

3,135 Views

Tasted

Dec 17, 2022

This is a fine wine. But for a First Growth selling for the money it does, it falls short. Everything is there, the nose, palate and finish, but where is the excitement and energy needed for this much money? There are selling wines, and drinking wines. This is more of the first, and less of the last.

5,952 Views

Tasted

Feb 27, 2015

In a blind tasting, the wine shows well. The texture is silky. The fruit is of quality, with cassis, cedar, earth, cigar box and tobacco in abundance. The finish comes up a bit short. This is just starting to drink well. However, its best days are in the future. I'd give it another 5-10 more years before popping a bottle. On the positive side, the wine has clearly improved over the years. When mature, this could become a much better wine still.

9,925 Views

Tasted

Jul 21, 2013

A bit of a disappointment. The wine is good. But, at least to me, it's not First Growth in quality. Elegant in style, with its cedar and cassis profile, the fruit is high quality offering a lush mouth feel. But, the finish is moderate and there is not enough concentration to make this really exciting. With another decade, the wine will develop additional complexities, but at least to me, it will never offer a First Growth experience

13,726 Views

Tasted

Sep 10, 2010

Tight and closed. It was hard to see what this wine will offer in the future. Clearly this needs a decade or two before coming around. But, will it be worth the wait? Scored for potential.

5,741 Views

Tasted

Nov 15, 2009

Although very closed , with much coaxing, it served up scents of lead pencil, minerals, oak and fruit. Aside from being closed down, the elements did not integrate for me. It seemed disjointed and was light, even by Lafite standards. The wine improved in the glass, but it was not First Growth quality

5,685 Views

Tasted

Apr 25, 2007

1989
Château Lafite Rothschild (Pauillac)

Still young, another decade will help the wine add to its cedar, spice box, spearmint, tobacco, cassis, earth, cigar ash and cherry nose. Medium bodied, tight and needed more air than a pop a pour, the wine is high toned and elegant in style.

8,465 Views

Tasted

Aug 15, 2013

Ample cassis and cedar accented by hints of over ripe black fruit and spice are found in the perfume. This medium/full bodied wine fills your mouth with its ripe fruit profile, but remains tight and does not offer much complexity at this stage. The tannins are round, but the wine is still young and requires more time.

11,470 Views

Tasted

Nov 15, 2009

With decanting and much coaxing, cherries, lead pencil, smoke and cigar box aromas were pleasant. But from Lafite, I don't want pleasant. I want to be blown away. Bright fruit and light black fruit along with ample on the palate and in the finish.

4,909 Views

Tasted

Oct 5, 2004

1988
Château Lafite Rothschild (Pauillac)

Cassis, cedar, tobacco, graphite, earth and spice on the nose. The wine is full bodied, concentrated and still tannic. The fruit is best described at noble. You can sense its good breeding. But there is an austerity and a hint of under ripeness in the finish that takes away from the wine. The long, rich, cassis and rhubarb filled finish is joy, but the sense of under ripeness takes away from the pleasure. Fans of older, more traditional, less ripe wines will like this more than I did

22,281 Views

Tasted

Jan 4, 2010

With spicy cassis, cigar box, and earthy scents, this full bodied, concentrated wine remains tannic. The style combines regal fruit with some lean qualities. The long blackberry and cassis finish shows a touch of green. Give it another 5 years.

22,277 Views

Tasted

Aug 9, 2008

Rich, big, ripe, bold, sophisticated, Cabernet fruit with smoky cassis, tobacco and spice tones. This concentrated, full bodied wine fills your palate with dark ripe berries and tannins. This has class and breed, but the finish shows signs of not being fully ripe with hints of green in the ending notes.

12,930 Views

Tasted

Aug 15, 2007

1986
Château Lafite Rothschild (Pauillac)

For years, no, decades this is been good, but a bit firm and dry. At 35 years of age, the wine is really starting to blossom. On the nose, the cedar, spice tobacco, cigar box, ash, crushed rock and currant character hit it out of the park. But the biggest change is that the wine has moved from firm to elegantly reserved. Residing on the corner of supple and stoic, supple looks like it's going to take the lead, as the tannins are starting to soften, and the naturally elegant profile of Lafite is taking the lead. Give it 5-10 more years and this could really steal the show! 1-2 hours in the decanter, depending on the provenance is all it needs.

3,494 Views

Tasted

Dec 5, 2021

If awards were given out for slow to develop wines, clearly this is a contender for the trophy. With coaxing, the leafy herbs, tobacco leaf, cedar, gravel, cigar box and cassis come to the surface. Medium/full-bodied, with a reserved red fruit character, there is an old-school, herbal accent to the spicy red fruits in the finish. I am not sure when this will hit full-maturity, but I feel the pain of anyone that purchased this as a future or on release.

6,430 Views

Tasted

Dec 6, 2019

Power, intensity, waves of ripe, black fruits all backed up by a wall of tannin, this is a stunner. It has everything a wine needs for magnificence. All that is missing is cold cellar and a patient owner because the wine at close to 35 years of age still needs at least another decade to come around. Perhaps the wine will hit its prime time drinking window by its 50th birthday. They do not make the like they used to. Which is a good thing, as I feel sorry for consumers that bought this as a Future for drinking in their lifetime.

4,748 Views

Tasted

May 9, 2018

Time has been kind here. Yes, there is a bit of a strict presence, but the wine is also refined, elegant and complex. It's not flashy or powerful, but it is aromatic, with grace, a regal quality to the fruit, length and charm. My guess is the wine will be even better in 10-20 or more years, and it's quite good today!

6,461 Views

Tasted

May 30, 2017

OK, so it took 30 years to come around, which is not going to work for today's consumers, but it was worth the wait. Double decanted 5 hours, give or take, the wine showed elegance, classy fruit, vibrancy, energy and and layers of sweet, ripe, refined, pure, red fruits, spice, tobacco, earth and cedar wood. The long finish stuck with you. If you're sitting on well stored bottles, there is no hurry to pop a cork as this is easily a 100 year wine. On the other hand, if you have a bottle and want to check it, it's a good time to see what this is made of.

6,355 Views

Tasted

Jul 28, 2016

Firm, structured, tannic and concentrated, the wine is still young as it approaches its 30th birthday. 4 hours of helped open the nose, but as you might expect, there was a bit of hardness to the tannins and a sensation of rusticity on the palate in the finish. Another 5 years or more are needed for this to come around. This must have been similar to what tasters experienced with the 1928 in its day. I wonder how many collectors gave up in frustration.

6,017 Views

Tasted

Dec 28, 2015

Finally, a bottle that was not about potential, but pleasure. At close to 30 years of age, there is light at the end of the tunnel. With a few hours of air, the wine delivered that special, aged Bordeaux character in all its cassis, gravel, earth, lead pencil, smoke, tobacco, truffle and cedar chest glory. The tannins felt nice in the long finish. Not quite at the level of the sublime 1986 Mouton Rothschild, but this is a very, very good wine.

9,849 Views

Tasted

Dec 21, 2013

Deep ruby in color. Initially, the nose required coaxing before a cornucopia of scents grew from the glass. Spice, soy, leather, Cuban tobacco, smoke, minerals, truffle, cassis and blackberry were easy to find. At 2 hours, the wine felt hard and austere in the mouth. The tannins were obtrusive. But one hour later, the magic happened. The tannins fell off and a wave of deep, plush fruit enveloped my palate. This wine is intensely concentrated, powerful and opulent. Yet the finesse of the fruit is what you sense. The finish lingers on your palate for almost 60 seconds! Still young, another 10 years will allow additional levels of complexity to build

17,525 Views

Tasted

Jan 3, 2010

Decanted for 6 hours, the wine showed tobacco, cassis, smoke, lead pencil, spice, forest floor and ash in the perfume. This is a structured, powerful, concentrated Pauillac with a refined masculine personaltiy.Think Cary Grant. There is still tannin that needs to be resolved. The spicy cassis and blackberry filled finish remains for over one minute. This will be a rock star when fully mature, but it's going to take another decade before that happens.

12,691 Views

Tasted

Mar 12, 2009

Decanted at 9am and served after 9pm, the wine remains young. Still tannin, but the tannins are round as well as held in check by gobs of ripe, rich, Cabernet. Very concentrated and intense, combining cassis, cedar, tobacco, truffle, spice, earth and dark cherry, pipe tobacco. This is a serious, structured wine that sits between old school style and modern charm. IMO, it's better than the 82 Lafite and sells for less than half the price. However this will not mature until at least 2020!

6,705 Views

Tasted

Dec 10, 2008

With a high neck filland a spinning capsule, I double decanted the wine at noon and we began tasting it at 9:30. From the first moment the wine hits your glass, you know you're in the presence of greatness. Intense levels of black fruit, tobacco, cedar and cassis leap from the glass. The wine fills every nook and cranny of your palate senses. There is a serious backbone and structure to the wine. But, the tannins are not obtrusive. The finish seems endless and lasts well over a minute! I kept some in my glass and worked on it until the end of the night… about 1:30am. It continued expanding and improving in the glass. At this point, I prefer it to the more expensive and exalted 82 Lafite. It reminds me of 86 Mouton as far as levels of concentration. But, it currently offers more pleasure. This is truly a great wine. Not yet mature, it will need at least another 10 years before it really shows all its charms. It will probably keep evolving at least another 50 years after that!

6,451 Views

Tasted

Jun 6, 2007

This opaque, inky colored wine offered a show boat perfume of cedar, soy, leather, cassis and smoke. Huge, hulking concentrated, dense and complex. This massive wine reminds me of a perfectly balanced elephant on a tight rope! Amazingly young and tannic, this is the Lafite to buy.

6,454 Views

Tasted

Mar 14, 2006

Backwards and in need of air and additional bottle age, this powerful, cassis and cedar filled wine offers great potential for people with patience. Amazing purity of fruit, but oh so tannic. This should come around by 2016.

6,005 Views

Tasted

Nov 7, 2004

The color is still almost opaque with barley any lightening around the edges. Cassis, wood, lead pencil, truffle, smoke and spices make a beautiful perfume. The wine has an enormous mouth feel. But it's so well balanced, it's well, perfect. This is still very tannic and demands at least 10-15 more years before it's mature. This is a big, brawny style of Bordeaux that is also refined. Amazing in its own way.

6,076 Views

Tasted

Nov 7, 2003

86 Lafite shared many similarities with the 86 Mouton. While not quite as black in color, or as concentrated, it was close. Even with double decanting for hours it remained tight. Cassis, minerals, tobacco and truffle came out with coaxing. While concentrated with ripe, elegant fruit, this tannic wine requires time before strutting its ample stuff.

5,446 Views

Tasted

Dec 5, 2002

1985
Château Lafite Rothschild (Pauillac)

Medium bodied, and almost bordering on light, this is elegant, refined, or perhaps, delicate is the best way to put. Fully mature, your focus should be on the tobacco, cigar box, lead pencil, cedar, cherry and forest floor aromatics, than on the still fresh, light, soft, graceful, but petite, light cherry and cranberry finish. This is not a candidate for further evolution.

9,069 Views

Tasted

Apr 22, 2017

1983
Château Lafite Rothschild (Pauillac)

With the prices Chateau Lafite Rothschild fetches these days, it's a wine I seldom see at tastings anymore. This is a beautiful example of a 30 year old Lafite, with its cedar chest, tobacco, stone, cassis and cranberry filled nose. Medium bodied, with a finesse to the tannins and silky texture to the fruit, this is what Pauillac is all about.

7,585 Views

Tasted

Aug 15, 2013

Deep ruby in color with an explosive perfume made from cedar wood, lead pencil, black fruit, olives, herbs and smoke. Full bodied with a great mouth feel. Elegant layers of ripe, rich, black and red fruits bathe your palate and please your senses. This is probably close to full maturity. However while it can be enjoyed today, there is no hurry to open it as it will easily last another 15 or more years

4,450 Views

Tasted

Dec 3, 2004

1982
Château Lafite Rothschild (Pauillac)

Elegant, refined, medium-bodied, soft, fresh and aromatic, this is probably at, or close to full maturity. The red fruits display a beautiful, earthy, cedar, tobacco, herbal, leafy, spicy profile. Texturally, this is a wine of finesse and silky, with length and depth of flavor. Decanted about 1 hour, this was a great bottle of the 82, which can often vary in quality.

6,876 Views

Tasted

Jul 24, 2020

The fruit is quite pretty. There is an elegance and purity to the red berries that shows, but the wine is also light for the vintage. Refined, elegant, silky and pure, with cherry, cedar and tobacco notes that carry through, this is drinking where it needs to be. I just wish it showed more depth and intensity, especially considering the vintage, and how well the other First Growths did in this vintage.

7,114 Views

Tasted

May 9, 2018

Graphite, cigar box, tobacco, spice, cherry pipe tobacco, forest leaf and herbs spring from the glass, even with no decanting. The wine is quite fresh, silky, medium/full bodied and graceful, exchanging finesse for power. The wine should continue improving for another 2 decades without trouble.

5,284 Views

Tasted

Dec 16, 2017

The best bottle of this stunning wine I recall ever tasting. Purity and elegance, refinement and character sum this up quite well. There is a beautiful purity of fruit, ripeness in the tannins and a long, fresh, silky, fruit filled finish that lets you know you're tasting something truly majestic.

9,884 Views

Tasted

Jan 14, 2016

More interesting on the nose than the palate, with its complex array of cedar, tobacco, cassis, smoke, thyme and cigar wrapper scents. On the palate, the earthy, cherry and cassis sensation were marred by some dryness and slightly, rustic tannins. There are vintages when I love Lafite and covet the wine. Those are the years to buy. But there are other vintages that should be sold. 1982 is a year to sell. Its a good wine, but it does not even begin to deliver the level of quality to justify the selling price.

9,278 Views

Tasted

Jun 5, 2015

This is a wine I seldom see anymore, due to the high prices. So it was a treat when I saw the bottle being popped. The nose, with its complex array of scents featuring flowers, cassis, cedar chest, cherry blossom, earth and tobacco was a treat. Elegant and classy in style, the wine is light on its feet, fresh and lively, ending with silky layers of ripe, dark red berries. Still young, I imagine this will only get better in time.

10,768 Views

Tasted

Dec 17, 2013

1982 Lafite Rothschild showed better than expected, considering that this wine has never lived up to its potential, based on the early raves from critics. Still not fully mature, the cassis, cedar wood, cigar box, earth and gravel scents were right where they should be, but fireworks never exploded. Should rockets have gone off? For this much money, that is the least that should take place. Instead, you enjoy a quality, slowly maturing Pauillac with an understated character. There is no hurry to drink the wine as there is ample structure and ripe tannins to allow for decades more of evolution.

14,476 Views

Tasted

Oct 28, 2012

Perfume of cedar, lead pencil, cassis and possibly floral notes made for a haunting perfume. On the palate, this very deeply colored, dense, concentrated wine is packed with layers of ripe black and red fruits. I'm shocked at how young this wine showed.

7,139 Views

Tasted

Nov 12, 2006

1981
Château Lafite Rothschild (Pauillac)

For an off vintage that is edging close to 40 years of age, this is truly quite nice. Medium bodied, the wine is soft, elegant, fresh and bright. The crisp red fruits shine. The finish is not long, but it feels good and gets you interested in experiencing the earthy, tobacco, lead pencil, red fruit and cedar chest nose. There is no reason to hold this any longer, unless you have a birthday or anniversary to celebrate.

6,278 Views

Tasted

Jun 6, 2018

1979
Château Lafite Rothschild (Pauillac)

Light in color and fruit, this medium-bodied, elegant, bright, red currant filled wine is more complex and interesting on the tobacco, cedar, rock, forest leaf and earthy nose, than on the bright, soft, refined palate. This is at full maturity and is not a wine for further aging.

4,176 Views

Tasted

Oct 6, 2018

1978
Château Lafite Rothschild (Pauillac)

Fully mature, this lighter, medium bodied wine offers more complexities and character on the nose, with its blend of tobacco, cigar wrapper, earth, crushed rock, cranberry and cherry. There is a bit of austerity in the fruit on the palate, with tangy, red berries and tobacco leaf in the finish. This is a fine example of old school, classic Bordeaux. This is not a wine to hold for further development.

5,439 Views

Tasted

Nov 16, 2017

1976
Château Lafite Rothschild (Pauillac)

Looking old for its age, the wine interestingly combines overripe ripe fruits with rustic tannins. The nose, with its earthy forest leaf, tobacco wrapper and lead pencil scents along with bright red fruit aromas are better than what you find on the palate.

7,046 Views

Tasted

Jun 6, 2018

1975
Château Lafite Rothschild (Pauillac)

Much better than I would have thought. The wine is on the rustic side, but it's difficult not to enjoy the cedar, tobacco, wet earth, cigar box, forest floor, red cherry and pipe tobacco nose. A bit green on the palate, there is a nice, spicy quality to the earthy red fruits in the rustic finish.

11,476 Views

Tasted

Sep 3, 2017

1971
Château Lafite Rothschild (Pauillac)

Light, lean and herbaceous, bricky red in color, the remaining vestiges of bright cranberry and red currant were almost overwhelmed by the green pepper, tobacco leaf, pine, wet forest and herbal components. Soft on the entry and crisp with a tartness in the finish, this was probably better 10 or 20 years ago.

4,184 Views

Tasted

Aug 18, 2020

1970
Château Lafite Rothschild (Pauillac)

The last few years have not been kind to this wine, which continues fading. Sharp, bright and crisp, with more acidity than fruit. Crunchy cranberry can be found inside the wealth of tobacco, green herbs, peppercorn, cedar, and spice. There is not much left here for pleasure. If you are saving this for a birthday or anniversary, it is best to drink this sooner than later before it loses any more fruit.

4,587 Views

Tasted

Oct 22, 2021

Fully developed, and a perfect example of classic Bordeaux with its cedar, tobacco, smoke, ash, lead pencil, wet earth and bright, red berry components. Not much weight, but a lot of elegance here. This is not going to get better, but I imagine it is good for up to another decade before it fades.

5,188 Views

Tasted

Sep 21, 2018

1966
Château Lafite Rothschild (Pauillac)

Light in weight and color, with serious bricking, the wine requires drinking. What you should find is a pleasant, elegant, spicy, red cherry charmer that is nice enough, but it's well below First Growth quality. Drink up as there is no future here.

4,541 Views

Tasted

Jul 28, 2016

The wine was light in color and in body. But the aromatics were complex. The aromatics were the best part of the experience. Spice, cherry pipe tobacco, cedar, cassis, herbs and minerals led into a soft, light, elegant strawberry, cherry tinted finish. This was better 10-15 years ago. The fruit is slowly fading.

11,724 Views

Tasted

Jul 29, 2010

The color was a light ruby with rust tinted edges. The nose offered cedar, mushrooms, leather, forests and eucalyptus scents. Full bodied and fully mature, the chocolate covered, cherry and blackberry tasting fruit, displayed that displayed the patina of age was only marred by the short finish and the fact that wine faded in the glass after 20 minutes.

10,386 Views

Tasted

Jul 10, 2004

1961
Château Lafite Rothschild (Pauillac)

Elegant, medium-bodied, crisp, bright and almost, but not quite light, there is a floral edge to the red fruits along with spice, tobacco and forest notes. The wine is soft, and effortless to drink, but it is on the lighter, refined side of the style range, lacking the power and concentration found in the other 61 First Growths.

3,290 Views

Tasted

Apr 6, 2022

It is light, but it is also elegant, refined, soft and silky, with a gentle palate feeling and a finish centered around the purity in the red fruit and earthy, stony, tobacco filled finish. This is a very good wine, though for a First Growth, from the legendary 1961 vintage, it comes up a bit short.

4,965 Views

Tasted

Feb 2, 2020

This was the best bottle of this wine I've ever tasted. Light in color, the floral, cherry blossom, tobacco, cedar, spice and earthy nose was perfectly paired with the medium bodied, silky smooth, fresh, red berry finish. This was all about the elegance and not the power possible from the vintage.

5,649 Views

Tasted

Oct 15, 2015

Fully mature, it's easy to find the scents of tobacco, cedar chest, red berries and earth in the nose. Medium bodied without much depth or complexity, the wine ends with light, cranberry and cassis with some tartness in the finish. This is an incredibly weak wine when you consider the wine and the vintage.

5,573 Views

Tasted

Dec 9, 2014

1959
Château Lafite Rothschild (Pauillac)

If any bottle deserved 101 Pts, this is it! What a wine tasting experience. Unforgettable in every sense of the word, perhaps majestic captures the essence of this wine. The nose, with its non-stop bouquet of cedar, tobacco leaf, Cuban cigar box, spice, graphite, leaf, herbs, dried flowers, and currants created an incredible perfume. But the star of the show was the powerful, elegant, refined, intense display of red fruits, spice, earth, and tobacco on your palate. Absolutely seamless, the elegant character was as mindblowing as was the over 60 seconds of resonating fruits that had you wondering how a wine could be this good! This was from a magnum, so standard bottles might not be quite at this level.

3,954 Views

Tasted

Sep 14, 2021

As unbelievable as it sounds, from 2 different sources, the first in magnum and then again in bottle, I was able to taste and compare my memories of this wine, as they were served only 2 weeks apart! The bottle, due to better storage was in much better shape. Incredibly silky in texture, there was a beautiful purity to the fresh, sweet cherry fruit that paired perfectly with the cigar box, earth, smoke, tobacco, cedar wood and cigar aromatics. Smooth as silk from start to finish, this was an incredible treat!

5,786 Views

Tasted

Nov 6, 2016

Not the best fill, but perhaps because it was a magnum, this showed much better than expected. Powerful, yet silky, lush and polished, with Cuban Cigar scents, cedar, lead pencil, truffle, smoke and wet forest floor aromas, it was hard to put the glass down. The texture perfectly displayed concentration, velvet tannins, opulence and grace that come with time and great terroir.

5,718 Views

Tasted

Oct 15, 2015

Perhaps some of the vintages of Lafite Rothschild that have left me unmoved were just not aged enough because this wine was superb. The cedar, tobacco, cigar box, smoke, cassis and fresh herb nose was close to off the charts. The palate was treated to a perfect blend of sweet and tart, black and red fruits, silky, elegant textures, ending with a long cassis note.

6,993 Views

Tasted

Nov 24, 2013

1957
Château Lafite Rothschild (Pauillac)

Acidic, sharp, and overly bright on the medium bodied palate, the wine was much better on the cassis, leaf, tobacco, cedar and earthy nose, than on the light, red berry palate. Father time has not been kind here.

4,575 Views

Tasted

Nov 10, 2017

1955
Château Lafite Rothschild (Pauillac)

Medium-bodied, and focused on its tobacco, cigar box, cedar chest, forest leaf, spice, leafy herb, red currant, and bright cherry nose. The wine is elegant, refined, and regal on the palate. There is a light touch to the soft, sweet, red fruits along with hints of tobacco leaf, spice, and cedar in the finish.

2,342 Views

Tasted

May 8, 2022

Looking like a murky, red tea, the wine offered a perfume filled with tobacco, mint, leaf, forest floor, cedar and bright, red red fruits. Medium bodied, with a light, sweet and tart, spicy, red fruit finish. At this age, each bottle is different, but there is reason to age this wine any longer. If you have a bottle, pop the cork.

3,594 Views

Tasted

May 5, 2016

Cedar, tobacco, spice, wet earth filled the glass and your senses. On the palate, layers of silkly, velvety, thick, ripe Cabernet draped over your mouth. Opulent and very sexy on the palate, the wine improved in the glass. At over 50 years old, a wine that improves in the glass is the hallmark of a great wine from a top vintage.

4,614 Views

Tasted

Jun 18, 2009

1950
Château Lafite Rothschild (Pauillac)

Light, and still completely charming, the elegant textures, refined palate presence and sweet, red, spicy fruits in the finish complimented the earthy, tobacco and cedar nose. Past its peak, it was still a treat to taste.

2,567 Views

Tasted

Apr 30, 2017

Tobacco, cigar ash, cedar, forest floor, earth, spice, leather, old wood and scents of dried leaves were easy to find. Fully mature, with an elegant palate feel, this was an interesting wine to taste. The wine finished with a spice and light cassis sensation.

6,788 Views

Tasted

Nov 19, 2007

1949
Château Lafite Rothschild (Pauillac)

Medium-bodied, with a pale ruby hue, the nose offered up its blend of tobacco, cedar, leather, cherry pipe smoke and spice box array with little effort. Elegant, regal and finesse driven, the sweetness in the bright red fruits paired with a touch of flint showed nicely on the palate and in the endnote.

3,768 Views

Tasted

Aug 22, 2019

1945
Château Lafite Rothschild (Pauillac)

Another vintage of Lafite Rothschild I am not likely to see again. Served blind, the color mixed amber and red tea. On the nose, oyster shell, tobacco leaf, cedarwood, ash, smoke, bright red fruits and forest leaf aromatics. Medium bodied, elegant and refined, with all its tannins melted away ago the finish, with its bright red berries, tobacco and earthy nuances. I liked the wine, but from such an exalted vintage, I was thinking it should have been better. Still, it's not lost on me that this vintage of Lafite Rothschild came from the year celebrating the end of World War 2.

4,885 Views

Tasted

Jun 6, 2018

1943
Château Lafite Rothschild (Pauillac)

Mostly secondary notes of cedar, tobacco, cigar box, smoke and earth, with a little cassis tossed in for good measure. Light, with freshness, elegant textures and a clean, red berry finish.

3,583 Views

Tasted

Apr 13, 2017

1941
Moulin des Carruades (Pauillac)

It is always fascinating to taste a war years wine, especially when it is related to a First Growth. But here, the history behind the wine and the beautiful label outclassed the wine, which was quite light and more acidic and secondary than fun to taste. Still, to think about what was taking place that harvest boggles the mind, making history come alive.

2,440 Views

Tasted

Jun 6, 2018

1935
Vin de Château Lafite Blanc (Bordeaux)

It's had to imagine that a white Bordeaux wine close to 80 years of age could be good. Rest assured, served double blind, it was that good. Golden, amber in color, the wine was better on the nose, with its butterscotch, butter, apricot, orange marmalade, honey and nut aromas, than on the palate, which came up a bit shy. But so would, or will you at 80 years of age. The fragrance remained in full force for hours, but the semi sweet fruit dried up after 30 minutes in the glass. The easiest way to think of the wine, is to imagine a cross between an old, dry Sauternes and an even older vintage of white, Pessac Leognan. I know I'll never see another bottle, but the memory is going to linger for years!

1,890 Views

Tasted

Apr 14, 2015

1934
Château Lafite Rothschild (Pauillac)

Looking like a glass of rose hip tea, picture walking into a cedar closet, smoking an Cuban cigar with rocks and rose bushes and fresh cherries on the floor and you get the idea of how this smells. Youthful, spicy and packed with cassis and cherries, there was a touch of rusticity to the tannins, but it was not at all intrusive. I know I've been blessed, as I've tasted this 3 times now. Just when you think you're never going to taste it again, out comes another bottle.

2,367 Views

Tasted

Apr 28, 2015

From a high, almost top shoulder fill bottle with an original cork was deeply colored for its age with an appearance of cola colored wine. Notes of Cuban cigars, truffles, Asian spice, tar, leather, earth, lead pencil, black fruit and tiny hints of orange flowers filled your nose with pleasure. In the mouth, the wine expressed the patina of age with soft, black fruit and spice. The long, finish lingered with notes of elegant plums and dark berries. The mouth feel is pure elegance and silk. This feels very regal. 95 Pts... Although, drinking Lafite from my father's birth year with my dad was a solid 100 Pt experience neither of us will ever forget!

5,767 Views

Tasted

Nov 1, 2009

1928
Château Lafite Rothschild (Pauillac)

A strange wine indeed. Served double blind there was no doubt this was a very old Bordeaux. The color of strong tea, little fruit remained, most of what there was by this point was buried under all the cedar, tobacco, old wood, cigar wrapper and citrus. The texture was a step up, with its softness and polish, leaving with more leafy, earthy, tangy citrus notes in the very bright finish. I am sure what made this wine so odd was that the 1928 Lafite, due to a flaw that took place during the vinification was pasteurized. The chateau ended up taking back a large production of the wine from unhappy clients due to a court order.

4,795 Views

Tasted

Jun 6, 2018

1924
Château Lafite Rothschild (Pauillac)

Light, light, light, but the fruit had a beautiful, sweetness, purity and elegance, coupled with the complex patina of age in the nose, it was a special treat I am not likely to experience again.

4,826 Views

Tasted

May 8, 2014

1908
Château Lafite Rothschild (Pauillac)

Served blind, there was no way anyone guessed it was 110 years old. Tea colored, with a complex set of aromatics including tobacco, cherry blossom, tobacco leaf, cigar wrapper, tobacco, ash, cigar box, cedar and lead pencil, this was heavenly to nose. On the palate, the wine is light, soft, delicate and feminine with a clean, fresh, cherry pipe tobacco finish.

2,584 Views

Tasted

Jun 4, 2018

1907
Château Lafite Rothschild (Pauillac)

Light, tea/rose colored hue to the wine. Spices, cedar, herbs, earth, tobacco, truffles, forest and leather aromatics emanated from the glass with a slight swirl. In the mouth, light black cherry with hints of steel fell over your palate buttressed by velvety soft textures.

4,468 Views

Tasted

Dec 7, 2009

1905
Château Lafite Rothschild (Pauillac)

Not the vinous equivalent of its centennial brother, the 2005. Red fruit, spice, truffle were easy to find, but in the mouth, the wine displayed sharp, tart, decaying flavors. The wine was not dead, it was closer to simple and light as some pleasure could be found. But like any of us at 105 years old, getting to 105 was the accomplishment. At that age, it ain't getting better. :-0)

5,168 Views

Tasted

Dec 7, 2009

1904
Château Lafite Rothschild (Pauillac)

Asian spices, root beer, vanilla, cassis, tobacco and earthy notes were easy to find. On the palate, there was good weight and density. The finish was not quite as enjoyable as the aromatics and the length was shorter than what we found in the 1901. That being said, at over 100 years old, this was a once in a life time experience.

6,061 Views

Tasted

Dec 7, 2009

1901
Château Lafite Rothschild (Pauillac)

This resembled tea and bricks in the color. Aromatics of chocolate, caramel, gingerbread, Cuban cigars, cedar, minerals, chocolate and brown sugar were easy to find. This was still concentrated with an array of black and red fruit complicated by spice and kirsch that filled your palate with sensations. The wine was opulent and lush in the finish. The wine remained at full force for at least 90 minutes before gently slipping away.

5,127 Views

Tasted

Dec 7, 2009

1900
Château Lafite Rothschild (Pauillac)

Served double blind, in my wildest dreams I never though the wine was this old. My guess placed it in the 1940's. The nose showed off with the array of scents ranging from truffle, autumn leafs, forest floor, 5 spice, cigar box, lead pencil and cedar chest. A whisper of fruit popped in, but the secondary aromatics were all mattered here. Elegant, light on its feet and still offering spicy cassis flavors in the mouth, the silky tannins, freshness and extreme patina of age got even better in the glass! What a great experience! This is a wine I am not going to forget tasting. Speechless is all I can say.

4,930 Views

Tasted

Apr 16, 2016

1899
Château Lafite Rothschild (Pauillac)

Recorked and topped off with a younger vintage, so I am missing the experience on this legendary vintage. Still, the elegance, softness, purity of light, red fruit and strong tobacco nuances with that graphite note was hard to resist.

3,719 Views

Tasted

Oct 10, 2018

1874
Château Lafite Rothschild (Pauillac)

Sold and relabeled by Christies, this was recorked at some point in time and heavily topped off with a younger vintage. So, some of this was drinking bottled history. Still, it's what's in the bottle that counts, and this a pleasant, older, not distinct, elegant, tobacco and cassis focused wine that I am never going to taste again.

3,049 Views

Tasted

Oct 10, 2018