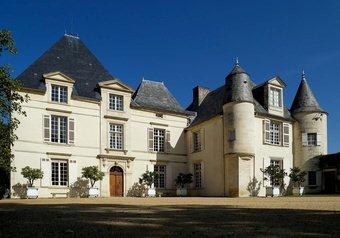 Learn everything about Chateau Haut Brion, Pessac Leognan, First Growth, Bordeaux with wine tasting notes, and wine with food pairing tips. Learn all the best vintages, the history of the property, and information on the vineyards and winemaking. If you want to read about other important, Bordeaux Chateaux: Links to all Bordeaux Wine Producer Profiles
Chateau Haut Brion History, Overview
Chateau Haut-Brion has one of the longest and most interesting histories of any Bordeaux vineyard. The property derives its name from an ancient Celtic term "Briga." Loosely translated, this means a rise or mound in the land.
Historical archives show that Johanna Faure grew vines at Haut Mont near what we now know of as Haut-Brion as far back as September 6, 1426! The vines were planted to produce wine for a local chapel that was founded in Bordeaux by the Menuts Monks to remember the recently deceased Monk, Johan d'Artiguemale.
However, the earliest known documents proving wine from the future vineyards of Haut Brion were produced on a yearly basis date back to 1521, when the estate was known as Aubrion. This makes Chateau Haut Brion the oldest, continuously working winery in Bordeaux.
On April 23, 1525, Jeanne de Bellon, the daughter of the Mayor of Libourne was married to Jean de Pontac. Like many wealthy women of her time, she came with a dowry. This dowry consisted of what later became Haut Brion. In 1549, Jean de Pontac began constructing a new chateau on the grounds of what would become the chateau we see at Haut Brion today.
The first reference to the wine of Haut Brion in the press is now considered the first official review of any wine. On April 10, 1663, Samuel Pepys (The Robert Parker of his day) wrote the following comment after tasting what was to him a new Bordeaux wine at London's Royal Oak Tavern.
He wrote, "There I drank a sort of French wine called Ho-Bryan that hath a good and most particular taste I never met with." On that day Chateau Haut Brion entered the history books as being the world's first wine to have a professional review.
In 1666, the owner of Chateau Haut Brion opened Pontac's Head, a tavern in England for the express purpose of selling and promoting their wines. They were the first Bordeaux chateau to begin promoting their wine outside of their appellation, let alone in a different country.
Haut Brion deserves credit for being first in many things we take for granted today. For example, Chateau Haut Brion was the first Bordeaux chateau to produce truly age-worthy wine. They did this by introducing longer periods of aging in barrels, as well as being the first winery to continuously add wine to top off the barrels.
The act of topping off the barrels reduced the amount of oxygen exposure, allowing the wines to age longer and taste fresher. They were also among the first estates to take the wine off its lees and do pump-overs during the barrel aging process.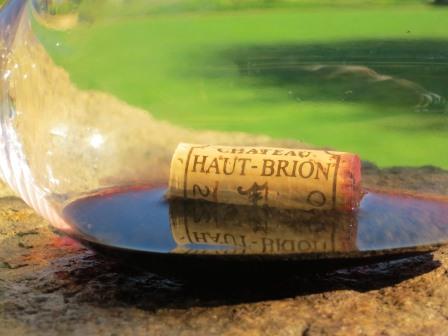 Thomas Jefferson, the third President of the United States traveled to Bordeaux in 1787 as America's French ambassador. Thomas Jefferson being quite familiar with the quality of wines from Bordeaux visited Chateau Haut Brion on May 25, 1787.
After his visit, Jefferson wrote in his diary; "The soil of Haut-Brion, which I examined in great detail is made up of sand, in which there is near as much round gravel or small stones and very little loam like the soils of the Medoc."
A great piece of history regarding the Bordeaux wine trade in the 19th century is contained in a letter dated April 6, 1850, written to Joseph-Eugene Larrieu from Mr. Loreilhe. Loreilhe was an American wine merchant. In the letter, he complained that he did not receive enough cases of Chateau Haut Brion to satisfy his customers from last year.
The letter adds comments that even at that time, the wine of Chateau Haut-Brion was packaged with the greatest of care, "labels and capsules bearing your name, which is also branded onto the cork as well as glass seal on the bottle's neck".
Interestingly, labels of 1850 Haut Brion survive that show at least a portion of the production was bottled by the chateau. This could make Chateau Haut Brion the first major Bordeaux estate to bottle their own wine.
In 1855, Chateau Haut Brion was awarded First Growth status. Chateau Haut Brion is the sole First Growth wine not located in the Medoc. That is how special the wines of Chateau Haut Brion were considered. Only Lafite Rothschild, Latour, and Margaux were considered in the same class at the time. Mouton Rothschild did not become a First Growth until 1973.
Chateau Haut Brion The Modern Age
1935 began a new era for Chateau Haut-Brion taking place in the middle of the depression. Clarence Dillon, a New York financier purchased Haut Brion in May 1935. In 1979 at the age of 96, Clarence Dillon passed away. He was almost the same age as the founder of Haut Brion, Jean de Pontac when he died.
In 1967, the granddaughter of Clarence Dillon, Joan Dillon married Prince Charles of Luxembourg, a direct descendant of Henri IV. In 1975, the Princess, Clarence Dillon's granddaughter, took control of managing Chateau Haut Brion.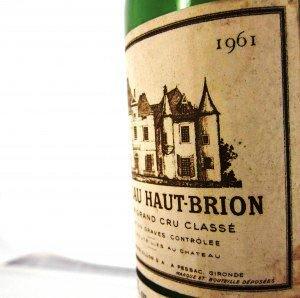 After the death of Prince Charles of Luxembourg, in 1978, Princess Joan married the Duke de Mouchy. The Duke de Mouchy joined the team of Haut Brion and Domaine Clarence Dillon alongside the Duchess, before retiring in 2003. That sense of continuity continues today, as Prince Robert of Luxembourg took over managing Domaine Clarence Dillon and Chateau Haut Brion in 2008.
Chateau Haut Brion Vineyards, Terroir, Grapes, Winemaking
50 hectares of vines at Chateau Haut Brion are planted to 45.4% Merlot, 43.9% Cabernet Sauvignon, 9.7% Cabernet Franc and 1% Petit Verdot for the red wine grapes. This shows a decrease in the Cabernet Sauvignon and Cabernet Franc plantings and a slight increase of Merlot in the vineyard since the mid-1990s.
3 hectares of vines at Haut Brion are reserved for the planting of white Bordeaux wine grape varietals. For the production of Chateau Haut Brion Blanc, the vineyard is planted to 51.5% Semillon and 48.5% Sauvignon Blanc. Although there is a small quantity of Sauvignon Gris planted in the vineyard as well. This shows a marked increase in the amount of Sauvignon Blanc in the vineyard over the years. For the white wine grapes of Haut Brion, the vines are planted in a terroir that is gravel over clay soils.
The vineyard is quite close to the city center of Bordeaux, as the city is only 5 kilometers away, give or take. The terroir is deep gravel over clay and sand with a wide variety of minerals and quartz in the soils. The vineyards are well placed on gravel slopes that reach up to 27 meters at their peak elevations.
The gravel at Haut Brion runs extremely deep. In some parts, the gravel can be as deep as 18 meters. At Haut Brion, the clay soils play a vital role, hence the large percentage of Merlot in the vineyards.
Even though they are located across the street from each other, it is interesting to note that while most of the vineyards for Chateau Haut Brion are planted in Pessac, the majority of the vines for La Mission Haut Brion are in Talence.
When you look at the differences in the soils and notice the higher level of vine density at La Mission Haut Brion than you find at Chateau Haut Brion, it is easier to understand the differences found in the wines styles.
On average, the vines at Haut Brion are 36 years of age. However, they have old vines that are close to 90 years of age in some blocks. The vineyard is planted to a vine density ranging from 8,000 to 10,000 vines per hectare.
At Chateau Haut Brion, since 1974, they have maintained a clonal massal program to ensure the quality, individuality, and uniqueness of their vines. The vineyards are planted with 12 clones per parcel. In all, they have over 500 different clones planted in their vineyard. In 1977, close to 65% of the vineyard was replanted.
Today, the average age of the white wine varietals at Haut Brion is close to 30 years of age. Very little Haut Brion Blanc is produced each year. The production for Haut Brion Blanc has always been historically small.
In fact, when the wines of Graves were classified, Haut Brion requested their white wine be removed from the classification. Today, on average, close to 600 cases of Haut Brion Blanc are produced each year.
To produce the red wine of Chateau Haut Brion, vinification takes place in unique, double-skinned, stainless steel vats. Interestingly, Chateau Haut Brion was one of the first Bordeaux chateaus to begin using stainless steel for vinification.
This took place in 1961. The double-skinned, stainless steel vats were first introduced at Chateau Haut Brion in 1991. The wine is aged in up to 100% new, French oak for as long as 24 months, depending on the strength and character of the vintage. As much as 70% of the barrels used by Haut Brion are produced at their own onsite cooperage. They do this in cooperation with the Seguin Moreau company.
The blending for Chateau Haut Brion takes place shortly after Malolactic fermentation is finished and before the aging process in the barrel has started. This is because the property feels it's better to blend the wines before the influence of the wood begins to be felt in the wine.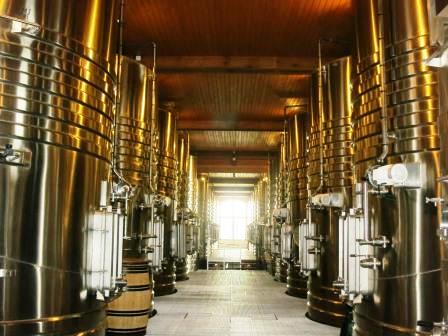 Chateau Haut Brion Blanc… The White Bordeaux Wine of Haut Brion
Chateau Haut Brion also produces one of the world's great white wines. It is without peer in quality, style and price. In fact, Haut Brion Blanc is one of the world's most expensive, dry, white wines.
Price aside, while most people have not had the chance to taste the white wine of Haut Brion, it is stunning. Rich and intensely concentrated, fresh and refreshing, with aromatics of grapefruit, lemon peel, crushed rocks, flowers, honey, and melons, the texture reminds you of electrified, silk. The wine can age and evolve for decades.
There is a second white wine, La Clarte du Haut Brion Blanc, which made its debut in 2009. The second white wine was previously known as Les Plantiers du Haut Brion. La Clarte du Haut Brion Blanc is a combination of white wine grapes from both Haut Brion and La Mission Haut Brion, and this is the second white wine for both estates.
For the production of Chateau Haut Brion Blanc, the grapes are harvested in the pre-dawn hours. The reason is that the cool or often cold night air helps maintain the desired levels of acidity and freshness in the fruit while also slowing the potential for oxidation.
After sorting, the grapes are whole bunch pressed using a pneumatic press. There is no contact with the skins. The wines are barrel fermented in 100% new, French oak barrels. There is no malolactic fermentation and interestingly, there is almost never any stirring of the lees. The white wine is aged in 100% new, French oak barrels for an average of 13-16 months, depending on the vintage and its characteristics.
There is a second red wine, Le Clarence de Haut Brion, which was first released in 2007. The second wine was previously labeled as Bahans Haut Brion, which made its debut in 1976 as a vintage wine. Prior to 1976, Bahans was a nonvintage, wine made from multiple vintages when needed.
The name was changed to celebrate the 75th anniversary of the Dillon family's purchase of Chateau Haut Brion. Production of Chateau Haut Brion averages between 8,000 to 10,000 cases per year. In September 2012, the property added to their holdings with the purchase of 1.3 hectares of vines when they purchased the holdings of Domaine Allray Haut Brion, which was located inside the vineyards of Haut Brion.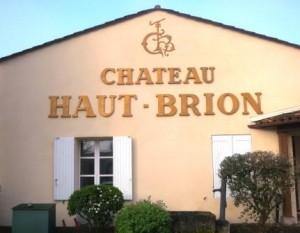 Chateau Haut Brion and Chateau La Mission Haut Brion are currently managed by Jean-Philippe Delmas. Jean-Philippe Delmas is also in change of Quintus in St. Emilion.
Jean Philippe Delmas is the second generation of Delmas to take care of La Mission Haut Brion and the third generation of Delmas to manage Haut Brion, where he followed in the footsteps of his well-known father, Jean-Bernard Delmas and his father before him.
The history of Haut Brion and the Delmas family has been intertwined for almost 100 years. After working at Chateau Cos dEstournel, Georges Delmas became the director of Haut Brion in 1924. Georges Delmas remained in that position until he was replaced by his son, Jean-Bernard Delmas in 1961.
It was under the direction of Jean-Bernard Delmas that Haut Brion began using their uniquely shaped, trademarked square-shaped bottle, which made its debut in 1960, with the 1958 vintage.
Jean Bernard Delmas was also responsible for Haut Brion being one of the first estates in Bordeaux to begin vinifying their wine in temperature-controlled, stainless steel vats. This was a major change and positive move away from large wood fermenters or cement tanks. Jean Bernard Delmas was replaced by his son, Jean Philippe Delmas in 2003.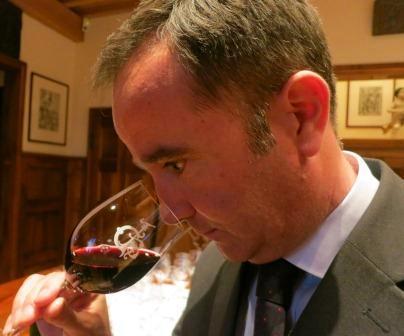 Over the years, things have changed for the better at Chateau Haut Brion. The trend to produce less of the Grand Vin by lowering yields severe sorting's in the vineyards and cellars, placing more wine into the second wine of Chateau Haut Brion, and selling a larger percentage off in bulk, has greatly reduced the quantity of wine made at Chateau Haut Brion to consumers.
The results of this trend have allowed Chateau Haut Brion to produce some of the best wines in the long, history of the chateau! And considering the stunning quality of wine made in countless, legendary, older vintages, that is really saying something!
On the other hand, to the consumer's detriment, prices have escalated to very high levels because the reality of the situation is, there is so little wine being produced here these days. To give you an idea on the changes in production at Chateau Haut Brion, this chart gives you a vivid illustration of the changes in production numbers over the past decades.
1982 – 21,600 cases
1989 – 17,093 cases
1990 – 18,088 cases
2009 – 11,000 cases
2010 – 8,094 cases
The best vintages of Chateau Haut Brion Rouge are: 2022, 2021, 2020, 2019, 2018, 2017, 2016, 2015, 2014, 2012, 2010, 2009, 2008, 2006, 2005, 2000, 1998, 1996, 1995, 1990, 1989, 1985, 1982, 1961, 1959, 1955, 1953, 1950, 1949, 1948, 1947, 1945, 1934, 1929, 1928, 1926, 1921 and 1900. As you can see, Chateau Haut Brion has an almost, unequaled track record for quality and its ability to age and evolve. There are few better older wines that are worth purchasing at auction these days.
While there are numerous years when both, the red and white wine of Chateau Haut Brion perform equally well, as you can see, that is not always the case. There are years when the white Bordeaux wine of Haut Brion is much more successful than their red wine. Of course, there are also years when the red wine is clearly much more interesting.
The best vintages of Chateau Haut Brion Blanc are: 2022, 2021, 2020, 2019, 2018, 2017, 2016, 2015, 2014, 2013, 2012, 2011, 2010, 2009, 2008, 2007, 2006, 2005, 2000, 1998, 1996, 1995, 1990, 1989, 1985, 1961, and 1959.
Character and Style of Chateau Haut Brion
The wine of Chateau Haut Brion is in a class by itself. There is no other Bordeaux wine like it. The complex aromatics with all the earthy, tar, leather, smoke, truffle, cassis, and spice are unique to Haut Brion. This is an incredibly, refined, elegant, sensuous style of wine, that is never heavy or out of balance.
There is a purity of fruit found in this stylish Bordeaux wine that is unique to Haut Brion. Compared to the other First Growths, it will usually be ready to drink at a younger age. But that does not mean it doesn't age as well. Far from it. In fact, for example, well-stored bottles from 1928, 1929, and 1945 all offer compelling tasting experiences today. Life is too short not to drink Haut Brion as often as possible.
When to Drink Chateau Haut Brion, Anticipated Maturity, Decanting Time
Chateau Haut Brion needs several years, and in the best vintages up to 2 decades time before the wine displays its true character. Haut Brion needs at least 12-20 years of aging, or longer, in good vintages until it is ready to be enjoyed. Young vintages can be decanted for 2-4 hours or more.
This allows the wine to soften and open its perfume. Older vintages might need very little decanting, just enough to remove the sediment. Chateau Haut Brion offers its best drinking and should reach peak maturity between 15-50 years of age after the vintage.
Serving Chateau Haut Brion with Wine, Food, Pairing Tips
Chateau Haut Brion is best served at 15.5 degrees Celsius, 60 degrees Fahrenheit. The cool, almost cellar temperature gives the wine more freshness and lift.
Chateau Haut Brion is best served with all types of classic meat dishes, veal, pork, beef, lamb, duck, game, roast chicken, roasted, braised, and grilled dishes. Chateau Haut Brion is also good with Asian dishes, hearty fish courses like tuna, salmon, mushrooms, and pasta.
The white wine of Chateau Haut Brion is best served with a myriad of different seafood dishes, shellfish, crab, lobster, sushi, sashimi, chicken, pork and veal, as well as Asian cuisine.
Château Haut-Brion Wine Tasting Notes
99 Vintages 2,107,298 Views Sort by Vintage-Rating
2022
Château Haut-Brion (Pessac-Léognan)

Picture walking into a flower show with a basket of fresh berries and a lit Cuban cigar, and while that is not quite PC, it is the aromatic profile here. On the palate, the wine is fresh, bright, vibrant, lifted and floral. The wine is elevated, refined, soft, and silky with a refreshing, silky edge to the fruits in the finish. The wine is pure elegance There is nothing between you and the fruits. There is intensity, length, and a striking sense of purity. The wine lingers seamlessly for 60 seconds, or longer. The wine blends 52% Cabernet Sauvignon, 43% Merlot, and 5% Cabernet Franc. 14.45% ABV, 3.83 pH. Harvesting took place August 29 - September 15. Yields were 35 hectoliters per hectare, with 50% of the harvest placed into the Grand Vin. This is not only in competition for wine of the vintage, it is one of the best vintages of Haut Brion ever produced. If you are an Haut-Brion fan with the disposable income, you cannot own enough of this future legend. Drink from 2030-2065. 98-100 Pts.

2,206 Views

Tasted

May 8, 2023

2022
Château Haut-Brion Blanc (Pessac-Léognan)

Honeysuckle, white peach, vanilla, almonds, lemon rind, pineapple, honeysuckle and white flowers create the nose. On the palate, the wine is sweet, creamy and fresh, with orange, lemon and tart green apple nuances from start to finish. Made from a blend of 51% Semillon and 49% Sauvignon Blanc, 45% Semillon, picking took place August 17 - August 23. 14.2% ABV, 3.3 pH. Drink from 2025-2040. 96-96 Pts.

1,460 Views

Tasted

May 8, 2023

2022
Le Clarence de Haut-Brion (Pessac-Léognan)

Cigar box, spice, burning herbs, black plums, and cherries create the nose. The wine is refined, silky and fresh, The fruits are ripe, sweet, lifted and have no problem expressing their essence on the mid-palate, and in the elegant finish, which delivers a plethora of spices and a touch of refreshing mints in the endnote. Enjoy this while waiting for the Grand Vin to develop. The wine blends 62% Merlot, 22% Cabernet Sauvignon, 14.5% Cabernet Franc and 1.5% Petit Verdot. 14.4% ABV, 3.9 pH. Drink 2025-2045. 93-95 Pts.

2,257 Views

Tasted

May 8, 2023

2021
Château Haut-Brion Blanc (Pessac-Léognan)

Explosive aromas of white flowers, honeysuckle, pineapple, lemon curd, grapefruit rind, orange blossoms and Pippin apples. Rich, opulent, creamy and fresh with non-stop layers of white peach, lemon and green apples that accompany the gorgeous salinity in the crisp, racy finish that crosses the 60 sixty mark and keeps on going. This is a wow white wine that competes with top vintages of Montrachet and Coche Dury. Clearly, this is the wine of the vintage. If this doesn't blow you away from the initial sip and sniff, have your pulse checked! Made from a blend of 55% Sauvignon Blanc, 45% Semillon, picking took place September 3, finishing September 13. 13.8% ABV. Drink from 2023-2050. 100-100

2,187 Views

Tasted

May 20, 2022

2021
Château Haut-Brion (Pessac-Léognan)

Flowers, tobacco wrapper, chocolate, burning wood, ash, cigar box, currants, black cherries, and spice. On the palate, the wine is fresh, bright, vibrant, lifted, and floral. The wine is elevated, refined, soft, and silky with a refreshing, silky edge to the fruits in the finish. There is richness and waves of fruit on the palate, but the waves are small and continuous. This is a good example of a modern classic Haut-Brion. The wine blends 50% Merlot, 38% Cabernet Sauvignon and 12% Cabernet Franc, 13.85% ABV. Harvesting took place September 13, finishing October 8, making this one of the longest harvest periods for Haut Brion. 48 hectoliters per hectare, with 43% of the harvest placed into the Grand Vin. Drink from 2027-2060. 95-97

2,529 Views

Tasted

May 20, 2022

2021
Le Clarence de Haut-Brion (Pessac-Léognan)

Black plums, smoke, espresso, cherries, flowers and cocoa fill the nose. Medium-bodied, soft, round, fresh, sweet and polished with chalky tannins, olives, peppery spices and leafy nuances in the finish. Enjoy this while waiting for the Grand Vin to develop. The wine blends 70% Merlot, 18% Cabernet Sauvignon and 12% Cabernet Franc. 13.6% ABV. Drink 2024-2036. 91-93

1,996 Views

Tasted

May 20, 2022

2020
Château Haut-Brion (Pessac-Léognan)

Concentrated, deep, creamy, supple, long, and intense, the wine is packed with notes of flowers, spice, chocolate, black cherries, plums, porcini, tobacco leaf, and white pepper. On the palate, there is a minor degree of heat, but the ample layers of perfectly, ripe, sweet, rich fruit are really what you notice as they roll onto your tongue and coat your palate. The wine has a serious depth of flavor, length, and endless waves of black with dark red fruits, finishing with a touch of chalky, crushed rocks in the endnote. The wine blends 42.8% Merlot, 39.7% Cabernet Sauvignon and 17.5% Cabernet Franc, 15% ABV. Drink from 2030-2060.

1,085 Views

Tasted

Aug 21, 2023

Dark, ruby, garnet in color, the wine exudes cedar, cigar box, tobacco leaf, smoke, roasted cherries, herbs, spice box and forest floor scents. What is amazing here is the incredible level of density, because it is also light on its feet, perfectly balanced, poised and energetic. Texturally, this is surreal. Picture velvet and polished silk on your palate coating each berry. The fruit offers intensity, purity and length, with a finish that exceeds 60 seconds. The seamless finish could put a smile on the most jaded taster. Do not be concerned with the ABV levels as there is no heat. All of that is buried in the wealth of fruit. If you have the money, this is one of the great vintages of Haut Brion that promises to evolve for at least 4-5 decades with ease. The wine blends 42.8% Merlot, 39.7% Cabernet Sauvignon and 17.5% Cabernet Franc, 15% ABV. Harvesting took place September 7-September 29. 98-100 Pts

6,150 Views

Tasted

May 20, 2021

2020
Château Haut-Brion Blanc (Pessac-Léognan)

Creamy, lush, concentrated, long, and rich, the wine is packed with grapefruit, lemon, green apples, flowers, and spice in the perfume. The palate is sweet, ripe, fruity, oily, and focuses on spiced yellow citrus peels, touches of mango, and mineral essences, all of which carry through to the endnote. The wine blends 71% Sauvignon Blanc with 29% Semillon. 13.9% ABV, 3.31 pH. Picking took place August 20, and August 27. Drink from 2023-2045.

466 Views

Tasted

Aug 21, 2023

Lush, creamy, floral, fresh and packed with flowers, spice, mango, rocks, stone, green apple, lemon peel and waxy aromas. On the palate the wine is bright, crisp, creamy, concentrated, long and intense. The sweet, ripe, fruity, oily, fresh, finish with its spiced yellow citrus, touches of mango and mineral essences carries through to the endnote. The wine blends 71% Sauvignon Blanc with 29% Semillon. Picking took place August 20, August 27. 98 Pts

2,029 Views

Tasted

May 20, 2021

2020
Le Clarence de Haut-Brion (Pessac-Léognan)

Flowers, cherry pipe tobacco, and wild cherries, and cigar wrapper nuances create the nose. On the palate, the wine is powerful, rich, and long with layers of lush, plush, opulent fruits. There is a touch of heat, but with so much fruit, the heat is lost in all those ripe, and very ripe red fruits. 15% ABV. Drink from 2025-2040.

492 Views

Tasted

Aug 21, 2023

Forest leaf, cigar box, herbs, flowers, cherry pipe tobacco, forest scents and spice nuances start off the perfume. On the palate the wine is juicy, silky, fresh and vibrant with layers of fresh, sweet, vibrant, polished red fruits that linger. Elegance is the keyword here. This is probably the finest vintage of Le Clarence de Haut Brion ever produced. It is a great example of a baby Haut Brion. Enjoy this for the next 10-15 years while waiting for the Grand Vin to develop. 94-96 Pts

3,062 Views

Tasted

May 20, 2021

2019
Château Haut-Brion (Pessac-Léognan)

Perhaps seeing a 100 Pt score is not a surprise here, but the devil is in detail as every vintage carries a unique signature, and this is the point of tasting and comparing. I am jealous of the younger generation of consumers that will be able to compare the 2018, 2019, and 2020 on maturity, as each vintage has its own strong points and character. The 2019 offers a vibrant, rich, refined, powerful, concentrated, smoky profile with countless layers of roasted, smoked red and black fruits, herbs, spice-box, cigar wrapper, cedar, and burnt leaves. Even though this is incredibly dense and intense, it is also light on its feet. Effortless to drink, with a beautiful, elegant, silky, refined finish that surpasses the 60-second mark, this will be seen by future generations as one of the great vintages of Haut Brion. Drink from 2032-2075.

9,565 Views

Tasted

Mar 29, 2022

Blood red ruby in hue, the aromatic profile resonates with a bonfire of cherry wood, tar, cigar box, spearmint, hot rocks, stones and blackberries. Elegance, refinement and purity, with all that smoky essence, is not found on any other wine. The supple, polished tannins, the layers of fruit that builds as you play with the wine on your palate is sublime. Here, the energy and vivaciousness in the fruit stand out, expands and never wants to quit, as the finish is close to 60 seconds! The finish, with its sensual, velvet palate presence, coupled with luscious red fruits needs to be experienced at least once by every wine lover! The wine blends 49% Merlot, 43% Cabernet Sauvignon and 8% Cabernet Franc with the harvest taking place September 10-October 3. The wine reached 14.6% ABV with a pH of 3.85 with 49% of the harvest being placed into the Grand Vin. 98-100 Pts

19,477 Views

Tasted

Jun 13, 2020

2019
Château Haut-Brion Blanc (Pessac-Léognan)

Lusciously textured, fresh, vibrant white peaches and yellow citrus with crushed rocks and dried flowers are what you find in the attention seeking wine. Rich, full, deep and most importantly, vibrant, crisp, sweet and pure, the ripe lemons and mango with its infusion of honeysuckle lingers long after you've finished your glass. This is a stellar wine that has it all going on. Drink from 2025-2049.

2,011 Views

Tasted

Mar 29, 2022

Squeeze white peaches over crushed rocks, add flowers and yellow citrus and you have the recipe for the perfume here. The unique combination of luscious fruits and bracing acidities hits the spot. The endnote with all of its sweet, perfectly ripe lemons with an intriguing hint of mango goes on and on. The wine blends 64% Sauvignon Blanc with 36% Semillon, reaching 13.9% ABV. 98 Pts

5,135 Views

Tasted

Jun 13, 2020

2019
Le Clarence de Haut-Brion (Pessac-Léognan)

Medium-bodied, elegant, fresh and filled with essences of smoked red fruits, savory herbs, cigar wrapper and plums. The palate delivers ample, dark red fruit, a dash of chocolate and black cherries shine through on the richly-textured, vivacious, backend. This is a solid example of a Jr. Haut-Brion for a fraction of the price of the Grand Vin. Drink from 2023-2037.

1,774 Views

Tasted

Mar 29, 2022

Refined, silky, elegant and with a distinctive, smoked, floral character, with hot bricks and sweet cherries to round out the nose, the wine is medium-bodied, elegant, soft and fresh. This is a nice snapshot providing you a look at the character of Haut Brion in this vintage. The wine is a blend of 73% Merlot, 16% Cabernet Franc and 11% Cabernet Franc, reaching 15% ABV. 92-94 Pts

3,967 Views

Tasted

Jun 13, 2020

2018
Château Haut-Brion (Pessac-Léognan)

Opulent, powerful, full-bodied, dense and intense, this incredibly rich wine offers mouth-coating layers of ripe, lush, smoke and tobacco infused dark red and black fruits. What makes this wine great is that with all its power, you also find balance, elegance, harmony and layers of complexity. The expansive finish, with its ripe fruits, tobacco leaf, smoke, barbecue and oceanic minerality holds you captive for over 60 seconds! This will age for at least 3-4 decades with ease. The wine blends 56% Merlot, 37.5% Cabernet Sauvignon and 6.5% Cabernet Franc, 14.6 ABV.

8,136 Views

Tasted

Mar 9, 2021

It's rare to find the combination of elegance and power that you'll find in this year's Haut Brion. It's incredibly difficult to produce a wine with this much volume, harmony, balance, complexity and refinement. Once the wine hits your palate, it's impossible not to take another sip just to make sure it wasn't just a dream. The purity in the fruit, the silk in the tannins, the seemingly endless finish paired with the ability to age for decades is all here in spades. A blend of 56% Merlot, 37.5% Cabernet Sauvignon and 6.5% Cabernet Franc with the harvest taking place September 19-October 13. The wine reached 14.6% ABV with a pH of 3.8 and 50.6% of the harvest was placed into the Grand Vin. 98-100 Pts

7,290 Views

Tasted

Apr 19, 2019

2018
Château Haut-Brion Blanc (Pessac-Léognan)

The perfume displays ripe lemon, grapefruit, green apples, waxy Meyer lemons, spice, honeysuckle and cut stone. On the palate, the wine is luscious, opulent, oily, deep and fresh, with a sensuously textured finish that lingers, which is a good thing as you can sit with all that ripe citrus and stone for even longer. Made from a blend of 80.6% Sauvignon Blanc and 19.4% Semillon, this is the highest percentage of Sauvignon Blanc in the blend for Haut Brion Blanc.

1,656 Views

Tasted

Mar 9, 2021

Floral with a strong note of pomelo, Meyer lemon and wax, the wine is sweet, juicy and even a bit honeyed. The large percentage of Sauvignon in the blend offers the pop you need. Made from a blend of 80.6% Sauvignon Blanc and 19.4% Semillon, this is the highest percentage of Sauvignon Blanc in the blend for Haut Brion Blanc.

2,653 Views

Tasted

Apr 19, 2019

2018
Le Clarence de Haut-Brion (Pessac-Léognan)

2018 is the gateway to Haut Brion as it clearly resembles the Grand Vin with all its complexities of tobacco leaf, spicy, red fruits and silky textures. Medium/full-bodied, elegant and forward, just a few years is all that's needed to make the most of all the sweet, ripe, earthy fruits and its soft, refined finish. The wine blends 51.3% Merlot, 33% Cabernet Sauvignon, 13.1% Cabernet Franc and 2.6% Petit Verdot.

3,113 Views

Tasted

Mar 9, 2021

It is not often that a second wine truly resembles its big brother or sister, but here it does. Delivering all the tobacco leaf, cigar box, red berries and smoke you\'re looking for in a Pessac Leognan, this is a seriously good wine. The wine was blended from 51.3% Merlot, 33% Cabernet Sauvignon, 13.1% Cabernet Franc and 2.6% Petit Verdot. 92-94 Pts

4,312 Views

Tasted

Apr 19, 2019

2017
Château Haut-Brion Blanc (Pessac-Léognan)

Flowers, crushed rocks, yellow citrus, white peach, honeysuckle, and orange rind permeate the nose and palate. The wine is full, rich, crisp, and oily, with a bright finish that does not want to quit. Drink from 2022-2040.

1,780 Views

Tasted

Nov 1, 2022

The perfume is limestone, quartz and shale crushed into gravel and harboring a basin of fresh sliced lemons. Full-bodied, garden-fresh and so deep you could have an existential crisis. This wine is concentrated, long, bright and focused on sweet, ripe, yellow citrus fruits. You will feel the finish of this sunny wine for nearly a minute. Made from a blend of 56.2% Sauvignon Blanc and 43.8% Semillon, the wine reached 14.3% ABV with a pH of 3.22.

3,079 Views

Tasted

Apr 26, 2018

2017
Château Haut-Brion (Pessac-Léognan)

Ripe tannins and volume in all the right places, this wine tempts with verve and depth of flavor, length and complexity and gets up close and personal with the tannins. And in my overeducated and sometimes pompous opinion, the wine is going to require a minimum of 12-15 years of aging before it becomes civilized enough to drink. A blend of 53% Merlot, 40.7% Cabernet Sauvignon and 4.4% Cabernet Franc with a the harvest taking place August 31 to September 29, the wine reached 14.25% ABV with a pH of 3.73 and represents 45% of the Grand Vin.

10,668 Views

Tasted

Apr 26, 2018

2017
Le Clarence de Haut-Brion (Pessac-Léognan)

Silky and polished, elegant and energetic, this delight easily delivers its smoky, medium-bodied, cassis essence and spicy character and should be enjoyable with just a few years of bottle age.

2,761 Views

Tasted

Apr 26, 2018

2016
Château Haut-Brion (Pessac-Léognan)

The nose, with its knockout sensations of smoke, mint, cigar wrapper, tobacco and crème de cassis is off the hook. For many wine-lovers that would be enough. But for me, it is the elegance, concentration, complexity, endless length and sensuous textures that hits the bulls-eye. This is one of those dream wines that if you can afford it, it belongs in your cellar!

8,693 Views

Tasted

Sep 21, 2019

Very dark in color, with just a bit of purple in the sheen the wine is the perfect combination of purity, power, refinement, complexity and length. Not as powerful as other recent vintages, you find more elegance on the palate. The finish builds in intensity moving from flavor to flavor, leaving you with this sense of purity and Cuban cigar tobacco. The wine was made from a blend of 56% Merlot, 37.5% Cabernet Sauvignon and 6.5% Cabernet Franc. The wine reached 13.9% ABV with a pH of 3.67. The harvest took place from September 19 to October 13. The wine represents 53% of the Grand Vin.

14,077 Views

Tasted

Apr 29, 2017

2016
Château Haut-Brion Blanc (Pessac-Léognan)

Juicy Granny Smith apples, lemon rind, mango and grapefruit with a dollop of vanilla produce a fabulous perfume. But it is on the palate, with its zesty splash of just squeezed Meyer lemon and bracing acidity, that brings it all home. Age this beauty for a decade, or two, and you will have something truly special in your glass!

1,802 Views

Tasted

Sep 21, 2019

2016
Le Clarence de Haut-Brion (Pessac-Léognan)

Refined, poised, silky and fresh, the wine is already showing its smoky, earthy, stony fruits. Medium bodied and with a nice salty hit ot the tannins, give this 4-5 years in your cellar and enjoy it for the next 15 years after that..

4,701 Views

Tasted

Sep 21, 2019

Elegant, finesse styled wine with layers of sweet, ripe, juicy, cassis, blackberry, espresso, spice, earth and tobacco. Fresh, clean, complex and long it's hard to believe this is the second wine! The wine was produced from blending 51.3% Merlot, 33% Cabernet Sauvignon, 13.1% Cabernet Franc and 2.6% Petit Verdot. The wine reached 13.6% ABV.

4,738 Views

Tasted

Apr 29, 2017

2015
Château Haut-Brion (Pessac-Léognan)

If the color does not let you know you're in for a treat, the nose is going to knock you over with its floral, smoke, cigar wrapper, black cherry and cassis notes. The purity of fruit here is off the charts. The wine is all about its silk and velvet textures from that point forward. The finish is so expansive, it feels like it keeps on going, moving across an array of flavors long after you've put the wine where it was supposed to go. This is the best wine yet produced by Jean Philippe Delmas yet. Bravo!

11,948 Views

Tasted

May 21, 2018

It is the sensuous texture that really makes this wine rock! The feel is pure silk and velvet and the impressive fragrance captivates with its floral, smoke, boysenberry, cassis and earthy aromatics. This wine has great color, real volume, depth of flavor and despite the fact that it is quite high in ABV, there is no sense of heaviness or heat. It lacks the depth of the 2009 but it offers more elegance and silk on the palate. Made from a blend of 50% Merlot, 42% Cabernet Sauvignon and 8% Cabernet Franc, the wine reached 14.9% ABV with a pH of 3.73 and represents 55% of the harvest. 98 - 100 Pts

11,082 Views

Tasted

Apr 23, 2016

2015
Château Haut-Brion Blanc (Pessac-Léognan)

With a depth of flavor, you find multiple layers of juicy, fresh, pomelo, green apple, honeysuckle, crushed rocks and ripe pears. It is hard to say if it is the purity, length, complexity or richness which knocks me out the most. The wine impossibly hard to find, and incredibly expensive, but for wine lovers without a budget, this is the equal of just about any great white wine in the world.

3,291 Views

Tasted

May 21, 2018

A melange of fresh squeezed citrus, flowers, lemon curd, honeysuckle and rocks are right where they need to be. Incredibly fresh, vibrant, lively and richly textured, the bright yellow fruits in the end really stand out. The wine was made from a blend of 69% Sauvignon Blanc and 31% Semillon. The wine reached 14.3% ABV with a pH of 3.14. The harvest took place between August 28 and September 7.

2,425 Views

Tasted

Apr 23, 2016

2015
Le Clarence de Haut-Brion (Pessac-Léognan)

Elegant, polished, silky textured fruits, with length purity and complexity, coupled with the ability to age for a decade or more. The wine is on the ripe, red fruit side of the style range, with refinement and purity.

4,989 Views

Tasted

May 21, 2018

Smoky blackberries, plums and dark cherries offer up a silky, lush, rich, ripe and supple textured pleasure. It's hard to believe a wine this good is only their second wine. Produced from 57% Merlot, 42% Cabernet Sauvignon and 1% Cabernet Franc, this wine hit 14.6% ABV with a pH of 3.73. 91 - 93 Pts

3,829 Views

Tasted

Apr 23, 2016

2014
Château Haut-Brion Blanc (Pessac-Léognan)

The mineral-driven grapefruit, lemongrass, flowers, citrus rind, honey and vanilla arouse your curiosity and senses while the layers of citrus peel, lemon custard and honey lure you in for a long, fresh, unforgettable, zippy, expansive, citrus drenched, bright finish. The wine was made from a blend of 55% Sauvignon Blanc and 45% Semillon, reaching 14.75% ABV with a pH of 3.2. 97 Pts

4,823 Views

Tasted

Apr 24, 2015

2014
Château Haut-Brion (Pessac-Léognan)

Deep ruby in color, sweet, fresh and concentrated with layers of lushly textured, sweet, red and black fruits, this wine is bolstered with smoke, tobacco and tar. Silky, smooth and concentrated with velvety tannins flowing with pure cassis, the freshness feels good on the palate and will only get better. The wine was made from a blend of 65.5% Merlot, 32.5% Cabernet Sauvignon and 2% Cabernet Franc. The wine reached 14.25% ABV with a pH of 3.67. 94-96 Pts

13,292 Views

Tasted

Apr 24, 2015

2014
Le Clarence de Haut-Brion (Pessac-Léognan)

Eau de forest, black raspberry and a note of thyme on the nose, this wine is medium-bodied wine is sweet, supple, fresh and serves up a pure cherry finish. The wine was produced from 80% Merlot, 16% Cabernet Sauvignon and 4% Cabernet Franc. 89-91 Pts

4,881 Views

Tasted

Apr 24, 2015

2013
Château Haut-Brion Blanc (Pessac-Léognan)

Lively, bright, sweet, just squeezed, yellow citrus fruits, with searing acidity, the wine makes me think of fresh grapefruit juice drizzled over rocks in the hot sun.

3,518 Views

Tasted

May 25, 2016

With 66% Sauvignon Blanc and 34% Semillon, the wine explodes with grapefruit, honeysuckle, honeyed lemon rind, nut, floral and mineral elements in the perfume. In the mouth, the wine is dense, balanced, long and sweet with a finish that carries through from start to finish. Obscenely expensive, but if you have the money, this is a tremendous wine. 97-98 Pts

4,280 Views

Tasted

Apr 21, 2014

2013
Château Haut-Brion (Pessac-Léognan)

Perhaps the wine of the vintage with its fresh, sweet, black raspberries, cassis and earthy personality. The wine offers volume for the difficult year and the type of personality that many wines in 2013 are lacking.

7,473 Views

Tasted

May 25, 2016

With a deep ruby color, the wine opens with a smoky, tobacco, earth, cassis and blackberry nose. Elegant, silky tannins, fresh cherry and cassis are on the palate and carry through to the finish. Blending 50% Merlot, 45.5% Cabernet Sauvignon, and 4.5% Cabernet Franc, the wine reached 13.1% ABV with a pH of 3.6. From yields of 26.7 hectoliters per hectare, which represents 45% of the crop. Very little Cabernet Franc was added to the blend in 2013 because of the massive amount of rain 24 hours prior to picking. 92-94 Pts

9,584 Views

Tasted

Apr 21, 2014

2013
Le Clarence de Haut-Brion (Pessac-Léognan)

Medium bodied, finesse styled Pessac Leognan with cassis, earth and tobacco in the forefront. Give this another year or two for just a bit more development and softness.

3,247 Views

Tasted

May 25, 2016

Medium bodied with fresh red berries and an open, spicy character, this wine will be best enjoyed on the young side. 87-89 Pts

3,688 Views

Tasted

Apr 21, 2014

2012
Château Haut-Brion (Pessac-Léognan)

A clear candidate for the wine of the vintage, there is a richness and depth of flavor not found in most wines from this difficult vintage. Full-bodied, with layers of dark, smoky, spiced, tobacco-stained red fruits, ample tannin, and structure for aging as well as ample length and complexity in the finish, give this another 5-7 years in the cellar before opening a bottle. Drink from 2027-2050.

4,702 Views

Tasted

Jul 8, 2022

Tannic and built to age, the wine is not going to be fun to drink young. It will take at least a decade for the layers of fresh, ripe, smoky fruits and polished, lush, soft, elegant textures to begin opening and display their complexities.

9,781 Views

Tasted

May 15, 2015

Deep ruby in color, the wine offers tar, smoke, boysenberry, chocolate, cherry liqueur, smoke and earthy notes. Powerful, rich, concentrated and packed with layers of dense, dark, deep, fresh and pure blackberry, boysenberry and cassis, the wine really makes an impression with its long, expansive, polished, refined finish. This is no wallflower of a wine. Produced from a blend of 65% Merlot, 33% Cabernet Sauvignon and 2% Cabernet Franc, 2012 is perhaps the smallest amount of Cabernet Franc coupled with the highest percentage of Merlot used for Haut Brion. This wine demands and gets attention. 95-98 Pts

8,815 Views

Tasted

Apr 25, 2013

2012
Château Haut-Brion Blanc (Pessac-Léognan)

Lemon lime, floral and mineral scents pair perfectly with fat, concentrated, fresh, lively layers of rich, lush, ripe, dense, sweet fruits, flowers and crushed stone. This is incredibly long, complex and vibrant.

4,925 Views

Tasted

May 15, 2015

Honey, beeswax, Midori sour, lemon wax, flowers, spice and fresh Meyer lemons create a complex perfume. Full-bodied, rich and intense, the wine is incredibly, fresh, lively and mouth filling, finishing with serious intensity of flavors. 95-97 Pts

5,302 Views

Tasted

Apr 25, 2013

2012
Le Clarence de Haut-Brion (Pessac-Léognan)

Nice polish to the fruit, length, medium bodied, with freshness and ripe fruits with a lot of charm. There is a hint of rusticity in the tannins that can be sensed in the end note.

4,968 Views

Tasted

May 15, 2015

With smoky red and dark berries, this wine has medium body with a short and sweet finish. 89-91 Pts

3,816 Views

Tasted

Apr 25, 2013

2011
Château Haut-Brion Blanc (Pessac-Léognan)

Stunning levels of vibrant, fresh, lively, mineral driven, citrus fruits, honey, flowers, vanilla and lemon curd that expand and linger.

3,144 Views

Tasted

Oct 6, 2014

Powerful scents of pineapple, honeysuckle, stone and fresh lemon move to a plush, silky, sweet, mouth coating sensation of lemon velvet frehsness that lingers and expands.

3,039 Views

Tasted

May 20, 2014

Blending 57.9% Semillon and 42.1% Sauvignon Blanc, produced a wine that reached 14.4% ABV and will be aged in 50% new oak. – Wake up in the morning, grab a plate of ripe citrus and start squeezing grapefruit, lemon, lime and tangerine. Pick fresh flowers, pour it over rocks, add honey and a hint of ginger and you have the perfume. Pack a magnum of wine into a single bottle to obtain incredible viscosity and concentration which gives you the feel. Taste this elixir and allow it to explode in your mouth for well over 60 seconds for the finish! 97-99 Pts

4,131 Views

Tasted

Apr 25, 2012

2011
Château Haut-Brion (Pessac-Léognan)

Smoky dark, red fruits, tobacco, flowers, espresso and caramel scents create the perfume. Refined in style, the wine has soft tannins and a liberal dose of cherry griotte in the elegant finish. Having tasted some lighter vintages of Haut Brion over the past few days, this should develop nicely with 5-10 years of age.

6,041 Views

Tasted

May 20, 2014

From a blend of 46.3% Cabernet Sauvignon, 34.8% Merlot and 18.9% Cabernet Franc, the wine reached13.3% ABV. With a beautiful ruby hue, the wine offers espresso, burnt earth, boysenberry, floral, cassis and truffle. This polished, classic, fresh, sweet, ripe, cassis loaded wine has the tannins to age and will require time. 94-95 Pts

6,503 Views

Tasted

Apr 25, 2012

2011
Le Clarence de Haut-Brion (Pessac-Léognan)

Caramel overtones with tobacco and sweet cherry, leaves you with a soft, easy to drink, red berry dominated wine with a finesse character.

7,354 Views

Tasted

May 20, 2014

From an assemblage of 71.5% Merlot, 22.8% Cabernet Sauvignon, 4.5% Cabernet franc and 1.2% Petit Verdot, this wine features a kiss of oak with earth, smoky black cherry, spice and soft textures. This polished, easy-to-like Pessac Leognan has a red berry finish will drink well young. 88-90 Pts

7,408 Views

Tasted

Apr 25, 2012

2010
Château Haut-Brion (Pessac-Léognan)

Intense, deep aromas of earth, burning wood, truffle, hot bricks, tar, licorice, espresso, smoke and blackberry. There is an incredible sense of purity in the fruit. The wine is rich, concentrated and multifaceted. Each layer of the finish delivers something new, making it one of those rare wines you want to keep going back to. Frightfully expensive, but if you have the money, coupled with the patience to age the wine for more than a decade, and probably closer to 20 years, along with a cold cellar to keep it in, this is a wine for the ages. The finish kept building and expanding for close to one minute.

20,481 Views

Tasted

May 7, 2013

Haut-Brion From a blend of 57% Cabernet Sauvignon, 23% Merlot and 20% Cabernet Franc, this unique blend is made from one of the highest concentrations of Cabernet Sauvignon in the history of the property. In 2010, the wine reached 14.6% ABV with a pH of 3.63. This combination allows for more ripeness as well as greater freshness. The effective yields are lower in 2010. Only 42% of the crop was included in the Grand Vin. For those that like statistics, 2009 Haut Brion is slightly lower in ABV at 14.2 % ABV with a pH of 3.9. . 2010 Chateau Haut Brion is deep ruby with a purple rim that shines in the glass. The wine is filled with smoke, earth, hot stones, spice, blackberry, cassis and hints of licorice. Full bodied and concentrated with multiple layers of spicy, fresh, rich dark fruit and cassis flavors that fill your palate, this elegant, regal wine builds in the mouth. From the first touch on your palate, it's difficult to imagine the incredible length found in this wine. I timed the finish twice to make sure I had not lost track of the time. I shook my watch to ensure it was running correctly. This incredible wine remains on your palate for close to 80 seconds! Balanced, harmonious and regal, this will be an amazing wine to experience at maturity. 98-100 Pts

15,441 Views

Tasted

Apr 21, 2011

2010
Château Haut-Brion Blanc (Pessac-Léognan)

Not a bottle I am likely to see often, the wine popped with honeysuckle, crisp lemon, waxy honey, flowers, thyme, white peach, orange and yellow citrus peel on the nose. Lush, opulent, and fresh, which is a difficult balance to achieve, the mouthcoating finish, with all its sweet, slightly honeyed, yellow and orange citrus, crushed stone, and vanilla hung on your palate for long after the wine left the glass.

2,790 Views

Tasted

Oct 15, 2021

2010 Haut Brion Blanc – With its green tinted, straw color, waves of sweet, refined, lemon, pineapple, grapefruit rind and citrus oil coats and lingers in your mouth. The wine is made better with the perfect amount of ripeness and acidity, giving the wine sweet fresh fruit and lift. 97-98 Pts

6,075 Views

Tasted

Apr 22, 2011

2010
Le Clarence de Haut-Brion (Pessac-Léognan)

Cedar wood, forest, cassis and espresso scents open to a fleshy, soft, refined, concentrated wine with real personality that finishes with polished red berries, freshness and spice.

6,274 Views

Tasted

May 7, 2013

Le Clarence de Haut Brion With 52% Merlot 36% Cabernet Sauvignon, 2% Petit Verdot in the blend, the wine opens with smoke, oak, boysenberry, cassis and earthy tones. Soft cassis, flavors and a long finish make this a strong, surprisingly fresh and ample effort for a second wine. 91-93 Pts

6,555 Views

Tasted

Apr 21, 2011

2009
Château Haut-Brion (Pessac-Léognan)

Not a lot of wines leave me speechless from start to finish. But this wine did! Still deep, dark, almost inky in color, the wine offers off the hook aromas of smoked truffle, cigar box, tobacco, black and dark red fruit with spice box, tobacco leaf and smoke filled nuances. Deep, rich, full-bodied and with this incredible blend of elegance, power and sensuality, this wine is going to age for decades. The wine was made from blending This 46% Merlot, 40% Cabernet Sauvignon, and 14% Cabernet Franc.

7,149 Views

Tasted

Sep 20, 2019

With serious depth of color, a cornucopia of scents blast from the glass with smoky barbecue, wet earth, truffle, espresso and a variety of liqueur aromatics including plum, blackberry and cassis. Silky, creamy tannins and an intensity of flavor, this wine fills your mouth and coats your palate with layers of opulent, ripe, pure fruit and glycerin. Yet everything is in balance with the structure to age, complexity that builds in the mouth, purity and freshness.

14,239 Views

Tasted

May 3, 2012

2009 Haut Brion is a strong candidate for wine of the vintage. This wine has it all. And it went back and got more. Produced from 46% merlot, 40% cabernet sauvignon, and 14% cabernet franc, this inky black wine, tinted with purple and blue, explodes with smoke, truffles, cassis, caramel, minerals, crushed rock, spice, and cigar box aromatics. This intense wine is packed and stacked with multiple layers of powerful fruit; it shows intense purity, freshness, harmony, and balance. The seamless finish lasts over sixty seconds. Few wines grab you with a single swirl and sniff. But this wine does. If only I can find friends with enough money to afford it. While it's high in ABV, 14.2%, it has no sensation of heat. Another interesting statistic, for those who like stats, is that the 2009 Haut Brion shows a high pH level, 3.9, yet the wine displays ample freshness. Because higher levels of ABV require more care, Delmas shortened the period of maceration to reduce the potential levels of extraction. According to Delmas, that choice made a big difference in 2009. 99/100 Pts

16,364 Views

Tasted

Jul 2, 2010

2009
Château Haut-Brion Blanc (Pessac-Léognan)

Tasted twice in the same week, this is insanely good. Silky, rich, lush and polished. There is a symphony of fresh, bright, citrus fruits with the perfect amount of honeysuckle and crushed rocks to add complexity. The wine fills your mouth, palate and taste receptors. This will age effortlessly for decades.

3,496 Views

Tasted

Jul 5, 2017

It's impossible not to be blown away by this wine. Yes, it's young and tight and requires coaxing to bring out its layers of perfectly ripe citrus fruits that taste like they have been stored in rocks for years. Sweet, lush, fresh, ripe and opulent, the wine coats your mouth with fruit and flavor. The trick is to have very rich friends with the money to buy the wine and store it to maturity.

4,862 Views

Tasted

Nov 26, 2015

Stunning in every way really is all that needs to be said. The aromatics are off the hook with their showy, mineral, citrus, floral, vanilla and honeyed essence. On the palate, this thick, rich, wall of velvet drenched citrus is hard to beleive. The finish must last for over 60 seconds.

4,291 Views

Tasted

Sep 24, 2014

Blending 62% Sauvignon Blanc with 38% Semillon produced a wine that is close to perfection. With intense aromatics packed with fresh squeezed lemon, grapefruit, minerality and an array of flowers and assorted citrus fruits, this is thick, rich and powerful. The fruit is sweet, ripe and concentrated, but the freshness and acidity give this the perfect sensation of lift and grace.

3,936 Views

Tasted

May 3, 2012

2009
Le Clarence de Haut-Brion (Pessac-Léognan)

Oak, smoke, earth and fresh, pure, blackberries offer real depth for a second wine. Rich, long, fresh and clean from start to finish.

6,708 Views

Tasted

May 3, 2012

2008
Château Haut-Brion (Pessac-Léognan)

Oh so young, but oh so good. At this stage, it is all about the promise, yet, with its elegant, silky tannins, refined layers of fruit, polished, textured and 40-50 second finish, there should be no doubt as to what you should expect with another decade or two of aging. The wine was made blending 50% Cabernet Sauvignon, 41% Merlot and 9% Cabernet Franc.

6,441 Views

Tasted

Sep 17, 2018

08 Château Haut Brion shows a good depth of color with dark ruby and purple hues. Fresh black raspberry, oak, tar, and spice are in abundance on the nose. The wine has a rich, opulent character. Multi-layered pure, ripe fruit and elegant tannins fill your mouth as you taste. The polished, balanced wine ends with an elegant, long, rich finish expressing purity in the fruit. In 2008, the merlot at La Mission Haut Brion and Haut Brion was picked over a three week period. According to Jean-Philippe Delmas, the reason for the much longer than usual merlot harvest was that the picking was done berry by berry, ensuring only perfectly ripe fruit was used in the wine. The wine was produced from a blend of 50% Cabernet Sauvignon, 41% Merlot and 9% Cabernet Franc. 95-98 Pts

15,693 Views

Tasted

Aug 31, 2009

2008
Le Clarence de Haut-Brion (Pessac-Léognan)

08 Clarence Haut Brion is ruby colored and shows fresh black and bright red fruit on the nose. The wine has finesse and finishes with licorice tinted back fruit. 90-92 Pts

4,511 Views

Tasted

Aug 31, 2009

2007
Château Haut-Brion Blanc (Pessac-Léognan)

Bright, fresh, crisp, vibrant, lemon rinds, pomelo, spice, and flowers create the aromatics. The wine is juicy, lifted, long, and packed with sweet, ripe, and lively citrus that lingers on the palate. Drink from 2023-2037.

244 Views

Tasted

Sep 1, 2023

Served double blind, the wine showed a light color. Very young. This needs decanting or several more years in the cellar before its ready to drink. With effort, vanilla, lemon peel, orange, smoke and yellow citrus aromas began to wake up. The wine is rich, plush and polished, but clearly not ready for prime time drinking.

3,856 Views

Tasted

Sep 24, 2014

2007
Château Haut-Brion (Pessac-Léognan)

Medium/full bodied, with elegance and charm, coupled with softness on the palate. Cigar box, tobacco, dark cherry and smoked earth create the nose. The mouth feel is really fine, with its ripe, polished, silky tannins. Not deep, but ready to drink and more than charming. Compared with La Mission Haut Brion, here, you find more elegance and refinement in the tannins. There is less density, but the palate feel makes up the the difference. There is still some room for improvement here. The wine was made blending 44% Cabernet Sauvignon, 43% Merlot and 13% Cabernet Franc.

4,222 Views

Tasted

Aug 29, 2017

2006
Château Haut-Brion (Pessac-Léognan)

Deep ruby in color, with the tell tale aromatics of cigar box, tobacco, tar, cassis and dark ripe fruits, while it's still in the primary stage, it's impossible to deny the class, charm, elegance and concentration, as well as the length found here. Give it another decade for it to expand and develop.

5,533 Views

Tasted

May 25, 2016

Far too young to be opening this wine. It's still sleeping. There is definitely ample concentration and structure to the wine. But it's going to be a firm, classic style of Haut Brion that requires at least another decade of cellaring.

10,748 Views

Tasted

Sep 21, 2014

This shows a complex perfume of ripe, black fruit, tar, herbs, cassis and smoke. In the mouth, the wine is plush, rich, opulent and full bodied. This elegant wine ends with a rich mouthful of sweet, spicy, ripe, juicy dark plums, cassis and dark berries.

9,191 Views

Tasted

Jun 12, 2009

2006
Château Haut-Brion Blanc (Pessac-Léognan)

From a blend of 55% Sauvignon Blanc and 45% Semillon, the wine is bright, fresh, lively and delivers a blast of honeysuckle, pomelo, lemon rind and vanilla aromatics with a stony essence. Rich, fresh and refreshing, you can drink this now, or age it for years.

3,773 Views

Tasted

May 25, 2016

2006
Château Bahans Haut-Brion (Pessac-Léognan)

Smoky, cherry, pipe tobacco and earthy scents. The palate is quite charming, slightly rustic on the palate, but there is more than enough ripe fruit to make up for it.

3,670 Views

Tasted

May 25, 2016

2006
Les Plantiers du Haut-Brion (Pessac-Léognan)

Now here's a wine you don't see every day, the original second wine of Haut Brion Blanc. Produced from 100% Semillon, there is a stony, honeyed quality to the citrus, white peach and pineapple sensations. The wine is not sweet, but it reminds me a bit of a dry Sauternes with more freshness.

2,125 Views

Tasted

May 25, 2016

2005
Château Haut-Brion (Pessac-Léognan)

Leather, smoke, tobacco, cigar box and an array of red and black fruits create the complex nose that pops with little effort. The wine is silky, smooth, ripe, concentrated and opulent, displaying a youthful, pure essence of fruit.

11,711 Views

Tasted

Jun 28, 2015

Still as young as you might imagine, but that did not stop the sublime character of this wine from shining through. Filled with smoke, flowers, licorice, espresso beans, licorice, burnt embers and extremely ripe black cherries, this wine is rich, lush, soft, polished, fresh and sweet. Everything is in the right place for a long life.

10,818 Views

Tasted

Feb 13, 2014

2005
Château Haut-Brion Blanc (Pessac-Léognan)

Fresh, bright, vivacious, and with a strong shot of honeysuckle and crushed stone, the green apple, lemon peel, grapefruit pear and lemon wax were out in full force. Rich, concentrated and lush, with lots of energy, this is drinking just great today.

2,915 Views

Tasted

Jan 17, 2021

Showing maturity in color, the wine pops with vanilla, grilled nuts, honeysuckle, citrus and toast. Refined, rich and still young, the ripe, sweet, fresh, mineral drive, fruit packed finish stays with you.

4,631 Views

Tasted

Jun 28, 2015

This Bordeaux Blanc offers intense floral and mineral notes with hints of lemon and lime. Full bodied and packeed with ripe fruit, the long finish ends with a lemon wax, honey and orange rind component.

3,243 Views

Tasted

Jun 28, 2009

2004
Château Haut-Brion Blanc (Pessac-Léognan)

Bright citrus flavors, green apple, stone and floral notes, medium bodied, with a crisp, bright, lemon and grapefruit finish.

3,725 Views

Tasted

Nov 30, 2014

2004
Château Haut-Brion (Pessac-Léognan)

Reserved, stoic, discreetly styled wine, better on the nose, with its smoky edge to the red currants, tobacco leaf, cedar, and leaf, than on the tight, crisp, red berry palate. Lovers of old-school classic vintages will probably like this more than I did. Drink from 2023-2040.

3,683 Views

Tasted

Dec 12, 2022

Finesse styled vintage of Haut Brion, which offers a perfume of smoke, cigar box, cherries, forest floor and green, leafy aromas. Soft and elegant, the finish, with its ripe, black and red fruits, spice box and plum sensations is refined in character. This drinks well today and should be even better with a few more years in the bottle. This is the first vintage where Jean-Philippe Delmas was fully in charge from start to finish at Haut Brion.

5,338 Views

Tasted

Jan 4, 2015

Deeply colored, this opens with a smoke and violet nose that includes earth and cassis scents. Full bodied with a soft, elegant, plush mouth feel, the round styled finish ends with ample fresh, blackberry and spice notes.

13,588 Views

Tasted

Jun 28, 2009

2003
Château Haut-Brion Blanc (Pessac-Léognan)

Honey in hue, the nose also reflects its honeyed side with accents of flowers, petrol, orange rind, pears, citrus, and spice. The palate is round, oily, and sweet, low in acidity, the wine finishes with citrus, spice, and hints of honey on the backend. This is fully mature. Drink from 2023-2028.

246 Views

Tasted

Sep 1, 2023

On the orange citrus side, with lemon zest, flowers and tangerine the wine is low in acid, round and fleshy. Drink this now...

2,665 Views

Tasted

Aug 22, 2019

2003
Château Haut-Brion (Pessac-Léognan)

Like many wines from Pessac Leognan in 2003, this has developed at a rapid pace. You can see it in the color, note it in the perfume and feel it on the palate. There is complexity, but the fruit is slowly starting to fade before its time. This should be drunk up before the wine hits 20 years of age, if not a few years sooner.

7,497 Views

Tasted

Dec 18, 2013

2002
Château Haut-Brion (Pessac-Léognan)

Medium/full bodied, the developed nose shows dark berries, olives, smoke, tobacco, herbs and earth. On the firm, masculine side for Haut Brion, you can drink this now, or age it. I doubt it will gain a lot more complexity with time. It's a nice Bordeaux, but not a great Haut Brion.

7,646 Views

Tasted

Oct 7, 2013

2001
Château Haut-Brion (Pessac-Léognan)

I really like the cigar store nuances, with hints of smoke, tobacco leaf, ash and red fruit. Medium-bodied, fresh and charming, this lighter, brighter, red berry focused vintage is probably at close to its peak.

3,970 Views

Tasted

Oct 22, 2021

Smoky, rich, ripe multiple layers of complex aromatics and an opulent palate presence make this a wine with a great future ahead. It reminded me of a young version of 85 Haut Brion.

8,938 Views

Tasted

Aug 15, 2007

2000
Château Haut-Brion (Pessac-Léognan)

Elegant, refined, regal and harmonious, the wine takes a while to unfurl, allowing to experience its beauty. But once it gets going, the sensual experience is almost off the charts. The smoky fruit builds in intensity. The tannins are silky. There is length, complexity and purity. While a pleasure to drink today with a few hours of decanting, another 5-10 years will add a lot to this wine.

6,739 Views

Tasted

Apr 20, 2020

Just a super wine that is close to leaving its adolescent period, but not quite ready for prime-time drinking yet. This has everything you want in a wine. It is rich, concentrated, silky, full bodied and complex on the nose and palate. The palate presence is off the hook, as is the long finish. This should offer pleasure for 30-40 more years with ease.

5,721 Views

Tasted

Oct 10, 2018

Almost inky in color, from the hue alone, you know this is a special wine. The smoke filled, cigar box nose, with all its tobacco, black and dark red fruits and wet earth delivers intensity, depth, opulent textures and a finish that is pure silk and velvet. Cleary this is still young. But it is impossible not to see the makings of greatness in this wine.

7,153 Views

Tasted

May 25, 2018

This is going to be one of the great wines from the already legendary vintage with another decade of age. Powerful, yet refined, concentrated and pure, the tannins are silky, there is freshness, complexity and that unmistakable smoky fruit that you cannot find in any other wine. I am happy to have a few bottles tucked away for future drinking.

7,386 Views

Tasted

Jul 5, 2017

Silky, velvet textured tannins, ripe, fresh, sweet, lively fruits with purity in their essence and a tobacco, cigar box, smoke and earthy tint is available from the get go. With 3 hours of air, the wine really came around. This is a quintessential example of the elegance and refinement found in a great Bordeaux. I'd probably hold the wine for at least another 5 years before popping a cork. If you cannot wait, and I can't blame you if had to open a bottle, give it a few hours of air.

7,313 Views

Tasted

Jul 10, 2015

This is all about the potential as this is so young and primary. It's fresh, vibrant, concentrated and deep. Clearly, there is the structure to age for at least 50 years or more! There is length, texture and balance, but it demands another 5-10 more years of age before it shows what it's really made of.

7,149 Views

Tasted

Aug 10, 2014

If the nose doesn't grab you, you do not like the smell of graet Bordeaux. This is fresh, soft, refined and most importantly, elegant. Still young, the wine demands another decade to continue to soften and develop.

8,298 Views

Tasted

Dec 22, 2013

With the texture of polished silk and velvet, this elegant, subtle and supple wine is everything a great wine should be. It combines sophistication with elegance to produce what is developing into bottled decadence. Still young, if you are looking for secondary aromas, hold off another decade. This just keeps getting better and better.

7,213 Views

Tasted

Aug 26, 2013

Filled with tobacco, tar, cassis, black fruit, herbs and caramel scents. Soft, round, elegant, harmonious, concentrated, fresh and refined. The wine is pure silk and velvet with a lot of polish and finesse in the long finish.

12,742 Views

Tasted

Mar 5, 2010

2000
Château Bahans Haut-Brion (Pessac-Léognan)

1989 Bahans Haut Brion is fully mature. Aromas of BBQ smoke, earth and cassis are mixed with cherry, cranberry and spice flavors. This medium bodied wine needs to be dunk up sooner than later. 89 Pts

9,625 Views

Tasted

Dec 21, 2014

2000 Bahans Haut Brion starts with a smoke, spice, cherry and cassis perfume. This medium bodied, elegantly styled wine is ready to drink and is best enjoyed over the next few years. 89 Pts

9,548 Views

Tasted

Dec 21, 2012

This opens an earthy, smoke and tobacco nose. Already mature, this light wine ends with some drying sensations.

10,393 Views

Tasted

Mar 5, 2010

1999
Château Haut-Brion (Pessac-Léognan)

Ready to go, this medium-bodied, earthy, herbal, leafy, cedar, smoke, red currant and tobacco-loaded wine starts off well on the palate but finishes shorter than I would like. The tannins and a bit sandy in the finish. What you see is what you get, this is not a wine for long-term aging.

4,945 Views

Tasted

Aug 14, 2021

Served blind, this was much better than I would have thought, given the vintage. Soft, delicate, medium bodied, with an elegance to the fruit and texture, this is drinking great today. With luck, in a few years, it could be even better.

5,215 Views

Tasted

May 8, 2014

Smoky, spicy, earthy and open, tobacco, truffle, black cherries and 5 spice aromas are easy to find. Polished, and silky, the wine feels great on your palate with its velvet textures. Over the years, this has developed nicely. While there is no hurry to drink it, there is no reason to wait before popping a cork.

5,792 Views

Tasted

May 24, 2013

1999 Haut Brion is produced in a lighter, early maturing style. Tobacco, herbs, olive tapenade and blackberry aromas introduce a medium bodied wine with cherry, cassis and cranberry flavors in the finish. 91 Pts

11,109 Views

Tasted

Dec 20, 2010

1999
Château Haut-Brion Blanc (Pessac-Léognan)

1999 Haut Brion Blanc, aged in 50% new oak offers scents of honeysuckle, vanilla, orange zest, creme brulee and lemon. Soft, textured fruit ends with sweet citrus flavors. 92 Pts

2,324 Views

Tasted

Dec 21, 2010

1998
Château Haut-Brion (Pessac-Léognan)

Just when you think this wine could not get any better, 2 years later, it seems to have developed more richness, complexity, and vibrancy. The full-bodied, rich, concentrated wine offers endless waves of dark red fruits, smoke, cigar box, cedar, tar, leather, and campfire aromatics. Rich, intense, balanced, fresh, and refined, if you have the extra money hanging around, this is the Haut Brion to buy today. Drink from 2022-2060.

4,832 Views

Tasted

Nov 1, 2022

This is the Haut Brion to buy if you are seeking a stunning wine with some age. Adding more nuances and complexities every year, this youthful stunner hits all the right notes. Rich, full-bodied, concentrated, long and intense, even with so much power and concentration, the wine never loses sight of its elegant, refined character. The nose is enthralling with its cornucopia of smoke, earth and red berry essences. The palate steals your attention with its multiple layers of elegant, velvet drenched, dark red, tobacco leaf stainted fruits. The endnote lingers, building and expanding. All great wines drink well young. But like all great wines, it will be best on maturity. If you have a case, pop a cork to see where it's at. If you only have a few bottles, wait another 5-7 years and drink it over the following 2-3 decades with ease.

5,737 Views

Tasted

Dec 22, 2020

Clearly, this is at the level of the much more expensive 1990. Combining elegance and power, soft, silky tannins and concentration, smoke, red fruits, tobacco and earthy nuances and a refined finish that seems to stick with you for 50 seconds, this is just starting to drink well. In 5 years, it promises to be even better! For a high-quality vintage of Haut Brion, especially one with bottle age, this is the best deal in the marketplace today.

8,117 Views

Tasted

Jun 5, 2018

If you're seeking to discover what Haut Brion is all about, or if you just want to check out a First Growth Bordeaux, this bottle is for you. Rich, fresh, polished, long and deep, with vibrant fruit and complexity. Yes, it is still young, but it is so good today, and it is the best value play for Haut Brion.

6,191 Views

Tasted

Sep 14, 2016

This is a beauty in every sense of the word. Its silky essence is rich, complex and regal. This finesse driven, elegant wine offers a beautiful purity of fruit, smoke and earth. There is more than enough fruit to make if fun to drink now. Yet patient consumers will be rewarded if they can wait 5-10 more years.

7,953 Views

Tasted

Jan 24, 2015

Smoky, with rich layers of ripe, elegant, plush fruits, a tannic backbone to age and a long, stylish finish that does not quit. With about one of decanting, this was rockin'!

7,872 Views

Tasted

May 8, 2014

Still young, but this is a treat at any age with its showy nose of tobacco, cigar box, tar, smoke, cassis, dark berries and earth. Concentrated, pure, refined and fresh, the fruit has a beautiful, pure, silky personality that continues to build in the finish. If you like wines on the young side, with 2 hours of air this is a wonderful tasting experience. If you prefer more secondary aromas, flavors and textures, wait 10-20 years and this will be stunning!

10,614 Views

Tasted

Jun 16, 2013

This has been a delight to taste the day it was bottled and it keeps getting better and more interesting with each passing year. Strong notes of smoke, cigar box, black raspberry and earth create the perfume. On the palate is where the wine shines with its silky tannins, rich textures and elegant, supple finish

9,670 Views

Tasted

Mar 30, 2013

Picture smoke, hot stones, pipe tobacco, cassis, oak, forest floor and earthy, truffle scents, and you get an idea of the aromatics starting to make themselves known in this wine. On the palate, purity and elegance, soft textures and refined silky tannins that remind me of a better version of the delicious 1985 Haut Brion. While this is already drinking well today, it's only going to get better over the next few decades.

13,831 Views

Tasted

May 15, 2011

1998 Haut Brion is filled with pungent spicy blackberry, tobacco, smoke, cedar chest and cigar box aromas. Deep, rich, concentrated with layers of rich, ripe fruit. This wine fills the palate with ripe, sweet, soft textured dark fruit with a purity of flavor and ample freshness to give it lift. Everything is in balance. This great wine can be opened young, or aged for decades. It remains one of the best vintages of Haut Brion to buy in the market place today. 97 Pts

14,745 Views

Tasted

Dec 20, 2010

This perfectly combines liquid silk, elegance and power to make a magic elixir. This is serious wine. The complex nose alone makes it worth the price of admission. Filled with scents of cassis, tobacco, smoke, truffle and spices, it's a treat for the senses. But the multiple layers of rich, velvet laden, sensuous fruit that cascade over your palate in endless waves prove this Haut Brion is the real deal. I have loved this wine from minute one. This is a great Haut Brion that might turn out almost as good as the majestic 90 in another decade or two. It is much better than the fabulous duo of 95 & 96. I imagine this will mature in 10-15 years and remain at that peak level for decades. Along with the stellar 1985, the 1998 represents the best deal in the market place for a high quality Chateau Haut-Brion.

6,556 Views

Tasted

Oct 10, 2008

This splendid wine offers a complex smoky, truffle nose with cassis, herbs, and earth. Perfectly balanced on the palate with a wonderful texture. The finish is close to seamless

6,524 Views

Tasted

Oct 21, 2007

The nose alone with its complexities makes it worth the price of admission. But the multiple layers of rich, silky, sensuous fruit that cascade over your palate in endless waves prove this is the real deal.

6,604 Views

Tasted

Aug 31, 2007

A deep, complex compelling perfume and layers of rich, ripe, decadent fruit are easy to discern. This will only get better with time.

6,475 Views

Tasted

Mar 20, 2005

1998
Château Haut-Brion Blanc (Pessac-Léognan)

This is a gem that I wish I could afford. The opulent, textural component rocks! The purity in the sweet, juicy, fresh, pomelo and lemon peel, with a dab of flowers, vanilla and honeydew gets you going back for sip after sip. Still young and quite vibrant, this should evolve for at least another 15-20 more years.

3,198 Views

Tasted

Nov 20, 2018

Full bodied, rich and expansive, this intensely concentrated wine is all about the blend of its parts. Freshness, fruit, flavor and finish, with serves up ripe, juicy, sweet, pineapple, custard, butter, orange rind, rocks, stones and flowers. I suspect this will only get better with age.

4,333 Views

Tasted

Nov 28, 2016

Honeydew melons, flowers, and slight citrus tones are in abundance. This thick, very concentrated wine fills your mouth with fresh, bright citrus flavors.

3,418 Views

Tasted

Mar 20, 2005

1996
Château Haut-Brion (Pessac-Léognan)

Think of black currants, cigar wrappers, and cigar smoke coming on strong, and you get the idea. Medium-bodied, and elegant, this is a wine of finesse over power, with a finish that mirrors the nose, with its tobacco-stained, currant profile with a sprig of spearmint that comes in at the backend of the mildly chewy endnote. 2 hours in the decanter was exactly what the doctor ordered. Drink from 2023-2045.

147 Views

Tasted

Sep 10, 2023

Elegant, refined, smoky, tobacco and campfire ember packed medium-bodied wine which provides the perfect backdrop for all the sweet, fresh, spicy red berries, tobacco leaf, and cigar wrapper. Soft, silky, and ready to go, this does not require much if any air.

4,642 Views

Tasted

Oct 18, 2021

A beautiful vintage for Haut-Brion that continues getting better with age. The aromatics shine due to all the smoke, burning ember, dark red berry, crushed stone and tobacco wrapper notes. The full-bodied, concentrated, richly textured palate steals the show. Lush, refined, concentrated, deep and long, the fruit simply cascades across your palate. The stunner is showing great today with an hour of air. But if you can wait just another 3-5 years, it is going to be even better!

4,657 Views

Tasted

Dec 22, 2020

This is a very good wine, and a superb Haut Brion that continues stubbornly hanging on to its youth. After 90 minutes in the decanter, the tannins subsided and the wine popped with its tar, tobacco, smoke and dark red berry nose. Full-bodied, concentrated, regal and with some tannin needing to be resolved, give this until 2025 and you will have a fabulous drinking experience in your glass.

4,700 Views

Tasted

Jul 17, 2019

This particular bottle was the best example of this wine I have ever tasted! Double decanted about 4 hours or more, this really grabbed me in all the right ways, and in all the best places. Picture a dark chocolate covered cigar, with smoked cherries, tar, leather and cigar box aromatics. Full bodied, concentrated, long and fresh with this beautiful, sweetness and purity of cherry fruits and cassis. The texture was silky, lush and with a bit of tannic bite, paired with crunchy, berries in the long finish. This felt as good as it tasted. It is worth popping a cork now, if you have a bottle and if you wait, this will be even better with another 5-10 years in the bottle.

5,862 Views

Tasted

Dec 3, 2016

Better on the nose than the palate at the moment, but that could change with more time. The smokey, tobacco, wet earth, cigar box and sweet red cherries in the perfume really grabs you. The wine lacks the concentration found in the top years, but the tannins are ripe, the fruits are fresh, refined, elegant and long, leaving with sensations of cassis, blackberries and Cuban cigars in the finish. This is still quite young and should be even better with another 5 years or so in the bottle.

6,238 Views

Tasted

Aug 22, 2015

A beautiful, classic vintage of Haut Brion here. Still young, with some air, truffle, smoke, cassis, blackberry and chocolate aromas emerge. The wine is full bodied, rich, soft and supple. This is quite nice now and with 5-10 more years, if you can keep your hands off it, it's only going to get better. This is one of the better values for high quality Haut Brion in the marketplace today.

6,884 Views

Tasted

Dec 17, 2013

1996 Haut Brion is filled with smoke, tobacco, cigar box, ash, kirsch, blackberry and licorice aromatics. This is a big, chewy, masculine style of Haut Brion. Tannic and tight, this needs time to develop and flesh out. Another 10 years will allow this to mature into something special. 95 Pts

13,941 Views

Tasted

Dec 20, 2011

1995
Château Haut-Brion (Pessac-Léognan)

The more I taste this wine, the more I like it. This is one of the few 95s that do not typify the austerity of the vintage. Full-bodied, concentrated and aromatic, with a nose of smoke, cigar wrapper, burning forest leaves, and currants, the is loaded with fresh currants, herbs, cedar, and tobacco on the palate. You find good length and energy making you want to enjoy another sniff and sip. Drink from 2022-2050.

3,931 Views

Tasted

Nov 5, 2022

I like how this continues developing. One of the top wines of the vintage, as it is able to overcome the strong tannic overbite found in many wines, here you find a glorious smoke, crushed rock, leaf, cassis and dark red berry nose. The tannins are subdued, the wine shows a refined, elegant character with a smoky, red berry filled finish. This can be enjoyed now with only an hour or so of decanting. Else, wait another 5 years and it will more nuances on the nose and palate.

4,611 Views

Tasted

Dec 22, 2020

This is really coming on strong, if you like that cigar box, tobacco, cedar, smoke, pure dark cherries and cigar wrapper type of thing. Full bodied, refined, but with a regal, tannic bite, with a few hours of air this is a pleasure to taste.

5,665 Views

Tasted

Feb 6, 2017

Medium bodied and charming, this is starting to come into its own. Tobacco, earth and smoke notes added to the sweet, ripe, soft fruits. On the palate, the elegant, finesse driven wine was on the fresh side, with its red and black fruits. At 20 years of age, this is probably going to be a good, but not great vintage for Haut Brion.

6,120 Views

Tasted

Aug 22, 2015

1995 Haut Brion is showy wine. With a perfume that took time to coax its scents, black cherry, cassis, smoke, tobacco, truffle and earthy notes could be found. This deep wine demands a few more years before revealing all its charms. The juicy, mouth filling finish is filled with rich, dense fruit. 96 Pts

13,455 Views

Tasted

Dec 20, 2010

1995
Château Bahans Haut-Brion (Pessac-Léognan)

1995 Bahans Haut Brion offers cherry pipe tobacco, earth and berry scents, coupled with soft, easy to like textures and fully mature, light, bright cherry and cranberry flavors. Drink up. 88 Pts

3,575 Views

Tasted

Dec 21, 2010

1994
Château Haut-Brion Blanc (Pessac-Léognan)

1994 Haut Brion Blanc pops with a perfume filled with honey, smoke, wood, fresh cut grass, citrus oil and lemon wax. This is rich, full bodied, intense and palate filling. The long, fresh, citrus intensive finish feels great while it remains in your mouth. Still young, this should age for decades. 96 Pts

3,455 Views

Tasted

Dec 21, 2010

1994
Château Haut-Brion (Pessac-Léognan)

With some austerity, there is a distinctive leafy, forest, and herb edge to the tobacco, red plum and cedary, smoky personality. Firm tannins with some toughness on the classically styled palate, decanting helps, but at close to 25 years of age, this is what it is.

5,709 Views

Tasted

May 17, 2017

More interesting on the nose with its smoke, tar, earth, cassis and leaf filled perfume, than on this palate, due to its rustic, old school finish. At 20 years of age, this is what it is. Aging will not improve this wine.

5,624 Views

Tasted

Dec 17, 2013

1994 Haut Brion is probably fully mature. Tobacco, licorice, cassis, earth, cherry and green pepper notes are found in the aromatics. Produced in an austere style, this steely wine displays some rustic tannins in the finish. 91 Pts

10,090 Views

Tasted

Dec 20, 2010

1993
Château Haut-Brion (Pessac-Léognan)

1993 Haut Brion offers a tobacco, leaf, smoke, herb and cassis scented perfume. Medium bodied, with a light, red fruit accented finish, this wine needs to be drunk up. 89 Pts

7,554 Views

Tasted

Dec 20, 2010

1992
Château Haut-Brion Blanc (Pessac-Léognan)

Very citrusy on the nose and palate. Meduim bodied, not as deep or long as the 85 or 89 tasted that day.

2,459 Views

Tasted

Mar 20, 2005

1990
Château Haut-Brion (Pessac-Léognan)

Power and elegance, with wave after wave of rich, supple, sensuous, tobacco-stained red fruits, cigar wrapper, ash, and spice. Intensely concentrated, perfectly balanced, deep, long and lingering, this is what great wine is all about. Just entering its prime-time window, it is going to deliver the good for at least another 2-3 decades with ease.

4,016 Views

Tasted

Apr 5, 2022

I am not sure how this wine could get any better. Just a hair behind the legendary 1989, every sniff and sip is packed with aged Cuban cigars, smoke, campfire embers and perfectly ripe, spicy red and black currants. Refined, elegant, silky, fresh, vibrant, seamless and long, this has become incredibly expensive over the past few years. But if you have the money and you want to experience greatness in wine, this is about as good as it gets!

4,776 Views

Tasted

Aug 21, 2021

WOW! Off the hook in every sense. The wine is rich, full, deep and intense. Concentrated, long, rich, balanced, elegant refined and harmonious, there is nothing out of place here. This is close in quality, but a bit less concentrated than the majestic 1989. Slightly less intense, but it sells for fraction of the price. Haut Brion lovers with deep pockets should be all over this gem!

4,967 Views

Tasted

Oct 20, 2020

Just like walking into a Cuban tobacco store with all its smoky, leaf, cassis, cedar, forest floor and campfire aromatics. Full bodied, deep, powerful, rich, mouth filling, and with intensity and character, this is a stunner to drink today and for the next few decades. I am also thinking this is just about ready for a score upgrade as this really grabs and holds you right where you need to be grabbed and held.

6,375 Views

Tasted

May 17, 2017

This never fails to provide an extraordinary, tasting experience. With elegant, silky textures, ripe, sweet, smoky, tobacco laden, dark red berries and more smoke, earth, tobacco leaf, cigar box, black cherry, earth, blackberry, cassis and thyme on the nose, to say it is a knock out, does not say enough. Prices have been climbing for this beauty lately. Even though it is quite pricey, when compared with current, top vintages, or the 1989, it's sill reasonable. If you have the money, it is worth considering.

6,206 Views

Tasted

Oct 17, 2016

Silky, elegant, complex, refined and ready for prime time drinking. There is that beautiful smoky, tobacco, cigar box character that is made even better by the sweet, delicate, polished dark red fruits and cherry pipe tobacco that permeates the wine. Drink this beauty now, or lay it down for 10-20 years, if you are young enough, and have that much patience.

6,058 Views

Tasted

Sep 14, 2016

This is a stunner. With its smoke fuled, cigar box, caramel, cassis, florest floor and blackberry nose to get you going, things are just getting started. The luscious, perfectly ripe fruits with layers of hedonistic fruits just doesn't quit from start to finish. This is drinking now and it's still young! You can pop a cork today or in 10-15 or 20 years. It's up to you.

6,800 Views

Tasted

Dec 22, 2015

Now we're talking. Edging close to its 25th birthday, the wine is clearly expressive. Smokey, tar, cigar box, forest floor, cassis and blackberry, with hints of dried cherry make up the nose. Sweet, soft and velvety, the wine personifies grace and elegance.

6,890 Views

Tasted

Aug 10, 2014

A little bit of air or decanting would have added more to the experience. Still, even popped and poured, it was easy to find the smoke, black raspberry, Asian spice, leather, cigar box and plum filled aromatics. On the palate, the wine was rich, silky and alive leaving with a beautiful sense of purity of fruit in the long, graceful finish.

7,443 Views

Tasted

Dec 17, 2013

1990 Haut Brion opens with licorice, tobacco leaf, cassis, smoke, fresh herbs and stone. Soft, round, plush and sexy, this hedonistic wine pleases the palate and senses. 97 Pts

16,675 Views

Tasted

Oct 20, 2012

WOW! This knock out perfume pops with smoke, tar, creme de cassis, leather, earth, tobacco, hot stone, cigar ash, blackberry and spicy aromas. If this does not get you going, Haut Brion is not your thing. Intense, powerful, concentrated and rich, with textures of sillky and velvet, there is not a hard edge to be found. The long, pure, clean, opulent, fresh, pure, spicy finish remains in your mouth for close to sixty seconds. This is not that far off the legendary 1989 Haut Brion. As this sells for half the price, this is the wine to buy.

14,440 Views

Tasted

Nov 28, 2011

1990 Haut Brion is the real deal! Cigar box, smoke, earth, truffle, roasted dark berries, plums and tobaccos aromas make up the perfume. In the mouth, this plush, round, opulent, sexy wine coats your palate. The intense, rich, pure finish is loaded with sweet cassis, chocolate covered blackberry and dark cherries. 98 Pts

16,986 Views

Tasted

Dec 20, 2010

Served blind at Chateau La Mission Haut Brion over dinner - This aromatic delight opens with jammy dark berries, smoke tobacco, hot stones, licorice, cigar box and baked cherries. Sensuous opulence could be the name of a porn star, or the right descriptor for this silky wine which ends with a rich bath of cassis and black cherries.

16,954 Views

Tasted

Jul 2, 2010

The wine sported a very, dark ruby tint. Smoke, truffles, herbs, cassis and black fruits galore made their way to your nose. This wine is very intense. Stunning levels of concentration coupled with multiple layers of flavor make this a treat for your senses. Layer after layer of flavor fill your mouth with joy. Very classy and elegant as well as rich.

8,863 Views

Tasted

Feb 11, 2009

Lovers of Haut Brion cannot have enough of this wine in their cellar. This is almost at the level of the legendary 89. But, the 90 is much more fun and open to taste today. This is so packed and stacked with smoky fruit, it's almost unreal. The intoxicating perfume offers black fruit, forest floor, smoke, tobacco and spice notes that roar from the glass! Great concentration. Layer after layer of rich, deep, polished, rich, ripe roasted fruit take over every nook and cranny of your palate. The long finish is seamless and lasts close to a minute. The corpulent texture is pure silk and velvet. This is sublime. Still young, this will improve for decades. I hope the 98, 00 & 05 are this good!

7,440 Views

Tasted

Nov 15, 2008

Herbs, coffee, cassis, licorice and black fruit entice your senses. Perfectly balanced, but not as concentrated or layered as the 89.

6,845 Views

Tasted

Mar 20, 2007

1989
Château Haut-Brion (Pessac-Léognan)

Perhaps all I need to say is, Heart-stopping! From start to finish, this is off the charts. Power, concentration, elegance, refinement, length and complexity is here in spades. If the nose doesn't steal the show, it is the more than 60-second finish that lingers, expands, builds and fleshes out. Give it an hour or so in the decanter or enjoy it over the next 3 decades or longer.

4,777 Views

Tasted

Apr 5, 2022

Simply spell-binding in every sense of the wine, the initial sniff tells you most of what you need to know with its wet forest floor, smoke, wild cherry, truffle, blackberry, tar and cigar wrapper scents. Intense, dense, concentrated and mouth-filling, this is just an incredible feeling on the palate. The finish crosses the 60-second mark and keeps on going. This is drinking in a beautiful place today, though there is no hurry. You can hang on for another 2 decades with ease.

6,668 Views

Tasted

Mar 25, 2021

It is the surreal levels of concentration that coat every nook and cranny of your palate that continues to be the show stopper here. This is pure, bottled intensity of Pessac Leognan with all smoking wood, campfire, tar, black fruits, wet forest and cigar box you could ever hop for. There is not a hair out of place. This is what seamless is all about. The gradations of intensity continue expanding, building and lingering long after the wine went where it was intended to go. This is one of those legendary wines that deserve its legendary status.

7,313 Views

Tasted

Aug 24, 2020

Sadly, since this has become so expensive over the past few years, I see it a lot less often. But when I do, OMG, it is off the charts! Explosive in nature, the wine is intense, full-bodied, complex, powerful, concentrated and all of that is balanced by its elegance, purity, richness and refined tannins. The finish, which surpasses the 60-second mark is seamless. This is a beauty today, and yet, even at days before its 31st birthday, I am sure there is room for more evolution!

7,809 Views

Tasted

Dec 6, 2019

A clear contender for wine of the decade, this is so rich and concentrated, it tastes and feel like an entire magnum of wine was stuffed into a 750 ml bottle! Young, but a treat to taste today, the finish sticks with you for at least 60 seconds! You can drink this now, or save it for decades. Either way is the right choice here...

10,784 Views

Tasted

Aug 17, 2017

There is no better wine to express what great Bordeaux is all about that in the modern age, than 1989 Haut Brion. Perfectly combining elegance, refinement and concentration with textures of pure silk and a finish that sticks with you for over 60 seconds. Prices have jumped over the past year or two, but setting that aside, this is pure bottled perfection. I wonder if the 1961 showed like this at the same age?

8,383 Views

Tasted

Sep 14, 2016

There are great wines. Those wines can be even better when the bottles are also great. And then there are the perfect bottles of great wines that if the scale went past 100 Pts, they would break into that rare territory. This bottle of 1989 Haut Brion deserved 101 Pts. Perfect in every sense of the word, if you have the money, or if you really want to know what great Bordeaux is all about, this is the wine to buy! There are more than enough tasting notes from me on this wine, describing it in detail. So I will just jump to the high points. The wine fills your mouth, coats your palate and takes over your senses. Everything is in perfect balance. The finish sticks with you and expands for more than 60 seconds. Everything you could want in a wine, except for the price is here in spades. This will age and improve for decades.

9,805 Views

Tasted

Nov 9, 2015

Tasted at the same lunch as the 1989 La Mission Haut Brion, which I scored 100 Pts, this was even better. The nose, with its smoke, fire, burning embers, barbecue, cassis, tar and tobacco notes was clearly off the charts. But the palate, with its unparalleled levels of concentration allowed the tasted to feel voluptuous textures paired with rich, layers of perfectly ripe, sweet, fresh, silky berries. The finish lasted over 60 seconds. If you're lucky enough to own a bottle of this liquid gold, pop a bottle now, or give it to your grand children. Either way, you'll come out a winner!!!

10,541 Views

Tasted

Aug 25, 2015

A sublime bottle of 1989 Haut Brion is everything great Bordeaux should be. The nose was off the hook with its flamboyant, smoky, tobacco, tar, cigar box, blackberry and truffle personality. Massive in size, yet, refined, elegant and poised, the endless finish serves up layer after layer of sweet cherries, cassis, spice and earthy sensations that last for at least 60 seconds!

10,846 Views

Tasted

Sep 21, 2014

It does not matter how many times I taste this wine. It remains one of the most exciting wines I've ever tasted. Soaring aromatics, palate staining fruit and an endless finish. This is the real deal.

9,486 Views

Tasted

May 7, 2014

Clearly this is the most consistent, high quality Bordeaux made in the last 50 years. If someone wanted to make the claim it was the most consistent over the last 100 years, they would get no argument from me. Tobacco, cigar box, smoke, campfire and black fruit aromas pop from the glass with an intensity that cannot be ignored. On the palate the wine is powerful, rich, dense, sweet, pure and fresh. The coating on your palate sticks for more than 60 seconds with its sumblime display of fruit, complexity and freshness. Still young, in time, this will be a legend in the decades to come that will be considered the equal of wines like the 1945 Haut Brion.

12,883 Views

Tasted

Dec 9, 2013

I'm normally a decisive person. But when presented with 1989 Haut Brion and 1989 La Mission Haut Brion in the same flight, I often have problems picking a favorite. It could be one, the other or often the bout comes out in a tie, and for different reasons. Few wines offer this much concentration of flavor and material coupled with pure silky tannins, elegance, refinement, balance and persistence of flavor. With a finish of well over sixty seconds, it's not difficult to understand why many tasters think this is the modern day version of the 1961!

12,415 Views

Tasted

Nov 24, 2013

By coincidence, this was served at two different, back to back dinners. The first bottle was sadly, ever so slightly corked. The nose was muted, and the flavors, coupled with the intensity were not on full display. That bottle would score in the low 90's, a far cry from the wine can deliver. Bottle number 2 was a completely different story. Tobacco, smoke, earth, tar, leather, Cigar box, cedar, cassis and black berry got the wine going. Power, silk and velvet textures supported the elegant, refined, harmonious character. The wine continued to improve during the night with each taste. Still young, it's greatness can be enjoyed today, but if you want to try this at the start of maturity, give it another decade.

10,592 Views

Tasted

Sep 2, 2013

Clearly this legendary wine is a strong possibility for wine of the decade. It does not take long for to taster to understand why, with its intense aromas of smoke, hot bricks, cassis, spice, truffle, cigar box and forest floor scents. If that wasn't enough to get you going, countless layers of powerful, rich, intense, pure, velvet and silk berries are packed into each sip. The wine is expansive, growing better and becoming more interesting and complex with each, sniff, swirl and sip. 1989 Haut Brion deserves to be looked at with the same reverence as the legendary 1945 and 1961. It is that good!

18,758 Views

Tasted

Mar 26, 2012

Compelling aromatics filled with smoke, tobacco, blackberry, cassis, tar, leather, cigar box and pie tobacco. Tannic, refined, harmonious, mouth coating and attention grabbing, it's hard to believe this wine is close to 22 years old, It tasted at least a decade younger. Complex, pure, supple, polished and intense, the finish remains in your mouth for at least one full minute! Tasted form a half bottle, it did not have the same level of plushness found in 750 Ml bottles.

19,227 Views

Tasted

Nov 27, 2011

The perfume pops from the glass like a Jack in Box that has been waiting to be released for decades. Cassis, earth, Cuban cigar, hot rocks, truffle, plums, earth, tobacco, smoke, tar and mocha scents take over your nose. Intense purity of fruit, powerful, refined and elegant, this is what great Bordeaux wine is all about. The seamless finish is pure silk and velvet.

24,557 Views

Tasted

May 26, 2011

1989 Haut Brion explodes with a concoction of spice, truffle, tobacco, leather, smoke, cassis, tar, forest floor and black cherry liqueur aromas. With mouth coating intensity and port like textures, this compelling Bordeaux wine ends with a long, fresh, sensuous, seamless finish. The scary thing is, this will only get better over the next several decades. 99 Pts

20,786 Views

Tasted

Dec 20, 2010

1989 Haut Brion remains the quintessential Haut Brion of our time. At 21 years of age, this wine is still young. Tar, incense, smoke, tobacco, truffle, bitter chocolate and crushed stone with forest floor scents make up the perfume. This concentrated, dense, powerful wine fills your palate with multiple layers of dark berries and plums. This intense wine demands another decade before it begins to reveal its secrets. 99 Pts

20,268 Views

Tasted

Nov 3, 2010

1989 Haut Brion steals your attention with an impressive display of kirsch, blackberry, minerality, smoke, spice and earthy aromas. The wine coats every nook and cranny of your palate with long, fresh, pure, blackberry and cassis filled flavors that must last close to sixty seconds! This is a remarkable when that is still young. If you are going to spend a lot of money on a wine, this is the wine buy. 99 Pts

20,163 Views

Tasted

Oct 19, 2010

Served blind at ChateauLa Mission Haut Brion over dinner- This powerful, complex perfume grabs you with smoke, tar, tobacco, cassis, Cuban cigar, leather, spice and cherry pipe tobacco aromatics. This is rich, dense and full bodied, yet light on its feet and perfectly in balance. The wine feels graceful in your mouth. The finish is long, clean, pure, seamless and silky. Still young this will only continue getting better over the next several decades.

18,390 Views

Tasted

Jul 2, 2010

A definite candidate for wine of the vintage as well as a strong contender for wine of the decade. And then some! I tasted 5 different bottles recently. My note is for the best bottle. Other bottles were more mature and not as expressive the one I note here. Sadly, one bottle was corked. The best bottles of this legendary wine can bring tears to the eyes of even the most jaded tasters. Deeply colored with a cornucopia of aromatics including smoke, tar, herbs, cassis, blackberry, truffle, Cuban cigar, and fennel. The layers of deep ripe fruit that fill your mouth seem endless. Very concentrated, rich, deep, and opulent, this tremendous wine ends with a seamless, black fruit finish that lasts over a minute. Still young, this wine will evolve for decades. This is Haut Brion at its best. At full maturity it may end up better than previous legends like 1961 or 1945.

17,216 Views

Tasted

Jun 19, 2009

More often than not, when 89 Haut Brion comes out to play, it's the wine of the night. However, I was moved to tears because it was not even close to wine of the night on this occasion. Either poorly stored or from a bad cork seal, this was not a pristine bottle. The color was very advanced. The usually explosive nose expressed simple spice and earthy notes. Silky on the palate, but very light in weight. This was a nice Bordeaux, but not a great Haut Brion. Once again the old adage came true, after 20 years there are no great wines, only great bottles.

11,436 Views

Tasted

Mar 12, 2009

This wine shot off all the bells and whistles anyone could want in a Bordeaux wine. This wine makes the blind see, the deaf hear and can be used at revivals to help the wheelchair bound walk again! This was off the charts. If the scale ran over 100, this bottle would bust the triple digit mark. The perfume was intoxicating. Very rich, deep, concentrated and complex. The non stop layers of flavors and sensations that cascade over your palate like water at Niagara Falls is something that has to be tasted to be believed. The seamless finish lasted over a minute, I timed it! Absolutely incredible. If anyone doubts this wine is equal to, or better than the more famous and expensive Haut Brion, they need to taste it. This was a mind blowing wine! Still young, this sublime elixir can be tasted today for its incredible richness, but another decade will do magical things.

15,322 Views

Tasted

Dec 10, 2007

This opaque colored wine offers a perfume full of smoke, spices, truffle and fruit, it's easy to lose yourself in its charms. Massives waves of perfectly ripe, intense black fruit, along with velvet tannins and an endless, seamless finish make this one of the best wines I've ever tasted.

11,216 Views

Tasted

Mar 15, 2006

Firing on all 12 cylinders as usual, this wine offers a perfume as complex and compelling as any other wine. Spice, black fruit, tar, tobacco and truffle are all over the place. This is so rich and concentrated, it's almost too much wine to fit in one glass. Concentrated and complex. This is the real deal.

11,153 Views

Tasted

Feb 27, 2006

"Wow, this has it all!" And it does in abundance! Spices, cigar tobacco, herbs, cooked black fruit, cassis, earth, coffee and smoke. Thick rich, dense, endless layers of unctuous ripe fruit coat your palate. The seamless finish seemed endless. This was out of control and off the charts.

11,133 Views

Tasted

Mar 20, 2005

"Liqueur of Graves!" The 89 Haut Brion offered the silkiest, sexiest mouth feel of the night. This was a perfect bottle of a perfect wine. If wine gets better than this, let me know as I want to buy a case!

14,819 Views

Tasted

Feb 17, 2005

1989
Château Haut-Brion Blanc (Pessac-Léognan)

Perhaps this is aging out. Still, the honeyed flowers, nut, orange, almond and fat yellow citrus showed nicely. But it feels like it is slowly running out of steam. It is time to drink this as it will probably only drop fruit from here.

3,037 Views

Tasted

Jan 17, 2021

Great purity of fruit here. The citrus notes, with the aid of flowers, white peach, nuts. a drip of honey, lemon peel and ocean notes came through loud and clear. Soft, silky and with volume, this was showing remarkably young and fresh characteristics.

2,384 Views

Tasted

Oct 6, 2018

1989 Haut Brion Blanc opens with aromas of fresh picked flowers, honey, caramel, grass, lemon, lime and orange. With textures of rich, polished fruit, the wine ends with a melange of citrus flavors. 95 Pts

3,896 Views

Tasted

Dec 21, 2010

The nose, with coaxing offered lanolin and violets with honey. Bigger and more concentrated than the 85. Ends with long, fresh, lemon, citrus oil note.

2,782 Views

Tasted

Mar 20, 2005

1988
Château Haut-Brion (Pessac-Léognan)

This is a Bordeaux for Burgundy drinkers. It is all about the fabulous nose. The wine wants to get where it needs to be, but there is a strictness to its personality and some dryness in the tannins that take over on the palate. 3 hours of decanting did not help. This is perfect for tasters bemoaning the classic taste of Bordeaux, but it really was not a lot of fun to taste.

6,021 Views

Tasted

Dec 28, 2016

Is it you, or is it me? Hard to say as I'm not yet sure if it was the wine, or the specific bottle. With effort, wet earth, cocoa, smoke, black plums and dark cherry scents are there. But the wine is a bit dry and shows some greeness in the finish. This is still young, but the style of the tannins might become more of an issue as the wine ages.

6,408 Views

Tasted

Jan 24, 2014

1988 Haut Brion greets you with tobacco, smoke, stone, cassis, earth spice aromas. Elegant, smooth, soft and open, this mature wine ends with smoky, cassis and cherry flavors.

11,912 Views

Tasted

Feb 20, 2012

1988 Haut Brion is a traditional style of Haut Brion. Cassis, spice, earth, smoke, mushroom and tobacco notes open the perfume. Full bodied and filled with ripe, juicy cassis, the wine lacks the polish and ripeness found in the top vintages. 93 Pts

12,325 Views

Tasted

Nov 3, 2010

Smoky aromatics, cassis, tobacco and fresh ground spices, full bodied, concentrated with hints of underripeness that appears in the otherwise, stylish finish, this is a good but not great Haut Brion.

5,399 Views

Tasted

Aug 15, 2007

The black fruit, tobacco and spice perfume was reticent and needed a lot of swirling to come out and play. Structured, tannic, needs time.

5,139 Views

Tasted

Mar 20, 2005

Coffee, licorice, cassis and herbal notes filled the air. Full bodied, lush, rich and tannic. Cassis and blackberry with spicy tones are easy to find in the finish. Needs another decade of sleep.

5,301 Views

Tasted

Feb 18, 2003

1988
Château Haut-Brion Blanc (Pessac-Léognan)

A definitive maderized character took over the wine. Tasting decades than what I would have expected, this is not a wine to purchase today. If you have any in your cellar, I would open it sooner than later, before it further degrades.

2,527 Views

Tasted

Oct 20, 2020

1987
Château Haut-Brion Blanc (Pessac-Léognan)

Clearly fading, the increasing levels of acidity, along with more of an oxidative quality are starting to override its remaining citrus notes. This requires drinking.

1,651 Views

Tasted

Apr 22, 2017

1986
Château Haut-Brion (Pessac-Léognan)

At 30 years of age this can easily go another 30 years without breaking a sweat. There is a softness to the powerful, ever present tannins that the other top wines from 1986 do not display. The smoky, tobacco driven nose is a treat as well. 2 hours of air will help, and ten more years in the bottle will help even more!

4,610 Views

Tasted

Mar 19, 2016

Light up a great Cuban Cigar, eat fresh cherries and blackberries and sit in an herb garden and you'll come close to recreating the perfume. On the masculine side of the style range, the wine is still youthful, concentrated, fresh and tannic. The end note is firm and a bit dry, if you have a bottle and you love old school Bordeaux, pop a cork. If you're hoping for more softness like I am, wait 5-10 more years. There is enough fruit and structure to evolve over that time. This note was taken after 90 minutes in the decanter from a perfectly stored bottle, purchased on release. 6 hours later, the wine improved but there was some dryness in the tannins in the finish. If you do pop a cork today, give this at least 6 hours in the decanter, if you bottle has been well stored.

5,122 Views

Tasted

Aug 8, 2015

Smoke and tobacco coupled with spicy cassis on the nose. There is a slight hardness to the wine. The wine finishes with a black fruit character.

6,474 Views

Tasted

May 5, 2012

Still young at 25, this Pessac Leognan is filled with smoke, tar, tobacco, hot stone, cassis, earth, blackberry and spice filled scents. Full bodied, concentrated and balancing masculinity, tannin and charm, this Bordeaux wine has years to go.

11,708 Views

Tasted

Jun 13, 2011

1986 Haut Brion offered smoke, leaf, forest floor and earthy aromas. With rough textures, the wine seemed to be slowly drying out. 89 Pts

12,134 Views

Tasted

Dec 20, 2010

With a smoky, tobacco, truffle and spice nose, this finesse style of Bordeaux, ended in an elegant spicy, cassis finish

8,107 Views

Tasted

Jun 29, 2009

Aromas of cassis, earth and minerals could easily be found. The finish was slightly clipped. Not a perfect bottle.

4,805 Views

Tasted

Mar 20, 2005

Initial barnyard notes quickly faded to an intoxicating perfume of smoke, black fruits, cassis, coffee and tobacco. Full bodied and tannic, this needs time. Big, dense layers of black fruit and a slight chalky feeling are found in the finish.

5,055 Views

Tasted

Mar 3, 2003

1985
Château Haut-Brion (Pessac-Léognan)

Just gorgeous from start to finish. The wine, with its core of smoke, tobacco leaf, tar, leafy herbs, cedar and spicy red fruits is elegant, balanced, fresh and probably at its peak. Drink this gem over the following 12-15 years.

3,689 Views

Tasted

Apr 5, 2022

Fully mature, this elegant, refined, medium-bodied wine is gorgeous to drink. incredibly silky on the palate, the nose and palate deliver Cuban cigar wrapper, smoke, ash, spice, herbs, forest leaf and pure red fruits. The finish sings its aria for ages. If you have been waiting to pull a cork, wait no longer.

5,194 Views

Tasted

Aug 2, 2021

What a beauty! This is probably drinking at close to perfection. This is all about the blend of ripe, sweet, cassis and red fruits with smokey, tobacco and cigar wrappers. Elegant, easy to drink, fresh and with silky fruits and tobacco in the endnote.

4,030 Views

Tasted

Jan 12, 2018

There is no better vintage of mature, Haut Brion in the marketplace that competes with the 1985. And for good reason. The fruit is ripe, smoky, earthy and rich. The tannins are soft, elegant and refined. There is a touch of peppery, greenery in the finish, but who cares? All the cedar, cigar wrapper, dark red fruits and plush textures are what you are going to pay attention to. Popped and poured, this was great from the get go!

4,123 Views

Tasted

Nov 16, 2017

Light up a nice Cuban Cigar, some it outside near a forest, giving you all these great, leafy, smoky, earthy scents and make sure you have a basket of fresh berries to make the bouquet complete. Polish the tannins to a silky texture and spend time with the wine, so you get feel each lingering sensation. This is ready now, and it could be even better with another 3-5 or more years of aging.

4,083 Views

Tasted

Feb 7, 2016

From a perfect bottle, this could be the wine of the vintage. Soft, silky, smooth, fresh, sweet, ripe, complex and delicious, the tannins caress your palate, the fruit lingers and the smoky, tobacco drenched character of Haut Brion really shines through. At 30 years of age, this wine is drinking perfectly. And frankly, for an Haut Brion of this quality, it sells for a song in the auction marketplace today.

4,654 Views

Tasted

Jul 30, 2015

If you are looking for power and concentration, you came to the wrong place. If silky, refined, elegant textures, a nose of smoke, tobacco, dark cherry, wet earth, cigar box and spice, and a character that can be best defined as regal is what you are after, you're going to love this wine. Decanted about an hour, this was singing! It is hard to find a better Bordeaux from 1985.

5,219 Views

Tasted

Dec 28, 2013

Crème de cassis, cedar wood, tobacco, smoke, forest floor and truffle are found with little effort. This is probably close to fully mature. Drink it over the next 10 years to get the most from this soft textured, elegant, smoky, blackberry, earth and cassis filled wine.

6,788 Views

Tasted

May 3, 2012

1985 Haut Brion opens with a complex bouquet of floral, smoke,cassis, truffle, earth, tar and mineral aromas. With soft, elegant, supple textures and a long, ripe,round, sweet finish that's filled with chocolate, blackberry and dark cherries, this wonderful Bordeaux wine is drinking perfectly today. It's probably the top vintage of any First Growth in the market today for the money. 95 Pts

8,907 Views

Tasted

Dec 20, 2011

1985 Haut Brion gets better each time I taste it. It is in competition for the wine of the vintage. Smoke, ash, leather, tar, tobacco, forest, BBQ and hot brick aromatics are all over the place. In the mouth, the wine offers soft, elegant, juicy, plums with round, plush textures. The wine ends with layers of silky, dark chocolate, black cherry and spice flavors. 96 Pts

9,005 Views

Tasted

Nov 3, 2010

1985 Haut Brion is drinking perfectly today. Great nose, concentration of flavors and balance. This is not the best Haut Brion produced in the 80's. 82 and 89 are much better wines. But who cares? With its elegant, suave, round, opulent It's drinking at the perfect place today. This is what great Claret is all about. 94 Pts

4,006 Views

Tasted

Oct 20, 2008

Smoky, cassis, earth and tobacco notes start off the perfume. This elegant,complex, suave and very sophisticated wine is drinking perfectly today. This is truly a pleasure a drink. The finsh is close to 40 seconds. My father is not a wine buff, but I get immense pleasure sharing special wines with him.

3,911 Views

Tasted

Jun 18, 2006

This mature Haut Brion offers a cornucopia of aromas. Smoke, earth, iron, spices and mushrooms jump out of the glass. The palate is bathed in a complex array of ripe, mature black fruits. This is a beautiful example of Haut Brion and the value of aging wines

3,934 Views

Tasted

Mar 20, 2005

1985
Château Haut-Brion Blanc (Pessac-Léognan)

Honey, flowers, orange rind, caramel, smoky vanilla and crisp, bright, yellow citrus and a nice pop of honeyed grapefruit is drinking perfectly today.

2,994 Views

Tasted

Aug 22, 2019

Light yellow with a hint of gold in the color, the wine is loaded with ripe, sweet, mineral-driven, citrus peel, honeyed grapefruit and floral notes. With good volume and freshness, the fruity filled, full finish leaves you with slightly honeyed lemon and grapefruit notes.

2,348 Views

Tasted

Nov 20, 2018

Deep yellow in color, with some gold. Lemon wax, floral, rocks, spice and a hint of honeysuckle appear in the perfume. More medium than full bodied, with a mineral driven, citrus finish, this bottle lacked the depth and concentration found in the best bottles. I have enjoyed much better bottles in the past. 90 Pts

5,041 Views

Tasted

Aug 14, 2012

Flowers, honey, stones and grilled nuts jumped from the glass. Thick, concentrated and probably mature with a long life ahead. Beautiful, seamless finish.

3,109 Views

Tasted

Mar 20, 2005

1983
Château Haut-Brion (Pessac-Léognan)

Slightly past fully mature, this elegant, medium bodied, finesse styled wine delivers sweet cherries, smoke, tar, tobacco and forest floor scents. Soft and refined, this lighter vintage requires drinking, as there is not enough stuffing to allow for further development. It was nice seeing this wine after so many years as it was the first vintage of Haut Brion I ever tasted.

5,471 Views

Tasted

May 19, 2013

1982
Château Haut-Brion (Pessac-Léognan)

So, this is what a cigar smoking lounge smells like on a night when everyone seems to be enjoying their favorite Cuban cigar. Add to that, cherry pipe tobacco, burning leaves, currants, blackberries, leather, tar and scorched earth and you get an idea of the perfume, The palate is loaded with elegant, silky, fresh, spicy, sweet red fruits with a delicate edge. This was a very good bottle, though, I've had even better examples, as this wine can be majestic. Drink from 2023-2042.

425 Views

Tasted

Sep 5, 2023

The development of this wine has been great. Clearly, this is now a top vintage of Haut Brion packed with layers of ripe, smoky, earthy fruits, tar, spice, smoke, tobacco leaf, cigar box and red fruits. The wine is all about its elegance, length and sensuous finish. This is fully developed and ready to go.

3,615 Views

Tasted

Apr 5, 2022

Everything about this gorgeous wine rocks. It is elegant, silky, refined, aromatic, long, complex and attention-grabbing, in a discreet manner. Popped and poured, this is at full-maturity. Honest, I could not put my glass down. It is pricey, but, if you have the dough, if the wine is well-stored, this is the real deal.

3,706 Views

Tasted

Aug 28, 2021

Holy Cow this is rocking! It is like being in a high-end smokers lounge with cherry pipe tobacco, Cuban Cigars and cigar wrappers galore! Smoked red fruits, tar, leather, campfire embers and baked red fruits are all over the place. Elegant, silky, long and intense, this is at or close to full maturity.

3,354 Views

Tasted

Oct 20, 2020

What a stunner! It's easy to get stuck just smelling the wine, with all its smoke, wet earth, hay, spice, campfire, tobacco leaf and sweet cherry nuances. But that would be a mistake if that's all you did, as you'd miss the sensuous, silky, elegant, long, refined layers of sweet and savory fruit. Delicate, but not light, the finish is long, silky, and fresh.

4,610 Views

Tasted

Dec 1, 2018

This is just a beautiful wine. It's pure silk on the palate. The fruit is ripe, sweet, fresh, subtle, and the smoky, cigar wrapper, wet earth, burning campfire and sweet, cherry notes just sing. it is hard to say what is better, the nose or the palate. And who cares? Both are equally stunning! Popped and poured, this is in the sweet spot, and it should get even better, if well stored.

4,676 Views

Tasted

Dec 16, 2017

Drinking beautifully today, the tobacco, smoke and cigar box notes perfectly frame the fresh, sweet, plums and cherries. When the earthy, truffle notes popped in, everything began coming into place. Elegant, refined and silky, the wine is a real treat today and over the next few decades.

4,256 Views

Tasted

Apr 28, 2016

Elegant, refined, regal and polished, the smoky, tobacco, wet earth, tar and dark red fruit aromatics really stand out. This is the most open of all the 1982 First Growth wines.

4,603 Views

Tasted

Jan 14, 2016

Like smoking an aged Cuban cigar, toss in truffle, sweet fresh cherries and silk and you get the idea. As this continues to age, it's taking on a more pronounced tobacco and cherry personality. There is no hurry to pop a cork. But it's clearly open, mature and secondary.

5,219 Views

Tasted

Aug 4, 2014

Smoke, tar, olives, truffle, cassis, tobacco and crushed stone start off the aromatic fireworks. Refined, elegant, soft and expressive, thee wine remains on your palate serving up a healthy dose of sweet, silky, pure red cherries. Fully mature, there is no hurry to drink it, but I am not sure how much better it's going to get. This pristine bottle was one of the best examples of 1982 Haut Brion I've tasted.

5,646 Views

Tasted

Dec 10, 2013

This was killed by the 1982 La Mission Haut Brion served at the same dinner. Elegant, perfumed, graceful, fully mature, refined, pure, soft and silky, this was a very nice wine, but it was not going to be confused with a great bottle of Haut Brion. It is important to remember that not all bottles are created alike. The next bottle could be the same, or it could be better.

5,952 Views

Tasted

Nov 19, 2013

This bottle seemed lighter in color and more advanced than other bottles tasted recently. The nose offered an array of smoke, tobacco, cigar box, ah, blackberry, cherry, earth and wet forest notes. On the palate, the wine was pure silk and velvet, but it was missing the depth found in other bottles I liked more. Once again, it's all about the provenance.

6,293 Views

Tasted

Mar 16, 2013

With a captivating, smoky, tobacco, tar, wet earth, black berry, spice, plum and cherry filled nose, the wine is pure elegance. This is not the most concentrated vintage of Haut Brion, but there is a beauty to the finesse textures coupled with a purity of spicy, sweet, ripe cherries in the finish that makes this a treat! While there is no hurry to drink this wine, at 30 years of age, I'm not sure how much more evolution will be gained by holding it longer.

7,102 Views

Tasted

Dec 28, 2012

1982 Haut Brion is loaded with smoky kirsch. tobacco, crushed stone, spice, coffee, cigar box, cedar and cassis aromas. With sexy, velvet laced textures and layers of soft, polished, ripe fruit, this wine delivers a sublime tasting experience. 97 Pts

11,561 Views

Tasted

Dec 20, 2010

1982 Haut Brion offers smoke, Mesquite wood, truffles, earth, caramel, Cuban cigar tobacco and stone aromatics. With polished, round, silky, opulent textures, this sexy wine ends with waves of soft, velvet laced fruit. This is drinking great today, But it should improve for at least another 15-20 years. 97

9,918 Views

Tasted

Nov 3, 2010

1982 Haut Brion smells like cassis was spilled over hot bricks. The perfume was further complicated with aromas of smoke, licorice, truffle, honey and wood, which added more complexity to the wine. This elegant Bordeaux wine finishes with dark chocolate and ripe black cherries. This wine continues to improve every year. It's still young, fresh and vibrant. I would not be surprised to see this get better over the next few decades or longer. Over the past few years, this wine has really improved and become a much more exciting wine to drink. 97 Pts

9,668 Views

Tasted

Oct 19, 2010

his jumps out of the glass with sweet blackberry, tobacco, herbs, caramel, smoke, under brush and truffle notes. Soft, silky and elegant, with polish and style, this still youthful Bordeaux ended with a long, pure, dark fruit filled finish.

7,939 Views

Tasted

Jun 22, 2010

This is deep ruby in color with hints of brick around the edges. Aromas of smoke, spice, cassis, plums, coffee, hot wet stones and a faint hint of licorice make an incredible perfume. In your mouth, the texture is akin to letting ripe fruit melt over your palate with countless layers of velvety, plush fruit. Everything is in balance. The wine continued improving over the few hours it remained in our glasses. This stunning Bordeaux wine personifies power, grace, elegance and lust.

6,772 Views

Tasted

Jun 28, 2009

Classy notes of smoky, cherry, pipe tobacco, tar, cedar and cassis. Very seductive and elegant. This is probably close to maturity. The style is elegant, plush and regal. The long fresh finish with its round, silky style is a treat.

4,217 Views

Tasted

Jan 10, 2008

Smoky with gobs of black fruit, tobacco, tar, spice, earth and forest floor aromas. Elegant and sophisticated in style, this plush, polished wine is a treat for the senses..

4,130 Views

Tasted

Mar 2, 2007

The wine has gained in stature and complexity. Very smoky and rich, this still young wine will continue evolving for decades.

4,144 Views

Tasted

Nov 12, 2006

Compelling aromas of smoky, black and red fruits with spices happily introduce themselves quickly. Full Bodied with ripe cassis and blackberry. Soft, elegant and polished.

4,148 Views

Tasted

Mar 20, 2005

1982
Château Haut-Brion Blanc (Pessac-Léognan)

Spicy. honey-tinted oranges and lemons, with notes of flowers and spice on the nose and palate. Lush, round, and sweet, this is fully mature, with no reason to hold it any longer. Drink from 2022-2026.

1,659 Views

Tasted

Sep 24, 2022

I have never tasted this vintage of Haut Brion Blanc before. Sadly, now I know what I have been missing. At days before its 37th birthday, this is a beauty. Lush, round, full and rich, the ripe, sweet citrus and green apple show just a hint of honey. This tastes, smells and feels great. If you are lucky enough to own any bottles of this gem, pop that cork as this is probably at its maximum peak.

2,875 Views

Tasted

Nov 20, 2018

1981
Château Haut-Brion (Pessac-Léognan)

Elegant, charming and loaded with tobacco, smoke, campfire embers, cigar wrapper, ash and red fruits, this medium bodied, refined, earthy wine needs consuming sooner than later, before the fruit continues fading.

3,994 Views

Tasted

Oct 6, 2018

1979
Château Haut-Brion (Pessac-Léognan)

Quite a charmer. From a perfect bottle, this medium bodied, finesse styled, smoky, cherry pipe tobacco, earth and forest scented wine, offered, soft, smooth, refined textures. Fully mature, do not hesitate to pop a cork.

5,361 Views

Tasted

Oct 6, 2014

1979 Haut Brion is a medium bodied wine with tobacco, kirsch, camphor, cherry and earthy aromas. Light in style, this soft, elegant wine ends with a kirsch finish. 90 Pts

8,178 Views

Tasted

Dec 20, 2010

The nose offers intense aromas of smoke, licorice, cigar box and wood scents. Very enjoyable. Medium bodied with a great silky texture, deep flavors and an elegant finish. This is fully mature but will easily last 10 more years.

6,036 Views

Tasted

Feb 22, 2004

1978
Château Haut-Brion (Pessac-Léognan)

You need to be a big of tobacco, cigar box, tar and smoke to dig this wine. But if you like that, and I do, as you look into the wine further, you find earthy, tobacco coated, red berries, earth, and forest notes. There is more to like on the mostly secondary nose, than on the palate, which is short and a little green in the finish. This is not a wine to hold, as I suspect more of the fruit will fade sooner than later.

4,802 Views

Tasted

Dec 26, 2017

1976
Château Haut-Brion (Pessac-Léognan)

Considering the vintage, this was better than expected. It's all about the smoky, tobacco, cigar box and cherry nose as the wine is light and fading. Drink up.

6,839 Views

Tasted

May 19, 2013

1975
Château Haut-Brion (Pessac-Léognan)

Much better on its tobacco driven nose, that also offered tar, leather, wet earth, cedar and cigar box charms, than on the stoic, firm, gritty palate. Lovers of older, classic wines will probably like this a lot more than I did. This is fully mature and while there is no reason to wait, I doubt at 41 years of age that it will get much better from here.

4,640 Views

Tasted

Sep 14, 2016

I was more than surprised to discover how much I liked this wine. At 40 years of age, the once hard tannins have receded, the textures have become soft, adding a previously missing elegance and charm and the smoke, tar, tobacco, cigar box and fresh, dark red fruits were finally allowed to shine. The wine is fully mature and while there is no hurry to drink it, there is no reason not to pull a cork either.

5,306 Views

Tasted

Dec 9, 2015

Rustic charm abounds in this mature vintage of Haut Brion with its tobacco, cedar, cassis and smoke filled personality. This is not going to improve, but with its massive tannin level, it's not going away quickly either. This is for fans of older, traditionally styled Bordeaux.

5,505 Views

Tasted

May 3, 2012

Old school in style, with smoke, tobacco, earth, cassis, blackberry, mushroom and forest floor aromas, this fully mature Bordeaux wine has some rough edges on the palate. The wine ends with hints of tartness in the smoky, rustic cassis filled finish.

6,699 Views

Tasted

Jul 17, 2011

1975 Haut Brion is fully mature. Tobacco, cedar, smoke, dark berries, earth, minerality, leaf and tar aromatics are easy to find. The wine has an austere, rustic side to its personality. Some green flavors are blended in with the cassis and cranberry finish. This wine will last for decades, but it will not get better and will probably dry out in time. It's a solid example of an old school Bordeaux. 91 Pts

7,620 Views

Tasted

Dec 20, 2010

Decanted 3 hours, this wine did not display the hard, austere nature of most 75's. Tobacco, smoke, spice, herbs, truffle and baked black cherry aromas drifted from the glass. In the mouth, this medium bodied wine displays an elegant side. The tannins have resolved. The wine is fully mature. While I do not know if it will improve, it's not in any danger of falling apart over the next several years.

7,974 Views

Tasted

May 5, 2009

This is filled with rich, wonderful, smoky, tar, tobacco and truffle Graves character. This medium weight Haut Brion is in an austere style, which is expected for the vintage. Still, this is one the best 75's I've tasted.

6,455 Views

Tasted

Nov 15, 2007

1970
Château Haut-Brion (Pessac-Léognan)

If the strong scent of cigar box, tobacco, smoke, wet forest and dark cherry aromatics is your thing, this wine is for you. Fully mature, medium bodied, soft, but lacking in fruit, as the secondary characteristics permeate the wine, it requires drinking, not cellaring.

4,157 Views

Tasted

Nov 9, 2016

Light in color and lighter in weight, lacking concentration. This is much better on the nose than the palate with its earthy, cigar box and smoky nose. This fully mature wine requires consumption sooner than later before the remaining fruit fades away.

5,394 Views

Tasted

May 19, 2013

1970 Haut Brion started off with smoke, cherry pipe tobacco, cassis, earth and spicy aromas. Medium to full bodied, this lighter style of Haut Brion needs to be drunk up sooner than later. Time will not be kind to this wine.

8,887 Views

Tasted

Sep 18, 2012

T n T means many things. In this case, it stands for truffles and tobacco. This wine is filled with both scents along with cassis, underbrush, leather, spice and cassis. This wine is slowly fading. Theold school finish ends with cassis and hints of tart red fruit.

9,296 Views

Tasted

Jun 12, 2010

1966
Château Haut-Brion (Pessac-Léognan)

Slightly past full maturity, the wine is medium-bodied and focused on its secondary notes of burning wood, tar, spice, leather, tobacco, cigar box, and currants. Soft, dusty, and smoky on the palate with notes of currants and cherries on the backend. This is not a wine to hold for future development. Drink from 2923-2026.

317 Views

Tasted

Sep 7, 2023

Much better on the nose, with its wonderful, smoke, tobacco, cigar box, wet forest floor and cherry pipe tobacco filled nose, than on the light, slightly rustic palate. There was a discernible green note in the finish, that took away from the earthy, red fruits. Fully mature, there is no reason to hold this any longer.

4,757 Views

Tasted

Feb 17, 2018

1964
Château Haut-Brion (Pessac-Léognan)

Smoky, medium bodied, with more tobacco, truffle, cigard box and earth, than sweet cherries in character, this requires consumption as it lacks the depth of raw material for further aging.

3,748 Views

Tasted

May 8, 2014

Light in color with smoke, tar, earth, tobacco and sweet, red berry nose. Medium bodied with soft, delicate, spice filled, strawberry and cherry finish. This is on the downside of life and requires consumption.

4,832 Views

Tasted

Oct 28, 2012

This bottle was was rockin'! From an original case, I've had 10 bottles of this wine. Most of the bottles seemed tired. But not on this night! It was dark in color with port like scents along with caramel, smoked, frilled meat, tar and tobacco aromas. Elegantly styled, this medium/full bodied wine finished with round, supple textures and spicy, smoke filled black cherry and cassis flavors. Having had this wine on numerous occasions from my cellar and from from cellars of my friends, this was the best bottle of 64 Haut Brion I will ever have. The point being, there is no reason to hold this wine. Drink 'em if you have 'em.

6,447 Views

Tasted

Jul 29, 2010

This lighter style of Haut Brion has started to fade. Aromatically, the wine offers tobacco, smoke, earth, forest, five spice and tar notes. This is better in the nose than on the palate. Medium bodied with a light, short finish that ends with cassis and spicy strawberry flavors. This was richer and more interesting a few years ago. Drink up.

6,375 Views

Tasted

Jun 12, 2010

1961
Château Haut-Brion (Pessac-Léognan)

Incredible levels of density and intensity, with a beautiful purity fruit that seems as though you were eating the berries in a cigar lounge. There is richness, silky tannins and a finish that leaves you breathless.

5,078 Views

Tasted

Feb 2, 2020

Intensity, vibrancy, concentration and complexity, what more could you ask for? OK, I'd ask for another glass of this smoke-filled, earthy, spicy, luscious, rich, full-bodied wine with its endless finish please.

3,963 Views

Tasted

Feb 4, 2019

If you ever want to experience what great Bordeaux, fully mature is all about, and if you either recently won the lottery, or have very, wealthy friends, this is the wine to buy! That should be enough of a tasting note. But for those that want details, intensely, or is that insanely concentrated, there is enough smoke, tobacco, cigar wrapper, rocks, truffle, campfire, and dark red fruits to open the first combination cigar and fruit shop. Lush, silky, deep and long this just gets better in the glass. Save your great vintages, because those should be even better at the same age.

6,769 Views

Tasted

Aug 17, 2017

When a wine leaves you speechless, that should be the end of it. There is so much concentration, intensity and richness going on here, frankly, this wine is off the charts. Blind, you would never guess this was close to the 50 year mark. The remarkable finish is still expansive.

4,721 Views

Tasted

Sep 14, 2016

Heart stopping from start to finish. The nose reminded me of walking into a store that sold only flowers, spice and Cuban cigars. The texture felt like spun silk. This is purity and elegance at its best, with a sweetness of fruit, concentration of flavor and a smoky, spicy, pure, fresh cherry finish that demanded you take another sip. The finish must have remained in your mouth for at least 60 seconds. Popped and poured, this was an incredible tasting experience!

6,189 Views

Tasted

Dec 10, 2015

1961 Haut Brion explodes from the glass. The powerful aromatics are filled with truffle, Cuban tobacco, earth, herb, rhubarb, cigar, leather and smoke sensations. This Bordeaux wine is huge, but perfectly in balance. Soft, sweet, structured, elegant and graceful is what this feels like on your palate. The long spicy, cassis and earthy finish is pure harmony. About a glass remained in the bottle overnight. The bottle was simply left on the counter and a cork was placed back in the neck. In the morning, while some of the fruit had faded, the textures and fragrance remained. Well stored bottles will easily last another 20, 30 or 40 years!

11,382 Views

Tasted

Oct 19, 2012

This was a pristine bottle that has been stored at the chateau since the wine was first bottled. 1961 Haut Brion is riveting. This Bordeaux wine captures your attention. Grabbing you like a great piece of music, each sip compels you to focus on the experience. The smells, the feeling and the flavors last long after the bottle is empty. Wines like this make memories. Smoke, tobacco, cigar box, earth, cassis, truffle, tar, crushed stone, spice, ash and wet forest floor aromas pour out of the glass. And that's just the opening act. In the mouth, the wine drenches your palate with waves of opulent, sweet, smoke filled cassis and dense, rich ripe cherries. The texture is pure silk and velvet with the weight and feel of motor oil. This elegant, concentrated, suave, regal wine is balanced, harmonious and ends with a seamless finish that lasts at least 60 seconds. 100 Pts

14,134 Views

Tasted

Dec 30, 2010

This deep colored, smoky, jammy wine had additional notes of cedar, caramel and earth. Extremely concentrated, almost dense. This had so much sexy, ripe, sweet, black fruit, I thought I was losing my mind! The finish was absolutely seamless. The palate presence was similar to silky motor oil. When you see the descriptor "Port Like" the 61 Haut Brion should be pictured next to it!

9,457 Views

Tasted

Jun 15, 2009

1961 Haut Brion tasted from two different bottles. There was a slight difference between the bottles. One bottle displayed more concentration with deeper, darker more intense flavors. The better bottle yielded an exotic perfume of spice box, tobacco, fresh leaves, truffles, soy, leather, smoke, tar and earth. Richly colored for a wine this old makes it look like a wine from the 70's. The purity, freshness and depth discovered in the wine was off the charts. Very concentrated with plush, opulent andsilky textures. As good as bottle wine was, the next wine was even better! 1945 La Mission Haut Brion out of magnum. Trust me, this was a hard act to follow. With glass in hand, I was ready.

10,871 Views

Tasted

Oct 20, 2008

This is stunningly thick, rich and dense on the palate. On the nose, this bottle was not as fragrant as other bottles.

10,173 Views

Tasted

Nov 12, 2006

1959
Château Haut-Brion (Pessac-Léognan)

While this lacks the concentration of the 1961, the otherworldly, silky texture here is off the hook! At full maturity, this breath-taking wine offers a complex array of campfire scents, burning embers, Cuban cigar, tar, leaves, and currants. The palate is even better with its waves of tobacco-drenched red fruits and earth, all wrapped up in silk. Long and expansive, this is Haut Brion!

4,270 Views

Tasted

Sep 16, 2021

Intense, full, rich, deep, complex and knocking on the door of mind-blowing, the wine provides all the sweet, earthy, ripe, pit fruit, smoke, tobacco, ash, cigar box, tar and hay nuances you can handle. Ripe, fresh, sweet, complex, and sensual, with silky tannins and a smoky, red cherry finish, this is just an inch or so behind the other-worldly 1961.

3,300 Views

Tasted

Feb 2, 2020

The smoke filled nose, with its campfire embers, cigar box, cigar wrapper, ash, tobacco and earthy, deep, red fruits creates a divine perfume. Silky, opulent and richly textured, this really lingers on your palate, which is just amazing as this is creeping up on its 60th birthday! Not as concentrated as the 1961, which was served in the same flight, but the opulent character really showed great here.

4,317 Views

Tasted

Aug 17, 2017

This is the best bottle of this wine I have ever tasted. Picture an incredibly, sexy, sensuous woman lounging in a cigar shop, and you only start getting the idea. I've posted more than enough notes on the array or tobacco and other scents that there is no need to repeat them here. What made this a breathtaking bottle was its purity of fruit, concentration and sensual, silky, elegant textures, with a finish that never quit. Paired against the 1961, (Both bottles came from the chateau) they were equally perfect, but quite distinctive in their style. This is intellectual hedonism at its best!

4,577 Views

Tasted

Sep 14, 2016

There is such a beautiful, elegance to Haut Brion, especially as it ages that it's hard not to be enthralled, anytime you get to taste mature bottles. The nose, with its truffle, cedar chest, Cigar box, tobacco, tar, smoke and wet earth nose, could keep you busy for hours. The wine has concentration, soft, polished, elegant textures and the roundness that only comes from the patina of age. The finish really lingers on, with its fresh, sweet, ripe cherries and juicy plums.

3,626 Views

Tasted

Oct 15, 2015

1959 Haut Brion is filled with smoke, truffle, cigar box, pipe tobacco, mineral, cassis and blackberry aromas. Supple, opulent, round and soft, this sensuously textured wine feels great as it slips and slides over your palate. 97 Pts

7,473 Views

Tasted

Oct 19, 2010

1955
Château Haut-Brion (Pessac-Léognan)

You can talk dirty to me like this anytime. By dirty, of course, I mean all the tobacco, smoke, tar, earth, burning wood, truffle and red fruits. Lifted, elegant, refined, silky and mind-blowing in every direction, this is the quintessential example of what great aged Bordeaux is all about. I could drink this all. OK, we did.

3,230 Views

Tasted

Oct 20, 2020

The smoke, tobacco, tar, wet earth, burning wood and red fruit aromas truly captivate your senses. Soft, supple, elegant and carrying the patina of 60 years of age quite nicely, this was a treat in every sense of the word. The wine was stood up for a few days in advance, popped and poured.

3,176 Views

Tasted

Mar 21, 2016

This was a good, but not great example of this rare treat. Still, the intensely smoke filled nose, with its tar, truffle, cigar box and spicy cherry nose, soft, elegant textures and long, sensuous, spicy, red berry finish was a thrill to sip.

3,849 Views

Tasted

Dec 22, 2014

Smoke, tar, leather, earth, tobacco, cigar box, spice, truffle, cassis, cherry and scents of incense are in full force. Soft, round, earthy and regal, this bottle had everything you want and more in a mature Bordeaux wine, including a long finish that leaves you with a myriad of assorted cherry flavors, flowing from light to dark.

4,622 Views

Tasted

Feb 13, 2014

1955 Haut Brion pops with smoke, earth, fire, cassis, BBQ, tobacco and mushroom scents. Full bodied and filled with fruit, but there is a sense of greenness in the finish along with tart sensations. This Bordeaux wine offered further proof that with age, there is no such thing as great wines, just great bottles. 90 Pts

7,549 Views

Tasted

Oct 19, 2010

1953
Château Haut-Brion (Pessac-Léognan)

Tasting fully mature at its best is one of the wine world's greatest treats, and this bottle lived up to its potential. Red fruits smothered in an ocean of Cuban cigars, burning wood, spice, and tar unfold in the perfume and on the silky, long, earthy herbal, tobacco, and red currant palate. The finish starts strong and never lets up. At 70, this is an incredible tasting experience. Though, waiting to open if you have a bottle, is not your best move. 70 is a long time for even the world's best wines to live. Drink from 2023-2028.

43 Views

Tasted

Sep 27, 2023

Mind-blowing from the initial sniff, let alone sip. The perfume could keep you busy for hours. But the palate, with its silky sensuous, elegant textured, layers of fruit, wet earth, smoke and tobacco stole the show. The finish was seamless and seemingly endless. What a wine!

3,697 Views

Tasted

Oct 16, 2018

From a bottle with the original cork still intact, the wine was splash decanted and served. From the moment the wine hit the glass, we all knew we were in for a mind blowing treat. On the nose, the smoke, tar, tobacco, cigar box, cherry and earthy perfume was off the hook. But the pure silk textures of all that sweet, ripe, smoky fruit was breathtaking. The wine was exactly what old, fully mature Bordeaux is all about. If you are like me and cannot these wines today, try and find a rich friend with bottles in their cellar as this is the type of wine that dreams are made of. Apologies to Humphrey Bogart.

4,541 Views

Tasted

Apr 16, 2016

Smoke, tar, tobacco, hot bricks, cassis, black cherry, cigar box, tar and ash are easy to find. In the mouth, the wine is soft, refined, elegant and sophisticated with a silky red and black, smoky, spice filled finish. There is no reason to hold this wine any longer.

5,412 Views

Tasted

Aug 16, 2012

Smoky, tobacco, spice, cassis, earth and mushroom scents filled your nose. The wine offered an unbelievable palate presence with its layers of ripe, dark, silky fruit that showed unique patina of age that adds to the wines sensuous, silky texture.

3,676 Views

Tasted

Nov 12, 2008

1943
Château Haut-Brion (Pessac-Léognan)

I seldom see wines produced during the war years. All things considered, this was better than expected. Light in weight, the wine was more interesting on the nose than on the palate, which offered elegant, refined textures, without much concentrartion, depth or length.

2,717 Views

Tasted

Oct 6, 2018

1934
Château Haut-Brion (Pessac-Léognan)

1934 Haut Brion from an original, never recorked bottle. Shared with my father, because it's his birth year and with Jean Philippe Delmas from Haut Brion at my house. The wine sports a ruby, tea color. Complex aromas of Cuban cigars, pipe tobacco, hot bricks, sweet cherry blossoms, spice, decaying leaves, dried fruit and coca powder are easy to find. The mouth feel is pure silk. This elegantly styled wine ends with light sensations of spicy, smoky cassis. 94 Pts for the wine and 100 Pts for the experience!

4,478 Views

Tasted

Dec 15, 2010

1920
Château Haut-Brion (Pessac-Léognan)

Probably 20 years past its prime. But so what? This is liquid history. Elements of tobacco, smoke, campfire and bright red fruits with forest leaves and a definite oxidative quality to the wine. It was drinkable. But the knowledge this was history was better than the wine.

2,043 Views

Tasted

Oct 20, 2020

1919
Château Haut-Brion (Pessac-Léognan)

While most of the fruit has long since faded away, the opportunity to experience an Haut Brion that's 100 years old was still not lost on me. Light in color, with too much VA going on, it took serious effort to find the tobacco, tar, leather and hints of red fruit buried underneath. Refined in texture, there were drips and drabs of smoked, earthy red fruit in the finish.

2,553 Views

Tasted

Feb 2, 2020