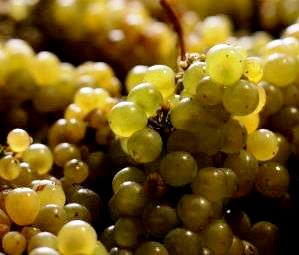 Learn everything about white Bordeaux wine with information on the best vineyards and the top chateaux making Bordeaux Blanc, the grapes used to produce white Bordeaux wine along with the taste and character of white Bordeaux wine, plus tips to help with matching white Bordeaux wine with wine and food pairings for both dry, Bordeaux Blanc and the famous sweet, white Bordeaux wines of Sauternes and Barsac.
White Bordeaux Wine Overview History
The Bordeaux wine region is most for the production of red Bordeaux wine. That is not in question. However, Bordeaux also produces close to four million cases of white Bordeaux wine per year. In fact, close to 10% of all Bordeaux wine is white. It's important to note, that was not always the case.
Not that long ago, up until the late 1950s, close to 50% of all the wine produced in Bordeaux was white. As you know now, that is no longer the case. What is interesting to know is that the change in the grapes planted in Bordeaux took only a few decades.
The move to producing mostly red Bordeaux wine began taking place after the devastating frost of 1956. The frost, coupled with consumer demand and better knowledge of the soils and terroir led to complete replanting for much of the Bordeaux wine region.
Today, the quality of white Bordeaux wine has never been better for both sweet, Bordeaux wine and dry, white Bordeaux. Much of that credit deserves to be given to Professor Denis Dubourdieu.
Denis Dubourdieu was directly responsible for many of the changes in the vineyards and the cellars that have led to an explosion in the quality of white Bordeaux wine, including using less new oak, during the vinification and aging process as well as harvesting dates and soil studies.
White Bordeaux, also known as Bordeaux Blanc is easily divided into two parts, dry and sweet. The most famous dry white Bordeaux wines are produced in the Pessac Leognan appellation. These wines are stunning and can be compared with many of the world's best white wines. They are age-worthy wines that are filled with character.
As you know from reading this website, it is the terroir that allows different grapes to be more expressive than in other appellations. In Pessac Leognan, there are cooler terroirs, due in part to a large amount of forest land, with soils that combine clay, gravel, and large deposits of limestone. These specific soils allow for the production of sublime white Bordeaux wine.
Grapes for White Bordeaux Wine
Sauvignon Blanc and Semillon are the most important grapes used for the region's dry, Bordeaux white wine as well as for the sweet white, Bordeaux wine.
However, Muscadelle and Sauvignon Gris are planted in the vineyards as well. To give you an idea of the various plantings throughout the Bordeaux region for the white wine varietals used to produce Bordeaux Blanc, the vineyards are planted to about:
Semillon 54% – 7,728 hectares
Sauvignon Blanc 36% – 5,064 hectares
Muscadelle 7% – 929 hectares
Sauvignon Gris 2% – 247 hectares
The remaining 1% is devoted to various grape varietals consisting of Colombard, Folle Blanche, Ugni Blanc, and assorted grapes in field blends. Dry white Bordeaux wine from Pessac Leognan is almost always a blend.
The rules of the appellation insist that a minimum of 25% Sauvignon Blanc be included in the blend. However, for most estates that rule is not relevant as on average, close to 70% of dry white Bordeaux wine from Pessac Leognan is usually from Sauvignon Blanc.
Character and Style of White Bordeaux Wine
The white wines of Pessac Leognan are produced in a wide range of styles ranging from light with citrus character to stellar expressions of terroir with complex perfumes of flowers, citrus, lemon, grapefruit, spice, minerals, and honey. The best white wines from the region can age for decades.
However, problems with aging white Bordeaux wine have been discovered due to the effects of premox, or premature oxidation since about 2003.
While the problem in Bordeaux is not as widespread as it is in Burgundy, it's still an issue that is being looked at. For more on premox: Premox in White Bordeaux Wine
White Bordeaux wine is complex and age-worthy. When young, tasters enjoy pronounced sensations of flowers, citrus, vanilla, lemon, crushed rocks, grapefruit, and lime. As white Bordeaux wine ages, the color deepens and the wine takes on additional characteristics of freshly cut lawn grass, honey, minerality, spice, and butterscotch.
Best Producers and Vineyards for White Bordeaux Wine
Numerous producers in Pessac Leognan make white Bordeaux wine. The undisputed king that produces the best dry, white Bordeaux wine is Chateau Haut Brion Blanc.
This is no secret to the wine-buying world as the price makes it one of the world's most expensive white wines. It sells for as much as $1,000 per bottle! Price aside, Haut Brion Blanc can also compete with any of the world's best white wines. It combines intensity of flavor with rich textures, concentration, and complexity and has the ability to age for decades.
Chateau La Mission Haut-Brion Blanc also makes one of the finest expressions of white Bordeaux wine. Similar to what takes place with the red wines of Haut Brion, La Mission Haut-Brion Blanc can be a bigger wine than Haut Brion, but it lacks the same delicate features.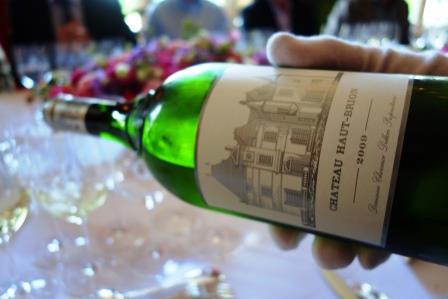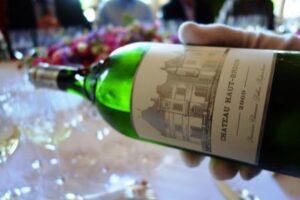 Once past Haut Brion Blanc, there are numerous choices for white Bordeaux wine from Pessac Leognan. Domaine de Chevalier, Smith Haut Lafitte, and Malartic Lagraviere are probably at the top of the pyramid. From there, you have numerous choices including LaTour Martillac, Haut Bergey, Carbonnieux, La Louviere, Olivier are a few of the other estates in the appellation making great white Bordeaux wine.
Fortunately for lovers of those fresh, crisp, citrusy-styled white wines from Bordeaux, there are also very well-priced wines from Pessac Leognan. Look for Clos Marsalette, Brown. de Fieuzal, Larrivet Haut Brion, de France, Bouscaut, Cantelys, Gazin-Rocquencourt, Lespault-Martillac and Domaine de Solitude.
White Bordeaux Wine from the Left Bank and Medoc
White Bordeaux wine is also produced in other appellations. Today, close to 200 hectares in the Medoc are planted with white wine grape varieties, with more plantings taking place all the time. Close to 100 different producers in the Medoc are making white Bordeaux wine. In fact, although in small amounts, white wine production has been taking place in the Medoc since the late 1800s. Saransot-Dupre and Loudenne were some of the pioneers that have continually made white Bordeaux in the Left Bank since the 1890s.
It is important to remember that due to AOC laws and allowable white wine grape varieties, White Bordeaux wine from the Medoc has been sold as a generic AOC Bordeaux Blanc since the appellation laws were created. That is changing in 2025. Vintners will be given the choice to sell their wine as a Medoc Blanc or AOC Bordeaux Blanc.
In fact, you find white Bordeaux wine produced all over the Medoc. In the north of the appellation; Chateau Cos d'Estournel and Chateau Tronquoy Lalande in St. Estephe make exceptional white wine. In Pauillac, Chateau Mouton Rothschild makes Aile d'Argent, and Chateau Lynch Bages are known for making strong white wine, with others on the way.
In St. Julien, Chateau Talbot and Chateau Lagrange produce dry, white, Bordeaux wine. In 2022, Chateau Pichon Lalande began producing a white Bordeaux wine from Chardonnay, Savennieres and Sauvignon Blanc.
Today, there are more estates than ever in the Margaux appellation making dry white Bordeaux. Arguably, the most famous is Chateau Margaux with Pavillon Blanc. However today, Chateau Palmer, Chateau Prieure-Lichine, Chateau du Terte, Chateau Cantenac Brown, and Chateau Brane Cantenac have all added white wine to their portfolio. Starting in 2023, Chateau Kirwan began producing Chardonnay.
White Bordeaux Wine from the Right Bank
In the Right Bank, several estates also make white Bordeaux: Chateau Monbousquet and Valandraud are two of the top producers making Bordeaux Blanc. But they are not the only famous estates with that idea. Cheval-Blanc is now also making a dry, white wine from vines planted just across the road from their famous estate. Valandraud, Chateau Tour Saint Christophe, Chateau La Fleur Morange, and Fleur Cardinale are just some of the estates adding dry white wine to their portfolio.
In 2021, Jean Luc Thunevin produced wine at Le Clos du Beau Pere in Pomerol from a tiny .5-hectare parcel of Sauvignon Blanc, making them the first vineyard to make white wine in Pomerol in over 150 years! The wine is sold as a generic AOC Bordeaux Blanc.
In the Cotes de Bordeaux and surrounding appellations, you also find chateaux producing white Bordeaux wine. In Cotes de Castillon, Chateau d'Aiguilhe produces white wine. Starting in 2022, Chateau La Brande, owned by the family from Chateau Mangot began making wine from Merlot Blanc. In the Fronsac, appellation, Chateau Fontinel introduced a white wine in 2019.
Because white wine grapes are not allowed to be planted in the Medoc or St. Emilion, due to AOC law, the wines are labeled generic, AOC Bordeaux Blanc.
It's not only the prestigious appellations that make white Bordeaux wine, value-priced white Bordeaux wine is produced in the Entre Deux Mers appellation. More white Bordeaux wine is produced in Entre Deux Mers than red wine, as well as in other Bordeaux regions, for example, Premieres Cotes de Bordeaux.
There are also numerous inexpensive, good-value, white Bordeaux wines produced from the Graves appellation that are worth seeking out as well. They are delicious, fresh, drink well young, and best of all, they are affordable.
White Bordeaux wine is produced from blends featuring mostly Sauvignon Blanc and Semillon. Although a few estates can include Muscadelle, it is not common. A very, small amount of odd white wine grapes are also planted in less prestigious areas in the region for the production of dry white Bordeaux wine; Colombard, Folle Blanche, and Ugni Blanc. Those grapes are probably used in the production of inexpensive, white Bordeaux table wine.
White Bordeaux Wine from non Bordeaux Grapes
There are now a few producers making white Bordeaux wine from grapes that are not allowed to be sold as Bordeaux because the grapes are forbidden by INAO rules from both banks. These wines are sold as Vin de France. In the Left Bank, Chateau Palmer makes a white Bordeaux wine blending of 65% Muscadelle, 25% Sauvignon Gris, 5% Merlot Blanc and 5% Lauzet.
Starting with the 2014 vintage, Chateau du Tertre started making a white wine from 42% Chardonnay, 31% Gros Manseng, 16% Viognier and 11% Sauvignon Blanc. Chateau du Retout in the Haut Medoc makes wine from a blend of Sauvignon Gris, Gros Manseng, Savagnin and Mondeuse Blanche.
In the Right Bank, there are also a few mavericks making interesting white Bordeaux wines from blends that break INAO rules. In 2013, Clos Dubreuil became the first estate in Bordeaux to make a wine from 100% Chardonnay. Hubert de Bouard of Chateau Angelus is now producing wine from 100% Chardonnay, you can expect others to follow in due time. Chateau La Gaffeliere was next in line as they are now also producing wine from 100% Chardonnay. Chateau d'Aiguilhe in Cotes de Castillon makes Chardonnay as well.
There are several other producers making interesting white Bordeaux wines from grapes not allowed to be planted in Bordeaux. Chateau Vieux Taillefer produces wine from old vines that blends Sauvignon Blanc, Semillon, Sauvignon Gris, Merlot Blanc, Chasselas, and Roussette. Blanc de Chateau Vieux Taillefer is made from 100% white Merlot grapes.
Croix de Labrie started making Chardonnay in 2015. Chateau Petit Fombrauge makes wine blending Chardonnay, Colombard, and Roussanne. What makes Franc Baudron, Petit Fombrauge and Vieux Taillefer even more unique is that their grapes are planted in the Saint Emilion appellation!
All of these wines produced using grapes that are not allowed into Bordeaux are sold as simple, Vin de France wines.
White Bordeaux Grape Harvest
The harvest date for grapes used to produce Bordeaux Blanc is the key to the quality and style of the wine. The grapes need to be picked when they have reached maturity, which in this case is when the acidity and sugars are in balance. This takes place days or weeks before the red wine grapes are picked.
Picking white Bordeaux grapes is much harder than the red wine grapes because the window of the correct moment to harvest is much shorter. When the berries are ripe, growers need to pick them right away. Leaving the grapes on the vine too long reduces the acidity and freshness of the wine.
The production of dry white Bordeaux wine.
After sorting and destemming, the winemaker needs to decide if the berries should be fermented in whole clusters, (which is popular at some of the better estates today), or not. They also make a decision about allowing the juice to remain in contact with the skin or not. Dry white Bordeaux grapes are pressed quickly after picking. The juice is allowed to settle for an average of 24 hours, allowing any unwanted solid material to settle.
From there, they need to choose the fermentation vessel. They can use stainless steel tanks, cement vats, large oak tanks or small, French oak barrels. The majority of the top estates vinify dry white Bordeaux wine in small, French oak barrels today.
However, a few chateaux begin the fermentation process in tanks before moving the juice into the barrels where the fermentation will finish. White Bordeaux wine grapes are fermented at lower temperatures than red wines.
On average, the temperatures range from 18 degrees Celsius to 20 degrees Celsius. The purpose of the lower temperatures is to slow the fermentation process, allowing more concentration and flavor to develop. Very few chateaux allow malolactic fermentation to take place.
Certainly, none of the top Bordeaux estates allow their dry, white Bordeaux wine to go through malolactic fermentation. They stop it by using sulfur. The reason for this is, they want the wines to retain their fresh, crisp characteristics.
After fermentation, the winemaker makes his choice for aging the wine. White Bordeaux wine is usually aged in the same French oak barrels the wine was fermented in, or in stainless steel tanks. However, all the top Bordeaux chateaux age their wine in varying percentages of new, French oak barrels.
Today in Bordeaux, it is more common for producers to age the wine on its lees, which results in a richer, more complex wine.
Although that seems to be open to debate as some winemakers feel aging the wine on its lees helps the wine feel softer when young, as the wine ages, there is no difference.
Some estates stir the lees, while others prefer to allow it to sit. As we mentioned, the percentage of new oak barrels used to age white Bordeaux wine varies from estate to estate. Although the current trend with white Bordeaux wine starting with the 21st century has been to reduce the number of new oak barrels used in the aging of Bordeaux Blanc.
While white Bordeaux wine from the best producers like Haut Brion and Domaine de Chevalier see extended aging of their wine in new oak, (Up to 18 months) many producers bottle their white Bordeaux wine sooner. This often takes place between 6 and 12 months after the harvest.
Pairing White Bordeaux Wine with Food.
White Bordeaux wine is perfect for a wide variety of dishes and cuisines. Due to its fresh, citrus profile, along with sweet fruits, spice, and mineral characteristics, most seafood dishes make perfect pairings. Chicken, veal, pork, sushi, Crudo, and semi, spicy dishes are great matches for white Bordeaux wine.
White Bordeaux wine and sushi can be a perfect pairing. White Bordeaux with raw oysters is another perfect wine and food pairing. Most soft, hard, or dry cheeses will also offer great wine and food pairings when served with white Bordeaux wine. White Bordeaux wine will taste and feel far better with a slight chill. Serving your Bordeaux Blanc wine at 55 to 60 degrees Fahrenheit, 15 degrees Celsius, really adds a lot to the tasting experience.
Various production figures for dry white Bordeaux wine production. 9 appellations allow the production of dry white Bordeaux wine. The most prestigious dry white Bordeaux wine, as we mentioned earlier comes from Pessac Leognan.
The production of dry white Bordeaux Blanc and the planted hectares per appellation can be divided roughly as follows:
Pessac Leognan – 267 hectares – 108,000 cases
Bordeaux Blanc – 6,721 hectares – 4.1 million cases
Entre Deux Mers – 1,571 hectares – 1 million cases
Graves – 802 hectares – 390,000 cases
Medoc – 170 Hectares – 68,000 cases
Premieres Cotes de Blaye – 216 hectares – 115,000 cases
Graves de Vayres – 95 hectares – 55,000 cases
Blaye – 90 hectares – 50,000 cases
Cotes de Francs – 25 hectares – 8,500 cases
Cotes de Bourg – 22 hectares – 8,000 cases
Sweet White Bordeaux Wine
While red Bordeaux wine is what the Bordeaux region is known for, it's also famous for the incredibly luscious, and often decadent sweet white Bordeaux wines that come from Sauternes and Barsac.
The level of sweetness matched with racy acidity is what gives fame to Sauternes. In the vineyards of Sauternes, Semillon is the king, due to what takes place when the fruit is attacked by botrytis, also known as noble rot.
For the production of sweet Bordeaux wine, while some estates use 100% Semillon, the more common practice is to blend Semillon with some percentage of Sauvignon Blanc and for some estates, small amounts of Muscadelle.
However, there are a few estates making wine from 100% Semillon, most notably Chateau Climens in Barsac. Semillon, due to its shape and lack of compactness in the bunches, is more susceptible to Botrytis. Sauvignon Blanc adds much of the acidity required in the wine.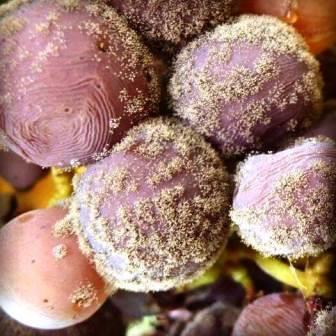 What makes these wines so special is what happens when the grapes are attacked by noble rot, also known as botrytis. You can see what that looks like in the image above this paragraph.
For botrytis to develop, the vineyards and grapes require a unique combination of elements and circumstances that must take place. The microclimate of Sauternes plays a major part in making that happen.
Mornings must be damp, coupled with warmth later in the day. This leaves the fruit without much moisture. What happens next is, the grapes become shriveled, dehydrated, and concentrated with more complex, spicy, nut, and honeyed characteristics.
These new qualities are sought after in Sauternes and other wine regions outside Bordeaux for their sweet, honey-filled, tropical, and exotic sensations.
The taste of sweet, white Bordeaux wine when young is dominated by ripe and overripe tropical fruits, pineapple, peach, nectarine, apricot, lemon, and oranges drenched in honey. Accompanying those initial fruit sensations you find grilled nuts, vanilla, spice, and scents of fresh-cut flowers.
At their best, Sauternes and Barsac wines are rich, sensuous, sweet, and braced by acidity that allows the wines to feel fresh, sweet, and intense. The texture of sweet, Bordeaux wine is plush, round, and opulent. At their best, they are rich, deep, full-bodied, intense, and complex.
Out of all the wines of Bordeaux, Sauternes enjoys the widest drinking window. The wines are delicious when young. As they age, sweet Bordeaux wine becomes darker in hue, turning from golden yellow to orange, copper, and caramel in color.
In their youth, the wines are more focused on ripe yellow fruits slathered in honey. With time in the bottle, the wines shed their initial tropical fruit flavors and begin to show more flavors and scents of caramel, butterscotch, honey, spice, and nut characteristics.
In the best vintages of Chateau d'Yquem, which is unanimously recognized by wine lovers all the world as the best wine from Sauternes, with time, notes of chocolate-covered oranges, cocoa, and creme brulee emerge. Depending on the chateaux and the vintage, Sauternes can age for decades.
In the case of Chateau dYquem, the top vintages can age for more than 100 years! Sauvignon Blanc, Semillon and Muscadelle are the grapes used in the production of sweet, Bordeaux wine.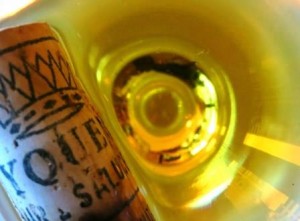 Chateau d'Yquem is the most famous and most expensive sweet white Bordeaux wine, there are numerous other estates making some of the best wines in their history today. Chateau Climens, Chateau Coutet, Chateau Suduiraut, Chateau Rieusseuc, Chateau Guiraud, Chateau de Fargues, and Chateau Raymond Lafon are just a few of the top estates making sweet, white Bordeaux wine that merit your attention.
Sauternes is the most expensive and labor-intensive wine in all of Bordeaux to produce. Most of the labor takes place in the vineyards. Because the grapes used to produce sweet, white Bordeaux wine must be affected by botrytis, the vineyards can take weeks to pick.
The reason for that is, the pickers sometimes need to pick the berries one at a time. In difficult years, the harvesters could have to make several passes through the vineyard looking for grapes with ample amounts of rot.
The yields are also incredibly low. Between 8 hectoliters per hectare and 15 hectoliters per hectare is normal. The grapes at the top estates are pressed in whole bunches using a vertical press. The wines are fermented and vinified in French oak barrels. However, some estates use tanks.
The percentage of new oak barrels and the amount of time the wine is aged in barrels varies from chateaux to chateaux. Chateau d'Yquem uses 100% new oak, while many of the other great producers use closer to 50% new oak.
While Sauternes is as you know, famous for its sweet wines, today, numerous estates also produce dry, white Bordeaux from grapes planted in Sauternes. Dry wines from Sauternes are sold as generic Bordeaux wines because they do not have the necessary amount of sugar to be labeled as Sauternes. Chateau d'Yquem, with its dry wine, sold as "Y," is the most expensive dry white from the region, almost every estate in the appellation produces one or more dry white wines today.
However, producers in Sauternes continue lobbying the INAO to create a new appellation for the dry white wine coming from their region, as it could help sales from these delicious, but difficult-to-sell wines.
Sauternes and Barsac are the most prestigious appellations for the production of sweet white Bordeaux wine, but there are other appellations that produce much more affordable, albeit simpler wines that can be quite tasty and sell for very fair prices.
Other Appellations that produce sweet Bordeaux wine
In total, 13 additional appellations also allow the production of sweet Bordeaux wine: Bordeaux, Bordeaux Superieur, Cadillac, Cerons, Cotes de Bergerac, Graves Superieurs, Haut-Benauge, Loupiac, Monbazillac, Premieres Cotes de Bordeaux, Sainte Croix du Mont, Sainte Foy, and Saint Macaire are all appellations that allow the production of sweet Bordeaux wine.
Sauternes and Barsac combined produce close to 480,000 cases of sweet Bordeaux wine in most vintages. The other 13 appellations together produce close to 500,000 cases of wine per year.
Pairing Sweet White Bordeaux Wine with Food Making wine and food pairings with Sweet white Bordeaux wine is easy. Sauternes can be enjoyed on their own, as an aperitif or dessert, or with several main courses. Some of the classic wine and food matches for Sauternes start with foie gras.
Spicy Asian cuisine, lobster, crab, and chicken dishes are perfect partners with sweet, white Bordeaux wine at the dinner table. One of the best pairings I recall tasting was Sauternes with oysters. The thick textures along with the briny quality of the oysters really came alive in that pairing.
Cheese and Sauternes are for me, a match made in heaven. However, at least to me, sweet white Bordeaux wine and equally sweet, or even sweeter desserts do not work well together. It is overkill for my palate, due to all that sweetness taking place at the same time.