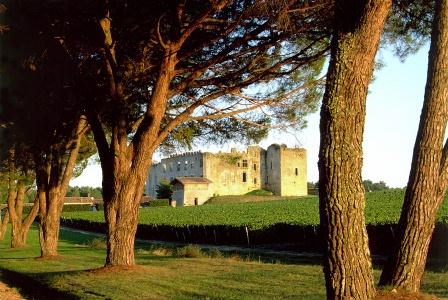 Learn everything about Chateau de Fargues Sauternes, Bordeaux with wine tasting notes, and wine with food pairing tips. Learn all the best vintages, a history of the property, information on the vineyards, and winemaking. If you want to read about other important, Bordeaux Chateaux: Links to all Bordeaux Wine Producer Profiles
Chateau de Fargues History, Overview
The historic estate, Chateau de Fargues got its true start all the way back in 1472 when the Lur Saluces family became the owners. That is three centuries before the same family took control of Chateau dYquem! Chateau de Fargues is made in the exact same manner as d'Yquem.
Chateau de Fargues is still in the hands of the Lur Saluces family today. However, the birth of the Sauternes estate took place more than a century earlier when it was founded in 1306 by Raymond Guilheim de Fargues.
The Lur Saluces dynasty was formed in part, because of Chateau de Fargues. Isabeau de Monferrand married Pierre de Lur in 1472. Jean de Lur, a direct descendent of Pierre and Isabeau, married Catherine Charlotte de Saluces in 1586 and the Lur Saluces dynasty that was to become very important to Sauternes and Bordeaux wine was now created.
However, that marriage was not the last part of the equation. That came about in 1785 with the marriage of Francoise Josephine de Sauvage d'Yquem and Louis Amedee de Lur-Saluces.
While de Fargues has a long history in the appellation that dates back centuries, it was not until the 1930s that Chateau de Fargues began producing great sweet, white Bordeaux wine. Prior to that time, much of the estate was devoted to making red Bordeaux wine.
In 1935, the first plantings of white Bordeaux wine grape varieties took place. The next important step came when Alexandre de Lur-Saluces decided to turn things around at Chateau de Fargues which started their entry into producing great Sauternes wines. 1943 was the first vintage of sweet wine produced at Chateau de Fargues. Due to the war, it was not released until 1947.
Alexandre de Lur Saluces began taking control of Chateau de Fargues in 1968, succeeding Bertrand de Lur Saluces. At the time, the vineyards of de Fargues were only 9.5 hectares. Under his tenure, he managed to increase the size of the estate to 18 hectares.
Following the sale of Chateau d'Yquem to LVMH, which was completed in 2004, Count Alexandre de Lur Saluces concentrated his efforts at Chateau de Fargues, with the assistance of his son, Philippe de Lur Saluces. Sadly, Count Alexandre de Lur Saluces passed away, July 2023 at 89 years of age. Today, the estate is managed by Philippe de Lur Saluces.
Chateau de Fargues finished the construction of their new cellars in time for their 2021 harvest.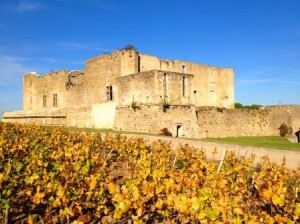 Chateau de Fargues Vineyards, Terroir, Grapes, Winemaking
The 18-hectare vineyard of Chateau de Fargues is planted to 80% Semillon and 20% Sauvignon Blanc. The vineyard has a terroir of sand, clay, and gravel soils on hillsides that rise up to 74 meters at their peak elevation.
The vineyard is divided into 34 different parcels. On average, the vines are 35 years of age and are planted to a vine density of 6,600 vines per hectare.
Chateau de Fargues has some of the lowest yields in Sauternes. In some vintages, the effective yield can be as low as 7.5 hectoliters per hectare. One important point to keep in mind about the terroir here is their unique micro-climate, which is cooler here, than in much of Sauternes. It is quite common for de Fargues to be one of the last estates to finish harvesting in the appellation.
The estate of Chateau de Fargues is massive. It covers close to 170 hectares in total! But most of the land is devoted to non-winemaking farming and verdant, pastures, parklands, and gardens. That is because much of that land is not suitable for vineyards. In fact, less than 10% of the land is devoted to the production of Chateau de Fargues.
To produce the wine of Chateau de Fargues, vinification takes place in barrel. The wine is aged in 100% new, French oak barrels for 30 to 36 months. When the estate shared ownership with Chateau d'Yquem, it was common for the property to share used barrels with Yquem. But of course today, that is no longer the case. Production on average ranges from between 1,200 and 1,500 cases of Chateau de Fargues per year.
The best vintages of Chateau de Fargues are: 2022, 2021, 2020, 2019, 2018, 2017, 2016, 2015, 2014, 2013, 2011, 2010, 2009, 2007, 2005, 2003, 2001, 1997, 1990, 1989, 1988, 1986, 1983, 1976 and 1975.
There is no second wine. However, in select vintages, the estate produces a dry, white Bordeaux wine, Guilhem de Fargues. On average, the production of Chateau de Fargues is close to 1,000 cases of wine per year.
When to Drink Chateau de Fargues, Anticipated Maturity, Decanting Time
Chateau de Fargues can be enjoyed on the young side with no decanting. In fact, it is delicious and quite a treat young, even on release! However, like all great wines, Chateau de Fargues is much better with age and does not reach full maturity until it's between 12-35 years of age, or in some years, perhaps even longer in the best vintages! That is when the magic happens! But that is unrealistic for 99% of the world's wine drinkers. So, enjoy it on any special occasion that calls for it.
Of course, the wine is sweet, but there is so much, incredible, racy acidity, the wine always feels fresh, and never cloying, which makes it quite fun to enjoy young. With Chateau de Fargues and frankly, all Sauternes, the temperature is more important than decanting.
Serving Chateau de Fargues with Wine and Food Pairings
Chateau de Fargues is best served at 14 degrees Celsius, 57 degrees Fahrenheit. The cool, almost cellar temperature gives the wine more freshness and lift. The wine will naturally warm in the glass, while it develops more aromatic complexities and fleshes out.
Chateau de Fargues can be served with seafood dishes, especially shellfish, lobster, crab, and oysters on the half shell. Foie gras is a perfect pairing with its natural sweet, salty and savory characteristics. Chateau de Fargues can also be paired with roasted chicken, veal, and pork dishes that are either spicy or prepared with a touch of sweetness. Spicy Asian cuisine, raw fish, like sushi or sashimi, and cheese, both hard and soft also make great pairings with Chateau de Fargues.
Chateau de Fargues is a beautiful style of Sauternes. While it lacks the richness and ability to age that d'Yquem offers, it's a stellar example of Sauternes that many people find similar to a young vintage of Chateau d'Yquem, especially when tasted in its youth.
Château de Fargues Wine Tasting Notes
25 Vintages 86,348 Views Sort by Vintage-Rating
2022
Château de Fargues (Sauternes)

Layers of ripe, pineapples, sweet, lemon curd, and apricots are sweet, bright, fresh, and rich, as well as long, intense, and fresh. Drink from 2025-2055. 94-96 Pts.

1,120 Views

Tasted

May 8, 2023

2021
Château de Fargues (Sauternes)

With a massive bouquet of honeysuckle to dig through before moving on to all the honey-coated pineapples, apricots, white peach, apricot and candied mango, the wine is rich, luscious, sweet and vibrant with an energetic shot of acidity on the palate to keep everything upbeat and fresh. Drink from 2023-2047. 93-95

1,548 Views

Tasted

May 20, 2022

2020
Château de Fargues (Sauternes)

Concentrated, lush and intense, the wine is already serving up its layers of pineapple, white peach, mango, tangerine and vanilla with honey-covered nuts in every sniff and sip. The palate is coated with sweetness, but the racy acidity cuts through, so you never tire of all the pleasure on your palate. Drink from 2024-2060.

562 Views

Tasted

Mar 21, 2023

Lemon chiffon, flowers, pineapple. white peach, mango and vanilla with honey-covered nuts create the perfume. Opulent, lush, sweet and fresh, due to its shot of racy acidity that runs down its spine, the buttery finish is packed with grilled pineapple, orange rind and apricots slathered with honey. 94-96 Pts

1,946 Views

Tasted

May 20, 2021

2019
Château de Fargues (Sauternes)

Quite floral in nature with its strong honeysuckle opening notes. You also find layers of ripe and overripe pineapple, apricot, lemon curd, vanilla and honey. Rich, racy, sweet, vibrant and lush, the finish delivers ample layers of roasted pineapples and honey coated apricots. Drink from 2022-2045.

656 Views

Tasted

Mar 29, 2022

2017
Château de Fargues (Sauternes)

Loads of vanilla bean, flowers, candied orange rind, honey slathered apricots and mango on the nose and palate. The right blend of sweet and racy, with a long, honeyed finish.

2,363 Views

Tasted

May 17, 2020

2016
Château de Fargues (Sauternes)

Opulent, lush, sweet, honeyed fruit coasts your mouth. The acidity gives all that, sweet, ripe and over ripe fruits just about enough lift to make it interesting and delicious.

2,026 Views

Tasted

Apr 29, 2017

2015
Château de Fargues (Sauternes)

Racy, with its acidity, this is just great. Concentrated with overripe pineapple. apricot, and assorted luscious tropical fruits, everything is coated in nuts, vanilla and honey. Concentrated and light on its feet, this is already delicious!

2,401 Views

Tasted

Mar 12, 2018

Racy, with its acidity, the sweet, luscious tropical fruits, candied citrus and apricots coated in honey are made even better with the notes of honeysuckle and vanilla. 93-95 Pts

2,388 Views

Tasted

May 3, 2016

2014
Château de Fargues (Sauternes)

Super wine here, made in a such a nice style, with all the ripe, very ripe and overripe pineapple, apricot and orange peel you can eat, as long it's all soaked in honey, and vanilla. The racy finish, with its mesh of sweetness, cut with acidity is just what you need.

1,888 Views

Tasted

Feb 10, 2017

2013
Château de Fargues (Sauternes)

Racy, with its acidity, the sweet, luscious tropical fruits, candied citrus and apricots coated in honey are made even better with the notes of honeysuckle and vanilla.

1,976 Views

Tasted

May 25, 2016

Vanilla bean, candied citrus rind and honeyed tropical fruit take up the nose. Fresh, elegant, lively pineapple and apricot coated with honey complete the experience.

2,193 Views

Tasted

Feb 1, 2016

Pineapple, honey, flowers, apricots and candied citrus are all slathered in honey. What could be a better treat? 93-95 Pts

1,500 Views

Tasted

Apr 22, 2014

2011
Château de Fargues (Sauternes)

With a nose packed with carmel corn, butterscotch, vanilla, creme brulee, honeysuckle and pineapple, this richly textured, soft, full bodied sweet treat ends with a delicious spicy note.

2,588 Views

Tasted

Feb 12, 2014

2010
Château de Fargues (Sauternes)

I love young Sauternes, especially when they combine intensity of flavor with sweet honey, fleshy textures and bracing acidity, leaving you with these great sensations of honey topped, tropical fruit, vanilla, pineapple and apricots.

3,938 Views

Tasted

Oct 25, 2014

2009
Château de Fargues (Sauternes)

Apricots, grilled nuts, honey covered pineapple. spice and vanilla notes create the nose. Rich and concentrated with ripe, honey fruit, but it feels a little dense. More acidity would add lift and give it a fresher feeling in the mouth.

2,250 Views

Tasted

Jan 25, 2012

2007
Château de Fargues (Sauternes)

Rich, lively and gushing with sweet, honey coated tropical fruits, flowers, spice and vanilla custard, the wine is long, sweet, mouth filling and fresh. If the wine fills out as it matures, and it just might, it should easily upgrade another point or two. This is a really nice style of Sauternes.

3,713 Views

Tasted

Jan 17, 2013

2006
Château de Fargues (Sauternes)

Zesty, sweet, honeyed tropical fruits, apricot and candied orange are out in force. There is good depth, volume and lift. You can certainly enjoy this now, or age it another 5-7 years.

2,983 Views

Tasted

Sep 23, 2018

2005
Château de Fargues (Sauternes)

Vanilla bean, tropical fruit, orange marmalade, peach and apricots are coated with honey in the perfume. Silky, lush, rich, sweet, fresh, round and most importantly, delicious, the wine has refreshing acidity and the perfect level of tropical sweetness.

4,120 Views

Tasted

Nov 23, 2013

2003
Château de Fargues (Sauternes)

A sweet treat indeed. Not as dense as many 2003 Sauternes, but you find more than enough vanilla, custard, apricot, pineapple and white peach with the right amount of honey and freshness to put a smile on the face of any sweet wine aficionado.

4,025 Views

Tasted

May 24, 2017

I do not know about you, but I seem to drink a lot more Sauternes around the holiday time. Fleshy, full bodied, concentrated with a low acidity profile, the wine serves up a healthy dose of honeyed apricots, overripe tropical fruit, vanilla bean, custard and floral notes. A bit more acidy would add lift, but that does not stop this from being a delicious sweet treat.

2,765 Views

Tasted

Dec 14, 2013

2001
Château de Fargues (Sauternes)

Honeysuckle, orange, peach, pineapple, nectarine and apricots coated with a blend of honey, vanilla and spice. Rich, fresh and sweet, the medium/full bodied Sauternes ends with a lively, spicy, orange and honey sensation.

3,769 Views

Tasted

Feb 20, 2012

1997
Château de Fargues (Sauternes)

This beauty is drinking in its sweet spot. Luscious, fresh, ripe and over ripe tropical fruits, white peach, pineapple, orange and apricot all blended together with candied tangerine, honey, roasted nuts, caramel and a hint of butterscotch. The right mix of sugary, decadent fruits and acidity just hits the spot.

3,811 Views

Tasted

Oct 13, 2017

1996
Château de Fargues (Sauternes)

Looking and tasting much older than its true age, the wine has taken on more of a copper coloring. Losing some of its sweetness, you find more creme brulee, orange and caramel, than sweet, tropical, honeyed fruits. This is a wine for current consuption, as my instincts say, it's only going to get worse.

3,931 Views

Tasted

Mar 24, 2017

1990
Château de Fargues (Sauternes)

I'm happy this was my last bottle, because the ripe, tropical fruits are fading. In turn, you find a lot more orange, tangerine, vanilla, creme brulee and butterscotch. Additional time will continue to lighten the fruit and bring out more acidity. This is a wine that needs to be consumed.

3,884 Views

Tasted

Dec 14, 2015

Sweet, luscious, honeyed tropical fruit and nice depth but, it could use a bit more complexity.

5,688 Views

Tasted

Feb 10, 2008

1989
Château de Fargues (Sauternes)

Fully mature, the wine exchanges concentration for purity, refinement, and freshness. Filled with yellow and orange tropical fruit, vanilla, honey, creme brulee, caramel and honeysuckle, this charmer is deceptively easy to drink.

3,273 Views

Tasted

Feb 2, 2020

1988
Château de Fargues (Sauternes)

Fully mature, this charmer has everything needed for a sweet treat. The honeyed, tropical fruit, apricots, flowers and marmalade in the nose are complicated with the addition of butter cookie aromatics and candied orange. Fresh, sweet, and lively, due to the refreshing acidity, this is at peak today.

3,157 Views

Tasted

Jul 15, 2016

1986
Château de Fargues (Sauternes)

This is fully mature, or perhaps a bit past its peak. The honeyed apricot, orange, spice and floral notes shine. On the palate the apricot and pineapple are giving way to the orange, spice and marmalade side of the style range. If you are sitting on any, there is no reason for further cellaring.

3,777 Views

Tasted

May 25, 2018

1983
Château de Fargues (Sauternes)

This is filled with layers of tropical, honeyed fruit. Still young and vibrant.

2,318 Views

Tasted

Dec 17, 2006

1975
Château de Fargues (Sauternes)

Copper with orange and rust in color, scents of spice, apricot, pineapple, orange oil, honey, roasted nuts and a hint of coconut are found in the perfume. Previous showings offered more sweetness and depth of flavor on the palate. If had another bottle, I'd be drinking this sooner than later as it's starting to fade.

3,791 Views

Tasted

Jun 17, 2012