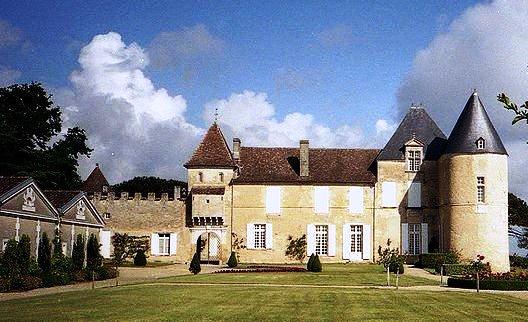 Learn everything about Chateau d'Yquem Sauternes, First Growth, Premier Cru Superieur with wine tasting notes and wine with food pairing tips. Learn about the best vintages, a history of the property, information on the vineyards and winemaking. If you want to read about other important, Bordeaux Chateaux: Links to all Bordeaux Wine Producer Profiles
Chateau d'Yquem History, Overview
While wine lovers, collectors, chateau owners, winemakers, and others can enjoy arguing which is the best wine of a specific appellation, there is only one wine in the world that is the undisputed best wine in the region. We're not just talking about Bordeaux, we're talking about any of the world's wine-producing regions.
That unique honor goes to Chateau d'Yquem. Chateau d'Yquem is the only wine that almost everyone, everywhere agrees stands heads and shoulders above every other wine in the appellation. This becomes even more apparent when you're at Chateau d'Yquem. Located on the top of a hill, you really feel like you're in a different world that looks down on the rest of Bordeaux.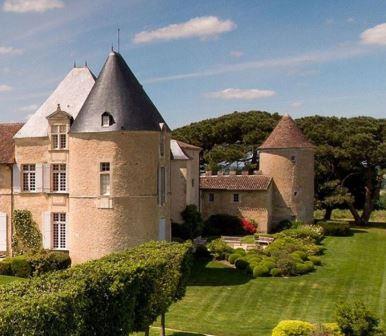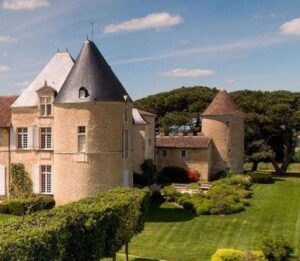 Chateau d'Yquem is not only the most famous chateau in Sauternes today, the estate has an exalted reputation dating back to the middle ages when d'Yquem was owned by the King of England.
At the time, the King was also the Duke of Aquitaine. Skipping ahead 150 years later, in 1593, a noble family, Jacques Sauvage, was given feudal tenure over d'Yquem. Shortly after taking over the property, the Sauvage family built the present Chateau in Sauternes that we know today.
The Chateau at d'Yquem still looks very much as it did in those days. It feels like a castle. It was the Sauvage family that changed the grape varieties in the vineyard in 1642 to 100% white wine grapes. Prior to 1642, at least 20% of the vines were planted to red wine grapes.
Was d'Yquem producing sweet or dry wine at the time? Archives prove that special Bordeaux wine growing practices and late harvesting already existed in the 1500s in the appellation. By 1666 they were starting to make wine with grapes that were attacked by noble rot. So, yes the wines were sweet, but not nearly as sweet as the wines produced at Chateau Yquem today.
Chateau d'Yquem by this point in time was already prized for its sweet wines by wealthy wine lovers like Thomas Jefferson, the third president of the United States loved the wine. He bought several cases of it for his own cellars.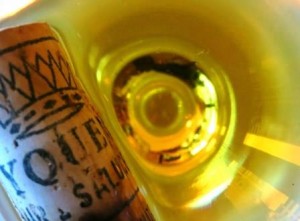 During World War 1, Chateau d'Yquem was used as an army hospital. Following the war, Marquis Bertrand de Lur Saluces, son of Eugene took over the estate for the next 50 years. During World War 2, Chateau d'Yquem once again served as a military hospital.
As a special thank you from the French soldiers that were treated there, they planted a chestnut tree that can be seen slightly past the walls of the chateau. Bertrand de Lur Saluces, also served as the President of the Union des Crus Classes de la Gironde for forty years.
He was instrumental in determining many of the AOC regulations for the Sauternes appellation when it was officially created. He was also one of the leading proponents of chateau bottling to guarantee authenticity.
Chateau d'Yquem The Modern Age
Bertrand de Lur Saluces designated one of his brother's sons, Alexandre de Lur Saluces, to take over managing Chateau d'Yquem in 1966. Bertrand Lur Saluces passed away two years later.
Count Alexandre de Lur Saluces perpetuated his family's tradition as manager of Chateau d'Yquem for more than 35 years. During his tenure, Chateau d'Yquem becomes one of the first major estates to fight fraud by introducing a watermark on their label.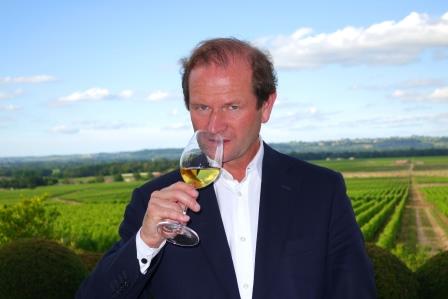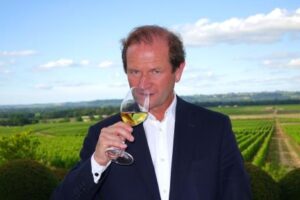 In 1996, LVMH purchased half of the shares of Chateau d'Yquem for one hundred million dollars. The relationship between the new owners and the family members was tempestuous and inspired multiple lawsuits that dragged on for years
After a long, bitter court battle and multiple lawsuits between a myriad of heirs, the Count arranged for L.V.M.H/Moet-Hennessy-Louis Vuitton to purchase the remaining shares of the property in 2004. They named Pierre Lurton, who was already managing their other property, Chateau Cheval Blanc in St. Emilion to manage Chateau d'Yquem.
Most top Bordeaux wine is only sold as futures. Because d'Yquem is released 4-5 years after the vintage, (Due to extended barrel aging) it was not sold as a future until the 2000 vintage.
The new owners changed that policy. Starting with the 2003 vintage, the wine was sold as a future. In 2011, due to the slowing economy and the lackluster interest in the 2011 Bordeaux futures campaign, the chateau issued a statement saying they were not going to offer the 2011 d'Yquem as a future. That changed again with the 2018 vintage, as Chateau d'Yquem stopped selling their wine En Primeur.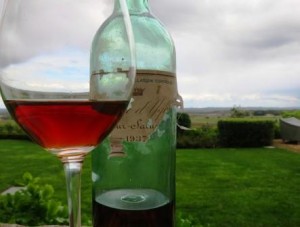 While expensive at more than twice the price of every other wine from Sauternes, when the wine matures, Chateau d'Yquem stands head and shoulders above every other sweet Bordeaux wine from the region as well as every other sweet wine from any vineyard in the world! Chateau d'Yquem holds the record for the world's most expensive bottle of white wine. In 2011, at an auction, a single bottle of the historic 1811 d'Yquem was bought for $117,000!
Chateau d'Yquem Vineyards, Terroir, Grapes, Winemaking
The vineyard of Chateau d'Yquem has 113 hectares of vines. However, it is important to note that only 100 hectares of vines are planted at any given time. The vineyard of Chateau d'Yquem is planted to 80% Semillon and 20% Sauvignon Blanc.
Today Semillon and Sauvignon Blanc are planted in their own, respective parcels. That was not always the case. In the early part of the 20th century, the vines were often co-planted, although they were divided by the same ratio that exists today.
The terroir is at the highest elevation in Sauternes reaching up to 80 meters of elevation. This awards the vineyard a unique microclimate. The micro-climate is paramount, because it allows for winds from the east to move through the vineyard, helping to remove unwanted, excessive moisture, especially later in the growing season, as the noble rot sets in.
And due to its elevation and soils, you also find more effective drainage here. The vineyard has 3 undulating slopes that range in height from 30 meters to 80 meters, (262 feet). At its peak elevation, the vineyard faces north, in the direction of the Garonne river.
The terroir is a combination of clay, gravel, and sand over a bed of deep, limestone soil. The clay varies, depending on the parcel. You can find deposits of clay with limestone and even some of the same blue clay that makes up the soil of Petrus.
The large deposits of clay are one of the main differences separating Yquem from other vineyards. There are a total of 150 different parcels in the vineyards of Yquem. It is the blending of the parcels, soils, grape varieties, clones, and rootstocks that produce the magic of Chateau d'Yquem. The vines are on average 25 years of age. Generally speaking, vines are replaced before they hit 50 years of age.
Harvest at Chateau d'Yquem
The grapes are always picked by hand, berry by berry. During harvest, it can take multiple passes through the vineyards to harvest berries with enough ripeness and Botrytis. Due to the intensive sorting and berries attacked by Botrytis, yields have always been low at Chateau d'Yquem, ranging from 8 to 10 hectoliters per hectare.
One way to look at the reality of those low yields is to consider that each vine, delivers only 1 glass of wine! Those low yields have remained constant for centuries. Interestingly, part of what makes the wine of Chateau d'Yquem stand out is that the fruit is harvested with different levels of Botrytis, which adds complexity, sweetness, and acidity, the three main components needed to produce great Sauternes wine.
Botrytis cinerea is a fungus that infects and attacks grapes. It is better known as noble rot, due to the special and sought-after qualities it imparts to the fruit. This rot needs specific conditions to develop, dampness or humidity in the morning, coupled with warmth later in the day.
This leaves the fruit without much moisture. The grapes become shriveled, dehydrated, and concentrated with new characteristics. These new qualities are sought after in Sauternes and other wine regions outside Bordeaux for their honey-filled, tropical, roasted nut and exotic sensations.
It's important to note that grapes are never harvested when it rains, or in the morning, to avoid dew. It takes on average 180 different pickers divided into 4 separate groups during harvest time to complete the picking. This comes out to 2 pickers per hectare, which explains the intense selection and sorting that takes place here.
Starting with the 1992 vintage, Chateau d'Yquem instituted their own massal selection program. The vineyard is always in the process of being replanted. To maintain their average age, between 2 to 3 hectares of vines are replaced each year.
Close to 10% of their vineyard remains uncultivated. Instead, that land is used for parkland and grazing pasture. Prior to 2019, only organic fertilizers from manure comes from animals that grazed on their land. In 2019, Chateau d'Yquem became 100% organic in all their farming. In 2020 Chateau d'Yquem began its conversion to 100% biodynamic in all their vineyard management practices.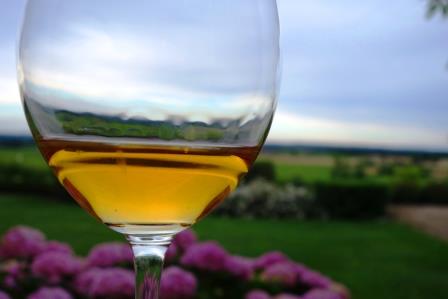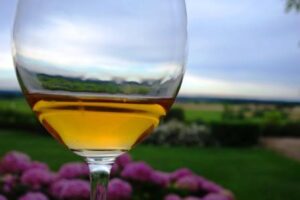 Making wine at Chateau d'Yquem
To produce the wine of Chateau d'Yquem, it all starts in the vineyard with the desire to pick only the ripest possible fruit that has been attacked by Botrytis. This is a labor-intensive process that requires multiple passes in the vineyards.
In difficult vintages, pickers have made as many as 13 passes, hoping to find berries to the satisfaction of Chateau d'Yquem. Once the fruit is sorted, the grapes are pressed 3 times using pneumatic presses for the first two pressings. The final pressing is conducted in a vertical press.
The juice from the third press is vinified separately and if it is used, it's blended in after the barrel aging. It can take from 2 to 6 weeks for the alcoholic fermentation to be completed. The amount of time depends on the vintage and the sugar levels.
The vinification takes place in 100% new, French oak barrels. Another change in the winemaking at Yquem is the amount of time the wine spends aging in new oak. The wine is aged in different barrels that are arranged depending on the picking date of each parcel during the harvest.
In total, it can take as many as 400 barrels each year to hold the entire production. While the wine of Chateau d'Yquem is made in the vineyard, it takes a little help n the cellars. This is accomplished by the technical director Francis Mayeur and Sandrine Garbay, the cellar master who along with Pierre Lurton, is a large part of the face of the estate.
In 2011, the estate changed its vinification process. In prior vintages, in order to halt to fermentation process to retain higher sugar levels, they reduced the temperature. But since 2011, they have added sulfur to stop fermentation.
Prior to 2000, Yquem was aged for an average of 36 months in 100% new, French oak barrels. Today, Yquem spends only 30 months in 100% new, French oak barrels. The grapes come from up to 40 different parcels. The blending of the parcels and both grape varieties take place about 10 months after the harvest for between 80% and 90% of the harvest.
The remainder of the wine is blended in, or not, slightly prior to bottling. Chateau d'Yquem on average produces close to 10,000 cases of wine per vintage.
Sugar levels of Chateau d'Yquem
Of course, d'Yquem is a sweet wine. But how much sugar is in Chateau d'Yquem? In the 20th century and before, it was common for vintages of d'Yquem to have average sugar levels that ranged from 80 grams per liter to 120 grams per liter. Today, the goal is for more sweetness, which can range from 120 grams per liter to 140 grams per liter.
The rise in sugar levels and thus viscosity has also been accompanied by freshness, from acidity. This leveling balance is a large part of what gives the wine of Chateau d'Yquem its unique character.
Style and Character of Chateau d'Yquem
Chateau d'Yquem is no like no other sweet wine in the world. It combines compelling aromatics of flowers, honey, tropical fruits, vanilla, stone, apricot, white peaches, grilled nuts, and oranges when young. As the wine ages, it takes on a deeper color with an orange copper hue and starts to show scents of caramel, butterscotch, and honeyed tropical fruits. With more time, the wine develops chocolate tones are as well
Chateau d'Yquem is concentrated, rich, and deep, but even with all that sweetness going on, there is a spine of racy, acidity that keeps the wine fresh and lively. The textures are pure silk and velvet. Yes, other sweet white Bordeaux wines can deliver similar characteristics to varying degrees when young, but when most other wines have dropped their fruit, Chateau d'Yquem continues to age and evolve.
It is not uncommon for the best vintages of Chateau d'Yquem to deliver intense pleasure at 100 years of age if they were well stored. While Chateau d'Yquem is expensive, it delivers a unique tasting experience, coupled with the ability to age for decades, and in the best vintages, there is no other wine that competes at the same level.
When Chateau d'Yquem is first bottled, it shows a dark yellow or gold hue. With aging, the color changes and begins getting darker. 40-year-old d'Yquem could resemble caramel, while bottles twice that age, could have the color of dark coffee.
Something else to consider, when d'Yquem is young, not more than 25 years after the vintage, the flavors will better resemble honey, drenched tropical fruit. As the wine ages further, often those yellow tropical fruit flavors fade and tasters experience flavors of caramel, burnt toast, spice, and creme brulee.
The best vintages of Chateau d'Yquem are: 2022, 2021, 2020, 2019, 2018, 2017, 2016, 2015, 2014, 2013, 2011, 2010, 2009, 2007, 2005, 2003, 2001, 1997, 1996, 1990, 1989, 1988, 1986, 1983, 1976, 1975, 1967, 1962, 1959, 1949, 1947, 1945, 1937, 1929, 1927, 1921, 1893, 1869, 1847 and 1811.
When to Drink Chateau d'Yquem, Anticipated Maturity, Decanting Time
Chateau d'Yquem can be enjoyed on the young side with no decanting. Of course, the wine is sweet, but there is so much, incredible, racy acidity, the wine always feels fresh, and never cloying, which makes it quite fun to enjoy young. With Chateau d'Yquem and frankly, all Sauternes, the temperature is more important than decanting.
Chateau d'Yquem is delicious on release. But d'Yquem does not reach full maturity for 35-50 years, or even longer in the best vintages! That is when the magic happens! But that is unrealistic for 99% of the world's wine drinkers. So, enjoy it on any special occasion that calls for it.
Serving Chateau d'Yquem with Wine and Food Pairings
Chateau d'Yquem is best served at 14 degrees Celsius, 57 degrees Fahrenheit. The cool, almost cellar temperature gives the wine more freshness and lift. The wine will naturally, slowly warm in the glass, while it develops more aromatic complexities and fleshes out.
Chateau d'Yquem can be served with seafood dishes, especially shellfish, lobster, crab, and oysters on the half shell. Foie gras is a perfect pairing with its natural sweet, salty and savory characteristics. Chateau d'Yquem can also be paired with roasted chicken, veal, and pork dishes that are either spicy or prepared with a touch of sweetness.
Spicy Asian cuisine, raw fish, like sushi or sashimi, and cheese, both hard and soft also make great pairings with Chateau d'Yquem.
Chateau d'Yquem Dry White Wine
Chateau d'Yquem also produces a dry, white Bordeaux wine called "Y," which is pronounced (Ygrec). The wine is only made in select vintages. The first vintage for the production of dry, white wine at Chateau d'Yquem took place in 1959.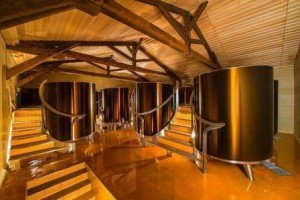 To make the dry white Bordeaux wine of d'Yquem, the fruit the estate uses does not only come from declassified grapes. Most of the berries are picked before the harvesting of the grapes for the production of Chateau d'Yquem has started.
When harvesting for Ygrec, the vines and grapes are chosen prior to harvest. However, while one bunch of Sauvignon Blanc on the vine is designated for Ygrec, the remaining bunch can be used for d'Yquem, if the necessary amount of noble rot develops.
For the Semillon used in Ygrec, the grapes are harvested just prior to the full development of noble rot.
Close to 80% of the parcels used to produce their dry white wine can change from vintage to vintage.
The blend of "Y" is normally close to 80% Sauvignon Blanc and 20% Semillon. Interestingly, this is almost the complete opposite of the grape blend that is placed in Chateau d'Yquem! Since 2000, it has become more common to see vintages of "Y," than in previous years.
This is due to an increase in production. However starting with 2005, Ygrec has been made in every vintage. Today, slightly less than 1,000 cases are produced of "Y" each year.
To produce the dry white Bordeaux wine from d'Yquem, the wine is vinified in stainless steel vats. In fact, in 2012, the estate added several new, gleaming, stainless steel for the vinification. There is no malolactic fermentation. The wine is aged in 50% new, French oak barrels for an average of 10 months.
During its aging time, the wine is aged on its lees. This marks a major change in the wine, as previously, the wine was aged for up to 18 months in barrel before bottling.
Starting with the 2011 vintage, the chateau completely redesigned the label for "Y". The dry white wine of Yquem, "Y" is sold as a Bordeaux Superieur Blanc. Chateau d'Yquem does not produce a second wine. Instead, they declassify unwanted grapes or wine.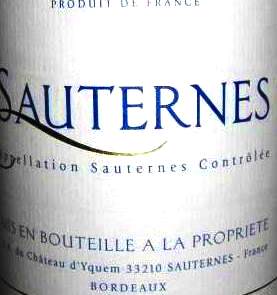 While the estate strives to make vintages of Chateau d'Yquem every year, that is not always possible. Chateau d'Yquem ended up declassifying the entire harvest and did not make wine in the following vintages, 1910, 1915, 1930, 1951, 1952, 1964, 1972, 1974, 1992, and 2012.
Even with as many as thirteen separate passes in the vineyards, as the grapes were not up to their high standard to produce a wine worthy of Chateau d'Yquem, they did not produce any wine in those years.
So, what does Chateau d'Yquem do with the declassified wine? In the past, declassified grapes that were not used in the production of their dry, white wine "Y", were sold off in bulk and used to produce a generic, Sauternes wine.
Today, declassified grapes are also used to produce a special blend of declassified d'Yquem that is only available to employees through internal sales at the property. The wine is not meant to be sold as a commercial product. The wine is classed as a generic AOC Sauternes wine.
Château d'Yquem Wine Tasting Notes
72 Vintages 1,137,675 Views Sort by Vintage-Rating
2020
Château d'Yquem (Sauternes)

On the fresh, bright vibrant, racy side of the style range with a focus on its complex core of honeysuckle, dried oranges, apricots, lemon curd, saffron, marzipan, pineapple, vanilla, and just the right drizzle of honey to top everything off. It is cut, and defined, with length, purity, lift, and ample acidities giving lift, length, and vibrancy, as well as richness, balance, and complexity. I love this style of d'Yquem because it works as a sweet wine that can be enjoyed either on its own or with a myriad of savory courses. So, if you cannot keep your hands off it, enjoy it on the young side for all its luscious, sweet, ripe, overripe, racy fruits, or age it for decades as it gains secondary nuances. Drink from 2025-2065.

2,284 Views

Tasted

Mar 21, 2023

2019
Château d'Yquem (Sauternes)

Light, yellow, gold in color, the wine pops on the nose with its showy display of flowers, honeysuckle, candied apricots, orange rind, pineapple, mango, lemongrass, vanilla and spice. Perched on the corner of richness, sweetness and acidity, the wine is opulent, fresh, sweet, rich and most-importantly, lifted, so everything feels upbeat and racy on the backend. Because the wine has so much lift and energy, it will be easy to pair with a diverse array of cuisines. You can enjoy this young, without much if any age for its sweetness and exuberance. Or age it for secondary characteristics and nuances. Produced from a blend of 55% Semillon and 45% Sauvignon Blanc, 2019 has the highest percentage of Sauvignon Blanc ever used in d'Yquem. You find more Sauvignon Blanc this year due to the shortened picking window. But as you can see from my notes, or from tasting the wine, it really works here! Drink from 2025-2075.

4,791 Views

Tasted

Mar 29, 2022

2019
Y de Yquem (Bordeaux)

Green apples, lemon wax, flowers, dried pineapple and honeysuckle make for an exotic perfume. The wine is fresh, crisp and slightly honeyed with touches of vanilla and yellow fruits with a touch of spice found in the lifted endnote. You can enjoy this on release, or age it for 15-20 years for more exotic nuances. Drink from 2022-2040.

2,301 Views

Tasted

Mar 29, 2022

2018
Château d'Yquem (Sauternes)

Elegant, creamy, fresh, sweet charmer. While this lacks the density and verve found in the very best vintages, there is more than enough ripe and overripe pineapple, vanilla, roasted apricot, mango, candied orange rind and honey to keep any taster busy. Luscious textured, rich and opulent, this will be delicious in its youth, and it also has the ability to age for decades.

2,875 Views

Tasted

Mar 9, 2021

2018
Y de Yquem (Bordeaux)

Waxy lemons, grapefruit, lemon curd, green apple and honeysuckle all make an appearance in this fresh, mineral driven, yellow citrus and tropical orange focused wine.

2,168 Views

Tasted

Mar 9, 2021

2017
Château d'Yquem (Sauternes)

Clearly one of the great vintages of d'Yquem of all time, this stunner is off the hook from the initial sniff. Roasted apricots, overripe pineapple, vanilla, mango, marzipan and creme caramel all topped with honey keeps you focused on the wine. If that isn't enough when the wine crosses your palate, the weight, volume, intensity and richness discovered in the layers of honey-slathered tropical fruits, vanilla and apricot. What makes everything work is the razors edge of acidity that gives the wine the necessary lift. Like all great wines, you can enjoy this young, but if you have the patience, or young children to gift this to, this will be markedly better in 20 or more years.

3,340 Views

Tasted

Feb 26, 2021

Crisp notes of vanilla, marzipan, pineapple, mango, orange rind, flowers, and candied apricot are right there, as soon as wine the moves from the bottle to your glass. On the palate, the wine is full-bodied, fresh, sweet, ripe and zippy. There is length, purity and precision. The lingering pineapple, apricot and sweet, lemon curd on your palate gets life from the jolt of racy acidity that runs down the middle. This is a top vintage for Chateau d'Yquem that is defined by its vibrant, freshness. What made 2017 so good, is the speed in which the sugar levels reached maximum potential. The harvest took place September 26 - October 13. The wine was made from blending 75% Semillon and 25% Sauvignon Blanc, reaching 13.6% with sugars hitting 48 G/L. The Grand Vin was made from 40% of the harvest.

6,761 Views

Tasted

Nov 2, 2018

2017
Y de Yquem (Bordeaux)

A splash of freshness in the glass, the wine pops with loads of just-squeezed grapefruit, lemon peel, vanilla, line, passion fruit, tangerine and honeysuckle. Vibrant and juicy on the palate, all this needs is fresh seafood to make a perfect pairing.

3,230 Views

Tasted

Nov 12, 2018

2016
Château d'Yquem (Sauternes)

Chateau d'Yquem is great at any age, and this just-released beauty is no exception to that rule. The wine combines high levels of sweet, ripe, tropical fruits, honey coated apricots and pineapple. with freshness, giving the wine lift and freshness. This is going to offer superb drinking for at least 50 or more years.

4,388 Views

Tasted

Nov 12, 2018

Fat, sweet, tropical fruits, apricots and Mandarin oranges slathered in honey, vanilla and flowers. This is quite rich, powerful and concentrated. It has more freshness than the 2003, but not as much freshness as you find in 2013. Still, this is complex, deep, long and intense, yet remarkably light on its feet. This will age much longer than I will.

8,066 Views

Tasted

Apr 29, 2017

2016
Y de Yquem (Bordeaux)

Pale yellow in color, you find yellow citrus, lemongrass, pineapple, lime, crushed rock and floral notes open the nose. The green apple and citrus palate is fresh and refreshing. The wine was made from blending 70% Sauvignon Blanc and 30% Semillon. This splash of energetic, crisp fruit on your palate comes with sensations of lightly honeyed tropical fruit and rocks holds.

3,363 Views

Tasted

Nov 2, 2018

2015
Château d'Yquem (Sauternes)

What a beautiful wine from start to finish. The perfume with its pineapple, butter, vanilla, flower, ginger, apricot, and honey nose connects with your senses. The wine is concentrated, lush, opulent, and powerful, with layers of sweet, ripe, and overripe, tropical fruit, vanilla, butterscotch, and honey works, due to its multiple waves of fruit that is braced by more than ample acidity, that hangs with you for a solid 60 seconds. Drink from 2023-2075.

344 Views

Tasted

Sep 10, 2023

The botrytis is strong in this one. From the moment your nose meets the glass, the nutty aromatics stick out like a sore thumb. Lush, sweet, rich and opulent, the intensity found of the tropical fruits does not quit. Pineapple, apricot and nutty sensations remain with you for at least 60 seconds. The wine is concentrated, lush, opulent, vibrant and has the ability to age for generations.

8,005 Views

Tasted

Sep 17, 2018

Stunning in every sense of the word, the wine has an incredible level of sweetness; concentration of flavor, acidity and sweet honeyed, perfectly ripe and overripe tropical fruits. It is almost too much of a good thing. Note, I said almost! Yet, everything is in an amazing sense of balance and harmony. The finish must stay with you for at least 60 seconds or longer. Made from blending 80% Sauvignon Blanc and 20% Semillon, the wine reached 13.9% ABV with a pH of 3.65 pH. The wine is incredibly sweet with 144 grams per liter of sugar, but this is all kept in check due to the 6.2 grams per liter of total acidities. The harvest took place from September 3, to October 21. They took 4 passes through the vineyards this year. 99 - 100 Pts

13,138 Views

Tasted

May 3, 2016

2015
Y de Yquem (Bordeaux)

A slightly, lusher, rounder, sweeter style of Y de Yquem, combining incredibly ripe, pineapple, white peach, flowers and a dab of honey in the background. Even with more opulence in this year, the racy acidity blasts over your palate.

3,252 Views

Tasted

Nov 2, 2018

2014
Château d'Yquem (Sauternes)

Very much on the honeyed, citrus side of the style range. Lots of sweet, ripe, very ripe and overripe yellow fruits, ranging from pineapple and grapefruits to candied lemons. There is a lot of sweetness to the wine, paired with bracing acidity at 4.9 grams per liter, coupled with 135 grams of residual sugar, for those of you that like the numbers. This could be a thinking man's Yquem.

8,000 Views

Tasted

May 1, 2015

2013
Château d'Yquem (Sauternes)

Everything you want in a sweet wine is here. The vibrant acidity, layers of ripe and overripe tropical fruit, ladles of honey and freshness in the finish, which just keeps on going.

5,089 Views

Tasted

Jul 6, 2017

I should be embarrassed, having tasted this wine everyday for close to a week. But it's so good, I kept going back for more. And who could blame me? It is everything a great sweet wine should be. Blazing acidity, fat, rich, ripe and over ripe pineapples, apricots, peaches, nuts and honey that does not quit, with a fresh quality amidst its layers of unctuous, honey drenched fruit. Made from a blend of 70% Semillon and 30% Sauvignon Blanc, if you're a fan of sweet wines, this is clearly a glass of wine you need to taste and drink!

6,603 Views

Tasted

Jul 6, 2015

Intense notes of grilled nuts open this intoxicating perfume of pineapple, orange, tangerine, vanilla custard, lemon curd, honey, candied grapefruit and spice. Intense, fat, concentrated and deep, the wine is long, lively and fresh with a honeyed pineapple and toasted, brioche finish. Interestingly, the wine will follow the pattern that took place with the 2011 Yquem and will not be offered as a future. 96-98Pts

7,762 Views

Tasted

Apr 22, 2014

2013
Y de Yquem (Bordeaux)

Fresh squeezed pomello, vanilla, lemon rind, flowers and the perfect honey accent kick things off. Vibrant citrus, stone and clean, fresh lemon carry this the rest of the way through.

2,865 Views

Tasted

Oct 5, 2014

2012
Château d'Yquem (Sauternes)

No Chateau d'Yquem was produced in 2012. The entire harvest was declassified.

4,167 Views

Tasted

Jun 3, 2022

2011
Château d'Yquem (Sauternes)

One sniff is all it takes before you're immersed in its web of overripe apricots, pineapple, exotic spices, flowers, white peach, roasted nuts, and honey. But, of course, the real excitement here is on the palate, with its wall of perfectly ripe, sweet, very sweet, and incredibly sweet, tropical fruits, mango, pineapple, vanilla, and lemon creme all coated with honey. Even with all this unctuosity, with all of its racy acidity, the wine is as vibrant as it is sweet. With all of its layers of sweetness, it is never tiring to taste, instead, it is an upbeat, thrill ride that can age for at least 50 or more years. Drink from 2023-2080.

3,764 Views

Tasted

Feb 12, 2023

This beautiful Sauternes offers intense aromatics packed with overripe pineapple drenched in honey, roasted nuts, apricots, nectarines, white peach, flowers, orange rind and honey in the complex perfume. Thick, rich and intense, with the viscosity of motor oil, along with tropical fruit dripping with honey and the perfect amount of acidity for the 144 grams of residual sugar to give this elixir lift, 2011 Chateau d'Yquem is majestic. I do not think it's quite at the same level of quality as the legendary 2001, but it's not that far off. 98-99 Pts

9,187 Views

Tasted

Apr 29, 2012

2011
Y de Yquem (Bordeaux)

Electric citrus, white a hit of white peach, honeysuckle, vanilla, flowers and crushed rocks hits your nose and palate. The wine combines a strong, racy nature and fresh, sweet, tropical citrus notes that hits the spot, especially with fresh seafood. Having some older vintages recently, this also ages quite well.

2,895 Views

Tasted

Nov 2, 2018

2010
Château d'Yquem (Sauternes)

Leaning to, but not quite at the orange side of the style range, the wine serves up its floral, spice, candied orange, apricot, roasted nut, pineapple, vanilla and creme brulee nose. There is richness, intensity, opulence, sweetness and freshness. The wine is youthful, yet approachable, honeyed, but not cloying, balanced and vibrant. You can enjoy this today, in a decade, or in 50 years your kids can toast you.

4,086 Views

Tasted

Apr 5, 2022

Richly textured, with layers of fat, sweet, ripe and overripe orange hued tropical fruits, pineapples, mango, white peach and apricot, all slathered in honey and tinged with vanilla. Tightly wound at the moment, there is ample acidity awarding the wine lift, as well. This feels sweeter and the textures are even more opulent than usual at the moment, even with all the acidity. I suspect it will just need time to develop and come together.

5,521 Views

Tasted

Nov 2, 2018

2010
Y de Yquem (Bordeaux)

With a distinctive floral edge to the crisp, yellow, citrus and grapefruit notes, you also find hints of apricot. The wine is bright, fresh, clean and refreshing.

3,172 Views

Tasted

Nov 13, 2017

2009
Château d'Yquem (Sauternes)

Young, rich, opulent, silky, fresh, vibrant, full, and deep, with enough blazing acidity to allow all the layers of vanilla and honey-coated orange and yellow tropical fruits to bathe your palate again and again with this stunning, sweet treat. OK, so this is still obviously young, and primary, but it is such a delicious experience now, that it was impossible to put my glass down. Patience might be a virtue. But there are times when patience is over rated.

5,147 Views

Tasted

Jul 5, 2022

Still just a baby as you would expect, yet it is impossible not to be blown by the juxtaposition between the insanely concentrated levels of ripe and over ripe, honey drenched tropical fruit and the bracing acidity that gives the wine life. Everything here is off the hook. This is so good today, I wish I had a bottle tonight. But if I had the wine in my cellar, as tempting as it might be, I'd wait at least 1 more decade, or better yet, 2 before I started thinking about popping a cork.

5,196 Views

Tasted

Sep 20, 2019

Stunning levels of concentration, ripe, very, ripe, extremely ripe and over ripe tropical fruits, vanilla, coconut, flowers, honey and spice. Silky textures and a sweet, honeyed finish that does not want to quit.

7,385 Views

Tasted

Oct 5, 2014

Thick, rich and intense, with powerful, fresh, sweet, pure waves of ripe and over ripe tropical fruit drenched in honey, nuts, crème brulee, vanilla, orange and honeysuckle, the wine coats your tongue, mouth and palate with sweetness, yet there is the right amount of acidity to give it lift. This stunning vintage of Chateau d'Yquem should outlive anyone reading this tasting note!

8,143 Views

Tasted

Mar 22, 2013

2008
Château d'Yquem (Sauternes)

Light in color and in weight, this vintage of Chateau d'Yquem wine offers with a nose of flowers, honey, apricots and pineapple. Medium bodied, with zesty acidity, this lighter style of Sauternes feels more like a Barsac on the palate. It lacks the weight, density and concentration of a great Yquem. The finish ends with fresh orange rind, pineapple, roasted nuts and apricots lightly drizzled with honey. For the price Chateau d'Yquem is selling for, I want to be blown away when I taste the wine. 2008 d'Yquem is a nice wine, and it repsents what was possible with the vintage. But that's not what I want or expect for this much money or from Chateau d'Yquem.

6,452 Views

Tasted

Jul 22, 2011

2007
Château d'Yquem (Sauternes)

Unctuous, and equally racy, this full, rich, deep glass of sweet pleasure hits all the right marks. Layers of ripe, fleshy, tropical fruits slathered in honey, along with roasted almonds, vanilla, coconut, candied orange rind, and overripe pineapples from start to finish. In a decade, this will be off the hook.

4,296 Views

Tasted

Jul 5, 2022

Even in its infancy, it is impossible not to fall in love with this golden beauty. Lush, concentrated, sweet, opulent, fresh and loaded with all the rich, honeyed pineapples, tropical fruits, apricots and vanilla you need.

6,019 Views

Tasted

Jul 18, 2018

So young, but equally delicious, it is impossible not to love this. Rich, concentrated, luscious fruits, lift and energy with a finish that delivers layers of tropical fruits, pineapple, white peach, honey, vanilla bean, apricot and spice.

6,046 Views

Tasted

Jul 6, 2017

WOW! At just 10 years of age, it's impossible not to be blown away by this wine. Rich, concentrated, unctuous and packed with multiple layers of sweet, ripe and and very ripe golden fruits, honey, flowers and vanilla. What makes it all work is the blazing acidity that keeps it all so fresh and vibrant. You can wait decades for full maturity, and it will be worth the wait. Or, you can just pop a cork and enjoy the thrill ride as young Sauternes are not much better than this.

4,302 Views

Tasted

Apr 15, 2017

I've often heard that you really cannot drink enough Yquem, can you? While I really believe that's true, I'm looking forward to the day we find out for sure. Sip after sip of laser focused, perfectly ripe, tropical fruit, citrus, apricots, vanilla, white peach and nectarine all slathered in honey with incredible levels of freshness made each sniff, swirl and swallow a treat. This is quite primary, but the fruit and textures are so gorgeous, it's difficult not to love the wine in your glass.

8,119 Views

Tasted

Jun 24, 2016

Very sweet, powerful and concentrated, with fresh, lively, honey drenched tropical fruits, vanilla and floral notes. The wine has depth, complexity and length. Now, all it needs is a decade or two of bottle age.

6,211 Views

Tasted

May 13, 2015

I wish I could afford this elixir. It has all the right stuff with its racy personality and decadent layers of juicy, ripe, honey coated tropical fruits, spices, vanilla, nuts and coconut. The wine is perfectly balanced between sweetness and acidity, with freshness and a beautiful purity of fruit. It sort of reminds me of the 1989 d'Yquem in its youth, except that was only $75 a half bottle.

6,272 Views

Tasted

Mar 22, 2013

Some wines, due to the fame of the marquee, light up the faces of eager tasters when they are opened. The list of wines deserving of those accolades is short and sweet. Speaking of sweet, at the top of the pyramid of the world's sweet is Chateau d'Yquem. With its track record of successful vintages, that's where it belongs. 2007 d'Yquem is another great success for the chateau! With a deep gold color, the nose explodes with honey, flowers, white peaches, nectarines, orange rind, vanilla custard, nuts and overripe pineapple. There is an intensity of flavor, multiple layers of sweet, ripe, honey drenched fruit and the perfect amount of acidity to give the wine ample lift keeping it fresh.

8,800 Views

Tasted

Dec 26, 2011

2007
Y de Yquem (Bordeaux)

Lemon, lime, fresh citrus, grapefruit, green apple and vanilla scents lead to a bright, round, open, citrus and grapefruit packed finish. The style of this wine is going to please some tasters more than others.

5,867 Views

Tasted

Nov 24, 2013

2006
Château d'Yquem (Sauternes)

Bright, sweet, juicy, fresh, and vibrant, the wine leans to the orange fruit side of the style range with a cornucopia of ripe, and overripe candied mangos, apricots, tangerine, and pineapple. There is a wealth of sweet fruit along with bracing acidity that comes through in a discreet style. Drink from 2022-2060.

3,472 Views

Tasted

Jul 8, 2022

It take little effort to find the ripe, sweet, tropical fruits, apricot, candied orange peel, pineapple, vanilla, floral and honey notes in the nose. The wine is sweet, with luscious textures, freshness but not as much lift as you find in the best years. This is not cloying per se, but more freshness would really make this pop. Still, the sweet, luscious, unctuous, honey coated tropical fruits and vanilla in the finish are more than enough to put a smile on your face.

5,006 Views

Tasted

May 25, 2016

Better than the previous vintage, with its showy nose of vanilla, coconut, orange rind, apricot, marmalade, pineapple and white peaches that were soaked in honey for weeks on end. The wine is rich, intense, pure and refined, but it's not the most concentrated or exotic style.

6,543 Views

Tasted

Mar 22, 2013

2005
Château d'Yquem (Sauternes)

This treat offers everything you could want in a sweet wine with countless layers of honey-slathered, vanilla-tinted ripe, and overripe tropical fruits, roasted nuts, and apricots. Rich, luscious, and also bright, crisp, vibrant, and racy, this is so good now, that it is impossible to put down your glass. But is only going to get better from here with additional years of bottle age. That is part of the magic and allure of Chateau d'Yquem! Drink from 2022-2070.

3,951 Views

Tasted

Jul 8, 2022

Buttery, lush, sweet, ripe and overripe pineapple, apricot and orange rind coated with honey and vanilla beans are found on the nose and palate. Rich, full-bodied, luscious and sweet, the blazing jolt of acidity keeps the wine up and the taster interested. Like all vintages of Yquem, the wine takes several decades to achieve full maturity. And also like all the best vintages of d'Yquem, it's just delicious to enjoy in its youth.

5,931 Views

Tasted

Nov 12, 2018

This seems to be holding much of what it has to offer in reserve. With effort, the floral, pineapple, apricot and spiced honey came out. Concentrated, and pure, this is a very good wine, but it is probably not going to morph into one of the great Yquems.

5,705 Views

Tasted

Jul 6, 2017

Incredibly young as you might expect, yet, delicious to drink already, due to its honey, vanilla, creamsicle, pineapple upside down cake nose. Fresh, sweet and concentrated, the long finish leaves you with loads of honey coated, pineapples and apricot sensations. If this is the only vintage of d'Yquem you own, I get why you might want to pop a cork. But patience will add a lot to the wine.

6,890 Views

Tasted

Dec 15, 2016

With a nose that won't let go, due to the intense floral, apricot, honey, pineapple, vanilla, custard and white peach aromas that take over the room. On the palate, the wine is rich, sweet, intense, long and fresh, serving up the difficult combination of honey coated fruit and acidity.

5,951 Views

Tasted

Jun 28, 2015

2004
Château d'Yquem (Sauternes)

A nice Sauternes, but not am impressive d'Yquem. The wine is more expressive on the butterscotch, orange and semi tropical, honeyed nose, than on the palate, where you have all the acidity from a great year, without enough of the flesh and sweetness.

4,067 Views

Tasted

Apr 1, 2018

Not a very generous vintage of Yquem. Yes, there was sweetness in the fruit with touches of honey on the tropical nuances, but there was no real wow factor here. This is a nice enough sweet wine, but it is never going to be a great vintage of Chateau d'Yquem.

4,430 Views

Tasted

Oct 17, 2017

A nice Sauternes, but not a great d'Yquem. More interesting on the tropical, fruit filled nose, than on the palate, this will age well, but it's never going to deliver the fireworks many have come to expect from d'Yquem.

5,742 Views

Tasted

Jul 6, 2016

With a nose of vanilla, honey, flowers, apricot and tropical fruits with orange accents, the wine is rich, sweet and spicy with a honey coated, orange sickle and pineapple finish with refreshing acidity, but lacking the concentration and levels of sweetness found in the best years.

6,290 Views

Tasted

Jan 4, 2015

2004
Y de Yquem (Bordeaux)

Bright, peppy, energetic blast of grapefruit, lemon and honeysuckle with loads of fresh, yellow citrus with just a hint of honey in the finish. This is drinking in its sweet spot today.

2,352 Views

Tasted

Jul 31, 2019

With a tropical fruit edge, this reminded me of a dry Sauternes, when served double blind. Slightly oily, with plenty of crisp, citrus notes, the finish offered a touch of honey along with vibrancy.

2,822 Views

Tasted

Nov 13, 2017

2003
Château d'Yquem (Sauternes)

Consistently, this is a beautiful Sauternes. Fat, but not cloying, the notes of buttered pineapple, apricots, candied orange rind, caramel, butterscotch and flowers come through easily. Rich, concentrated but with energy and lift, this luscious treat continues getting better and better.

5,198 Views

Tasted

Dec 15, 2020

Rich, fat, unctuous, sweet and complex, while still an infant, the wine already shows off its creme brulee, molasses, butterscotch, orange rind, melted butter, cinnamon cloves, almonds and overripe apricots, pineapple and vanilla easily. There is a lot of volume here. The wine is hedonistic, palate-coating and frankly irresistible. Drink now, or in 10-20 or 30 years.

7,173 Views

Tasted

Dec 18, 2019

The initial baby fat from the low acidity is barely noticeable today. The wine is now popping with its perfect combination of freshness and honeyed sweetness. The layers of honey drenched tropical fruits, apricots, white peach, vanilla and a hint of custard taste, smell and feel great. Drink this now for its youthful pleasure or wait decades for an entirely different experience. It's a beauty and for d'Yquem, it's fairly priced, especially when you factor in its high quality and style.

4,930 Views

Tasted

Sep 10, 2016

2003 d'Yquem is a fun wine to taste. It's absolutely delicious! It's spicy, thick, sweet, lush, fat and opulet in character with its layers of over ripe, honey drenched, juicy, pineapple, apricot, tropical fruits, vanilla and nut filled character. Not as complex as the best vintages of Chateau d'Yquem, and not quite as fresh, this is still a stunning sweet, white Bordeaux wine. And it sells for a very fair price for d'Yquem these days. Drink it now, or age it for decades.

6,969 Views

Tasted

Oct 23, 2013

While d'Yquem is never inexpensive, recent vintages are appallingly expensive. It's not realistic for buyers to purchase futures, or new releases for more money than previous vintages. 2003 marks the last realistically price year for d'Yquem. This is good news because the wine is fabulous. It gets better each time I taste it. With an ocean of fat, super sweet, incredibly ripe, dense, thick waves of pineapples, apricots, oranges, tangerines, peaches and nectarines all coated with macadamia nut honey, vanilla and nuts, it's a treat to sniff, swirl and best of all sip. It's not the 2001, but it's a beautiful d'Yquem that sells for less than half the price.

6,236 Views

Tasted

Mar 22, 2013

When first tasted on release, the wine was much thicker and seemed in need of higher levels of acidity as the wine felt slightly cloying. Over the past few years, this is starting to mature in a good direction. This will not cause any taster to forget the sublime 2001, but the wine has starting to come together and feel fresher, with better balance in the mouth. Layers of fresh pineapple, apricots, grilled nuts, nectarines and orange peel dipped in honey make up the wines flavor profile. Give this another decade and you should see a lot of improvement, if you can keep your hands off it.

11,578 Views

Tasted

Jan 3, 2012

With the color of spun honey, this impressive Yquem offers a rich nose of honey, apricots, spice, orange rind, vanilla, peach and pineapple. Thick, intense, powerful and sweet, this wine really coats your mouth. The long finish is stuffed with ripe, honey drenched tropical fruit. This is a low acid vintage for Yquem, so the it lacks a little bit of lift. But the fruit shows much intensity and purity, it's exciting to drink even at this young age.

7,769 Views

Tasted

Apr 12, 2010

Layers of rich, over ripe, tropical fruit dipped in honey with coconut accents. The wine has the perfect dose of acidity giving it freshness and lift.

4,068 Views

Tasted

Apr 21, 2008

For my palate, this majestic elixir is the best Yquem since 1990, following the flawless 2001 of course. Tasted 3 times with the same results, this rich, unctuous, ripe, intensely concentrated wine explodes from the glass with a cornucopia of honeyed, floral, spice and tropical scents. The wine glides across your palate in continuos waves of sensuous, ripe, sweet fruit. 2003 is like a blend of 88 & 90 to me. Very dense, powerful and concentrated. A little more acidity would have pushed the score higher.

4,316 Views

Tasted

Oct 20, 2007

2002
Lur-Saluces "Y" (Bordeaux Supérieur)

With an interesting nose combining Riesling like petrol scents with the smells of tropical fruits and citrus rind, the wine is fresh, elegant, plush and drinking in a great place today.

3,679 Views

Tasted

Apr 16, 2016

Y is the dry white wine of Chateau d'Yquem. This powerful, intense, concentrated wine is filled with ripe tropical fruit, vanilla, floral and mineral notes. This richly textured wine, lingers on your palate with sensations of lightly honeyed tropical fruit and rocks.

5,089 Views

Tasted

Jul 29, 2010

2001
Château d'Yquem (Sauternes)

Honey, flowers, apricots, pineapples and spice might be what you initially notice. But it is the compelling balance between the incredible levels of richness, sweet honey-slathered yellow fruits and blazing acidity that rocks your glass! Still a baby, this is probably going to be a 100-year wine!

8,625 Views

Tasted

Aug 31, 2021

OK, this is too young. But it is so incredibly good, who cares? The array of roasted nuts with cashews and almonds leading the pack were perfect with the roasted, overripe, sweet, honey-coated pineapple. vanilla, marzipan and apricots. Rich, sweet, intense and unctuous, but due to the bolt of racy acidity, the wine was never cloying or tiring to drink. Two of us managed to polish off a split on a hot afternoon. The only issue was, it was too bad we didn't have a full-bottle, so we could have enjoyed some the next day.

8,695 Views

Tasted

Apr 27, 2020

Not even close to mature, but who cares? This is so good. Unctuous, fresh, concentrated, sweet and complex, the endless layers of ripe, very ripe, and overripe apricots, pineapples, and assorted tropical fruits all slather with honey is a show stopper! But that would not be possible without all of the wines concentration and the blazing bolt of acidity that gives the wine the fuel it needs to jump up, and keep on going. Drink this now, or leave it for your kids in 50 years, or your grandchildren in 100 years. It's that good!

10,030 Views

Tasted

Feb 18, 2019

This rockstar wine never fails to please the palate and the senses in every way. Incredibly concentrated, yet light on its feet. Sweetness galore, but with the racy acidity needed to give it lift. The fruit has the beautiful, sense of purity and everything is slathered in honey. I need more!

10,137 Views

Tasted

Dec 24, 2016

What can I say that hasn't already been said? Purity, intensity, freshness, density and complexity in spades. This is as good as a sweet wine gets. The scary thing is, it has not even budged towards maturity. Having tasted Yquem at 80 years of age, current owners will never see it. But who cares as this is damn delicious today?

11,021 Views

Tasted

May 12, 2015

Take the ripest, juiciest pineapple you have ever seen, meaning today, just touching brings the juice out, tomorrow, it will begin falling apart. Place it in a hot pan filled with butter, brown sugar, honey and apricots for the aromas. Drizzle in the juice of a Meyer lemon to give it all the acidity it needs and sip slowly, to experience the full essence of its stunning, unctuous personality. The wine does not go softly into the good night as the finish remains for more than 60 seconds!

10,921 Views

Tasted

Oct 30, 2014

This is a thrill a sip wine. It's so young and so beautiful in all its fresh, ripe, pineapple, floral, vanilla, creme custard, honey nut glory. The sweetness is perfect and the racy acidity takes it to another level from there. If you're over 50, start drinking it now for the pleasure. If you're under 30, save it for 30 years.

12,359 Views

Tasted

Dec 21, 2013

If some artists or performers are known and described by only one name, Jimi, Picasso, Matisse, Madonna, Garbo, perhaps the only descriptor needed for this wine is 2001 d'Yquem. I know that works for anyone lucky enough to have tasted this nectar. The best vintage since 1975 for the estate is off the charts, in all the right ways! It blends intense, massive layers of pure, ripe, honey drenched fruits with bracing acidity give it a laser like focus that is found in few other wines. While it's not close to maturity, drinking this now is a thrill a sip ride. If you lay down a few bottles for your kids, OK, make that your grandchildren, they will remember you fondly.

14,568 Views

Tasted

Mar 22, 2013

It's funny. I taste this wine at least a few times a year and I seldom take notes, thinking I've already posted a current view on this sexy, sweet elixir. I was surprised to see only one note published. Time to fix that situation. If aromatics are your thing, the blast of fresh green apples, apricot, smoke, caramel, white peach, molasses and pineapple slathered in honey is the right place to start. Thick, rich, intense and packed with countless layers of ripe, and over ripe fruit, the wine ends with a dense, silky, fat, opulent finish. The zippy acidity keeps everything where it should be. Drink this now, or save for your kids, kids and let them taste their first 100 year old wine.

14,835 Views

Tasted

Dec 12, 2012

This perfect Sauternes gets better every time I taste it. Thick, rich, ripe, extremely concentrated with honeyed, tropical fruit and the right jolt of racy acidity to give it lift and keep everything in balance.

14,476 Views

Tasted

Jun 12, 2009

2000
Lur-Saluces "Y" (Bordeaux Supérieur)

Green apples, rocks, stones, flowers, and orange rind mix with a dash of honeysuckle and caramel in the nose, leaving you with freshness and nuances of saffron, orange, apricot, and yellow citrus on the back end. Drink from 2023-2028.

268 Views

Tasted

Sep 4, 2023

With hints of peach and apricot, that adds a touch of sweetness to the strong citrus component, the wine is medium bodied, bright and crisp.

2,956 Views

Tasted

Nov 13, 2017

1999
Château d'Yquem (Sauternes)

More interesting on its nose with all of its butterscotch, honey, butter, caramel, orange, and bright pineapple notes. Medium-bodied, energetic, crisp, and fresh with honeyed, yellow tropical fruit and orange pith on the palate. This is a very bright, semi-sweet style of d'Yquem. Drink from 2022-2030.

3,299 Views

Tasted

Aug 14, 2022

Other than the label, there is no reason to own or buy this wine. An abundance of better choices at half the price are available from the 01 vintage. Light honeyed yellow fruit without much centration of boytrytis make this an easy pass.

3,960 Views

Tasted

Dec 12, 2004

1998
Château d'Yquem (Sauternes)

Medium bodied, lighter style of d'Yquem, with a lean to the orange, apricot, tangerine side of the style range. This is an Yquem that does not require, or even ask for decades of age. It's quite tasty today.

5,132 Views

Tasted

Jul 12, 2016

Due to the lack of botrytis in the vintage, I was not expecting to like the 1998 d'Yquem as much as I did. I love it when a wine shows much better than expected! The nose was filled with vanilla, honeysuckle, apricot, pineapple and spice. Medium/full bodied, sweet, round and lush, the wine ends with a delicious mouthful of candied orange, apricot, spice, vanilla custard and sweet pineapple.

7,583 Views

Tasted

Aug 22, 2012

1997
Château d'Yquem (Sauternes)

This is one of the better buys for Chateau d'Yquem these days. What a beautiful expression of sweet wine. The nose pops with sweet, ripe and overripe pineapple, apricots, spice, coconut, creme de caramel, candied orange rind and butterscotch. Rich, sweet, lusciously textured waves of honey-coated tropical fruits on the mid-palate, that come along with the right shot of acidity make this an effortless sweet treat to drink. This is fabulous today and it is only going to get better from here for the next 2-3 or 4 decades!

5,330 Views

Tasted

Mar 29, 2021

On a rapid path to full maturity, the wine delivers a beautiful, purity of ripe, and over ripe tropical fruit, honey, floral and spice notes, all wrapped up in an elegant, silky, opulently, textured bundle.

5,895 Views

Tasted

Aug 29, 2016

The nose is complex, with time, buttered popcorn, caramel, butterscotch, candied orange, honey, pineapple and apricot scents emerge. Fresh, sweet, concentrated, vibrant, long and not at all heavy or cloying, this is still quite young, yet, with its all its attributes, it's a treat to drink today. Patient consumers will be happy in 10, 20, 30 or or more years I'm quite sure. This was the perfect end to a great Thanksgiving dinner.

5,496 Views

Tasted

Nov 27, 2015

Opened for International Sweet Wine day, this was a stunner. White peaches, flowers, apricot and pineapples were slathered in honey and vanilla. The wine is rich, concentrated, full bodied and luscious, with sweetness, viscosity and freshness. Still young, this is great now and it's only going to get better with 5, 10, 20 or 30 years of age, depending on how you like it.

6,516 Views

Tasted

May 9, 2015

Another fabulous tasting experience. It's a treat to sample the balancing act between the layers of perfectly ripe, honeyed tropical fruits and the acidity that keeps everything lively and fresh. Still young, you can pop a cork today for its youthful exuberance, or wait a few decades for the caramel, butterscotch and spicy notes to appear.

5,863 Views

Tasted

Nov 23, 2014

Drinking d'Yquem never gets old. The beautiful, perfectly ripe tropical fruit drenched in honey, vanilla and spicy tones, coupled with racy acidity keeps the wine fresh and exciting. Still young, the wine has barely moved, except in texture. But you do not have to wait for decades to experience this wine. It's great today and will be even better if, or when your grandchildren open it. That is... if you can keep your hands off it.

6,472 Views

Tasted

May 29, 2014

If you want Chateau d'Yquem in your cellar and you do not want to spend the money for the 2001, run, do not walk and buy this wine. It's a very good example of what makes Yquem great! With the perfect level of acidity to create freshness and lift, the extremely ripe pineapple, apricot, tropical fruit, floral, vanilla, nut and spice aromas are worth the price of admission. On the palate, the elegant wine is not heavy, it's about balance, purity and sweetness, coupled with lift. If you like your Sauternes young, and most people do, pop a cork! If you prefer waiting, there is no hurry on this winner.

7,642 Views

Tasted

Sep 2, 2013

Medium rich with honeyed, tropical fruit notes and vanilla. This is a very well made Yquem, perfectly balancing acidity and sweetness. But, it lacks the concentration, depth and level of botrytis found in the best years. For my palate, this is probably what a vintage like 70 or 71 tasted like young.

4,782 Views

Tasted

Aug 6, 2007

1996
Château d'Yquem (Sauternes)

A beauty that is already fun to taste and enjoy for its honeyed, apricot, spice, pineapple, orange peel and vanilla bean profile. Low acid and fat in style, this glass of sunshine and pleasure hits the sweet spot.

6,766 Views

Tasted

Jul 14, 2014

Pineapple, apricot and tropical fruits coated with honey and nuts in the perfume, there is a sweetness and intensity of overripe orange and spicy tropical fruits coated with honey, with enough acidity to keep the wine fresh. This already drinking well and should for decades.

6,353 Views

Tasted

Mar 22, 2013

1996 Chateau d'Yquem opens to exotic scents of honey coated, apricots, vanilla, white peaches, flowers, roasted nuts, orange rind and pineapple. This rich, sweet, thick, full bodied wine is filled with honey drenched, tropical fruit with the perfect amount of acidity to give it lift. Still young, another decade will add a lot to this stunning Sauternes.

8,158 Views

Tasted

Jul 21, 2011

1995
Château d'Yquem (Sauternes)

The is a clearly a nice Sauternes, but it's not a great Yquem. Made in a discreet, subdued style, the typical flamboyance, wealth of fruit and bracing acidity is just not there.

3,848 Views

Tasted

May 20, 2016

This is d'Yquem light. If you're a fan of vintages like 1999, you will like this more than I did. The fruit is sweet, soft and open. There is a nice honeyed, tropical character to the wine, but it lacks the concentration and depth found in the top years for this wine.

6,394 Views

Tasted

Dec 21, 2013

1994
Château d'Yquem (Sauternes)

It's almost always exciting to taste any vintage of d'Yquem. Especially one that you've never seen before. On the other hand, there's an exception for every rule. 94 Yquem is the exception to the rule. This could have been a bottle of "Y", the dry wine produced by Yquem. It lacked concenttration, sweetness and botrytis. Petrol, apricots and unclean flavors, plus a large tab for an overpriced wine is what you'll find in this vintage of off Yquem. This is not a bad wine, it's a poor Yquem. There is a difference. This is not a wine to buy.

7,345 Views

Tasted

Jan 3, 2011

1990
Château d'Yquem (Sauternes)

This bottle was riveting. Bordering on perfection, the incredible blend of concentration, intensity, sweetness, vibrance, purity, length, and most importantly, its racy lift makes this one of life's great, sweet treats. Drink from 2023-2075.

899 Views

Tasted

Sep 1, 2023

1990 d'Yquem continues gaining complexity. Now you find an enthralling perfume packed with roasted apricots, overripe pineapple, butterscotch, creme brûlée, toasted marshmallow, spice, flowers and honey. On the palate the unctuous wine is poised perfectly between its waves of sweet honeyed fruit and racy acidity. As good as it is now, it's only going to get better over the following 3-5 decades or longer!

5,146 Views

Tasted

Aug 2, 2021

From a half bottle, purchased on release, the wine is loaded with buttery, pineapple, apricots, orange and honey, with floral accents and a hint of butterscotch. Plus, rich, round, sweet and lively, the wine is just starting to show its secondary development. Talk about pure pleasure in a glass.

6,065 Views

Tasted

Feb 3, 2019

Served in Reidel Sommelier glasses, the aromatics exploded with an array of secondary notes. I mention the glasses, because I have never experienced all the buttered popcorn, creme caramel, Cointreau, brown sugar, crème brulee, melted butter and white chocolate aromas that were sitting on top of the honey coated, tropical fruits before. Dense, but not overbearing, rich, but not cloying, fresh, but never overly acidic, everything was in perfect balance and harmony. The scary thing is, the wine is just starting to enter its second phase of development. What happens in the next 30 years is going to be even better!

8,407 Views

Tasted

Oct 5, 2017

Like all great wine, this just keeps improving with age. I should age as well. Rich, luscious, opulent and concentrated, there is intensity of flavor, purity of fruit and a complexity few other wines offer. The finish, with its perfect blend of honey coated fruits and bracing acidity must keep you busy for at least 50 seconds. At 27, this is just starting to open. You can drink this now, wait a decade or save it for your grandchildren. Me, I'm not waiting, this is a beauty.

6,695 Views

Tasted

Jul 6, 2017

Floral, honey, creme brulee, apricot, nectarine and orange make a beautiful, complex perfume. Viscous and intense. Very concentrated. Lots of ripe tropical pineapple, peach, pear, apricot and cherry fruit that seems drenched in honey and topped with vanilla. Mouth coating. It does not have acidity found in the 01. But the wine is not cloying. The finish is long, pure and the way to end a splendid night of wines and friendship, both old and new.

5,955 Views

Tasted

Oct 11, 2013

Golden honey in color, potent scents of toast, honey, fresh baked croissants, grilled nuts, pineapple, apricot and white peaches waft from the glass. Rich, unctuous, sweet, dense, ripe pineapple, mango, apricot, spice, vanilla and over ripe peaches drenched in honey coat your palate. This is a delicious, ripe, sweet Chateau d'Yquem that will age and improve for decades.

13,484 Views

Tasted

Aug 5, 2011

The wine is a thrill to put your nose in. That is if you're turned on by ripe apricots, peaches, nectarines, pineapple, flower, honey, grilled nuts and coconut aromatics. Thick, rich, dense and concentrated, this powerful wine fills every nook and cranny in your mouth with fat sensations of ripe fruit, dripping with honey and roasted nut flavors. The intense long finish has enough acidity to keep everything in balance.

7,733 Views

Tasted

Nov 1, 2010

Remains youthful. The wine is a thrill to put your nose in. That is if you're turned on by ripe apricots, peaches, nectarines, pineapple, flower, honey, grilled nuts and coconut aromatics. Thick, rich, dense and concentrated, this powerful wine fills every nook and cranny in your mouth with fat sensations of ripe fruit, dripping with honey and roasted nut flavors. The intense long finish has enough acidity to keep everything in balance.

8,174 Views

Tasted

Nov 18, 2009

Massive levels of ripe, tropical, honeyed fruit with the perfect amount of acidity to give it lift. As good as it is, it's going to keep improving for decades

6,609 Views

Tasted

Jun 6, 2008

Layer after layer of the richest, sexiest, lush, tropical fruit you ever tasted all dipped in honey. As concentrated and powerful as it is, you never tire from sipping it as there's enough acidity to offer it lift. It's an amazing, decadent, tasting sensation!

6,565 Views

Tasted

Mar 2, 2007

Deeply colored, offers flawless balance, intense sweetness and the perfect amount of acidity to keep it fresh. This is incredibly thick and concentrated with aromatics of honeyed pineapples, coconut custard and spicy apricots. Still very young and primary.

6,650 Views

Tasted

Jun 15, 2005

1989
Château d'Yquem (Sauternes)

Freshness, purity, and more layers of roasted, apricots, pineapples, yellow plums, nuts, caramel, and spice slathered in honey and butterscotch are only part of what you will encounter here. It is the racy lift, and vibrance on the palate that makes it all work, finishing with its lively endnotes. As good as this is, it is only getting started. I imagine this will drink well for at least another 50-75 years if well stored. That is why d'Yquem is d'Yquem.

5,095 Views

Tasted

Apr 5, 2022

It is impossible to get tired of tasting d'Yquem. And why should they? With that special razor's edge of acidity that cuts through all the sweet, overripe, pineapple, apricot, mango, nut, and other assorted tropical fruits all coated with honey, this is a gem on your palate. It is incredible to think this is still in its adolescent stage. I am sure your grandchildren will be enjoying this wine in their old age.

5,180 Views

Tasted

Nov 3, 2020

It is never the sweetness on its own that makes this work. It is the razor-edged acidity that makes the honeyed, tropical yellow and orange fruit, flowers, butterscotch, burnt caramel, and vanilla pop. Young, fresh, vibrant, full-bodied and complex, drink it now or save it for your kids. I am sure this will age for at least another 30-40 or 50 years if well-stored!

4,379 Views

Tasted

Feb 23, 2019

This just keeps getting better and better, like all great wines! Thick and rich, with enough extract of ripe and over ripe tropical fruit slathered in honey that you want to eat it. But the racy acidity keeps it all in check. Drink this now, wait a year, 5 years, 10 years, 20 years of gift it to your kids. Great stuff!

5,013 Views

Tasted

Jun 10, 2017

The right, no make that perfect balance of freshness, sweetness and honey slathered fruit that coats your palate with the essence of ripe, very ripe and extremely ripe.

5,716 Views

Tasted

Oct 14, 2014

No matter how many times I taste this elixir, it's always an exciting tasting experience. I've been lucky enough to have tasted this vintage twice, in the last 3 three and both times, the pineapple, floral, vanilla, apricot, spice and white peaches drenched in honey made a compelling bouquet. On the palate, over the years the wine has continued putting on weight and gaining new levels of complexity. There is a beautiful purity to the fruit that is not found in other wines. The acidity keeps it fresh and lively. At 24 years of age, it's still a baby. Drink it now, or save it for your lucky grandchildren.

6,965 Views

Tasted

Dec 4, 2012

Rich, filled with honey covered tropical fruit and acidity to give it lift should deliver pleasure for decades.

7,247 Views

Tasted

Jun 18, 2009

Honeyed apricots, flowers, vanilla, oak aromas were easy to catch. Very rich and fat on the palate. Beautiful, seamless finish.

5,157 Views

Tasted

Feb 25, 2006

Yquem has a unique style that's not duplicated. Ripe, honeyed pineapple, peach, nectarine, apricot and orange flowers fill the perfume. Rich, concentrated but with enough acidity toe keep it fresh. The long, honey drenched finish is a pleasure and treat.

5,092 Views

Tasted

Oct 8, 2004

1988
Château d'Yquem (Sauternes)

Just a fabulous wine from the moment the wine hit the glass. The explosive nose, with its coconut, butterscotch, creme brulee, candied orange, flowers, vanilla bean, and honeyed tropical fruit got you to stop, stare and take another sniff. Rich, lush, opulent, intensely concentrated, velvet-textured apricots, yellow tropical fruits and a gallon of honey that was perfectly braced with a wall of acidity that hung on for well over 60 seconds in the finish. This has entered the start of secondary development and could easily go 100 years. As a guess, the next marker comes in with another 20 yeas of age.

5,969 Views

Tasted

Jan 19, 2020

This keeps getting better and better. I won't be around when this hits full maturity, whenever that is, but I'm digging it right now. With gobs of honey drenched pineapples, apricots and tropical fruit, the wine is dense. But the acidity cuts right through. The spicy character, opulent mouthfeel and incredible length are something to experience, at least twice, because it's that good.

5,669 Views

Tasted

Mar 21, 2017

Holy Frickin' Moleeo.... Is that how you spell that? Who cares? This is stunning juice! The caramel, butterscotch, Cointreau, cooked apricot, honey, molasses, coffee, vanilla and floral aromas are off the charts. Rich, intense, concentrated, bright and bursting with acidity, the wine is the perfect mix of sweetness, freshness, and purity of fruit. The finish takes on a honeyed, ripe and over ripe pineapple sensation that sticks with you for 60 seconds or longer. This wine is a deal sealer.

6,615 Views

Tasted

Jun 16, 2016

Chateau d'Yquem is more than the waves of concentrated, perfectly ripe, honeyed, tropical fruit. It's freshness that goes along with the experience, keeping the wine uplifted and expansive. That combination is impossible to find in other sweet wines. Every sniff, sip and taste was a treat. Still young, this intensely concentrated wine should last 100 years!

6,091 Views

Tasted

Dec 25, 2015

With a beautiful, yellow, copper, orange, gold hue, the nose screams with loud enough to taste it around the block, with its white peach, pineapple, caramel, creme brulee, apricot, honey, candied orange peel and tropical fruits. Rich, fat, dense and beyond luscious, the wine marries sweetness with blistering acidity, keeping everything lifted, with just the prefect amount of tension. The finish is pure, sweet, fresh and built to age for longer than most people reading this note. I've tasted this wine a lot over the years and this is the best showing yet for this majestic elixir. If you're young enough to wait, this is only going to get better and better with more time.

6,225 Views

Tasted

Jul 9, 2015

With an orange glow in its hue, this rich, fat, sweet, intense, flavorful wine serves up layer after layer of pure, honeyed, tropical sweetness. Drink this now, or seal it in a time capsule for your grandchildren.

6,029 Views

Tasted

May 7, 2014

Honey, flowers, pineapple, apricot, orange and tropical fruits slathered in honey, along with rich textures and mouthful of perfectly ripe, sweet, ripe, honeyed fruit and fruits. This is drinking great today and is only going to get better over the next several decades. This could be favorite vintage of the famous trio, 1988, 1989 and 1990.

6,892 Views

Tasted

Mar 22, 2013

With a blast of coconut, pineapple, flowers, spice, orange, apricot and honey drenched, tropical fruit, the wine continues adding complexity. The finish couples decadent honeyed fruit with freshness and acidity.. Thick, rich, dense and incredibly lush, this is sweet hedonism at its best.

6,286 Views

Tasted

Dec 28, 2012

Endless aromatics of ripe pineapples, nectarines, peaches, flowers, spices, vanilla, coconut and more all drenched and dripping honey. Wave after wave of luxurious fruit flows across your palate. This wine is incredibly concentrated. Very dense and full bodied with ample acidity keeping everything in balance.

4,762 Views

Tasted

Dec 9, 2009

1988
Lur-Saluces "Y" (Bordeaux Supérieur)

A fabulous wine. Lemon wax, honeysuckle, orange rind, vanilla and butterscotch hit your nose. On the palate, the wine is silky, lush, rich, round, fresh, fruity, long, sweet and clean with a honeysuckle tinge to the citrus. Every sniff and sip was a pleasure.

2,452 Views

Tasted

Oct 20, 2020

Notes of lemon, flowers with accents of waxy apricots and oranges. Thick with vanilla and tropical fruit on the palate. Long finish

4,435 Views

Tasted

Mar 14, 2006

1986
Château d'Yquem (Sauternes)

1986 d'Yquem offers the perfect balance of acidity and sweet, ripe, honeyed tropical fruit. Pineapples, crème brulee, apricots, honey, grilled nuts and vanilla with freshness, sweetness and lift.

12,349 Views

Tasted

Dec 3, 2010

Sporting a beautiful hue akin to 24 K Gold! The nose bathed in pineapples, apples, apricots, vanilla, honey and cherry blossoms. Very concentrated, almost dense. The finish was pure silk with an odd chalky sensation. The palate was caressed by a cornucopia of honeyed, tropical fruit. The wine continued improving in the glass. This is too young to drink. Let it rest another 5-10 years before opening.

5,809 Views

Tasted

Mar 12, 2004

1983
Château d'Yquem (Sauternes)

The color seemed more developed than previous bottles, with its orange, honey and copper hue. The nose grabs you as soon as the wine hits the glass. Honey coated tropical fruit, pineapple, apricot, vanilla custard and orange marmalade flavors are in full force, culminating with a sweet, spicy, fresh layer of fruits slathered in honey. From a 375, the bottle was popped and poured.

5,214 Views

Tasted

Feb 2, 2016

This is a very good Yquem that has approached maturity quicker than expected. However, even with its beautiful, sweet, apricot, caramel and honeyed pineapple charms, it lacks that certain special something found in the best years of this often stunning wine. For the money, you're better off buying 1986, 1988, 1989 and 1990.

5,229 Views

Tasted

Dec 3, 2015

Looking slightly older than it should, with its copper, orange hue, the apricot, honey, orange, spice, overripe pineapple and nutty perfume caught your focus with no effort. But this specific bottle seemed a little but shorter than it should be, while lacking the intensity, sweetness and length found in the finish of better bottles. This was a very good Sauternes, but only a nice bottle of 1983 d'Yquem. You know what they say, with age, there are only great bottles, not great wines.

6,043 Views

Tasted

Feb 12, 2014

Deep gold in color, this honeyed, pineapple, peach, apricot and crème brulee scented wine delivers the goods. Intense levels of sweet, ripe, fat, lush, tropical fruit easily glide over your palate. The long, decadent finish is truly luxurious. The perfect way to end a splendid evening.

4,919 Views

Tasted

Jun 6, 2011

1982
Château d'Yquem (Sauternes)

A nice d'Yquem, but short of thrilling, the wine is on the orange, tropical side of the style range with caramel, molasses, and brown sugar nuances that ride along with the candied orange rind, molasses, tangerine and candied orange rind, topped with an array of spices and butterscotch. Drink from 2022-2037.

2,448 Views

Tasted

Oct 12, 2022

A beautiful, dark gold hue is the first thing you notice. The orange marmalade, apricot, honey. creme brulee, pineapple and white peach nose, shows a bit more citrus than tropical fruits normally found in Yquem. The finish is there, but the problem is, it's also gone before you know it. It lacks the lingering quality and freshness of the top vintages. Still, this is a nice wine. It's just not a great Yquem.

8,866 Views

Tasted

Feb 11, 2015

Medium bodied, and slightly coarse for Chateau d'Yquem, the wine was focused on the orange and tangerine side of the style range. Perhaps, it's a bit disappointing for Yquem overall, but in the context of the vintage, it's fine, as 1982 was much better for red Bordeaux wine. Drink this sooner than later if you have any.

9,187 Views

Tasted

Oct 5, 2014

1981
Château d'Yquem (Sauternes)

Spun gold color, pineapple, marzipan, honey, apples, orange rind, smoke, vanilla and nectarine aromas are easy to find. Medium bodied with light sugary flavors of orange and peach, this medium weight, lighter style of d'Yquem is fully mature and should be drunk up sooner than later.

5,523 Views

Tasted

May 15, 2011

1980
Château d'Yquem (Sauternes)

When expectations are low, it's always a nice surprise when a wine performs much better than expected. This off vintage of d'Yquem offered an attention grabbing perfume filled with ripe apricots, pineapple, honey, vanilla, nectarines, toffee coated nuts and spiced peaches. Ripe, sweet and concentrated with delicious, honey coated tropical fruit in the rich finish, this is probably one of the best deals for a mature bottle of Chateau d'Yquem in the marketplace today. This was my last bottle. A perfect ending to a great case of Sauternes wine.

5,908 Views

Tasted

Jul 17, 2011

1979
Lur-Saluces "Y" (Bordeaux Supérieur)

Lemon, lime, dried pineapple, and a light touch of caramel with a background note of honey create the nose. The wine is bright, and semi-sweet, and finishes with a sweet/tart, lime and green apple note. Drink from 2023-2025.

247 Views

Tasted

Sep 4, 2023

1979
Château d'Yquem (Sauternes)

This was botrytis light. Golden honey color, nose of apricots, vanilla and guava. Good mouth feel but lacks the weight of a strong vintage. On the palate, some honeyed orange and pineapple notes. A good , fully mature Yquem but certainly not great.

4,298 Views

Tasted

Feb 22, 2004

1978
Lur-Saluces "Y" (Bordeaux Supérieur)

What a nice surprise to see this bottle at a tasting and the surprise got even better when tasting it. The nose offered white peach, honeysuckle, floral, vanilla and cantaloupe scents. Medium bodied, soft, delicate and charming, the only issue was, perhaps it is a bit too short in the finish. This is a great example of a fully mature, dry Sauternes.

3,766 Views

Tasted

Dec 17, 2013

1976
Château d'Yquem (Sauternes)

What a treat! This is the perfect way to end the night. The non-stop layers of candied orange, caramel, creme-brulee, overripe mango, nuts, roasted pineapple, and spicy orange tea all coated with nut honey get your focus. The wine is rich, intense, and sweet, yet racy and vibrant, so everything is lifted and intense. This has entered the start of its prime-time drinking window, where it should remain for at least another 25-35-50 more years with ease. If you want to know what makes mature d'Yquem so special, this is a good place to start.

2,966 Views

Tasted

Apr 6, 2022

Taking on more of a dark gold, copper hue, the wine blasts off with scents of caramel, molasses, candied orange, overripe mango, custard, roasted pineapple, spice, macadamia nut and honey. Sweet but never cloying, the racy acidity gives this lift and vibrancy so you savor the decadent, honey-slathered, tropical fruit, roasted nut and creme de caramel finish. This is starting to come into its prime-time drinking window, where it should remain for at least another 25-35 years with ease.

3,412 Views

Tasted

Jun 1, 2021

The perfume rocked! Buttered honey, burnt caramel, apricot, candied tangerine, crushed stone and orange peel never left your glass. Concentrated, lively, long, elegant and fresh, there was ample sweetness with loads of complexity, but the sensation of botrytis was subdued. This is drinking in a really good place today. It might get better, but if you have a few bottles, open one and check it out.

3,314 Views

Tasted

Jul 29, 2019

This is a very good d'Yquem that is showing a wealth of secondary characteristics with its caramel, butterscotch, roasted pineapple, apricot, honey and candied orange rind character. However, the wine is slightly better on the nose, than on the luscious, sweet, tropical fruit and honey coated palate. At the end of the day, while good, it lacks the energy, freshness and complexity that is often found in the 1975.

4,848 Views

Tasted

Dec 12, 2015

Decadence in a glass. Multiple layers of rich, honeyed, unctuous tropical fruit, vanilla and coconut roar from the pour. The palate enjoys a sexy bath of plush sweetness in this special Bordeaux.

8,924 Views

Tasted

Dec 10, 2010

1975
Château d'Yquem (Sauternes)

Deep gold in color, the attention seeking nose pops with roasted pineapple, ginger, butter, butterscotch, white pepper, flowers, cashews, caramel, vanilla, apricots, honey and cinnamon sugar. Intense, concentrated, weighty and yet fresh, vibrant and spicy, the mid-palate and finish resonates with seared pineapple, white pepper, orange, mango and a beguiling hint of cocoa powder that shines in the end of the finish. Drink from 2023-2075.

1,167 Views

Tasted

Aug 11, 2023

Taking on a copper, orange hue, the incredible perfume with all its flowers, almonds, creme brulee, candied orange rind, apricot, overripe pineapple molasses and spice all coated with honey is a serious turn on. But it is on the palate, with its incredible match of concentration, sweetness, and blazing acidity that helps it all make sense. This is so good, it could run out of points on the best bottles, especially with more time.

3,932 Views

Tasted

Dec 5, 2021

It has been a few years since I last tasted this wine, and baby, "I've missed you!" With blazing, racy acidity, the wine roars with its waves of ripe, sweet, juicy, fresh, pure, honeyed apricot, orange peel, pineapple, creme brulee, spice, flowers and vanilla. The wine is rich and sweet, but never cloying or out of balance. It has length, purity and complexity and its only reached its teen years. I am sure future generations of wine lovers will be loving this wine in 2075!

4,321 Views

Tasted

May 31, 2018

I cannot think of many wines that have displayed this level of consistency. This stunning wine has been perfect on more occasions than I can count. After a night of great wines, time and time again this has been scored as the wine of the night on numerous occasions. With its flashy display of decadent tropical fruits slathered in honey, vanilla, flowers, spice and candied citrus peel, it's easy to see why. On the palate, the more than :60 finish has the perfect balance of acidity, giving it lift and freshness coupled with dense, ripe, over ripe and extremely ripe tropical fruits. This is the wine to buy, if you can afford it.

9,120 Views

Tasted

Mar 22, 2013

Fathers day does not come around enough. As Chateau d'Yquem is my dad's favorite wine, I popped a 1975! With a beautiful golden hue, pineapple upside down cake, caramel, honeysuckle, cinnamon, coffee, orange rind, apricot, smoke, creme brulee and smoke create the complex aromatics. Liquid silk and velvet drenched in honey textures in the mouth lead to a long, fresh, bright, pineapple, apricot, vanilla, cocoa, orangesicle and spice filled finish. While this was a great bottle of 1975 d'Yquem, I've had fresher examples showing more yellow fruit, sweetness and less creme brulee.

9,729 Views

Tasted

Jun 18, 2012

1975 Chateau d'Yquem is a contender for the most consistent 100 Pt wine I have ever tasted. Bottle after bottle has been stunning and this 5 Yquem was no exception. With a copper, orange color, honey covered apricots, floral aromas, pineapples, creme brulee, coconut and tropical aromas explode in front of your nose. Viscous, opulent, packed and stacked with endless waves of deep, juicy, spicy, honey drenched fruit, your mouth, teeth and gums are coated with pleasure .Everything is on balance. The perfect amount of acidity keeps the wine, fresh and lively. The seamless finish lasts well over a minute. If you have the money and want to experience Yquem at its best, Kenny Loggins had it right, "This is it!"

16,490 Views

Tasted

Mar 10, 2011

With the color of pure, honey, the aromatics can seemingly be experienced from across the room! Apricots, oranges, flowers, roasted pineapples, caramel, grilled nuts all drenched in Acacia honey. Thick, concentrated, rich, lush and opulent fruit coats your mouth, teeth and gums. But its the perfect balance that becomes evident with the lift of acidity that makes this one of the best dessert wines ever produced. The long, honey coated, tropical fruit filled, seamless finish lasts over 60 seconds! This stunning wine is flawless. Perhaps the 2001 will be better. And in 25 years, when that wine begins to enter maturity, we'll find out, But for today, I cannot think of a vintage of Chateau d'Yquem that offers better drinking.

16,883 Views

Tasted

Sep 5, 2010

This is the real deal. Incredible levels of sweet, ripe, decadent, complex, rich, honeyed fruit with ample acidity to give it lift. This wine offers intense purity, ripeness and sweetness.

15,024 Views

Tasted

Jun 27, 2009

1971
Château d'Yquem (Sauternes)

Probably close to fully mature, the butterscotch, caramel, apricot, orange, honey, custard and pineapple bouquet is more than enticing. Great concentration of flavor, and a sweet, vibrant, honeyed, brown sugar, candied orange rind, honeyed tropical fruit finish that really lingers, seals the deal.

3,484 Views

Tasted

Oct 22, 2015

1970
Château d'Yquem (Sauternes)

Orange in color and in fruit, with accents of caramel, butterscotch, grilled nuts, apricots, honey and candied citrus, the wine has freshness and energy, but it lacks the levels of depth and sugar found in the best vintages. This is clearly on the advanced, secondary side of life.

6,197 Views

Tasted

Nov 13, 2017

From the first whiff, this copper colored wine makes it easy to find honey, orange, cinnamon, vanilla, toffee, pineapple, nectarine and grilled nut aromas. The wine is full bodied and concentrated, but in the mouth there is a slightly dull quality to the fruit. There is not enough acidity or sweetness to make this wine exciting. The wine is chunky and finishes with honeyed, orange and mango flavors.

5,528 Views

Tasted

Aug 6, 2010

The first thing you notice is the beautiful, orange, honey colored hue staring at you from the glass. The perfume, with its intoxicating scents of orange blossoms, honey, caramel and grilled pineapples is a treat. On the palate, the wine is balanced with layers of sweet, honeyed tropical fruit. This could use more concentration. However, any Yquem is always a welcome treat, especially mature bottles.

5,525 Views

Tasted

Dec 20, 2005

1967
Château d'Yquem (Sauternes)

This bottle rocked it! The gold, mahogany hue brought you to the perfume, packed with marshmallows, orange rind, creme brulee, caramel, butterscotch, spice, brown butter, popcorn, roasted cashews, and pineapple coated with brown sugar. The wine is concentrated, lush, silky, sweet, vibrant, fresh, and packed with oranges, tangerines, mango, pineapple, spice, brown sugar, and almonds. The mid-palate, and finish provided a memorable experience that shows why Chateau d'Yquem is in a league all of its own. This bottle was particularly-strong, much better than any previous example I remember tasting. This is a stellar example of a mature d'Yquem! Drink from 2023-2067.

1,827 Views

Tasted

Jul 16, 2023

The gorgeous copper, golden, amber hue is a sight to see. Aromas of marshmallow, caramel, brown butter, creme brûlée, almonds, spice, and roasted apricots are off the hook. The wine is rich, silky, concentrated and with a serious depth of flavor, opulent and lush, with silky tannins that deliver waves of sweet, caramel coated fruits with the balance of racy acidity makes this a compelling tasting experience. Drink now, or over the next 30-40 or 50 years!

3,480 Views

Tasted

Oct 8, 2021

This was majestic. The gorgeous, orange, copper mahogany color looked great in your glass. Butterscotch, creme de caramel, orange zest, cinnamon, caramelized pineapple, apricot and cashew nuts that create the perfume are showstopping! At almost 54 years of age, the wine has filled out, fleshed out and gained in richness, delicacy and decadence without losing its vibrant lift. The opulence in the sweet, honey, caramel, spice box and honey-coated frut and nuts lingers on your palate. In their youth, other sweet wines might compete with d'Yquem. But, at maturity, there is nothing else like it.

4,136 Views

Tasted

Nov 8, 2020

The nose kills with its intoxicating blend of honeyed apricot, marshmallow, creme de caramel, orange, butterscotch, stone, smoke candied orange, vanilla, cocoa and floral notes. Rich and full on the palate, everything here is perfectly balanced between sweet, orange and yellow honeyed fruits and a jolt of acidity. At 52 years of age, this is just now entering its stride and is only going to get better from here!

4,117 Views

Tasted

Aug 15, 2019

A dream wine shared with a friend for his 50th birthday, this did not disappoint. Caramel, butterscotch, candied orange rind, marzipan, overripe pineapple, apricot and tangerine all slathered in honey with some marzipan to boot. Lusciously textured, yet equally fresh and diabolically sweet, the reason Yquem earns its accolades and high price becomes apparent as the wine hits 50 years of age in the best vintages.

4,249 Views

Tasted

May 19, 2017

If creme caramel, butterscotch, sweet, ripe, tropical fruits, orange, flowers, honey, roasted chestnuts and silky, plush, opulent textures is your thing, this wine is for you. This wine was for me and I loved it! What a stunning beauty. Happy I was able to share it with my father for our end of the year dinner. There was just a bit of wine left in the bottle overnight and it was still going strong. At days before its 50th birthday, this is really delivering the goods. I know it's popular to knock Yquem for its price when measured against its peers. And there is something to that, especially when the wine is young. But when Yquem hits 50, or even older, this is when the magic really happens and the other wines are left behind.

3,817 Views

Tasted

Dec 28, 2016

It's always sad when great wines don't deliver, especially when the exalted bottle is pricey as well. I've had great bottles of 1967 d'Yquem before, but not this time. The color was that beautiful, orange, amber, copper hue. The nose, with its butterscotch, creme brulee, orange and sweet aromas seemed more subdued than exuberant. On the palate is where this bottle fell short. While there was good concentration of flavor, this bottle lacked the length and vigor the wine can produce. It's important to always keep in mind with old bottles, each is a unique tasting experience, some are going to be better, while others will be worse the for wear. The no great wines, only great bottles comment works perfectly here.

5,946 Views

Tasted

Aug 25, 2015

This was from the chateau so my experience could be better than most bottles in the marketplace. Copper, orange and caramel in color, the wine offers a complex array of carmelized fruits, vanilla, grilled nuts, apricot, pineapple, lemon curd and candied orange rind. Fresh, rich, soft and sweet, this is very good now and I imagine perfectly stored bottles will get even better.

5,118 Views

Tasted

Oct 5, 2014

Caramel in color, with an intoxicating nose of smoke, caramel, roasted pineapple, spice, orange rind and burnt sugar. While rich, some of the intense sweetness seems to have faded. The wine is more focused on the caramel and crème brulee, than decadent honeyed fruits. That is not to say this was not wonderful, but it's not in the same league as the perfect 1975 Chateau d'Yquem. 95

5,735 Views

Tasted

Mar 22, 2013

Expresses a stunning cornucopia of caramel, pineapple, apricots, smoke, molasses, honey, coconut, toast and brown sugar nose, this Bordeaux was intoxicating. This was made better by the rich, decadent, seemingly endless, hedonistic mouth feel. The long finish left memories of a honey drenched, tropical fruit filled creme brulee. Paired with a sweet corn risotto and foie gras, this was off the charts! As a comparison, the 67 was better than a recent bottle of 59 D'Yquem, but not as good as the sublime 75 D'Yquem which remains my favorite vintage

12,360 Views

Tasted

Dec 12, 2009

1966
Lur-Saluces "Y" (Bordeaux Supérieur)

Truly, it was a treat to taste the oldest bottle I've ever seen of Ygrec. On the nose, it reminds of a lighter, lesser vintage of Yquem, without a lot of botrytis. Apricot, orange, honeysuckle, tangerine and spicy, orange tea defines the nuances. Not quite sweet, with a jolt of acidity, the wine has heft, sweet, orange honey and hints of orange tropical fruit on the palate. I wish I had more of this in my cellar.

1,635 Views

Tasted

Sep 8, 2018

1966
Château d'Yquem (Sauternes)

More acid than fruit, more fragrance than flavor, this vintage of Chateau d'Yquem is well past its prime. Unless you're seeking a birth year Sauternes to commemorate a birthday or special occasion, at the prices being asked for this vintage, avoid buying this wine.

5,313 Views

Tasted

Jul 16, 2011

1962
Lur-Saluces "Y" (Bordeaux Supérieur)

Exactly like what you imagine a dry d'Yquem would smell like with its honey, dried apricot, caramel, butterscotch, dried pineapple, and spice-filled perfume. Crisp, semi-sweet, and salty on the palate, the finish with its mild, honey accent that rides along with its yellow and orange fruits seal the deal. Drink from 2023-2027.

219 Views

Tasted

Sep 4, 2023

1962
Château d'Yquem (Sauternes)

Spicy apricots, orange rind, candied mandarins, coconut, vanilla bean, quince, marmalade, spice, and caramel scents crowded into the nose. The palate was loaded with burnt and roasted yellow and orange fruits, freshness, crisp, sweet, roasted pineapples, mango, honey, toffee, butterscotch and candied oranges. Long, vivacious, sweet, but not overly so, this is a beautiful, mature d'Yquem. Drink from 2023-2033.

1,682 Views

Tasted

Jul 4, 2023

With a beautiful, copper, orange and caramel hue, the apricot, honey, creme brulee, marmalade, caramel and butterscotch aromatics grabbed you. Silky, with perhaps a bit more freshness than sweetness in the mouth, the finish is packed with candied orange, pineapple, creme caramel and candied citrus rind. The wine remained at the same level of quality for hours in the glass.

7,339 Views

Tasted

Dec 17, 2015

Molasses, with copper accents in color, with a nose of butterscotch, caramel, apricot, orange, creme brulee and roasted nuts, you know you're in for a treat. The wine is silky, young, spicy, sweet, luscious and delicious. The finish really leaves an impression that you do not want to lose. The wine makes you keep your nose in the glass long after the last sip has been tasted. Yes, Chateau Yquem is expensive, especially when compared to every other Sauternes. Perhaps in its youth, it's hard to know why. But pop a cork on any other 50 year old bottle of sweet, white Bordeaux next to an Yquem and the lights will go off. You'll get it!

2,688 Views

Tasted

Feb 27, 2015

Butterscotch, spice, honey, tropical fruit and crème brulee. Rich, sweet, opulent and sensuous, the wine feels great as it flows over your palate with sweet caramel and spicy, tropical fruits. I loved this wine!

3,439 Views

Tasted

Mar 22, 2013

1961
Château d'Yquem (Sauternes)

In a vintage known to be much better for red wine, than white, there was plenty to like about this beauty. Still fresh, and focused on the orange and honeyed citrus side of the fruit range, the fruit seemed like it was poached in butter, with honey and roasted nuts slathered on top, to add more character.

3,538 Views

Tasted

Oct 6, 2018

With a beautiful color, slightly discernible scents of flowers, spice, pineapple and crème brulee popped up. Too much acidity and not enough fruit after 50 years made this a wine to open if you have it, but pass on buying it if you don't. Stick to 1961 Red Bordeaux.

7,168 Views

Tasted

Mar 22, 2013

1959
Château d'Yquem (Sauternes)

When Chateau d'Yquem is young, the wine has competition from some of the other top producers in the appellation. But as the wine ages, that is when the rubber hits the road, as Yquem clearly pulls ahead of the competition. Here you find a deep golden, mahogany hue with an ethereal perfume consisting of roasted apricots, burnt caramel, butterscotch, marmalade, overripe pineapple, and nuts, topped with honey. There is blistering acidity that provides lift to the layers of honeyed, caramel topped yellow and orange spiced fruits on the palate. The seamless finish starts off strong, picks up steam, and keeps on going. There is no reason that well-stored bottles cannot age another 30-40 years and maybe more!

4,155 Views

Tasted

Sep 30, 2021

This is the finest example of the 59 I have ever tasted. Deep gold in color, the wine explodes with caramel, burnt sugar, toffee, butterscotch, candied orange rind, pineapple and lemon curd nuances. Sweet and fresh, with silky textures and racy acidity, the yellow fruit, honey and caramel finish was endless. If you are young, and you have bottles of the better vintages for d'Yquem, try hanging on to a few for when you and the wine have aged into maturity. It will be worth the extreme wait.

5,640 Views

Tasted

Feb 10, 2020

Not the best bottle I've ever tasted of this often stunning wine. With a color and fill that were too advanced for its age, this amber colored wine offered more secondary notes of caramel, butterscotch, buttered popcorn, cooked apricot, candied orange and brioche than luscious honeyed fruit. The sweetness had declined somewhat and there was more noticeable acidity than fruits and honey. The hands of age were strong on this bottle.

4,437 Views

Tasted

Oct 15, 2015

Deep caramel in color, with a nose of apricot, orange marmalade, toffee, vanilla, bees wax, brown sugar and honey, the wine has exchanged its previous, vibrant, sweet, honeyed yellow fruits for a creme brulee, lemon peel and brown sugar character. Based on this bottle, I'd drink this sooner than later.

5,499 Views

Tasted

Nov 24, 2013

1955
Château d'Yquem (Sauternes)

Darker in color than I would have expected, it was on the deep, dark, amber side of caramel, or mahogany, don't let the color scare you off. The aromatics sizzled with coffee, caramel, butterscotch, nuts buttered tropical fruit and honey. Thick, rich and fat, yes, the wine could have used a bit more freshness, but the finish was long, intense, sweet and packed with flavor. I know d'Yquem is shockingly expensive, but when Yquem just starts to get going, at perhaps 40-50-60 years of age, the other Sauternes are usually left in the dust.

3,813 Views

Tasted

Mar 21, 2016

1949
Château d'Yquem (Sauternes)

Honey, burnt orange sugar, apricots, pineapples, vanilla and crème brulee soar from the glass. But, this wine is not produced in the style of modern Yquems. This does not have the nearly the same level of sweetness or viscosity found in the best vintages of the 80's and 90's. Perfectly balanced with the right amount of acidity to give it lift.

9,272 Views

Tasted

Jun 15, 2006

1948
Château d'Yquem (Sauternes)

On the bright, orange, tangerine, apricot, burnt sugar, butter, floral and butterscotch side, the wine is very fresh, bright and not overly sweet. The candied orange component stands out, as does the bright, flower, spice, burnt sugar, orange tropical fruit and honey finish.

3,008 Views

Tasted

Feb 21, 2019

1947
Château d'Yquem (Sauternes)

My first, and sadly, probably my last time tasting this beautiful, copper/amber colored, historical gem, the wine opened with creme brulee, marshmallow, caramel, butterscotch, candied orange, and mango, completed by Indian spices in the perfume. The patina of age was there on the palate, providing an exotic, soft, silky, sweet mouthful of caramel-coated orange, tangerine, and candied mango with an accent of spice and cocoa. Tasting younger than its almost 80 years of age, but without the same raciness and concentration found in years with less heat, like 1945, it was still a thrill and a treat to taste. Drink from 2023-2037.

2,336 Views

Tasted

Jan 19, 2023

1945
Château d'Yquem (Sauternes)

In color, this almost 70 year old wine sported copper with orange hues. With time, about 30 minutes, candied orange, caramel, burnt sugar, grilled pineapple, honey and nut aromas rose from the glass to create the perfume. Soft, lush and sweet, the wine leaves a rich trail of caramel corn, brioche, roasted orange, spice, butterscotch, grilled pineapple and vanilla sensations on your palate. It does not have the same level of concentration, complexity or exotic texture found in the legendary 1937, but it's close. This was my first time with this vintage. I hope it's not going to be my last.

10,033 Views

Tasted

Dec 9, 2013

1944
Château d'Yquem (Sauternes)

My first war years Sauternes was a cool lesson in history, but a less than satisfying wine. Dark orange tea and amber in color, much of the sweetness seems to have faded while the acidity has taken the front and center position. Better on the nose with its molasses, burnt caramel, toasted sugar and butterscotch profile, the lack of sweetness on the palate made this OK to taste, but not all that exciting.

1,559 Views

Tasted

Dec 6, 2021

1937
Château d'Yquem (Sauternes)

With a deep copper hue, the aromatics are explosive! Chocolate, coffee, crème brulee, orange, caramel, flowers, spice, butterscotch, earth and cocoa are revealed. Silky, velvet drenched layers of orange coated with cocoa and chocolate remain on the palate for well over 60 seconds. Chateau d'Yquem is expensive and some consumers feel when compared to other Sauternes, Chateau d'Yquem is not worth the difference in price. That is because they have never experienced a fully mature vintage of Chateau d'Yquem. At 75 years of age, this wine is still going to improve for another 25-50 or even 75 more years!

8,469 Views

Tasted

Dec 20, 2012

1929
Château d'Yquem (Sauternes)

Mahogany in color, the nose showed off its caramel, butterscotch, orange rind, cooked apricot, spice and cocoa dusted orange tinted, tropical fruit character with ease. The wine still had viscosity and sweetness. I am not sure this was a perfect bottle as the color seemed a bit too dark. I imagine a better stored bottle would be off the charts!

3,919 Views

Tasted

Oct 6, 2018

1928
Château d'Yquem (Sauternes)

Amber in color, the strong perfume is loaded with notes of butter, burnt caramel, smoke butterscotch. apricot jam and orange rind. The wine is surprisingly concentrated, fresh, silky long, bright, acidic and sweet, but not overly so, in the finish you find burnt toast with caramel, pineapple and candied green apples.

2,500 Views

Tasted

Dec 18, 2021

Mahogany in color, the combination of chocolate covered orange, creme de caramel, butterscotch, caramel, dried apricot and green apple pie blows you away. Pure silk in texture, the wine cascades over your palate, drenching your senses for over 60 seconds. Lacking the same level of freshness found in the 37, or 45, this is still about as good as a wine gets. Utterly profound, the wine was effortless to drink. Young, tasters do not often get the different between Yquem and other Sauternes, especially when price is a factor. But as the wine gets more than 50 years of age, it blossoms into one of the world's great tasting experiences.

3,890 Views

Tasted

Dec 17, 2017

1921
Château d'Yquem (Sauternes)

Not all legendary wines live up to their lofty status. But this did! Right from the start, the amber, translucent, mahogany color in the hand-blown bottle is a thing of beauty. From there, the caramel, burnt sugar, molasses, roasted orange rind, clove, singed, overripe mango, butterscotch, and melted butter aromas created an unforgettable bouquet, which continued to add chocolate covered orange overtones as the wine remained in the glass. On the palate, the perfect balance between the interplay of sugar, honey, roasted, orange tropical fruit, butter, acidity, and melted caramel transfixes you. Tasted for more than 2 hours, the wine never degraded. Instead, it continued adding more shades of sugary, cooked honey, and buttery sweetness to the fruits that were kept fresh by the wines racy, acidities. When young, there are sweet wines that give d'Yquem a run for the money. But after the 50-year mark, there is no equal. And now, I can safely say, that gap is even wider as the wine crosses the century mark.

2,197 Views

Tasted

May 8, 2022

1892
Château d'Yquem (Sauternes)

Amber, if not mahogany in color, the wine is lean, with a focus on its caramel, creme brulee, butterscotch, burnt orange and light chocolate characteristics. Not much sweetness remains and just a bit of fruit still lingers, but the nose was fun and knowing you were drinking a bottle of d'Yquem that was close to 130 years old was a thrill. It was not the best old wine I have ever tasted, but it is one that I will always remember.

2,706 Views

Tasted

Feb 10, 2020

1890
Château d'Yquem (Sauternes)

Now, this is a bottle you do not see everyday. Carmel in color, the flavors and aromas were focused on burnt sugar, toast, carmel, butterscotch and just a faint whiff of honey. Not much fruit remained. The sugar seems to have gone in the same direction of the fruit as it was mostly gone as well. Still, it was a thrill to hold wine in my glass that was from before the turn of the century. Ooops, make that from before the turn of the century before that!

4,561 Views

Tasted

May 8, 2014