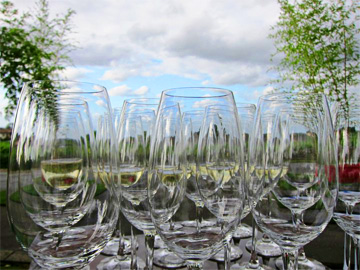 The Northern Rhone Vintage Chart which covers in detail Cote Rotie and Hermitage vintages gives you rankings for every vintage from 1978 to today and important information on whether you should drink or hold your wines with wine and food pairing tips.
You'll find detailed information every vintage including details on the wines, growing seasons, weather reports, harvest conditions, style and character of the wines and vintages from 1978 to today in the Northern Rhone Valley and of course Hermitage, Cote Rotie, Crozes Hermitage, St.Joseph, Cornas, Condrieu, Chateau Grillet and St. Peray.
How to use the Northern Rhone Vintage Chart
The vintage chart can be used a guide to the wines and vintages of the Northern Rhone Valley, with a focus on the vintage charts for Cote Rotie and Hermitage vintage charts. While each appellation can be different, the information here will help you find the wines you like, with the style and characteristics you enjoy the most and if your wines are ready to drink, or not.
Rankings and scores in the Northern Rhone Vintage Chart are not created using a mathematical average of scores. The vintage rankings in the Northern Rhone Vintage Chart are put together using a rough average that is based on your chance of walking into a random store or choosing a bottle off a wine list in a restaurant and have it offer a reasonably good, wine tasting experience.
Purpose of the Northern Rhone Vintage Chart
The Northern Rhone Vintage Chart, which means it's quite general in nature. Of course there are always some good and even great wines produced in moderate or difficult years. But one good wine, or even a few good wines does not make a great vintage. On the other side of the coin, there are disappointing wines produced in the best vintages too. For those reasons vintage charts are always a good overview, but not an exact science.
Vintage guides are just that. They are intended to guide you to the best vintages, while explaining the characteristics that go into each year. It's important to keep in mind, all years are not equal, and all tasters are not alike.
There are years in the Northern Rhone Vintage Chart that on the one hand, provide you with only a few great wines. But the majority of wines from that vintage were not successful, so that means the vintage score is going to be low.
When to drink dates for wines are always subjective and depends more on the personal taste of the consumer than the wine. Setting that aside, it's important to note that in the Northern Rhone, Hermitage takes the longest time to develop and become interesting to drink, followed by Cote Rotie and then the other appellations, which are usually drinkable early in life. So when using the vintage chart, especially for years marked hold, that is something to keep in mind.
The same rules apply when considering how long to age wine from all the regions in the Northern Rhone Valley. As a general rule, Hermitage is the longest lived wine from the Northern Rhone, followed by Cote Rotie. As we mentioned, Hermitage wines are almost never fun to taste young. Most Cote Rotie wines need at least some time as well. Most of the wines from the other Northern Rhone appellations generally speaking, do not live as long, but they drink well younger, which sort of balances things out.
It also important to remember that as Northern Rhone wines get older, provenance is key. Potential buyers of the truly scarce, older bottles, especially from Cote Rotie and Hermitage must exercise extreme caution and purchase them from only known and trusted sources, or through major auction houses that thoroughly vet the wines.
The reason is, many of those wines have been counterfeited. Something else to consider, never forget that the old saying remains just as true today, as it did more than 100 years ago. "With wine more than 20 years of age, there are no great wines, just great bottles." So, when buying older vintages provenance and great storage is paramount, especially when you are buying the often very expensive and costly wines from Cote Rotie and Hermitage.
Pairing Northern Rhone wines with food
Northern Rhone wines are easy to create wine and food pairings. Northern Rhone red wines make perfect wine and food matches with all types of classic meat dishes, veal, pork, beef, lamb, duck, game, roast chicken, roasted, braised, grilled dishes, sausage and cassoulet. Northern Rhone Rouge wines are also good with Asian dishes, hearty fish courses like tuna, mushrooms and pasta.
White Northern Rhone wines are best served with a myriad of different seafood dishes, shellfish, crab, lobster, sushi, sashimi, chicken, pork and veal, as well as Asian cuisine.
Vintage variations in the Northern Rhone
A great Northern Rhone vintage does not happen that often. But when it does, it can be defined as a year that produced high quality wines from the best vineyards as well as in all the small houses and in all price ranges too.
That means the wines at the top are of extreme quality as are the value wines. The wines should offer a unique character, freshness, vibrancy, concentration of flavor, purity of fruit and have the ability to age and evolve.
The years in the Northern Rhone Vintage Chart that earned the highest scores are vintages when the grapes were able to ripen. For the red wine grapes, as you know, Syrah does not always ripen. But when Syrah does achieve full phenolic ripeness, magic can be made in the wines. The same can be said for the 3 white wine grapes, Viognier, Roussanne and Marsanne.
2018 – The vintage got off to a difficult start with a cold, wet winter. The summer began with a wet June, which gave birth to attacks of mildew and a reduction of potential yields. This was followed by sunny, dry and warm conditions making the growing season slightly shorter than usual. The weather remained sunny, warm and dry through the early harvest. The wines can be opulent, showy and high in alcohol, with round, silky tannins and good concentration. Hold 96 Pts
2017 – The year is marked by drought conditions and very low yields. Sunny, hot and very dry conditions permeated the region. The wines are forward, supple and showy. However, as you might suspect, the wines are not uniform in quality. The terroir with the ability to retain moisture produced the top wines of the vintage. Vineyards with old vines that are able to dig deep into the soil to find moisture were more successful than sites with younger vines. Hermitage whites did better than Condrieu, which is up and down. Hold 94 Pts
2016 – After a difficult start, due to a cool, wet, spring, and severe hail storms in Hermitage, the weather improved by the middle of the summer, which was hot and dry. Early, September rains and Indian Summer conditions through the extended harvest. Quite good, but not at the level of the sublime 2015. Hold 95 Pts
2015 – The product of a hot, sunny, dry summer, with June and July being close to perfect. Things cooled down a bit in August. Many growers finished their harvest by the middle of September. Based on the weather, growing season and harvest, it looks like there is going to be a lot to like about the 2015 Northern Rhone Valley wines as all the information points to this being an exceptional vintage well worth buying and cellaring. Hold 98 Pts
2014 – The vintage started off with good conditions during the spring. But by the time summer was supposed to show up, it rained. June and July both experienced more rain than usual. Fruit flies were reported in Cote Roite, which created problems with the fruit and rot developed. Many growers lost half their fruit. Rains late in the season pushed many growers to pick before their fruit was fully mature. Overall, most Northern Rhone estates made better wine, and more of it in 2014 than they did in 2013. Hold 87 Pts
2013 – A light, early drinking vintage that is the product of a difficult, slow beginning for the growing season that was exacerbated by humidity and mildew at the start of the summer. With the growing season pushed back, the pouring rain before the harvest made most growers pick earlier than they had wished. Yields were low and production was down. The fruit is on the bright, fresh, red fruit side of the style range for many growers. Drink 88 Pts
2012 – A difficult growing season that was salvaged by a strong September and excellent conditions during the harvest. The wet spring and difficult flowering created low yields and production was down. There are some nice wines, but generally speaking, it's not a year that is going to make old bones. Drink or Hold 92 Pts
2011 – More successful in the North than the South and dramatically better than in other part of France. Flowering was ideal, but that was followed by cold, damp weather in June and July. August was quite nice, but September was average. Most of the wines are going to be best on the young side. Drink or Hold 89 Pts
2010 – Things might have started out difficult for 2010, but as we all know, it ain't over 'til it's over. By the time harvest season rolled around, the warm, sunny dry summer and extended growing season made all the difference. These wines are stunning, rich, supple, fresh and show great purity of fruit with a lot of lift and sweetness. They are really charismatic. They are meant for long aging and will develop and evolve for decades. Hold 99 Pts
2009 – The first of two stunning back to back vintages. While the two years are different in style, they are both worth owning and drinking as these wines are stunning in every sense of the word. On paper, everything during the growing season was right. The flowering was early and even. The warm, hot, sunny, dry conditions were picture with summer rains that provided nourishment to the vines. The wines at their best are opulent, decadent tasting experiences that Northern Rhone Valley wine lovers need to try. Hold 99 Pts
2008 – Better perhaps for the white wines than the red wines, with wet conditions for much of the growing season. The vintage is on the light, early drinking side. Drink 84 Pts
2007 – A vintage with mixed results. But I like some of the wines, especially at the top end from both Cote Rotie and Hermitage. Stylistically, they are light, fresh and forward, soft and easy to drink, but they lack the depth, concentration and complexity of the top years. Drink or Hold 91 Pts
2006 – The product of a cold, miserable winter, fair spring and cool weather during flowering. The structured vintage has a lot of freshness and verve in the wines. Drink or Hold. 90 Pts
2005 – A classic vintage for long term cellaring, with wines showing a lot of freshness, ripe fruit and spice. Drink or Hold 92 Pts
2004 – High yields and an average growing season produced a firm, bright, classically styled vintage, without much excitement. Drink 85 Pts
2003 – A year of extremely hot, dry, drought conditions produced wines that range in quality, depending on the terroir and the desire of the grower. Some wines are beyond stunning. They are incredibly rich, concentrated, ripe, ostentatious, bottles of pure hedonism. The best wines come from Hermitage. However, outside of Hermitage, the vintage is not consistent. In Cote Rotie, there is Guigal at the top end, as you might expect with their 3 La La wines. Other producers were not as successful, producing pleasant, early drinking, very ripe wines. But the best 2003 Northern Rhone wines provide unequaled tasting experiences. The white wines were not nearly as successful as many were lacking in acidity. With the exception of the top wines from Hermitage and Guigal in Cote Rotie, all these wines are ready for consumption. Drink 97 Pts
2002 – There was non stop rain that led to the type of flooding you read about in the Bible, when they get to part about Noah and his Ark. Many wines were declassified. This is a vintage to avoid. 70 Pts
2001 – I've come to really like these wines. They have a lot of freshness and attitude. As of 2016, many are starting to show nicely at the top end, and I suspect they will get better from here. The vintage is the product of a successful flowering and warm, dry, sunny, summer weather. Drink 92 Pts
2000 – Honestly, you're better off buying Bordeaux in this vintage. The product of a large crop, the wines are light and almost dilute, lacking excitement. Drink 83 Pts
1999 – The first of the great modern ear vintages when everything went right in the Northern Rhone. The wines are strongest in Cote Rotie. There is a big difference in the level of quality in Cote Rotie over Hermitage, as there is with the rest of the Northern Rhone. The other appellations are good, but Cote Rotie was stunning! For the first time the growers had the funds needed to really make the most of the vintage. At 17 years of age, the wines are still vibrant, fresh and exciting! Drink 96 Pts
1998 – Classic in style, at the top end of the wines from Cote Rotie and Hermitage, they are strong, with ripe fruit, rich, textures, freshness and the ability to age. Drink or Hold 94 Pts
1997 – Forward, open styled vintage, with ripe sweet, fresh fruits, vibrant energy, soft textures and character. With few exceptions, it's a good time to start drinking these wines. Drink 91 Pts
1996 – Average, classically styled wines lacking in depth and concentration. Drink 84 Pts
1995 – Classic vintage with firm tannins that were the product of a warm, dry summer that was looking really good, until the rains fell in early September. The wines for the most part have some hardness or firm qualities to the tannins and a lot of acidity and the fruit tried to ripe, but just could not get there. There are some good wines at the top end, especially with Guigal and Chave, but there is a big drop in quality from that high point. Drink or Hold 90 Pts
1994 – The hot, dry, sunny conditions were perfect for the vintage, right up until the September rain fell and never stopped falling, making it difficult to achieve ample ripeness. The wines show an austere edge to their quality. Drink 88 Pts
1993 – A cool growing season with rain just before and during the harvest season is not the perfect recipe for a great vintage, but that's what you have with 1993. Avoid 65 Pts
1992 – The crop was large, but with poor conditions during the growing season, less wine would have been better. Avoid. 75 Pts
1991 – By far, the Northern Rhone was the most successful region for dry, red wine in Europe in 1991, which was the 4th great vintage in a row for the Northern Rhone Valley. Cote Rotie stole the show! The wines are much better in Cote Rotie over Hermitage. They are still rich, fresh, deep and exotic. At 25 years of age, there are few that need more, if any additional aging. The 1991 Cote Rotie vintage has obtained legendary status and many of the wines have become impossible to find, and when you can find, they are shockingly expensive. If you have a bottle, pop a cork and see what all the fuss is about. Drink 95 Pts
1990 – More consistent than the subsequent vintage, the wines remain concentrated, lush and exciting with more than 25 years of bottle age. However, it's time to start drinking them. At the top, the best wines of Hermitage, Chave, La Chapelle and Chapoutier are better than the best wines of Cote Rotie. Drink 96 Pts
1989 – Wonderful character, aromatics, textures and fruits that with close to 30 years of bottle age require drinking over the next decade, for all but a few wines. The vintage is the product of high yields, and the very hot, sunny, dry, conditions experienced in September that remained in place through the harvest. Drink 93 Pts
1988 – The first of what turned out to be 4 stunning vintages in a row for the Northern Rhone Valley. The top wines took years to develop. 1988 is not a consistent vintage in the Northern Rhone as Cote Rotie is dramatically better than what growers experienced in Hermitage and the rest of the region. Drink 90 Pts
1987 – Medium bodied, lighter styled vintage that was best suited for early drinking. I've always heard great things about the Guigal La La's in this vintage, but I was never impressed. Drink 84 Pts
1986 – While the harvest took place under good conditions, the rainy August and September left its mark. The wines are firm and austere. Drink 83 Pts
1985 – Better once again in Cote Rotie than Hermitage. At their best, 1985 Northern Rhone are still delivering pleasure. Although the wines of Hermitage need to be drunk up. The wines from Guigal are still stunning, drinking experiences. Drink 91 Pts
1984 – A poor vintage that was at its best in its youth. It was a bad year for every major appellation in Europe. If you need a wine from 1984, buy California Cabernet Sauvignon. Drink 80 Pts
1983 – More successful in Cote Rotie than in Hermitage, most of these wines need to be drunk up. Guigal La Mouline is stunning! Drink 88 Pts
1982 – An interesting vintage that varied, depending on the grower and the terroir. Few wines were really good. But Chave, Guigal and Jaboulet all made very strong wines that require drinking as they near their 35th birthday. Drink 85 Pts
1981 – Less than moderate vintage that produced, light, early drinking wines that need to be drunk up, much sooner than later. Drink 83 Pts
1980 – A vintage that was probably much better in its youth, than at more than 35 years of age. These wines are all past their prime. 83 Pts
1979 – Lighter styled vintage which produced some fine wines at the top end. However, those need to be drunk up sooner than later. Drink 85 Pts
1978 – Stunning vintage for Cote Rotie and Hermitage. Although, it's probably a bit better and more consistent in Cote Rotie than in Hermitage and other parts of the Northern Rhone. The top wines from Guigal as well Jaboulet La Chapelle are prodigious. Clearly, this is the vintage since 1961. 1978 Northern Rhone wines are as good, better than most of the vintages from the region from the 1950's, 1940's and earlier. The only other year that is better was 1961, which produced the most legendary Rhone wine of all time, the 1961 Jaboulet La Chapelle. Drink 98 Pts
Ancient vintages from Cote Rotie, Hermitage and rest of the Northern Rhone are dangerous to buy as most wines have long since faded away, which is a polite way to say, they are dead. There are a few old wines that have really turned me on. The 1961 Jaboulet La Chapelle remains one of the greatest wines I've ever tasted. If you're definitely going to purchase older wines from the Northern Rhone, look for 1961, 1959, 1955, 1949, 1947, 1945, 1934, 1929 and 1928. If you find any of those really old, pre war year bottles, please invite me to dinner. I'd love to taste those wines with you!
If you're interested in reading about the wines and vintages from the Southern Rhone Valley and Chateauneuf du Pape, please read the Southern Rhone Vintage Chart