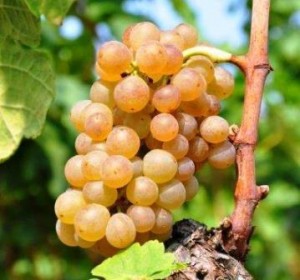 Roussanne is a late-ripening variety that produces powerful white wines that offer pungent perfume featuring scents of fresh flowers, peaches, herbs, pears, spice, roasted nuts, and hints of pepper.
Wines produced from Roussanne are quite rich and can even develop a silky, exotic, oily texture. Roussanne-based wines are best enjoyed either within the first few years of bottling or after they have been cellared for 15 to 20 years. During the in-between period, the wines are closed down and their flavors and aromatics are difficult to find.
In Chateauneuf du Pape, Roussanne is one of six white wine grapes allowed by AOC law in the region. While the rules of the appellation allow for the grape to be blended with red wine grapes, not many producers blend the red and white grapes in the Southern Rhone.
However, Chateau Beaucastel, perhaps the most famous producer in Chateauneuf du Pape produces a world class, white wine from 100% Roussanne. The Beaucastel Chateauneuf du Pape Blanc Vieilles Vignes is made exclusively from Roussanne grapes.
Aside from Chateauneuf du Pape, in the part of the Rhone valley, the grape is also planted in Provence and Languedoc-Roussillon. Roussanne is used most often in the Northern Rhone in the appellations of Hermitage, Crozes Hermitage, St. Joseph and St. Peray.
In all those appellations, Roussanne is most often blended with Marsanne. Roussanne is also used on the Cotes du Rhone, Costieres de Nîmes, Coteaux du Tricastin and the Cotes du Luberon appellations. As you can see, Roussanne is a grape that requires warm, sunny conditions to ripen. Without that climate, the grape cannot achieve phenolic ripeness and instead, can easily develop mildew or rot.
Roussanne blended with Marsanne is the perfect pairing. Marsanne adds the fat, richness, oily textures, and sweetness to the wines, while Roussanne brings more acidity, elegance, and aromatic complexities to the wine.
Roussanne can be a difficult grape to grow as it's easily susceptible to oidium. The grape is small in size and grows in compact bunches. It's because of its tight clusters that do not allow for much air between the grapes that make it easy for rot to develop.
When ripe, the berries take on gold, copper-tinted coloring. Once harvested, the berries are also prone to oxidize quickly.
Roussanne is perfect for many wine and food matches as the grape produce good, food-friendly wines. Of course, this helps to make numerous wine and food matches.
For example, Roussanne with food pairs well with a wide variety of seafood dishes, especially shellfish, cod, lobster, crab, and of course the most important fish dish of Southern France, bouillabaisse. Roussanne also pairs well with pate, roast chicken, pork, veal, cream sauces, spicy flavors, Asian cuisine, and with a vast array of different soft and hard cheeses.
Planting of the grape takes place outside of France in Italy, Australia, America, and other countries. In the 1980s, Randall Graham, the owner of Bonny Doon winery, illegally smuggled cuttings in his suitcase from Chateauneuf du Pape, planting them in his California vineyard.
The cuttings were supposed to be Roussanne, but John Alban from Alban vineyards correctly identified the vines as Viognier. Roussanne is more popular in the Golden State in the Central Coast regions than further north in Sonoma.
Some of the top producers working with Roussanne in California today are Sine Qua Non, Tablas Creek, Kongsgaard, Stolpman, and L'Aventure. Australia is also making good wines from the varietal, look for D'Arenberg and Giaconda. While Roussanne is most often blended with Marsanne, you can also find a wine with Roussanne blended with Viognier and even Chardonnay in California.