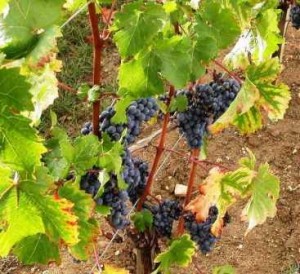 Everything about Alban Vineyards, San Luis Obispo, Central Coast, California, wine producer profile, wine tasting notes, wine and food pairing tips, best vintages, history of the property, information on their wine making techniques, terroir and soil. You can also read about the Grapes used for California wine and learn about the extensive History of Napa Valley, California Wines
Alban History, Overview
Alban Vineyards is the first important California wine producer and vineyard producer focusing on Rhone varietals. The actual winery is situated in Edna Valley, in the southern corner of the San Luis Obispo appellation. Of course other growers and wineries were using Rhone varietals, but he was the first producer completely devoted to grapes that were more at home in the Rhone Valley. Alban bought land in the Edna Valley, in San Luis Obispo in 1990. Of the different growing regions in the area, Edna Valley has the coolest climate, most resembling the Rhone Valley. John Alban began planting red and white grapes from Rhone varietals; Syrah, Viognier and Roussanne. The next year Alban added Grenache to the vineyard. He released his debut vintage a few years later with fruit from the 1992 harvest.
The next step was changing his vinification techniques, starting with destemming the berries, relying on natural yeasts and fermenting at higher temperatures for shorter periods of time.
Alban Vineyards, Soils, Winemaking
Alban Vineyards consist of different soil types exposures and micro climates. For example, Seymour's comes from 8 acres of soils with more limestone and chalk. Reva is grown in soil dominated by clay and grave and Lorraine comes from a hotter, rockier terroir. Most of the vineyards are situated close to the winery while Seymour's is located at the rear of their vineyards. All told, Alban has 66 acres under vine. On average, they produce close to 6,000 cases of wine per year. Alban has also been used as a grape source for other vintners, most notably Sine Qua Non. Au Bon Climat, Failla and Mat Garretson and others have also used their fruit.
Alban Vineyards currently producers a wide range of wines including Viognier, Roussanne, Syrah, Grenache and Mourvedre. The top wines are their Syrah; Seymour's, Reva, Lorraine and Patrina. Additionally they produce two Grenache based wines of which Pandora Proprietary blend is the finest. For their Mourvedre, that is used to produce the Forsythe, which is made from 100% Mourvedre.
Serving and Decanting Alban Wines with Wine, Food, Pairing Tips
Alban is best served at 15.5 degrees Celsius, 60 degrees Fahrenheit. The cool, almost cellar temperature gives the wine more freshness and lift. Young vintages can be decanted for 1-3 hours, depending on the character of the vintage. This allows the wine to soften and open its perfume. Older vintages might need very little decanting, just enough to remove the sediment. Alban is best served with all types of classic meat dishes, veal, pork, beef, lamb, duck, game, roast chicken, ribs, hamburgers, barbecue, roasted, braised, grilled dishes and stews. Alban is also good with Asian dishes, hearty fish courses like tuna, salmon, mushrooms and pasta.
Alban is not a shy, delicate style of wine. The wines are big, bold, ripe, concentrated and at times, the wines can even seem over ripe or too powerful for some tasters. The wines of Alban Vineyards can age well.
Alban Vineyards Wine Tasting Notes
4 Vintages 25,934 Views Sort by Vintage-Rating
2012
Alban Vineyards Syrah Patrina Alban Estate Vineyard (Edna Valley)

Once past the heavy, toasted, vanilla oak scents, the wine delivers luscious waves of black and blue fruit, black pepper and cherry liqueur notes. If you like young, ripe, fat, sweet, California Syrah, this should be right up your alley.

2,905 Views

Tasted

Sep 19, 2015

2009
Alban Vineyards Syrah Reva Alban Estate Vineyard (Edna Valley)

Thick, rich, concentrated, or should I say dense? Espresso bean, black and blue fruit, licorice, the wine is fat, palate coating and as I mentioned dense. There is a nice freshness in the fruit and a long, powerful finish.

3,992 Views

Tasted

Nov 29, 2014

2006
Alban Vineyards Syrah Reva Alban Estate Vineyard (Edna Valley)

Tasted earlier this year, I was knocked out by this wine. Over the past 11 months, it's gotten even better! There is a beautiful sensation of purity to the sweet, ripe, polished berries. The wine has great length, balance and sophisticated textures, plus it's drinking in the sweet spot. If you have a bottle, do not hesitate to pop a cork.

5,719 Views

Tasted

Nov 25, 2012

Deep, dark and still purple in color, the wine explodes from the glass with intense, jammy scents of blackberry and blueberry liqueur, pepper, vanilla, coffee, licorice and black cherry jam. This massive wine is packed and stacked with multiple layers of sweet, ripe, jammy berries and spice. This dense Syrah ends with a long, palate coating finish.

8,325 Views

Tasted

Jan 6, 2012

2004
Alban Vineyards Syrah Seymour's Vineyard (Edna Valley)

Meaty, beefy, big and bouncy, this wine has so much ripe fruit packed into each taste, it's almost too much of a good thing. Loaded with jam, pepper, smoke, earth, blueberry, blackberries and vanilla, this is extremely powerful and concentrated. But there is an elegance to the fruit and texture that makes it all come together.

4,993 Views

Tasted

Aug 26, 2013