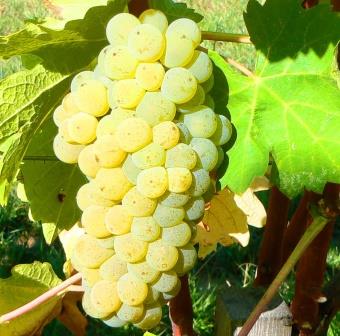 Viognier grapes reach their best expression in the Northern Rhone Viognier, a white wine grape is the only grape allowed by AOC law to be planted in planted in Condrieu, and Grillet. Viognier grapes are also planted in other Rhone areas. In Cote Rotie, which is located close to Condrieu, the fruit is blended with Syrah to produce one of the most, exotic and erotic style of wines available from any wine region. The most famous and sought after wine using that blend is La Mouline, from Guigal.
Viognier reaches its peak in hillside plantings with limestone, mica, schist and granite terroirs in cooler climate zones. The berries are small and the harvesting time can be crucial as the acidity can drop quite quickly when ripe.
When blended with the red wines of Cote Rotie, Viognier grapes add floral, peach and spices along with sensuous textures. Viognier can be used to produce both dry, white wine, or sweet, late harvest wine from grapes with botrytis, or noble rot.
Viognier is the only allowable grape used in the Condrieu appellation. Condrieu, is one of the world's most highly perfumed wines. Condrieu is a wine best enjoyed in its youth for its aromatics of and white peach, spice, honeysuckle, roasted nut and floral elements. Guigal produces the finest wine of the appellation with its La Dorianne bottling's. Viognier is also the only allowable grape for the Chateau Grillet appellation, which is made all the more unique because the appellation has only one winery, Chateau Grillet. Unlike most wines made from Viognier and especially Condrieu which are best enjoyed in their fruit filled youth, the wine of Chateau Grillet has a reputation for aging well.
Viognier is a food friendly white wine that pairs well with a wide variety of foods and cuisines. Spicy Asian food due to the natural sweetness in Viognier. Viognier also works in wine and food pairings with a wide variety of seafood and shellfish, roasted or grilled chicken, veal, pork, spicy flavors and Asian cuisine. Viognier is also delicious with select vegetable and salad courses and of course hard or soft cheese.
Viognier grapes was a popular white wine grape prior to the Phylloxera epidemic. By 1965, the variety had become close to non existent in France. In fact, so little remained, in 1971, only 13.7 hectares were planted in Condrieu and Chateau Grillet in total, for both appellations! Viognier was close to extinct. Very few regions around the world in those days showed any interest in the grape, as few countries outside of France had any Viognier planted either. Since then, the fruit has enjoyed a resurgence in popularity in French vineyards and in other countries as well. It's said the reemergence of the grape started in California at La Jota vineyards in the Napa Valley. Today, over 740 hectares are planted to Viognier in France. When added to all the vineyards planted in the world, more than 2,000 hectares are now planted to Viognier. That is quite a resurgence.
Viognier was discovered to have come from the Alpine region by researchers. The grape is a close relative to the Freisa grape, which comes from Piedmont in Italy. The grape remains popular in the Condrieu appellation, but today, it is also planted in other countries, most notably in America, Australia, Italy, Spain, Greece, Switzerland, Austria and South Africa.
In California more than 100 different producers are making wine from Viognier today. The grape has really taken off in terms of popularity in both Northern California and in the Central Coastal areas. The grape is grown in Sonoma, the Central Coast and in the Santa Barbara appellations. Some of the best producers making Viognier in the Golden State today include: Alban, Kongsgaard, Melville and Calera. Sine Qua Non uses Viognier as part of their white wine blend, and in some of their red wines, but as of yet, they do not make a single varietal wine from Viognier yet.