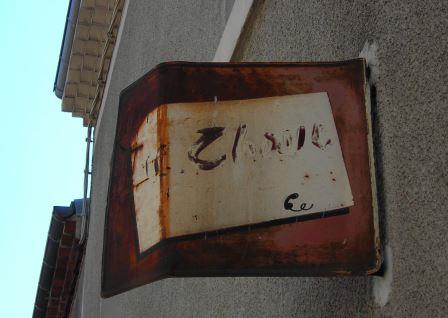 Learn everything about Jean Louis Chave, Hermitage, with wine tasting notes, wine, and food pairing tips, best vintages, a history of the property, and information on the vineyards and winemaking. If you want to read about other important wineries and wine makers from the Rhone valley: Links to all Rhone Valley Wine Producer Profiles
Domaine JL Chave History, Overview
The label today reads Domaine JL Chave. But the story of this Rhone producer doesn't start here. It goes a long way back. In fact, the Chave family is one of the oldest names in the world of wine. They have been producing one of the world's greatest wines since 1481!
The label bears an inscription commemorating this achievement, "Vignerons de Père en Fils depuis 1481", which is translated to, Vine growers from father to son since 1481! The Chave family began cultivating vineyards and making wine in what we now know as the St. Joseph appellation.
The Chave family began buying land on the Hill of Hermitage in 1865. The land and family business of making great Rhone wine continues to be passed from generation to generation. The Chave family made the move to Hermitage following the attack of phylloxera that struck most of Europe's vineyards in the late 19th century.
The Chave family began producing wine in Mauves when they entered the wine business. In fact, this is where the Chave continues to produce Hermitage wine today. Chave began bottling and selling their own wine in the late 1800s, which was quite forward thinking in those days, when most wines were bottled and sold by negociants. If you're able to visit their cellars, the oldest bottle they own is from 1903.
It is incredible to think of the unbroken line of family ownership. Most recently from father to son with Gerard Chave, who began managing the domain in 1970 and handed it over to his son, Jean Louis Chave.
Jean-Louis Chave, the 16th generation of his family to manage the vineyard began working with his father at the Domaine in 1992, after earning his degree in oenology at UC Davis in California. Today, Jean-Louis Chave remains in charge of the estate with his wife, Erin Cannon-Chave.
Domaine Jean Louis Chave Vineyards, Terroir, Grapes, Wines, Winemaking
JL Chave produces 2 Hermitage Rouge wines and 1 Hermitage Blanc wine.
Jl Chave owns 15 hectares of vines in Hermitage. 10 hectares are planted to Syrah and are used to produce 2, Hermitage Rouge wines, JL Chave Hermitage and Chave Cuvee Cathelin.
The vines are old, with an average age of 50 years, give or take a few years. The remaining 5 hectares of vines are planted to 80% Marsanne and 20% Roussanne. The grape vines for their white Rhone wine are even older than their red wine vines as they are mostly more than 60 years of age.
Along with the Frey family who owns Jaboulet, Michel Chapoutier, and the cooperative, the Chave family owns the largest percentage of planted hectares in the Hermitage appellation.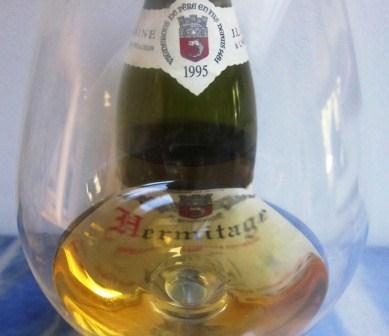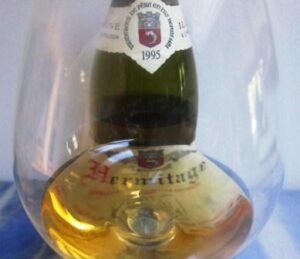 The key to the beauty and complexity found in JL Chave Hermitage comes from their mastery of blending. While for the red wines, the only grape used is Syrah, the wine is produced from a melange of fruit sources that come out of some of the best plots in the entire Hermitage appellation.
The vineyards are dispersed over the hill of Hermitage. In total, they have vines spread among 14 different parcels in 11 vineyards, or lieux-dits. The red wine comes from 7 lieux-dits and the white wine comes from 4 lieux-dits.
The red wine grapes are planted in Bessards, L'Hermite, Peleat, Meal, Beaume, Diognieres, and Vercandiered vineyards. The 2 hectares of vines on Bessards are considered by many people to be the heart and soul of the JL Chave wine.
With their wide variety of terroir, the vines of JL Chave are planted in types of soil that are exposures that are equally varied. The vineyards have a terroir of rocky soils ranging from granite, limestone, schist, clay, and sandstone soil. The Bessards lieu-dit has a terroir that is mostly, steep granite hillside soils. In large part, the vines on Bessards help create the wine of JL Chave Hermitage today.
They have old vines. On Bessards, the average vine age is 50 years. However, the oldest vines on Bessards are more than 80 years of age. In addition, they also have parcels located on Les Rocoules and Peleat which have vines that are even older at over 85 years of age.
The white wine grapes for Chave come from 5 hectares of vines planted in Les Rocoules, L'Hermite, Peleat, Maison Blanches, and other vineyards. Les Rocoules has some of the oldest white wine grapes in the Northern Rhone, with vines that are close to 100 years of age! The typical blend for the white Hermitage ranges from 80% to 85% Marsanne blended with 15% to 20% Roussanne.
Jean Louis Chave Hermitage Rouge
Since 1991, JL Chave has been using mostly stainless steel, along with 3 wooden open-top fermenters for alcoholic fermentation. In late 2014, JL Chave completed a renovation and extension of their cellars.
Some of the grapes are destemmed. Interestingly, this practice took place during the production of wines during the 1800s, but that fell out of favor late in the 20th century. The fruit from each terroir is vinified separately.
For the red wine of Chave, the grapes are usually partially, but not always fully destemmed. In very ripe years, a portion, up to 50% of the stems might be left on the grapes.
It really varies from vintage to vintage. Vinification takes place in a combination of cement vats, stainless steel, and old, open, French oak barrels. Each parcel is vinified and aged separately until the blending takes place.
Depending on the vintage, malolactic fermentation can take place in casks, vats, or tanks. Once fermentation has been completed, the wine is moved to the large 228-liter oak barrels for aging. The wines of Jean Louis Chave are aged in barrel for about 18 months. The amount of new oak varies, but today, it is closer to 10%, depending on the vintage.
The used barrels range in age from 1-5 years. Jean Louis Chave has been reducing the amount of new oak with time. His logic is, that with refined tannins, the wine does not need that much new oak.
The wine is blended after 18 months in barrel, usually in July. Jean Louis Chave waits for 60-90 days after blending before bottling. The production of Chave Hermitage rouge ranges from 2,000 to 2,500 cases per vintage.
JL Chave Hermitage Blanc
For the white wine of JL Chave, the grapes are vinified in a combination of 33% in French oak casks and 67% in stainless steel tanks. The blend for Chave Hermitage Blanc is almost always 80% Marsanne and 20% Roussanne, though that can vary a bit, depending on the vintage.
Following fermentation, the wine is racked off its fine lees. The wines are then aged in a combination of mostly new and used, French oak barrels, with a small portion that is also aged in stainless steel tanks for up to 18 months before bottling. For JL Chave Hermitage Blanc, the average production is close to 1,250 cases per year.
Jean Louis Chave Cuvee Cathelin
For this traditional Domaine, it's interesting that they produce a luxury wine, Cuvee Cathelin, which made its debut with the 1990 vintage. The wine is named after their close friend, Bernard Cathelin, who is a well-known French artist.
JL Chave Cuvee Cathelin is produced from a different blend of the same fruit that is used for JL Chave. Most of the grapes used to produce Chave Cuvee Cathelin come from the Les Bessards lieu-dit. The wine is intended to have more concentration and finesse. It is also distinguished by the fact that Chave Cuvee Cathelin sees much more new, French oak barrels during its aging period.
Cuvee Cathelin is not made in every vintage, in fact, the wine is only made in the best years. The production of Cuvee Cathelin is close to 200 cases. Due to the tiny production of Cuvee Cathelin, the wine sells for a massive premium in the market.
It's not worth the extra money in my opinion, especially as some vintages are close to $5,000 per bottle! In some vintages, I have preferred the regular JL Chave Hermitage.
But I have started rethinking my position on Chave Cuvee Cathelin. A bottle of the 1990, which was tasted in late 2016, blew me away. It was rich, concentrated, lush, and showed an incredible, voluptuous, yet vibrant character. It was not light, or as refined, but it offered a stunning, fruit profile, with a finish that did not quit.
JL Chave Vin de Paille
Jean Louis Chave also produces a minuscule amount of Vin de Paille, a dessert wine made from grapes left to dry on straw mats for 3 months. The wine is then vinified and aged in oak barrels. It can take about 24 months before the fermentation is completed.
The wine is then aged for about 48 months before bottling. The blend is on average, 90% Marsanne and 10% Roussanne. Interestingly, JL Chave Vin de Paille is quite high in alcohol, reaching a whopping 16% in 1990. Yet, there is no sensation of heat.
The wine is incredibly unctuous, fresh, intense, and sweet, and is far from cloying. JL Chave Vin de Paille is not made in every vintage. In fact, the wine has only been produced in 1952, 1974, 1986, 1989, 1990, 1991, 1996, 1997, and 2000 so far.
On average, when it is made, up to 1,000 half bottles are released. Although, in some years, the production can be even less! Due to its extremely low production, coupled with its high quality, JL Chave Vin de Paille is now one of the world's most expensive sweet, white dessert wines.
They also make some of the best wine in the St. Joseph appellation with Jean Louis Chave Offerus, which comes from vines well-placed in Mauves and Saint Jean de Muzols. It is interesting to note that the reason you never see truly old vintages of Offerus is that their vineyards in Saint Joseph needed to be completely replanted in 1992, as the vineyard was basically abandoned after it was decimated by an attack of phylloxera in the early 1900s.
Jean-Louis Chave Selection Wines
They also make wine in Crozes Hermitage. Their negociant line, Jean-Louis Chave Selections produces Silene, which combines estate fruit with purchased grapes from growers in Crozes-Hermitage. In addition, they also produce a fabulous line of well-priced negociant wines in the Cotes du Rhone through their Jean-Louis Chave Selections.
JL Chave Selection Mon Coeur
Much of the grapes are purchased from growers in various Northern Rhone appellations. The growers have vines in Buisson, Cairanne, Estargues, Vinsobres and Visan. However, it is important to note that Jean-Louis Chave is in charge of farming, which is organic. After harvest, the grapes are delivered to their cellars in Mauves. Alcoholic and malolactic fermentation takes place in stainless steel tanks. The wine is aged in a combination of new and used French oak barrels, demi-muids, and foudres. The blend can vary, but it is close to 60% Grenache, 30% Syrah, 5% Mourvedre, and 5% Cinsault. The production is on average, 15,000 cases per vintage. JL Chave Selections Mon Coeur is one of the top value plays for Northern Rhone wines.
The best vintages of JL Chave Hermitage are: 2022, 2021, 2020, 2019, 2018, 2017, 2016, 2015, 2012, 2010, 2009, 2007, 2006, 2005, 2003, 2001, 1999, 1998, 1995, 1991, 1990, 1989, 1988, 1985, 1983, 1982 and 1978.
Older vintages of JL Chave Hermitage are close to impossible to find. But with the wine's uncanny ability to age and evolve, I imagine it would be great if you could ever locate a bottle or two. I would guess they would also be quite expensive, but if you have a bottle, and are willing to invite me to taste it with you, I am on my way.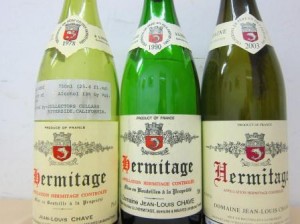 Character and Style of JL Chave Hermitage
JL Chave Hermitage is considered by many people to be the best wine produced in the appellation. In select vintages, they are 100% right. The wine is concentrated, rich, deep, elegant, balanced, and has the finesse that few other wines offer.
The wine is not much fun to drink young. JL Chave Hermitage drinks best with at least 20 years of bottle age.
From the most recent vintages, the wines to own are the other worldly 2015 and 2003 JL Chave. The wine is so thick, rich, and intense, with a tidal wave of perfectly, ripe, dense, pure fruit. It's not the traditional style of Jean Louis Chave.
The wine has not budged an inch since it was bottled. In time, this will offer an unparalleled tasting experience.
For a fully mature vintage of JL Chave, 1990 is sublime. It has everything a great wine needs. It comes with a scary high price. But if you want to experience the greatness of Chave and understand why wine lovers have coveted these wines for centuries, this is worth tasting a bottle.
Not quite at the same level, but for a lot less money, look for 1982, 1983, or 1985 as they are all sublime, and are fully mature. Since 2015, Chave Hermitage has become a much more in-demand and expensive wine. The production is not increasing and the demand continues to grow. If Chave Hermitage is your style of wine, and if you have the disposable income, my advice is to buy the vintages of Chave you want sooner than later, as prices are only going to continue to increase from here.
When to Drink JL Chave, Anticipated Maturity, Decanting Time
Domaine JL Chave is not a wine that can be enjoyed young The wine needs time, at least 10 years or more and needed before the wine becomes civilized. At that point, 1-3 hours of decanting are recommended to allow the wine to soften and open its perfume. Older vintages might need very little decanting, just enough to remove the sediment.
Domaine JL Chave is usually better with 10-15 of bottle age. Of course, that can vary slightly, depending on the vintage. In the best vintages, the wine should be consumed within 15-45 years after the vintage.
Serving JL Chave with Wine, Food, Pairing Tips
JL Chave is best served at 15.5 degrees Celsius, 60 degrees Fahrenheit. The cool, almost cellar temperature gives the wine more freshness and lift.
Domaine JL Chave is best served with all types of classic meat dishes, veal, pork, beef, lamb, duck, game, roast chicken, roasted, braised, barbecued, and grilled dishes as well as smoked meats. Domaine JL Chave is also good with Asian dishes, and hearty fish courses like tuna, mushrooms, cheese, and pasta.
The white wine of Domaine JL Chave is best served with a myriad of different seafood dishes, shellfish, crab, lobster, sushi, sashimi, chicken, pork, and veal, as well as Asian cuisine.
Domaine Jean-Louis Chave Wine Tasting Notes
43 Vintages 448,956 Views Sort by Vintage-Rating
2019
Domaine Jean-Louis Chave (Hermitage)

Far too young, but in the name of science it is impossible not to see the future here. The nose, with its grilled meat, herbs, tobacco leaf, smoke, cocoa, flowers, blackberries, plums, currants, and spice might be what you initially notice, but it is all of those layers of palate-coating, black and dark red fruits that steal the show. Concentrated, refined, elegant lifted, long and complex, every sniff and sip is a turn-on. The purity in the fruit and the silky tannins provide an opulent, lush, seamless finish that is close to the 60-second mark. This is a future legendary vintage for Chave that you need to own, if you are a fan of their wine, and have the income. Drink from 2030-2060.

6,707 Views

Tasted

Sep 27, 2022

2019
Domaine Jean-Louis Chave Blanc (Hermitage)

The penetrating nose hits you with all of its flowers, crushed rock, lemon peel, orange rind, and spicy notes with almost no effort. It is even better on the palate. With mouth-coating layers of rich, ripe fruits balanced with piercing acidity and a touch of honeyed sweetness on the backend. This is simply fabulous. Drink it now, or wait 12 years, either way, it is about as good as Hermitage Blanc can be. Drink from 2023-2040.

3,651 Views

Tasted

Jul 31, 2022

2018
Domaine Jean-Louis Chave Blanc (Hermitage)

Flowers, white peaches, honey, lemon curd, ginger, orange rind, vanilla and almonds crowd into the nose. Unctuous, oily and vibrant on the palate with blend of citrus, yellow tropical fruit, spice and ginger fill out the mid-palate and the finish. Drink from 2024-2043.

118 Views

Tasted

Sep 24, 2023

2015
Domaine Jean-Louis Chave (Hermitage)

Mind-blowing in every sense of the word! This just grabbed my attention from the first, sniff and kept it there after the initial sip. The levels of concentration here are off the hook. The tannins are polished, silky and feel great on the palate. The fruit offers purity, symmetry and sweetness, along with spice, iron, crushed rock, pepper and herbal accents. The finish doesn\\\'t let go for at least 60 seconds. You should wait at least 15 years, or more, but this worth the wait, and the cost, if you find and afford it.

14,910 Views

Tasted

Nov 12, 2018

2012
Domaine Jean-Louis Chave (Hermitage)

Far too early to taste this, but I was there and so was the bottle. I had an empty glass, and well, it would have been rude to say no. Right? Good color, full-bodied, concentrated and classic, the wine is bright, crisp, fresh and lifted. There is a crunch to the peppery, blackberry and smoky red pit fruit. The tannins are a bit strict here. Everything is in place, but this is not a generous vintage. It is more restricted in style and will take at least another 10 years to become civilized.

6,861 Views

Tasted

Jul 15, 2020

2011
Domaine Jean-Louis Chave (Hermitage)

Forward for Chave, the wine is fresh, spicy, pure, elegant and restrained. There is more depth here than you find most 2011 Northern Rhones, with a finesse-styled, ripe, spicy, red berry finish.

5,438 Views

Tasted

Oct 6, 2018

2010
Domaine Jean-Louis Chave Blanc (Hermitage)

Still primary, with a boatload of sweet, fresh lemons, hints of pineapple and candied grapefruit. Thick and intense, yet fresh, balanced and long.

3,875 Views

Tasted

Aug 19, 2015

2009
Domaine Jean-Louis Chave Blanc (Hermitage)

Showing much better than when last tasted a few years ago. The wine is intense, powerful, concentrated, vibrant and fresh, with load of sweet, slightly honeyed lemon, grapefruit, flowers and stone notes. Luscious in texture, the wine leaves a long impression of fruit and freshness.

7,218 Views

Tasted

Aug 19, 2015

Deep yellow in color, the wine is rich, full bodied with minerality, citrus, melon, floral, honey, spice and a touch of banana, the 2009 JL Chave Hermitage Blanc is plush, balanced and mouth filling.

5,465 Views

Tasted

Aug 2, 2012

2008
Domaine Jean-Louis Chave (Hermitage)

The lightest vintage of JL Chave Hermitage I remember tasting. Elegant, perhaps Burgundian is the best term for this wine. There is personality, along with a very, bright, if not crisp red fruit character, which all adds up to early drinkability, but this is a not a vintage for long term aging.

5,308 Views

Tasted

May 24, 2017

Clearly, this is the lightest vintage of Chave Hermitage I recall tasting. Medium bodied, not much tannin, soft, easy and elegant in style, the fruit is clean, fresh and pure, but there is not enough of it to make this interesting for long term drinking. This is already fine to drink today.

3,504 Views

Tasted

Feb 18, 2015

2007
Domaine Jean-Louis Chave (Hermitage)

Of course this is still young. But for Chave Hermitage, it's one of the few vintages that will offer pleasure early, that is early for Chave. With a good depth of color, the polished textures and mineral driven, spicy cherry griotte filled wine looks, smells and feels great in all the right places. Another 5 years will add a lot of texture and complexity to the wine.

6,124 Views

Tasted

Aug 14, 2014

2005
Domaine Jean-Louis Chave (Hermitage)

Power, finesse and a forward style sums things up nicely. From there, the levels of concentrated, dark, red fruits, pepper and earth take over. The tannins feel soft and polished, the finish delivers purity and soft, regal textures. This is a beauty and for Chave, the wine is already fun to drink, making this one of the earlier drinking vintages ever produced from the domaine.

6,089 Views

Tasted

Nov 17, 2017

I do not taste young Chave Hermitage often. This bottle reminded me why I usually give the wine at least a decade before popping a bottle. Gobs of pepper, blackberry liqueur, stone, juicy plums and earthy notes catch your attention. Powerful, full bodied, concentrated and tannic, the wine fills your mouth with flavor, freshness and mouth drying tannin. Wines meant to age are interesting to taste young, but most of the time they are not a lot of fun to drink. This needs at least another decade before it becomes civilized. Based on this bottle, it's going to be worth the wait.

7,184 Views

Tasted

Jan 14, 2012

2005
Domaine Jean-Louis Chave Blanc (Hermitage)

Rich, fat, honeyed, semi sweet, citrus fruits and floral elements are all over the place. The wine is full bodied, long, fresh and plush. This should age well.

3,040 Views

Tasted

Aug 19, 2015

2004
Domaine Jean-Louis Chave (Hermitage)

Just starting to show well, the wine is vibrant, fresh, floral, smoky, and spicy with sweet, ripe, fresh, crunchy red berries, red plums, thyme, and peppery spices. Medium/full-bodied, this is good now, but it should be even better with another 2-3 years of age.

3,649 Views

Tasted

Jun 22, 2022

2003
Domaine Jean-Louis Chave (Hermitage)

Still incredibly youthful, the wine is deep, dark, rich, fat, full-bodied, lush and intense. The mouthcoating levels of extract and tsunami of black and dark red fruits, licorice, smoke, and pepper hit your palate and keeps on going for 60 seconds or more. Drink from 2025-2050

2,424 Views

Tasted

Jun 19, 2023

The color of black, purple ink, the fragrance explodes with licorice, coffee, jam, prune, black raspberries, plums, black cherry liqueur, truffle and smoke. With its massive levels of concentration, it's hard to understand how everything is kept in perfect balance and harmony. This amazing wine coats your mouth, palate and tongue with intensity of flavor that seems to last for close to 90 seconds! This wine has not budged an inch since the day it was bottled. It is a thoroughly, unique expression of Hermitage that might not please traditionalists. But tasters seeking something out of the ordinary, yet refined, pure and intense will love it!

9,918 Views

Tasted

Nov 29, 2012

Inky, black, purple in color, with a nose filled with jammy blackberry, cassis, oak, plum liqueur, licorice and black cherry. Thick, rich, intense, powerful, juicy and concentrated with multiple layers of fat, sexy fruit. The seamless finish remains on your palate for over 90 seconds! This is not a typical Chave. But who cares? It's an amazing wine! Drink now, or hold for decades. This is a serious wine that deserves to be experienced by wine lovers.

11,054 Views

Tasted

May 26, 2011

Completely opaque. The perfume explodes from the glass grabbing control of your senses. But, the fruit... "Oh My F-ing God!" This wine is liquefied essence of Hermitage. It's as if you took the soul of the region, concentrated its best essence, liquefied and bottled it. The only wine I tasted young that was this compelling was 03 La Mouline. 03 Chave is so concentrated, it's off the charts! This is so rich, thick and dense, I do not know what to say. It's almost a reduction of Syrah. But, it's also perfectly balanced. Everything is in proportion. There is no heat from these wines.

7,643 Views

Tasted

Jun 25, 2006

2003
Domaine Jean-Louis Chave Blanc (Hermitage)

Ripe, aromatic and concentrated, but flabby in texture. Needs more acidity to give it life.

3,260 Views

Tasted

Feb 20, 2007

2001
Domaine Jean-Louis Chave (Hermitage)

This beautiful, refined Chave offers ripe black raspberry, griotte, blackberries, earth, mineral, kirsch and animalistic aromas. Medium bodied, refined, soft and approachable, this is close to entering its prime time drinking window. It reminds me of a younger version of the 1991 Chave Hermitage.

6,191 Views

Tasted

May 21, 2012

This early maturing vintage of Chave offers earth, spicy blackberries, cassis and dark cherries. Light in weight for Chave Hermitage, it's refined as well as bright in character. Already starting to drink well, the wine ends with a melange of peppery, red fruits and spice.

5,868 Views

Tasted

Aug 22, 2011

2000
Domaine Jean-Louis Chave Blanc (Hermitage)

This is produced from a blend of 80% Marsanne and 20% Roussanne. This thick, rich concentrated wine offers grilled nut aromatics with citrus, peaches, flowers, stone and a hint of honey.

4,276 Views

Tasted

Jul 29, 2010

2000
Domaine Jean-Louis Chave Ermitage Cuvée Cathelin (Hermitage)

Clearly powerful, dense and strong, the wine was quite bright, if not almost too acidic. The fruit ran from sweet to tart, with a focus on the spicy tart side. I could see the quality and style, to a point, but while good, it was far from great.

3,746 Views

Tasted

Jul 2, 2017

2000
Domaine Jean-Louis Chave (Hermitage)

The fruit has a nice purity, there is ample body and concentration allowing the wine to take up enough room on your palate But the tannins are dry, which takes away from overall experience and the finish.

4,034 Views

Tasted

Jan 17, 2016

1999
Domaine Jean-Louis Chave (Hermitage)

This is a meaty, dense, concentrated, powerful wine that grabs your senses. Layers of fruit pour over your palate while the perfume explodes from your glass! 99 Chave is not shy. It's a huge wine, but it sports impeccable balance. The finish lasted over :40.

3,805 Views

Tasted

Feb 18, 2006

Decanted for several hours offered layers of thick, deep, black fruit with black raspberry and dark cherry flavors. Slightly rustic. Very tannic. 99 Chave will probably flesh out in another 10-15 years. Infanticide to open at this stage

3,680 Views

Tasted

Nov 12, 2004

Pitch black color with notes of deep, black, ripe fruit, pepper, spearmint and herbs. Huge wine. Very extracted, rich and complex. The mouthfeel takes over every nook and cranny of your tasting senses. Amazing stuff. Very young, will age for decades.

3,842 Views

Tasted

Aug 1, 2004

1999
Domaine Jean-Louis Chave Blanc (Hermitage)

99 Chave Blanc was tight. With effort, smoke, citrus, petrol and earth were found on the nose of this thick, oily wine. Young and tight, this will hopefully be better with age.

5,685 Views

Tasted

Oct 14, 2010

1998
Domaine Jean-Louis Chave (Hermitage)

This continues morphing into a beautiful vintage for Chave. The nose, with its blend of strawberries, currants, mint leaves, smoke, spice, earth, herbs, and crushed stones gets your engines going. The palate is equal to the nose with its layers of refined, earthy, smoky, red fruits, spice, elegant tannins, and black fruits. Popped and poured, the wine continued opening over dinner, but at 25 years of age, it is fully ready to go. Drink from 2023-2045.

2,097 Views

Tasted

Mar 11, 2023

Meaty, full-bodied, concentrated and stuffed with rocks, stone, black pepper, iron, wild cherries, grilled meat and red berries, the wine feels youthful. The tannins are still noticeable. Better on the nose than the slightly rustic palate, this is a good Chave in an old-school style.

4,035 Views

Tasted

Dec 26, 2020

Deep ruby in color, with a perfume filled with pepper, stone, black raspberries, kirsch and licorice. Full bodied, powerful, yet elegant, this packed and stacked, graceful Hermitage wine demands at least another 5 or more years before it really begins to show its true colors. This was about $80 on release. Those were the days.

5,876 Views

Tasted

Aug 22, 2011

1998
Domaine Jean-Louis Chave Blanc (Hermitage)

Yelllow gold in color, the wine needed a lot of coaxing to find the floral, honeysuckle, tapioca, lemon and honeydew aromatics. This rich textured wine finishes with soft, sweet yellow plum and citrus flavors. This seems like it will drink early for a Chave Blanc. These usually need a lot more time.

4,741 Views

Tasted

Aug 19, 2010

Extremely viscous, good tears. Honey Suckle, spices and white pepper. Good acid with tropical tones

2,244 Views

Tasted

Jun 6, 2004

1997
Domaine Jean-Louis Chave (Hermitage)

Splash decanted, it took no time at all for the earthy, smoky, stony, ripe red berries, pepper, barnyard and touch of orange citrus aromas to pop up. The wine is medium/bodied, fresh, almost bright and elegant with a sweetness to the fruits and soft textures in the finish. This is drinking at peak today. I'm going to finish my remaining few bottles over the next 4-5 years.

2,822 Views

Tasted

Nov 3, 2020

Soft, silky, fresh, sweet cherries, earth and stone in personality, this was incredibly easy to drink with pleasure. This is a finesse styled Chave Hermitage with a lot of charm and easy drinkability.

3,724 Views

Tasted

Feb 4, 2015

Black cherry, blackberry, pepper, earth, iron and spice notes made up the perfume. Kirsch, crushed rock, green olive tapenade and stemmy flavors were found in the finish, Close to fully mature. This is a forward style of Chave.

7,028 Views

Tasted

Feb 4, 2011

1996
Domaine Jean-Louis Chave (Hermitage)

Better on the earthy, red dark berry and spicy nose than on the medium bodied, slightly tart, firm palate. Air might improve this wine, but I doubt it.

3,822 Views

Tasted

Jan 17, 2016

This elegantly styled Hermitage is open and ready for business. Soft, medium bodied, mature and delivering all of its fresh, spicy red berries and earth, this is not a Chave for long term aging. I liked the wine, but it clearly lacks the weight and density of the better vintages.

4,233 Views

Tasted

Nov 30, 2013

1996
Domaine Jean-Louis Chave Blanc (Hermitage)

A deep gold color. Thick texture with a ripe, almost honeyed taste. Good length and palate filling.

4,249 Views

Tasted

Jul 15, 2003

1995
Domaine Jean-Louis Chave (Hermitage)

Bright, fresh, a little bit firm, with a solid core of sweet, stony red fruit, the wine is full-bodied, aromatic, long, mouth-filling and for its age, still youthful.

3,745 Views

Tasted

Feb 13, 2019

I was surprised by how much fun this was to drink as I expected it be more firm, and in need of time. Happily, this was rocking! Concentrated, with freshness, as with most 1995 wines, there is a masculine edge to the wines character, but with air, the wine really starting showing its elegant side. Great textures, intriguing aromatics and loads of perfectly ripe fruit, all in balance and working together, this is a really nice vintage for Chave.

4,017 Views

Tasted

Aug 31, 2016

Ruby with hints of light brick in the color, the perfume reeks of truffles, earth, forest floor, fresh cracked black pepper, rocks, herbs and griotte. Lush and powerful, with sweet black cherries, kirsch, strawberry jam and spice flavors, the wine feels great on your palate where it delivers an array of spice, cherries and plums. Decanted about 90 minutes, this sublime Chave Hermitage is drinking perfectly today. There is still some tannin to resolve. This will improve over the next several years.

5,648 Views

Tasted

Jul 30, 2011

1995
Domaine Jean-Louis Chave Blanc (Hermitage)

Lemon wax, honeysuckle, slate, petrol, vanilla, butterscotch and citrus scents are evident with little effort. Full bodied, concentrated and rich, with round, thick, oily textures, this powerful Hermitage wine ends with long, spicy, fresh lemon sensation.

3,912 Views

Tasted

Sep 21, 2011

Honeyed fruit and flower made for an enjoyable perfume. Full bodied, balanced but slightly tight finish. Needs several more years before reaching maturity.

2,363 Views

Tasted

Aug 10, 2004

Deep color. Flowers, fresh cut grass, honey and tropical fruits on the nose. Very thick and concentrated on the palate. Well balanced. The finish was high pitched

2,420 Views

Tasted

Jun 6, 2004

1994
Domaine Jean-Louis Chave (Hermitage)

Strawberry, dark cherry, spice and rocks in the nose. This medium bodied wine improved in the glass over 2 hours finishing in waves of soft, silky ripe cherry tones.

6,427 Views

Tasted

May 16, 2010

Medium, purple, ruby color. Spicy, cinnamon, cherries, blackberry, pepper and minerals on the nose. Full bodied. Surprisingly accessible for such a young Chave. Very elegant and balanced wine.

3,114 Views

Tasted

Aug 1, 2004

1991
Domaine Jean-Louis Chave (Hermitage)

What a nice surprise! I've always liked this wine, but this bottle rocked it! Licorice, blackberry, cherry, iron, earth, citrus peel, pepper, minerality and earthy scents paired perfectly with the powerful, concentrated, full bodied personality of the wine. Refined, elegant and intense, this sublime Hermitage wine ends with a long, fresh, spicy, black cherry filled finish. Still young, this will age and improve for decades.

4,119 Views

Tasted

Oct 6, 2011

The nose offered minerals, herbs, coffee, spicy fruit, fresh pepper and earthy scents reip black & red fruits. The palate enjoyed lush, deep, opulent fruit filled flavors ending in waves of rich, spicy, ripe black rapsberry.

3,560 Views

Tasted

Aug 1, 2004

1991
Domaine Jean-Louis Chave Blanc (Hermitage)

With its rich color and honeyed, floral fragrance, this was a stellar example of an aging Hermitage. Still young and fresh, this will continue improving and offering pleasure for a long time.

2,867 Views

Tasted

Mar 10, 2007

Good weight, viscous and balanced. Earthy, spicy, caramel nose with hints of honeysuckle. Tropical fruits on the palate. Still youthful with a good finish.

2,821 Views

Tasted

Jun 6, 2004

1990
Domaine Jean-Louis Chave (Hermitage)

Absolutely mind-boggling juice! This is one of the Holy FK wines with everything you could hope for in your glass. The nose, with its display of smoke, coffee beans, pepper, strawberry, leafy herbs, and cherries lets you know you are in for a ride. And the ride kicks into high gear once the wine hits your palate with its non-stop layers of sweet, ripe, elegant, regal, and unrestrained red fruits. The silky, powerful, seamless finish is effortless to drink. Be careful with this, else it will be gone before you kow it! Drink from 2023-2040.

2,695 Views

Tasted

Jun 19, 2023

This is thrilling to swirl, sniff and sip from the moment the wine hits your glass. Elegant, concentrated, long, rich and refined, the smoky, earthy, rock-strewn fruits grace your palate and linger for at least 60 seconds! Prices for this gem have really shot up over the past few years. If you are lucky enough to have a bottle or two, or you have the disposable income, this is a heart-stopping tasting experience.

4,097 Views

Tasted

Aug 14, 2021

Iron, rocks, stones, flowers, olive tapenade and peppery cherries are all over the place. The wine is rich, balanced, elegant and fresh. Mouth-filling and light on its feet the sweet, ripe red cherries show a stunning level of purity in the finish that clocks in over 50 seconds. This is close to peak, where it should remain for 15-20 or even 25 years!

3,575 Views

Tasted

Feb 13, 2019

Decanted about 30 minutes or so, the wine is all about its purity of fruit in the ripe cherries. There is a streak of iron, rocks and stones that runs through the middle of it that grabs your attention. Earthy, fresh and vibrant with concentration and length, this is clearly in the zone. It could improve, but its so good today, there is no reason to wait to pop a cork.

5,657 Views

Tasted

Jun 10, 2018

Spicy, fresh, pure, full bodied, rich, long and pure. The wine is decadent, yet intellectual. Powerful, regal, long and character driven, this is really in a great place for current drinking.

4,371 Views

Tasted

Jan 7, 2017

This specific bottle was mind boggling. With about an hour of air, the wine kicked off with a fresh, kirsch, tobacco personality. Full, deep and concentrated, with a few hours in the glass, the wine moved to a primal, beef blood, garrigue, cherry griotte and iron character, that really lingered on your palate. With 5 hours of air, the last sip kept it all together. Drink now, or wait a decade. What a wine!

5,875 Views

Tasted

Aug 17, 2014

A breathtaking nose packed with a cornucopia of spices, leather, earth, kirsch, cherry, black raspberry, truffle, tobacco and minerality led to a perfectly balanced mouth full of sweet, ripe and almost underripe melange of red and dark berries. Long, fresh, clean and with intense purity of fruit, the wine expands in the mouth whle the nose gains in complexity. 1990 JL Chave Hermitage is about as good as Northern Rhone gets and it's starting to drink perfectly. Age it longer if you want, or pop a bottle today. Either way, you're in for a special treat. This bottle was popped and poured after a quick splash decanting.

6,993 Views

Tasted

Aug 3, 2012

This is serious wine! What more could you want? The striking perfume with its array of red fruits, spice, iron, crushed stone, flowers and earthy scents grabs your attention. On the palate, it's rich, intense, refined, elegant and sensuous. The finish is packed with seamless layers of sweet, ripe, polished red fruit, that builds with each sip. This beautiful expression of Hermitage is close to mature.

7,752 Views

Tasted

Nov 29, 2011

Crushed stone, earth, kirsch, fresh strawberry, red plum forest floor, spice and blackberry aromas make up the complex perfume. The wine is powerful, refined and balanced with an intensity of flavor ending in ripe cassis and cherry sensations. This is edging closer to maturity and merits being tasted today.

7,323 Views

Tasted

May 26, 2011

Concentration with cherries, black fruit, minerals, iron and spices give this wine a stellar personality. This Hermitage is drinking great today. But, with time, I expect this will continue improving.

4,599 Views

Tasted

Oct 1, 2010

This deep, ruby colored wine offers a melange of dark black and red fruits with an array of herbs and spices. The fruit had a roasted quality similar to 90 Bordeaux. Concentrated and long, this pakced and stacked wine is elegant in style. Still young and tannic, consumers with patience will be amply rewarded.

3,106 Views

Tasted

Jun 25, 2007

Explosive perfume filled with ripe black fruit, spice, earth, dark cherry and minerality. Intense, rich, concentrated and full bodied. Still young. Round tannins. Long deep, black plummy finish that really fills your palate. This wine perfectly marries elegance, power and depth.

3,746 Views

Tasted

Aug 1, 2006

1990
Domaine Jean-Louis Chave Ermitage Cuvée Cathelin (Hermitage)

Mind blowing juice! I've had this wine a few times, and was never really impressed, in part, because of the oak treatment. Obviously, the secret was not waiting 27 years because I could not believe how great this was! Truffle, wet forest floor, black cherries, earth, spice, pepper and herbs only gets the party started! There is an insane opulent texture, tremendous concentration and a finish that does not quit. Voluptuous in nature, yet, pure, sexy and regal, this stunner is off the charts.

7,582 Views

Tasted

Jan 7, 2017

I never run across bottles of this rarity, so it was with excitement that I raised the glass to my nose for my first swirl, sniff and taste. Coffee, chocolate, licorice, black cherry and blackberry aromas were easy to find. This full bodied, concentrated wine did not seem as rich or complex as the normal Chave, which seems to express more minerality. Still young, I hope I get another chance to try it again as I know this wine is an incredible rarity.

7,773 Views

Tasted

Dec 8, 2009

1990
Domaine Jean-Louis Chave Vin de Paille (Hermitage)

Now, here's a wine I thought I'd never see, let alone taste. Copper/orange in hue, the orange theme carries through with its focus on orange, apricot, tangerine, flowers and honeysuckle. At 16% ABV, there was no touch of heat. The wine was sweet, not not overly sugary. Rich, unctuous, fleshy and silky, the wine improved in the glass for more than an hour. My instincts say, another decade of bottle age will make this stunner even better!

3,824 Views

Tasted

Mar 6, 2017

1989
Domaine Jean-Louis Chave (Hermitage)

Showing beautifully, this gem pops with its perfume of olives, herbs, peppery kirsch, black raspberries, and leafy green aromas. Full, rich, intense, refined, and yet wild, with layers of perfectly ripe, red fruits, iron, and spices. Popped and poured, the wine hit everything right. Drink 2023-2035.

2,233 Views

Tasted

Jun 19, 2023

Just a tiny step behind the otherwordly 1990, the wine exudes its smoke, plum, thyme, iodine, crushed rock, spice, herb, earth and red plum with cherry nose easily. Full-bodied, elegant, refined, soft and lusty, the wine is utterly compelling, leaving you with layers of intense, pure, fresh, red berries and spice.

3,144 Views

Tasted

Dec 6, 2021

This is in a great place today. Elegant, complex, full, refined, earthy, spicy, smoky and palate filling, the wine tastes and feels gorgeous. Every sniff and sip gets better and better for as long as the wine remains in your glass. This is a quintessential Chave Hermitage experience. If you have a bottle of this elixir in your cellar today and you have been waiting for the magic moment, your wait is over.

3,588 Views

Tasted

Feb 2, 2020

The best of this I have ever tasted showed loads of sweet, fresh, red fruits, herbs, pepper, olives and the essence of rocks and stones. Concentrated, full and with depth, but also refined, long and quite expressive on the nose and palate. This is probably at full maturity. While there is no hurry to drink it, there is no need or reason to age it any longer.

2,640 Views

Tasted

Feb 13, 2019

Showing better than ever. Purity of fruit, iron, tobacco and sweet red fruits are all over the place. The wine feels silky, soft and polished. There is a great richness and purity of fruit in the fresh, red berry finish.

3,321 Views

Tasted

Jan 7, 2017

Sometime's you get lucky with older bottles. This was probably the best example of 1989 Chave I have ever tasted. With about 90 minutes of decanting, the perfume exploded with earth, wild cherries, spice, pepper, herbs, pepper and stone. Full bodied rich, intense, fresh, balanced and long, everything was exacatly where it was supposed to be. Clearly, this was in the perfect place.

3,649 Views

Tasted

Nov 22, 2013

This is not the majestic 1990 Chave. But at half the price, and considering it's almost as good, if you're seeking a Chave with bottle age, this is wine to buy. With its sauvage, blackberry, cherry, earthy, leafy, peppery, fresh herb filled nose, each sip of this concentrated wine gets better and better in the glass. Combining power and grace, this is still young and fresh, but there is no reason not to pull a cork at this stage.

4,066 Views

Tasted

Aug 21, 2013

With effort and patience, notes of black fruit, iron and earth could be found. Huge, full-bodied. Structured, tannic wine. Better in 10 years.

2,425 Views

Tasted

Jul 12, 2010

Black fruit, herbs, spices and cassis make a beautiful aromatic profile. This is a huge, concentrated wine. Very powerful. This takes over your palate with thick, rich, dense black fruit and spices.

2,453 Views

Tasted

Oct 3, 2009

Dark color. Tannic, herbs, spices and jammy fruits on the nose. Full bodied. Concentrated and complex. Needs time

2,426 Views

Tasted

Aug 1, 2007

Multiple layers of thick, rich, ripe fruit, balance, complex aromatics and a lengthy, seamless finish. Another 5 years will open this wine out and flesh it out.

2,479 Views

Tasted

Apr 25, 2005

This was packed with jammy, black fruit and spices. Very thick and concentrated. Dense, full-bodied wine. Great palate presence and a long, black, ripe, fruit filled finish. More bottle age will help, but this is beginning to show its charms.

2,463 Views

Tasted

Sep 1, 2004

1988
Domaine Jean-Louis Chave (Hermitage)

Smoke, charcoal, crushed stones, dried flowers, cherries, and plums create the core of this wine. The palate is long, fresh, clean, and loaded with mineral-laden red fruits, green olives, and peppery spice. Drink from 2023-2035.

118 Views

Tasted

Sep 25, 2023

Aromatically complex with layers of sweet, elegant, earthy, red fruits, there is a gorgeous refined quality here, with ample depth of flavor, energy length and complexity today making this a top vintage for Chave. Plus, it is drinking in the sweet spot. Mature Chave has become tremendously expensive over the past few years, while still quite pricey, when compared to the 89 & 90, this is a well-priced vintage for Chave.

2,410 Views

Tasted

Dec 6, 2021

A treat indeed. Splash decanted, the wine was perched between, rustic charm and refinement. Sweet, red fruits, iron, earth and stone notes were all over the place. Not as concentrated or lush as the top years, but quite complex, charming and fully mature.

3,511 Views

Tasted

Nov 1, 2016

Dark colored wine with a smoky, spicy quality to the ripe black fruit aromas. This reminds me of how the 83 tasted a few years ago.

2,586 Views

Tasted

Sep 19, 2011

This potent perfume greets you with aromatics of baked cherries, fresh leaves, truffles, spice, iron, earth and black pepper. Big, juicy and powerful, this mouth filling wine ends with sweet and sour cherry and strawberry filled finish. While drinking well now, a few more years will soften the wine and add complexity.

5,785 Views

Tasted

Aug 11, 2010

Deep colored with a perfume reminiscent of spicy, black fruit and cherries blended with minerals. The powerful, palate presence mixed black and red fruits with a great cherry core. Full bodied and close to full maturity, the wine continued improving in the glass over a few hours.

2,610 Views

Tasted

Oct 7, 2006

Deep ruby color. Red and black fruits, sandalwood, earth and cassis on the nose. Very lush texture and already close to mature.

2,529 Views

Tasted

Aug 1, 2004

1988
Domaine Jean-Louis Chave Blanc (Hermitage)

Peaches, toast, pears and floral aromas on the nose. Big, full-bodied wine. Nice weighty mouth feel.

2,075 Views

Tasted

Aug 10, 2004

1985
Domaine Jean-Louis Chave (Hermitage)

The core of iron wrapped, ripe, pure cherry and cassis fruit popped from the glass. Full bodied, rich and close to fully evolved. This is drinking great today and while it will age effortlessly for several years, there is no reason to hold off from enjoying its charms.

4,647 Views

Tasted

Aug 6, 2012

Pale ruby in color, with baked cherries, incense, smoke, wet earth, garrigue and spearmint aromas. Soft and supple in texture with strawberry, tart cherries, iron, tapenade and red plums in the finish. This is fully mature and not quite as fresh as I remember it. Based on this bottle, I'm going to drink my few remaining bottles over the next couple of years.

4,695 Views

Tasted

Nov 8, 2011

85 Chave smells like fresh baked cherry pie, tobacco, barnyard, herbs, cassis, earth and spice. This mature Hermitage finishes with a blend of dried, spicy cherries.

5,706 Views

Tasted

Aug 22, 2010

1983
Domaine Jean-Louis Chave (Hermitage)

Fully mature, with a beautiful, fresh, ripe, stony, spicy, rocky, red berry essence that pairs acidity and sweetness to perfection. Splash decanted and poured, the wine shows more elegance and complexity that power at this stage. The tannins are fully integrated. There is no reason to age this any longer, it is at peak today.

2,850 Views

Tasted

Jul 28, 2016

Still delivering the goods, the wine is stony, earthy, rustic and packed with kirsch and cherry griotte. There is a nice depth of flavor, complexity and character here. But there is probably no upside to further aging.

3,845 Views

Tasted

Aug 20, 2013

This was love at first sight. Or was it at the first sniff, swirl or sip? Either way, the beautiful bouquet of earth, cherries, spice and stone was a treat. On the palate, picture, supple, extremely ripe, melted cherries with a beautiful sensation of sweetness, freshness and purity of fruit. At close to 30 years of age, this is drinking in the perfect spot. If you have a bottle, try it.

3,903 Views

Tasted

Mar 1, 2013

With a beguiling nose of blackberry, earth, fresh herbs, tobacco and strawberry, this balanced, charming and elegant wine ends with spicy black and red fruits. Fully mature, there is no reason to wait.

4,071 Views

Tasted

Oct 5, 2009

Aromatically, this wine offers ripe red fruits, minerality, spice and dark berries. Bright in profile, this spicy wine seems mature.

1,988 Views

Tasted

Jun 25, 2006

Pale ruby color. Herbs, black & red fruit, licorice, coffee, cigar ash, wet forest aromas. Good verve. Better on the nose than the palate. Cherries and high toned red fruits in the mouth. I've had better bottles.

1,799 Views

Tasted

Aug 1, 2004

1982
Domaine Jean-Louis Chave (Hermitage)

Drinking perfectly today, the wine is full bodied, rich, spicy and packed with lusty, earthy, sweet, red fruits that show the right amount of of patina to its age. There is no reason to age this further, but there is no hurry to drink it either. This is really a stellar example of older Chave Hermitage.

3,488 Views

Tasted

Apr 16, 2016

Grab a handful of ripe, semi ripe, and a few over ripe cherries, add fresh earth and stones, toss in a bit of barnyard scents, silky textures, refreshing acidity and some cherry stems for good measure, blend well, and you have an idea of what 1982 Chave is like. Interestingly, while this is a wine I would not decant, it improved after a few hours in the glass.

2,733 Views

Tasted

Apr 29, 2013

Bricky, ruby colored throwing a lot of sediment. The nose was filled with jammy strawberries, herbs and notes of brown sugar. The palate had a sexy, rich, mouth feel that slid over your tongue and excited your palate. Full bodied and fully mature, this is a very, hedonistic bottle of wine. Better on the nose than the palate, but who cares? I loved it! This is very sensuous juice. It evolved in the glass for 3 hours

1,770 Views

Tasted

May 3, 2011

Mountains of ripe fruit, great aromatics, a long finish. Clearly all the elements have come together making this an outstanding Hermitage. A good descriptor is, the 82 combines the best attributes of the 88 and 90 vintages. While the 89/90 are much better wines, I prefer tasting the 82 today

1,555 Views

Tasted

Jul 25, 2005

The texture and aromatics, as well as the palate presence was sublime. The seldom tasted 82 is well worth seeking out. It's a great style of Chave filled with ripe red and black fruit, minerality and spice.

1,555 Views

Tasted

Apr 25, 2005

1982
Domaine Jean-Louis Chave Blanc (Hermitage)

This is deep, gold in color. Full of minerals, flowers and sweet, ripe fruit, with great body, concentration and an exotic texture, this wine gives a lot of pleasure.

3,816 Views

Tasted

May 5, 2009

1978
Domaine Jean-Louis Chave (Hermitage)

With 30 minutes of decanting, floral, cherries, tobacco, menthol and fresh herbs for days crop up in the nose. Pure silk, soft textured, medium bodied, fresh, lively, spicy, sweet, cherries keep on going on the palate and in the finish. Fully mature, this was a particularly strong bottle of this increasingly hard to find wine.

4,742 Views

Tasted

Jan 7, 2017

Light ruby in color, with a nose filled with earth, stone, spice, fresh cherries, smoke, black raspberry and peppery scents. Medium bodied, with soft, refined textures, the wine ends with ripe, lush, spicy, red fruits. This wine is more about the nose than the palate. This is fully mature. If I owned any, I'd drink it sooner than later.

4,010 Views

Tasted

Nov 29, 2012

1962
Domaine Jean-Louis Chave (Hermitage)

One of those bottles that you would never imagine being able to taste. Quite ruby, brick in color, the wine leads off with dried flowers, tobacco leaf, herbs, spices, dried cherries, iron, and white pepper. Elegant, or perhaps it is better to say, refined wild, the wine is the essence of crushed rocks and dried cherries with bouquet garni on the backend. The finish is a treat. I am not likely to ever see a vintage of Chave this old again, but wow, what a wine!

1,853 Views

Tasted

Jul 31, 2022