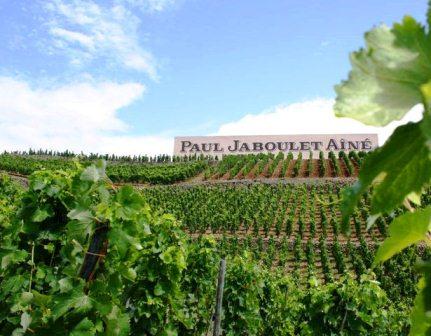 Learn everything about Paul Jaboulet, La Chapelle, Hermitage Hermitage with wine tasting notes, wine and food pairing tips, best vintages, a history of the property and information on the vineyards and winemaking. If you want to read about other important wineries and wine makers from the Rhone valley: Links to all Rhone Valley Wine Producer Profiles
Paul Jaboulet Aine Hermitage History, Overview
Jaboulet has one of the longest histories of any winery or negociant in the world. Originally founded in 1834 by Antoine Jaboulet in the Northern Rhone Valley, the company is currently owned by the Frey family who count numerous wine properties in their holdings.
In Bordeaux, they own Chateau La Lagune. In the Rhone valley, they have holdings in Chateauneuf du Pape, Cornas, Crozes Hermitage and Cotes du Rhone. They market red and white wines. Jaboulet acts as both a negociant, as well as a wine producer.
Paul Jaboulet is clearly capable of producing some of the top wines on the world! The terroir is there. 1961 Jaboulet La Chapelle is one of the world's greatest wine tasting experiences.
It's a legend among wine collectors. It's been scored 100 Pts by Robert Parker. We scored the famous 1961 Jaboulet La Chapelle 100 Pts as well!
In fact the 1978 and the 1990 have also scored 100 Pts from us. All three vintages of Jaboulet La Chapelle hit the magic, triple digit number from Robert Parker. However, the domaine went through a weak period following the 1990 vintage.
The quality of wines being produced dropped following the 1990 vintage. Who knows what caused it. It was probably the death of Gerard Jaboulet.
It as not until after the Frey family bought the domaine that quality returned. 2003 was a rebirth vintage for La Chapelle. In late 2014, the Frey family continued adding to their holdings when they bought Chateau de Corton Andre in the Cote de Beaune area of Burgundy which included 7 hectares of vines.
2007 was strong and 2009 is sublime, however 2010 Jaboulet La Chapelle is probably the best vintage of La Chapelle produced by the Frey family yet. But that could change with the 2015 vintage.
The best vintages of Jaboulet La Chapelle are: 2022, 2021, 2020, 2019, 2018, 2017, 2016, 2015, 2012, 2010, 2009, 2003, 1990, 1989, 1985, 1978 and 1961.Jaboulet La Chapelle is one of the world's best wines for cellaring, so it's quite possible that Jaboulet La Chapelle from the 1950's, 1940's and even older could be stunning, if well stored.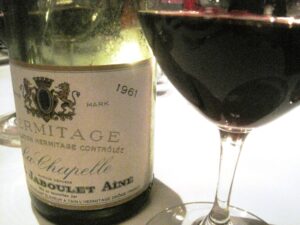 Paul Jaboulet Aine Hermitage Vineyards, Wines, Winemaking
Paul Jaboulet is one of the largest land owners in Hermitage with almost 22 hectares vines planted to Syrah in Hermitage.
The vines are distributed over various lieux-dits with their biggest section of vineyard land located on the famous Le Meal vineyard, with 6.8 hectares of vines. Bessards is their second largest holding where they own 2.6 hectares of vines. They also have vines in Greffieux, Rocoules and other vineyards in scattered in the Hermitage appellation.
If you did not know, La Chapelle is not a vineyard. It's a trade marked name. It takes its name from the small chapel of St. Christophe. The fruit is sourced from Bessards, Le Meal, Greffieux and Rocoules.
To produce the wine of Jaboulet La Chapelle, the grapes are 100% destemmed and are fermented on a parcel by parcel basis. The amount of new, French oak used to age the wine varies from vintage to vintage, depending on the character and quality of the harvest.
The wine is full bodied, concentrated and with expressive black fruit and leafy, earthy and iron scents. Typically, Jaboulet La Chapelle requires a decade or two to become civilized. The wines from the best years can age 30-40 years.
One of the reasons for the continued improvement of Jaboulet La Chapelle is the draconian selection for the wine. Previously, up to 7,000 cases of wine were produced. But today, the average annual production is closer to 2,000 cases per vintage of Jaboulet La Chapelle.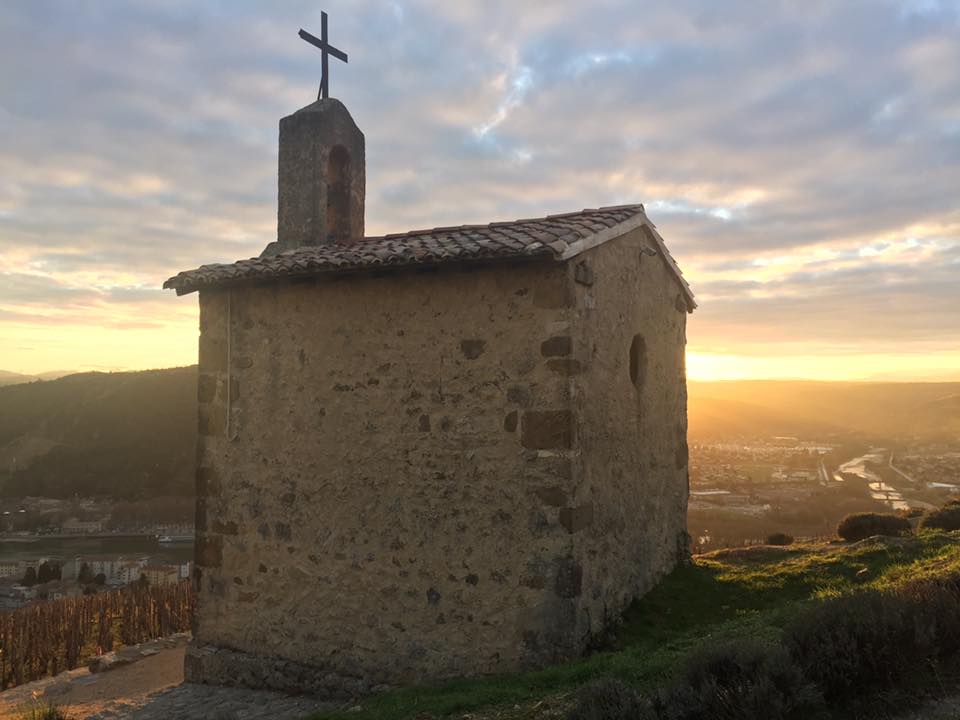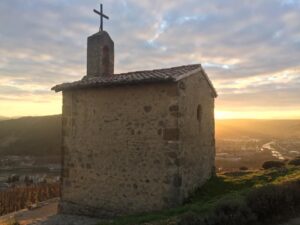 When to Drink Paul Jaboulet Aine Hermitage, Anticipated Maturity, Decanting Time
Paul Jaboulet Aine Hermitage when young, should be decanted at least 2-3 hours, give or take, allowing the wines to soften and open their perfume. However, Jaboulet La CHapelle in its youth can easily use 3-5 hours of decanting. Older vintages might need very little decanting, just enough to remove the sediment.
Paul Jaboulet Aine Hermitage is usually better with 10-12 years of cellaring and should be at its best between 10-25 years of age. Paul Jaboulet La Chapelle needs 15-20 years of cellaring in the good vintages and is best between 20-60 years of age.
Serving Paul Jaboulet Aine Hermitage with Wine, Food, Pairing Tips
Jaboulet Hermitage is best served at 15.5 degrees Celsius, 60 degrees Fahrenheit. The cool, almost cellar temperature gives the wine more freshness and lift.
Jaboulet Hermitage is best served with all types of classic meat dishes, veal, pork, beef, lamb, duck, game, roast chicken, roasted, braised and grilled dishes. Jaboulet Hermitage is also good with Asian dishes, hearty fish courses like tuna, mushrooms and pasta.
The white wine of Jaboulet is best served with a myriad of different seafood dishes, shellfish, crab, lobster, sushi, sashimi, chicken, pork and veal, as well as Asian cuisine.
Jaboulet La Chapelle is one of the world's great wines. In the best vintages, the wine needs 20-30 years to soften, develop and show it's unique character. But from personal experience, I can tell you, it is worth the wait!
Paul Jaboulet Aîné Wine Tasting Notes
55 Vintages 530,402 Views Sort by Vintage-Rating
2020
Paul Jaboulet Aîné Domaine des Grands Amandiers (Condrieu)

Melons, flowers, white peach, spice, citrus, and herbs on the nose. Forward, fresh, elegant, fruity, and ready to go. In fact, it will be just perfect on release. Drink from 2022-2025.

1,305 Views

Tasted

Sep 26, 2022

2020
Paul Jaboulet Aîné Blanc La Chapelle (Hermitage)

Bright, crisp, fresh, and juicy with a sweet citrus and floral character, leaving you with a creamy, vibrant finish. Produced from 100% Marsanne, this is the first time the wine has been produced since 2014. Drink from 2025-2037.

1,626 Views

Tasted

Oct 4, 2022

2019
Paul Jaboulet Aîné La Chapelle (Hermitage)

Deeply colored, the wine is equally rich on the palate. With a smoke, licorice, blackberry, dark cherry, wet earth, and spicy nose to start things off, the palate is richly-textured with layers of dark, black, earthy, mildly, salty-tinged fruit. Powerful, yet elegant, refined, long, and deep. This graceful wine will age for decades. Another point, the wine shows no influence of oak as they have completely changed their approach to new oak for the aging process. Now, the wine is aged in a combination of 15% new French oak barrels, used barrels, and a small portion of concrete egg-shaped vats. Drink from 2030-2060.

4,175 Views

Tasted

Oct 4, 2022

2017
Paul Jaboulet Aîné La Maison Bleue (Hermitage)

Medium-bodied, fresh, soft, and fruity with ripe, elegant tannins, freshness, and sweet, ripe, dark plums in the finish. Drink from 2023-2035.

3,977 Views

Tasted

Oct 4, 2022

2017
Paul Jaboulet Aîné Domaine de Thalabert (Crozes-Hermitage)

Smoky black cherries, peppery spice, and dark leafy herbs on the nose. On the medium-bodied palate, the wine is fresh, soft, elegant, and loaded with blackberries and olive-tinged plums. Drink from 2025-2035.

3,922 Views

Tasted

Oct 4, 2022

2016
Paul Jaboulet Aîné La Chapelle (Hermitage)

Concentrated, deep, dark, vibrant, fresh, and loaded from top to bottom with smoky, black, red, and blue fruits, thyme, cocoa and an array of spices. Full-bodied, long, rich, crisp, tannic, and structured to age, this is clearly on the road to greatness, if you have just a bit of patience. Drink from 2030-2055.

4,247 Views

Tasted

Oct 4, 2022

2015
Paul Jaboulet Aîné La Chapelle (Hermitage)

So inky and unfathomably profound in shade, this wine may stain your stemware as well as your palate with its caliginous hue. With a decanter filled with crème de cassis, this full bodied, concentrated dream liquid fills your mouth and coats your palate while mesmerizing your senses for at least 60 seconds. The fruit bestows purity, intensity, length and precision. In its youth, it's intellectual; when it matures, it will be a hedonistic coup d'état. Is this the best vintage since 1990 or perhaps 1978? Yes! This is off the charts. If you you have the money, this is a wine to lay down. Once other people begin tasting this wine, and word gets out, it is only going to become more expensive.

14,639 Views

Tasted

Apr 25, 2018

2015
Paul Jaboulet Aîné La Maison Bleue (Hermitage)

Olive tapenade, herbs and peppery dark fruits combine to produce a full bodied, concentrated, deep wine with ripe, polished tannins, juicy, sweet, dark fruits and a long blast of salty, dark red fruits, herbs and black pepper in the end notes. The finish just keeps on going here.

5,801 Views

Tasted

Apr 25, 2018

2015
Paul Jaboulet Aîné Domaine des Pierrelles (Côte-Rôtie)

Produced from 100% old vine Syrah, planted in Cote Blonde, the wine pops with scents of flowers, smoke, earth, cherries, thyme and earth. Power and elegance, length, finesse and complexity that does not finish until you have spent time with the sweet, stony red fruits and spice on your palate. This will age quite well.

2,224 Views

Tasted

Apr 25, 2018

2015
Paul Jaboulet Aîné Domaine de Thalabert (Crozes-Hermitage)

Spicy blackberries, pepper and underbrush aromas open the perfume. On the palate, the wine is rich, supple, full bodied round and mouth coating. This is a wow wine, especially when you consider the quality and cost ratio!

10,032 Views

Tasted

Apr 25, 2018

2015
Paul Jaboulet Aîné Domaine de la Croix des Vignes (St. Joseph)

With a strong garrigue quality, you also find black fruits and crushed stone aromatics. The wine is full bodied, with salty tannins and an intensive mineral quality that drives the lush, full bodied, sweet, dark fruits through the finish.

2,383 Views

Tasted

Apr 25, 2018

2015
Paul Jaboulet Aîné Les Grandes Terrasses (Cornas)

Earthy, animalistic, barnyard, wet forest and dark red fruits combine to produce a complex set of aromatic qualities. The wine is full bodied, with a strong underpinning of iron, tannin and structure. The fruit is ripe and dense, but this is not going to be fun in its youth, give it a decade of age before popping a cork.

2,762 Views

Tasted

Apr 25, 2018

2015
Paul Jaboulet Aîné Blanc Chevalier de Sterimberg (Hermitage)

With a touch of vanilla along with citrus and a hint of pineapple and Meyer lemon, the wine is fresh and oily with a hint of white peach in the finish. Still, a bit tight at the moment, give it a bit more time in the cellar before pulling a cork. Drink from 2022-2032.

1,717 Views

Tasted

Oct 4, 2022

2013
Paul Jaboulet Aîné Domaine de Terre Ferme (Châteauneuf-du-Pape)

Polished, soft, medium bodied and forward, with a smooth, spicy cherry character that remains present from start to finish.

1,905 Views

Tasted

Sep 7, 2015

2013
Paul Jaboulet Aîné Les Cèdres (Châteauneuf-du-Pape)

Medium bodied, elegant and approachable, the wine is forward, and easy to like in its spicy, kirsch filled youth.

2,129 Views

Tasted

Sep 7, 2015

2012
Paul Jaboulet Aîné La Chapelle (Hermitage)

Still deeply colored and already starting to drink well, the fresh, dark red berries are accompanied by aromatics of smoke, dried flowers, crushed stone, peppery spice, and a hint of espresso. Round, concentrated and vibrant, this is quite nice now, though it is only at the beginning of its drinking window. Drink from 2022-2042.

4,138 Views

Tasted

Oct 4, 2022

Ripe, fat, dense, concentrated, full bodied and concentrated, with a mouthful of rich, fleshy berries, earth, tannin, oak and freshness. Dense, long and deep, for patient consumers willing to wait more than a decade, and probably longer, this has all the right stuff.

5,655 Views

Tasted

May 13, 2015

2010
Paul Jaboulet Aîné La Chapelle (Hermitage)

In the process of closing down, it required effort to discover the cornucopia of earth, pepper, cedar wood, vanilla, blackberry, earth and stone aromatics that create the perfume. Rich, full bodied, concentrated and intense, the has a lot of tannin, but the tannins are ripe, refined and round. The wine fills your mouth and coats your palate with deep, ripe, dark berries. This should age and evolve for decades. This could be the best vintage for Jaboulet La Chapelle since it was purchased by the Frey family.

6,575 Views

Tasted

Mar 9, 2013

2010
Paul Jaboulet Aîné Domaine de Terre Ferme (Châteauneuf-du-Pape)

Blending 80% Grenache and 20% Mourvedre produced a powerful Chateauneuf du Pape with ample pepper, kirsch liqueur, old wood and plum scents. The fruit is lush, ripe an round, ending with a blast of wild strawberries, pepper and herbs.

3,203 Views

Tasted

Mar 7, 2013

2010
Paul Jaboulet Aîné Domaine de Thalabert (Crozes-Hermitage)

This delicious, Crozes Hermitage is filled with toasty oak, spice box, fresh blackberries and rocks. It's concentrated, full bodied and deep, finishing with a fresh, juicy mouthful of ripe blackberries.

4,538 Views

Tasted

Mar 8, 2013

2010
Paul Jaboulet Aîné Blanc Chevalier de Sterimberg (Hermitage)

A refreshing nose of lemon, lime, crushed stone and burning embers opens to a medium/full bodied wine with silky tannins, ending with a long fresh, Meyer lemon, minerality infused finish.

2,690 Views

Tasted

Mar 7, 2013

2010
Paul Jaboulet Aîné Domaine des Pierrelles (Côte-Rôtie)

Fro, 100% Syrah, planted in Cote Blonde, the wine pops with scents of flowers, cherries and earth. Medium bodied, with elegant, soft, tannins, ending in a sensuous, ripe, red berry finish. This can be enjoyed in its youth after a few years of bottle age.

2,140 Views

Tasted

Mar 8, 2013

2010
Paul Jaboulet Aîné Domaine de la Croix des Vignes (St. Joseph)

Black cherries, pepper and mineral elements create the aromatics. On the palate, the wine round, fleshy and concentrated with sweet, ripe, fresh, black cherries.

2,473 Views

Tasted

Mar 7, 2013

2010
Paul Jaboulet Aîné Domaine de Saint Pierre (Cornas)

With a nose of spice, flowers, black pepper, stone and dark red berries, this firm, tannic, masculine, powerful wine will demand more than a decade in the cellar before it becomes fun to drink.

2,754 Views

Tasted

Mar 7, 2013

2010
Paul Jaboulet Aîné Blanc Domaine Raymond Roure (Crozes-Hermitage)

Tight, but with coaxing, pepper, caramel, earth and black cherry scents could be detected. Full bodied, rustic and tannic, the will need at least a few years to soften and develop.

1,887 Views

Tasted

Mar 7, 2013

2010
Paul Jaboulet Aîné La Petite Chapelle (Hermitage)

Packed with scents of fresh herbs, pepper, olive tapenade, dark red fruits and earth, the wine is refined, but has a tannic edge, with a hint of dryness in the otherwise, charming, ripe, fresh, finish.

5,196 Views

Tasted

Mar 7, 2013

2010
Paul Jaboulet Aîné Domaine de Terre Ferme Blanc (Châteauneuf-du-Pape)

This blend of 80% Grenache Blanc and 20% Clairette produced a wine with lemon oil, flowers and a hint of fennel. Medium bodied and soft in texture, the wine ends with a soft, plush, citrus finish.

2,076 Views

Tasted

Mar 7, 2013

2010
Paul Jaboulet Aîné Domaine de Peres en Filles Plan de Dieu (Côtes du Rhône Villages)

Forward in style, already fun to drink, the wine pops with a nose packed with earth, kirsch and herbs, ending with lush, black and red, sweet and tart cherries. This will be a lot of fun to drink young.

2,790 Views

Tasted

Mar 7, 2013

2010
Paul Jaboulet Aîné Domaine des Grands Amandiers (Condrieu)

This charming wine opens with notes of honeydew, fig, lychee nut and lemon rind. Medium bodied, with and open, semi sweet, citrus personality, I'd opt for drinking this on the young side.

1,889 Views

Tasted

Mar 7, 2013

2009
Paul Jaboulet Aîné La Chapelle (Hermitage)

Deep in color, with chocolate, cinnamon, vanilla, black berry liqueur, truffle, stone and jammy scents create the complex aromatics. Plush, fat and dense, this is a low acid, forward style of Hermitage that will please hedonists more than traditionalists with is opulent, ripe, black, fruit filled finish.

9,597 Views

Tasted

Oct 27, 2012

2009
Paul Jaboulet Aîné Domaine de Terre Ferme (Châteauneuf-du-Pape)

What a great style of Chateauneuf du Pape with its showy nose of pepper, black raspberry jam, earth and kirsch. The wine is rich, fat, sweet and ripe and already fun to drink. Produced from a blend of 80% Grenache and 20% Mourvedre, there is a touch of oak, which should dissipate into the wealth of fruit in time.

3,102 Views

Tasted

Oct 27, 2012

2009
Paul Jaboulet Aîné Domaine Raymond Roure (Crozes-Hermitage)

Inky in color, with spicy, jammy berries, vanilla, stone and black raspberries. Concentrated, with layers of ripe berries, this powerful wine ends with a long, tannic, blackberry finish. Give it a few years to allow its ample charms to shine.

3,140 Views

Tasted

Oct 26, 2012

2009
Paul Jaboulet Aîné Domaine des Pierrelles (Côte-Rôtie)

Spice box, smoke, vanilla and fresh, black raspberry notes lead to a supple, textured, forward, lush, modern style of Cote Rotie that will deliver its charms in its youth.

2,713 Views

Tasted

Oct 27, 2012

2009
Paul Jaboulet Aîné Les Jalets (Crozes-Hermitage)

This delicious, value, priced Northern Rhone offers garrigue, pepper, sweet and tart, red berries with strawberry. It's fresh, lively and a little bit rustic.

2,542 Views

Tasted

Mar 7, 2013

2007
Paul Jaboulet Aîné La Chapelle (Hermitage)

Oak, forest floor, truffle, smoke and minerality add to fresh, jammy, black cherry jam sensations. Still young, the wine should improve over the next several years, although, its open, modern style will allow it to be enjoyed younger than most vintages of La Chapelle.

4,446 Views

Tasted

Oct 26, 2012

Black raspberry, licorice, cracked pepper, earth and herbal aromas open to a soft textured, medium bodied, elegant style of Hermitage. Think of this as a better version of 1997 or 1998.

4,511 Views

Tasted

May 3, 2012

2005
Paul Jaboulet Aîné La Chapelle (Hermitage)

Vanilla, oak, sweet blackberry jam and truffle scents open to a young, tannic wine that demands cellar time. However, the tannins are not ripe which leaves a chalky, dry sensation in the blackberry and earth finish.

6,998 Views

Tasted

Oct 26, 2012

2003
Paul Jaboulet Aîné La Chapelle (Hermitage)

Very ripe, bordering on over the top, yet, it manages to blend freshness with layers of dark, ripe, black, red, and blue fruits, licorice, smoke, tobacco, liqueur, and black cherries. Full-bodied, opulent, intense, and with a touch of VA in the nose, this is ready to go. Drink from 2023-2035.

410 Views

Tasted

Sep 1, 2023

I like this a little more each time I taste it, and this bottle was no exception. Rich, concentrated, complex, lushly textured, earthy, fruit filled and exciting, with an hour of air, the wine really took off! Clearly, the best wine from the property since 1990.

7,144 Views

Tasted

Jun 12, 2016

There is a definite lightening to the color of the wine, it's now a solid ruby color. In the nose, flowers, mint, licorice, iron, black cherry liqueur and dark chocolate scents are all over the place, with just a few minutes in the glass. Full bodied, lush, concentrated and rich, the wine feels soft on your palate. The finish is all about the sweet cherries and black fruits. The oak seems to have almost completely integrated into the wine. The jammyness of its youth has faded. This is after 20 minutes in the decanter. After an hour of air, the wine really picked up a lot more opulence in the mouth feel. I'm really digging this wine, it's a good time to pop a cork!

5,225 Views

Tasted

Sep 26, 2015

Showing some lightening of color, the wine pops with fresh blackberries, toast, barbecue, mint, black raspberry and tar aromas. On the palate, the wine is full bodied, concentrated and deep. The finish is all about the rich layers of ripe, black cherries and plum liqueur. With 2 of hours of air, this softened and expanded in flavor. Still young, it needs another 5 years. But if you're itching to try a bottle like I was, give it a few hours in the decanter.

6,659 Views

Tasted

Sep 10, 2013

With a beautiful ruby, black cherry color, licorice, molten black cherries, earth, coffee, herbs and cinnamon open to a rich, silky wave of fresh, ripe, melted cherries and earth. The wine is on the side of the style range, and there is a touch of prune in the finish. I find that adds to the complexity and character, but fans of traditional styles of Hermitage might find it too ripe. The developed and improved in the glass for hours. While some tannin remains, if you have more than a few bottles, it's worth popping cork to enjoy its freshness, lush textures and intensity of ripe. red and black fruits.

6,738 Views

Tasted

Oct 24, 2012

Hermitage is not known for producing sexy wines. 03 La Chapelle changed that misconception. This deeply colored wine opens to an explosive perfume filled with truffles, blackberry, jam, licorice, spice and minerals. This is their most concentrated wine since the 1990. Part of the reason for this is low yields. The Frey family, owners of Chateau La Lagune in Bordeaux reduced yields by almost 50%! That bold decision produced a powerful, opulent, palate coating wine. The round tannins leave you with a rich sensation of lush dark fruit, licorice and spice. This is one of the few La Chapelle's that can be enjoyed in its youth. Yet, like all great vintages of La Chapelle, this wine will age for decades. It's getting harder to find the wine at the old price. If this sounds like your style of wine, grab some.

9,884 Views

Tasted

Jan 6, 2011

2000
Paul Jaboulet Aîné Domaine de Thalabert (Crozes-Hermitage)

Earth, dirt, barnyard and hints of red fruit make up the nose, which is the best part of the wine. On the palate, the wine is tart, lacking fruit and charm. This is long past its prime, Drink up.

4,881 Views

Tasted

Oct 26, 2012

1999
Paul Jaboulet Aîné La Chapelle (Hermitage)

From such a great vintage in the Northern Rhone, this is quite a disappointment. It's light, slightly under ripe and dilute, when compared to many of the best wines from Hermitage. It's not a bad wine per se, it's just simple, especially when compared to other wines from the vintage. It is not close to the level of quality Jaboulet La Chapelle should have produced in this vintage.

5,638 Views

Tasted

May 12, 2013

1998
Paul Jaboulet Aîné La Chapelle (Hermitage)

La Chapelle is light ruby in color. With BBQ, earth, spice and kirsch and barnyard aromatics, the wine feels soft in the mouth. This wine has matured at a rapid pace for La Chapelle. The finish ends with jammy black raspberries, hints of steel and an off putting touch of greeness. I'd suggest drinking this sooner than later..

9,644 Views

Tasted

Jan 2, 2011

1997
Paul Jaboulet Aîné La Chapelle (Hermitage)

This has developed quite nicely over the years. Medium/full bodied, with a nose of licorice, herbs, cherries, smoked meat and cold steel. On the palate the fruit offers a charming rusticity, with an olive, herbal edge to red cherry griotte in the finish. Popped and poured, and as the wine sat in the glass, I knew that was the right choice.

3,668 Views

Tasted

Mar 12, 2018

Light in color, medium bodied with an earthy, spice, cherry, herb and peppery personality. This finish crisp finish has some tart, under ripe, sharp, red berry flavors. Drink up as it's not likely to get to get better.

5,597 Views

Tasted

Oct 26, 2012

97 La Chapelle The medium bodied, forward, earthy expression of Hermitage is filled with red and black fruits, spice and forest aromas. Round and open, this lighter, soft, styled La Chapelle is drinking about as well as it is going to get.

7,134 Views

Tasted

May 17, 2012

Where's the beef? No, make that where's the fruit? What a disappointment. I hope this was in a dumb stage, because it offered moderate pleasure without much fruit. I have had better bottles of this wine on other occasions.

4,067 Views

Tasted

Aug 10, 2004

1996
Paul Jaboulet Aîné La Chapelle (Hermitage)

Charming style of Hermitage that is fun to drink today. There is freshness to fruit, roundness in the tannins and sweetness paired with an earthy character that adds complexity to the dark red fruits.

5,447 Views

Tasted

Aug 16, 2015

1995
Paul Jaboulet Aîné La Chapelle (Hermitage)

Light in style of Jaboulet Hermitage, there is some rusticity to the tannins in this medium bodied expression of dark fruits, pepper, black cherries and earth.

4,176 Views

Tasted

Aug 16, 2015

1990
Paul Jaboulet Aîné La Chapelle (Hermitage)

One of the best bottles of this I have tasted in ages provides notes of flowers, spice, earth, kirsch, blueberry, and blackberry in the perfume. Lively, rich, intense, and dense, with layers of dark, ripe, powerful, vibrant, chewy red fruits, this is really in a good spot, and if well-stored, should get even better. Drink from 2023-2050.

744 Views

Tasted

Sep 1, 2023

Deep in color, with power, intensity, vibrancy, and a boatload of herbs, olives, tobacco wrapper, spice, black and red fruits. The wine is full-bodied, structured and vibrant, finishing with a wealth of red and black fruits, green olives, and herbs with real staying power. This is no longer young, but it is not fully mature, for that, you need to wait maybe 5-10 years. This could be a 75 year wine if well-stored.

5,351 Views

Tasted

Dec 8, 2021

It is a different experience tasting great wines in magnum, after only experiencing them for years in bottle. With a refined quality to the tannins, the concentration, depth of flavor and length was there. But this seems to have developed along its own course, there was an additional layer of softness on the texture, that paired great with the purity of fruit. My guess it, part of the development here was due to the large format, but the advanced character probably came about due to some storage issues along the way. A perfect magnum with provenance must be mind boggling.

6,330 Views

Tasted

Aug 3, 2017

Compelling in every way. The wine is incredibly concetrated with all the right stuff. Perfectly ripe, spicy, mineral driven berries, pepper and earth round on the experience, leaving with a blast of fruit that remains on your palate for at least 60 seconds. Still young, this is a thrill to drink today, and it's going to get better and better with more age.

6,892 Views

Tasted

Oct 28, 2014

I cannot believe I've tasted this wine 4 times over the past two months, and with very consistent results. This specific bottle was good, but not great. Rich, big, deep and concentrated, the aromatics kicked off with licorice, tobacco, earth, iron, blackberries and black cherries. Powerful, long and young, as good as it is now, it's only starting to open.

8,623 Views

Tasted

Jul 24, 2013

Still young, vibrant and fresh, with a deep hue, the wine popped with a complicated perfume packed with boysenberry liqueur, black cherry, flowers, herbs, pepper, licorice, spice and forest floor aromas. Rich, concentrated, powerful and structured, there is a regal quality to the fruit that shines through every step of the way. I've had slightly better bottles that merited triple digits. But this was very close. Drink this now, or age it for decades.

8,214 Views

Tasted

May 13, 2013

I've been blessed to have tasted this majestic wine several times this year. In fact, I had this wine twice last week! Even more amazing is the remarkable level of consistency the wine continues to perform at. At days from its 23rd birthday, it's really starting to come into its own, with its showy display of ripe blackberry, plum and cherries complicated by wet earth, smoke, minerals, garrigue and spice. On the palate, the wine is incredibly dense, with polished textures and no hard edges. The finish is expansive, thick, seamless and long, lasting for over 60 seconds! Over the years, this wine continues to develop layers of complexities, intensity of flavor and silky textures. If you've never tasted an Hermitage that blew you away, if you have the money, this is the wine to buy.

9,732 Views

Tasted

Dec 19, 2012

As hard as it is to believe, at almost 22 years of age, this looks and tastes like a young wine. Deeply colored, with a nose filled with spice, black plum, gravel, iron, pepper, grilled meat, blackberry and cassis, the wine is packed and stacked with layers of ripe, deep, pure, sensuous fruit. Still tannic and needed several more years before its fully mature, this exciting wine is powerful, glycerin filled and intense. The wine ends in a beautiful display of plush, ripe, decadent, fleshy, flashy black and red fruit.

11,263 Views

Tasted

Nov 28, 2011

1990 Jaboulet La Chapelle had 2 or 3 different bottling dates. When tasted from the first bottlng, (there is no way to tell) the wine os one of the top Hermitage wines ever produced! And this was a very good bottle. The wine oozes out of the glass sliding over your palate in wave after wave of deep, dark, lush frui, spices, minerals, pepper, licorice, cassis and berries. Still young, in another decade or two when this wine is fully mature, the best bottles will deliver an amazing tasting experience.

5,747 Views

Tasted

Feb 5, 2010

Purple, black in color, this blackberry and cassis wine offers earth, olives, truffles, damp forest and earthy, peppery scents. The wine is opulent and fleshy with refined, elegant tannins. The dense, black fruit filled palate is lush with a backbone for aging. In many ways, it reminded me of slightly less concentrated version of the legendary '61

7,029 Views

Tasted

Dec 8, 2009

The nose, with its earthy, mineral, truffle, pepper scent was exciting. The wine felt great in the mouth, but it seemed to lack some of the density and youthful quality found in other bottles I've had

5,244 Views

Tasted

Jun 30, 2009

There is a lot of bottle variation in this wine. I've heard the wine was bottled in two separate batches. The first batch reminds me of essence of Syrah. The second batch, held in wood for several additional months lacks the same level of purity, freshness and complexity. There is no way to tell which bottle came from which batch from looking at the bottles. This bottle probably came from the second batch. While it displayed some of the wonderful flashy, opulent, ripe, black fruit qualities, it did not offer the level of intensity found in the best examples. Still good, but not profound.

5,467 Views

Tasted

Oct 1, 2007

With coaxing, you could sense the concentration, extraction and depth of ripe, black fruits and flavors, but it remains very primary. Another decade and this will assuredly morph into something unique

5,378 Views

Tasted

Apr 25, 2005

1989
Paul Jaboulet Aîné La Chapelle (Hermitage)

A big blast of peppery red fruits, herbs, green leafy herbs black and green olives, and spice with crunchy red berries, the wine is big, intense, full-bodied, long and complex. It is close to fully-mature, which could take another 3-5 years, where it should remain for at least another 2 decades with ease.

3,953 Views

Tasted

Dec 8, 2021

It took 30 years, but it was worth the wait if you were a patient collector. The wine has filled out, softened, added aromatic complexities and length. Now you find olives, pepper, rocks, stones, herbs and earthy stony, peppery red fruits on the nose and palate. After 3 decades in the bottle, the wine has expanded, giving you a richly textured, concentrated palate filled with ripe, bright red fruits. This is really in the zone today where it should remain effortlessly for at least 2 or more decades if well-stored.

5,015 Views

Tasted

Dec 15, 2020

As this continues edging closer to its 30th birthday, the wine clearly prove that things do get better with age, especially this wine! I am thinking the wine deserves an upgrade as the massive amount of ripe, mineral driven fruit is there, the texture continues to refine, the once hard tannins keep melting away even though the masculine edge is still there, the complex nose is also showing its stuff. When you add all that up, at this point, what are you waiting for? Open a bottle of this stunner and enjoy the ride! An hour or so of air is also helpful to the experience.

4,804 Views

Tasted

Jan 9, 2017

It took long enough, but this once firm, austere, tannic beast has really filled out, the tannins have softened and the complexities of a mature Hermitage is really starting to show its stuff. I am thinking this could get even better too!

5,195 Views

Tasted

May 5, 2016

This is the second time this year I've been impressed by this wine. The tannins are really starting to resolve, the wine is dropping its former rustic character and is offering a lot more pleasure. Decanting really helps.

5,244 Views

Tasted

Oct 28, 2014

It took long enough. At 25 years of age, this is finally becoming civilized. The beautiful ripe fruits made a bigger impression than the massive wall of beefy tannins. With 30 minutes of air, (60 would have been better) the wine softened, the aromatics opened and it was truly a treat. Still young, it's worth opening now. But another 5 years will add more to the wine.

5,617 Views

Tasted

May 27, 2014

Young, tannic, rustic, masculine and very old school in style, the wine demands another 5 years before it softens and comes together. I have faith, but as the wine and I both age, I am becoming a little bit concerned that this might not lose its brawny character.

6,413 Views

Tasted

Jun 7, 2013

Garnet in color, with a smoky, mineral, spicy cherry, iron and strawberry jam perfume. Full bodied and still tannic, with a stern, structured spine, I'd give this another 3-5 years in the cellar.

7,844 Views

Tasted

May 17, 2012

This amazingly young wine, that is young for 22 years of age is tannic, slightly rustic and powerful. Black cherry, kirsch, spice, crushed stone, strawberry jam, meat and pepper scents waft form the glass. Big, concentrated and attention grabbing, this is finally starting to come around. Give it a few more years and enjoy it over the next 20 or more years.

9,191 Views

Tasted

Nov 27, 2011

Black pepper, jammy, dark fruit, earth, spearmint, licorice and coffee could be easily found. Still tannic. Very well balanced and concentrated.

4,803 Views

Tasted

Jul 12, 2008

Layers of rich, ripe, black fruit, minerals, truffle and tobacco with a hint of tar. Big, bold, structured and tannic. The long finish ends with notes of juicy, black fruit and spice.

4,962 Views

Tasted

Nov 14, 2007

Tight, displaying more red fruit than black, along with earth, stone and peppery spice aromas. With a brawny palate feel, the wine is brighter and more acidic than the 1990 tasted at the same dinner. This wine demands another decade before prime time drinking.

5,307 Views

Tasted

Feb 5, 2006

This is a huge, deep, dense, very full bodied wine with boatloads of ripe, concentrated black fruit and a slight rustic quality. Very tannic. Demands time.

4,782 Views

Tasted

Jul 25, 2005

Dark colored, tannic and full of black fruits and character. Even though I've had better bottles, this is still a very good wine.

4,741 Views

Tasted

Jun 6, 2004

Very deep, dark, ruby almost opaque with a faint, lightening at the edge. The fragrant aroma offers notes of black cherries, herbs, olives, earth, licorice, coffee, and hint of sap with a touch of caramelized brown sugar on the nose as well. This wine vastly improved with air.

4,856 Views

Tasted

Oct 25, 2003

1988
Paul Jaboulet Aîné La Chapelle (Hermitage)

Full-bodied, firm, classic, and slightly rustic, the meaty, dark, earthy fruits are accompanied by tobacco, earth, pepper, green olives, and herbs. The wine softened a bit with air, but it is fully ready to go. Drink from 2023-2035.

658 Views

Tasted

Aug 18, 2023

At peak maturity, the wine has good concentration, ripe, stony, red fruits, pepper, smoke and herbs. There is a nice bite and freshness to the juicy fruits with plenty of peppery berries on the nose and palate. This is drinking in the right place today.

3,304 Views

Tasted

Jul 24, 2019

Ruby with bricking to the color, the wine offers cherry, thyme, underbrush, charcoal, smoke, spice and earthy aromas. Full bodied, concentrated, long, fresh and straddling the fence of elegance and rusticity, the wine leaves you with a complex mouthful of blackberry, cherry griotte, cassis, spice and green olives. Decanted about 30 minutes before tasting.

4,424 Views

Tasted

Mar 6, 2016

I love when a wine is aromatic the moment it's splashed into the decanter. Showing some age, not nearly its almost 28 years worth of sleeping, the wine shows off its cassis, truffle, bacon fat, floral, earth and black cherry aromatics with ease. Full bodied, deep, lusty, rich and satisfying, the gorgeous mouthful of spicy black cherry and earth tastes and feels great. For a wine of this quality, style and level of maturity, it's a steal in today's marketplace. If you have a bottle, pop a cork. If it's well stored, it could improve, or at least remain at this level for another decade or two. But there is no reason to hesitate on this beauty.

5,154 Views

Tasted

Nov 15, 2015

Wet earth, rocks, cherry griotte, spice, charcoal, licorice, raspberry jam and fresh Provencal herbs create the aromatics. Soft, fleshy, mineral driven and filled with sweet cherries and iron in the finish. There is a touch of austerity, but that does not detract from the pleasure. This is mature and while there is no hurry to drink it, it might not have a lot of room for improvement.

7,034 Views

Tasted

May 3, 2012

Popped and poured into a decanter and served, the complex perfume offered black cherry, licorice, earth. bacon fat, iron, underbrush, spearmint and warm spices. Full bodied and concentrated with ample levels of dark fruit, the texture is soft, chewy and mouth filling. The finish ends with baked black berry flavors paired with minerals and spice. The only thing stopping the score from hitting a few points higher was the finish could have been longer. The wine improved in the glass over 2 hours spent at dinner. This will get better. I'd buy this over the 89 today.

9,049 Views

Tasted

Jun 7, 2010

Light ruby color. The nose offers an intoxicating perfume of earth, jammy black fruits, spice, brown sugar and black pepper. The 88 La Chapelle sports a great syrupy texture. It's a very full bodied, rich, mouth filling wine with some tannins remaining to resolve. The palate is caressed by soft, elegant, velvety, thick streams of cherry, blackberry & plum flavors which fill the mouth.

4,112 Views

Tasted

Apr 15, 2007

1985
Paul Jaboulet Aîné La Chapelle (Hermitage)

It is harder and harder to get to taste these mature older Northern Rhone wines. Each time I do, I am always thrilled and seldom disappointed and this bottle was no exception. Full-bodied, with a generous blast of cinnamon, 5 spice, smoke, kirsch, thyme, red fruit and black pepper, the wine is juicy, fresh, earthy and frankly, it reminds me of taking ripe, red fruits and squeezing them over rocks.

3,822 Views

Tasted

Feb 2, 2020

Drinking perfectly today, this mature Jaboulet La Chapelle is packed with earthy, barnyard, peppery, black raspberry, forest, tobacco and mineral scents. Elegant in style, you can enjoy this today, or for at least another 10-15 or more years.

4,145 Views

Tasted

May 17, 2012

1983
Paul Jaboulet Aîné La Chapelle (Hermitage)

A nice, fully mature wine, but slightly disjointed and showing a little bit too much green, herbal notes that take away from the cherry, earth. tobacco and olive sensations. Drink up. This is not going to improve from here.

5,642 Views

Tasted

May 12, 2013

1982
Paul Jaboulet Aîné La Chapelle (Hermitage)

Better on the nose than the palate, with its bouquet of jammy cherries, citrus, earth, spice, floral, herb and candied fruit notes. Medium/full bodied, there was a sensation of dryness in the end notes of the finish.

3,927 Views

Tasted

May 13, 2013

1979
Paul Jaboulet Aîné La Chapelle (Hermitage)

Showing much better than expected. The nose was complex offering a perfume of olives, spearmint, earth, leather and herbs. Lots of fruit displayed in the long finish.

4,045 Views

Tasted

Mar 6, 2004

1978
Paul Jaboulet Aîné La Chapelle (Hermitage)

Smoked meat, black pepper, black raspberries, iron, herbs, spice, and barbeque notes hit your olfactory senses. Full-bodied, concentrated, deep, long, and intense, the sweet, and tart red berries, kirsch, pepper, spice, and earthy nuances make the blast of chewy cherry griotte in the finish stand out and linger. This is stunning to drink now and can provide at least 25-35 more years of drinking if well stored! Drink from 2023-55.

313 Views

Tasted

Sep 1, 2023

A thrilling, mature Hermitage indeed. Not quite as concentrated as the incredible 1961, but still thick, dense and intense. The nose pops off with smoke, flowers, cherry, plums, spice-box, herbs, tobacco, currants, and cherries. Full-bodied, deep, long, structured and powerful, the wine is masculine in a refined way, leaving you with layers of red fruits, pepper, herbs and green olives. 1 hour in the decanter will help.

3,472 Views

Tasted

Dec 8, 2021

WOW! Exotic, erotic cherry charm here. Lush, regal, full bodied and concentrated, the fruit has a sensual purity. The texture is like, wild silk and the finish just keeps on going. Concentrated and intense, this just keeps getting better and better. Liquid gold indeed.

4,698 Views

Tasted

Apr 30, 2017

Mind boggling in the true sense of the term. Upon opening, the aromatics flew across the room! This wine has so much intensity of raw materials, it is hard to believe. The perfume, with its incense, smoke, dark cherries, plums, crushed stone, olive and black raspberries should be bottled. The wine is powerful, youthful, fresh, pure and fruit filled. The finish, which crosses the line at over 60 seconds is long, fresh, sweet, ripe and most importantly, memorable. Lacking the power and concentration of the legendary 1961, this is as close as most of us are ever going to get, and it sells for about 90% less money too! I cannot decide if tasting a wine in January, that I know will make my top 10 wines of the year is either sad, or a harbinger of things to come. Either way, this is a monumental wine!

6,535 Views

Tasted

Jan 9, 2017

Holy f'Ing cow! Now, there's a descriptor you do not see much on these pages. Absolutely mind blowing wine!!! The outrageous perfume grabs you and locks your sense in with its intense, smoke, boysenberry liqueur, kirsch, truffle, earth, iron, black cherry, licorice and wet forest floor aromas. If that wasn't enough, the wine is incredibly thick, concentrated, rich and almost dense with its volume of raw material. The mouth filling finish builds and expands, while it moves from black to red fruits before it makes its way back to black fruits again. This insane tasting experience is clearly one of the best bottles of wine I have ever tasted!

9,375 Views

Tasted

Jun 9, 2015

Hermitage, no make that almost any wine does not get better than this! The moment your nose meets the perfume, you know you're in for something truly special. The fireworks continue when the decadent, rich, intense blast of fruit, spice, tannin, earth and character hit your palate. Still young, fresh and vibrant, this is not even at peak yet.

6,797 Views

Tasted

Oct 28, 2014

Light ruby in color, with sweet and sour cherries, fresh herbs, thyme, licorice, earth and spice, the wine was sweet, soft and polished. The long finish ended with a variety of dark red berries that alternated from sweet to tart. It's been years since I've seen a bottle of this, let alone tasted one. I do not think this was a perfect example of the wine at its peak. This was very good, but it did not sing like the best bottles.

6,475 Views

Tasted

May 13, 2013

1973
Paul Jaboulet Aîné La Chapelle (Hermitage)

Pleasant, but light, with good quality fruit, complex, peppery aromatics and a finish that moves from sweet to tart. Drink soon. Better in the in the nose, than on the palate, this is not a vintage to age.

3,451 Views

Tasted

May 8, 2014

1967
Paul Jaboulet Aîné Les Cèdres (Châteauneuf-du-Pape)

Jammy raspberry, truffle, spice, earth and herbs. Good texture and a finish sporting an array of red fruits.

5,429 Views

Tasted

Feb 23, 2006

1966
Paul Jaboulet Aîné La Chapelle (Hermitage)

Rustic, but charming in an old school, strict, manner with plenty of kirsch, earth, herbs, olives and tobacco. Decanting should help soften it a bit. Fully mature, no reason to age this any longer.

3,607 Views

Tasted

Mar 17, 2017

1961
Paul Jaboulet Aîné La Chapelle (Hermitage)

Of all the wines I never thought I would taste again, this was at the top of the list. Almost 13 years later, my second time with this legend took place. Served blind, I was sure it was a mature First Growth Pauillac. It had all the tobacco, cedar, cigar box, cedar, iron, currants, plums, smoke, rocks, and stones you could want in a wine. Perhaps, not quite as virulent as the previous bottle, but still majestic, the wine is full-bodied, deep, multi-layered, and multi-faceted, with a spicy, salty, smoky, currant, and peppery herb finish. Maybe I'll get lucky and see this again if I can wait another 13 years?

4,189 Views

Tasted

Dec 8, 2021

This maintains a dark color at close to 50 years of age! Scents of olive orchards waft from the glass in this perfect Hermitage wine. Green olives, black olives, earth and trees were in abundance. Truffles, burnt toast, tobacco, licorice, citrus, forest floor and soy sauce are easy to find in the complex, expanding aromatics. On the palate, the wine is massive and intensely concentrated with layers of rich, thick, juicy, ripe black fruit and minerals. This wine perfectly melds power with elegance. The seemingly endless finish is long and pure. In the mouth, this wine reminds me a 1961 Latour. The wine improved in the glass for over two hours. Few wines live up to their legendary status due to a myriad of reasons from provenance, value and the most important reason of all, how can any wine be as good as a legend. This bottle was as good, if not better than the legend! This wine ended with a finish that lasts for years. The question, do dream wines dream, remains unanswered. Perhaps the next time I meet another one of my dream wines, I'll know.

15,078 Views

Tasted

Dec 8, 2009

1947
Paul Jaboulet Aîné (Châteauneuf-du-Pape)

A revelation wine for old Chateauneuf du Pape. This stunning wine left me close to breathless! It looked at least 20 years younger with its ruby hue. Licorice, Licorice, jammy red berries, earth, herbs, sweet, ripe cherries, spice and kirsch liqueur created a wave of complex aromatics. In the mouth, this cherry filled wine is pure opulent, silk that drenches your palate with flavor. Long, and pure, this wine was stunning and will remain etched in memory for years.

2,717 Views

Tasted

Mar 29, 2012