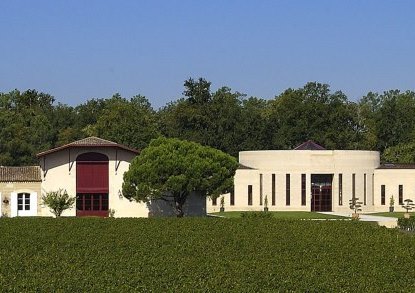 Learn everything about Domaine de Chevalier, Pessac Leognan, with wine tasting notes and wine and food pairing tips. Learn the best vintages, the history of the property, information on the vineyards, and winemaking. If you want to read about other important, Bordeaux Chateaux: Links to all Bordeaux Wine Producer Profiles
Domaine de Chevalier History, Overview
The owners of Domaine de Chevalier, the Bernard family, have a long history dating all the way back to 1155! The history of the vineyard is much shorter. It took until the late 1600s before people wine lovers began discovering their wine.
Once the estate was purchased in 1865 by Arnaud Ricard for 33,000 Francs, the vineyard became much better known. At the time, the Ricard family were familiar with the Bordeaux wine trade, as they worked as coopers, producing wine barrels.
In those days, the estate was selling their wine under the Gascon name of "Chivaley". The name was changed from "Chivaley" to the French term "Chevalier" which is how the winery eventually became known as Domaine de Chevalier.
Olivier Bernard takes charge of Domaine de Chevalier
in 1983, the Bernard family purchased the vineyard, placing Olivier Bernard in charge of the property. Olivier Bernard was only 23 years old at the time. Even at that young age, Olivier Bernard was already comfortable managing Domaine de Chevalier.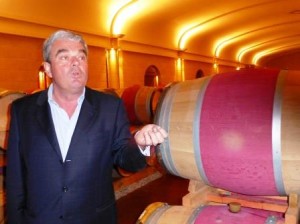 Olivier Bernard's first decision was to retain the same winemaking team at Domaine de Chevalier. At the time of the purchase, the estate had only 18 hectares of vines. Olivier Bernard made two early decisions. He retained the former team and he began enlarging the vineyards. In 1985, they purchased additional plots from neighboring vineyards almost doubling the vineyard in size. Next, they began a long-term replanting program lasting from 1988 to 1995.
Some of the work Olivier Bernard undertook to improve their vineyards was the removal of the trees bordering the vineyard that were the most susceptible to frost. Next, Olivier Bernard began a complete renovation entailing the construction of new wine-making facilities to accommodate their increased production.
He created the now modern, cylinder-shaped, vat room, which became the architectural, focal point for the estate. Its cylindrical shape begins in the front of the cellar and extends throughout the building. It is modern, airy, spacious, and beautiful.
The facilities were updated and modernized again in 2014. In 2015 Domaine de Chevalier became the first major Bordeaux chateau to use Diam corks. In 2015, all of their white wine bottles were sealed with Diam corks. In 2016, their entire production of red wine bottles was produced using Diam corks.
Domaine de Chevalier continues as a family-owned and managed estate. Today, Olivier Bernard and Anne Bernard are joined by their two sons Adrien and Hugo.
Adrien Bernard helps with the commercial side of the business and Hugo Bernard works on the winemaking end of the business. In time, it is expected that both sons will eventually take over managing all the family-owned vineyards.
Domaine de Chevalier Vineyards, Terroir, Grapes, Winemaking
Domaine de Chevalier has 65 hectares under vine. For the red wine, 58 hectares are planted to 63% Cabernet Sauvignon, 30% Merlot, 5% Petit Verdot, and 2% Cabernet Franc. This shows a change in the vineyard as you will see. During the 1980s before Oliver Bernard took control of the property, the vineyard was planted to 80% Cabernet Sauvignon.
For the white Bordeaux wine, 7 hectares are planted to 70% Sauvignon Blanc and 30% Semillon. The vineyard is planted to a vine density of 10,000 vines per hectare. On average, the vines are close to 30 years of age.
The terroir is gravel, with black sand over clay, and hardpan soil. There are gentle slopes and elevations which rise up to 60 meters at its peak, which is the highest elevation in the appellation.
The vineyard can be divided into 90 separate parcels. The best terroir of Domaine de Chevalier is located right in front of the chateau. This is where you find the oldest Cabernet Sauvignon vines, which are 50 years of age.
The entire estate consists of 120 hectares. While 65 hectares are under vine, the remaining land is filled with parkland, trees, greenery, and gently rolling hills. The vineyard management techniques employed are sustainable farming methods. Until recently, over 30 hectares of vines were farmed using biodynamic farming techniques. That changed with the 2021 vintage, which was farmed using 100% biodynamic techniques. Domaine de Chevalier was certified as being 100% biodynamic in 2023.
Just as vital as the soils, slopes, and elevations are the trees and forest land surrounding the vineyards on three sides. The forest enhances the temperature extremes while also increasing the risk of frost.
To combat potential, frost damage, it was the idea of Olivier Bernard to use wind machines and even helicopters in select vintages. This works because the helicopter and wind machine blades stir and blend the lower layers of cold air with warmer air, which helps avoid damage from frost.
When you consider that damage from frost in previous vintages like 1982, reduced their yields to a scant 9 hectoliters per hectare, it's easy to see why this was such a strategic decision.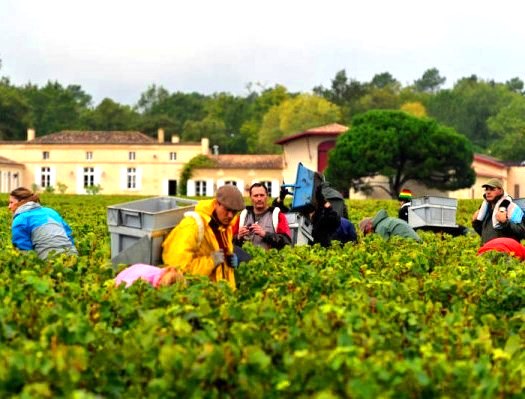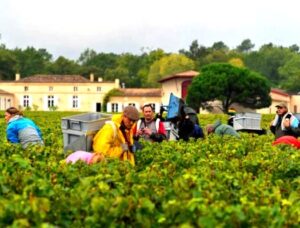 At harvest, the estate takes a unique approach. Since sorting is done exclusively in the vineyard, the picking is done in passes, particularly for the white wine grapes. At times, because sorting takes place in the vineyard, the grapes are picked one at a time.
To produce the white Bordeaux wine of Domaine de Chevalier, after a light pressing, the juice is run off into the barrels. Vinification takes place in 30% new, French oak barrels. Once filled, the barrels are placed in a special cold room (the only other one in Bordeaux is at Chateau Margaux) to bring the barrel temperature gradually down to 18 to 20 degrees Celsius.
This helps the fermentation take place on a gradual basis. There is no malolactic fermentation or skin contact. The initial racking is done in the barrel. The wine remains on its lees in barrel with regularly stirring for an average of 12 months. The wine spends an additional 6 months in a barrel or in vats, without the lees before bottling.
To produce the red wine of Domaine de Chevalier, vinification takes place a combination of 9, 80 hectoliter oak vats and 12 conical, shaped, stainless steel vats that range in size from 50 to 100 hectoliters and cement tanks. The old vines are vinified in the oak barrels.
In 2014, Domaine de Chevalier added 8 new, 80-hectoliter, egg-shaped, cement vats for the vinification of the red wine, which are used for their old vine fruit. There are now ample vats to allow for a parcel by parcel vinification. 100% of the Grand Vin undergoes malolactic fermentation in new 100% French oak barrels. The remainder of the harvest goes through malolactic fermentation in wood or stainless steel tank.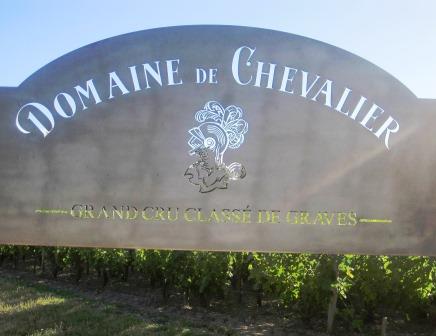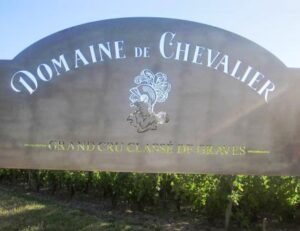 The red wine of Domaine de Chevalier is aged on its lees in 40-60% new, French oak barrels for 18 to 22 months. The amount of new oak varies quite a bit here, depending on the character of each vintage. There is a second wine, now called, L'Esprit de Chevalier.
Prior to its renaming, it was sold as Batard Chevalier. There is also a third wine, Pessac Leognan, which is more of a generic AOC wine, as the grapes come from a variety of family-owned, vineyard sources. On average, Domaine de Chevalier produces 6,500 cases of red Bordeaux. For the white Bordeaux wine of Domaine de Chevalier, the production is close to 1,000 cases per year.
The best vintages of Domaine de Chevalier Rouge are: 2022, 2021, 2020, 2019, 2018, 2017, 2016, 2015, 2014, 2012, 2010, 2009, 2008, 2005, 2000, 1998, 1990, 1989, 1983, 1978, 1961, 1959 and 1953.
As you can see, the best vintages for Domaine de Chevalier red and white wine are not always the same.
The best vintages of Domaine de Chevalier Blanc are: 2022, 2021, 2020, 2019, 2018, 2017, 2016, 2015, 2014, 2013, 2012, 2011, 2010, 2009, 2008, 2007, 2006, 2005, 2001, 2000, 1995 and 1994. Keep in mind, Domaine de Chevalier Blanc is one of the longest-lived wines in all of Bordeaux. There are numerous older, great vintages of this wine from the 1950s, 1940's and possibly even older that can be enjoyed with great pleasure today.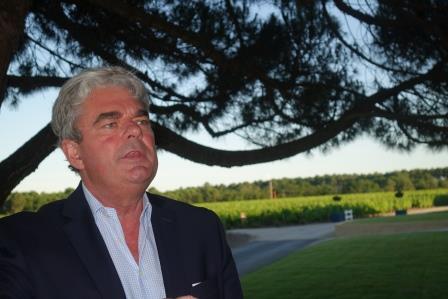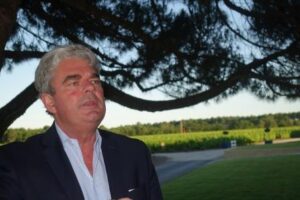 When to Drink Domaine de Chevalier, Anticipated Maturity, Decanting Time
Domaine de Chevalier needs at least 8-12 in good vintages until it is ready to be enjoyed. Young vintages can be decanted for 2-3 hours or more. This allows the wine to soften and open its perfume. Older vintages might need very little decanting, just enough to remove the sediment. Domaine de Chevalier offers its best drinking and should reach peak maturity between 10-30 years of age after the vintage.
Serving Domaine de Chevalier with Wine, Food, Pairing Tips
Domaine de Chevalier is best served at 15.5 degrees Celsius, 60 degrees Fahrenheit. The cool, almost cellar temperature gives the wine more freshness and lift. Domaine de Chevalier Rouge is best served with all types of classic meat dishes, veal, pork, beef, lamb, duck, game, roast chicken, roasted, braised, and grilled dishes.
Domaine de Chevalier Rouge is also good with Asian dishes, and hearty fish courses like tuna, mushrooms, and pasta. Domaine de Chevalier Blanc is a perfect wine to serve with all types of seafood, fish, shellfish, crab, lobster, chicken, veal, port, and of course a myriad of hard and soft cheeses.
In 1993, Olivier Bernard entered into a management agreement with Pessac Leognan estate of Domaine de la Solitude. In 2009, Olivier Bernard added to his already busy schedule when he entered into a second leasing agreement to produce and market the wines of Chateau Lespault-Martillac, also located in the Pessac Leognan appellation.
The Bernard family also maintains interests in the Sauternes appellation. Olivier Bernard is a partner in Chateau Guiraud. In 2012, Olivier Bernard added to their holdings in Sauternes with the purchase of Chateau Haut Caplane.
They quickly renamed the estate, Clos des Lunes. Clos des Lunes will focus on making dry white Bordeaux wine, as well as sweet, white Bordeaux wine. However, it is expected that Olivier Bernard and his team will focus more on the production of dry white Bordeaux wine at Clos des Lunes.
Domaine de Chevalier Wine Tasting Notes
76 Vintages 679,798 Views Sort by Vintage-Rating
2022
Domaine de Chevalier (Pessac-Léognan)

Almost opaque in color, the wine is equally dark in the nose with black cherries, black berries, black plums, licorice, Cuban cigar wrappers, smoke, burning wood and cocoa. Silky, elegant, plummy, rich and loaded with chocolate-covered, dark pit fruits, espresso and black cherries. There is intensity as well as silkiness and energy in the long finish. The wine blends 65% Cabernet Sauvignon, 30% Merlot, 3% Petit Verdot and 2% Cabernet Franc. 13.5% ABV, 3.60 pH. The harvest took place September 6 - September 28. Yields were 35 hectoliters per hectare. Condition in the vineyards were extremely dry with only 30 MM of rain during the summer, making this the estates driest vintage in history. This is also the second 100% biodynamically farmed vintage. More importantly, bottles will feature a special label celebrating 2022 as it was Olivier Bernard's 40th vintage at Domaine de Chevalier. Drink from 2027-2055. 96-98 Pts.

3,379 Views

Tasted

May 8, 2023

2022
Domaine de Chevalier Blanc (Pessac-Léognan)

Squeeze grapefruits over crushed rocks, and you get the idea of the perfume. The palate is packed with all the sweet, juicy, ripe pineapples, Granny Smith apples, tangerine skins, pomelo, and honeysuckle you could ask for. The wine provides the perfect blend of fresh, juicy citrus, sweetness, lift and creaminess. Drink this young for its youthful exuberance, or age it a few years for more secondary development. The wine blends 70% Sauvignon Blanc with 30% Semillon, 13.8% ABV, 3.28 pH. The harvest took place August 26 - September 5. Drink from 2025-2037. 96-96 Pts.

2,049 Views

Tasted

May 8, 2023

2022
L'Esprit de Chevalier Blanc (Pessac-Léognan)

Green apples, lemons, and honeysuckle notes are all over the place here. On the palate, the wine is vibrant, citrusy, and creamy, with good energy in the finish. The wine blends 70% Sauvignon Blanc, and 30% Semillon. Drink from 2025-2032. 93-93 Pts.

1,959 Views

Tasted

May 8, 2023

2022
L'Esprit de Chevalier (Pessac-Léognan)

Plums, tobacco, black cherries, spice, mint, and cocoa come through on the nose. The medium-bodied palate is silky, fresh, soft, and polished, with sweetness to the berries seemingly wrapped in cigar wrappers, with a touch of mint in the finish. The blend is 65% Cabernet Sauvignon and 35% Merlot. Drink from 2025-2035. 91-93 Pts.

2,113 Views

Tasted

May 8, 2023

2021
Domaine de Chevalier Blanc (Pessac-Léognan)

White flowers, honeysuckle, lemon rind, pineapple, spice, and vanilla aromatics motivate you to want to know more. On the palate, the wine is perfectly balanced between its lush, creamy character and blazing acidity. The fruit shows a gorgeous purity and the seamless finish builds, expands, and lingers. Clearly, this is a contender for one of the best, if not the best vintage of Domaine de Chevalier Blanc ever produced! Drink this young for its youthful exuberance, or age it for more secondary development. The wine blends 75% Sauvignon Blanc and 25% Semillon, 13.5% ABV. The harvest took place September 13-September 24. Drink from 2023-2050. 98-98

3,413 Views

Tasted

May 20, 2022

2021
Domaine de Chevalier (Pessac-Léognan)

Deeply colored, initially you find flowers, black and dark red pit fruits, Indian spice, black pepper, cassis, and black currants on the nose. On the palate, the wine is medium-bodied, sweet, fresh, and round, as well as a bit chewy, with loads of ripe berries accented with espresso and cocoa in the endnote. The wine blends 80% Cabernet Sauvignon, 10% Merlot, 5% Petit Verdot, and 5% Cabernet Franc, making this one of the highest percentages of Cabernet even used in the blend here. 13.% ABV. The harvest took place September 28 - October 15. Yields were low at only 30 hectoliters per hectare. This is the first vintage that was produced being 100% biodynamic in the vineyards. Drink from 2025-2048. 93-95

3,150 Views

Tasted

May 20, 2022

2021
L'Esprit de Chevalier Blanc (Pessac-Léognan)

Lemon, lime, green apples, honeysuckle, pomelo, and flowers open the nose. Creamy, fresh, vibrant and packed with sweet, yellow citrus, the wine is crisp, fresh and juicy on the palate and in the finish. Drink from 2023-2031. 92-92

2,102 Views

Tasted

May 20, 2022

2021
L'Esprit de Chevalier (Pessac-Léognan)

Cigar wrapper, spice, forest floor, plums and the essence of smoke are found in the nose and in the medium-bodied, bright, fresh, red berry oriented palate. There is a nice crisp accent with hints of pepper and salinity on the mid-palate that you also enjoy in the finish. Drink from 2023-2029. 88-90

1,845 Views

Tasted

May 20, 2022

2020
Domaine de Chevalier (Pessac-Léognan)

Showing a solid depth of color, the moment the wine hits the glass you find a wealth of black raspberries, cigar box, mint, oceanic influences, smoke, licorice, black currants, blackberries, bay leaf, and black raspberries in the nose. On the palate, the wine exudes an incredible purity of fruit, dark chocolate, and layers of ripe, dense, sensuously-textured black, red, and blue fruits that unfold seamlessly across your palate, and linger for close to 50 seconds. There is lift, energy, volume, and depth on the palate finishing with waves of dark red currants, creme de cassis, tobacco leaf, blackberry, savory herbs, and a gentle wisp of spearmint on the backend. Clearly, this is one of the great vintages of Domaine de Chevalier that fans of the estate should run, (not walk) to buy! Drink from 2026-2055.

6,645 Views

Tasted

Mar 21, 2023

Dark in color, the wine pops with notes of Cuban cigars, smoke, black currants, flowers, blackberries, forest leaf and an intriguing hint of orange rind at the end of the nose. Full-bodied, plush, polished and well-defined, every layer offers nuance with silk and velvet textures. There is lift, energy, volume and depth on the palate, finishing with waves of dark red currants, creme de cassis, tobacco leaf, blackberry, savory herbs and a gentle wisp of spearmint on the backend. It is going to be quite a treat comparing 2018, 2019 and 2020 over the years. I am certain this will age and evolve for at least 3 decades or more from here. The wine blends 60% Cabernet Sauvignon, 30% Merlot, 7% Petit Verdot and 3 % Cabernet Franc 13.7% ABV. 96-98 Pts

8,280 Views

Tasted

May 20, 2021

2020
Domaine de Chevalier Blanc (Pessac-Léognan)

Ripe, lush, and opulent, the wine opens to a wealth of fragrances, flowers, spice, honey, vanilla, green apples, lemon rind, mango, and pink grapefruit aromatics are easy to find. On the palate the wine is silky, lush, and fresh, finishing with yellow citrus and creamy green apples. You can enjoy this beauty on release, but it has the ability to age as well. Drink from 2023-2036.

2,297 Views

Tasted

Mar 21, 2023

Straw yellow in color, the wine shows off its Meyer lemons, spice, mango, pink grapefruit, lemon oil and flowers on the nose. On the palate the wine is silky, lush, creamy, juicy and fresh, finishing with sweet lemons and green apple nuances that easily display their purity, silky textures and racy acidity. The wine blends 75% Sauvignon Blanc and 25% Semillon 13.7% ABV. 96 Pts

3,673 Views

Tasted

May 20, 2021

2020
L'Esprit de Chevalier Blanc (Pessac-Léognan)

Salty lemon peels, green apples, white flowers and pomelo open the nose. On the palate, the wine is round, forward, lush and fruity, leaving you with a sweet, creamy, lemon finish with just a drop of honey in the endnote. Drink from 2023-2031.

1,601 Views

Tasted

Mar 21, 2023

Green apples, honeysuckle, pomelo, lemon and flowers come through easily on the nose. The fruits are crisp and juicy. The finish is long, fresh and refreshing with its core of sweet, yellow citrus fruits and crushed stone in the endnote. 93 Pts

2,950 Views

Tasted

May 20, 2021

2020
L'Esprit de Chevalier (Pessac-Léognan)

Black cherries, smoke, roasted nuts, flowers and red fruits come to the front of the perfume. Forward, soft, silky and polished, with additional nuances of cocoa, spice and licorice that accompanies the sweet, ripe, red fruits on the palate, this is already quite nice and should be perfect for near term drinking while waiting for the Grand Vin to develop. Drink from 2023-2032.

1,538 Views

Tasted

Mar 21, 2023

Smoke, tobacco leaf, herbs, spice and red currants are instantly recognizable on the nose. Medium-bodied, fresh and vibrant, with juicy, bright, red fruits, lift and elegance on the palate and in the finish. This is a nice baby Domaine de Chevalier. This is perfect for near term drinking while waiting for the Grand Vin to develop. 91-93 Pts

3,200 Views

Tasted

May 20, 2021

2019
Domaine de Chevalier Blanc (Pessac-Léognan)

Green apple, yellow citrus, honeysuckle, and a tropical orange note with a hint of white peach shine through in the nose and on the fresh, creamy, lively palate. The finish hangs with you with endnotes of lemon, lime, vanilla, rocks, and stones. This is already a treat to taste, but wait a few years and it is going to be even better as Domaine de Chevalier is one of the longest lived white wines from Bordeaux. Drink from 2023-2040.

3,314 Views

Tasted

May 14, 2022

Fresh pomelo, newly-squeezed lemons, honeysuckle and an intriguing orange tropical note with mangos and white peach. On the mouth, the wine pops with its freshness, zest and energetic fruit. Lemon, lime, vanilla, rocks and stones. This future rockstar will age for decades, getting better and better. But this is tasty now, I drank it at 9 in the morning! The wine was made from blending 70% Sauvignon Blanc and 30% Semillon. 97 Pts

4,809 Views

Tasted

Jun 8, 2020

2019
Domaine de Chevalier (Pessac-Léognan)

Elegant and refined, the wine is medium/full-bodied, and quickly focuses you on its core of smoky red pit fruits and berries, espresso, herbs, forest leaf and tobacco. Soft, polished and fresh, there is length, purity, energy, complexity and character here in spades which is all wrapped up perfectly with its silky tannins and soft, sexy, harmonious finish. This should age and evolve for at least 3 decades or more. Drink from 2029-2055.

13,043 Views

Tasted

Mar 29, 2022

Dark garnet in color, the wine opens with smoky notes, pure cocoa, hot stones and dark red fruits. On the palate, this is in contention for the most elegant vintage produced at the property. But do not confuse elegance with lack of depth. The wine is refined, focusing on its purity with silky tannins and a soft, sexy, harmonious finish. This should age and evolve for at least 3 decades or more, though, it will be beautiful with just 8-10 years in the cellar. The wine blends 65% Cabernet Sauvignon, 30% Merlot and 5% Petit Verdot reaching 13.15% ABV. The Grand Vin was produced from 60% of the harvest. 95-97 Pts

12,636 Views

Tasted

Jun 8, 2020

2019
L'Esprit de Chevalier Blanc (Pessac-Léognan)

Bright, fresh, zesty and tangy, yellow citrus with hints of tangerine and flowers, ending with a crisp, vibrant finish. Drink from 2022-2028.

1,456 Views

Tasted

Mar 29, 2022

Medium-bodied, fresh, soft, forward, lighter-styled Pessac Leognan that focuses on its silky, sweet soft red fruits and earthy, herbed, smoked berry finish. There is a definite resemblance between this second wine and the Grand Vin. So enjoy it on release and over the next 7-9 years while waiting for the Grand Vin to develop. 90 Pts

3,660 Views

Tasted

Jun 8, 2020

2019
L'Esprit de Chevalier (Pessac-Léognan)

Soft, silky, refined, fresh and sweet, there is a gorgeous sense of purity to the red fruits on the nose and palate. Medium-bodied, elegant, silky and forward, the finish comes through with layers of sweet, ripe cherries that linger. This is perfect for near term drinking while waiting for the Grand Vin to develop. Drink from 2022-2031.

1,459 Views

Tasted

Mar 29, 2022

2018
Domaine de Chevalier (Pessac-Léognan)

Clearly the finest vintage of Domaine de Chevalier ever produced, this beauty has it all. The captivating perfume with all its smoke, earth, spice, tobacco infused, ripe, red and dark red fruits, tar, cigar box, thyme and espresso scents is close to off the charts. With the 2018 you find unheard of levels of concentration with everything in balance. The fruits are generous, silky and pure. The refined, elegant finish just goes on and on. With aging, this could merit an even higher score in the years to come. . Olivier Bernard calls this the best vintage of Domaine de Chevalier he has ever produced and he is right! The wine is made from a blend of 65% Cabernet Sauvignon, 30% Merlot and 5% Petit Verdot.

12,734 Views

Tasted

Mar 9, 2021

Close to opaque in color, the wine is opulent, concentrated, juicy and intense. The fruit comes in layers expanding as it builds in your mouth. Once the juicy blackberry and cherry begins to fade, you\\\'ll find licorice, dark cocoa and sweet, salty plums. The finish is everlasting. Olivier Bernard calls this the best vintage of Domaine de Chevalier he has ever produced and he is right! The wine is made from a blend of 65% Cabernet Sauvignon, 30% Merlot and 5% Petit Verdot reaching 13.5% ABV. 96-98 Pts

15,309 Views

Tasted

Apr 19, 2019

2018
Domaine de Chevalier Blanc (Pessac-Léognan)

Round, bright, lush, creamy and juicy, with layers of fresh, crisp pomelo, waxy lemon peel, green apple, flowers and stone with a dab of honey, there is a lot to like here. Give it a few more years in the cellar and there will be even more to like as it ages.

2,385 Views

Tasted

Mar 9, 2021

With a blast of crisp, zesty pomelo, floral scents and a full body loaded with crushed rocks, Mandarin oranges, mango and a background of pineapple, this is tasty now -- I could not stop drinking it. I can only imagine how good this is going to be with a decade or two of aging!

3,432 Views

Tasted

Apr 19, 2019

2018
L'Esprit de Chevalier (Pessac-Léognan)

Smoky dark red berries with cigar box, herbs, forest leaf and currants create an impressive perfume. On the palate, the wine is soft, silky, polished, refined and leaves with a juicy mouthful of fruit, dark cocoa, herbs and espresso beans. This is perfect for near term drinking while waiting for the Grand Vin to develop.

2,909 Views

Tasted

Mar 9, 2021

2018
L'Esprit de Chevalier Blanc (Pessac-Léognan)

Bright, fresh, crisp and juicy yellow citrus with bits of orange peel, green apple and pear added in for complexity. I am really liking the sense of sense of mineraity in the finish. Enjoy this gorgeous second wine while waiting for the Grand Vin to develop.

1,825 Views

Tasted

Mar 9, 2021

2017
Domaine de Chevalier Blanc (Pessac-Léognan)

It's that extra blast of freshness with all those crushed rocks that brings this another level. Concentrated, lush, silky and vibrant, with layer after layer of sweet, crisp, juicy, assorted citrus fruits that keep on coming. The wine can age and evolve for decades!

4,548 Views

Tasted

May 17, 2020

Floral notes begin the experience, leading to the discovery of crushed stone and a generous offering of citrus. On the palate, this wine is fertile, fat and full of life and the finish is virtually unending with a mélange of pulpy citrus and bracing acidity. Made from a blend of 65% Sauvignon Blanc and 35% Semillon, the wine reached 13% ABV. The high percentage of Semillon is due to the frost.

3,908 Views

Tasted

Apr 26, 2018

2017
Domaine de Chevalier (Pessac-Léognan)

Medium/full-bodied with a refined, elegant character. The tannins are soft, the smoked red fruits are sweet, ripe, earthy and on the finesse side, leaving with a beautiful cherry pipe tobacco and red berry finish. Even though this is on the forward side, it should age for at least 2 decades.

4,659 Views

Tasted

May 17, 2020

Smoke, incense, blackberry, dark cherry and a slight hint of fig in the background create an aromatic profile. This wine shows ripe fruits, sweetness, freshness and gentle tannins. In a perfect scenario the finish would be longer but this is truly a very fine wine that will shine with just a few years in the cellar. Made from a blend of 75% Cabernet Sauvignon, 20% Merlot and 5% Petit Verdot, the wine reached 13.5% ABV. The higher than usual percentage of Cabernet in the blend is due to damage from the frost.

5,456 Views

Tasted

Apr 26, 2018

2016
Domaine de Chevalier (Pessac-Léognan)

There is a depth of color and an even better depth of flavor. Smoke a Cohiba Behike in a fruit orchard and you get the idea of the perfume. On the palate, there are layers of elegant, silky textured fruits with sweetness, purity and richness. The finish keeps on going. The wine here is known for aging, so give it 12 years or more before opening a bottle and drink over the next 20-25 years, at least! There is no doubt, this is the finest vintage of Domaine de Chevalier Rouge ever produced, although the 2018 could be even better in the years to come!

11,197 Views

Tasted

Sep 21, 2019

Clearly in competition for the best vintage yet, for the red wine of Domaine de Chevalier, this is a beauty! It is hard to decide if it is the silky, elegant, caressing textures, the freshness and purity in the fruit or all that smoky fruit in the finish that is the high point. Fans of Domaine de Chevalier need to try this for themselves. It is a stunner that will age for decades, and it still sells for a song.

9,272 Views

Tasted

Feb 10, 2019

Refined, elegant, fresh, silky and pure, this is a stunner. The wine, with its layers of tobacco-tinged dark, red berries, freshness and silky tannins is a strong contender for the best vintage of Domaine de Chevalier ever produced.

10,012 Views

Tasted

May 12, 2018

Silky tannins, sweet, ripe, elegant, polished, and refined, this is a top vintage for Domaine de Chevalier. The tobacco, dark, red berries and spice are really shining this year. The wine has that elusive quality of freshness, length, purity and character. This will age quite nicely for decades. The wine was produced from a blend of 65% Cabernet Sauvignon, 30% Merlot and 5% Petit Verdot. The fruit was picked from October 4 to October 21.

9,773 Views

Tasted

Apr 29, 2017

2016
Domaine de Chevalier Blanc (Pessac-Léognan)

Continuing to blossom, with no effort, the lemon chiffon, flowers, yellow citrus, flowers, rocks and orange grab your nose and palate. The Sauvignon Blanc dominates with its crisp, fresh, bright, crunchy stylings and waxy lemon accents.

3,465 Views

Tasted

Aug 28, 2021

Here you find all the juicy, sweet lemons, pomelo, spice, vanilla and flowers you could ask for. Made from blending 75% Sauvignon Blanc and 25% Semillon, the wine is round, lush, sweet and vibrant, and forward in style, so you can drink this on release, or with just a few years of age.

3,166 Views

Tasted

Sep 21, 2019

Blending 75% Sauvignon Blanc and 25% Semillon produced a richly textured, fat, sweet, lush, ripe wine with a mineral and yellow citrus driven character that is on display in the finish.

3,247 Views

Tasted

Apr 29, 2017

2015
Domaine de Chevalier Blanc (Pessac-Léognan)

Rich, opulent, luscious, and intense, the wine remains on the primary side. Concentrated, ripe, sweet, and packed with layers of fresh yellow citrus, orange rind, crushed rocks, and flowers, give it at least another 5 years to develop additional nuances.

3,599 Views

Tasted

Oct 26, 2021

Clearly a contender for the top white Bordeaux wine, aside from you know who... The wine offers a crisp entry loaded with just squeezed lemon, pomelo, crushed rocks, lime and floral notes. Fresh and refreshing, concentrated and with racy acidity giving it lift, the honey and vanilla accents add just right amount of fatness to the wine. This is a beauty!

4,550 Views

Tasted

Mar 12, 2018

The perfect blend of crushed rocks, assorted, fresh squeezed, yellow citrus fruits, a dab of honey and floral notes. Bright, crisp and refreshing, this wine has the uncanny ability to offer pleasure young, yet, age for decades. I've had enough of these wines at old age lately to know first hand, how well they can age and improve for decades.

4,331 Views

Tasted

Jul 11, 2017

Bright and lively with an open, grapefruit, lemon zest, green apple and honeysuckle character, this wine is fresh, refreshing and long with a crisp, sweet, citrus-filled finish.

3,865 Views

Tasted

Apr 23, 2016

2015
Domaine de Chevalier (Pessac-Léognan)

This beautiful wine is elegant, fresh, refined and shows the vibrancy in the earthy, red berries with ease. The tannins are silky. The nose, with its smoke, pipe tobacco and earthy accents on top of the deep red fruits makes its presence known with ease. This is a contender for one of the best wines ever produced here.

12,791 Views

Tasted

Mar 12, 2018

A beauty, with all the smoky, cigar box, dark red fruits and spicy, earthy charm you need. Elegant, refined and classy, this is a contender for the top red wine ever from Domaine de Chevalier, although 2016 is going to give it a run for the money.

12,157 Views

Tasted

Jul 12, 2017

Cigar box, smoke, chocolate covered plums, earth and freshly rolled cigars on the nose, this wine is fleshy, ripe and rich with a good depth of flavor and length in the finish. Produced from a blend of 65% Cabernet Sauvignon, 30% Merlot and 5% Petit Verdot and reaching 13.5% ABV, the wine represents 50% of the harvest, which took place from September 26 to October 16. The wine is being aged in 33% new French, oak barrels. 94 - 96 Pts

11,173 Views

Tasted

Apr 23, 2016

2014
Domaine de Chevalier Blanc (Pessac-Léognan)

WOW! Now we're talking. This attention seeking wine grabs you with all its crisp, fresh, polished, yellow citrus, flowers, lime and honeydew fruits. The blazing acidity cuts perfectly, leaving with a sensation of crushed rocks, lemon peel and grapefruit, that could not be any fresher.

4,845 Views

Tasted

Feb 7, 2017

Created from a blend of 75% Sauvignon Blanc and 25% Semillon, this wine is bright with a pomelo, lemon wax and lime character. Rich, vibrant yet breezy and sweet, this concentrated, mineral driven wine feels lush on the palate and is packed with crisp, citrus notes in the finish. 94-96 Pts

3,510 Views

Tasted

Apr 24, 2015

2014
Domaine de Chevalier (Pessac-Léognan)

Elegance and purity is the best way to describe this young, fresh, vibrant, smoke filled wine. The refined, finish, lingers and feels great, with all its juicy, sweet, pure, black cherries.

9,036 Views

Tasted

Feb 7, 2017

A sexy vintage with chocolate, plums, earth and freshly rolled cigars on the nose. This wine is medium-bodied, soft, and silky and did I mention sexy? There is a distinctly forward, polished, blackberry and chocolate finish. The wine was produced from a blend of 65% Cabernet Sauvignon, 30% Merlot and 5% Petit Verdot and reached 13.5% ABV. 92-94 Pts

7,391 Views

Tasted

Apr 24, 2015

2013
Domaine de Chevalier Blanc (Pessac-Léognan)

Even though it's still baby, the wine easily serves up all the fresh, crisp, pomelo, citrus, grapefruit, lemon peel, rocks, stones and honeysuckle you require. Richly textured, with a true purity of fruit and freshness galore, the wine leaves you with ripe, vibrant, crisp fruits that linger and refresh. As you can see this drinks well young and yet, it will also have the ability to age and evolve for decades.

4,810 Views

Tasted

May 30, 2017

Showing better in the bottle than it did during the barrel tastings, the wine delivers a fresh, vibrant, citrus, grapefruit, lemon grass and stone aromatic profile. Richly textured, the wine has purity of fruit and freshness galore. This should drink well young and have the ability to age and evolve for decades.

3,362 Views

Tasted

Feb 1, 2016

Mineral-driven with a blast of fresh citrus, the wine is long, keeping its citrus and stone personality tinged with fresh lemon sensations from start to finish. 80% Sauvignon Blanc and 20% Semillon. 93-95 Pts

3,142 Views

Tasted

Apr 21, 2014

2013
Domaine de Chevalier (Pessac-Léognan)

Elegant, medium bodied, forward style of Domaine de Chevalier, with sweet, fresh, bright cherries, spice, cassis and hints of tobacco to round things out. The blend of 85% Cabernet Sauvignon and 15% Merlot, coupled with severe selection are a large part of what helped this wine become so successful in this difficult vintage.

4,145 Views

Tasted

Feb 3, 2016

Tobacco, earth, fresh red berries and a touch of oak reign on the nose, followed by medium body and user-friendly style. You should be able to enjoy this soft, elegant wine on release for its refined cocoa and cherry character and finish. The wine was produced from a blend of 85% Cabernet Sauvignon and 15% Merlot. 90-92 Pts

5,044 Views

Tasted

Apr 21, 2014

2012
Domaine de Chevalier Blanc (Pessac-Léognan)

Vibrant, refreshing and lively, the citrus, honeysuckle, lemon peel, green apple and crushed stone qualities are just starting to go on full display. Loads of energy are found in every sniff and sip. And this is only just starting to enter its journey. Based on previous vintages, this should age for decades.

3,197 Views

Tasted

Nov 14, 2017

Blending 70% Sauvignon Blanc and 30% Semillon produced an exciting wine with lift, energy and freshness that really lets you experience the ripe, grapefruit, lemon zest, honeydew, marmalade, floral and mineral elements present in the wine. The finish feels great with the right balance of ripe fruits and acidity.

3,188 Views

Tasted

Mar 11, 2015

Grapefruit, lemon, stone and vanilla make the attention-seeking perfume. Rich, fresh and zippy fruits with plush texture and a fresh citrus and spice finish remain with you long after the wine went where it was supposed to go. 93-95 Pts

3,359 Views

Tasted

Apr 25, 2013

2012
Domaine de Chevalier (Pessac-Léognan)

Medium-bodied, elegant and fresh, with silky tannins, layers of black cherry and currants with cigar box, thyme and tobacco leaf accents, there is a nice polish to the fruit with refined textures and a supple, fruit filled finish. This is drinking at close up peak today. A splash decant before pouring was all it needed.

4,646 Views

Tasted

Mar 20, 2022

Medium bodied, with a complex nose of chocolate mint, black cherry, earth and smoke. The finesse styled wine is sweet, ripe, elegant and fresh.

6,508 Views

Tasted

Mar 11, 2015

With soft dark red berries, smoke, earth, coffee bean and cherry tones, the medium-bodied wine was produced in a fresh, elegant style, which will drink well young. 90-92 Pts

7,017 Views

Tasted

Apr 25, 2013

2011
Domaine de Chevalier Blanc (Pessac-Léognan)

Very classy in style, with fresh lemon, grapefruit, stone, vanilla, white peach and floral notes. Soft, polished, bright, fresh and clean, the mineral driven, crisp, sweet, citrus finish really carries through. The wine was made from a blend 85% Sauvignon Blanc and 15% Semillon.

5,327 Views

Tasted

Feb 10, 2014

Enticing layers of citrus, green apple, lemon, lime and spice lead to a fresh and concentrated, stone, sweet citrus oil and honeysuckle finish. 94-96 Pts

4,907 Views

Tasted

Apr 25, 2012

2011
Domaine de Chevalier (Pessac-Léognan)

The nose, with its smoke, truffle, tobacco, blackberry, espresso roast and earthy complexities is right out front. Medium bodied, with fresh, plum and cherries in the end note, this soft wine is already easy to drink.

4,412 Views

Tasted

Feb 19, 2014

From an assemblage of 65% Cabernet Sauvignon, 30% Merlot and 5% Cabernet Franc, the wine will be aged in 40% new oak. With earth, spice, blackberry and smoke, this elegant, polished wine ends with spicy red and black fruit with dark cherries. 90-92 Pts

4,971 Views

Tasted

Apr 25, 2012

2010
Domaine de Chevalier Blanc (Pessac-Léognan)

A stunning example of what Domaine de Chevalier Blanc does at its best. Racy, fresh and crisp, with white flowers, honeysuckle, and citrus peel, the nose is quite showy. The palate is even more flamboyant, balanced between crisp, racy fruits, acidity, and sweetness, this is still on the youthful side. Give it another 5-7 years and enjoy it for another decade or two after that.

4,389 Views

Tasted

Oct 26, 2021

A thrilling white Bordeaux! The yellow citrus pops with its fresh, bright character along with honeysuckle, lemon way, orange, herb liqueur and vanilla. The wine is concentrated, lifted and citrusy with length and vibrancy. Drink this now, or wait 10-20 years, regardless of which way you go this is just great!

4,994 Views

Tasted

Feb 22, 2020

Domaine de Chevalier Blanc An explosion of lemon, guava, grapefruit, lime and fresh picked flowers poured over wet rocks make up the perfume. Thick, rich, incredibly concentrated and intense, this dense wine has the perfect amount of acidity to feel bright and fresh. This was the only wine from the Pessac Leognan tasting that was too good to spit. 96-98Pts

7,530 Views

Tasted

Apr 21, 2011

2010
Domaine de Chevalier (Pessac-Léognan)

This wine pops with an exotic array of scents, spices, mint, smoke, earth, and ripe berries. Silky, soft and polished, the wine ends with a long, polished, refined display of kirsch and black raspberries. From a blend of 63% Cabernet Sauvignon, 30% Merlot and 7% Petit Verdot, this has the structure to age and develop into something special for decades.

9,118 Views

Tasted

Feb 15, 2013

Domaine de Chevalier From an assemblage of 63% Cabernet Sauvignon, 30% Merlot, 5% Petit Verdot and 2% Cabernet Franc, the wine shows a deep ruby color. With little effort, complex aromas of smoke, truffle, cassis, black cherry, earth and oak scents are easy to find. The wine is rich, concentrated and offers dark, earthy, black fruit that ends with a long, pure, blackberry and cassis filled finish. 93-95 Pts

9,859 Views

Tasted

Apr 21, 2011

2009
Domaine de Chevalier (Pessac-Léognan)

Just now beginning to wake up, the wine is all about Cuban Cigars, truffle, wet earth, tobacco leaf and red plums. Medium/full-bodied, with soft, elegant, silky tannins and a ripe, sweet, luscious, fruit-filled finish with just a bit of oak left to integrate. Give this about 5 more years in the cellar and you are in for a sublime vintage of Domaine de Chevalier.

8,830 Views

Tasted

Sep 20, 2019

Cherry pipe tobacco, smoke, licorice and plum notes create the perfume. In the mouth, the wine is rich, plush and round with a chocolate covered, fresh blackberry finish.

14,066 Views

Tasted

Jan 30, 2012

2009 Domaine de Chevalier opens with smoke, dark berries, earth, and spice aromas. Elegant and round, with textures of silk, the wine ends with a fresh blast of spicy black cherries. 92/94 Pts

13,992 Views

Tasted

Aug 26, 2010

2009
Domaine de Chevalier Blanc (Pessac-Léognan)

Lusciously textured, with the right drizzle of honey awarding you the perfect amount of fat and sweetness to temper the sizzling, fresh, crispness in all that ripe, juicy yellow citrus. The wine is just great and will only get better from here, as Domaine de Chevalier is known to age and improve for decades.

2,522 Views

Tasted

Sep 20, 2019

Fresh lemon, green apple, grapefruit, floral, spice and tropical fruit aromas combine with fleshy textures, concentration of flavor and minerality ending with a long, creamy, exotic sensation filled with ripe, fleshy, layers of citrus fruits.

6,204 Views

Tasted

Jan 27, 2012

2008
Domaine de Chevalier Blanc (Pessac-Léognan)

Light in color, the wine is bright, fresh, zippy and crisp. The yellow citrus, with its honeysuckle accent carries through the mineralistic leaning found here. You can enjoy this now, or age for at least 20 more years, if you have the patience.

3,063 Views

Tasted

Sep 17, 2018

Like nosing a bouquet of honeysuckle. The yellow honey and floral elements are equally strong, and attractive. Lemon peel, honeydew melon, stones, vanilla and grapefruit round off the perfume. Fresh, energetic and mineral driven, the wine is full bodied, rich, long and refreshing. This should age for decades, yet you can easily enjoy it today.

4,156 Views

Tasted

Oct 30, 2016

2008
Domaine de Chevalier (Pessac-Léognan)

Medium bodied, elegant and fresh, the wine is all about its refined, classy style. The smoky red fruits offer purity, restraint and a smoky, tobacco tinted note. The tannins are soft. The finish offers freshness and more of that elusive, cigar wrapper and red fruit charm. Drink this now, or over the next 15-20 years.

6,751 Views

Tasted

Sep 17, 2018

It took close to 3 hours of air before the wine softened and filled out. Elegant, in a classic way, the smoky, earth, blackberry, cassis and tobacco nose got better and better. Give this at least another 5 or more years.

8,340 Views

Tasted

Feb 3, 2015

Domaine de Chevalier shows classic Graves character with its smoke, tobacco, earth and cassis personality. Over the last few years, the wines seem to be produced with slightly more concentration. Stephane Derenoncourt has been working with Olivier Bernard with the red wines for a few years. This addition of richness adds a lot to the quality of this elegant Pessac Leognan wine.

13,378 Views

Tasted

Jan 28, 2011

08 Domaine Chevalier Rouge is deep ruby. The 08 shows more depth and concentration than I recall in previous vintages. This elegant, rich wine has an opulent personality with a long, pure finish combining black and red fruits. 91-94 Pts

13,147 Views

Tasted

Aug 31, 2009

2007
Domaine de Chevalier Blanc (Pessac-Léognan)

Really starting to shine, the lemon peel, grapefruit, stone and floral characteristics are easy to find. Fresh, sweet, and vibrant, the wine combines richness with energy, fresh citrus and minerality in the finish.

3,181 Views

Tasted

Jul 2, 2017

This wine exploded from the glass! You read that correctly. The fragrance jumped out of the glass faster than the Alien went after Sigourney Weaver. The perfume explosion filled the room with exotic scents of lemon lime, grapefruit, spice, honey, flowers and guava. Full bodied, concentrated, rich and intense. Great acidity that keeps the wine fresh. The finish seems endless. This is one of the finest white Bordeaux wines I have ever tasted. I could not stop talking about this riveting wine all night.

6,462 Views

Tasted

Jul 1, 2009

2007
Domaine de Chevalier (Pessac-Léognan)

Time has been good to this wine. The fresh, red berries, tobacco, cigar box and earth are really shining. Soft, medium bodied and with all its tannins resolved, now is a great time to be enjoying this wine.

3,960 Views

Tasted

Jul 2, 2017

2006
Domaine de Chevalier Blanc (Pessac-Léognan)

Showing just a hint of color for its age, the wine offers its honeysuckle, white peach, vanilla and grapefruit rind. The best of both worlds, combining all the sweetness of ripe, juicy, citrus fruits and freshness from zippy acidity, this is just now coming around. The slightly honeyed lemon, lime finish really sings today, and it's just getting started.

3,547 Views

Tasted

May 25, 2016

2006
Domaine de Chevalier (Pessac-Léognan)

Displaying secondary notes of tobacco, cigar box, red berries, cassis, earth and smoke. Medium/full bodied, with spicy, earthy fruits, olive tapenade accents and a hint of dust in the tannins, the wine will improve with a few more years in the bottle.,

5,433 Views

Tasted

May 25, 2016

With the help of consultant Stephane Derenoncourt, this wine was produced in a lush style for the vintage. Lots of ripe black fruit, cassis, smoke and chocolate in the nose. Full bodied with a long, soft, dark berry finish. This was produced from a blend of 65% Cabernet Sauvignon, 30% Merlot, 2.5% Petit Verdot, and 2.5% Cabernet Franc.

11,616 Views

Tasted

Jul 1, 2008

2005
Domaine de Chevalier Blanc (Pessac-Léognan)

I like how this is developing. Now you find a blanc with honeyed overtones, flowers, crushed stone, and fresh citrus. Lushly textured with a tint of honey on top of all that sweet yellow citrus in the finish, this has entered its sweet spot.

3,546 Views

Tasted

Oct 26, 2021

This sublime wine continues improving with age. The nose, with its mineralistic, fresh, crisp citrus and honeysuckle notes pairs perfectly with the full, rich, lush, sweet, ripe, crisp, fresh, lemon and pomello fruits on the palate. This is good now, but it's going to get better and better with more age.

4,223 Views

Tasted

Mar 28, 2016

Super nice wine. The sweet, honeysuckle, citrus and red grapefruit nose gets you going. With , 60 minutes of air, the wine softens, leaving you with elegant, fresh, citrus and stone notes. Still young, this has serious aging potential.

4,315 Views

Tasted

Feb 3, 2015

The wine opens with with its showy display of honeysuckle, citrus rind, minerality and Meyer lemon aromatics. Rich and concentrated, with lush ripe fruit blended with refreshing acidity. This is a strong example of white Bordeaux that can be enjoyed today, or aged as it's only going to get better over the next decade.

5,323 Views

Tasted

Dec 22, 2012

2005
Domaine de Chevalier (Pessac-Léognan)

Clearly ready to go, the nose grabs you with its smoky, tobacco, herb, cigar wrapper, earth, and red berry filled aromas. Medium/full-bodied, elegant, soft, refined, and silky on the palate, there is ample freshness with ripe red fruits that promises to age for at least 15-20 more years.

7,723 Views

Tasted

Jun 26, 2021

Even though this clearly needs more time, with coaxing, earth and dark red berries with smoky cigar box aromatics come out from hiding. Polished, medium bodied, elegant, refined, fresh and still youthful, give this another 5 or more years before you pop a bottle.

7,249 Views

Tasted

Jun 28, 2015

From an assemblage of 65% Cabernet Sauvignon, 30% Merlot with a blend of Cabernet Franc and Petit Verdot making up the remainder of this Pessac Leognan wine, the perfume offers beguiling aromas of smoke, blackberry, black cherry, truffle, tobacco and crushed stone. With elegant textures, round tannins and a refined, personality, this Bordeaux wine is developing perfectly. The soft, silky finish ends with spicy, pure red and black fruits. Give it another 5-7 years in the bottle.

11,107 Views

Tasted

Jul 20, 2011

2004
Domaine de Chevalier Blanc (Pessac-Léognan)

A beautiful wine, packed with pure, sweet, fresh citrus notes, flowers, honey, vanilla and mineral notes. Concentrated, long, fresh and refreshing, this is a great wine to lay down, or drink now.

4,107 Views

Tasted

Jan 8, 2016

Soft, stony and packed with ripe honeydew melons, lemon peel, lime, vanilla and grapefruit, there is a lot of freshness and lift here. Open it now, or save it for 5-10 years.

2,996 Views

Tasted

May 3, 2014

2004
Domaine de Chevalier (Pessac-Léognan)

This is all about elegance and finesse. The tannins are soft and refined. The fruit is ripe, but delicate. The nose is complex with its smoky, tobacco, earthy red berry qualities. This is drinking great today. The wine was made from a blend of 65% Cabernet Sauvignon, 32% Merlot, 1.5% Petit Verdot and 1.5% Cabernet Franc.

3,465 Views

Tasted

Jan 4, 2015

With its tarry, black fruit and tobacco nose, this wine is starting to open. Not as complex or deep as the 05 or 06, but it will not require further aging to start delivering pleasure either.

5,039 Views

Tasted

Jul 1, 2008

2003
Domaine de Chevalier Blanc (Pessac-Léognan)

Lemon, lime, vanilla, stone and spearmint aromas created the delightful perfume. The wine is fat, round, soft and lush and could use a bit more freshness in the open, expressive, lemon wax finish.

4,904 Views

Tasted

Feb 28, 2015

Like many 2003 Pessac Leognan wines, this is maturing at a rapid pace. With a nose of sweet lemons, lime, honey suckle and stone, the finish is filled with lush, polished citrus and orange sensations. Unlike many vintages of Domaine de Chevalier blanc, this is not a wine that is going to make old bones.

4,431 Views

Tasted

Jan 11, 2013

2003
Domaine de Chevalier (Pessac-Léognan)

More interesting with its perfumed scents of tobacco, earth, cigar box, dark cherry and spicy nose than on the medium bodied, refined, soft, dark cherry filled palate. There is no sensation of jam or over ripeness in the wines character. This is probably close to fully mature as its already delivering most of its charm.

3,705 Views

Tasted

Dec 18, 2013

2002
Domaine de Chevalier Blanc (Pessac-Léognan)

With freshness galore, the sweet, juicy lemon, grapefruit and green apples stand out on the nose, and on the refreshing, crisp, mineral driven finish.

2,747 Views

Tasted

Mar 2, 2016

2002
Domaine de Chevalier (Pessac-Léognan)

Fully ready to go, the wine is medium-bodied, bright, crisp and focused on its red berries, forest leaf, cedar and tobacco character. This is a bit on the lean side. Fans of old-school classic Bordeaux will probably like it more than I did.

3,566 Views

Tasted

Oct 11, 2019

2001
Domaine de Chevalier Blanc (Pessac-Léognan)

With coaxing, lemon, spring flowers, wax, honey and vanilla scents became evident. Medium/full bodied with elegant, refined textures, the wine ends with a sweet, fresh, vanilla, citrus filled finish.

4,121 Views

Tasted

Feb 21, 2013

2001
Domaine de Chevalier (Pessac-Léognan)

Rapidly maturing, this medium bodied wine of finesse offers a soft, tobacco, earth, smoke, truffle, black raspberry filled wine that requires consumption over the next decade or a little sooner.

4,189 Views

Tasted

Nov 27, 2012

2000
Domaine de Chevalier (Pessac-Léognan)

2 decades of age has added a lot to this wine. Now, you find an elegant, earthy, medium-bodied, refined wine with the smell of a high-end cigar store lined with cedar shelves along with fresh, ripe blackberry and plum aromas. Layers of soft-edged, red fruits, smoke, and cigar wrapper notes on the palate, this is drinking at a great place today. I'd opt for drinking this over the next decade to obtain maximum pleasure.

3,825 Views

Tasted

Sep 13, 2021

Complex aromatics are filled with smoke, cassis, burning wood, truffle, tobacco, black and red plums and forest floor scents. On the palate, the wine is medium bodied with soft textures, ending with a fresh, creme de cassis and spice filled finish, this is close to entering maturity. I'd drink this over the next 10-12 years.

7,208 Views

Tasted

Aug 2, 2011

1999
Domaine de Chevalier (Pessac-Léognan)

Medium bodied, refined, fresh, energetic styled Bordeaux, blending tobacco, wet earth, cigar box, herbs and sweet, pure cherries. Elegant on the palate, with a freshness that comes through on the palate and in the spicy plum and earthy cherry finish. This is drinking on the right place today for maximum pleasure.

3,829 Views

Tasted

Jan 18, 2017

1998
Domaine de Chevalier (Pessac-Léognan)

Fully mature, the wine is medium bodied, elegant, soft, fresh and charming. The tobacco, smoke, cherry, earth and cigar box aromatics are right where it needs to be. Feminine, with more on the nose than on the discreet palate, this is ready for consumption.

4,210 Views

Tasted

Sep 25, 2016

1996
Domaine de Chevalier (Pessac-Léognan)

Fully mature, the wine is light in color, medium bodied and elegant on the palate. A little more interesting on the nose than the palate with its bright, red fruit, tobacco, smoke and cigar character.

3,878 Views

Tasted

Mar 2, 2016

1995
Domaine de Chevalier (Pessac-Léognan)

Smoke, earth, cassis, cedar wood, tobacco, ash and tar made up the interesting perfume. Medium bodied, this soft, charming, mature wine finishes with sweet, red and black fruits.

4,821 Views

Tasted

Dec 7, 2011

1994
Domaine de Chevalier Blanc (Pessac-Léognan)

Starting to take on a golden hue, with notes of spice, olives, herbs, nuts and citrus. The wine seems to be tiring, ending with, orange, lemon, nuts and pears in the finish. I'd opt for drinking this sooner than later as it's starting to drop its fruit.

3,937 Views

Tasted

Feb 21, 2013

1990
Domaine de Chevalier (Pessac-Léognan)

Light ruby in color, with bricking at the edges, the wine offers smoke, truffle, tobacco, cassis, earth, spice and cigar aromas. Medium bodied, elegant, soft and refined, this is fully mature and will not improve. I'd drink this over the next 5 years as I don't think it has the stuffing to age much past that point.

4,639 Views

Tasted

Dec 14, 2011

1989
Domaine de Chevalier (Pessac-Léognan)

Fully mature, but in the best of ways, the wine offers a sublime set of aromatics that make you believe you're in a high-end tobacco store, located in the middle of a forest. The cigars are lit and you're happy to be smoking one, while sipping on cherry juice that never had the dirt washed off. Finesse in style, with elegant, silky tannins and a softness on the palate, this is really great for current drinking.

3,465 Views

Tasted

Nov 16, 2017

1988
Domaine de Chevalier Blanc (Pessac-Léognan)

The nose, with its honeyed citrus, lemongrass and green apple shines. The wine is still bright, fresh, energetic and leaves you with a tinge of honey, vanilla and crispy, yellow fruit.

3,609 Views

Tasted

May 31, 2018

1987
Domaine de Chevalier Blanc (Pessac-Léognan)

White Bordeaux wine is much stronger in this vintage than the red, and Domaine de Chevalier is at the top of the pack. Showing its nose of vanilla, lemon, flowers, honey and stone, the wine is medium bodied, supple textured and still offers freshness and waxy, fruit in the finish. No reason to wait to open a bottle if you have one, however,

2,192 Views

Tasted

Apr 22, 2017

1984
Domaine de Chevalier Blanc (Pessac-Léognan)

A nice wine, with good freshness, clean citrus and stone flavors that taste much younger than its three decades of age.

3,711 Views

Tasted

May 8, 2014

With a good depth of color, making this look much younger than its 30 years of age, the wine pops with spicy, citrus and honeysuckle notes. While its not the most complex wine, it's one of the few wines from this poor vintage that is still drinking well.

4,288 Views

Tasted

Jul 11, 2013

1983
Domaine de Chevalier (Pessac-Léognan)

Just starting to fade, you can see it in the color, and on the palate. But the complex nose is a beauty, with its plethora of cigar store aromatics, forest, floor, herbs, cherry and plum notes. Medium bodied, soft, and silky, the finish is a bit short, leaving you wanting it to last just a but longer. This is the debut vintage for Olivier and Anne Bernard.

4,538 Views

Tasted

Dec 1, 2016

1976
Domaine de Chevalier Blanc (Pessac-Léognan)

Looking years younger than its true age, the nose, with its crushed rock, citrus, orange, peach and vanilla scents gets your attention. Soft, lively and still fresh, this is drinking great today.

1,947 Views

Tasted

Apr 16, 2016

1975
Domaine de Chevalier Blanc (Pessac-Léognan)

Tasting years younger than its true age, the wine offered doses of slightly honeyed citrus, crushed rock, spice, honeydew and floral notes. Silky and fresh, sweet and energetic, this was really quite nice. Served double blind, it was even better to discover it was almost 40 years old!

1,960 Views

Tasted

Jul 6, 2017

1974
Domaine de Chevalier Blanc (Pessac-Léognan)

Served double blind, not one taster guessed this was 40 years of age. Olivier Bernard explained this was a good vintage for the white Bordeaux wine. With its youthful peersonality, fresh lemon, grapefruit, mineral and honey driven, plush, polished personality, I had to agree with him.

2,306 Views

Tasted

May 8, 2014

1966
Domaine de Chevalier (Pessac-Léognan)

Better on its nose with all the smoke, tobacco, thyme and earthyness, than on the light, red berry palate. The wine is elegant, soft and fully mature.

2,576 Views

Tasted

Apr 16, 2016

1964
Domaine de Chevalier (Pessac-Léognan)

From a magnum that had not been moved from the chateau since bottling, this was rocking! The smoke, tobacco, tar, truffle, earth, cigar box and wild strawberry filled perfume got you going. The silky, fresh, cherry filled finish took you the rest of the way. The perfect provenance had a lot to do with this wines stunning quality. Still, that being said, it's worth seeking out, if you're a fan of mature wines as it's not that expensive.

4,054 Views

Tasted

Jul 11, 2013

1961
Domaine de Chevalier (Pessac-Léognan)

Elegant and charming, the wine offers silky tannins, sweet, smoky, red fruits and refinement. Medium bodied, there is more complexity than weight and density. Fully mature, this is probably a wine to consider at auctions, if it has been well stored, as I bet it sells for a fair price, if you can find any.

2,726 Views

Tasted

Jul 6, 2017

1957
Domaine de Chevalier (Pessac-Léognan)

Kept alive with its high acidities, you can still find something to like about the smoky, bright, red fruits, leaf and tobacco personality. Medium bodied, the finish moves from crisp cherry to cranberry as if it was in a hurry. Drink up.

1,724 Views

Tasted

Apr 22, 2017

1955
Domaine de Chevalier (Pessac-Léognan)

With the color of ruby tea, the wine is light, elegant and smoky, with a melange of earthy scents and a sweet and tart, red berry finish. This requires drinking before the remaining fruit fades away.

2,424 Views

Tasted

Apr 16, 2016

This fully mature wine offered smoke, tobacco, forest floor, cigar box,, spice, cassis and olive tapenade scents. Medium bodied, with elegant textures, this soft styled wine finished with light kirsch and cassis flavors.

3,693 Views

Tasted

Jul 29, 2010

1934
Domaine de Chevalier (Pessac-Léognan)

Pure elegance, this refined, smoky, earthy, spicy, fresh, soft, sweet wine was all about its delicate. ripe cherry, smoky personality. This tasted like it was from the 1960's. What a treat!

2,578 Views

Tasted

Oct 5, 2014

1920
Domaine de Chevalier (Pessac-Léognan)

Strong notes of tea paired with cigars, ashes, herbs, tobacco, smoke, tar, black raspberry, and strawberries. Medium-bodied, elegant, soft, and fresh, with nuances of smoked earth along with red berries in the finish. To think this was more than 100 years of age! Drink from 2022-2030.

1,215 Views

Tasted

Sep 24, 2022