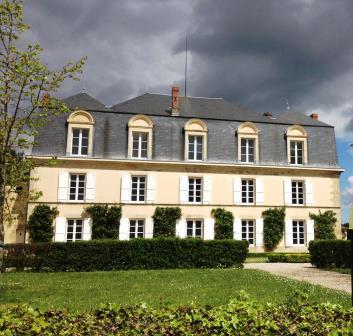 Learn everything about Chateau Guiraud Sauternes, Premiers Crus with wine tasting notes, and wine with food pairing tips. Learn the best vintages, a history of the property, information on the vineyards, and winemaking. If you want to read about other important, Bordeaux Chateaux: Links to all Bordeaux Wine Producer Profiles
Chateau Guiraud History, Overview
Originally known as La Maison Noble du Bayle, the estate earned its name, and its fame, when it was owned by the Guiraud family in 1766. At the time of the 1855 Classification, the wines were sold under the name of Chateau Bayle.
The black label still in use today came from the Guiraud family. The label, with its gold coat of arms logo, symbolizing their Protestant roots, is one of the oldest, original designs in the Bordeaux region and has essentially remained unchanged since it was originally designed.
The first part of the modern era for the estates begins when it was purchased by Frank Narby in 1981. At the time of the purchase, the Narby family brought in Xavier Planty to manage the property.
The true modern era for the estate started in 2006 when Chateau Guiraud was purchased by a partnership formed by Robert Peugeot and three well-known Bordeaux winemakers and chateau owners, Olivier Bernard of Domaine de Chevalier, Stephan Von Neipperg who owns numerous St. Emilion properties including Canon La Gaffeliere, La Mondotte, and Clos de lOratoire and Xavier Planty.
One of the first actions the new owners took was to remove the red wine grapes that were planted in the 1930s from the vineyards. This was followed by a modernization of the cellars and winemaking equipment.
A new drainage system was installed in the vineyards as well. The vineyards also needed a lot of replanting to increase the vine density. As you can see, this was already becoming a very expensive proposition for the new owners.
In 2010, Chateau Guiraud registered the term BioViticulture. They did this because the estate is focusing on not only organic farming but on a more global approach to sustainable viticulture. You'll find similar practices at all the estates of Stephan von Neipperg.
Chateau Guiraud earned the coveted status of full Agence Bio (AB) organic certification starting with the 2011 vintage. All of these efforts and improvements have clearly increased the quality of the wine being made at Chateau Guiraud. In 2018, with the help of chef Nicolas Lascombes, they opened La Chapelle de Guiraud, the leading restaurant in Sauternes.
In October 2021, Xavier Planty sold his shares to Matthieu Gufflet, a passionate wine lover who is better known as a successful businessman and hotel owner. The other 3 original partners continue to remain as owners of the vineyard. In 2022, Sandrine Garbay joined Guiraud as the Director of the estate after a long and storied career at Chateau d'Yquem.
The best vintages of Chateau Guiraud are: 2022, 2021, 2020, 2019, 2018, 2017, 2016, 2015, 2014, 2013, 2011, 2010, 2009, 2007, 2005, 2003, 2001 and 1959.
Chateau Guiraud Vineyards, Terroir, Grapes, Winemaking
The 110-hectare vineyard of Chateau Guiraud is planted to 65% Semillon and 35% Sauvignon Blanc. The estate also owns 28 hectares of land that are reserved for parkland, greenery, and verdant, tree-filled forest land. Here, you also find biodiversity with land used to plant spices, and for beehives, which aids in the natural biodiversity of the soil.
It is interesting to note that Chateau Guiraud maintains one of the highest percentages of Sauvignon Blanc in the Sauternes appellation. This is still lower than what it was at the time of the purchase.
However, even at 35% of the vineyard, this represents a large reduction in the amount of Sauvignon Blanc planted at Chateau Guiraud, which was more than 50% of the vineyard in the past.
The terroir of Chateau Guiraud is a blend of sand, gravel, clay, limestone soils on sloping hillsides which rise to 72 meters at their peak elevation. On average the vines are close to 40 years of age. The vineyard is planted to a vine density of 6,500 vines per hectare.
To produce the wine Chateau Guiraud, vinification takes place in new, French oak barrels. The wine is aged in 35% to 50% new, French oak barrels for an average of close to 24 months before bottling, depending on the quality and character of the vintage. On average Chateau Guiraud produces close to 12,500 cases of wine each year.
In 2011, the property renamed its second wine, Le Dauphin de Chateau Guiraud. Previously, the second wine was known as Petit Guiraud.
Chateau Guiraud also produces dry white Bordeaux wines named G and in select vintages. In 2020 they added a new dry white wine to their portfolio Grand Vin Blanc Sec, which is usually a blend of close to 70% Sauvignon Blanc and 30% Semillon. The name was changed shortly after to Le G de Guiraud' Bordeaux Blanc Sec.
Chateau Guirau is also one of the few remaining chateaux to make a Kosher cuvee' of sweet Bordeaux wine. On average, 12,500 cases of wine are produced each year at Chateau Guiraud.
When to Drink Chateau Guiraud, Anticipated Maturity, Decanting Time
Chateau Guiraud can be enjoyed on the young side with no decanting. In fact, it is delicious and quite a treat young, even on release! However, like all great wines, Chateau Guiraud is much better with age and does not reach full maturity until it's between 12-30 years of age, or in some years, perhaps even longer in the best vintages!
That is when the magic happens! But that is unrealistic for 99% of the world's wine drinkers. So, enjoy it on any special occasion that calls for it.
Of course, the wine is sweet, but there is so much, incredible, racy acidity, the wine always feels fresh, and never cloying, which makes it quite fun to enjoy young. With Chateau Guiraud and frankly, all Sauternes, the temperature is more important than decanting.
Serving Chateau Guiraud with Wine and Food Pairings
Chateau Guiraud is best served at 14 degrees Celsius, 57 degrees Fahrenheit. The cool, almost cellar temperature gives the wine more freshness and lift. The wine will naturally warm in the glass, while it develops more aromatic complexities and fleshes out.
Chateau Guiraud can be served with seafood dishes, especially shellfish, lobster, crab, and oysters on the half shell. Foie gras is a perfect pairing with its natural sweet, salty, and savory characteristics. Chateau Guiraud can also be paired with roasted chicken, veal, and pork dishes that are either spicy or prepared with a touch of sweetness.
Spicy Asian cuisine, raw fish, like sushi or sashimi, and cheese, both hard and soft also make great pairings with Chateau Guiraud.
Château Guiraud Wine Tasting Notes
24 Vintages 122,640 Views Sort by Vintage-Rating
2022
Château Guiraud (Sauternes)

The first vintage with Sandrine Garaby, formerly of Chateau d'Yquem in charge is the winner you knew it would be. The wine is intense, rich, deep, and manages to balance its layers of roasted, ripe, and over ripe pineapples, mango, candied orange, vanilla, almond, and apricots perfectly. The fruits are slathered with honey, yet they retain that all important freshness as well. Drink from 2025-2050. 94-96 Pts.

1,543 Views

Tasted

May 8, 2023

2020
Château Guiraud (Sauternes)

With a lean to the orange side of the style range you find a wealth of candied mangos, roasted tangerine, orange rind, and apricots with nuances of roasted nuts, flowers, spice, and honey. The racy, vibrant finish provides a balance between its decadently sweet, orange tropical fruits, pineapples, and white peaches topped with honey, spice, and racy freshness. Drink from 2023-2050.

817 Views

Tasted

Mar 21, 2023

Roasted nuts, pears, pineapple, white peach, mango and honeysuckle make a gorgeous perfume. On the palate the wine shines with its perfect balance between all the decadently sweet pineapples and candied apricots coated with honey, and ample refreshing acidity keeping everything balanced between sweet and fresh. 93-95 Pts

3,504 Views

Tasted

May 20, 2021

2020
Château Guiraud Grand Vin Blanc Sec (Bordeaux)

Apricots, almonds, flowers, and a dab of honey create the perfume. The palate is even better with its layers of lusciously-textured, oranges, candied lemon, and notes of white peach that show up in the vibrant, creamy finish. This is the debut of this new wine from Guiraud which is the brainchild of Sandrine Garbay. The wine truly tastes exactly like what you want from a dry Sauternes. Drink from 2023-2035. 92 Pts

646 Views

Tasted

Mar 21, 2023

2019
Château Guiraud (Sauternes)

White peach, flowers, roasted pears, grilled nuts, orange tropical fruits, candied apricot and honey nuts are all over the place here. The wine triangulates its richness, sweetness and racy orange and yellow, honeyed fruits with ease. Drink from 2023-2045.

2,365 Views

Tasted

Mar 29, 2022

White peach, yellow tropical fruits, candied orange rind and honeysuckle make their presence known on the nose and palate. The wine is fresh, lively and comes with a bit of spice with honeyed fruit and vanilla in the finish. 92-94 Pts

4,252 Views

Tasted

Jun 9, 2020

2019
Château Guiraud 'G' Sec (Bordeaux)

Combining bright grapefruit and orange peel with hints of vanilla bean in the nose, the wine is fresh, lifted, oily and long on the palate, with a generous serving of more of that orange peel and pomelo in the finish.

4,757 Views

Tasted

Jun 8, 2020

2017
Château Guiraud (Sauternes)

Fresh, sweet, honeyed, and floral, the wine serves up a nice blend of brown sugar, mangoes, orange peel, vanilla and caramel. Rich as well as peppy, so everything holds together and ages perfectly.

4,566 Views

Tasted

May 17, 2020

Pineapple, mango, white peach and candied orange rind are blended together and topped with vanilla bean and honey to make this a confectionary extravagance. But like all the great sweet wines, it's the harmonizing acidity that's needed to bring freshness

2,192 Views

Tasted

Apr 26, 2018

2016
Château Guiraud (Sauternes)

Fresh, ripe and overripe sweet pineapple, mango, apricot and white peach fruits are all wrapped up quite nicely with vanilla and honey coated nuts.

3,327 Views

Tasted

Feb 11, 2019

Juicy pineapple, apricot, peach and vanilla blend to create the nose. Rich, lush and sweet, the wine finishes with overripe tropical fruits coated with honey.

3,123 Views

Tasted

Apr 29, 2017

2015
Château Guiraud (Sauternes)

Combine a cornucopia of tropical fruits with orange zest, a jar of honey, vanilla bean and just picked flowers, and you get the picture. Delicious, concentrated, lush and remarkably fresh, this is going to age for decades.

5,007 Views

Tasted

Mar 12, 2018

A stunner in 2015, this is incredibly packed with fat, juicy, ripe and over ripe honeyed apricots, vanilla custard, pineapple, honey and candied citrus. Great balance between concentration, sweetness and blazing acidity with the ability to age and evolve for decades! 94 - 96 Pts

4,157 Views

Tasted

May 3, 2016

2014
Château Guiraud (Sauternes)

This is really rocking! The levels of acidity give this all the lift you need, so that the sweet, honey drenched, tropical fruit and vanilla can really shine.

2,827 Views

Tasted

Feb 4, 2017

2013
Château Guiraud (Sauternes)

Rich, sweet honey coated tropical fruits, vanilla bean, nuts and flowers open the wine. The sweet and spicy element that comes on top of the fruit makes the naturally honeyed tropical fruits really come alive.

3,048 Views

Tasted

Feb 1, 2016

Fat, juicy and packed with honeyed apricot, pineapple, vanilla bean and candied oranges, this lush treat is perfectly balanced by sweet honeyed fruit and refreshing acidity. 93-95 Pts

3,192 Views

Tasted

Apr 22, 2014

2011
Château Guiraud (Sauternes)

Filled with spicy, candied orange, nuts, honey, pineapple, apricot and vanilla, the wine lacks a bit of the intensity found in the top wines of the vintage. Yet, it still delivers a tasty, sweet, tropical, orange, honeyed finish with good freshness.

3,739 Views

Tasted

Feb 12, 2014

2010
Château Guiraud (Sauternes)

A decade in the bottle has added a lot here. This fabulous sweet wine hit it right out of the bottle. Flowers, dried apricot, vanilla bean, roasted cashews, and honey-coated pineapple with candied pear notes are all over the nose and palate. The balance between sweet and acidity is right on target. This is a beauty! Drink from 2022-2050.

2,835 Views

Tasted

Nov 28, 2022

I know it's young, but I really enjoy the freshness and super sweetness found in young Sauternes. More on the orange, tangerine and apricot side of the style range, instead of tropical fruits, there is enough honeyed sweetness, acidity and vanilla notes, along with good concentration of flavor to keep you busy.

3,939 Views

Tasted

Aug 26, 2015

2009
Château Guiraud (Sauternes)

Honey coated apricot, pineapple,. peach and orange notes create the aromatics. Medium/full bodied, the wine ends with orange rind, apricot and sweet honeyed pineapple.

6,484 Views

Tasted

Jan 25, 2012

2008
Château Guiraud (Sauternes)

A decade of additional aging has created a sweet, beauty. Rich, lush, and a touch spicy, you also enjoy a wealth of candied orange rind, apricots, vanilla bean, roasted nuts, and overripe pineapples coated with honey in every sniff and sip. This is a rich style, but it comes along with ample acidity so the wine always feels lifted and never cloying. Drink from 2023-2040.

2,219 Views

Tasted

Dec 25, 2022

Medium/full bodied, lacking the same level of depth and concentration found in 2007 or 2009. However, there is a lot to like about the wine with its vanilla, apricot, orange marmelade, honeysuckle and pineapple filled personality. Sweet, soft, luscious and forward, this is already delivering pleasure.

5,016 Views

Tasted

Dec 13, 2013

2007
Château Guiraud (Sauternes)

A beautiful nose filled with flowers and spicy, honey coated orange, apricot, peach and pineapple gets you excited. This rich, concentrated wine ends with a long sensation of warm nuts, honey and sweet, ripe, tropical fruit.

6,213 Views

Tasted

Jan 1, 2013

2006
Château Guiraud (Sauternes)

On the orange side of the style range, with plenty of honeyed, tangerine, apricot, nectarine, pineapple and honeysuckle. Medium/full bodied, with freshness and lift, but lacking more of the yellow fruit I find in the best years.

4,066 Views

Tasted

Jan 3, 2017

2005
Château Guiraud (Sauternes)

Absolutely delicious with layers of sweet, ripe, pineapple, apricot, peach, peach and honey flavors. Rich, sweet, fleshy and fresh, drink it now, drink it in a decade. This is a great value for Sauternes.

9,280 Views

Tasted

Jul 22, 2013

2003
Château Guiraud (Sauternes)

Brimming with pineapple, apricot, vanilla, white peach and candied orange, all coated in honey, the wine is sweet, round, lush and offering a lot of charm today.

4,312 Views

Tasted

May 29, 2013

2002
Château Guiraud (Sauternes)

Fully developed, medium-bodied, fresh, vibrant, and focused on its core of dried apricots, marmalade, buttery orange rind spice, and butterscotch. While not deep, the wine remained fresh, vibrant, and aromatic, with a butterscotch and candied orange edge to the finish. Drink from 2022-2032.

2,073 Views

Tasted

Nov 25, 2022

2001
Château Guiraud (Sauternes)

Spicy, floral, orange rind, apricot, nectarine, honey and nut aromas pair perfectly with the rich, sweet, ripe sensations of honey coated, tropical fruit. Sweet, sexy, fresh and fun to drink now, this offers good value for 2001 Sauternes.

7,198 Views

Tasted

May 18, 2012

1990
Château Guiraud (Sauternes)

At the end of its best days, or perhaps slightly past that point, the wine shows more caramel, butterscotch, orange and burn toffee notes than, sweet, yellow, honeyed fruit. On the bright orange side in the finish, if you are sitting on bottles, I'd drink them up, before more of the sweet fruit slowly fades away.

5,698 Views

Tasted

Jul 15, 2016

1983
Château Guiraud (Sauternes)

Surprisingly strong, the concentrated, sweet, ripe and overripe, juicy pineapple, apricot, orange marmalade and assorted tropical fruits offer that majestic blend of acidity and honeyed, caramel sweetness.

4,005 Views

Tasted

Dec 25, 2017

1959
Château Guiraud (Sauternes)

With a beautiful, honey orange, colored hue. Apricot, spice, vanilla, caramel, pineapple and coconut aromatics. Sexy and suave. Good concentration with a richness in the finish.

4,826 Views

Tasted

Jun 21, 2007

1937
Château Guiraud (Sauternes)

Dark, molasses in color, this is all about the secondary notes of caramel, butterscotch, brown sugar, creme brulee and honeyed, vanilla and orange peel. You definitely note the age, but in a good way as there is still some sweetness and honeyed fruits, along with acidity to keep this interesting.

1,414 Views

Tasted

Apr 22, 2017