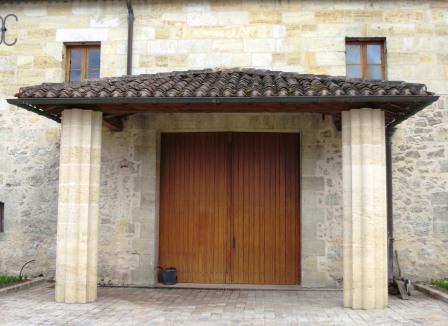 Learn everything about Clos de l'Oratorie St. Emilion with wine tasting notes and wine with food pairings. Learn the best vintages, a history of the property, information on the vineyards and winemaking. If you want to read about other important, Bordeaux Chateaux: Links to all Bordeaux Wine Producer Profiles
Clos de l'Oratoire History, Overview
While Clos de l'Oratoire is well known today, unlike numerous St. Emilion estates, the history of the property does not date all that far back. The vineyards of what we know of as Clos de l'Oratoire has been in use since the 1800s.
It was at one time part of the massive Peyreau estate. When that vineyard was split into separate parts around the time of the first St. Emilion classification, Clos de l'Oratoire came into being using the better terroirs from the previously larger vineyard.
In 1972, the vineyards of Clos de l'Oratoire and Peyreau were purchased by Joseph-Hubert, Graf von Neipperg, the father of the current owner, Stephan von Neipperg.
Stephan von Neipperg who began working with Clos de l'Oratoire in 1991 also owns several other Right Bank vineyards including Chateau Canon La Gaffeliere and La Mondotte as well as Chateau Peyreau in St. Emilion and Chateau dAiguilhe in Cotes de Castillon.
Stephan von Neipperg also consults several other Bordeaux wine producers and maintains interests in the Saint Emilion Satellite appellations and Pessac Leognan.
Clos de l'Oratoire Vineyards, Terroir, Grapes, Winemaking
The 13-hectare vineyard of Clos l'Oratorie is planted to 80% Merlot and 20% Cabernet Franc. The Cabernet Sauvignon has been removed while the Cabernet Franc has increased. The character of the wine is the result of two unique terroirs.
On the hillsides, you find clay, limestone, and Fronsac molasse. On the bottom of the slopes, the soils are clay with sand. Clos de l'Oratoire is located on the northeast slope of St. Emilion giving it a slightly cooler terroir, which is perfect for the Merlot-dominated vineyard.
The vineyard is planted to a vine density that ranges from 5,500 to 7,500 vines per hectare. The newer plantings are at higher vine densities. On average, the vines are old at an impressive 35 years of age.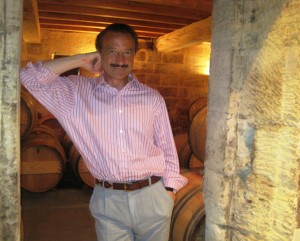 At Clos de l'Oratoire, just like you find at all the Neipperg Bordeaux estates, they practice sustainable viticulture and take a biodynamic approach to vineyard management. They never use herbicides, pesticides, or insecticides.
The wine of Clos de l'Oratoire is whole berry fermented in temperature-controlled, oak tanks with regular pneumatic pigeages and on average, a 26-day cuvaison period. Malolactic fermentation takes place in oak barrels with aging on its fine lees.
Clos de l'Oratoire is aged in 80% new, French, oak barrels for between 14 and 18 months, depending on the character of the vintage. Slightly more than 2,000 cases of Clos de l'Oratoire wine are produced every year.
The best vintages of Clos de l'Oratoire are: 2022, 2021, 2020, 2019, 2018, 2017, 2016, 2015 2012, 2010, 2009, 2008, 2005, 2000, 1998 and 1990. The style and quality of Clos de l'Oratoire are high, yet prices remain fair for a St. Emilion wine at this level of quality.
When to Drink Clos de l'Oratoire, Anticipated Maturity, Decanting Time
Clos de l'Oratoire when young, can be decanted for 1-2 hours, or more. This allows the wine to soften and open its perfume. Older vintages might need very little decanting, just enough to remove the sediment. Clos de l'Oratoire offers its best drinking and should reach peak maturity between 7-20 years of age after the vintage.
Serving Clos de l'Oratoire with Wine and Food Pairings
Clos de l'Oratoire is best served at 15.5 degrees Celsius, 60 degrees Fahrenheit. The cool, almost cellar temperature gives the wine more freshness and lift.
Clos de l'Oratoire is best paired with all types of classic meat dishes, veal, pork, beef, lamb, duck, game, roast chicken, roasted, braised, and grilled dishes. Clos de l'Oratoire is also good when matched with Asian dishes, rich fish courses like tuna, mushrooms, and pasta.
Stephan von Neipperg is also involved in a Bulgarian winery and vineyard planted to Bordeaux varietals and Syrah in the Bessa Valley. The top wine is sold under the name of Enira.
In 2005 Stephan von Neipperg added South Africa to the list of wine regions he consults when he began working with Capaia Wines in the Stellenbosch appellation. In 2015, Stephan von Neipperg announced he was going to become an investor and partner in Capaia Wines, which produces wines from Bordeaux grape varietals.
Clos de l'Oratoire Wine Tasting Notes
22 Vintages 145,609 Views Sort by Vintage-Rating
2022
Clos de l'Oratoire (St. Émilion Grand Cru)

Licorice, violets, black plums, incense, black raspberries, smoke, and leafy herbs open the nose. On the palate, the wine is creamy, fresh, rich, and loaded with black fruits, crushed stone, and spice. The oak is already close to fully integrated. The wine blends 80% Merlot, with 20% Cabernet Franc. Drink from 2026-2045. 93-95 Pts.

2,105 Views

Tasted

May 8, 2023

2020
Clos de l'Oratoire (St. Émilion Grand Cru)

Savory red fruits, citrus, dried flowers, and tobacco leaf nuances form the core of this elegant, fresh, medium-bodied wine. There is vibrancy, cut, and freshness to the fruits with a blend of orange peel, kirsch, and savory herbs in the finish. This will be delicious on release and should age for close to 2 decades. Drink from 2023-2038.

1,564 Views

Tasted

Mar 21, 2023

Medium-bodied, floral, soft, elegant, silky and almost ready to go, here you find polished, plums and cherries with a gentle touch of chocolate on the palate and in the fruit-filled finish. The wine was made from blending 90% Merlot and 10% Cabernet Franc. 91-93 Pts

3,212 Views

Tasted

May 20, 2021

2019
Clos de l'Oratoire (St. Émilion Grand Cru)

Black raspberries, garden herbs, flowers, licorice and chocolate covered cherries create the aromatic profile. Medium-bodied, soft, silky, polished and fresh, the wine is already so easy to taste, with all its layers of cocoa dusted plums and energy, it is going to be hard to wait a few years for it to develop more secondary notes. But give it a few years of sleep, it will be worth the wait. Drink from 2024-2036.

2,621 Views

Tasted

Mar 29, 2022

Earthy, forest floor, black and red fruit aromas dominate the nose. On the palate, the wine is medium-bodied, fresh, soft and elegant, with a core of crushed stones, red fruit, licorice and lifted, energetic fruits, with chalky tannins in the finish. The wine was made from blending 81% Merlot and 19% Cabernet Franc. 92-94 Pts

6,193 Views

Tasted

Jun 8, 2020

2018
Clos de l'Oratoire (St. Émilion Grand Cru)

Truffle, flowers, licorice, mint and red fruits are all over the place here. Silky, soft and refined with a salty top note to the tannins that rides along nicely with all the ripe, fresh, red fruits. The wine blends 85% Merlot and 15% Cabernet Franc.

4,030 Views

Tasted

Mar 9, 2021

Medium bodied, elegant, fresh and charming! At the core of this wine you'll find licorice, smoke, cherry, flowers, wet earth, soft tannins and a dried, red pit fruit finish. The wine was made from blending 85% Merlot and 15% Cabernet Franc. 92-94 Pts

5,552 Views

Tasted

Apr 19, 2019

2017
Clos de l'Oratoire (St. Émilion Grand Cru)

Strawberry, earth, black cherry and floral notes open the wine. Medium/full bodied with lush, soft textures, the fruit is juicy, fresh and sweet. You can drink this young or age it for a few years. The wine was made from blending 90% Merlot and 10% Cabernet Franc. The harvest took place September 26 to October 10. Due to the frost, close to 65% of the harvest was lost.

3,460 Views

Tasted

Apr 26, 2018

2016
Clos de l'Oratoire (St. Émilion Grand Cru)

Black cherry liqueur, dark chocolate, flowers, smoke and espresso on the nose, when this wine hits your palate you'll find ripe, fresh, sweet, silky dark red berries and plum. Blending 90% Merlot and 10% Cabernet Franc, there is a sweetness and softness to the tannins, carrying fruit and freshness to the endnote.

5,232 Views

Tasted

Apr 29, 2017

2015
Clos de l'Oratoire (St. Émilion Grand Cru)

Silky, soft, fresh and fruity, you can already find some secondary notes of truffle, tobacco, flowers and earth. Medium/full bodied with a silky, lush finish, give this a few years in the cellar and it will be even better.

4,337 Views

Tasted

May 21, 2018

Fresh, sweet, ripe Blackberries, licorice and chocolate pop from the blend of 90% Merlot and 10% Cabernet Franc. There is sweetness, plush textures and a mineral-driven finish to top things off.

3,649 Views

Tasted

Apr 29, 2016

2014
Clos de l'Oratoire (St. Émilion Grand Cru)

Blending 90% Merlot and 10% Cabernet Franc, there is a sweetness and softness to the tannins, carrying the fruit and freshness to the endnote. The wine is aging in 50% new, French oak barrels. 90-92 Pts

2,399 Views

Tasted

Apr 27, 2015

2013
Clos de l'Oratoire (St. Émilion Grand Cru)

Cigar box, licorice and black cherry fruits are quickly followed by a soft, medium-bodied finish with sweet red and black plum. From 95% Merlot and 5% Cabernet Franc, the wine reached 13.2% ABV. From yields of 17 hectares per hectare, the wine is aging in 40% new French oak. 88-91 Pts

2,954 Views

Tasted

Apr 28, 2014

2012
Clos de l'Oratoire (St. Émilion Grand Cru)

Showing nicely, with only a few years of age, the licorice, cherry, earth and floral notes are already in plain view. Soft, refined, and with plenty of fruit in the middle, give it another couple of years for more complexity.

4,024 Views

Tasted

Mar 12, 2017

Thyme, earth, and black cherries, already open, with a sweet, fresh, cherry and wild strawberry, dusted with cocoa in the finish.

3,512 Views

Tasted

May 15, 2015

From 90% Merlot and 10% Cabernet Franc, the wine will be aged in 60% new French oak. With licorice, earth, cherries and round textures, this medium-bodied wine has a sweet, red cherry finish. 89-91 Pts

4,808 Views

Tasted

Apr 26, 2013

2011
Clos de l'Oratoire (St. Émilion Grand Cru)

Medium bodied, soft, open and already giving pleasure, the core of spicy cherries, flowers and earthy sensations make this a well-priced treat.

4,393 Views

Tasted

May 20, 2014

From 90% Merlot and 10% Cabernet Franc, the wine will be aged in 60% new oak. Black raspberry, cocoa and earthy aromas open to a fresh, black cherry and chocolate, round textured, sweet wine. 90-92 Pts

2,620 Views

Tasted

Apr 24, 2012

2010
Clos de l'Oratoire (St. Émilion Grand Cru)

Earthy, licorice, jammy berries and fresh figs open to a plush, silky, fresh, fennel and blackberry filled wine with a lot of freshness at the moment. Give it a few years of bottle age for things to come together and settle down. This could be the best vintage of Clos de l'Oratoire produced yet!

4,565 Views

Tasted

May 7, 2013

Licorice, stone, floral, earth and fresh blackberry scents work well with the round textures and the long, fresh, fennel and plummy liqueur finish. 91-93Pts

5,367 Views

Tasted

Jul 30, 2011

Clos de l'Oratoire. From low yields of 30 hectoliters per hectare and a biodynamic approach, the property produced a wine from a blend of 95% Merlot and Cabernet Franc that will be aged in 75% new oak. Vanilla, fennel, black cherry, fresh herbs, lush textures, silky tannins, sweet licorice covered jammy berries and chocolate. 92-94 Pts

5,112 Views

Tasted

Apr 22, 2011

2009
Clos de l'Oratoire (St. Émilion Grand Cru)

Deep in color, the perfume is filled with licorice, coffee, blackberry, blueberries and smoke. Round and supple in texture, the wine finishes with sweet, jammy black cherries.

7,679 Views

Tasted

Jul 30, 2011

2009 Clos L'Oratorie is a blend of 90% merlot, 5% cabernet franc, and 5% cabernet sauvignon. Owner Stephan Neipperg works the vineyards with a biodynamic approach. No herbicides, pesticides, or insecticides allowed. Yields were only 28 hls per ha, in part because of the May hailstorm. Smoke, licorice, coffee, and blackberry scents are coupled with supple textures in the mouth. The wine finishes with dark cherries and blackberry jam. 90-92

7,454 Views

Tasted

Jun 28, 2010

2008
Clos de l'Oratoire (St. Émilion Grand Cru)

08 Château Clos L'Oratorie. The crop was severely damaged by the hail storms early in 2008. Since close to 80% of the vines suffered damage, little wine will be produced in 2009. The 08 Clos L'Oratorie starts off with plum, ripe cherry, and earthy notes. Ripe, soft, and elegant in the mouth, the wine finishes with overtones of licorice tinged black fruits. 91-93 Pts

3,068 Views

Tasted

Jul 1, 2009

2006
Clos de l'Oratoire (St. Émilion Grand Cru)

With a licorice, black cherry jam, earth, espresso bean, plum and spicy personality, this lush, round, sweet, soft wine is starting to open and will only get better with a few more years of bottle age.

3,089 Views

Tasted

Jan 28, 2014

2005
Clos de l'Oratoire (St. Émilion Grand Cru)

Still dark in color, with a fragrant nose filled with licorice, black and blue fruit, chocolate, earth and mocha, this blend of 90% Merlot and 10% Cabernet Franc delivers a suave, sexy, lush sensation on the palate. Give it another 2-4 years before it truly begins to blossom.

7,480 Views

Tasted

Dec 18, 2011

2004
Clos de l'Oratoire (St. Émilion Grand Cru)

Truffle, wet earth, plum and licorice are joined by a soft, silky, licorice and black cherry finish.

3,214 Views

Tasted

Nov 30, 2014

2003
Clos de l'Oratoire (St. Émilion Grand Cru)

Fully mature, the wine had retained its soft, round, plush character, while adding truffle, flowers, tobacco, earth and leafy notes to the juicy red fruits and licorice. There is no reason to age this any longer. If you have a bottle, check it out, before it fades away.

2,466 Views

Tasted

Feb 9, 2019

2001
Clos de l'Oratoire (St. Émilion Grand Cru)

Drinking great today, with its cherry, black raspberry, fennel, earth and tobacco personality, medium/full body, soft, textures and spicy, plum and cherry finish, this is close to fully mature. While there is no hurry to drink this charming wine, it's probably not going to get much better.

2,942 Views

Tasted

Dec 18, 2012

2000
Clos de l'Oratoire (St. Émilion Grand Cru)

This is probably at its apogee, with all its soft, round fruits, floral notes, earth and tobacco that shine through. Medium/full bodied, 20 minutes of air added everything you needed here.

3,217 Views

Tasted

Nov 14, 2017

Drinking great today, this is a wine for truffle lovers, especially if they also want loads of ripe, juicy, black plums, wet earth and cherry liqueur, all wrapped up in supple tannins and lush textures.

3,957 Views

Tasted

Jan 30, 2016

Fully mature, round, soft and focused on more red fruits than black, with an earthy, smoky accent, this blend of 90% Merlot, 5% Cabernet Franc and 5% Cabernet Sauvignon is probably at absolute peak. There is no reason to hold this wine any longer.

4,919 Views

Tasted

Jul 11, 2015

Black licorice, espresso, blackberry, jam, kirsch, truffle and spice aromas open up this supple St. Emilion wine. On the palate, the St. Emilion wine feels round, soft and supple, ending in layers of spicy black cherries and licorice. At 11, this blend of 90% Merlot, 5% Cabernet Franc and 5% Cabernet Sauvignon is drinking well. In a few more years, it's going to be even better.

5,835 Views

Tasted

Aug 17, 2011

1999
Clos de l'Oratoire (St. Émilion Grand Cru)

Past full maturity, but not over the hill, the wine is more interesting on the floral, earthy, herbal, espresso and red berry nose, than on the medium-bodied, soft-textured, fresh, bright, herb tinged palate. There is still a lot to like here, but it is time to drink up, before the wine continues to fade and drop fruit.

3,782 Views

Tasted

Feb 2, 2020

1998
Clos de l'Oratoire (St. Émilion Grand Cru)

Ripe, licorice accented black fruit aromatics. Good concentration. But the wine seems simple compared to its peers from the same vintage. While obviously well made, at 10 years of age it has not developed enough complexities to keep me involved in the glass, wanting another sip. While good, it lacks excitement.

4,798 Views

Tasted

Oct 11, 2008