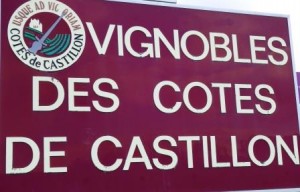 Learn everything about Cotes de Castillon with a history of the Cotes de Castillon appellation, a look at all the best wines, vineyards and chateau with complete profiles on all the top vineyards and producers, with wine tasting notes. For a look at other, important Bordeaux value wine regions: Bordeaux Value Wine Appellation Guide
Cotes de Castillon is perhaps the best known and most consistent of the satellite appellations. Cotes de Castillon is located due east of St. Emilion and south of Fronsac. Cotes de Castillon is a large appellation with 2,832 hectares under vine.
The appellation of Cotes de Castillon includes 9 separate communes: Belves de Castillon, Castillon la Bataille, Gardegan et Tourtirac, Monbadon, Sainte Colombe, Saint Genes de Castillon, Saint Magne de Castillon, Saint Philippe-d Aiguilhe and Les Salles de Castillon. Close to 350 growers inhabit the Cotes de Castillon appellation, but close to 100 of them work with local cooperatives.
The finest terroir of Cotes de Castillon is located on the plateau with large deposits of limestone and clay soils. Further down the slopes, you find more clay, gravel, and sand.
On the plateau, the soils are similar to that which you find in some of the best St. Emilion terroirs. The least desirable terroir is located close to the Dordogne river, with its alluvial soils.
As Cotes de Castillon is devoted solely to the production of red wine, the dominant grape varieties planted in Cotes de Castillon are Merlot and Cabernet Franc. Although close to 10% Cabernet Sauvignon is planted in the region's vineyards as well. Other Bordeaux grapes are also planted in the region.
Small plantings of Malbec, Petit Verdot and Carmenere can be found. The vines at the best estates are old. There are numerous vineyards with old vines that average 50 years of age in the Cotes de Castillon appellation.
The region takes its name from the famous battle of Castillon battle, which was fought in 1453. Centered close to the Castillon la Bataille, that deadly fight helped end the hundred years war between England and France.
At their best, the wines of Cotes de Castillon would do very well in blind tastings with many St. Emilion wines as well. In fact, due to the proximity and similarity to St. Emilion, many owners from St. Emilion produce wine in Cotes de Castillon as well.
Gerard Perse of Chateau Pavie, Stephan von Neipperg of Canon La Gaffeliere, and Juliette Becot of Beau-Sejour Becot are just three of the well-known growers from St. Emilion to recognize the potential of the soils found in Cotes de Castillon. Growers in Cotes de Castillon generally speaking pick up to a week later than they do in St. Emilion.
The best vintages of the wines of Cotes de Castillon are: 2022, 2021, 2020, 2019, 2018, 2017, 2016, 2015, 2012, 2010, 2009, 2008, 2005, 2001 and 2000. Older vintages should have been consumed already.
Cotes de Castillon is a new and continuously, changing designation. Before it became an official AOC designated appellation in 1989, the region was known as Bordeaux Superieur Cotes de Castillon. Prior to that, the wines were sold under the much simpler banner as near St. Emilion.
In 2008, Cotes de Castillon became part of the new, Cotes de Bordeaux appellation. Some of the best value Bordeaux wines come from Cotes de Castillon. The wines can be rich, round, supple, concentrated, and complex. Plus they drink well young and age reasonably well too.
It's an area Bordeaux wine lovers should pay attention to as the wines of Cotes de Castillon offer a good price to quality ratio. While there are numerous strong wines selling for fair prices that come from the Cotes de Castillon appellation, contenders for the top wines are: Chateau d'Aiguilhe, Chateau Cap de Faugeres, Chateau Clos L'Eglise, Domaine de l'A, Chateau Clos Les Lunelles, Chateau Joanin Becot and l'Aurage.
There are numerous other strong producers making outstanding wine in Cotes de Castillon today. The appellation is making better wines all the time! Part of the reason the wines are so good here, is the commitment to environmentally sound, vineyard management. In Cotes de Castillon, you find one of the highest concentrations of growers using either Organic, Biodynamic or self-sustaining, vineyard management farming techniques.
Here is a tip for you when visiting the Cotes de Castillon appellation, if you are spending the day and do not want to drive all the way back to Saint Emilion, for lunch or dinner, stop in at Le Comptoir de Genes. The restaurant is owned by the founder of Lathwaithe wines, located in London, England. Le Comptoir de Genes is famous in the appellation because it only sells wines made in chateaux located in the Cotes de Castillon appellation.
For more on Cotes de Castillon http://castillon-cotesdebordeaux.com