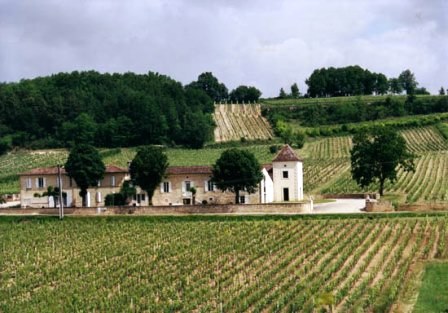 Learn everything about Chateau Cote Montpezat Cotes de Castillon with wine tasting notes and wine with food pairing tips, best vintages, a history of the property, information on the vineyards and winemaking. If you want to read about other important, Bordeaux Chateaux: Links to all Bordeaux Wine Producer Profiles
Chateau Cote Montpezat History, Overview
Chateau Cote Montpezat is a large, 30 hectare estate in the Cotes de Bordeaux appellation that is owned by Dominique Bessineau. Dominique Bessineau purchased the Chateau Cote Montpezat vineyard in 1989. However, the estate has a long history in the region. In fact, the original chateau was constructed in the 1600's.
Dominique Bessineau also owns Chateau Haut-Bernat, which is located in the Puisseguin St. Emilion appellation. He purchased that property in 1991. In 2015, Dominique Bessineau brought in Thomas Duclos to consult on the vineyard management and on the wine making.
Chateau Montpezat Vineyards, Terroir, Grapes, Winemaking
The 30 hectare Cotes de Bordeaux vineyard of Cote Montpezat is planted to 70% Merlot, 20% Cabernet Franc and 10% Cabernet Sauvignon for the production of the red wine. The vines in their Right Bank vineyard are 30 years of age on average. The vineyard is planted to a vine density of 5,500 vines per hectare. The terroir is clay and limestone soils.
Vinification for the red wine takes place in stainless steel vats. Malolactic fermentation takes place in barrel. The wine of Chateau Cote Montpezat is 30% new, French, oak barrels, although some American oak can also be used. On average, the production of Chateau Cote Montpezat is about 6,000 cases per vintage.
There is a higher end cuvee, the Montpezat Compostelle which has a production of 3,500 cases per year. There is a second wine, Canon Cote Montpezat. Michel Rolland is the consultant.
For the white wine of Chateau Cote Montpezat, the estate uses 1.2 hectare of vines planted to 40% Sauvignon Blanc, 30% Semillon and 30% Sauvignon Gris. The vines are planted to a vine density of 6,000 vines per hectare. On average, the production is about 500 cases per vintage.
The average total production for Chateau Cote Montpezat each year is close to 12,000 cases of wine per vintage. The estate also produces two other Bordeaux value wines, Chateau de Brousse and Chateau Haut Bernat in the Puisseguin St. Emilion appellation. Chateau Haut Bernat is made from 100% Merlot.
The best vintages of Chateau Cote Montpezat are: 2022, 2021, 2020, 2019, 2018, 2017, 2016, 2015, 2014, 2012, 2010 and 2009.
When to Drink Chateau Cote Montpezat, Anticipated Maturity, Decanting Time
Chateau Cote Montpezat is better with at least 2-3 years of aging in good vintages. Young vintages can be decanted for up to 1 hour, helping the wine soften to help develop the aromatic character.
Older vintages might need very little decanting, just enough to remove the sediment. Chateau Cote Montpezat offers its best drinking and should reach peak maturity between 2-9 years of age after the vintage.
Serving Chateau Cote Montpezat with Wine, Food, Pairing Tips
Chateau Cote Montpezat is best served at 15.5 degrees Celsius, 60 degrees Fahrenheit. The cool, almost cellar temperature gives the wine more freshness and lift.
Chateau Montpezat is best paired with all types of classic meat dishes, veal, pork, beef, lamb, duck, game, roast chicken, roasted, braised and grilled dishes. Chateau Montpezat is also good when matched with Asian dishes, hearty fish courses like tuna, mushrooms and pasta.
Chateau Cote Montpezat Blanc is best paired with all types of seafood, shellfish, chicken, pork, veal, sushi, sashimi and a myriad of different hard and soft cheeses.
Château Côte Montpezat Wine Tasting Notes
10 Vintages 23,271 Views Sort by Vintage-Rating
2020
Château Côte Montpezat Cuvée Compostelle Blanc (Castillon Côtes de Bordeaux)

White flowers, a drizzle of honey, lemon, green apples, and spice form the center of this fresh, refreshing, yellow citrus filled wine. Drink from 2023-2028.

919 Views

Tasted

Mar 21, 2023

Bright, juicy, crisp lemons with a drop of honey and a refreshing, apple and citrus character in the finish. 90 Pts

993 Views

Tasted

May 20, 2021

2020
Château Côte Montpezat Cuvée Compostelle (Castillon Côtes de Bordeaux)

Showy black, and red fruits, chewy tannins, crushed rocks, and stones with freshly brewed espresso notes are all over the place here on the nose, palate, and chalky finish in this character-filled wine. Drink from 2023-2036.

952 Views

Tasted

Mar 21, 2023

Smoky, spicy earthy, round and chewy, the dark fruits and spice tone resonate on the nose and on the rich palate. There is a savory olive touch to the finish that adds complexity and character. 88-90 Pts

2,274 Views

Tasted

May 20, 2021

2019
Château Côte Montpezat Cuvée Compostelle (Castillon Côtes de Bordeaux)

Tobacco leaf, smoke, spice, cocoa and dark red fruits show quite nicely on the nose. On the palate, the wine is soft, round, polished and earthy, with a touch of grilled meat, plum, spice, earth and black cherry on the mid-palate and in the finish. Not only does this sell for a song, it will also be ready to drink on release. Drink from 2022-2033.

500 Views

Tasted

Mar 29, 2022

2019
Château Côte Montpezat (Castillon Côtes de Bordeaux)

With a touch oak, smoke, Maraschino cherries and sweet plums, the wine is medium-bodied, soft, supple, forward and fruity. Plus this will be ready to drink on release. 88-90 Pts

1,775 Views

Tasted

Jun 28, 2020

2016
Château Côte Montpezat (Castillon Côtes de Bordeaux)

Deep in color, with juicy, dark, ripe fruits, sweet tannins and a fleshy finish. Forward in character and crowd pleasing in style, with the ability to age, buy why wait?

1,521 Views

Tasted

Apr 29, 2017

2015
Château Côte Montpezat (Castillon Côtes de Bordeaux)

Thyme and assorted fresh herbs, paired with plum and cocoa scents, reveal a soft, polished, medium-bodied wine with an open personality that will deliver charm early.

1,904 Views

Tasted

Apr 29, 2016

2014
Château Côte Montpezat (Castillon Côtes de Bordeaux)

Easy to like, with its dark red fruits and round textured, open personality. 86-87 Pts

1,536 Views

Tasted

May 1, 2015

2012
Château Côte Montpezat Cuvée Compostelle (Castillon Côtes de Bordeaux)

Forward, fruity, medium bodied, soft textured, early drainking, easy to like, daily drinker.

1,762 Views

Tasted

May 15, 2015

2010
Château Côte Montpezat Cuvée Compostelle (Castillon Côtes de Bordeaux)

Forward, soft, easy drinking, ripe, sweet, round, uncomplicated quaffer for early drinking.

3,170 Views

Tasted

Jan 20, 2015

2009
Château Côte Montpezat (Castillon Côtes de Bordeaux)

Roasted dark berries and jammy plums and soft textures are the hallmarks of this fun wine. This should drink well on release.

2,923 Views

Tasted

Jul 18, 2011

2009 Cote Montpezat offers soft, round dark berries in a pleasing style. A great value play wine. 86-88 Pts

3,042 Views

Tasted

Aug 26, 2010