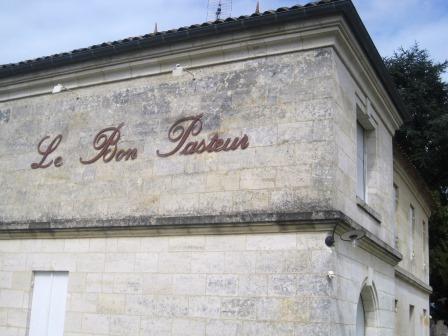 Learn everything about Chateau Le Bon Pasteur Pomerol with wine tasting notes and wine with food pairing tips. Learn all the best vintages, a history of the property, information on the vineyards, and winemaking. If you want to read about other important, Bordeaux Chateaux: Links to all Bordeaux Wine Producer Profiles
Chateau Le Bon Pasteur History, Overview
Chateau Le Bon Pasteur is owned by the Goldin Group, which is headed by Sutong Pan. Prior to that, the property was owned managed by Michel Rolland and Dany Rolland, the famous Bordeaux consultants.
The history of Chateau Le Bon Pasteur dates back all the way to 1920 when it was purchased by Joseph Dupuy and Hermine Dupuy. The tiny house, which is now used as the tasting room was already on the property, having been built in 1865.
The Dupuy family found the inspiration of forming Le Bon Pasteur, "translated into the good pasture" while working as sharecroppers for Chateau Gazin.
At the estate's genesis, the owners grew the grapes but sold the harvest in bulk to negociants. At the time, the family was earning more money from their bakery! The Dupuy family later passed Le Bon Pasteur on to their children, Serge and Geneviève Rolland.
Chateau Le Bon Pasteur The Modern Era
In 1978, the Rolland family continued the tradition and gave Chateau Le Bon Pasteur to their children as well, Michel and Jean-Daniel Rolland. This gave birth to the modern era for Le Bon Pasteur and the start of the career for Michel Rolland and Dany Rolland.
At around the same time, they opened their facilities Rolland Laboratories in Libourne, which soon morphed into the consultancy of Michel Rolland.
While Michel Rolland is known for being a master blender, (He is widely acknowledged as being the best blender in Bordeaux) he and Dany Rolland were the first consultants to advise growers on several vineyard management techniques that were considered over the top at the time. Yet today, they are used at almost every conscientious estate.
One of the techniques advanced by Michel Rolland and Dany Rolland in the 1980s is green harvesting, which helps concentrate the grapes while reducing the yields through the removal of excess grapes.
Effeuillage, which is the act of removing the lower leaves on the vines to allow more sun to hit the grapes, increasing their level of ripeness. And of course, to harvest phenolically ripe fruit. In excessively rainy years, they have also placed plastic sheets on the vines to help keep the fruit from absorbing too much moisture.
That all changed in May 2013, when Bon Pasteur became the first Asian investor to buy a truly legendary Pomerol estate. The property was sold to Sutong Pan. Sutong Pan also owns Chateau Rolland Maillet in Saint Emilion as well as Chateau Bertineau St. Vincent which is located in the neighboring appellation of Lalande de Pomerol.
Sutong Pan took over Bon Pasteur in time for the 2013 harvest. Michel Rolland and Dany Rolland are still involved with managing the estate and making the wine at Le Bon Pasteur.
Chateau Le Bon Pomerol Vineyard, Terroir, Grapes, Winemaking
The 6.62 hectare Right Bank vineyard of Chateau Le Bon Pasteur is planted to 80% Merlot and 20% Cabernet Franc. The Bon Pasteur vineyard has a terroir of gravel, sand, and clay soil. The vines are planted at a density of 6,500 vines per hectare and are on average, 30 years of age. The vineyard consists of 21 parcels.
Interestingly, a portion of those parcels of Bon Pasteur is located in St. Emilion. This situation is not uncommon in Pomerol. In fact, LEvangile and La Conseillante both have vines in Pomerol and Saint Emilion. However, their best terroir is their parcels on blue clay, planted with Merlot which are located not that far from Petrus.
At Chateau Le Bon Pasteur, all harvesting is done by hand on a plot by plot basis. The grapes are sorted twice, before and after de-stemming. Prior to 1987, the wine was vinified in concrete vats.
That changed in 1987 when Michel Rolland renovated the wine-making facilities of Le Bon Pasteur by adding 10, 70 hectoliter, stainless steel vats equipped with a system of thermoregulation.
Michel Rolland was the first to install this equipment in the Pomerol appellation. The wine was most recently vinified in small vats ranging in size from 15 to 70 hectoliters until the 2010 vintage.
Starting with the 2010 vintage, Bon Pasteur changed their vinification techniques. Now, a large percentage of their grapes are fermented using micro-vinification techniques.
This means a portion of their wine was made entirely in French oak barrels and put on an OXO line. The barrels are turned every 3 hours at the start of fermentation and less often by the end of the approximate 40-day maceration.
Also starting in 2010, Bon Pasteur began including close to 30% whole clusters in the barrels, meaning that 30% of the grapes are vinified with their stems still intact. The amount of stems varies widely, depending on the vintage.
The long-term results of this remain to be seen. Much depends on the degree of ripeness in the stems. If the stems are ripe, the potential for additional aromatic complexities with cedar and forest notes is possible.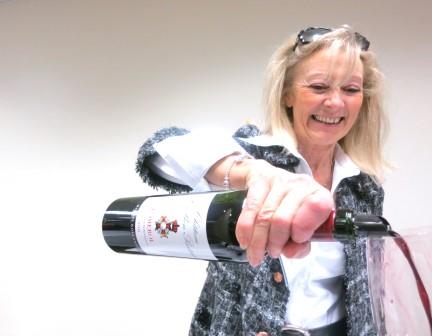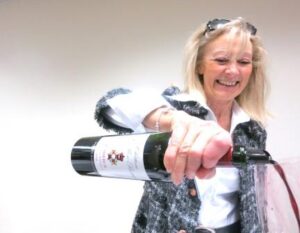 On average, it takes 80 barrels to vinify each harvest. This technique results in quite a loss, as far as effective yields are concerned.
By the time of bottling, on average, only 40 barrels of wine remain. Malolactic fermentation. is performed in oak barrels and the wines of Chateau Le Bon Pasteur are aged in 100% new French oak barrels.
The wines remain in the barrels for between 15-18 months in the same barrels that were used for malolactic fermentation. Chateau Bon Pasteur wines are bottled with no fining and unfiltered, if possible. Production averages close to 2,500 cases of Pomerol wine per vintage. There is a second wine, Le Etoile Bon Pasteur.
The best vintages of Le Bon Pasteur are: 2022, 2021, 2020, 2019, 2018, 2017, 2016, 2015, 2012, 2010, 2009, 2008, 2006, 2005, 2004, 2001, 2000, 1998, 1990 and 1982. It is quite possible that 2015, 2016, and 2018 are the best vintages Bon Pasteur has ever produced. Though perhaps their best vintages on a consistent basis have been 2015 forward.
The wines of Le Bon Pasteur are ripe, rich, and powerful. They are filled with sweet fruit, soft tannins, and usually, low in acid. This Pomerol is usually at its best between 10 and 20 years after the vintage.
When to Drink Chateau Le Bon Pasteur, Anticipated Maturity, Decanting Time
Chateau Le Bon Pasteur needs at least 6-8 of aging in good vintages until it is ready to be enjoyed. Young vintages can be decanted for 1-2 hours or more. This allows the wine to soften and open its perfume.
Older vintages might need very little decanting, just enough to remove the sediment. Chateau Le Bon Pasteur offers its best drinking and should reach peak maturity between 10-25 years of age after the vintage.
Serving Chateau Le Bon Pasteur with Wine, Food, Pairing Tips
Chateau Le Bon Pasteur is best served at 15.5 degrees Celsius, 60 degrees Fahrenheit. The cool, almost cellar temperature gives the wine more freshness and lift. Chateau Le Bon Pasteur is best served with all types of classic meat dishes, veal, pork, beef, lamb, duck, game, roast chicken, roasted, braised, and grilled dishes.
Chateau Le Bon Pasteur is also good with Asian dishes, hearty fish courses like tuna, mushrooms, and pasta.
http://www.chateaulebonpasteur.com
Château Le Bon Pasteur Wine Tasting Notes
29 Vintages 209,620 Views Sort by Vintage-Rating
2022
Château Le Bon Pasteur (Pomerol)

Dark, in color, the wine exudes aromas of flowers, black raspberries, black cherries, chocolate, licorice and espresso. The wine is concentrated, lush, deep, creamy and fresh. The dark pit fruits are perfectly ripe. The tannins are silky. The finish is long, sapid and wide. The fruit really hangs in and you get to experience more of those opulent, chocolate-coated plums on the backend. The wine blends 80% Merlot, 20% Cabernet Franc, 14.5% ABV, 3.7 pH. Drink from 2026-2045. 94-96 Pts.

739 Views

Tasted

May 8, 2023

2021
Château Le Bon Pasteur (Pomerol)

Black cherries, incense, espresso, flowers and red fruits show with ease in the nose and in the round, soft, medium-bodied, elegant, plummy palate. The wine will take a year or two for the oak to fully integrate. Drink from 2024-2040. 91-93

1,439 Views

Tasted

May 20, 2022

2020
Château Le Bon Pasteur (Pomerol)

Opulent, silky, creamy and fresh, the multiple-layers of blackberries, back plums and black cherries are surrounded by dark chocolate, licorice and spice. The wine is long, sensuous, richly textured and polished. The silky tannins and length are perfect for all of its supple fruits. Drink from 2024-2050.

822 Views

Tasted

Mar 21, 2023

Deep and dark in color, the wine delivers a fabulous floral perfume buttressed with notes of cherry, blackberry, kirsch, cocoa and licorice. On the palate you find opulently-textured layers of perfectly ripe, spicy, earthy, dark red pit fruits. The tannins are soft, silky and polished. This is going to age and evolve for at least 25 years. 93-95 Pts

2,046 Views

Tasted

May 20, 2021

2020
L'Etoile de Bon Pasteur (Pomerol)

Forward, fruity, soft, elegant and polished, the wine exudes its cherries, plums and earth easily, finishing with freshness and dusty, red cherries with a touch of herbs and cocoa on the backend. Drink from 2023-2031.

1,107 Views

Tasted

Mar 21, 2023

Medium-bodied, forward, silky, fresh, early-drinking charmer with a polished core of plums and touch of cocoa. You can enjoy this on release. 88-90 Pts

2,248 Views

Tasted

Jun 3, 2021

2019
Château Le Bon Pasteur (Pomerol)

Everything that makes Bon Pasteur a great wine is here in spades. The opening floral notes are the perfect setup for the black cherries, cocoa, wet earth and licorice in the perfume. Silky, fresh, vibrant, refined and sensuous, the supple-textured, creamy, soft, polished finish, with endnote of chocolate-coated plums, spice and espresso hit all the right notes. You can drink this young for all of its opulence, or age it for additional complexities. This is one of the finest vintages of Bon Pasteur ever produced. Drink from 2024-2044.

2,241 Views

Tasted

Mar 29, 2022

Black cherry, chocolate, flowers, wet earth and licorice are all over the place. This wine is about the sexy, supple, seductive textures and the long, opulent, sensuous finish that does not quit. And that\'s just fine with me, as I wanted more of that concentrated, plush, non-stop parade of decadent plummy fruits and chocolate that hit all the right spots again and again. The wine blends 80% Merlot with 20% Cabernet Franc. 94-96 Pts

3,136 Views

Tasted

Jun 8, 2020

2018
Château Le Bon Pasteur (Pomerol)

Another in a long line of success for Bon Pasteur. Opulent, silky, velvety black plums, cherries, chocolate, licorice, espresso, truffle and flowers tastes and feels just great on your palate. The wine is full-bodied, concentrated, fresh, long and polished. Give it 5-7 years to develop even more sensuality. The wine was made from blending 80% Merlot with 20% Cabernet Franc.

1,532 Views

Tasted

Mar 9, 2021

Ripe black cherries, plums, flowers, licorice and chocolate permeate the aromatic character. Sensuous, silky, polished and concentrated with layers of fruit, licorice and cocoa, give this wine 5-7 years to develop even more of its intimate and sexy personality. The wine was made from blending 80% Merlot with 20% old vine Cabernet Franc. 93-95 Pts

2,643 Views

Tasted

Apr 19, 2019

2017
Château Le Bon Pasteur (Pomerol)

With a nice overlay of flowers, smoke, licorice and dark cocoa, the sweet, ripe plums with black cherries, silky, soft tannins and hint of brightness in the finish is front and center here. Lay this down for 5 years and it will be quite charming to drink.

2,355 Views

Tasted

May 15, 2020

Black cherry, flowers and licorice dominate the wine on the nose and on the palate. Deep in color, the tannins are soft and ripe. There is a distinctive freshness to the wine, which finishes with cocoa, licorice and dark red fruits. Made from a blend of

2,228 Views

Tasted

Apr 26, 2018

2016
Château Le Bon Pasteur (Pomerol)

Rich, lush and sensuous, the wine is velvety textured on the palate with freshness, layers of ripe, sexy plums and a silky vibrant finish. This is one of the best vintages of Bon Pasteur ever, so give it 5-7 years to come through and it will be a sublime Pomerol!

2,633 Views

Tasted

Sep 21, 2019

Soft and sexy, with layers of sweet, perfectly ripe, silky, deep red fruits, the wine is rich, full and polished. The finish with its center of seductive, deep fruits, licorice and chocolate hits the spot!

1,957 Views

Tasted

Feb 9, 2019

Sexy, silky, rich, opulent fruits gush from the glass. There is purity, length, complexity and sensuality found here. The wine will age and evolve for decades.

2,497 Views

Tasted

May 19, 2018

Truffle, chocolate-covered plum, anise, dark cherries and espresso bean open the show. In the mouth, the wine displays a lustrous texture. The fruit is ripe with density and lift, leaving you with black plum liqueur, earth, cherry, mocha and spice. The wine is made from a blend of 80% Merlot and 20% Cabernet Franc, reaching 14.3% ABV with a pH of 3.6.

2,291 Views

Tasted

Apr 29, 2017

2015
Château Le Bon Pasteur (Pomerol)

Pure silk and velvet textures, the fruit is perfectly ripe. On the entry, your palate is coated with black plums, dark cherry, licorice, chocolate and truffle. Elegant, full bodied, rich and concentrated, the wine is polished cashmere on the finish. This is the finest wine ever produced at Bon Pasteur.

4,081 Views

Tasted

May 21, 2018

Just a stunner from Bon Pasteur, this is easily the best wine they have ever produced. It's sexy, silky, lush and loaded with perfectly ripe, sweet, black plum, dark cherry, licorice, chocolate and truffle. The tannins is elegant. The rich finish brings you layers of ripe, juicy plums and dark chocolate. This is a hedonistic treat.

4,010 Views

Tasted

Mar 12, 2018

A fabulous vintage for Bon Pasteur, the wine is loaded with earthy floral charm, truffle and ripe, sweet, sexy, juicy plums coated with chocolate.

2,088 Views

Tasted

Jul 12, 2017

Lush, sexy, fat, rich, ripe berries with licorice, chocolate and a blast of kirsch -- that's just the foreplay. This curvaceous, prom date of a Pomerol is full-bodied with concentration and depth of flavor. This wine was made from a blend of 80% Merlot and 20% Cabernet Franc, reaching 14% ABV with a pH of 3.85. The Grand Vin was produced from 75% of the harvest. 92 - 94 Pts

1,917 Views

Tasted

Apr 27, 2016

2014
Château Le Bon Pasteur (Pomerol)

Sweet, fresh, vibrant, floral, and serving up a blast of juicy, black cherries, flowers and herbs, with licorice, espresso and cocoa to complicate things. Medium/full bodied, with a sweet, fruit filled, round textured finish to boot. 15% of the grapes were whole cluster fermented.

3,305 Views

Tasted

Feb 4, 2017

Licorice, earth and smoky black raspberries in the nose lead to a medium-bodied, soft and round textured wine. With the focus on cherry, cocoa and plum, this wine will offer pleasure early. 90-92 Pts

2,407 Views

Tasted

Apr 24, 2015

2013
Château Le Bon Pasteur (Pomerol)

Medium bodied, with a focus on the freshness in the plum and cherry fruit tones, there is an earthy note and a kiss of oak that adds to the overall complexity of this forward styled wine.

2,088 Views

Tasted

Feb 9, 2016

With licorice and smoky black cherry notes, this medium-bodied wine has a hint of stem and cherries in the finish. 88-90 Pts

1,859 Views

Tasted

Apr 25, 2014

2012
Château Le Bon Pasteur (Pomerol)

Forward, soft, sweet and seductive, this easy drink wine delivers ample fresh, black cherries, dark chocolate and earthy notes. Perhaps it's slightly more interesting at this point on the nose than the palate. This could prove to be a better wine if it develops well with aging.

4,514 Views

Tasted

Mar 11, 2015

Black cherries, truffle, oak and floral notes open to a soft Pomerol with sweet cherries and bitter chocolate in the finish. Close to 30% of the harvest was whole cluster fermented in barrel. 90-92 Pts

3,917 Views

Tasted

Apr 26, 2013

2011
Château Le Bon Pasteur (Pomerol)

The tight nose required work before showing its dark chocolate, plum, vanilla bean and black raspberry nose. Medium bodied, soft and forward, this is a nice Pomerol for drinking in its youth.

3,625 Views

Tasted

Feb 16, 2014

Chocolate, floral and boysenberry notes are easily found in the perfume. Silk and velvet tannins with rich, round textures and a sweet, ripe cocoa and fresh plum personality are found in this wine. 90-92 Pts

1,944 Views

Tasted

Apr 21, 2012

2010
Château Le Bon Pasteur (Pomerol)

Rich, fat, lush, round chocolate covered black cherries, espresso bean, licorice and spice open to an opulently textured, wine of pleasure with depth, complexity and silky tannins. Clearly, this blend of 85% Merlot and 15% Cabernet Franc is one of the best vintages of Bon Pasteur the estate has yet produced.

3,804 Views

Tasted

Feb 7, 2013

2010 Bon Pasteur - This is the home estate of Michel Rolland. The wine opens with black cherry, coffee, black raspberry and 5 spice aromas which lead to a round, soft, sweet, licorice, espresso and dark cherry filled Pomerol. 91-93 Pts

3,020 Views

Tasted

Mar 14, 2011

2009
Château Le Bon Pasteur (Pomerol)

Loaded with silky, velvet textured, black cherry, plum, truffle and chocolate, at 10 years of age, this is really strutting its stuff. Supple, corpulent and juicy, the sweetness in the fruit and the chocolate covered red berries really shine today..

2,768 Views

Tasted

Sep 20, 2019

At 10 years of age, this is hitting all the right notes. The dark cherry and plums, with their ripe, sweet, earthy, licorice and chocolate persona feel like pure silk. There is some flamboyance to the wine's character, as well as purity in the fruit that makes this almost mature wine, a taste to treat today. Drink it over the next 15-18 years and enjoy the ride.

3,295 Views

Tasted

Feb 25, 2019

Plum, chocolate, fig and fresh brewed espresso scents pair perfectly with the lush, round tannins and ripe, sweet, fat, black cherry and mocha filled finish.

4,287 Views

Tasted

May 1, 2012

2008
Château Le Bon Pasteur (Pomerol)

Soft, silky, polished, sweet, earthy plums, black cherry, dark cocoa and bitter chocolate are all over the place. The wine is really starting to drink well.

1,973 Views

Tasted

Sep 17, 2018

Ruby colored with cherry, truffle, earthy and floral aromas, this medium to full bodied wine delivers soft textures and a kirsch filled finish.

3,190 Views

Tasted

Mar 11, 2011

2006
Château Le Bon Pasteur (Pomerol)

Medium bodied, soft textured, fresh, and silky, with loads of black licorice, dark cherries and truffle notes from start to finish. While not quite at peak yet, this is already drinking nicely.

3,224 Views

Tasted

May 25, 2016

Sweet, ripe and soft, but lacking the complexity of the best vintages of Bon Pasteur, this black cherry, cocoa, licorice and coffee dominated wine is an early drinker.

3,440 Views

Tasted

May 16, 2012

2005
Château Le Bon Pasteur (Pomerol)

Shaping up to be a bit firmer than I anticipated, the wine is full-bodied, round, and loaded with chocolate-covered plums, cherries, licorice and truffle notes. But the tannic spine intrudes more than I want in Pomerol. Give it a few more years in the bottle, or perhaps 2 hours of air, but this is more classic than hedonistic.

4,321 Views

Tasted

Jul 13, 2020

Open and serving up a generous display of lush, silky, ripe, dark red berries, licorice, chocolate and earth, the wine is all about pleasure to the senses, in the nose and on the opulent palate. Drink it now, or age it for even more complexity.

5,084 Views

Tasted

Jun 28, 2015

Dark chocolate, flowers, plums and black cherry scents, round, plush texture and a sweet, black cherry, plum and cocoa finish are the hall marks of this delicious Pomerol from Michel Rolland. Give it another 3 years to shed more of its tannin and enjoy it over the next 15 years.

5,658 Views

Tasted

Mar 12, 2012

Espresso, plum, truffle, chocolate and floral scents open this lush, sexy, black cherry and sweet chocolate covered black cherry liqueur wine. With supple, round textures and a long round finish, this is a decadent Pomerol treat.

5,832 Views

Tasted

Aug 1, 2011

Bon Pasteur is usually a wine I like drinking before it hits about 20 years of age. At 6, I thought it was a good time to check in on the wine to see how it was doing. Dark chocolate, truffle, black cherry, coffee and black raspberries make up the perfume. Layers of sweet, ripe black cherries, opulent textures and spice are found in the soft, opulent finish.

5,421 Views

Tasted

Jul 24, 2011

2004
Château Le Bon Pasteur (Pomerol)

Ready to go, with its round, soft, medium bodied, plummy, cocoa, earthy, licorice and black cherry personality, the smooth finish is packed with juicy plums and dark chocolate.

3,679 Views

Tasted

Jul 25, 2015

2001
Château Le Bon Pasteur (Pomerol)

With a deep ruby hue, the wine offers a flamboyant perfume of chocolate covered black cherries, fresh herbs, plums and coffee. Sexy and suave in texture, this rich, plummy wine is drinking perfectly today. There is no reason to wait to pop a bottle.

3,815 Views

Tasted

Aug 22, 2011

2000
Château Le Bon Pasteur (Pomerol)

Better on the nose with its truffle, black cherry and chocolate bouquet than on the vibrant, plum, black cherry, earth, spice and coffee bean palate. Soft in texture, but the burgeoning brightness, firmness and spearmint notes detracts a bit from the hoped for opulence in the finish. The wine is dropping fruit. So if you own any, it's time to drink up as it's only going to continue fading from here. Drink from 2023-2028.

1,796 Views

Tasted

Jan 29, 2023

Fully mature, or just a hair past full maturity, the wine is packed with dark chocolate, roses, truffle, espresso, smoke, and black cherries on the nose and on the medium/full-bodied, lush, round, dark, red berry and cocoa packed palate. Not decanted, simply popped and poured, this is an outstanding. developed Pomerol for current consumption now, and over the next few years. 2022-2025.

2,787 Views

Tasted

Aug 5, 2022

Fully mature, this beauty needs no air to get it going. Pop, pour and dig easily into all the rich, lush, ripe, black cherries, licorice, cocoa and wet, earth on the nose, followed by the soft, silky-textured, chocolate-covered plum-packed finish.

3,952 Views

Tasted

Dec 26, 2020

This is probably at full maturity with all the soft lush textures, a blast of cocoa, truffle, chocolate, licorice and plum, with a silky, medium/full bodied finish. I do not see this improving from here, but it should remain at this peak for at least 5 or more years.

3,140 Views

Tasted

Jul 9, 2019

At close to 19 years of age, this has hit the sweet spot. Silky, sensuous textures steal the show here. But the nose, with its plummy, black cherry, chocolate and truffle notes also hit the spot. Everything is wrapped up nicely by the sweet dark, red fruits, chocolate and background notes of figs in the finish. Splash decanted and served was all this beauty needed. If you have a bottle, there is no reason to hold off from popping a cork. I am sure this will continue at this level of at least 7-10 more years.

2,607 Views

Tasted

Nov 12, 2018

Supple, plush, sexy and packed with rich, opulent, chocolate covered plums and cherries, truffle and licorice. At 16, this is really drinking great. This was simply popped and poured and enjoyed.

2,888 Views

Tasted

Sep 21, 2015

With aromatics of jammy blackberry, plums, dark cherries, coffee and earth, this supple, round, soft textured wine feels great as it flows across your palate. The wine ends in a long, silky, black cherry, plum and espresso filled finish. At 11, this supple Bordeaux wine is just now starting to drink really well. It has another 15-20 years to go.

6,370 Views

Tasted

May 21, 2011

1998
Château Le Bon Pasteur (Pomerol)

Robust, concentrated, ready to go, with an earthy, licorice, plum and cocoa filled nose and palate. Generous, but lacking the silk and refinement found in better vintages, this is good, but in 1998, I wish it was a bit better.

3,651 Views

Tasted

Sep 26, 2021

Fully mature, this medium bodied Pomerol offers chocolate mint, cherries, earth and floral scents. Soft, smooth and elegant, this is at its peak.

3,261 Views

Tasted

Oct 26, 2014

Close to fully mature, truffle and chocolate covered cherries were the first thing that caught your attention. Round, lush and polished in texture, the wine ends with a spice filled, earthy, black cherry finish. This is probably drinking in the sweet spot. There is no reason to age this wine any longer.

4,228 Views

Tasted

Nov 14, 2012

Light ruby in color, with a nose of truffle, chocolate mint, black cherry jam and coffee, this soft textured Pomerol finishes with juicy black plum, espresso cassis. With time in the glass, a chocolate covered black cherry note emerged. This is close to fully mature and should be drunk up within 5-8 years.

5,104 Views

Tasted

May 29, 2011

With a black cherry, spice and chocolate nose, this medium to full bodied Pomerol offers lush, soft, elegant textures. At 12 years of age, this seems to have matured at a rapid pace. The elegant, round, spice, chocolate and plum finish is a pleasure. But this is probably best enjoyed iver the next 5 years. This is not a Pomerol to age for multiple decades..

5,828 Views

Tasted

Aug 20, 2010

With its chocolate covered, ripe black and red fruit based aromatics is topped with coffee accents. The wine is plush, but not as deep as the top Pomerol's from better terroir. Great texture completes the finish on this very nice and already accessible wine. To preserve the wines freshness and character, drink it over the next decade.

3,640 Views

Tasted

Oct 12, 2009

1995
Château Le Bon Pasteur (Pomerol)

Better on the nose, with its truffle, earth and cherry character, than on the palate with its medium bodied, fresh, red cherry cherry character, along with slight dust in the present tannins. This is a firm style of Pomerol, that is correct for the vintage.

3,472 Views

Tasted

Jan 30, 2016

1990
Château Le Bon Pasteur (Pomerol)

Juicy plums, cocoa, earth, tobacco and spice aromas open the wine. This supple, round, sweet, black cherry, fennel and chocolate flavored wine at 21 years of age is fully mature. Consumers should drink this sooner than later because it's not going to get better and based on previous bottles that were a little richer, this Pomerol will probably slowly begin losing fruit.

3,433 Views

Tasted

Jul 23, 2011

1989
Château Le Bon Pasteur (Pomerol)

Still holding on, but clearly on the downward slope, the color and fruit have lightened. The earthy truffle, mocha and plum nose is still going strong. The softly textured wine leaves you with earthy, red and black plums with a bit of dark chocolate. Still, this is not a wine for decanting or for holding on for further development. If you have a bottle, drink up.

3,016 Views

Tasted

Nov 17, 2017

1985
Château Le Bon Pasteur (Pomerol)

Just a bit past its prime, the wine is soft, elegant, medium bodied and serves up with ease, its truffle dusted, earthy, red plum and dark cherry core of fruit. There is no reason to not be popping a cork on this wine if you have any bottles left in your cellar.

1,832 Views

Tasted

Nov 12, 2018

1983
Château Le Bon Pasteur (Pomerol)

Light in color and fruit, the wine is soft, shows some sweetness in the earthy, red fruits, but everything fades rather quickly on your palate. This wine requires consumption much sooner than later.

2,174 Views

Tasted

Dec 10, 2017

1982
Château Le Bon Pasteur (Pomerol)

Fully mature, with a silky, opulent leaning to all of the ripe, black cherries, flowers, and truffle on the nose and palate. Not decanted. A pop and pour was all this needed. If you have a bottle, it is time to pull the cork and enjoy it before it fades into the good night. Drink from 2022-2028,

1,725 Views

Tasted

Oct 8, 2022

Showing much better than anticipated, this was a beautiful example of a fully mature Pomerol. Silky, lush and velvety, with richly textured plums, truffle, dark coffee and cocoa, and black cherries in the finish to round things out. No decanting is needed here. Just pop, pour and enjoy. This is at peak maturity, so if you have a bottle in your cellar, it is time to pop that a cork.

2,550 Views

Tasted

Aug 19, 2019

Luscious, rich, plush textures and a blast of ripe black cherry liqueur in the finish are even better than the earthy, spicy, thyme and cherry infused nose that starts things off.

4,065 Views

Tasted

Jan 14, 2016

The last time I tasted this wine, it seemed tired and was losing fruit. But this bottle was a treat, with its black cherry, truffle earth and dark chocolate personality. There is no reason to age this plush, soft, sexy, silky, plummy Pomerol any longer, as I doubt it will get better.

5,226 Views

Tasted

Mar 23, 2013

1959
Château Le Bon Pasteur (Pomerol)

Red plums, truffle, spice, earth, raspberry, tobacco leaf and cocoa aromas led to a medium bodied, more than fully mature, medium bodied Pomerol that requires consumption.

2,395 Views

Tasted

Mar 29, 2012