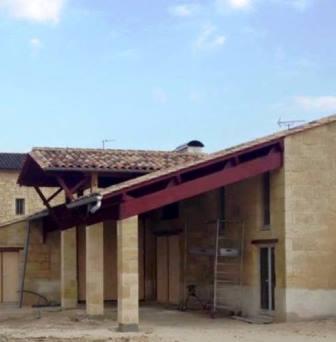 Learn everything about Chateau Maillet Pomerol with wine tasting notes and wine with and food pairing tips. Learn the best vintages, a history of the property, information on winemaking and vineyards. If you want to read about other important, Bordeaux Chateaux: Links to all Bordeaux Wine Producer Profiles
The history of Chateau Maillet in the Right Bank dates all the way back to 1820 when the Moze Berthon Family was first established in the Bordeaux region. The first member of the Moze Berthon family to be involved with the estate was Georges Moze, in 1820. The estate takes its name from its previous owner, the Comte de Maillet.
Chateau Maillet is a new wine from the Pomerol appellation. As Pomerol is the smallest of the major Bordeaux regions with just 800 hectares of vines, it is quite hard for a new wine to become established, but that is what took place with the 2015 vintage. However, while the wine is new, the name is not exactly new.
The Moze Berthon family were already producing wine under the name of Chateau Gouperie and they were using the name of Maillet for the estate's second wine. It's possible to give credit to the genesis for Chateau Maillet for another wine the estate produced in 2004, L'Excellence du Chateau Grouperie, that was made from 100% Merlot.
In 2009, the estate began making L'Elegance de Chateau Gouperie, which was also produced using 100% Merlot and was aged in 100%, new, French oak barrels. Those experiments and the hiring of Hubert de Bouard of Chateau Angelus as their consultant led to the creation of Chateau Maillet.
Chateau Maillet Vineyards, Terroir, Grapes, Winemaking
The 4.5 hectare Pomerol vineyard is planted to 95% Merlot and 5% Cabernet Franc. The vineyard can be divided into 3 parcels. Their best parcel of land is the 2 hectares of vines located close to Chateau Bon Pasteur, not far from the St. Emilion Border. The terroir is gravel, clay, and sand soil. The vineyard is planted to a vine density of 5,500 vines per hectare.
To produce the wine of Chateau Maillet, the wine is made using micro vinification techniques, meaning that the wine is vinified completely in the barrel. Malolactic fermentation takes place in barrels and the wine is aged in 100% new, French oak barrels. Yields are kept quite low here, so the production is small with only 550 cases made in the first vintage of Chateau Maillet.
The best vintages of Chateau Maillet are: 2022, 2021, 2020, 2019, 2018, 2017, 2016 and 2015.
This is a wine to watch from Pomerol as prices should be under their true level of quality for at least the first few vintages produced at Chateau Maillet.
When to Drink Chateau Maillet, Anticipated Maturity, Decanting Time
Chateau Maillet can be enjoyed on the young side with decanting. Young vintages can be decanted for an average of 1 -2 hours or so.
This allows the wine to soften and open its perfume. Older vintages might need very little decanting, just enough to remove the sediment. Chateau Maillet is usually better with at least 4-7 years of bottle age. Of course, that can vary slightly, depending on the vintage character. Chateau Maillet offers its best drinking and should reach peak maturity between 6-20 years of age after the vintage.
Serving Chateau Maillet with Wine, Food, Pairing Tips
Chateau Maillet is best served at 15.5 degrees Celsius, 60 degrees Fahrenheit. The cool, almost cellar temperature gives the wine more freshness and lift.
Chateau Maillet is best paired with all types of classic meat dishes, veal, pork, beef, lamb, duck, game, roast chicken, roasted, braised, and grilled dishes. Chateau Maillet is also good when matched with Asian dishes, hearty fish courses like tuna, mushrooms, and pasta.
Aside from the two wines in Pomerol, the Moze Berthon family also owns other estates in the Right Bank including Vieux Chantecaille in Saint Emilion and Chateau Rocher Gadat in the nearby satellite appellation of Montagne St. Emilion.
www.vignobles-moze-berthon.com
Château Maillet Wine Tasting Notes
8 Vintages 38,302 Views Sort by Vintage-Rating
2022
Château Maillet (Pomerol)
Flowers, incense, cherries, chocolate and plums resonate in the nose, and on the palate. However, it is on the palate, with its creamy, rich, supple, fresh and silky freshness where the wine really shows best. Drink from 2024-2042. 93-95 Pts.
1,695 Views
Tasted

May 8, 2023
2021
Château Maillet (Pomerol)
Black plums, black cherries, black licorice, dark chocolate and equally dark espresso beans are in full-force in the nose and on the round, lusciously-textured, deep palate. The finish is soft, round and plush. Drink from 2024-2040. 91-93
1,383 Views
Tasted

May 20, 2022
2020
Château Maillet (Pomerol)
Incense, licorice, smoke, roses, cherries and chocolate aromas open the nose. On the palate, the wine is rich, supple, creamy and luscious with layers of chocolate-coated, ripe, dark plums. The finish is long, fresh and deep, leaving you with espresso-tinted black cherries, chocolate and black plums that linger. Drink from 2024-2045.
979 Views
Tasted

Mar 21, 2023
Deep, dark in color with its purple accents around the edges, the wine is sexy, silky, opulent and concentrated. There is a fabulous depth of flavor, velvet textured tannins and layers of black plum liqueur, chocolate and espresso that make an impression as the wine lingers and expands on your palate. 94-96 Pts
2,527 Views
Tasted

May 20, 2021
2019
Château Maillet (Pomerol)
Deeply colored, concentrated, lush, rich, ripe and plummy, this hedonistic treat delivers layers of ripe, dark plum liqueur, flowers and chocolate on the nose and palate, finishing with polished, fresh, sweet, sensuous, deep red fruits and silky textures. This is going to deliver fabulous tasting experiences for at least 2 decades, if not more. Drink from 2024-2045.
2,721 Views
Tasted

Mar 29, 2022
Lush, silky, juicy and rich, with layers of ripe, dark plum liqueur notes in the opening. The wine has a great depth of flavor, good intensity and a sexy, velvet-textured finish. 93-95 Pts
4,100 Views
Tasted

Jun 8, 2020
2018
Château Maillet (Pomerol)
Truffles and chocolate with black cherries, plum, espresso and a hint of coconut on the backend grabs your attention. Opulent, hedonistic, sensuous and richly textured, this is just great now and after 5 years or so in the cellar. If you like hedonistic wines, this is for you.
2,203 Views
Tasted

Mar 9, 2021
Plummy with overtones of vanilla, flowers, black raspberries and truffle, the wine is well-dressed, melodious, medium-bodied and serves up a respectable core of ripe, red fruits in the supple textured finish. 92-94 Pts
2,755 Views
Tasted

Apr 19, 2019
2017
Château Maillet (Pomerol)
With a dark hue, the wine readily opens its big personality, which is rich with chocolate-covered cherry, smoke, licorice, earth and coffee bean. Medium bodied, finesse in style, the brushed cotton tannins and fresh, dark plums fill out the finish.
2,058 Views
Tasted

Apr 26, 2018
2016
Château Maillet (Pomerol)
This small production Pomerol is a sexy little beast. The silky, sensuous texture is the perfect back drop for all the ripe, luscious, sweet, plums, chocolate, flowers and earthy flavors that are all over the place here. This is pure hedonism. While it is difficult to find, Pomerol fans should be all over this wine.
3,104 Views
Tasted

Sep 21, 2019
A smoky fruit basket of plums and cherries, a bramble of wild roses and a terrestrial sampler of aromatics hurdle right out in front. On the palate, glistening fruits and melted chocolate feel great as they linger. The wine was made from 95% Merlot and 5% Cabernet Franc.
4,073 Views
Tasted

Apr 29, 2017
2015
Château Maillet (Pomerol)
Quite tight at the moment and rather unyielding, clearly there is good concentration of those ripe, juicy, fat, sweet plums and chocolate, but it is going to require at least another 5-7 years to open and flesh out.
4,123 Views
Tasted

Dec 15, 2020
A new wine from Pomerol! Chateau Maillet, along Hubert de Bouard as consultant, has created a wine with winning character. On the palate, this wine is all about its juicy, fresh, plum liqueur, black raspberry, floral and truffle personality. The finish is like sinking into a fine feathered, hotel boudoir, quite silky and long with a line of dark chocolate on your pillow. There is no sensation of heat from the 14.5% ABV level. The wine was produced from a blend of 95% Merlot and 5% Cabernet Franc. 93 - 95 Pts
6,581 Views
Tasted

Apr 27, 2016