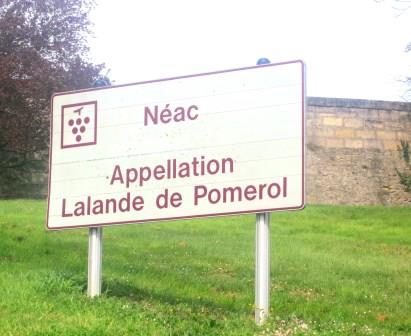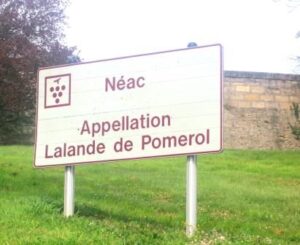 Learn everything about Lalande de Pomerol Bordeaux with a history of the Lalande de Pomerol appellation, look at the character of the wines, and detailed profiles on all the best vineyards, wines, and chateau with wine tasting notes. For a look at other, important Bordeaux value wine regions: Bordeaux Value Wine Appellation Guide
Lalande de Pomerol is located next to, and just north of the more famous and prestigious Pomerol appellation. The Barbanne stream is part of the dividing line between Lalande de Pomerol and Pomerol.
St. Emilion is due south. Lalande de Pomerol is situated not far from the city of Libourne, the important business district of the Right Bank. The neighboring Dordogne river is an important factor in the region's microclimate, as it brings much-needed nourishment and moisture to the vines.
Close to 200 chateaux produce wine in Lalande de Pomerol. Growers in the appellation did not start using the appellation name, Lalande de Pomerol on their labels until 1925. Lalande de Pomerol was officially designated as an AOC appellation by the INAO in 1954.
However, that was not always the case. Prior to 1928, when the official boundaries of Pomerol were created, some growers in Lalande de Pomerol labeled their wine as being from Pomerol. The boundaries make sense when you take the communes as the starting points in a geographic sense.
But clearly, there are growers in Neac making better wine from better clay terroir than numerous growers in Pomerol are producing from sandy soils in the west end of the Pomerol appellation. Prior to 1928, some of those top estates in Neac were selling their wine as coming from Neac-Pomerol.
But that is no longer possible as those wines were labeled as coming solely from Lalande de Pomerol since 1954.
The top wines of the appellation are produced at Chateau La Fleur de Bouard, followed by Chateau de Chambrun.
Both La Fleur de Bouard and Chambrun produce high end, luxury wines from old vine, 100% Merlot, that can compete with many of the best Pomerol wines. La Fleur de Bouard makes "Le Plus" and Chambrun makes "Le Bourg." Denis Durantou of Chateau L'Eglise Clinet in Pomerol also produces an excellent wine in Lalande de Pomerol, Chateau Les Cruzelles.
Siaurac which was purchased in 2014 by the owners of Chateau Latour in Pauillac is also expected to enter into the level of the top produces in Lalande de Pomerol shortly. You should also look for La Graviere from the Pere Verge family.
While the appellation has only recently been popularized with consumers starting with the 2000 vintage, there is a long history in the Lalande de Pomerol appellation that dates back almost as long as Pomerol. But because of the difference in quality between the appellations, Lalande de Pomerol has remained in the shadows of Pomerol for much of its life.
To help promote the Lalande de Pomerol appellation in 1884, following the complete devastation of the vineyards, growers in the region formed the Syndicat Viticole de Lalande de Pomerol which is still an important part of the region. In 1985, they created Baillis de Lalande de Pomerol.
In Lalande de Pomerol the best terroir is the clay and gravel soils, similar to that which is found in Pomerol. Traces of iron oxide can be found in the soils as well. There are also vineyards producing lighter-styled wines from a terroir with sandy soils. The Lalande de Pomerol appellation consists of two communes, Lalande de Pomerol and Neac. The commune of Neac has the best terroir and soils in the appellation.
The reason for this is, Neac has more deep clay and gravel in the soil, which is very similar to what you can find in Pomerol. Neac also has more elevations and slopes than Lalande de Pomerol. The Merlot grape does very well in the clay and gravel terroir of Neac.
Because of the clay soils, the best chateau in the appellation is located in Neac. Lalande de Pomerol is where you find more sand in the soils and the topography is also much flatter. That makes it harder for the soils to drain, which is the opposite of what takes place in Neac.
The best vintages of Lalande de Pomerol are: 2020, 2019, 2018, 2016, 2015, 2012, 2010, 2009, 2008, 2006, 2005, 2001 and 2000. Generally speaking, if it was a good vintage in Pomerol, it's also going to be an equally strong vintage for Lalande de Pomerol.
The biggest differences in quality between the vintages for Pomerol and Lalande de Pomerol are going to be felt in the more difficult years.
In Lalande de Pomerol, Merlot is the dominant grape, with close to 75% of all plantings devoted to the grape. This is followed by Cabernet Franc. Those grape varieties account for more than 90% of all plantings in Lalande de Pomerol. A few producers have small amounts of Malbec and Cabernet Sauvignon planted as well.
Lalande de Pomerol is small in size. In fact, Lalande de Pomerol is not that much different from Pomerol when it comes to the total planted acreage. Lalande de Pomerol has close to 1,100 hectares under vine, making it just a bit larger than Pomerol, its more prestigious neighbor. On average, 525,000 cases of wine are produced each year in Lalande de Pomerol.
For more on Lalande de Pomerol www.lalande-pomerol.com