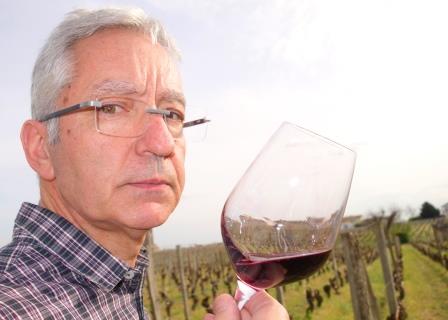 Learn everything about Chateau Les Cruzelles, Lalande de Pomerol with wine tasting notes, wine, and food pairing tips, best vintages, a history of the property, and information on the vineyards and winemaking. If you want to read about other important, Bordeaux Chateaux: Links to all Bordeaux Wine Producer Profiles
Chateau Les Cruzelles History, Overview
Chateau Les Cruzelles in Lalande de Pomerol is owned by Denis Durantou. Denis Durantou who purchased Chateau Les Cruzelles in 2000, is better known for owning one of the top estates in Pomerol, Chateau LEglise Clinet.
Located in the commune of Neac, not far from his Pomerol estate, the terroir of Chateau Les Cruzelles shares many similarities in terroir with his Pomerol chateau, due to its rich, clay and gravel soil.
However, the soils for Les Cruzelles have more gravel with less clay than you will encounter at Chateau L'Eglise Clinet. More importantly, the terroir of Les Cruzelles was exactly what Denis Durantou was hoping to find in this region as this allowed Denis Durantou to expand his massal selection program.
The Lalande de Pomerol vineyards are only about 1 kilometer from Chateau L'Eglise Clinet. In fact, you can actually see the vineyard of Les Cruzelles from Chateau L'Eglise Clinet, if Denis shows you where to look.
Chateau Les Cruzelles Vineyards, Terroir, Grapes, Winemaking
The 10.5-hectare vineyard of Chateau Les Cruzelles is planted to 60% Merlot and 40% Cabernet Franc. This could be the highest proportion of Cabernet Franc in the appellation of Lalande de Pomerol.
The terroir has clay and gravel soil. The majority of the blend for the wine of Chateau Les Cruzelles is usually taken up by Merlot. The vineyard is situated almost exactly in between Neac and Lalande de Pomerol.
Recent vintages have seen as much as 80% to 90% of blend come from Merlot, with the Cabernet Franc ranging from 10% to 20%. For the vinification of Chateau Les Cruzelles, the wine is fermented in tanks. The wine is then aged in 50%, new, French oak barrels before bottling.
There is a second wine, Chateau La Chenade. The grapes for La Chenade come from a combination of the estate's young vines and the vines planted in the terroir with more sand and gravel, as well as from purchased fruit.
La Chenade also includes more Cabernet Franc in the blend to give it more structure. La Chenade is aged in an average of 25% new, French oak barrels. On average, the production of Chateau Les Cruzelles is close to 1,200 cases of wine per vintage.
The best vintages of Chateau Les Cruzelles are: 2022, 2021, 2020, 2019, 2018, 2017, 2016, 2015, 2014, 2012, 2010, 2009 and 2005.
When to Drink Chateau Les Cruzelles, Anticipated Maturity, Decanting Time
Chateau La Chenade is better with at least 2-4 years of aging in good vintages. Young vintages can be decanted for about 1 hour if desired.
Older vintages might need very little decanting, just enough to remove the sediment. Chateau La Chenade offers its best drinking and should reach peak maturity between 3-15 years of age after the vintage.
Serving Chateau Les Cruzelles with Wine, Food, Pairing Tips
Chateau Les Cruzelles is best served at 15.5 degrees Celsius, 60 degrees Fahrenheit. The cool, almost cellar temperature gives the wine more freshness and lift.
Chateau Les Cruzelles is best paired with all types of classic meat dishes, veal, pork, beef, lamb, duck, game, roast chicken, roasted, braised, and grilled dishes. Chateau Les Cruzelles is also good when matched with Asian dishes, rich fish courses like tuna, mushrooms, and pasta.
Denis Durantou also owns other property in the Right Bank including, Chateau Saintayme in St. Emilion and Chateau Montlandrie, located in the Cotes de Castillon appellation.
Château les Cruzelles Wine Tasting Notes
27 Vintages 98,763 Views Sort by Vintage-Rating
2022
Château les Cruzelles (Lalande de Pomerol)

Lush, soft, and creamy, the wine shows its layers of chocolately plums, black cherries, smoke, espresso, and licorice with ease. Fresh and silky are the words of the day here for what you enjoy on the medium-bodied, supple-textured palate, and in the finish. You can enjoy this Pomerol look-alike on release if you prefer its creamy, youthful fruits, or age it for its secondary characteristics. Drink from 2025-2040. 92-94 Pts.

1,805 Views

Tasted

May 8, 2023

2022
Château La Chenade (Lalande de Pomerol)

Black plums, flowers, and cherries with a splash of cocoa create the aromatic profile. On the palate, the wine is soft, polished, and fresh, with a juiciness to the fruits, and lift in the finish. Produced from 80% Merlot with 20% Cabernet Franc.14.4% ABV, pH 3.7. Drink from 2025-2036. 90-92 Pts.

2,110 Views

Tasted

May 8, 2023

2021
Château les Cruzelles (Lalande de Pomerol)

Medium-bodied, fresh, sweet, ripe, vibrant plums with a dash of chocolate mint on the nose and on the bright, crisp, soft-textured, chalky palate. The wine is a blend of 65% Merlot with 35% Cabernet Franc. The high portion of Cab Franc really works with the 2021 vintage. 13.5% ABV. Picking took place September 23-September 30. Drink from 2024-2037. 90-92

2,120 Views

Tasted

May 20, 2022

2021
Château La Chenade (Lalande de Pomerol)

Cocoa topped plums with flowers on the nose are perfect to form the backdrop for all the medium-bodied, soft-textured, forward, sweet, juicy, red pit fruits on the palate. Produced from 100% Merlot, 13.5% ABV, drink from 2023-2034. 88-90

1,516 Views

Tasted

May 20, 2022

2020
Château les Cruzelles (Lalande de Pomerol)

Flowers, chocolate, smoke, licorice and plummy nuances are all over the place here. On the palate, the wine is vibrant, silky, fresh, and most importantly, there is a beautiful sense of purity to the red pit fruits in the elegant, supple, chocolately finish. Drink from 2024-2040.

1,306 Views

Tasted

Mar 21, 2023

Dark ruby in color, the wine quickly expresses its plum, wet earth, chocolate, spice and licorice character. Lush, supple, fresh and loaded with opulent, sweet, dark red fruits, this silky, sensual wine offers length and lift. 92-94 Pts

3,190 Views

Tasted

May 20, 2021

2020
Château La Chenade (Lalande de Pomerol)

Earthy cherries, and cocoa create the nose. Forward, medium-bodied, fresh and supple with a core of sweet, vibrant, red, pit fruits in the finish, this is a top value from an ever increasingly expensive appellation. Drink from 2023-2032.

1,494 Views

Tasted

Mar 21, 2023

Flowers, cocoa and red fruits create the backdrop for this medium-bodied, fresh, lush, forward, already accessible charmer. The wine finishes with sweet, soft, earthy red fruits. You can enjoy this just about on release and for at least a decade after that. 89-91 Pts

1,850 Views

Tasted

May 20, 2021

2019
Château les Cruzelles (Lalande de Pomerol)

Flowers, licorice, cocoa and earthy notes, along with black raspberries, plums and black cherries come through easily on the nose. The medium-bodied palate is soft, silky, refined and fresh, with loads of layered sweet fruit on the backend. Drink from 2023-2037.

3,206 Views

Tasted

Mar 29, 2022

Flowers, black raspberries, earthy cherries and nutty chocolate notes are in the nose. The palate, is filled with lusciously textured, sweet, ripe black plums and cocoa. The silky finish feels great. Produced from a blend of 90% Merlot with 10% Cabernet Franc, this could be the top wine produced from Les Cruzelles, a vineyard the late owner, Denis Durantou loved. 91-93 Pts

5,030 Views

Tasted

Jun 8, 2020

2019
Château La Chenade (Lalande de Pomerol)

Medium-bodied, elegant and fresh, the wine is all about its sweet, ripe, silky, red cherries, plums and cocoa. Forward and refined, the wine is already just great in the glass, with a touch of cocoa and mint on the back end in the finish. Drink from 2022-2029.

1,580 Views

Tasted

Mar 29, 2022

A mix of flowers and chocolate on the nose opens the wine. From there, the medium-bodied, soft, ripe, lush fruits and the silky finish with its sweet berries and cocoa hit the spot. You can enjoy this just about on release for its textures and fruit-forward approach. 88-90 Pts

4,201 Views

Tasted

Jun 8, 2020

2018
Château les Cruzelles (Lalande de Pomerol)

Flowers, licorice, dusty chocolate and sweet, silky plums are all over the place. Elegant, refined, fresh and vibrant, the silky finish is just great. You can enjoy this on release or age it for a few years for more complexity.

2,173 Views

Tasted

Mar 9, 2021

Earthy, forest aromas with leaf, mint, and cherries from start to finish, the wine is medium-bodied, soft, silky and perfect for early drinking, with its fresh, sweet, red plum attributes. 90-92 Pts

3,562 Views

Tasted

Apr 19, 2019

2018
Château La Chenade (Lalande de Pomerol)

Plums and cocoa form the core of this medium-bodied, soft, silky, sweet, fresh, early drinking charmer. You can enjoy this on release for its refined textures and fresh fruits.

2,447 Views

Tasted

Mar 9, 2021

The forward, plum and floral wine is medium-bodied, round, soft and already delicious. You can enjoy this on release. 87-89 Pts

2,885 Views

Tasted

Apr 19, 2019

2017
Château les Cruzelles (Lalande de Pomerol)

Soft, silky, juicy plums create a forward styled Romeo with earthy, dark red fruits and back notes of licorice. To be enjoyed on release, the wine was made from blending 80% Merlot and 20% Cabernet Franc.

2,526 Views

Tasted

Apr 26, 2018

2017
Château La Chenade (Lalande de Pomerol)

Medium bodied and forward, this wine is soft, sweet and quite likable.

2,117 Views

Tasted

Apr 26, 2018

2016
Château les Cruzelles (Lalande de Pomerol)

Using 90% Merlot with 10% Cabernet Franc, this wine shows a rich, ruby color. On the nose, dreamy chocolate-covered black raspberries followed by dark juicy plums and just the right amount of cocoa and floral accents in the endnote.

5,273 Views

Tasted

Apr 29, 2017

2016
Château La Chenade (Lalande de Pomerol)

Produced from a blend of 80% Merlot and 20% Cabernet Franc, the wine serves up a floral, dark cherry nose. Medium bodied with a sweet, full, plum finish that will drink well early.

3,010 Views

Tasted

Apr 29, 2017

2015
Château les Cruzelles (Lalande de Pomerol)

Using 80% Merlot and more Cabernet Franc than usual at 20%, this wine has licorice, flowers, cocoa and black cherry notes in the nose. Soft in texture, there is a plush, roundness in the tannins, sweetness in the black fruits and a near prurient essence in the fixture that insures this vintage will deliver a lot of pleasure. 90-92 Pts

4,557 Views

Tasted

Apr 29, 2016

2015
Château La Chenade (Lalande de Pomerol)

Ripe, sweet and fruity, with a happy-to-meet-you, open, easy, black cherry character. 86 - 88 Pts

3,591 Views

Tasted

Apr 29, 2016

2014
Château les Cruzelles (Lalande de Pomerol)

Dominated by Merlot with 10% Cabernet Franc, this wine is soft, forward and plumy with an open chocolate-covered, black raspberry finish. 89-90 Pts

4,083 Views

Tasted

Apr 24, 2015

2014
Château La Chenade (Lalande de Pomerol)

This wine is ripe, fruity, short and easy to drink with a forward, spicy, red berry character. Produced from a blend of 80% Merlot and 20% Cabernet Franc. 86-88 Pts

2,321 Views

Tasted

Apr 24, 2015

2013
Château les Cruzelles (Lalande de Pomerol)

With intriguing scents of tangerine, coffee, cherry and plum, there is a nice softness to the texture, finishing with sweet cherries, oak and cocoa. 88-90 Pts

2,624 Views

Tasted

Apr 26, 2014

2013
Château La Chenade (Lalande de Pomerol)

Using 80% Merlot and 20% Cabernet Franc, the forward, medium-bodied wine focuses on mocha, plum and fresh cherries. Drink this on the young side. 85-87 Pts

2,654 Views

Tasted

Apr 26, 2014

2012
Château les Cruzelles (Lalande de Pomerol)

Medium bodied, earthy, smoky, dark red fruits in an approachable style.

2,146 Views

Tasted

May 15, 2015

Aged in 50% new French oak, the wine is blended from 90% Merlot and 10% Cabernet Franc. Fresh black cherry, cocoa, earth and coffee notes work well with the center of cherry and black raspberries. 87-89 Pts

2,974 Views

Tasted

Apr 26, 2013

2012
Château La Chenade (Lalande de Pomerol)

Blending 80% Merlot with 20% Cabernet Franc, the wine is packed with fresh black cherries. 86-88 Pts

2,802 Views

Tasted

Apr 26, 2013

2011
Château les Cruzelles (Lalande de Pomerol)

Blending 90% Merlot and 10% Cabernet Franc, the wine is aged in 50% new oak. Black cherry, forest floor, pepper and spice, this is a soft, round, delicious red cherry-filled wine. 88-89 Pts

2,606 Views

Tasted

Apr 19, 2012

2011
Château La Chenade (Lalande de Pomerol)

Blending 80% Merlot and 20% Cabernet Franc, the wine is aged in 50% new oak with fresh red berries and an open personality. 87-88 Pts

2,690 Views

Tasted

Apr 19, 2012

2010
Château les Cruzelles (Lalande de Pomerol)

Les Cruzelles From a blend of 90% Merlot 10% Cabernet Franc, Denis Durantou produced a wine from Lalande de Pomerol that could compete with several much more expensive Pomerol wines. Jammy berries, licorice, plums and chocolate covered raspberries open to a soft textured, charming, elegant, plummy wine that should drink well early. 89-91 Pts

3,923 Views

Tasted

Apr 21, 2011

2010
Château La Chenade (Lalande de Pomerol)

La Chenade lalande de Pomerol 80% Merlot 20% Cabernet Franc combine to make a medium bodied, lighter, Pomerol styled wine. 85-87 Pts

5,191 Views

Tasted

Apr 21, 2011

2009
Château les Cruzelles (Lalande de Pomerol)

Forward in style, medium bodied, with ample notes of licorice, black cherry, earth and dark chocolate. The finish offers good freshness, round textures and sweet, black raspberries with a hint of cocoa powder.

3,200 Views

Tasted

Mar 11, 2013