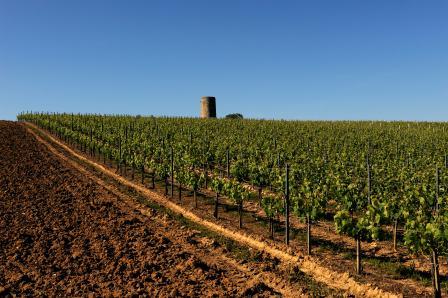 Learn everything about Chateau Montlandrie Cotes de Castillon with wine tasting notes and wine and food pairing tips. Learn the best vintages, the history of the property, and information on the vineyards and winemaking. If you want to read about other important Bordeaux Chateaux: Links to all Bordeaux Wine Producer Profiles
Chateau Montlandrie History, Overview
Montlandrie was purchased in 2009 by Denis Durantou, the owner of Chateau LEglise Clinet in Pomerol, Chateau Montlandrie dates back to the late 1800s when the Right Bank property was founded by an Italian family. Chateau Montlandrie stands out due to the ancient stone tower located in the middle of the vineyards.
Chateau Montlandrie is the first purchase in the Cotes de Bordeaux appellation by Denis Durantou. Aside from his famous Pomerol property, he also owns vines in St. Emilion with Chateau Saintayme and in Lalande de Pomerol with Chateau Les Cruzelles and Chateau Chenade.
Chateau Montlandrie Vineyards, Terroir, Grapes, Winemaking
The 12-hectare vineyard of Chateau Montlandrie is planted to 65% Merlot and 20% Cabernet Franc and 15% Cabernet Sauvignon. The addition of Cabernet Sauvignon is new to the vineyards.
The first vintage to include the Cabernet Sauvignon in the blend was 2013. The terroir consists of clay and limestone soils on the plateau of Cotes de Castillon. The terroir is similar to what you will find in many of the better Saint Emilion vineyards. The vineyard is in one single block of vines.
In fact, the elevation of the vineyards shares characteristics with St. Emilion as well, with peaks that reach close to 80 meters high. The vineyard is planted to a vine density of 6,000 vines per hectare.
To produce the wine of Chateau Montlandrie, the wine is vinified in 15, small, temperature-controlled, stainless vats that range in size from 24 hectoliters up to 82 hectoliters. This allows for a parcel by parcel vinification as the vineyard is divided into 15 parcels. Malolactic fermentation takes place in vat.
The wine is aged in 30% new, French oak barrels for an average of 14 months. The average annual production of Chateau Montlandrie ranges from 2,000 cases to 2,250 cases of wine per vintage.
The best vintages of Chateau Montlandrie are: 2022, 2021, 2020, 2019, 2018, 2017, 2016, 2015, 2014, 2012, 2010 and 2009.
Chateau Montlandrie made its debut with the 2009 vintage. This wine offers a lot of bang for the buck and is well worth seeking out for Bordeaux value wine seekers.
When to Drink Chateau Montlandrie, Anticipated Maturity, Decanting Time
Chateau Montlandrie is much better with at least 2-4 years of aging in good vintages. Young vintages can be decanted for 1 hour or so.
This allows the wine to soften and open its perfume. Older vintages might need very little decanting, just enough to remove the sediment. Chateau Montlandrie offers its best drinking and should reach peak maturity between 3-15 years of age after the vintage.
Serving Chateau Montlandrie with Wine, Food, Pairing Tips
Chateau Montlandrie is best served at 15.5 degrees Celsius, 60 degrees Fahrenheit. The cool, almost cellar temperature gives the wine more freshness and lift.
Chateau Montlandrie is best paired with all types of classic meat dishes, veal, pork, beef, lamb, duck, game, roast chicken, roasted, braised, and grilled dishes. Chateau Montlandrie is also good when matched with Asian dishes, rich fish courses like tuna, mushrooms, and pasta.
Château Montlandrie Wine Tasting Notes
14 Vintages 62,211 Views Sort by Vintage-Rating
2022
Château Montlandrie (Castillon Côtes de Bordeaux)

Flowers, truffles, black and blue fruit, cocoa and licorice open the nose. The medium-bodied palate is round, creamy and fresh, with supple, sweet, ripe fruits and a drizzle of chocolate in the mid-palate and finish. The wine blends 75% Merlot, 20% Cabernet Franc and 5% Cabernet Sauvignon, 14.5% ABV, 3.85 pH. Harvesting took place September 8 - September 23. Drink from 2025-2038. 92-94 Pts.

973 Views

Tasted

May 8, 2023

2021
Château Montlandrie (Castillon Côtes de Bordeaux)

Crushed rocks, flowers, cocoa and ripe, dark plums create the perfume. On the palate, the wine is fresh, soft, bright and crisp, with a juiciness to the fruits on the mid-palate and in the medium-bodied finish, with its touch of salty tannins on the backend. The wine blends 75% Merlot, 20% Cabernet Franc and 5% Cabernet Sauvignon, 14% ABV. The harvest took place October 4 - October 7. Drink from 2023-2035. 90-92

2,199 Views

Tasted

May 20, 2022

2020
Château Montlandrie (Castillon Côtes de Bordeaux)

Deep, dark, earthy plums, black cherry liqueur, truffles, flowers and espresso beans create the perfume. On the palate, the wine is silky, opulent and fresh, with a nice sweetness to the layers of red and black fruits that fill and linger on your palate. This is the best vintage of Montlandrie I have ever tasted! Drink from 2024-2036.

1,484 Views

Tasted

Mar 21, 2023

Plum liqueur, flowers, truffles and crushed stone all make an appearance on the nose. On the medium-bodied palate, the wine is soft, fresh, lively, sweet and round, finishing with lifted, ripe, juicy red plums, licorice, spice and black cherry. 92-94 Pts

3,736 Views

Tasted

May 20, 2021

2019
Château Montlandrie (Castillon Côtes de Bordeaux)

Chocolate, licorice, forest leaf, flowers and plum nuances are all over the place in the nose and in the medium-bodied, silky, vibrant palate. The energetic finish expresses earthy red pit fruits and chocolate notes that linger. Drink from 2022-2035.

4,395 Views

Tasted

Mar 29, 2022

One cannot help but notice the ripe, juicy plums on the nose. The chocolate, truffle and licorice notes that come next are the perfect nuance. Round, opulent and juicy, this wine is fresh, long and mouth-filling, ending with layers of fresh fruits. 91-93 Pts

6,185 Views

Tasted

Jun 8, 2020

2018
Château Montlandrie (Castillon Côtes de Bordeaux)

This is showing much better in bottle than in barrel. Now, you find more intensity, richness and complexity. The nose opens with flowers, licorice, wet earth, cherry and plum tones. Silky, rich and fresh, with layers of elegant, ripe, sweet fruits in the endnote, this is the best vintage of Montlandrie I have ever tasted! The wine is a blend of 75% Merlot, 20% Cabernet Franc and 5% Cabernet Sauvignon.

3,836 Views

Tasted

Mar 9, 2021

Floral in nature, the wine focuses on its freshness, silky tannins and red, licorice coated fruits. The medium-bodied wine is going to need a few years to soften and come together. The wine is a blend of 75% Merlot, 20% Cabernet Franc and 5% Cabernet Sauvignon. 90-92 Pts

3,988 Views

Tasted

Apr 19, 2019

2017
Château Montlandrie (Castillon Côtes de Bordeaux)

A deep shimmery ruby, the wine has sweetness and flesh. The red fruits are highlighted with licorice and cocoa. If you like 'em young, Rubenesque with primary fruits and a little sugar on top, you may drink this upon release. The wine is a blend of 75% Merlot, 20% Cabernet Franc and 5% Cabernet Sauvignon.

3,515 Views

Tasted

Apr 26, 2018

2016
Château Montlandrie (Castillon Côtes de Bordeaux)

It is hard to find a better value Bordeaux than this. The wine is soft, forward, earthy, fresh and fruity, with lush textures and loads of sweet, ripe, lifted fruits in the finish. This is drinking great today and should remain at this level for at least 7-10 years.

3,503 Views

Tasted

Jun 26, 2020

Dark ruby in color, with fresh herbs, dark cherry and floral notes in the perfume. Black cherry liqueur, licorice, tobacco and spice sensations work well with the ripe, elegant stylings found here. Freshness paired with dark chocolate, rich textures, ripe tannins and the structure to age. The wine is a blend of 75% Merlot, 20% Cabernet Franc and 5% Cabernet Sauvignon, the wine reached 14.5% ABV with a pH of 3.56.

4,266 Views

Tasted

Apr 29, 2017

2015
Château Montlandrie (Castillon Côtes de Bordeaux)

Black cherry liqueur, licorice and spice sensations pair perfectly with the plush, round, lush-textured and long, fruit-filled finish. This wine has real character. I would not be surprised to see this get better in the bottle. A blend of 75% Merlot, 20% Cabernet Franc and 5% Cabernet Sauvignon, the wine reached 14.7% ABV with a pH of 3.62.

4,219 Views

Tasted

Apr 29, 2016

2014
Château Montlandrie (Castillon Côtes de Bordeaux)

95% Merlot, 20% Cabernet Franc and 5% Cabernet Sauvignon produced a wine with a deep color coupled with floral, boysenberry and cocoa sensations. Lush, fat and sweet, this is only the second vintage for Denis Durantou in the Cotes de Castillon, yet, it' s easy to get what he's aiming for, with its plush, rich textures and ripe, sweet fruits. 90-91

3,561 Views

Tasted

May 1, 2015

2013
Château Montlandrie (Castillon Côtes de Bordeaux)

Oak and spicy plums, dark chocolate and red fruits combine to make a forward, fresh, medium bodied wine that will be open on release. From a blend of 75% Merlot, 20% Cabernet Franc and 5% Cabernet Sauvignon. 86-88 Pts

2,193 Views

Tasted

May 1, 2014

2012
Château Montlandrie (Castillon Côtes de Bordeaux)

From 75% Merlot and 25% Cabernet Franc, from clay and limestone soils, this wine opens with oak, licorice and dark berries and is fleshy, but dry in the finish, 85-88 Pts

4,058 Views

Tasted

Apr 26, 2013

2011
Château Montlandrie (Castillon Côtes de Bordeaux)

From 75% Merlot and 25% Cabernet Franc, planted on limestone soils and aged in 50% new oak, the wine offers oak, red berries and stone with medium body and a bright red berry finish. 85-87 Pts

3,056 Views

Tasted

Apr 20, 2012

2010
Château Montlandrie (Castillon Côtes de Bordeaux)

Drinking great today, the wine is round, plummy, lush, soft, fresh, and loaded with ripe black cherry, dark cocoa, wet earth, and tobacco leaf. Drink over the next 5 -7 years.

2,844 Views

Tasted

Sep 2, 2021

2009
Château Montlandrie (Castillon Côtes de Bordeaux)

With an inviting nose of licorice, dark cocoa, black cherry liqueur and floral notes, this round, plush, forward wine is already delicious and will get even better with a few more years of age. The debut vintage for Chateau Montlandrie was produced from a blend of 75% Merlot and 25% Cabernet Franc. This is a great example of a Bordeaux value wine.

4,200 Views

Tasted

Sep 3, 2014