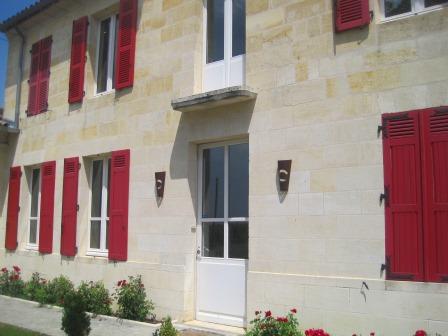 Learn everything about Chateau Clinet Pomerol with wine tasting notes and wine with food pairing tips. Learn all the best vintages, the history of the property, and information on the vineyards and winemaking. If you want to read about other important, Bordeaux Chateaux: Links to all Bordeaux Wine Producer Profiles
Chateau Clinet History, Overview
Chateau Clinet is one of the oldest vineyards in Pomerol. Old maps unearthed by the estate show that vines were planted in 1785. From there, the vineyard became the property of the Constant Family, before it passed to the Arnaud family. The Arnaud's had good taste in wine. At the same time, they were also owners of the famed Bordeaux wine property, Petrus!
Following the Arnaud's involvement, from 1900 to 1991, Chateau Clinet became the property of the Audy family. They were best known as Bordeaux negociants. When the managing director Jean Michel Arcaute arrived in the late 1970s, Chateau Clinet began producing some of the best wine in their history within a few short years.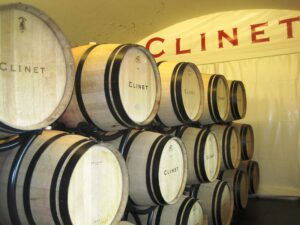 Chateau Clinet The Modern Age
Jean Michel Arcaute's desire was to bring Chateau Clinet to the top level of the best producers of Pomerol wine, which is where Chateau Clinet was in the early 19th century. Jean Michel Arcaute began to change everything about the vineyard management technique of the day being practiced at not only Chateau Clinet, but for most of Bordeaux.
He instigated leaf thinning, green harvesting while striving to harvest fruit that was fully ripe, with ripe skins, seeds, and even stems if possible. More importantly for the wines of Chateau Clinet, they also reduced the percentage of Cabernet Sauvignon vines planted in the vineyards.
For the harvest, they discontinued the use of machine harvesting and quickly moved to pick all grapes by hand, to ensure that only the best grapes were picked and placed into the wine of Chateau Clinet. They also made changes in the varietals planted in their vineyards.
Chateau Clinet is one of the few Pomerol properties with a large percentage, (Large for Pomerol) of Cabernet Sauvignon in their vineyards.
He brought in Michel Rolland as the consultant and they set out to make wine that challenged the best estates of Pomerol. They increased the amount of new, French oak barrels the wine was aging in, as well as increasing the time the wine spent in oak. To prove they were serious, they declassified the entire 1984 crop at Chateau Clinet. Michel Rolland remained with Clinet until 2014.
In 1991, Chateau Clinet was sold to Gan insurance. Jean Michel Arcaute remained the director of the estate. Tragically, Jean Michel Arcaute dies in a boating accident in 2001.
Chateau Clinet the Modern Era and Ronan Laborde
Clinet was bought by Jean-Louis Laborde in late 1998. Starting with the 2004 vintage, things changed again at Chateau Clinet when the son of Jean Louis Laborde, the young, hard-working, and talented, Ronan Laborde began to manage the estate. Some of the early choices have clearly paid off.
Ronan Laborde replanted 20% of the vineyard and reduced the amount of new French barrels from 100% to 60% for the aging. Two other steps were taken by Ronan Laborde in his first few years at the estate. He increased the yields from an average of 25 hectoliters per hectare to 40 hectoliters per hectare and he increased the density of the planting of the vines as well.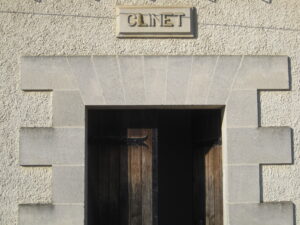 Ronan Laborde improved the wine of Chateau Clinet and he was able to increase the size of their vineyards which is often a difficult task in Pomerol, as there is so little land. Ronan Laborde also created an extremely popular consumer-friendly, inexpensive brand Ronan by Clinet.
Here's a bit of trivia for you. Ronan Laborde could have been a competitive marathon runner, with times close to the 2 hours and 27-minute mark! When told he could train with the best runners in France, all he had to do was give up eating great dinners and drinking even better wine, he declined and placed all his focus on turning Chateau Clinet into one of the top wines of Pomerol.
Chateau Clinet has been improving slowly but steadily since the Laborde family purchased the Right Bank estate. 2005 was the first vintage where you saw a big jump in quality and the 2009 Chateau Clinet was even better! 2009 Chateau Clinet is clearly one of the top wines of the entire, legendary vintage. 2010 Clinet is not that far behind and 2018 and 2019 are also both stunning!
In August 2022, Chateau Clinet increased its holdings in Pomerol with the purchase of a neighboring 3.4-hectare vineyard, Chateau Lecuyer.
Chateau Clinet Vineyard, Terroir, Grapes, Winemaking
The 11.5-hectare vineyard of Chateau Clinet is planted with 75% Merlot, 25% Cabernet Sauvignon and a small parcel of Cabernet Franc. The vineyard is easily divided into 21 separate parcels planted on various slopes and hillsides which rise up to 35 meters at their peak elevation.
The vineyard has a vine density ranging from 6,777 vines per hectare to 7,200 vines per hectare. The young vines are at a higher level of density. On average, many of their vines are close to 45 years of age. However, Chateau Clinet also has some of the oldest vines in Pomerol.
Located close to the church, Chateau Clinet has a special parcel of Merlot known as "La Grand Vigne," which is their best terroir. This is also where you find their oldest vines, as these were planted all the way back in 1934. Those old vines are some of the oldest vines in the entire Pomerol appellation. This special section of the Chateau Clinet vineyards represents almost 20% of their vines. This is the heart and soul of Chateau Clinet.
This special parcel adds a lot of depth and complexity to the wine. This delicate section of vines requires special treatment. Horses are used to work the soils because not only are the vines old, and delicate, but they are also tightly spaced. Close to 8.5 hectares of vines are farmed, using horses for plowing.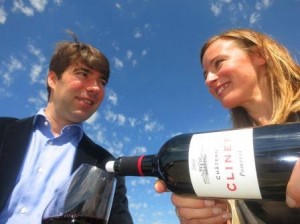 Chateau Clinet is situated on a great terroir. Their vineyards are located at one of the highest points on the Pomerol Plateau. Chateau Clinet has good company on the plateau. Their closest neighbors are only a stone's throw away, Chateau LEglise Clinet, Chateau Clos LEglise, Chateau Feytit-Clinet, and Chateau Trotanoy. They also have vines with more gravel close to Lafleur and Petrus.
The terroir of Chateau Clinet is a complex blend of gravel, clay, and iron-rich sandy soils. The majority of their vines are located in three main parcels; La Grand Vigne, which as you now know, is old vines planted in deep clay with gravel on top, Les Argilles, which is deep clay and Le Plateau, where you find more gravel soil, with smaller stones than you encounter in La Grand Vigne. The peak elevation is 35 meters.
In 2010 and again in 2012, Ronan Laborde purchased more property in Pomerol increasing the size of Chateau Clinet. About 50% of the new vines are used in the wine of Chateau Clinet. The remaining vines are used in their second wine, Fleur de Clinet.
Previously, up until the 2013 vintage. to produce the wine of Chateau Clinet was vinified in 11 different, underground, wooden vats. 9 of the vats are 60 hectoliters, the remaining two vats are 40 hectoliters. However, Chateau Clinet has completely renovated their vat room in time for the 2014 vintage. The wood vats were removed and replaced by gleaming stainless steel vats.
Chateau Clinet has continued not only modernizing their winery, but they have updated its label design over years. The current red label design was first used with the 2000 vintage and has been updated most recently in 2005 and 2009.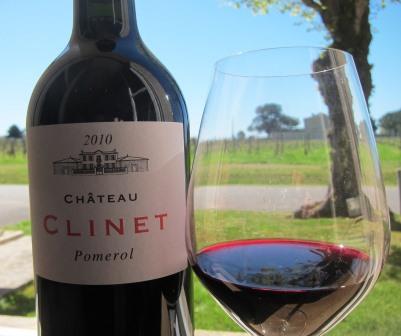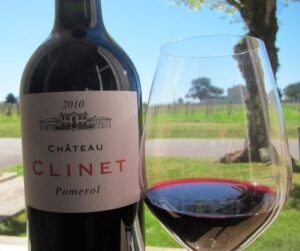 Starting with the 2014 vintage, the vinification takes place in 17, temperature-controlled, double-walled, stainless steel vats that range in size from 25 hectoliters, 35 hectoliters, and 45 hectoliters. This allows for a parcel by vinification. Malolactic fermentation takes place in a combination of French oak barrels and vats.
The wine of Chateau Clinet is aged in 60% new, French oak barrels for between 18 to 22 months. 5% of the oak barrels are from an even split of German oak and Austrian oak. The barrels at Clinet are hosed down twice a day, to keep the barrels tight, and the cellars humid. The wine is blended after the oak aging is completed.
The press wine is aged separately. If it's determined the wine requires more structure, the press wine is added during the final blending. The average production here today is close to 3,200 cases of Chateau Clinet per year.
There is a second wine, Fleur de Clinet, which made its debut in 1997. Prior to that, the second wine was known as Domaine du Casse. Until recently, Fleur de Clinet was made from declassified wine from Clinet and purchased fruit from other growers in the Pomerol appellation. Today, that is no longer the case. Now, Fleur de Clinet is only produced from vines owned by Clinet. This change has really helped increase the quality in Fleur de Clinet, making it a strong contender for the best value in Pomerol.
Ronan by Clinet
The estate also produces a negociant wine, Ronan by Clinet. Ronan by Clinet is produced from purchased grapes that are planted in various satellite appellations in Bordeaux.
The red wine of Ronan by Clinet is made from 100% Merlot. Ronan by Clinet also makes a value-priced, white Bordeaux wine that blends Sauvignon Blanc, Semillon, and Muscadelle. The Laborde family also owns one of the top estates in Hungary, in the Tokaji region, Chateau Pajzos.
The best vintages of Chateau Clinet are: 2022, 2021, 2020, 2019, 2018, 2017, 2016, 2015, 2014, 2012, 2010, 2009, 2008, 2006, 2005, 2001, 2000, 1990, 1989, 1988 and 1961. While 1989 gets most of the attention as the best, older vintage of Clinet, today, 1990 is as good, or even better, and it sells for less money too!
Chateau Clinet Wine Style and Character
The wines of Clinet are rich, supple, sensuous, powerful and in the best vintages, offer floral, chocolate, and spicy flavors. The wine ages well, developing sensuous textures and aromatic complexities.
Chateau Clinet is winning a lot of friends with its new high quality and their very friendly pricing policy due to a desire to build long-term relationships with customers. For the time being, prices remain low for a Pomerol of this level of quality, making Chateau Clinet a property to keep an eye on.
When to Drink Chateau Clinet, Anticipated Maturity, Decanting Time
Chateau Clinet is much better with at least 8-12 years of aging in good vintages. Young vintages can be decanted for 2-3 hours or more. This allows the wine to soften and open its perfume.
Older vintages might need very little decanting, just enough to remove the sediment. Chateau Clinet offers its best drinking and should reach peak maturity between 10-35 years of age after the vintage.
Serving Chateau Clinet with Wine, Food, Pairing Tips
Chateau Clinet is best served at 15.5 degrees Celsius, 60 degrees Fahrenheit. The cool, almost cellar temperature gives the wine more freshness and lift. Chateau Clinet is best served with all types of classic meat dishes, veal, pork, beef, lamb, duck, game, roast chicken, roasted, braised, and grilled dishes.
Chateau Clinet is also good with Asian dishes, hearty fish courses like tuna, mushrooms, pasta, and cheese.
Château Clinet Wine Tasting Notes
41 Vintages 732,623 Views Sort by Vintage-Rating
2022
Château Clinet (Pomerol)

Inky, dark in color, the wine explodes from the glass with its floral display before moving to its wealth of dark red pit fruits, chocolate, truffle, wild cherry, and mint aromas. However, it is the velvet-drenched layers of dark fruit, opulent-textures, and cashmere tannins where the wine really takes off. The finish is pure hedonistic-decadence that must be felt to be believed. You have plenty of time to experience it as the fruits remain on your palate for over 60 seconds! This is Pomerol. and Clinet at its best! The wine blends 80% Merlot with 20% Cabernet Franc. 14.5% ABV, 3.75 pH. Harvesting took place September 6, September 21. This is the earliest start to a vintage in the history of Clinet. Yields were 34 hectoliters per hectare. Drink from 2027-2060. 97-99 Pts.

2,437 Views

Tasted

May 8, 2023

2021
Château Clinet (Pomerol)

Deeply colored, on the nose you initially find chocolate, flowers, mint, black plums, licorice, espresso, black raspberries, nutmeg and black cherries. Medium-bodied, soft, polished, fresh and silky, with a vibrancy to the ripe, deep, dark red fruits on the mid-palate. There is ample ripe, plums, blueberries and cherries in the refined, chalky finish along with length and vibrancy. The wine is a blend of 75% Merlot and 25% Cabernet Sauvignon, 13% AVB. The harvest took place September 27 - October 12. Drink from 2025-2044. 93-95

1,816 Views

Tasted

May 20, 2022

2020
Château Clinet (Pomerol)

Elegance, refinement, and silky textures are the hallmarks of this wine. The perfume, with its licorice, flowers, mint leaves, smoke, cherries, and plums is what initially brings you in. But it is the purity of the fruit, the sensuous textures, and the opulent, graceful palate feeling that steals the show. The seamless, non-stop finish balances freshness with hedonism with its multiple layers of lusty fruits, and chocolate, with a touch of refreshing spearmint in the finish. The finish really sticks with you, which is a good thing because you never want this voluptuous stunner to end. As a side note, even though the wine clocks in at 15% AVB, there is no touch of heat or jammy qualities. Drink from 2026-2055.

3,026 Views

Tasted

Mar 21, 2023

Deep and dark in color, the perfume instantly shoots out its notes of flowers, spearmint, licorice, plums, black cherry, smoke and espresso. Full-bodied, velvety, opulent, sensuous and sexy, the wine is dense, long and silky on your palate. The finish really sticks with you, which is a good thing because you never want this voluptuous stunner to end. The fruits show a remarkable sense of purity, leaving you with over 50 seconds of hedonistic pleasure. This is the best Clinet since 2010. The wine is a blend of 80% Merlot and 20% Cabernet Sauvignon, 15% AVB, 3.7 pH, with no touch of heat. The harvest took place September 14, finishing September 23. 97-99 Pts

4,776 Views

Tasted

May 20, 2021

2019
Château Clinet (Pomerol)

This was so good in the barrel, it is hard to believe that the wine improved from there. But isn't that what all great wines are supposed to do? Inky dark in color, the wine is equally dark on the palate with all of its decadently rich, sensually textured layers of black cherries, blackberries, black plums, and chocolate. The perfume, with its flowers, cocoa, espresso, licorice and truffle is off the hook! The finish, with its mild, salted endnote sticks with you for close to 60 seconds as it builds and expands, offering a fruit-drenched, hedonistic, non-stop thrill ride. Clearly, this is one of the best vintages of Clinet that Ronan Laborde has produced. Fans of the estate should be all over this because sooner rather than later prices can only rise from here! Drink from 2030-2055.

7,628 Views

Tasted

Mar 29, 2022

This is my second time tasting this stunner. The additional month in the barrel has added more sensual textures, finesse and floral characteristics. Opulent, silky, refined and vibrant, there is a gorgeous sense of vibrancy in the fruit that provides more energy and complexity to all those ripe black cherries and plums all coated in licorice and dark chocolate. The wine is opulent, sexy and showy, as well as elegant and age-worthy. Give this seductive gem at least a decade in the cellar, and perhaps longer and enjoy the thrills for 2-3 decades after that.

17,312 Views

Tasted

Jul 20, 2020

Dark garnet in hue, the truffle, tobacco, smoke, licorice, spice, flower, plum and chocolate aromas work here. But it is on the palate where the wine really rocks. Sultry, rich, opulent, full-bodied, deep and ostentatious, this is incredibly sexy. The layers of velvet-textured, perfectly ripe, sweet, fleshy fruit, with its mineral-driven, salty tannins and dark cocoa covered fruit in the finish lingers and expands. The wine is a blend of 80% Merlot and 20% Cabernet Sauvignon reaching 14.5% ABV with pH of 3.75. The harvest took place September 18 to September 26. 96-98 Pts

12,608 Views

Tasted

Jun 8, 2020

2018
Château Clinet (Pomerol)

Deeply colored, the wine is intensely concentrated with layers of black, red and blue fruits accompanied by licorice, dark cocoa, truffle, flowers, espresso bean and hints of Asian spice. There is a fabulous sense of purity to the fruits that really comes alive when the layers of velvet-drenched fruits hit your palate. The wine is equally hedonistic and elegant, which is a hard thing to accomplish. The wine will age and evolve with ease for 3 decades.

6,972 Views

Tasted

Mar 15, 2021

Sensual, luscious and sexy, this is bottled decadence. The wine takes pure plums drenches them in velvet and drizzles them with roses, dark chocolate, licorice, espresso and truffle. The wine is full-bodied, concentrated, powerful and lush. Produced from blending 85% Merlot and 15% Cabernet Sauvignon and hitting 14.75% ABV, the wine is aging in 75% new, French oak barrels. The harvest took place September 19 to October 5. 97-99 Pts

7,925 Views

Tasted

Apr 19, 2019

2017
Château Clinet (Pomerol)

An outstanding wine, especially when you consider the vintage, here you find lush, silky textures and layers of ripe, sweet, fresh, soft plums, fresh cherries and nuances of chocolate, licorice, spice, smoke, flowers and wet earth. Already disarmingly pleasurable to drink, don't be fooled by its forward approach. Give it at least 5 more years in the cellar to allow the wine to further soften, expand and take on additional nuances.

3,885 Views

Tasted

May 15, 2020

The depth of color is impressive and the level of concentration is remarkable. Full bodied with lush, ripe, juicy plums coupled with spice box, cherry, smoke, licorice and espresso, the wine is elegant, fruity, polished and long. This is going to offer fabulous drinking after seven to ten years of bottle age. From a blend of 92% Merlot and 8% Cabernet Sauvignon, the wine reached 13% ABV with a pH of 3.74 and is aging in 72% new, oak barrels. The harvest took place September 19 to September 29 and the Grand Vin consists of 70% of the harvest.

3,296 Views

Tasted

Apr 26, 2018

2017
Fleur de Clinet (Pomerol)

Medium-bodied with a blend of roses, plums, smoke and chocolate. Fresh, bright and lifted with a hint of dust in the crisp, bright cherry-filled finish.

2,168 Views

Tasted

Oct 30, 2020

2016
Château Clinet (Pomerol)

Combines elegance, grace and concentration, with purity and freshness, allowing the silky, lush, chocolate infused, plums and black cherries to shine through all those truffles. Long and complex, with the ability to age for decade, this is not as user friendly as the 2015, so allow it at least a decade to age and develop.

5,695 Views

Tasted

Feb 9, 2019

Style and grace in a long, dark cloak, velvet in texture, lush yet masculine. There is depth, length and power. The tannins are refined yet the acidity is quite present, giving the wine true lift, but the fruit is so ripe and sweet, all that tannin is buried deep. From a blend of 90% Merlot and 10% Cabernet Sauvignon , the wine reached 14% ABV with a pH of 3.71 and is aging in 70% new, oak barrels. The harvest for the Merlot took place from September 22 to October 3 and the Cabernet Sauvignon on October 4. The Grand Vin consists of 70% of the harvest.

6,598 Views

Tasted

Apr 29, 2017

2016
Fleur de Clinet (Pomerol)

Floral in nature, you also find ripe, dark plums, licorice, cherries and herbs on the nose. Soft, silky, easy to to like and even easier to drink due to all those ripe, polished, elegant plums, dark chocolate, espresso, and smoked cherries in the finish. Drink this while waiting for the stunning Grand Vin to develop. This is a contender for the best value in Pomerol today!

2,715 Views

Tasted

Oct 30, 2020

2015
Château Clinet (Pomerol)

If you like truffle, you're going to dig this wine. From there, you discover campfire, licorice black cherry, plum, jam and underbrush. On the palate is where the real action takes place. With the perfect balance between density and lift, everything comes together in the decadently textured, silky textured, fruit filled finish.

10,254 Views

Tasted

May 21, 2018

If you are looking for a hedonistic thrill ride, where the wine offers velvet textures and your palate is drenched with deep, perfectly ripe, black plums and dark cherry liqueur infused with even darker chocolate and fennel, you came to the right place. If that is not enough to get you interested, perhaps the almost 50 second finish with all its palate staining viscosity will do the trick. It is hard to pick a best vintage from Clinet, but the 2015 is clearly in the running!

10,210 Views

Tasted

Mar 12, 2018

A hedonistic thrill ride. This is pure sensuality. The tannins are incredible lush and polished. The juicy, sweet plums and black cherries are perfectly ripe, offering a beautiful sense of purity. The wine is concentrated, fresh and focused, with just the right amount of flowers, truffle, dark chocolate and licorice to add more complexity. This is another thrilling wine from Clinet.

10,639 Views

Tasted

Jul 12, 2017

It's difficult to know where to start with this deep, ruby colored wine. The first thing you notice is the floral bouquet, which is quickly followed by anisette cookies, cherry blossoms, spice box, plums and, just for a touch of adrenaline, a hint of espresso. Pure sensuality with silky, polished, opulent tannins that give this wine a really sexy mouth feel. Voluptuous in texture, this is hedonism at its best. The wine is rich, concentrated and full-bodied, leaving you reclined upon layers of freshness, power, finesse and velvet. This is quite close to the stunning 2010 Clinet in quality. With that in mind, it's important to note that the best vintages of Clinet always improve in the bottle and I'm willing to bet this is no exception. From a blend of 90% Merlot, 9% Cabernet Sauvignon and 1% Cabernet Franc, the wine reached 14.3% ABV with a pH of 3.7. The wine is aging in 65% new, French, oak barrels. The harvest for the Merlot took place from September 15 to October 1. The Cabernet Sauvignon and Cabernet Franc were picked in one day, October 1. The Grand Vin consists of 74% of the harvest. Drinking this wine is like sitting in an easy chair with an Elite model on your lap! 98 - 100 Pts

10,957 Views

Tasted

Apr 27, 2016

2014
Château Clinet (Pomerol)

Much better in bottle, the wine has added more richness and weight. The dark red fruits are ripe, sweet and fresh, there is a supple, sensuous quality to the tannins and length in the finish. This should be even better with 3-5 years in the bottle.

3,885 Views

Tasted

Feb 4, 2017

A distinctive nose pops with blossoms, cherry, black raspberry and espresso scents. Finesse styled with an emphasis on freshness, purity, crispness and gently ripened red and black fruit. A complicated twist of cocoa in the finish adds to the intrigue. From a blend of 90% Merlot, 9% Cabernet Sauvignon and 1% Cabernet Franc, the wine reached 13.5% ABV and is aging in 60% new, French oak barrels. 90-93 Pts

3,449 Views

Tasted

Apr 24, 2015

2013
Château Clinet (Pomerol)

With an hour of air, the medium bodied, plummy wine developed more softness to its textures, coupled with the addition of the mocha, licorice and black cherries in the perfume. Clearly, this is not meant to make old bones. But if you give it some air, it's quite nice for drinking over the next several years.

3,119 Views

Tasted

May 25, 2016

Quite successful for the vintage, there is a nice roundness to the tannins coupled with licorice, black cherry, earth, mocha and espresso, all wrapped up in a forward style.

3,037 Views

Tasted

Feb 9, 2016

With a chocolate mint, plum and spice nose, the wine is soft on the attack with silky tannins and a lush, spicy finish brimming with mocha, cocoa and plum. From a blend of 90% Merlot, 9% Cabernet Sauvignon and 1% Cabernet Franc, the wine reached 13.2% ABV. The yields were 33 hectoliters per hectare. The wine is aging in 60% new French oak. 91-93 Pts

3,062 Views

Tasted

Apr 25, 2014

2012
Château Clinet (Pomerol)

Flowers and black raspberries with chocolate on the nose and palate. Medium-bodied, firm and fresh, with a reserved character, you can drink it now, or wait a few years hoping for more softness to develop.

4,290 Views

Tasted

Mar 6, 2022

Licorice, truffle, chocolate mint, flowers, black raspberry and black cherry get the complex nose going. On the palate, you find a plush, round, supple texture paired with soft tannins and silky tannins.

5,882 Views

Tasted

May 15, 2015

One of the top Pomerol wines from the vintage, with a nice display of chocolate covered black cherries, juicy, sweet, ripe, fleshy plum, espresso and earthy notes that carry through to the soft, round, sweet, fruit filled finish.

5,163 Views

Tasted

Mar 11, 2015

Blending 90% Merlot, 9% Cabernet Sauvignon and 1% Cabernet Franc, reaching 13.2% ABV, the wine will be aged in 50% new French oak. From low yields of 34 hectoliters per hectare, the wine opens with licorice, earth, plums and herbal scents, followed by sensuous, fresh and spicy fennel, black raspberry and cherry. Lighter in style than 2008, 2009 and 2010, the wine ends with layers of sweet kirsch, cocoa and plum notes. 91-93 Pts

5,192 Views

Tasted

Apr 26, 2013

2011
Château Clinet (Pomerol)

Fresh herbs, truffle, licorice, dark cherry and spice box aromas get the show started. The soft, polished, sensuous fruits are what you need to pay attention to. Already open, drink this young for the freshness and silky qualities in the sweet fruit or age it for more complexity. This is one of the stars of the vintage.

5,975 Views

Tasted

May 20, 2014

Coffee, chocolate, plum earth and cherry jam aromas open to soft, sweet, fresh, cherry filled wine that will be perfect for near term drinking for consumers waiting for their 2009 and 2010 to mature. Bottling took place over three days, May 13, 14 and 15.

5,555 Views

Tasted

Aug 1, 2013

From 85% Merlot, 12% Cabernet Sauvignon and 3% Caberent Franc, the wine reached 13.5% ABV and will be aged in 55% new oak, which is slightly less than the property used in recent previous vintages. Deep purple in color, truffle, chocolate, boysenberry, spice box and black cherry liqueur come alive with little effort. Sexy, rich, opulent and concentrated with pure chocolate-covered dark berries, this is a wine of pleasure and elegance. 95-96 Pts

6,566 Views

Tasted

Apr 21, 2012

2010
Château Clinet (Pomerol)

Opulent, lush, and loaded with layers of perfectly ripe, black and red plums, chocolate, cherries, flowers, truffle, licorice, smoke, and a background note of mint. The wine is concentrated, long, deep, and fresh, with silky tannins and a finish that doesn't want to quit. Drink from 2023-2045.

612 Views

Tasted

Sep 20, 2023

If you are seeking a thrill ride, and Pomerol is your type of thrill, look no further. This is pure bottled decadence. The wine is silky, sexy, sensuous and concentrated. There is a beautiful purity in the fruit and a finish that could break the 50-second mark. And the wine still sells for a song for a wine at this level of quality.

7,174 Views

Tasted

Jul 19, 2018

I love when a wine gets better each time I taste it. There is so much going on here, even though it is still young, it is impossible not to be impressed. It is also difficult not to want another sniff, sip and swallow. What a beauty!

5,914 Views

Tasted

Apr 16, 2016

One of the things I like most about tasting wine, is finding wines that improve from barrel to bottle, and continue getting better as they age. 2010 Clinet could turn out to be a serious rock star. It's really filled out, adding depth and nuances that make this a thrill to sip. The wine is plush, opulent and velvety, with freshness, purity, complexity and most importantly, excitement that makes you want another sip. Tip of the day, if you enjoy hedonistic Pomerol, this is the wine to buy, before it's too late.

8,134 Views

Tasted

Jul 1, 2015

Tight at the moment, effort is required to find the aromas. You can sense the volume, purity of fruit and quality of the tannins with some work, but this is not the best time to be tasting this wine. With time, the wine could score even higher. I'm letting my bottles rest for at least 5-8 years.

9,117 Views

Tasted

Aug 2, 2014

Licorice, smoke, coffee, chocolate, jammy berries, liqueur and truffle scents open to a powerful, concentrated, opulent, fleshy, exciting Pomerol that is destined to improve for decades.

8,001 Views

Tasted

May 7, 2013

Deep in color, with layers of ripe, juicy, dark red berries, plums, licorice and chocolate, the wine is lush, sensuous, powerful and in balance. Silky fruits and velvet tannins give this blend of 85% Merlot, 12% Cabernet Sauvignon and 3% Cabernet Franc a long, rich, expansive, opulent finish.

6,720 Views

Tasted

Feb 7, 2013

Flowers, licorice, spicy plums, cocoa, blackberry liqueur, black raspberry jam and fresh mint aromas come alive with little effort. Full bodied, powerful and intense, this chocolate, blackberry, blueberry and dark cherry fleshy wine fills your mouth with luscious Pomerol sensations. This has filled out and softened since tasted in April. 96-97 Pts.

7,876 Views

Tasted

Jul 30, 2011

Clinet owner, Ronan Laborde, used what he called a classic Pomerol blend of 85% Merlot, 12% Cabernet Sauvignon and 3% Cabernet Franc. At 14.6 % ABV, than they achieved in 2009. Effective yields are also lower than in 2009. In fact, they are close to 25% less, which means there will be a lot less wine in the marketplace from this outstanding vintage. Opaque in color, explosive, floral, plum, black fruit, jammy berry, oak, chocolate and black raspberry scents create a beguiling perfume. This complex, spicy wine coats your palate with layers of pure, sweet, ripe plums. This is a hedonistic, sensuous style of Pomerol that blends intensity with pleasure and chocolate covered ripe fruit. 95-97 Pts.

7,629 Views

Tasted

Apr 21, 2011

2009
Château Clinet Speciosa Seposito (Pomerol)

If scores for special wines could hit 101 Pts, this might hit 102! Mind-blowing in every sense of the wine, it is easy to note this as soon as the wine hits your glass. At 10 years of age, the wine is still the color of glossy, dark ink. On the palate, the texture is akin to motor oil. But even with all its richness and power, the wine is elegant, refined, fresh, incredibly long and exotic. Layer after layer of dark red and black, juicy, sweet, ripe, delicious plums coat every nook and cranny of your palate. This is bottled decadence. The finish passes by the 60-second mark and keeps on going! Good luck finding a bottle, as only 300 bottles of this majestic elixir were produced.

2,485 Views

Tasted

Aug 15, 2019

2009
Château Clinet (Pomerol)

Still young, this is evolving at a glacial pace, yet there is no denying the greatness in this bottle. Deep in color, the wine pops with notes of licorice, black plum liqueur, dark cherries, chocolate, espresso, truffle, and rose petals on the nose. With incredible levels of density, the wine coats your palate with liquified plums, black cherry liqueur, dark chocolate and roast espresso that coats your palate and sticks with you for over 60 seconds. Be patient here as the wine demands at least 5 and may 7-8 more years in the cellar.

3,953 Views

Tasted

Nov 25, 2021

Port like in nature, this stunner grabs life and your attention with its intensity and mouth-filling, palate-staining levels of intensity. Dark in color, and in fruit, this still youthful expression of Pomerol is off the hook. Another decade in the cellar will provide all the time needed for this future legend to develop.

6,737 Views

Tasted

May 4, 2020

With all its sublime layers of concentrated, lusciously textured fruit, there is more than meets the eye here. Voluptuous in nature, the wine is sensual, plummy and packed with all the dark cocoa and truffle you desire. Full-bodied, deep and rich, this opulent wine has a finish that is close to the 60 second mark. Young, yet approachable, the best years are in its future.

4,455 Views

Tasted

Sep 20, 2019

Espresso bean, flowers, orange rind, truffle, spice, boysenberry, blue fruit and cocoa aromas open the wine. Thick, rich, lush, powerful and mouth filling, the wine coats your palate with sensuous layers of perfectly, ripe, polished, silky, pure berries. In just a few months the wine has morphed from its baby fat stage to a very sophisticated, decadent Pomerol.

11,196 Views

Tasted

Aug 2, 2013

Opaque in color, with licorice, chocolate, plum liqueur, truffle, black raspberry jam and espresso notes in the perfume, there is a delicious, opulent sensation on the palate. Thick, rich and intense, with cashmere tannins and plush textured, perfectly ripe blackberries and cherries dipped in chocolate, this delivers decadent sensations on the palate. This sublime vintage of Clinet should age gracefully for decades.

9,779 Views

Tasted

May 1, 2012

It's fitting that the 2009 turned out to be the best wine from Ronan Laborde, since he began managing the estate ten years ago. This beautiful Pomerol is packed with flowers, licorice, black cherry, plums and spice box aromas. Decadent in textures, with a wonderful purity of fruit and silky tannins, this blend of 85% Merlot, 12% Cabernet Franc and 3% Cabernet Sauvignon is the best wine produced from Clinet since their dynamic duo of 1989 and 1990.

11,136 Views

Tasted

Jan 31, 2012

2009 Clinet is deep ruby. Produced from 85% merlot, 12% cabernet sauvignon, and 3% cabernet franc, the wine opens with an explosive perfume of jammy strawberry, blackberry, caramel, spice, and flowers that seems to pop from the glass. With an intense concentration of dark berries and licorice, this full bodied wine fills your mouth with fruit and freshness. Although this robust, decadent Pomerol comes in at a whopping 14.5%, it has so much ripe fruit and freshness that you never notice the high ABV. 96-98 Pts

10,592 Views

Tasted

Aug 27, 2010

2008
Château Clinet (Pomerol)

Fresh, chewy, savory-styled Pomerol with chocolate, herbs, and peppery spices that ride along with all the layers of ripe, round, dark plums and black cherries and a touch of salt in the chewy finish. This is a bit on the classic side of the style range with the potential to age quite well. Drink from 2023-2042.

2,234 Views

Tasted

Feb 14, 2023

This is the right time to start popping the corks on this beauty. Medium-bodied, elegant, fresh, refined, soft, and loaded with sweet, ripe plums, truffle, and chocolate, 30 minutes in the decanter was all that was needed here. Drink from 2022-2040.

3,492 Views

Tasted

Jul 16, 2022

This continues filling out and softening and is really starting to show well. Popped and poured, the wine is floral, soft, and fragrant with accents of truffle, licorice, and cocoa that joins perfectly with all the sweet, fresh, round, ripe cherries. You can pop a cork today with pleasure. This should drink well for at least another 15-20 to 20 years.

4,571 Views

Tasted

Sep 18, 2021

You can start to drink this now. The wine is round, soft, and fleshy. This is not a flashy styled Clinet. The tannins are soft, the fruits are ripe, plummy and lush. The truffle and dark cocoa in the finish round things out. This has really come along nicely over the past decade of aging.

4,096 Views

Tasted

Sep 17, 2018

You need to lay this down for a while. There is a good concentration of fruit, lots of licorice and truffle, along with the dark chocolate covered cherries that are present from start to finish, but the tannins are more present than the fruit at the moment. Popped and poured, so the wine could show better with a few hours of air.

5,349 Views

Tasted

Jun 19, 2016

With little effort, cocoa, roses, cherries, plum, fennel and coffee bean scents are found front and center. Round, but not flashy, this is a more structured style of Clinet that demands to remain in the bottle for at least 5 years. 2008 remains the latest harvest in the history of the estate. Although it remains to be seen if that record for lateness remains intact, with the soon to be harvested 2013.

7,879 Views

Tasted

Nov 2, 2013

Ruby in color, floral, cinnamon, earth, coffee, black raspberry scents lead to a round, plummy, spicy expression of Clinet, that while not as opulent as subsequent vintages, this is a polished example of a more traditional styled, Pomerol wine that is not displaying the same level of sensuous fruit. I'd let it rest for a few more yeaefore popping another bottle.

10,963 Views

Tasted

May 1, 2012

Chocolate covered plums, licorice, herbs and floral scents open to a rich, concentrated, thick, opulent wine with a long, fresh blackberry and chocolate finish. Clinet achieved a balance of ripe fruit, purity and freshness in 2008. This is a much better wine than they produced in 2005, or 2006. But as good as this is, 2009 is even better! Buy this wine now as it's only going to get more expensive.

10,484 Views

Tasted

Jan 24, 2011

08 Château Clinet grabs your attention with its showy display of ripe, intense blackberry, plum, jam, floral and mocha scents. Plush, rich, opulent and bordering on decadence, this is the best wine yet produced by the young Ronan Laborde. This is miles ahead of 2005 & 2006. 94-97 Pts

10,557 Views

Tasted

Jul 30, 2009

2007
Château Clinet (Pomerol)

Fully mature, this medium bodied wine starts off soft and silky, but quickly moves to cigar box and plums on the palate. This requires drinking sooner than later before the fruit fades.

4,812 Views

Tasted

Jun 25, 2017

Fully mature, this medium bodied wine starts off soft and silky, but quickly move to cigar box and plums on the palate. This requires drinking sooner than later before the fruit fades.

3,799 Views

Tasted

Mar 24, 2017

20 minutes of air brought the wine around and delivered a softer expression of its licorice, black cherry and earth center. This medium bodied wine is already close to mature. This charmer should probably be consumed by the time the wine is 15 years of age.

3,530 Views

Tasted

Sep 12, 2015

Quite good for the vintage. Fully mature, with a truffle and blackberry nose, the wine feels round and silky. The finish is a bit short, but it's charming, none the less. No decanting needed. Just pop, pour and enjoy.

2,996 Views

Tasted

Dec 25, 2014

2006
Château Clinet (Pomerol)

Flowers, black raspberries, chocolate and menthol create the perfume. The wine is full bodied, concentrated and resides between its lean to its elegance and firm characteristics. The fruit is ripe, sweet and plummy, with a touch of green herbs in the finish. With an hour of air, it's drinking just great at this stage. Drink from 2023-2036.

2,670 Views

Tasted

May 20, 2023

This is in a really great place, the truffles are right there, licorice, spice, plum, espresso and smoke add to the perfume. On the palate, this really shines with its luscious, fresh, sweet vibrant fruits, silky tannins and freshness. Just starting to really get there, the wine delivers pleasure now, but can easily improve for years.

3,519 Views

Tasted

May 25, 2016

This is another 2006 Pomerol that is better than their 2005. It shows a more expressive nose with chocolate covered, raspberries, a longer mid palate and more riper tannins. This will take a few more years than the 05 to fully develop.

6,449 Views

Tasted

Jun 27, 2009

2005
Château Clinet (Pomerol)

Ready for prime time drinking, the nose, with its display of chocolate-covered plums, black cherries, truffle, smoke, licorice, flowers and wet earth is just great. Full,bodied, rich and deep, it is the silky, sensual, opulent display with velvet textured fruit on the palate and finish that steals the show. 30 minutes of air is ample before service.

3,605 Views

Tasted

May 27, 2021

In a nice spot. About 30 minutes of air brought out the plum, chocolate, flower and earthy nose. The wine is full, rich and round, with loads f ripe sweet, lush, dark cherries and plums on the palate. The finish is ever so slightly dusty around the edges. This is ready to go. Enjoy it over the next 15 years or so with pleasure.

5,588 Views

Tasted

Oct 9, 2019

This bottle was rocking! With 90 minutes of air, the plums, cherry pipe tobacco and chocolate aromas where right there. Plush, polished, fresh and sweet, this is a good time to start popping corks on this beauty as it's ready to go.

3,964 Views

Tasted

Jun 24, 2017

Deep in color, the wine is still youthful. 90 minutes of air added a lot of softness to the texture and helped bring out the plum, chocolate, truffle and black cherry notes. The supple textured, silky finish just feels great.

4,452 Views

Tasted

May 29, 2016

Soft, silky and sensuous, medium/full bodied, with a wealth of ripe, juicy, sweet, fresh plum, chocolate, truffle and black cherry notes, complicated by floral notes, truffle and chocolate accents. You can drink this now, or age it a few more years for additional complexity. This is the best showing yet for this wine, as I did not expect it to turn out this well. And with time, it could get even better as Clinet ages extremely well.

4,510 Views

Tasted

Jun 28, 2015

Plums, flowers, chocolate and boysenberry, soft textures, medium body and a plush finish. This has continued to improve since bottling. With time, it should be even better as it approaches maturity.

5,655 Views

Tasted

May 1, 2012

With plums, earth, dates, black cherry and hints of flowers in the perfume, this medium/full bodied Pomerol wine is soft textured and filled with fresh, juicy, black and red plums, cocoa and licorice. Give it another 2-3 years and drink over the next 10-15 years.

6,927 Views

Tasted

Aug 1, 2011

The perfume displays smoke, spice and jammy black fruit. With round tannins, this ends with a plush, dark fruit filled finish. The only downside to the wine is a slightly short middle. This is the first vintage where the new, young owner, Ronan Laborde started kicking things into high gear. This estate is one of the key Pomerol properties to watch!

9,074 Views

Tasted

Jun 27, 2009

With its purity of fruit and freshness, the plum, chocolate, blackberry and coffee scented nose are a pleasure. The palate texture is dense and lush. This will age well. There is some Cabernet Sauvignon in the blend giving the wine good structure.

8,445 Views

Tasted

Jan 20, 2008

This offers a dense, sexy mouthful of decadent Pomerol. Opulent, stylish with elegant tannins, but lacking the concentration found in the best years.

7,238 Views

Tasted

Jun 21, 2007

2004
Château Clinet (Pomerol)

Quite a nice surprise when things continue turning out better than expected. Mature and ready to drink, this medium/full bodied, soft, round wine is filled with licorice, black cherries, chocolate and freshness. Round and ready to go, drink this over the next decade for maximum pleasure.

4,232 Views

Tasted

Jul 1, 2015

The first vintage for Ronan Laborde where he was completely in charge at Clinet. The color is showing maturity with its light bricking. Secondary notes of truffle, smoke, spearmint, licorice and blackberry. Medium bodied, silky, mature and ready to drink, the wine is an elegant, sensuous expression of Pomerol.

3,779 Views

Tasted

Nov 30, 2014

2001
Château Clinet (Pomerol)

The final vintage from the chateau produced from 100% Merlot. With a nose of licorice, truffle, smoke and spicy plums, the wine features soft, silky textures and a medium/full body. Close to fully mature, this Pomerol ends with a plush mouthful of fennel, chocolate, black raspberries and plums.

4,083 Views

Tasted

Aug 1, 2011

2000
Château Clinet (Pomerol)

Medium-bodied and moving to the bright, sharp side, I suspect this has moved toward its long, slow decline. There is still plenty of red cherries, truffle and very dark cocoa, yet the wine seems to have lost its round, sensuality and its now more crisp. If you are sitting on any, you should be drinking sooner than later, before you lose more of its fruit.

4,652 Views

Tasted

Apr 5, 2020

Ready for drinking, with its plum, chocolate, earth and black cherry profile, Soft, plush and polished, this easy to like, sensuous Pomerol ends with a blast of cocoa and black cherry fruit.

4,318 Views

Tasted

Aug 21, 2014

1999
Château Clinet (Pomerol)

Fully ready for drinking, the wine is medium bodied, with fresh, bright, cool, cherry and red plum notes, coupled with earth and forest leaf, with hints of tobacco. Soft textured, with bright red fruits in the finish, there is reason to age this any longer as it's already just a few months from its 20th birthday.

3,887 Views

Tasted

Oct 11, 2018

1998
Château Clinet (Pomerol)

A very nice wine that is close to its full maturity date, the nose and palate are all about the red and black plum, dark cocoa, licorice and soft textured, medium-bodied palate.

5,263 Views

Tasted

Jul 19, 2018

Popped and poured, the aromatics offered flowers, black cherry, chocolate covered raspberry, truffle, licorice and dark chocolate. Soft, round, elegant and most importantly, delicious, the medium bodied wine lacks the depth and concentration found in the top vintages of the estate. It also lacks the high price too. Truthfully, this had a lot of charm on the nose and palate, ending with a hint of dusty earth in the chocolate covered, plum finish. There is no need to hold your bottles any longer as this is fully mature and ready to go.

5,377 Views

Tasted

Sep 22, 2016

On the nose, bitter chocolate covered cherries, flowers and wet earth. Medium bodied, with a soft, dusty texture, the wine finishes with fresh, cherry griotte flavors. This is at full maturity. If you have been waiting for this to come around, I would not hold off any longer.

5,602 Views

Tasted

Aug 15, 2015

This is a chunky style of Pomerol. Bordering on lean, this masculine wine seems, simple ending with a moderate, short finish and bright fruit profile. Fans of more old-school, traditionally made wines might enjoy this more than I did.

6,288 Views

Tasted

Oct 11, 2008

1995
Château Clinet (Pomerol)

Firm, stoic, classically styled Pomerol with earthy plums and dark cocoa notes. The wine is mature, but the tannins really mark the character of the wine here.

3,233 Views

Tasted

May 4, 2020

A nice wine that clearly bears the marks of the 1995 vintage, with its strictness to the tannins. There is concentration, fruit and aromatics, but the wine shows an austerity in its plummy finish that will appeal to some more than others.

4,071 Views

Tasted

May 10, 2017

At 21, the wine is starting to show its age in the color. Flowers, smoke, licorice, black cherry, mocha and minty aromatics are right where you can find them. Even with 2 hours of decanting, the tannic backbone found in the 1995 vintage remains. There is a lot of plummy fruit, coupled with a blast of dark chocolate in the finish. But this is more of a structured, masculine style of Pomerol that is not going to change its character with more age. This is going to appeal more to lovers of classic styled Bordeaux.

3,893 Views

Tasted

Aug 8, 2016

This bottle was quite structured, firm and masculine, with a tannic spine. You could tell there was a lot of fruit, with good ripeness, but this example was more for the mond than the soul. Looking at my notes from a few years ago, this is not headed in a good direction and at 21 years of age, that direction is not likely to change.

4,314 Views

Tasted

Dec 15, 2015

Not as seductive or charming as previous bottles, perhaps the toughness of the 1995 vintage is starting to show through. The wine was much more interesting on the nose than the palate. The finish displayed some hardness to the tannins and was a bit drying in the finish. Decanting for 2 hours helped, but this wine might be slowly drying out.

4,858 Views

Tasted

Jun 11, 2013

One of the top wines from a vintage better known for its rustic, tannic, nature. Juicy chocolate covered plums, truffles and floral aromas, round, soft textures and a long, opulent, fresh, black cherry finish are found in this wine. As it creeps closer to its 20th birthday, this has moved into the prime time drinking stage.

5,164 Views

Tasted

Dec 3, 2012

In a year filled with numerous hard, austere wines, 1995 Clinet is one of the top wines that overcomes the style of the vintage. With its chocoalte, floral, truffle, earth, black cherry, smoke and plum nose, the wine is pure silk and velvet, ending in a lush, sensuous, sweet, cocoa, earth and black raspberry finish. There is no hurry to drink this as it has the stuffing to age and develop for another 15-20 years. The wine was not decanted, just popped, poured and enjoyed!

5,760 Views

Tasted

Jul 22, 2012

This is a sexy style of Pomerol. With a bouquet of chocolate covered flowers, plum liqueur, truffle, fennel, spice and black cherries, the wine coats your palate with opulently textured black plums and black raspberry jam. Packed and stacked with layers of ripe fruit, Clinet was able to avoid the harsh style of tannins that plagued so many wines from this difficult vintage. The delicious Bordeaux could still improve, but it is drinking so well now, if you have more than a few bottles, it's time to open one and see for yourself. This is the last great Clinet of the Arcaute regime. It was a long 13 year wait until 2008, when the new owner, Ronan Laborde produced another stellar wine at this level of quality.

7,186 Views

Tasted

Aug 31, 2011

1994
Château Clinet (Pomerol)

A fully developed nose of truffle, blackberry, earth, tobacco and dark chocolate. Soft, round and a little chunky. this was a good showing for a Pomerol from this semi difficult vintage

4,693 Views

Tasted

May 19, 2011

Chateau Clinet opened with chocolate, trufffle, smoke, earth, cherry and black raspberry scents. Some greeness is noted in the mouth with drying tannins. This was not apparent at first, but with an hour of air, some of the initial fruit sensations dropped off and the dryness became more apparent. Chocolate covered cherry was noted in the finish

5,286 Views

Tasted

Aug 31, 2010

1990
Château Clinet (Pomerol)

Fully developed, the wine is elegant, silky, lush, and rich with a core of concentrated, perfectly ripe chocolate-covered plums, black cherries, truffle, and wet earth, along with an intriguing orange citrus note in the finish. No need to decant, just pop, pour and enjoy.

2,990 Views

Tasted

Nov 19, 2021

This is a knock out wine from start to finish. The nose, with its truffle, dark chocolate, black cherry Asian spice and hint of fig in the background tells you something good is going on here. But it is the full-bodied, opulent, sexy, ostentatious, fruit-filled, velvet-textured palate where this really rocks! Splash decanted and ready to go, I am sure that well-stored bottles can continue on this path for at least another 12-15 years. Today, this could be even better than the 1989!

3,397 Views

Tasted

Feb 12, 2019

Pure bottled decadence. Silky, velvet drenched textures, ripe, polished fruits, truffle and chocolate pop in every direction. But it is the opulent, sexy textures that seal the deal. Well stored bottles can be longer, but why wait? I just had a bottle and already want it again!

4,829 Views

Tasted

May 10, 2017

This is one sexy, bad ass beast. It is pure silk, wrapped in a layer of hedonism, with layers of juicy, rich plums, licorice, truffle and the perfect amount of dark chocolate. The finish really sticks with you, as it builds and lingers. Well stored bottles should offer pleasure for at least another 10-20 more years.

4,503 Views

Tasted

Dec 28, 2016

This is such a turn on. That is, if you're into opulent, sensuous, sexy, silk and velvet textures and a nose of truffle, flowers, fresh, juicy, sweet plums, cherry liqueur, dark chocolate and bit mint with a hint of coffee and Cuban Cigars. This bottle of elegant, hedonism was super in every way making it the perfect Valentines Day wine. It's probably at peak maturity today. Bought on release and decanted about 45 minutes, I suspect this will remain at this high level for at least another 10-15 or more years, if it has been well stored. Here's a tip for you, 2009 and 2010 are both better wines! If this sounds like your type of wine, both those stunners should be in your cellar.

4,798 Views

Tasted

Feb 14, 2016

A very good, but not perfect example of this often stunning wine. Loads of dark chocolate, truffle, black cherry, plum and wet earth on the nose. Soft, smooth and delicious on the palate, this is drinking quite well today.

4,890 Views

Tasted

Sep 3, 2015

Now we're talking! This is what great Pomerol is all about. Sexy, rich, sensuous textures with silky tannins. Lush, fresh, sweet, dark red berries with chocolate accents and truffle and a velvet finish that remains with you. This is clearly in the sweet spot for my taste. What a beauty!!! Interestingly, two bottles were popped. The first bottle, which is where this note was taken from, was a richer, more sensuous experience. The second bottle had more structure, was firmer and would probably age longer, but without as much pleasure. Both bottles came from the same case.

5,037 Views

Tasted

Oct 6, 2014

When the cork, I feared there might be a problem. Fortunately, the Durand came to rescue and flawlessly removed the cork. While the cork was in bad shape, the wine was a stunner! Chocolate covered black cherry, coconut, truffle and plums were all over the place. The wine is dense, intense, thick, rich and silky, ending in lush waves of juicy, ripe, sweet, pure, plums. Popped into a decanted and poured, the wine got better in the glass. If you are a Pomerol fan, if you can find a bottle, grab it. This is a treat.

5,156 Views

Tasted

Dec 28, 2013

Rich, chocolate coated plums, truffles, spice, flowers, licorice, coffee bean and black cherry aromas couple with decadent, silk and velvet textures that end in multiple waves of opulent, plush, ripe, voluptuous, sweet fruit. This wine seems to improve every year and is not far off from the legendary 1989.

6,188 Views

Tasted

Apr 29, 2011

This wine offers a beautiful bouquet filled with flowers, licorice, plums, currants, spice and oak. Dense, silky, voluptuous, rich and full bodied. This wine is so decadent. It stains your palate, mouth and senses with satiny black fruit.

5,460 Views

Tasted

Sep 25, 2010

Good color, earthy, spice driven smells with mocha, plums, caramel, licorice and smoke. The palate enjoys a bath of big, rich, dense, ripe, chocolate covered cherries, ending in a wonderful, long, opulent finish.

6,068 Views

Tasted

Feb 11, 2009

Plummy, spicy, floral aromas float from the glass. A decadent mouthful of rich, deep, concentrated fruit liqueur slides over your palate. The texture is extremely lush.

6,192 Views

Tasted

Dec 4, 2006

Darkly colored with black fruit, plum and forest aromas, this is a full bodied, ripe, round and also tannic wine. The finish shows a blackberry, bitter chocolate quality.

5,546 Views

Tasted

Jun 15, 2005

1989
Château Clinet (Pomerol)

The nose is packed to the gills with truffle, chocolate, espresso, black plums, cherry liqueur, and wet earth. Opulent, deep, and rich, once the finish gets going with all of its layers of black cherries, drenched in spicy chocolate, it refuses to quit. Fully mature, a splash decant is all that's needed here. Drink from 2022-2034.

3,035 Views

Tasted

Aug 9, 2022

This is my first time tasting this wine in magnum, and I was knocked out the moment the wine hit my glass. The floral, plum and truffle aromatics are a kick, but the silky, opulent textures, endless layers of exotic fruits and length stole the show. WOW! But that's what you should expect from a 100 Pt wine, right?

5,614 Views

Tasted

Aug 3, 2017

As bottles age, that old chestnut about there being no good wines, only good bottles applies. And this bottle, bought as a future and held in a cold cellar was stunning in every way. The lush, opulently textured, sweet, ripe, silky textured fruit was a total turn on. As good as this bottle was, some of the new vintages being produced by the new owner at Clinet, Ronan Laborde are even better!

3,650 Views

Tasted

Apr 16, 2016

This bottle was showing quite youthful, with its layers of deep, rich, ripe, sweet, juicy dark plums, dark chocolate and truffle essence. The velvety finish combined power and sensuality.

3,467 Views

Tasted

Dec 12, 2015

This was close to prefect with its sexy, silky textures, soft tannins and fragrance that popped with cherry blossoms, truffle, earth and thyme filled nose. Close to mature, but with room to improve, the finish blended sensuous a mouth feel with fresh, ripe, sweet, plums and black cherries that felt great as they lingered. Enjoy this now, or wait, either way you have a stunning wine to look forward to tasting.

3,797 Views

Tasted

Aug 25, 2015

This was one of those that make you smile all over. And why not? It's so sexy, sensuous and pure, the wine is rich and feels like the fruit was polished with a velvet cloth before fermentation. The finish really lingers and expands.

3,438 Views

Tasted

May 12, 2015

As wines age, it's always about the bottle and this bottle was stellar! Sexy, lush, opulent and silky in texture, the layers of perfectly ripe fruit that remained on your palate left an impression, long after the wine went where it belonged.

4,679 Views

Tasted

Oct 28, 2014

Tobacco, plum, chocolate, violets and cherry liqueur sensations are all over the place. 1989 Clinet has been variable, with many bottles showing well, but not at the same level of promise they displayed in their youth. Finally, a bottle that rocked the house with its ostentatious display of silky, exotic fruit and rich velvety textures. I wish every bottle of this wine was at this level. Sadly, there seem to be a lot of bottle variation that could be attributed to the wine, corks or storage.

3,829 Views

Tasted

Dec 9, 2013

I've had better bottles of this wine in the past. It's always important to remember, tasting notes are about the bottle, not the wine. The nose, with its cocoa, black raspberry, truffle, caramel, smoke and earthy character was the best part of the experience. On the palate, with air, the soft, round textures lost some of their lush qualities as more of the Cabernet Sauvignon became evident. A touch of herbal character became more noticeable with time. I hope I was just catching this at an opportune moment.

3,967 Views

Tasted

Sep 2, 2013

Filled with fresh, ripe, juicy black and red plums, smoke, coconut, truffle, floral and dark chocolate in the nose, the wine feels like crushed silk and velvet on your palate. This sensuous, rich, opulent deep plummy wine is drinking perfectly today.

6,777 Views

Tasted

May 26, 2011

1989 Clinet is filled with floral notes made more interesting with scents of truffle, chocolate, jammy berries, black cherry, coffee bean and exotic spices. Rich, full bodied and concentrated with ripe, sweet fruit, the wine ends with sensations of fresh, black cherries and unsweetened chocolate. I've tasted from better bottles with more freshness and opulent qualities. At 21 years of age, it's one bottle at a time.

6,330 Views

Tasted

Dec 7, 2010

The intriguing perfume kicks off with plums, over ripe blackberry, spice and chocolate and is further complicated with hints of orange, floral and peach aromatics. Robust, full bodied and still young, this is an intense, concentrated wine. This silky, powerful Clinet ends with a long, exotic, black, red and citrus filled finish that takes up a lot of room in your mouth.

6,977 Views

Tasted

Nov 15, 2009

This was poured from an unusual shaped bottle. The previous owner produced about 1,000 of these special, Veronique shaped, taller bottles as an experiment. The wine is exactly the same, but it was great seeing this unique bottle on the table. From 100% Merlot, this wine has it all. The complex nose of black cherry, spice, figs, and flowers is exciting to sniff. Full bodied with endless depth of concentrated ripe, decadent fruit, this powerful wine delivers layer upon layer of hedonism. Close to fully mature, this Clinet is a thrilling wine to taste. It finishes with an explosion of ripe plums, cherries, chocolate, and an exotic peach note.

7,040 Views

Tasted

Jun 16, 2009

This amazingly rich, sexy and plush. Massive layers of velvety, opulent, lush, ripe fruit coats your senses while complex aromas keep you involved. This stunning wine mixes hedonism with intellect in every sip. Wow! This wine has a long, positive future ahead of it. Compelling is a great descriptor. I've had this wine a lot of the years and this is the best it has ever showed. Owners of this wine are sitting on an epic Pomerol! And, it's only now begining to show it's magic.

6,802 Views

Tasted

Mar 22, 2007

Thick, dense, lush and very sexy with layers of deep, dark, ripe, plumy fruit, jam and chocolate. Concentrated and filled with ripe tannin.

6,663 Views

Tasted

Feb 27, 2006

Cherry and blackberry liqueur with hints of ripe black plums bathed your nose. Surreal concentration accompanied with superb balance. The finish was as perfectly balanced, elegant and seamless.

6,369 Views

Tasted

Feb 17, 2005

1988
Château Clinet (Pomerol)

It is hard to believe that its been 10 years since I last tasted this wine. From a magnum, the wine offers truffle, dark chocolate, plum and cherry notes. There is a softness to the tannins and richness in the mid-palate that carries through. The wine is fully mature, so if you are holding a bottle, pop that cork!

3,439 Views

Tasted

Jul 19, 2018

Lush, opulent and rich in the mouth. Aromas of chocolate covered plums, earth and ripe black cherries. It is decadence in a bottle.

4,618 Views

Tasted

Nov 30, 2008

1987
Château Clinet (Pomerol)

From a perfectly stored magnum, the first 20 minutes provided quite a treat, with softness and silk to the dark red fruits. With air, the freshness and fruit qualities began to quickly fade. Drink up if you have a bottle.

2,705 Views

Tasted

Jul 1, 2015

1985
Château Clinet (Pomerol)

Medium bodied, with earthy, spicy, red berries and a slight rustic quality to the red fruit dominated finish, this wine requires drinking.

4,079 Views

Tasted

Jul 10, 2013

1976
Château Clinet (Pomerol)

Fully mature, medium bodied and better on its fragrant nose, than on the palate, this requires consumption sooner than later.

1,603 Views

Tasted

Apr 16, 2016

1970
Château Clinet (Pomerol)

Much better than expected, in part this was due to perfect storage, truffle, earth, wet forest floor, spicy pipe tobacco and cherries created the perfume. Medium bodied, soft, short and sweet, this is a wine for drinking, not for cellaring.

3,109 Views

Tasted

May 18, 2013

1966
Château Clinet (Pomerol)

My first time with this vintage, and frankly, due to the reputation of the vintage in the Right Bank, I was not expecting much. But I was more than pleasantly surprised. The plummy fruit was still there, the wine had depth of flavor, loads of truffle, cocoa, wet earth and dark cherries. Soft, supple and polished, this has real charm. While it is going to be impossible to find, I imagine it will sell for a song if you can purchase any bottles with provenance.

2,328 Views

Tasted

Oct 22, 2018

1961
Château Clinet (Pomerol)

A wine I've been wanting to taste for years, turned out to be quite a treat! With a complicated nose packed with truffle, tobacco, cherries, wet earth and fresh herbs, the texture was smooth, soft easy to drink and like. There was good concentration of flavor and a clean, fresh, sweet, earthy red berry finish.

2,755 Views

Tasted

Jul 1, 2015

1959
Château Clinet (Pomerol)

Earthy, tart, rustic and fading, with a strong herbal edge to the remaining red plums and bright cherries, the wine needs to be consumed sooner than later.

1,940 Views

Tasted

Apr 8, 2022

1945
Château Clinet (Pomerol)

In a beautifil, Burgundian shaped, war years bottle, the fully mature Pomerol was filled with tobacco, smoke, cigar box, ash, cherry, truffle spice and earth. Tea in color, the wine offered some earth, spice and chart cherry, before fading. Still, it was an incredible honor to taste history, especially when you consider this was the year World War 2 ended.

3,251 Views

Tasted

Mar 27, 2012

1943
Château Clinet (Pomerol)

1943 Clinet was almost black in color. With a war year bottle that was intended for use in Burgundy, it looked great on the table. Very dark brown in color. Wines that dark at this age, are not a positive sign. Tart, drying, smoke, ash, cranberry, and herbs could be found. There was not much life left in the old girl. Regardless of the shape and condition of the wine, it was an honor and treat to share and taste the wine together.

3,452 Views

Tasted

Mar 26, 2012

1929
Château Clinet (Pomerol)

A wine so rare, I would never have imagined I would see a bottle, let alone taste one. Served blind, after enjoying its red tea-colored hue, the aromatics, with their dried flower, bright, kirsch, wet earth, and its array of spices kept me busy. Medium-bodied, soft, refined, silky, gentle, and still sensuously textured, you could still taste the sweetness in the red fruits, along with its leafy accented, spicy, earthy nuances in the finish. What an incredible treat to be able to taste this genuine example of bottled history.

1,457 Views

Tasted

May 8, 2022