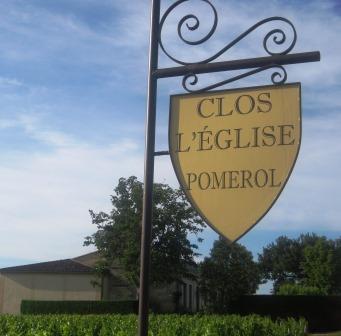 Learn everything about Clos L'Eglise Pomerol with wine tasting notes and wine with food pairing tips. Learn the best vintages, a history of the property and information on the vineyards and winemaking. If you want to read about other important, Bordeaux Chateaux: Links to all Bordeaux Wine Producer Profiles
Clos L'Eglise History, Overview
The estate of Clos L'Eglise is one of the older chateaux in Pomerol dating all the way back to the 18th century. That is also when the farmhouse that remains in use today was constructed. At the time, Chateau Clos L'Eglise was a larger estate. In fact, the property was in its formative years, part of the Gombaude Guillot estate.
Eventually, the vast estate was split in half. On one side of the street, you had Clos l'Eglise, which was owned by the Rouchut family.
Across the street sat Clos l'Eglise-Clinet, which was owned by the Mauleon family. In time, Clos l'Eglise Clinet eventually changed its name to Chateau lEglise Clinet which also simultaneously gave birth to what we know today as Clos L'Eglise. Interestingly, the estate is one of the few chateaux named Clos, without a walled-in vineyard. Clos is translated into the wall.
While the wines are now produced by the current owners, that was not always the case with Clos L'Eglise. At one point in time, the estate produced wines under a leasing arrangement held by the Rouchut family. That is of course not the case today.
Clos L'Eglise The Modern Age
The modern era of Clos L'Eglise begins in 1975 when the property and its wine-making facilities were completely redesigned and modernized by the Moreau family. The Moreau's were well versed in Pomerol, as they were also the owners of Chateau Plince. The old, non-temperature-controlled wood tanks were replaced by stainless steel.
The vineyard was also expanded to its current size. Instead of buying more vines, the owners simply planted land that was still being used as a pasture. In those days, the property was planted with a much larger percentage of Cabernet Sauvignon at close to 20%. All the Cabernet Sauvignon vines were eventually ripped out and replaced by Merlot grapes.
The next step forward took place in early 1997 when the Right Bank estate was sold to Sylviane Garcin Cathiard by the Moreau family. If the Cathiard name sounds family, she is the sister of Daniel Cathiard, the owner of Chateau Smith Haut Lafitte, located in Pessac Leognan.
The sale set a new benchmark price for Pomerol when it sold for 12 million Euros! Today that price would be considered a steal. But prior to 2000, that was considered a massive sum of money for Pomerol.
Due to the aging state of the winery, additional funds were needed to replace the older concrete vats, and once again modernize the facilities. In fact, the first vintage of Clos L'Eglise made by the new owners was produced at one of their estates in Pessac Leognan, Haut Bergey.
Along with the aforementioned properties in Pessac Leognan, Helene Garcin also manages her two estates in St. Emilion, Chateau Barde Haut, and Chateau Poesia. Previously, she also managed their vineyards in Pessac Leognan, Branon, and Haut Bergey.
The family is also involved with vineyards in the Mendoza appellation of Argentina where they produce wine from 13 hectares of old vine, un-grafted Malbec and Cabernet Sauvignon, planted in 1935.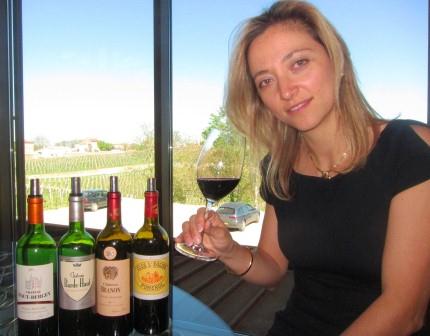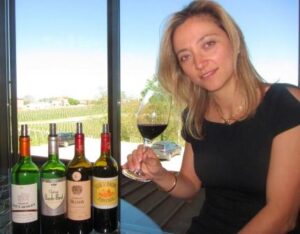 The first moves made by the new owners were to place the daughter, Helene Garcin in charge of the property, hire Michel Rolland as the consultant and renovate the wine-making facilities. Michel Rolland was eventually replaced by Alain Raynaud. Starting with the 2015 vintage, Thomas Duclos began working as a consultant for the estate. Duclos is no longer acting as their consultant.
Clos L'Eglise Vineyard, Terroir, Grapes, Winemaking
The 5.9-hectare vineyard of Clos l'Eglise is planted to 70% Merlot and 30% Cabernet Franc. This shows an increase in the Cabernet Franc plantings. Divided into 8 main parcels, the majority of their vineyard stretches to the southwest of their chateau. The terroir of Clos L'Eglise is filled with rich clay and gravel-based soil with iron deposits.
Located on a sloping hill, with famous neighbors like Chateau Clinet, Chateau L'Eglise Clinet, and Chateau Trotanoy, on average, the vines are maintained at 35 years of age. Although there is an old parcel of Cabernet Franc remaining that was planted in the 1940s. The vineyard maintains a vine density of 7,150 vines per hectare, which is quite dense for Pomerol. All vineyard farming is done using only organic methods.
Vinification of Clos L'Eglise takes place in eight 55 hectoliter, insulated, stainless steel tanks. The new steel vats replaced the aging oak vats in 2012. Malolactic fermentation takes place in barrels. The wine of Clos L'Eglise is aged in 100% new, 300 liter, French oak barrels for between 18 to 24 months before bottling.
The best vintages of Clos L'Eglise are: 2022, 2021, 2020, 2019, 2018, 2017, 2016, 2015, 2014, 2012, 2010, 2009, 2008, 2006, 2005, 2001, 2000 and 1998. Older vintages are not at the same level of quality being produced at the property these days. 2009, 2010, 2015, and 2016 are clearly the 4 best vintages I have ever tasted of Clos L'Eglise. Though 2018, 2019, and 2020 could change my mind.
The property has a second wine, Esprit de L'Eglise. On average, close to 2,400 cases of Clos L'Eglise are produced every year.
Today, Clos L'Eglise continues to be managed by Helene Garcin Leveque and her husband Patrice Leveque. While Patrice Leveque takes care of the vineyards, Helene Garcin remains in charge of the winemaking and marketing for all of their properties.
Clos L'Eglise Character and Style
Clos L'Eglise is best described as rich, full-bodied, and opulent, expressing ripe plums, chocolate, and floral characteristics. The deep, concentrated, lushly textured wine ages well and needs at least a decade after bottling to develop and mature, as well as allow the oak to integrate before drinking.
When to Drink Clos l'Eglise, Anticipated Maturity, Decanting Time
Clos l'Eglise needs some time before it can be enjoyed. Young vintages can be decanted for an average of 2 hours or so. This allows the wine to soften and open its perfume.
Older vintages might need very little decanting, just enough to remove the sediment. Clos L'Eglise is usually better with at least 8-10 years of bottle age. Of course, that can vary slightly, depending on the vintage character. Clos L'Eglise offers its best drinking and should reach peak maturity between 10-30 years of age after the vintage.
Serving Clos L'Eglise Pomerol with Wine, Food, Pairing Tips
Clos L'Eglise Pomerol is best served at 15.5 degrees Celsius, 60 degrees Fahrenheit. The cool, almost cellar temperature gives the wine more freshness and lift.
Clos L'Eglise is best served with all types of classic meat dishes, veal, pork, beef, lamb, duck, game, roast chicken, roasted, braised, and grilled dishes. Clos L'Eglise Pomerol is also good with Asian dishes, hearty fish courses like tuna, mushrooms, and pasta.
Clos l'Église (Pomerol) Wine Tasting Notes
26 Vintages 255,161 Views Sort by Vintage-Rating
2022
Clos l'Église (Pomerol) (Pomerol)

Deeply colored, the wine is floral, with chocolate, plum, licorice, smoke, and truffle accents. The wine is deep, concentrated, opulent, and sexy. Picture molten dark chocolate-coated, black plums coating your palate with lingering fruits, and a touch salt that slides in at the end of the long, finish. This is a new level of quality for Clos L'Eglise! The harvest took place September 9 - September 29. The wine blends 70% Merlot with 30% Cabernet Franc, making this the highest percentage of Cabernet Franc ever used in the blend. 15% ABV 3.75 pH. Drink from 2027-2050. 95-97 Pts.

2,240 Views

Tasted

May 8, 2023

2021
Clos l'Église (Pomerol) (Pomerol)

Deeply colored, the wine is plush, soft, round and rich, with a silky, plummy, chocolate and wet earth character. The wine is richly-textured, elegant, deep and fresh, with a black cherry, licorice, cocoa infused finish that feels just great on your palate. The wine blends 80% Merlot with 20% Cabernet Franc. 13.5% ABV. The harvest took place September 27 - September 30. Drink from 2024-2045. 93-95

1,775 Views

Tasted

May 20, 2022

2020
Clos l'Église (Pomerol) (Pomerol)

With all the flowers, chocolate, black cherries, truffles and licorice you could hope for, the perfume lets you know you are in for a treat. The inky dark color leads the way to a full-bodied, rich and concentrated wine that is opulent, lush, silky and fresh, finishing with layer after layer of perfectly ripe, sweet, sensuously-textured, plums and black cherries. Drink from 2025-2055.

2,440 Views

Tasted

Mar 21, 2023

Almost opaque in color, the wine jumps from the glass with its showy display of black cherries, Valrhona chocolate, ripe plums, smoke, licorice and wet earth. Full-bodied, rich and concentrated, the wine is lush, velvety and opulent in texture, leaving you with an array of chocolate-covered red pit fruits and silky, sensuous textures. This could be my favorite vintage of Clos L'Eglise produced yet. 95-97 Pts

5,313 Views

Tasted

May 20, 2021

2019
Clos l'Église (Pomerol) (Pomerol)

Rich, lush, opulent and polished, the wine is full-bodied, concentrated and packed with perfectly ripe, dark plums, black cherries, coffee beans, truffle, licorice and very dark chocolate. But it is on the palate where the wine starts to sing due to all of its layers of sexy, supple-textured fruits. The finish packs a punch with its chocolate-covered, dark red pit fruits and espresso. The finish is fresh, pure, long and rich. Drink from 2025-2047.

3,032 Views

Tasted

Mar 29, 2022

Black and blue fruit, dark, bitter chocolate, flowers, smoke, cherries, plums, wet earth and forest floor aromatics open the perfume. But it is on the palate where the wine really rocks with its layers of concentrated, rich, opulent, sex bomb textured fruits. The finish packs a punch with its chocolate-covered, dark red, silky pit fruits. The wine was made from a blend of 80% Merlot and 20% Cabernet Franc, reaching 14.5% ABV. 95-97 Pts

6,065 Views

Tasted

Jun 8, 2020

2018
Clos l'Église (Pomerol) (Pomerol)

Dark in color, the wine pops right off the bat with an array of aromatics. Flowers, truffle, smoke, licorice, black cherry and raspberry liqueur consume your nose. On the palate, the wine is rich, seductive, sensuous and silky. Full-bodied, concentrated, opulent and velvety, everything here is in perfect proportion. The finish feels so good, it is impossible not to take another sip. This superb Pomerol will age effortlessly for 3 decades.

2,941 Views

Tasted

Mar 9, 2021

Powerful, plummy, silky, deep and fresh, this full-bodied wine is long and filled with dark, red pit fruits, chocolate, espresso and violets. Give this velvet textured beauty a decade to age and it is going to be superb! 94-96 Pts

4,703 Views

Tasted

Apr 19, 2019

2017
Clos l'Église (Pomerol) (Pomerol)

Dark chocolate, plum and truffle notes are the first things you notice. Full bodied, lush, rich, ripe and fresh, the wine offers a lot of minerality, cocoa and ripe, juicy plums. The wine was made from a blend of 80% Merlot and 20% Cabernet Franc.

3,908 Views

Tasted

Apr 26, 2018

2016
Clos l'Église (Pomerol) (Pomerol)

Full bodied, rich, sexy, lush and polished, this is a hedonistic treat loaded with truffle and plums. There is length, purity and sex appeal here with the ability to age and evolve for at least 2 to 3 decades with ease.

4,714 Views

Tasted

Sep 21, 2019

Rich, lush opulent, multi faceted wine with layers of black plums, chocolate, black cherries, licorice, truffle and wet earth. Sexy in its nature, this is just a beauty.

5,626 Views

Tasted

May 19, 2018

Fertile, intense, opulent, dark chocolate-covered plums, this wine is fat and sassy with freshness, fruit and length, leaving you with a lavish sensation in the finish. The wine comes from 80% Merlot and 20% Cabernet Franc, reaching 14% with a pH of 3.7.

3,147 Views

Tasted

Apr 29, 2017

2015
Clos l'Église (Pomerol) (Pomerol)

Powerful, plummy, rich and hedonistic, the opulent, sexy, plush, chocolate finish is a treat.

6,785 Views

Tasted

Jul 12, 2017

A blanket of deep, dark, red punctuated with peppery aromatics and complicated by black cherry liqueur, flowers, caramel, truffle and licorice, this wine is rich, full-bodied and concentrated with silky, supple textures and a fiery, fresh finish. The Merlot harvest started September 8, finishing September 15. The Cabernet Franc was picked in one day, September 23. The blend is 80% Merlot and 20% Cabernet Franc. 94 - 96 Pts

4,076 Views

Tasted

Apr 27, 2016

2014
Clos l'Église (Pomerol) (Pomerol)

Medium/full bodied, with just a hint of truffles already peeking through the plums. Add some espresso bean, flowers and earth and you are almost there. Soft, polished with a bit of dryness in the spicy finish. Give this 5 years in the bottle to develop more complexity.

3,364 Views

Tasted

Jul 2, 2017

A truffle, black cherry and floral perfume opens this soft, polished and silky wine. The plush chocolate and plum finish feels luxurious in the mouth. 93-94 Pts

3,453 Views

Tasted

Apr 24, 2015

2013
Clos l'Église (Pomerol) (Pomerol)

Medium bodied, with an earthy, black cherry, wet earth and leafy personality, the wine is fresh, leaving you a bright, black raspberry finish with a touch of oak in the end note.

2,137 Views

Tasted

May 25, 2016

Featuring a depth of color for the vintage, the nose delivers toasted oak, incense, coffee bean and black plum. Soft and polished, there is a lot of oak in the soft, polished black plum-filled finish. From yields of 25 hectoliters per hectare, 80% Merlot and 20% Cabernet Franc comprises the blend. The wine reached 13% ABV with a pH of 3.65. 90-92 Pts.

2,638 Views

Tasted

Apr 25, 2014

2012
Clos l'Église (Pomerol) (Pomerol)

Filled with plush, round, soft, rich fruits that linger with their core of fresh, lush, silky plums, cocoa, espresso licorice and black cherries.

6,184 Views

Tasted

May 15, 2015

Concentrated, dense, fleshy, rich, fat and flashy, this sexy Pomerol is packed with oak, ripe, riper and overripe plums, cherries and chocolate. Lush in texture, this is a decadent style of Pomerol. 92-95 Pts

6,633 Views

Tasted

Apr 26, 2013

2011
Clos l'Église (Pomerol) (Pomerol)

Fresh brewed espresso, black raspberry, licorice and dark chocoalte aromas pair with the wines round, lush, open character, finishing with sweet, cherries and cocoa.

4,138 Views

Tasted

May 20, 2014

Coffee, chocolate, plum, earth, flora, black cherryl and vanilla aromas were in full force. From a blend of 85% Merlot and 15% Cabernet Franc, and reaching 14.2% ABV, the wine ended with supple, fresh cocoa and black raspberry. 90-93 Pts

4,427 Views

Tasted

Apr 21, 2012

Clos L'Eglise, the only Pomerol at the tasting, the wine opened with chocolate, floral, oak and boysenberry aromas. From an assemblage of 85% Merlot and 15% Cabernet Franc, at 14.2% ABV, this tasty, flashy Bordeaux wine ended with fresh, cocoa and black raspberry. 90-93 Pts

3,707 Views

Tasted

Mar 16, 2012

2010
Clos l'Église (Pomerol) (Pomerol)

Concentrated with sweet, ripe, lush, concentrated, dark red berries, that are complicated with the addition of dark cherry, even darker chocolate and truffle. Plush textures, depth of flavor and energy make everything work here. Give it another 5 years and this will be even better.

4,155 Views

Tasted

Mar 19, 2017

Plush, fat, dense and rich, with silky, ripe tannins, layers of chocolate covered plums, earth, licorice, oak and smoke, the wine is polished, deep and complex, ending with a long, black cherry liqueur filled finish.

4,441 Views

Tasted

May 7, 2013

Clos L'Eglise, From 80% Merlot 20% Cabernet Franc 14.5% ABV deep purple color, mocha, chocolate, flowers, black raspberry, vanilla and truffle scents. Mouth filling, lush and opulent, the wine ends with a long, deep, jammy blackberry and licorice sensation. 93-95 Pts

4,232 Views

Tasted

Mar 14, 2011

2009
Clos l'Église (Pomerol) (Pomerol)

Dark in color, the wine is loaded with truffles, smoke, espresso, flowers and juicy, sweet plums. Full-bodied, concentrated and lush, there is a serious depth of flavor and layers of ripe, sweet, dark berries dipped in chocolate in the finish. I'd lay this down another 3-5 more years for more oak integration and additional nuances.

3,944 Views

Tasted

Sep 20, 2019

2009 Clos L'Eglise is deeply colored. From vineyards located next to the chateau on the break in the Pomerol plateau, where the terroir consists of argile clay with gravel and iron deposits. The pungent nose is filled with fresh blackberry, plum liqueur, violets, espresso, chocolate fudge, and dark cherry aromas, making the wine a pleasure to sniff. With intensity of flavors, this opulently textured wine coats your palate. It finishes in waves of flamboyantly textured chocolate covered plums. 96-98 Pts

9,030 Views

Tasted

Jul 27, 2010

2008
Clos l'Église (Pomerol) (Pomerol)

Chocolate, black raspberry jam, earth, mocha and vanilla scents make up the interesting perfume. Full bodied and round in texture, the wine finishes with a long, plum and black cherry finish.

6,657 Views

Tasted

Mar 11, 2011

08 Château Clos L'Eglise is produced from 100% merlot with the help of Dr. Alain Raynaud. Located across the street from L'Eglise Clinet and around the corner from Clinet, the vineyard sits on rich clay and gravel soil. Deep ruby, with aromatics of spice, black plums, flowers, and mocha, this is a rich, full bodied wine. Your palate is treated to concentrated layers of ripe, chocolate covered black fruit with opulent textures. 93-96 Pts

5,145 Views

Tasted

Jul 30, 2009

2007
Clos l'Église (Pomerol) (Pomerol)

Mature, medium bodied, holding on to its freshness. Slightly lean, but still charming, with enough, dark cherry fruits and herbs to keep you busy. This is not a wine to hold, as it's close to peak today.

3,222 Views

Tasted

Jul 2, 2017

Mature, medium bodied, holding on to its freshness. Slightly lean, but still charming, with enough, dark cherry fruits and herbs to keep you busy. This is not a wine to hold, as it's close to peak today.

3,600 Views

Tasted

Mar 19, 2017

2006
Clos l'Église (Pomerol) (Pomerol)

Still deep in color, with some lightening at the edges, licorice, truffle, dark chocolate, coconut, and plums create the nose. Still young, concentrated, fresh and full bodied with a plummy, focused, structured style that demands at least another 5 -7 more years in the bottle to help the oak better integrate.

3,055 Views

Tasted

May 25, 2016

Based on two bottles, the wine is rapidly maturing. The color has lightened and secondary aromas of earth, truffle, cocoa, dark cherry and spice were beginning to make themselves known. Medium/full bodied, round, soft and filled with a melange of ripe cherries, if these bottles were correct, I'd opt for drinking this over the next decade.

3,824 Views

Tasted

Mar 12, 2012

2005
Clos l'Église (Pomerol) (Pomerol)

Continuing to soften, fill out, and integrate, the wine is soft, silky, and loaded with earthy cherries, plums, truffles, and flowers on the nose and palate, finishing with polished, red pit fruits, spice, and wet earth. At close to 20 years of age, this is just about ready to hit its sweet spot. Drink from 2023-2040.

2,184 Views

Tasted

Feb 13, 2023

This is developing quite nicely. Still packed with deep, dark fruits, chocolate, truffle, espresso, wet earth and a touch of spice, the wine is full-bodied, there is a solid depth of flavor, length and energy in the finish. The tannins are soft, silky and polished. This is quite nice today, but it remains youthful, so another 3-5 years will be beneficial to the wine.

3,996 Views

Tasted

Apr 10, 2022

If you're in the mood for smoky truffles, licorice and dark plums, you came to the right place. Especially if you're seeking lush, sweet, silky berries, and a touch of oak along with some tannin that remains needing to resolve. The wine is offering great pleasure now and will only get better with a more time in the cellar.

8,190 Views

Tasted

Jun 28, 2015

Molten, black cherry with licorice, plums and mocha tease and please the nose. This wine is filled with layers of rich, ripe, black fruit that unfolds over your palate. The tannins are sweet. This full bodied, hedonistic wine feels round in your mouth. The only flaw at this point is the slight touch of oak in the finish. That will in all probability become fully integrated as the wine ages and evolves. This is a stylish example of Pomerol.

6,986 Views

Tasted

Jun 15, 2008

2004
Clos l'Église (Pomerol) (Pomerol)

An early drinking vintage from this chateau, which normally takes a lot longer to come around. There is a nice touch of dark chocolate on top of the red and black plums, herbs and earthy, medium bodied characteristics. Close to mature, this could improve and soften a bit with time, but it's drinking well today.

4,429 Views

Tasted

Aug 16, 2015

Mostly secondary notes in the nose with truffle, licorice, smoke and wet earth. The fruit is fading. Fully mature and requiring consumption, drink this sooner than later for the last of its soft, spicy red berries.

4,361 Views

Tasted

Nov 30, 2014

Already open and offering pleasure with its coffee, black cherry, chocolate and plum personality. Lush, round, and forward, this sweet, plush modern Pomerol is not going to make old bones. I'd drink it over the next decade or so.

3,906 Views

Tasted

Dec 11, 2012

2002
Clos l'Église (Pomerol) (Pomerol)

Fully mature, the wine is medium-bodied, earthy, slightly leafy with truffle, coffee bean and plum notes. A little stoic on the palate with chewy plums, cherries and espresso in the finish.

2,602 Views

Tasted

Sep 9, 2020

2001
Clos l'Église (Pomerol) (Pomerol)

It blasts off with an explosive perfume with touches of vanilla, roasted blackberries and coffee. Thick, rich and dense palate feel. Very concentrated. Some tannin remains. Long, sensual finish. There is a lot to like in this wine.

5,902 Views

Tasted

Jan 15, 2011

Great palate texture that's filled with layers of ripe, rich, round, concentrated dark, Bordeaux fruit. Silky tannins and layers of polished fruit are the hallmarks of this wine. A touch of oak is discerned in the finish, but that should eventually become absorbed into the wine. Already open, this will improve. I liked it so much, I tried buying more of this Pomerol the next day.

5,090 Views

Tasted

Mar 17, 2008

2000
Clos l'Église (Pomerol) (Pomerol)

At 20, the wine is ready. Concentrated, soft, plush, and polished with notes of plums, espresso, smoke, thyme, and savory cherries with the right touch of cocoa on the nose and palate in the finish.

2,713 Views

Tasted

Sep 13, 2021

Just about to enter its prime time window, this hedonistic thriller comes with layers of opulently textured, chocolate-covered black cherries, dark plums, smoke, licorice and espresso beans. Rich, full and deep, with length and a sensually textured, lush finish, this is ready to go!

4,386 Views

Tasted

Oct 21, 2019

This greets you with a chocolate, floral, black plum perfume. This fat, rich, round, mouth filling wine is intense and opulently textured. The finish ends with ripe, dark fruit flavors with a hint of chocolate covered licorice.

4,981 Views

Tasted

Mar 5, 2010

1999
Clos l'Église (Pomerol) (Pomerol)

Medium-bodied, and at its apogee, or slightly past, you still find a plum filled, round wine with truffle, cocoa, smoke, espresso and black cherries on the nose and on the soft-textured palate. If you are holding any, it is time to drink up.

2,676 Views

Tasted

Oct 8, 2020

1998
Clos l'Église (Pomerol) (Pomerol)

Drinking at close to its apogee, the full-bodied, richly textured wine is loaded with dark chocolate-covered plums, smoke, licorice, black cherry and earthy accents. Lush, hedonistic, full, long and opulent, 30-60 minutes in the decanter seems to be the right call.

4,128 Views

Tasted

Jul 19, 2021

What a difference 22 years of aging can do for a wine. The oak has completely faded away. Now, the opulent, silky, luscious fruits are what gets your focus. Concentrated, sensuous and packed with chocolate-covered black cherries and truffle, this is at peak and should remain here for at least another 10-15 years, if well stored. Pomerol is an expensive wine region. But for a wine of this quality, at maturity, prices are reasonable for wine at this level.

3,803 Views

Tasted

Dec 25, 2019

Lush, rich, sexy and concentrated, the wine is concentrated, fresh and deep, with a blast of oak, licorice, dark chocolate, flowers, black raspberry and earthy notes. Secondary, with room to improve, you can pop a cork today, or wait another 5 more years.

3,674 Views

Tasted

Jul 19, 2015

This has really continued to improve over the years. The oak has melded into the wine. It's rich, ripe, chocolately, sexy, opulent and silky. The fruit is lush, polished and long. The wine is elegance with a dash of decadence tossed in for good measure. This is best showing yet for this Pomerol. Drink now, or give it a few more years as it will only get better from here. the wine was decanted for about 2 hours before serving.

3,785 Views

Tasted

Aug 25, 2014

Chocolate covered boysenberries, violets, coffee, brown sugar and smoke aromas come out with little effort. Soft, round, and opulent in texture, the wine finishes with smoky black cherries and some dryness. This is ready to drink.

4,984 Views

Tasted

Dec 17, 2013

One of my favorite things about tasting is being surprised about a wine that in previous tastings, I was not too happy about. I might be forced to retract my previous reservations about Clos L'Eglise Pomerol. Bitter chocolate, floral, boysenberry, black cherry, smoke, truffle and vanilla make up the complex aromatics. The palate is pure silk and velvet with a richness that would please most hedonistic tasters. The black cherry and fudge finish has a minor sensation of dryness and vanilla in the end note. My previous reservations about the wine were based on too much of an oaky sensation. At 14 years of age, and an hour in the glass, it looks like I was wrong. As I have a few more bottles left, it will be interesting to see how this wine continues to develop.

4,670 Views

Tasted

May 29, 2012

Oak, coffee, truffle, licorice, plums and coconut in the nose.. The fruit was sweet with round textures. The plummy, chocolate finish was marred by too much oak. The wine is not a problem yet. But at 12 years of age, it's an issue when a wine shows this much oak, It's possible this wine will dry out in another decade. This would have been better with less oak. The chateau has cut back on the amount of new oak used these days.

4,195 Views

Tasted

Jan 21, 2011

Dark ruby color. Jammy plums, caramel, smoke, truffle, spice and chocolate in the nose. Deep, dense, full bodied and rich. Chocolate covered blackbery, boysenberry and dark cherry, are easily found in the finish. The only minor issue with the wine is a hint of oak in the ending notes.

4,725 Views

Tasted

May 18, 2009

Very dense and sexy in the mouth. Intense sensations of chocolate and very ripe, black plums and dark raspberry are easy to find. This is another 98 that has continued getting better since release. Everything is coming together. Still young, this wine has a lot of positive evolution in its future.

4,510 Views

Tasted

Oct 14, 2008

Plum, espresso, vanilla, anise, dark chocolate, black cherry and floral elements start off this wine. Full bodied, lusty and rich, this dense wine ends with a sexy palate presence. Still young and tannic. Give it a few more years.

4,434 Views

Tasted

Aug 31, 2007

1955
Clos de l'Église Clinet (Pomerol)

One of the final vintages when Chateau L'Eglise Clinet and ClosL'Eglise were still part of the same, large Pomerol property. Better in the nose than the palate, the wine is packed with truffles, earth, cherry, tobacco, smoke, cocoa, kirsch and floral aromas. Medium bodied, soft and with the proper, silky patina of age, the wine tasted much younger than it looked.

2,403 Views

Tasted

Mar 29, 2012

1955
Clos l'Église (Pomerol) (Pomerol)

55 Clos L'Eglise was a wine I had never seen before. Based on this bottle, with a very good fill, sadly, it is a wine I hope not to see again. Some truffle, earth and tobacco notes were hanging on, but this was dead on arrival. Other than color, a quick whif of earth and tobacco, a short, tart finish was the best the wine could muster. It went downhill from there.

2,375 Views

Tasted

Nov 22, 2007