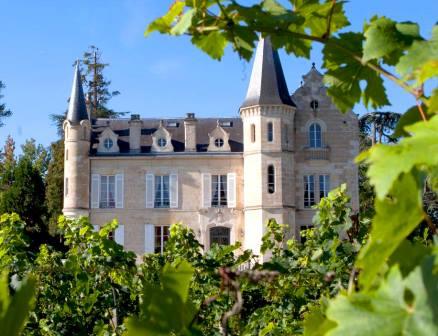 Learn everything about Chateau Haut Bergey, Pessac Leognan, Bordeaux with wine tasting notes, wine and food pairing tips, best vintages, a history of the property, and information on the vineyards and winemaking. If you want to read about other important, Bordeaux Chateaux: Links to all Bordeaux Wine Producer Profiles
Chateau Haut Bergey History, Overview
Chateau Haut Bergey has a long history in the Bordeaux wine region dating all the way back to the 15th century. It started out life under the name of La Maison Noble de Pontey. Sir Jean-François de Cresse, a member the Bordeaux parliament, bought the estate in 1700.
Within 24 months, he grew the vineyards to 100 hectares. Over the years, parcels of the vineyards have been reduced, leaving the estate with its current 28-hectare size. Believe it or not, a century later, the vineyards of Haut Bergey were allowed to drift into a state of non-production. In 1850, a new chateau was built.
Jumping ahead almost 150 years, in March 1991, Sylviane Garcin-Cathiard purchased Chateau Haut Bergey, perhaps inspired by her brother, Daniel Cathiard, the owner of Smith Haut Lafitte, who had also recently bought a vineyard in the appellation.
Sylviane Garcin-Cathiard, the Granddaughter of a well-known Bordeaux negociant turned the Pessac Leognan estate around. In 2001, the estate and all its wine-making facilities were renovated and modernized. Until 2014, the Pessac Leognan estate was managed by Helene Garcin Levesque.
Starting with the 2015 vintage, her brother, Paul Garcin, took over managing the property and making both the wines of Branon and Haut Bergey. Once Paul Garcin took control, it was easy to see some changes were taking place in the winemaking and in the marketing.
Starting with the 2015 vintage, Branon was no longer offered for sale as a future. The wines are being held back until the aging process is complete and the wines are in the bottle.
Chateau Haut Bergey Vineyards, Terroir, Grapes, Winemaking
The 42-hectare vineyard of Chateau Haut Bergey has 40 hectares planted to red grape varieties and 2 hectares of vines cultivated for white wine grapes. This shows a marked increase in the size of their vineyards as they have almost doubled in size over the past several years.
For the red wine grapes, the vineyards are planted to 43% Cabernet Sauvignon, 43% Merlot, 8% Cabernet Franc, 5% Petit Verdot, and 1% Malbec. This is a marked change in the vineyard with much less Cabernet Sauvignon.
For the white Bordeaux wine, 2 hectares of vines are planted to 82% Sauvignon Blanc and 18% Semillon for Haut Bergey Blanc.
The terroir is mostly gravel-based soil. The vineyards are not contiguous. In fact, they are spread out over the appellation, with various levels and qualities of terroir. Much of their vineyards are situated in the middle of the small village of Leognan not far from Domaine de Chevalier.
The vines are on average, 30 years of age, as many vines were planted in 1989. The vines are planted to a density of 7,150 vines per hectare. The vineyard is farmed using only 100% organic and biodynamic techniques. Haut Bergey earned their certification for being organic in 2017.
Chateau Haut Bergey Winemaking
For the production of the red wine of Haut Bergey, vinification takes place in temperature-controlled, stainless steel vats that range in size from 80 hectoliters to 120 hectoliters. In years when more concentration is needed, they might bleed the tanks. The red wine of Haut Bergey is aged in about 50% new, French oak barrels for between 16 and 18 months.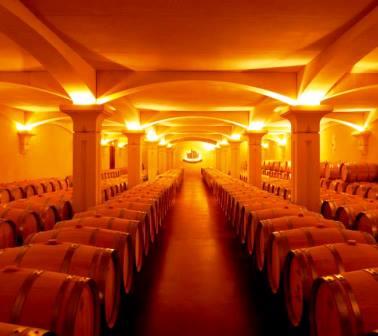 To produce the white Bordeaux wine of Haut Bergey, vinification takes place in French oak barrels. There is no contact with the skins. There is no malolactic fermentation. The wine is aged on its fine lees with stirring. The wine is aged in close to 30% new, French oak for between 10 and 12 months, depending on the character of the vintage.
In most vintages, Haut Bergey produces close to 4,500 cases of red Bordeaux wine per year. Haut Bergey makes close to 400 cases per year of their white, Pessac Leognan wine. Alain Raynaud is the consultant. They also produce a second wine, L'Etoile de Bergey. Between the red wine, second wine, and white wine, the total production is close to 16,000 cases of wine per vintage.
In 2013, Haut Bergey introduced Cuvee Paul. Chateau Haut Bergey Cuvee Paul is aged in concrete egg-shaped vats for 14 months before bottling. The production is limited to an average of 150 cases per vintage.
The best vintages of Chateau Haut Bergey are: 2022, 2021, 2020, 2019, 2018, 2017, 2016, 2015, 2014, 2012, 2010, 2009, 2008, 2005 and 2000. Although it is important to note that vintages can vary as to their quality between the white Bordeaux wine of Haut Bergey and the red wine.
Haut Bergey is popular with consumers. It delivers a lot of quality for the price of white and red wine. In fact, the estate offers some of the best Bordeaux wine for the money in the entire Pessac Leognan appellation. However, some vintages of the red Bordeaux wine have expressed too much oak.
A touch less oak might show a bit more freshness in the wine. The white Haut Bergey is very good, but so little is made, it's almost impossible to find. Like their red wine, it sells for a very consumer-friendly price.
When to Drink Chateau Haut Bergey, Anticipated Maturity, Decanting Time
Chateau Haut Bergey needs time before the tannins fade and for the oak to integrate before showing its true complexities and character. Haut Bergey about 6-8 years at least, until it is ready to be enjoyed. Young vintages can be decanted for 2 hours, give or take.
This allows the wine to soften and open its perfume. Older vintages might need very little decanting, just enough to remove the sediment. Chateau Haut Bergey offers its best drinking and should reach peak maturity between 9-22 years of age after the vintage.
Serving Chateau Haut Bergey, with Wine, Food, Pairing Tips
Chateau Haut Bergey is best served at 15.5 degrees Celsius, 60 degrees Fahrenheit. The cool, almost cellar temperature gives the wine more freshness and lift. The red wine of Chateau Haut Bergey is best served with all types of classic meat dishes, veal, pork, beef, lamb, duck, game, roast chicken, roasted, braised, and grilled dishes.
Chateau Haut Bergey is a perfect match with Asian dishes, hearty fish courses like tuna, mushrooms, and pasta as well as cheese.
The white wine of Chateau Haut Bergey is a perfect wine to serve with shellfish, sashimi, sushi, all types of seafood, chicken, veal, and cheese.
In addition to Chateau Haut Bergey, the Garcin-Cathiard also own Chateau Branon in Pessac Leognan, and two estates in the Right Bank, Chateau Barde Haut and Chateau Poesia in St. Emilion and Clos LEglise in Pomerol. They also produce Poesia in Mendoza, Argentina.
Château Haut-Bergey Wine Tasting Notes
30 Vintages 200,441 Views Sort by Vintage-Rating
2022
Château Haut-Bergey (Pessac-Léognan)

Smoke, flowers, cherries, espresso, and tobacco initially get your attention. The wine is soft, creamy, fresh and polished. There is sweetness to the berries with notes of chocolate, and espresso accompanying the fruits in the finish. Drink from 2026-2040. 91-93 Pts.

1,544 Views

Tasted

May 8, 2023

2020
Château Haut-Bergey (Pessac-Léognan)

The nose kicks off with espresso, coffee bean, chocolate, black cherries and flowers. The wine is rich, fleshy and concentrated with dark red fruits, toasty oak and chocolate. Round-textured and youthful, it is going to need a year or more in the cellar to allow the oak to better integrate. Drink from 2025-2040.

930 Views

Tasted

Mar 21, 2023

Strong notes of espresso bean, spice, mint, herbs and dark red fruits come to surface with little effort. On the palate, you find lush, round, sweet, glossy, polished ripe red fruits, soft textures and silky tannins in the round finish. 90-92 Pts

2,242 Views

Tasted

May 20, 2021

2020
Château Haut-Bergey Blanc (Pessac-Léognan)

A touch of almond, crisp lemon and waxy grapefruit scents create the perfume. On the palate the wine is sweet, juicy, lush and fresh with a honeyed lemon and grassy character in the finish. 91 Pts

1,256 Views

Tasted

May 20, 2021

2019
Château Haut-Bergey Blanc (Pessac-Léognan)

White peach, orange and yellow tropical fruit and a hint of buttery vanilla make this an alluring wine to pop for near-term enjoyment. Drink from 2022-2027.

909 Views

Tasted

Mar 29, 2022

2018
Château Haut-Bergey (Pessac-Léognan)

Flowers, cigar box, tobacco, espresso and black cherries are all over the place. On the palate, the wine readily serves up a concentrated dose of espresso bean, dark cocoa, red and black plums and leafy herbs. Give a few years for the oak to calm down better integrate and enjoy for about 15 years after that.

2,483 Views

Tasted

Mar 9, 2021

Wet earth, vanilla, espresso, tobacco leaf and ripe, juicy black cherries are all over the place. Lusciously textured with sweet plum and cherry notes, the finish blends Maraschino cherries and espresso bean. 92-94 Pts

4,744 Views

Tasted

Apr 19, 2019

2018
Château Haut-Bergey Blanc (Pessac-Léognan)

Juicy, fruity and fresh with ripe, sweet, creamy lemons, orange rind, white peach and tropical notes on the nose and palate. This is frankly disarmingly easy to taste already. It is perfect for dinner tonight!

845 Views

Tasted

Mar 9, 2021

Honeysuckle, vanilla, bright yellow tropical fruit and citrus notes are in the nose and on the palate. This is going to best if consumed in its first few years of life for all that sweet, ripe, bright citrus.

1,585 Views

Tasted

Apr 19, 2019

2016
Château Haut-Bergey (Pessac-Léognan)

Lush, round, juicy, polished and forward, the wine is silky, ripe, fruity and with just a few years, ready for prime-time drinking.

4,130 Views

Tasted

Sep 21, 2019

Smoky, earthy, dark, red fruits, polished, forward and in a crowd pleasing, upfront, medium bodied style. There is nice plush textures, but not a lot of complexity.

6,895 Views

Tasted

Apr 29, 2017

2015
Château Haut-Bergey Blanc (Pessac-Léognan)

With ample, refreshing lemon, lime and pomelo scents in the perfume, the wine is sweet, fresh and invigorating from start to finish.

2,619 Views

Tasted

Apr 23, 2016

2015
Château Haut-Bergey (Pessac-Léognan)

Ripe dark red berries, thyme, and smoke in the nose lead to a blast of dark cherries in the plush, round, finish. 89 - 91 Pts

5,803 Views

Tasted

Apr 23, 2016

2014
Château Haut-Bergey Blanc (Pessac-Léognan)

Buttery, yellow citrus fruits with green apples and vanilla bean create an aromatic profile. This wine is zesty, fresh and sweet with a splash of grapefruit and lemon peel in the finish. 90-92 Pts

1,805 Views

Tasted

Apr 24, 2015

2014
Château Haut-Bergey (Pessac-Léognan)

An approach-ably styled Pessac Leognan with mature black cherries, smooth textures and a smoky, spice box and black cherry finish. 89-90 Pts

4,455 Views

Tasted

Apr 24, 2015

2013
Château Haut-Bergey Blanc (Pessac-Léognan)

Crisp lemon, lime and pomelo—along with sweet, fresh lemons and vanilla are found in this easy-drinking white Bordeaux wine. 89-91 Pts

2,237 Views

Tasted

Apr 21, 2014

2013
Château Haut-Bergey (Pessac-Léognan)

Chocolate-covered raspberries, smoke, coffee and cherry are on display in this open, forward and round wine. This will drink well on release. From a blend of 70% Cabernet Sauvignon and 30% Merlot. 88-89 Pts

4,334 Views

Tasted

Apr 21, 2014

2012
Château Haut-Bergey Blanc (Pessac-Léognan)

Bright citrus, orange and honeysuckle in the nose open to a vibrant, fresh, refreshing blast of grapefruit, lemons and vanilla in the crisp finish.

3,735 Views

Tasted

May 15, 2015

2012
Château Haut-Bergey (Pessac-Léognan)

The espresso bean, truffle and cherry tones in the nose are followed by a medium bodied, soft, forward wine with a kiss of smoke, oak and black cherries in the finish that can be enjoyed in its youth.

3,232 Views

Tasted

May 15, 2015

Silky, polished textures with smoky, ripe fruits, vanilla and espresso bean notes, with an open, inviting personality are found in this wine. 89-91 Pts

5,479 Views

Tasted

Apr 25, 2013

2011
Château Haut-Bergey Blanc (Pessac-Léognan)

From a blend of 80% Sauvignon Blanc and 20% Semillon, the wine is fresh, lively and packed with lemon, lime, crisp grapefruit and vanilla notes. This proved to be a delicious, crisp, summer afternoon treat.

1,901 Views

Tasted

Aug 30, 2014

2011
Château Haut-Bergey (Pessac-Léognan)

Medium-bodied, forward, already mature, round, soft, lighter-styled, easy-drinking charmer with a touch of smoke, oak, earth, cocoa, and cherries. Drink this over the next few years as it is not a wine for further aging.

2,292 Views

Tasted

Sep 21, 2021

2010
Château Haut-Bergey (Pessac-Léognan)

One of the top values from Pessac Leognan offers aromas of espresso, tobacco, black raspberry and smoke. The smooth, soft textures, forward personality and fresh, ripe berries make this already pleasurable to drink, and with some bottle age, it's going to get even better.

7,046 Views

Tasted

May 7, 2013

2010 Haut Bergey Blending 65% Cabernet Sauvignon with 35% Merlot produced a wine filled with licorice, smoke, oak and cassis. This suave, round, soft textured wine ends with earthy, blackberry and coffee. 91-93 Pts

9,825 Views

Tasted

Apr 21, 2011

2010
Château Haut-Bergey Blanc (Pessac-Léognan)

This medium bodied charmer is ready to go with its vanilla, honeyed lemon, floral and lively grapefruit character.

2,290 Views

Tasted

Aug 16, 2015

2009
Château Haut-Bergey Blanc (Pessac-Léognan)

Citrus, floral, apple and honeysuckle scents pair well with the fleshy, full bodied, plush wine. This blend of 80% Sauvignon Blanc and 20% Semillon ends with a fresh, lightly honeyed, spicy. citrus oil dominated finish.

4,232 Views

Tasted

Feb 16, 2012

2009
Château Haut-Bergey (Pessac-Léognan)

Smoke, coffee, licorice, black plums, dark cherry and fresh cut herb aromas add to the soft, plush, round textured wine. The vanilla, black cherry finish is already a treat to taste. From a blend of 60% Cabernet Sauvignon and 40% Merlot, this round wine will deliver pleasure young.

10,468 Views

Tasted

Jan 30, 2012

2009 Haut Bergey is ruby colored with licorice, black raspberry, coffee, and smoke aromas. The wine has round textures, and finishes with sweet, dark berry and spice flavors. 90-92 Pts

10,334 Views

Tasted

Aug 26, 2010

2008
Château Haut-Bergey (Pessac-Léognan)

Blackberry, gravel, coffee, licorice, smoke and earthy aromatics are abundant. Medium bodied, with easy to like textures, this medium bodied Pessac Leognan ends with spicy, black cherries. This Bordeaux value wine is already drinking well.

7,699 Views

Tasted

Feb 16, 2012

Haut Bergey offers a nose of cherry pipe tobacco, forest floor, blackberry, smoke and coca scents. This easy to like wine will offer a lot of pleasure early. It remains one of the better priced wines from Pessac Leognan.

7,323 Views

Tasted

Jan 28, 2011

2008
Château Haut-Bergey Blanc (Pessac-Léognan)

Honeydew, vanilla, orange peel and citrus oil aromas open to a fat, sweet, slightly cloying, citrus and piquant lemony finish.

3,977 Views

Tasted

Feb 15, 2012

2007
Château Haut-Bergey Blanc (Pessac-Léognan)

From a blend of 70% Sauvignon Blanc and 30% Semillon, the wine offers honeyed lemon, grapefruit, melon, vanilla and floral notes. Round in texture and packed with fruit, the finish ends with fresh, pure, ripe, lively honeydew melon, citrus and spice flavors.

3,306 Views

Tasted

Oct 7, 2011

2006
Château Haut-Bergey (Pessac-Léognan)

With a smoky, espresso, thyme and cherry tobacco nose, the wine is medium/full bodied, soft and round in texture, with a sweet, dark cherry and espresso finish.

4,512 Views

Tasted

May 25, 2016

With deep color, licorice, smoke, coffee, blackberries, smoke and spice are easy to find. With round tannins and soft textures, this medium/full bodied wine is already showing well.

5,118 Views

Tasted

Sep 7, 2011

2005
Château Haut-Bergey (Pessac-Léognan)

Displaying a lightness in color, there is a mature, softness to the dark berries, with a perfume of earth, cherries, espresso and fresh herbs that feel round and soft in the berry, filled finish. This is not a wine to hold for further aging.

7,242 Views

Tasted

Jun 28, 2015

Fennel, chocolate, dark berry and fresh oak scents make up the prefume, This has a soft, supple entry with no hard edges. It finishes with sweet blackberry and black raspberry flavors. This is one of the best buys in 2005.,

6,530 Views

Tasted

Jun 15, 2008

This opulently styled wine will really start shining when the oak calms down, allowing the fleshy dark fruit to come to the front. This is one of the top values from the vintage and especially Pessac Leognan.

6,236 Views

Tasted

Jan 20, 2008

2004
Château Haut-Bergey (Pessac-Léognan)

The smoke, tobacco, earth and blackberry characteristics are fully mature and should be consumed over the next 5 years or so.

4,302 Views

Tasted

Jan 4, 2015

2001
Château Haut-Bergey (Pessac-Léognan)

Fully mature, with a smoke, coffee, black cherry, earth and fennel nose, the wine is soft, round and very easy to drink. This is not going to make old bones. I'd opt for drinking the wine over the next 5 years.

4,089 Views

Tasted

Dec 11, 2013

2000
Château Haut-Bergey (Pessac-Léognan)

Fully mature, with a smoke, coffee, vanilla, earth, tobacco and black cherry scented nose, the wine is soft, round and open for business. The only drawback is, the amount of oak, some tasters will not like that and the finish is a tad short. On the other hand, the texture and ripe fruit more than offset those other issues. This is probably drinking about as well as it's going to get, as it does not seem to have moved over the past few years. There is no hurry to drink it. It should remain at this level for at least another decade.

4,515 Views

Tasted

Nov 29, 2012

Chocolate, cherry pipe tobacco, smoke, leaves, herbs, fennel and a light kiss of oak pair with a medium bodied Pessac Leognan wine that ends in a black cherry, bitter chocolate and tart strawberry finish. This is probably as good as this wine is going to get.

6,513 Views

Tasted

Aug 14, 2011

This is a Jekyll and Hyde wine. The problem is, there is no way to tell who is going to show up, the good doctor, or his alter ego Mr. Hyde. The perfume shows oak, licorice, smoke, coffee, black fruit and hints of vanilla. Full bodied and round in the mouth, with good concentration. The wine ends with some oak and sweet dark cherries. At 10 years of age, this is showing too much oak. Other bottles have displayedless oak while delivering more fruit and freshness. But last night, Dr. Jekyll stayed home, while Mr. Hyde came to dinner and watched the Lakers take down the Celtics!

8,233 Views

Tasted

Jun 8, 2010

Black raspberry, oak, jammy blackberry and dark raspberry scents make up the perfume. Soft in texture, this ripe, fruit filled, already open wine is very expressive.

8,177 Views

Tasted

Mar 5, 2010

1999
Château Haut-Bergey (Pessac-Léognan)

Red and black fruits on the nose with a gentle touch of herbs & oak. Medium bodied. Lush palate entry. This is a well priced, early drinker that does not require bottle age.

3,019 Views

Tasted

Jul 16, 2004