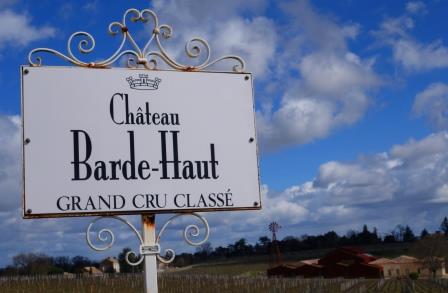 Learn everything about Chateau Barde Haut St. Emilion, with wine tasting notes and wine with food pairings. Learn the best vintages, a history of the property, information on the vineyards, and winemaking. If you want to read about other important, Bordeaux Chateaux: Links to all Bordeaux Wine Producer Profiles
Chateau Barde Haut History, Overview
Chateau Barde Haut was purchased by Sylviane Garcin-Cathiard in September 2000. Sylviane Garcin-Cathiard comes from a Bordeaux wine family who also own properties in the region. She is also related to Florence Cathiard and Daniel Cathiard who own Chateau Smith Haut Lafitte in the Pessac Leognan appellation.
Over the past few years, the Garcin-Cathiard family has made a significant investment in renovating the cellars and vineyards of Chateau Barde Haut. The wine-making facilities and other buildings have all been remodeled as well. Designed by the noted architect Nadau Lavergne, Chateau Barde Haut does not look at all like it did just a few short years ago.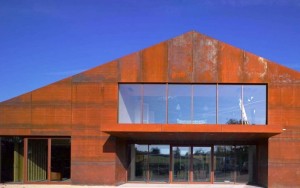 The renovations and remodeling of Chateau Barde Haut were completed in 2012. An important part of the design is the two Corten steel buildings that were created with the purpose of striving to be as green as possible.
There is a green roof with solar panels, filters to collect, clean, and recycle rainwater, and a small wind turbine that creates outdoor lighting. The look of Chateau Barde Haut is modern and minimalist, yet it is not out of place in Saint Emilion.
The new design of Chateau Barde Haut was created with the goal of being as green and environmentally conscious as possible. Chateau Barde Haut is the first major estate in Saint Emilion to have developed a fully green, estate.
Chateau Barde Haut Vineyards, Terroir, Grapes, Winemaking
The 17 hectare St. Emilion vineyard of Chateau Barde Haut is planted to 75% Merlot and 25% Cabernet Franc, which in turn, shows a big increase in the amount of Cabernet Franc.
The vineyard is slowly being replanted in stages. When that work is done, the vineyard will show a marked decrease in the amount of Merlot and an increase in the Cabernet Franc. Most of the walled-in vineyard of Chateau Barde Haut is one large parcel.
These changes have taken place over the years on a gradual basis. They were started after the estate became managed by Helene Garcin Leveque and her husband Patrice Leveque. While Patrice Leveque manages the vineyards, Helene Garcin is in charge of the winemaking and marketing for their properties.
Chateau Barde Haut is located in the eastern portion of Saint Emilion on a well elevated, limestone plateau. Most of the vineyard is placed next to the chateau and the chais. They also have parcels of vines planted close to Chateau Fombrauge.
The terroir of Chateau Barde Haut is clay over chalk soils, with limestone below the surface. Their best terroir is on the plateau and the top of their slopes. Most of the vineyard is on a beautiful, well-drained, hillside slope. The vines are on average 35 years of age.
However, they also have some very old, Cabernet Franc vines. The vineyard is planted to a vine density of 7,150 vines per hectare. Chateau Barde Haut has good neighbors. They are located close to Troplong Mondot, Tour Saint Christophe, Pavie Macquin, and Lif.
To produce the wine of Chateau Barde Haut, in the cellars of Barde Haut, everything is transported by gravity. For the vinification of Barde Haut, the cellar is equipped with a combination of 15 temperature-controlled wooden vats, stainless steel tanks, and concrete vats that vary in size from 50 hectoliters to 70 hectoliters. Pigeage is conducted by hand.
Malolactic fermentation is performed in mostly new, French oak barrels. The wine is aged on its lees for a portion of time, during the barrel aging process. 5% of the crop is produced using micro vinification techniques, meaning that the wine is vinified in the barrel and not tank.
The wine is aged in 80% to 100% new oak barrels for about 18 months. The amount of new oak varies, depending on the character of the vintage.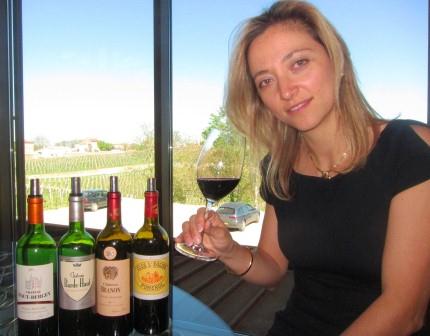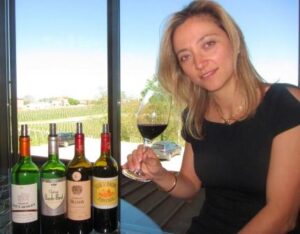 The best vintages of Chateau Barde Haut are: 2022, 2021, 2020, 2019, 2018, 2017, 2016, 2015, 2012, 2010, 2009, 2008, 2006, 2005, 2001 and 2000.
Helene Garcin Leveque also runs two other Right Bank estate, Clos LEglise in Pomerol and Chateau Poesia in St. Emilion. Helene Garcin Leveque was previously in charge of Chateau Haut Bergey and Chateau Branon in the Pessac Leognan appellation, but she oversees those vineyards today.
Vignobles Garcin also owns Poesia in the Mendoza region of Argentina where they produce wine from 13 hectares of old vine, un-grafted Malbec, and Cabernet Sauvignon, planted in 1935.
Chateau Barde Haut is popular with consumers as the wine offers both quality and character, coupled with sensuous, age-worthy style and it sells for a fair price.
Dr. Alain Raynaud was the consultant through the 2014 vintage. Starting with the 2015 vintage, Thomas Duclos has been retained as their consultant.
While the wines of Chateau Barde Haut have been steadily improving, clearly 2015, 2016, 2018, 2019 and 2020 are the finest vintages ever produced at the estate. This modern Saint Emilion drinks well early and offers ripe, dark berry, licorice notes, and sensuous textures.
There is a second wine, Le Vallon de Barde Haut, although it has not been produced in several years as they prefer letting wine lovers enjoy what the vineyard and the vintage produced. Close to 6,500 cases are produced each year of Chateau Barde Haut.
When to Drink Chateau Barde Haut, Anticipated Maturity, Decanting Time
Chateau Barde Haut is much better with at least 6-10 years of aging in good vintages. Young vintages can be decanted for 1-2 hours or more. This allows the wine to soften and open its perfume.
Older vintages might need very little decanting, just enough to remove the sediment. Chateau Barde Haut offers its best drinking and should reach peak maturity between 8-22 years of age after the vintage.
Serving Chateau Barde Haut with Wine, and Food Pairing Tips
Chateau Barde Haut is best served at 15.5 degrees Celsius, 60 degrees Fahrenheit. The cool, almost cellar temperature gives the wine more freshness and lift.
Chateau Barde Haut is best served with all types of classic meat dishes, veal, pork, beef, lamb, duck, game, roast chicken, roasted, braised, and grilled dishes. Chateau Barde Haut is a perfect match with Asian dishes, hearty fish courses like tuna, mushrooms, and pasta as well as cheese.
  
 www.vignoblesgarcin.com
Château Barde-Haut Wine Tasting Notes
23 Vintages 237,553 Views Sort by Vintage-Rating
2022
Château Barde-Haut (St. Émilion Grand Cru)

Flowers, leafy herbs, spice, black raspberries, a touch of espresso, and licorice open the nose. On the palate, the first thing you notice is the silky texture. There is intensity, freshness, elegance, and lift to the red and black fruits with their elegant mouthfeel. The wine finishes with a touch of salty rocks that rides on top of all the layers of sweet, ripe fruits. The wine blends 80% Merlot with 20% Cabernet Franc.15% ABV, 3.75 pH. Drink from 2024-2045. 94-96 Pts.

908 Views

Tasted

May 8, 2023

2021
Château Barde-Haut (St. Émilion Grand Cru)

Licorice, black cherry, espresso and herbs are on the nose. Medium-bodied, soft, elegant, polished and fresh, this should drink well young, yet have the ability to age and evolve for 15-20 years. The wine blends 80% Merlot with 20% Cabernet Franc. Drink from 2024-2040. 92-94

1,067 Views

Tasted

May 20, 2022

2020
Château Barde-Haut (St. Émilion Grand Cru)

The solid depth of color lets you know there is a lot going on here, and the striking perfume, with its display of dried flowers, black, red and blue fruit, espresso, cocoa, licorice and spices agrees. On the palate, the wine is rich, ripe, silky and pure, leaving you with waves of plums, cherries, blue fruits, chocolate, espresso and crushed stones in the lingering finish. Drink from 2025-2050.

1,327 Views

Tasted

Mar 21, 2023

With a striking combination of black, red and blue fruit, there is a sense of ripeness and purity here, along with sensuous, velvety textures that feel just great. There is length, complexity, richness, balance and opulence with the ability to age for 20-25 years. The wine was made from 80% Merlot with 20% Cabernet Franc, 14.5% ABV. This is a serious contender for the best vintage of Barde Haut ever produced. 94-96 Pts

6,236 Views

Tasted

May 20, 2021

2019
Château Barde-Haut (St. Émilion Grand Cru)

Smoke, licorice, black plums, dark cherries, violets and 5 spice aromatics gets you to take notice. On the palate, it is even better with all of its silky textured, sweet, energetic red fruits. The finish lingers with a growing portfolio of dark red and black fruits with an endnote of dark chocolate and espresso. There is sweetness, length and complexity you can taste and feel. Drink from 2024-2038.

3,396 Views

Tasted

Mar 29, 2022

Truffle, smoke, mint, charcoal, flowers, cocoa and sweet red berries open the perfume. On the mouth, the wine is full-bodied, lush, silky and rich. Luxuriously textured on the palate, with all the ripe, juicy, sweet plums and cherries you can imagine coated with licorice and chocolate, this wine tastes and feels great in the finish. The wine was made from 75% Merlot with 25% Cabernet Franc, reaching 14.5% ABV. Clearly, this is a new level of quality for Barde Haut that will age quite nicely for at least 2 decades or longer. 94-96 Pts

6,270 Views

Tasted

Jun 8, 2020

2018
Château Barde-Haut (St. Émilion Grand Cru)

Dark in color, this sensuous, rich, flamboyant wine shoots from the glass with polished red and black fruits, licorice, espresso, minerality and dark cocoa. Concentrated, opulent and forward, this is one of the best vintages of Barde Haut ever produced! The wine blends 80% Merlot with 20% Cabernet Franc.

2,550 Views

Tasted

Mar 9, 2021

Dark in color, the wine is loaded with licorice, truffle, smoke, and a background note of mint. Full-bodied, rich, dense and multi-layered, the wine exudes, dark, juicy, ripe, dark fruits on the nose and palate. The wine is made from a blend of 80% Merlot and 20% Cabernet Franc and will be aged in 60% new, French oak barrels. 94-96 Pts

8,975 Views

Tasted

Apr 19, 2019

2017
Château Barde-Haut (St. Émilion Grand Cru)

This is developing right on course. The wine is richly textured, round, lush and even now, you can already enjoy the smoke, licorice, black cherry, wet earth and floral sensations. As good as this is today, if you can hold off for another 3-5 years, it should be even better!

3,828 Views

Tasted

Nov 16, 2020

Floral characteristics kick off the soiree. From there you move to an introductory waltz of cocoa, plums, cherry, licorice and a background note of mint. Fresh, juicy, supple and long, there is a lot to lie here with the perfectly ready fruits giving it lift in the finish. I am also digging the less oaky approach in the aging.

5,479 Views

Tasted

Apr 26, 2018

2016
Château Barde-Haut (St. Émilion Grand Cru)

Ripe, juicy, black plums, dark cocoa, licorice, truffle really sings. Full-bodied, lush, concentrated, round and loaded with sweet fruits, silky tannins and freshness, this is already sexy. And as good as it is, this is only going to be get better with age.

4,033 Views

Tasted

Sep 21, 2019

Sexy, lush earthy, rich and packed with layers if soft, ripe, deep, dark red fruits, licorice, coffee and chocolate. While the wine is rich, it also retains its freshness.

5,616 Views

Tasted

May 21, 2018

Black raspberry and earthy scents are coupled with lush textures, ripe tannins, black cherry, licorice and just a hint of dark chocolate. Dark in color with a density of raw material and a good bit of energy, this wine was made from a blend of 80% Merlot and 20% Cabernet Franc, reaching 14.3% with a pH of 3.45.

6,848 Views

Tasted

Apr 29, 2017

2015
Château Barde-Haut (St. Émilion Grand Cru)

Dark in color, the wine is rich, fat and concentrated. There is flesh, dark, ripe, juicy fruits and soft, silky tannins that stick with you in the finish. You can drink this young, or age it for a decade.

4,908 Views

Tasted

May 21, 2018

Forward in style, this should allow consumers to pick up on its licorice, black raspberries, plums, espresso and dark chocolate with ease. The finish is lush, opulent and fruity, there is a hint if truffle that is already peaking from its sleep as well.

6,159 Views

Tasted

Jul 12, 2017

Deep, dark ruby in color with notes of flowers, smoke, licorice, black raspberries, plums and just a hint of espresso, this wine is the bejeweled mistress of the house. Rich, round and opulent in texture, the wine feels superb on the palate with a bit of dusty tannin in the finish. 2015 was an early harvest for Barde Haut, taking place September 21 to September 28. The wine was produced from a blend of 90% Merlot and 10% Cabernet Franc and will be aged in 80% new, French oak barrels for about 20 months before bottling.

8,043 Views

Tasted

Apr 29, 2016

2014
Château Barde-Haut (St. Émilion Grand Cru)

Medium bodied, forward, and displaying a truffle, tobacco, espresso, dark plum characteristic. Soft, and easy drinking, this is a wine to drink while waiting for the 2015 and 2016 to come around.

4,161 Views

Tasted

May 18, 2017

Espresso and black cherry notes on the nose are followed by a sweet, fresh, lively cocoa, blueberry and plum finish. The wine was produced from a blend of 90% Merlot and 10% Cabernet Franc and will be aged in 80% new, French oak barrels. 90-92 Pts

7,120 Views

Tasted

Apr 27, 2015

2013
Château Barde-Haut (St. Émilion Grand Cru)

Medium bodied, forward, soft textured open wine, with a licorice, red cherry, smoke and espresso character that is best for early drinking consumption.

2,406 Views

Tasted

May 25, 2016

With fresh herbs and polished black cherries, this round, forward and fresh wine leaves you with dusty tannins in the finish. From a blend of 80% Merlot and 20% Cabernet Franc, the wine reached 13% ABV with a pH of 3.45. 89-91 Pts

3,953 Views

Tasted

Apr 28, 2014

2012
Château Barde-Haut (St. Émilion Grand Cru)

Earth, licorice, coffee bean and plum notes create the nose. The wine is medium bodied, forward, soft and open, delivering a sweet, black cherry, cocoa and fennel finish.

5,057 Views

Tasted

May 15, 2015

Packed with luscious, sweet, ripe and polished berries, the wine is rich, flashy, fleshy, forward and fun, finishing with licorice-coated black cherries. 91-93 Pts

7,252 Views

Tasted

Apr 26, 2013

2011
Château Barde-Haut (St. Émilion Grand Cru)

Soft and sweet, with licorice, espresso bean and black raspberries, this forward, open, soft wine is already serving up pleasure.

3,186 Views

Tasted

May 20, 2014

Light ruby in color, with earth, floral, anise and black cherry scents, this fresh, medium bodied St. Emilion ends with bright, black raspberries. From a blend of 90% Merlot and 10% Cabernet Franc, the wine reached 13.5% ABV. Barde Haut remains one of the better Bordeaux value wines. 89-91 Pts

4,632 Views

Tasted

Mar 16, 2012

2010
Château Barde-Haut (St. Émilion Grand Cru)

Starting to open up and deliver licorice, espresso bean, earth and sweet, dark cherries with ease, the wine is full bodied, concentrated and ripe, with freshness to the fruits, licorice and earthy fruits in the end notes.

6,296 Views

Tasted

Mar 19, 2017

Packed with licorice, earth, espresso bean and black cherry liqueur aromas, the wine is rich, plush, polished and sexy, with a sweet, round, black cherry, fennel, mocha and plum filled finish. Drink it young, or age it, this remains one of the best values in St. Emilion today.

5,915 Views

Tasted

May 7, 2013

Barde Haut - From a blend of 90% Merlot and 10% Cabernet Franc, scents of licorice, chocolate covered black cherry and espresso pop from the glass. Luxurious and mouth filling, with a minor touch of heat in the otherwise long, lush, licorice and ripe, black plummy finish. 91-93 Pts

6,930 Views

Tasted

Mar 14, 2011

2009
Château Barde-Haut (St. Émilion Grand Cru)

Loads of smoke, espresso, truffle, wet earth and ripe cherries are there for the taking. Soft, round, polished and open, this is really showing great today. And when the oak further integrates, the wine will be even better!

3,154 Views

Tasted

Sep 20, 2019

Smoke, vanilla, black cherry, licorice, plum and coffee aromas open to a soft, round, stylish, plush, plummy wine. There is good structure to the wine. Clearly this will be better after 5-7 years of bottle age.

7,911 Views

Tasted

Mar 12, 2012

2009 Barde Haut is deeply colored, with floral, licorice, cherry, and dark berry aromas. Silky textured, it ends with sweet, dark berry flavors. 91-93 Pts

9,562 Views

Tasted

Jun 28, 2010

2008
Château Barde-Haut (St. Émilion Grand Cru)

Secondary notes of licorice, smoke and truffle are already there. The wine is rich, full bodied, lush, fat and juicy, The tannins are soft and refined, everything has really come together nicely here. The wine is showing great today!

1,923 Views

Tasted

Sep 17, 2018

Licorice, herbs, cherries, cassis and truffle scents open to a richly textured wine finishing with more red than black fruit flavors.

6,739 Views

Tasted

Mar 11, 2011

2008 Barde Haut starts with a perfume of licorice, black raspberry, mint and strawberry. Full bodied and filled with ripe fruit, the wine ends with a long, sweet, chocolate, black cherry and black raspberry finish. 91 pts

6,625 Views

Tasted

Jul 18, 2010

08 Château Barde Haut is a sexy little thing. Soft, elegant, and plush, it already offers pleasure. Black fruit, licorice, coffee, and kirsch make the perfume. This full bodied, rich wine pleases the palate with a long, rich, black fruit filled aftertaste. 90-92 Pts

6,680 Views

Tasted

Aug 1, 2009

2007
Château Barde-Haut (St. Émilion Grand Cru)

Medium bodied, full mature and just starting to lose its fruit, this requires drinking in the near future to enjoy the remainder of the plummy, earthy, red fruits.

3,090 Views

Tasted

Jul 2, 2017

Medium bodied, full mature and just starting to lose its fruit, this requires drinking in the near future to enjoy the remainder of the plummy, earthy, red fruits.

2,868 Views

Tasted

Mar 19, 2017

2006
Château Barde-Haut (St. Émilion Grand Cru)

Medium bodied, firm, fresh, crisp style of wine, with an earthy, fresh plum, thyme, smoke and espresso perfume. This is probably close to fully mature.

3,444 Views

Tasted

May 25, 2016

Licorice, coffee bean, black cherry, earth, vanilla and stone aromas are starting to become apparent. Plush, soft and round in texture, this is starting to drink well. Barde Haut remains one of the top value wines from St. Emilion.

4,987 Views

Tasted

Aug 27, 2012

2005
Château Barde-Haut (St. Émilion Grand Cru)

Dark, polished, and richly textured with layers of black cherries, licorice plums, espresso, and cocoa the wine is earthy, round, and just entering its plateau of maturity.

3,820 Views

Tasted

Apr 10, 2022

Young, fresh and vibrant, this is starting to show well. The fruit is fresh, the minerality is present, the lush, silky textures are in the forefront and the sweet, energetic, fruit filled finish is right where it needs to be. This should get even better with another year or two in the cellar.

4,944 Views

Tasted

Jun 12, 2016

Truffle, licorice and black cherries abound in this soft, polished, lush wine that finishes with sweet, ripe cherries and cocoa. This is drinking in the sweet spot today.

5,111 Views

Tasted

Jun 27, 2015

There is no reason to hold off from tasting this delicious wine. The licorice, coffee bean, black cherry and truffle aromas are where they need to be. The wine is rich, soft and supple on the palate. This has at least another decade of positive evolution in its future.

5,826 Views

Tasted

Dec 27, 2013

The black cherry, anise tinged aromas are further complicated with accents of ripe plum and blackberry. Very ripe and silky on the palate.

8,819 Views

Tasted

Jun 15, 2008

2004
Château Barde-Haut (St. Émilion Grand Cru)

Licorice, earth and black cherries, soft in texture and fully mature, this is drinking in the sweet spot today.

2,688 Views

Tasted

Nov 30, 2014

2003
Château Barde-Haut (St. Émilion Grand Cru)

Licorice, black and blue fruit, vanilla and coffee bean, medium bodied and a light, jammy black cherry finish. This is fully mature and requires consumption.

3,485 Views

Tasted

Sep 4, 2012

2001
Château Barde-Haut (St. Émilion Grand Cru)

Drinking at the perfect state of maturity, with ample notes of licorice, vanilla, black cherry, earth and stone. Soft, round and packed with sweet, ripe fruit, Barde Haut remains one of the best deals available from St. Emilion.

3,311 Views

Tasted

Nov 20, 2012

2000
Château Barde-Haut (St. Émilion Grand Cru)

With scents of black raspberry, licorice and oak is soft and elegant on the palate. This is already drinking well.

7,041 Views

Tasted

Mar 5, 2010

1998
Château Barde-Haut (St. Émilion Grand Cru)

Medium bodied, soft, open and delivering licorice, truffle, cocoa, black cherry, smoke, coffee bean and wet earth aromas, the wine is soft, lush and offers length and character. It's hard to believe this is already just days away from its 19th birthday.

2,974 Views

Tasted

Nov 13, 2016