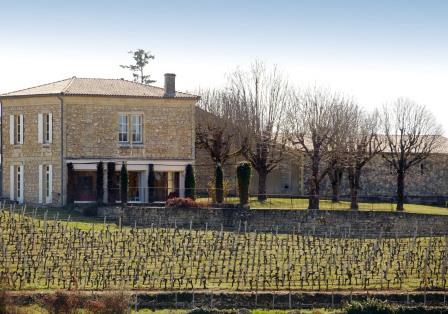 Learn everything about Chateau Tour Saint Christophe St. Emilion with wine tasting notes and wine with food pairing tips. Learn the best vintages, the history of the property, and information on the vineyards and winemaking. If you want to read about other important, Bordeaux Chateaux: Links to all Bordeaux Wine Producer Profiles
Chateau Tour Saint Christophe History, Overview
Chateau Tour Saint Christophe, like many Bordeaux chateaux, takes its name from the location of its vineyard. The vines are situated in the commune of Saint Christophe des Bardes, which is due east of the Saint Emilion village, not far from Valandraud and Chateau Fleur Cardinale.
The property was purchased by Peter Kwok in 2012 from the Castel group. By the time Peter Kwok obtained Chateau Tour Saint Christophe, he already owned Chateau Haut Brisson, located in the Vignonet sector of Saint Emilion, not far from Chateau Monbousquet or Chateau Teyssier.
Peter Kwok purchased his first vineyard, Haut Brisson, in 1997. Peter Kwok has continued adding to his portfolio of estates in the Right Bank with vines in Pomerol.
Additionally, he owns two vineyards in Pomerol today, Enclos Tourmaline and Chateau La Patache as well as Enclos de Viaud in Lalande de Pomerol. In 2017, Kwok added Chateau Bellefont-Belcier to his expanding portfolio of vineyards.
Perhaps most impressively, Kwok has been able to triple the size of Tour Saint Christophe in just a few years. The estate was only 6.5 hectares when it was first purchased.
In November 2015, Peter Kwok purchased Chateau Tourans from Petrus Wolter. The 12.6-hectare vineyard that formerly belonged to Chateau Tourans was divided into both of the Saint Emilion estates owned by Peter Kwok.
8 hectares were added to Tour Saint Christophe, as they share a similar terroir. This increased the size of their vineyard to its current 20 hectares. The remaining vines were placed into Haut Brisson.
Chateau Tour Saint Christophe Vineyards, Terroir, Grapes, Winemaking
The 20 hectare St. Emilion vineyard of Chateau Tour Saint Christophe has a terroir of clay and limestone soils. The vineyard is planted to 80% Merlot and 20% Cabernet Franc. The vines are planted to a density of 6,500 vines per hectare on the older plots. New parcels are being planted to a higher vine density of 7,500 vines per hectare, though the Cabernet Franc is at 8,000 vines per hectare.
Once the new owners took charge, one of the first decisions they made was to replant a large section of the vineyard which is at that higher level of density.
They also terraced a portion of the hillside portion of the vineyard and completely modernized their entire winemaking facility and cellars. All the vineyard management work is done using only organic, biodynamically sustainable vineyard farming techniques.
A sliver of vines, 1/4 a hectare on clay and limestone soils has been set aside from white Bordeaux wine grapes starting with the 2017 vintage.
To produce the wine of Tour Saint Christophe, a lot of work takes place here, as the wine is made using micro vinification techniques. For the Grand Vin, the grapes are whole berry fermented.
On average, 50% of the wine is vinified using micro vinification techniques, meaning that half the wine is vinified in 60% new, French oak barrels. Malolactic fermentation takes place in barrels. The wine is then aged in 60% new, French oak barrels for an average of 18 months before bottling. Michel Rolland consults on winemaking.
There is a second wine, Les Terrasses de Tour Saint Christophe, which is vinified in concrete tanks. On average, the production of Tour Saint Christophe is close to 4,000 cases of wine per year.
Tour Saint Christophe Blanc
Starting with the 2017 vintage, the property began producing a small amount of white Bordeaux wine, "Angela". Made from 100% Sauvignon Blanc. The wine is barrel fermented and aged in a combination of clay amphora and new, French oak barrels. Angela from Tour Saint Christophe Blanc is going to be difficult to find as only 75 cases are produced each year. The wine will be sold as a generic AOC Bordeaux Blanc.
The best vintages of Chateau Tour Saint Christophe are: 2022, 2021, 2020, 2019, 2018, 2017, 2016, 2015, 2014, and 2012. 2015 is just great wine. But I have to say, 2016, 2018, 2019 and are perhaps even better! It could be the best value wine in all of Bordeaux today!
When to Drink Chateau Tour Saint Christophe, Anticipated Maturity, Decanting Time
Chateau Tour Saint Christophe can be enjoyed on the young side with decanting. Young vintages can be decanted for an average of 1-3 hours, give or take. This allows the wine to soften and open its perfume. Older vintages might need very little decanting, just enough to remove the sediment.
Chateau Tour Saint Christophe is usually better with at least 5-8 years of bottle age. Of course, that can vary slightly, depending on the vintage character. Chateau Tour Saint Christophe offers its best drinking and should reach peak maturity between 6-22 years of age after the vintage.
Serving Chateau Tour Saint Christophe with Wine, and Food Pairing Tips
Chateau Tour Saint Christophe is best served at 15.5 degrees Celsius, 60 degrees Fahrenheit. The cool, almost cellar temperature gives the wine more freshness and lift.
Chateau Tour Saint Christophe is best served with all types of classic meat dishes, veal, pork, beef, lamb, duck, game, roast chicken, roasted, braised, and grilled dishes. Chateau Tour Saint Christophe is a perfect match with Asian dishes, hearty fish courses like tuna, mushrooms, and pasta as well as cheese.
Interestingly, and quite smartly, even though it would be quite easy for Peter Kwok to sell all his wine with no trouble in China, he has endeavored to create an international brand with worldwide distribution.
To get things started and create long-term interest in Chateau Tour Saint Christophe, prices were deliberately set at a very, consumer-friendly price. I imagine the low price levels will not remain that way for long. Savvy wine buyers should really be taking a good look at Tour Saint Christophe before the wine becomes more expensive.
Today, Chateau Tour Saint Christophe is managed by the daughter of Peter Kwok, Karen Kwok. Jean Christophe Meyrou is the managing director of the estate. Aside from the other Right Bank vineyards we mentioned earlier, Peter Kwok also owns Enclos de Viaud in the Lalande de Pomerol appellation.
Château Tour Saint-Christophe Wine Tasting Notes
12 Vintages 166,255 Views Sort by Vintage-Rating
2022
Château Tour Saint-Christophe (St. Émilion Grand Cru)

Deep purple in hue, the wine pops with blackberries, black cherries, licorice, flowers, wet earth, and blue fruit on the nose. The palate, is rich, lush, and packed with layers of chalk, black cherries, chocolate, espresso and 5 spice. The finish is creamy, vibrant, and loaded with sweet, ripe, dark red fruits that linger. The wine is made from blending 80% Merlot with 20% Cabernet Franc. 15% ABV, 3.45 pH. The harvest took place September 10-October 3. Yields were 39 hectoliters per hectare. Drink from 2026-2048. 95-97 Pts.

1,468 Views

Tasted

May 8, 2023

2021
Château Tour Saint-Christophe (St. Émilion Grand Cru)

Roses, lilacs, espresso, caramel, Indian spice, cherries and red plums create the complex nose. On the palate, the wine is bright, crisp, chewy and fresh, with a good sense of minerality, and purity in the fruits. The wine is made from blending 80% Merlot with 20% Cabernet Franc, 13.6% ABV, pH 3.5. The harvest took place September 18, October 15. Because the tannins are so soft and polished, you can enjoy this young, but aging it a bit will add even more complexity. Drink from 2023-2039. 92-94

2,337 Views

Tasted

May 20, 2022

2020
Château Tour Saint-Christophe (St. Émilion Grand Cru)

Dark black fruit, licorice, chocolate, espresso, smoke, and wet earth nuances create the complex aromatics. On the palate, the wine is lush, fresh, fruity, and layered with black, red, and blue fruits that feel as good as they taste while nuances of chocolate and spice show up in the finish. Drink from 2025-2045.

3,947 Views

Tasted

Mar 21, 2023

Deep, and dark in color, and equally dark and deep in its fruit, the nose pops with perfectly ripe dark red and black fruits, licorice, smoke, cherry blossoms, crushed rocks and stones. The wine has depth, sensuality, luscious textures and layers of ripe, opulent fruits. The finish lingers with layers of black and red fruits with dark chocolate that feel as good as they taste. This could be the finest vintage of Tour Sant Christophe ever produced, and that is really saying something. The wine is made from blending 80% Merlot with 20% Cabernet Franc. You can age for 20-25 years. Or if you like, you can also enjoy this on the young side. 95-97 Pts

6,292 Views

Tasted

May 20, 2021

2020
Château Tour Saint-Christophe Angela (Bordeaux)

Straw yellow in color, the wine quickly serves up its grapefruit, flower, lemon peel, green apple and orange character. Sweet, vivacious and creamy with a nice shot of oily lemons in the finish, the wine was made from 100% Sauvignon Blanc. Not much was made. In fact, the production was only 175 cases in total. You can enjoy this on release. 92 Pts

2,179 Views

Tasted

May 20, 2021

2019
Château Tour Saint-Christophe (St. Émilion Grand Cru)

Inky dark in color, the wine exudes crushed rocks, stones, flowers, smoke, espresso, dark chocolate, pepper and smoke in the perfume. Full-bodied, rich, lush and deep, with layers of black and red fruits, freshness and length, the finish delivers dark red berries with a dash of spice, black licorice and espresso bean. This is going to age and evolve for at least 2 decades or more. The wine blends 80% Merlot with 20% Cabernet Franc. Drink from 2024-2040.

9,222 Views

Tasted

Mar 29, 2022

Dark red, purple in color, the nose pops with flowers, licorice, incense, herbs and dark red berries. On the palate, the wine is silky, fresh, sweet, full-bodied and concentrated. Yet, there is no heaviness. Everything is in proportion. Better balanced than 2018, this is another step-up in quality here. If you are not yet on the Tour Saint Christophe bandwagon, get on it before prices rise. The wine is made from blending 80% Merlot with 20% Cabernet Franc, reaching 14.3 ABV. 94-96 Pts

15,549 Views

Tasted

Jun 8, 2020

2018
Château Tour Saint-Christophe (St. Émilion Grand Cru)

The color of dark ink with purple accents, the wine explodes from the glass with fresh brewed espresso, black cherry, licorice, smoke, menthol and chocolate. On the palate the wine is full-bodied, concentrated, rich, supple and vibrant. The fruit balances power with elegance, sweetness and purity. The finish is all about the non-stop layers of fruit. The wine is made from blending 80% Merlot with 20% Cabernet Franc. This is a contender for the finest vintage of Tour Saint Christophe and should age with ease for at least 20-25 years.

7,280 Views

Tasted

Mar 9, 2021

Inky with purple accents, the minerality, licorice, espresso, dark red fruits and luscious, velvet-like textures really work this year. There is concentration, supple textures, fruit and vibrancy. The wine is made from blending 80% Merlot with 20% Cabernet Franc. 94-96 Pts

14,879 Views

Tasted

Apr 19, 2019

2017
Château Tour Saint-Christophe (St. Émilion Grand Cru)

Bright, fresh, mineral-driven example of TSC. At this young stage, give it an hour of air before the licorice, plum, black cherry, dark cocoa and earthy nuances start to show. Not as powerful or concentrated as the 2016 or 2018, the two surrounding vintages, but it's going to drink well earlier and it sells for a song!

3,947 Views

Tasted

Aug 15, 2020

Caliginous in color, the wine is full bodied, concentrated, intense, fortified and satisfying. There is good flesh, freshness and length. Limber with crispy red fruits, cocoa, espresso, licorice and a boundless finish, the wine is made from blending 80% Merlot with 20% Cabernet Franc. The wine reached 14.3% ABV. 92-94 Pts

7,389 Views

Tasted

Apr 27, 2018

2016
Château Tour Saint-Christophe (St. Émilion Grand Cru)

With layers of ripe, juicy fruits, crushed stone, truffle, licorice and smoke, this is showing just great. There is volume, depth and definition, with energy and length. Lay this down for 7 years and enjoy it over the next 15 years or even longer.

9,579 Views

Tasted

Sep 21, 2019

Deep, dark and almost opaque in color, the wine is made from blending 80% Merlot and 20% Cabernet Franc. Ripe and loaded with fresh fruit, with a real sensation of purity and silky, polished tannins and a hint of chocolate in the finish. The wine reached 14.5% ABV with pH of 3.7.

16,885 Views

Tasted

Apr 29, 2017

2015
Château Tour Saint-Christophe (St. Émilion Grand Cru)

Flowers, chocolate mint, boysenberry and black cherry aromas pop with ease. With an hour of decanting, the wine softens, fills out and you find a fresh, concentrated, full-bodied, vibrant wine with ample ripe, dark red and blue fruit, espresso, dark cocoa, dusty tannins and a touch of salt on the palate. The freshness, length and mineral character in the end notes hit all the right notes.

6,048 Views

Tasted

Dec 25, 2021

Dark in color, with a smoky, truffle, earthy, licorice and black cherry nose, the wine is supple, silky, concentrated, long and fresh. There is length and complexity in the finish. This is probably the best value in all of Bordeaux today for high quality wine at a fair price.

9,339 Views

Tasted

May 21, 2018

This just keeps getting better with age. The wine is now, silky, supple and sensuous. The licorice, black cherries, wet earth, smoke and espresso stand out in the crowd. The finish is all about its softness. If you're looking for a contender for the best QPR from Bordeaux in the 2015 vintage, this your wine. Drink it young for the fruit, or age it for more secondary nuances.

9,194 Views

Tasted

Mar 12, 2018

Round, supple, sensuous textures, layers of licorice coated, black cherries, wet earth, smoke and espresso, with a polished, round, forward finish. And it sells for a song! What's not to like here? If you're looking for a contender for the best QPR from Bordeaux in the 2015 vintage, this your wine. Drink it young for the fruit, or age it for more secondary nuances.

9,043 Views

Tasted

Nov 13, 2017

From a blend of 80% Merlot and 20% Cabernet Franc, there is a good depth of color in the glass. Oyster shell, boysenberry, espresso and cherry blossoms create the nose. The wine is fleshy, fat and rich with density and opulent textures. This showy wine is the best example produced since the new owner, Peter Kwok, took over the estate.

13,088 Views

Tasted

Apr 29, 2016

2014
Château Tour Saint-Christophe (St. Émilion Grand Cru)

Continuing to develop well, adding more softness and opulence to the texture, complexities to the nose and palate and length to the finish, it is hard to find a better buy from Saint Emilion these days.

4,427 Views

Tasted

Nov 14, 2017

This vintage is not only from a great terroir but talented team. From a blend of 90% Merlot and 10% Cabernet Franc, this wine exhibits deep color. On the nose you will quickly find licorice, chocolate, espresso and black cherries, easing into a graceful, lavish, polished and easy-drinking wine. A soft, round finish of sweet boysenberries leaves a permanent impression. As we predicted last year, Tour Saint Christophe is a wine to watch. 90-92 Pts

5,252 Views

Tasted

Apr 27, 2015

2013
Château Tour Saint-Christophe (St. Émilion Grand Cru)

Mineral-driven with oak and plum notes in the nose, the wine features a sweetness to the fresh, medium-bodied dark red fruits that should improve with age. From a blend of 82% Merlot with 18% Cabernet Franc, the wine reached 13.3% ABV. The wine was produced using micro-vinification techniques. This is an estate to watch for in future vintages as the terroir is great and the owner, Peter Kwok has a spare no expense attitude and the drive to make the best wine possible. 88-90 Pts

3,202 Views

Tasted

Apr 29, 2014

2012
Château Tour Saint-Christophe (St. Émilion Grand Cru)

Espresso, licorice and dark fruits in a forward, easy to like, polished, plush style with sweet fruits and supple tannins.

2,998 Views

Tasted

May 16, 2015

From 85% Merlot and 15% Cabernet Franc, the wine is whole berry fermented in barrel. With licorice, coffee and cherry liqueur, this wine is round, polished and spicy with a red raspberry-filled finish. 87-89 Pts

2,711 Views

Tasted

Apr 26, 2013