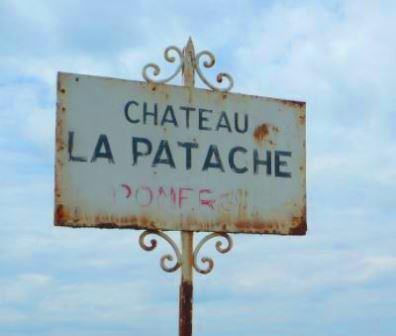 Learn everything about Chateau La Patache Pomerol with wine tasting notes and wine with food pairing tips. Learn the best vintages, the history of the property, and information on the vineyards and winemaking. If you want to read about other important, Bordeaux Chateaux: Links to all Bordeaux Wine Producer Profiles
Chateau La Patache History, Overview
Chateau La Patache takes its name from lieu-dit where the vineyard is located. A small, Right Bank estate, Chateau La Patache dates back to the 1800s when it was owned by the Larroucaud family.
Members of the Larroucaud family were active in Pomerol as they also owned Chateau lEnclos, another Pomerol vineyard until 2006. Eventually, an investor group, La Dillegence, purchased La Patache in the 1980s.
They sold the property to Peter Kwok in 2011. The Vietnamese-born, Peter Kwok, owns several Right Bank properties today, including Enclos Tourmaline in Pomerol, Chateau Tour Saint Christophe, and Chateau Haut Brisson in St. Emilion, as well as Chateau Enclos de Viaud, in the Lalande de Pomerol appellation.
By 2015, things were improving at Château La Patache, due to efforts in the cellars and vineyards. In 2016, the label was completely redesigned and modernized.
Chateau La Patache, Vineyards, Terroir, Grapes, Winemaking
The small, 3.18-hectare vineyard of Chateau La Patache is planted to 70% Merlot and 30% Cabernet Franc. The terroir is sand, gravel, and clay soil. The vineyard is dispersed into 9 different parcels on various different terroirs. The vines are on average, 25 years of age.
When Peter Kwok first purchased the estate, they had vines in a few locations, the best of which was located exactly across the street and right in front of the house of Chateau Clinet.
Peter Kwok culled out those vines and vines from a small plot located next to Chateau Rouget, along with a sliver of vines close to Chateau Feytit-Clinet, creating a high-end Pomerol Cuvee, Enclos Tourmaline.
To produce the wine of Chateau La Patache, the vinification is done in vats. Malolactic fermentation takes place in barrels.
The wine is then aged in 40% new, French oak barrels for 18 months before bottling. Not much wine is made here, as the vineyard is small. On average, the production is close to 1,000 cases per vintage.
The best vintages of Chateau La Patache are: 2022, 2021, 2020, 2019, 2018, 2017, 2016, 2015 and 2014.
When to Drink Chateau La Patache, Anticipated Maturity, Decanting Time
Chateau La Patache can be enjoyed on the young side with decanting. Young vintages can be decanted for an average of 1 hour or so. This allows the wine to soften and open its perfume.
Older vintages might need very little decanting, just enough to remove the sediment. Chateau La Patache is usually better with at least 3-5 years of bottle age. Of course, that can vary slightly, depending on the vintage character. Chateau La Patache offers its best drinking and should reach peak maturity between 4-15 years of age after the vintage.
Serving Chateau La Patache with Wine, Food, Pairing Tips
Chateau La Patache is best served at 15.5 degrees Celsius, 60 degrees Fahrenheit. The cool, almost cellar temperature gives the wine more freshness and lift.
Chateau La Patache is best paired with all types of classic meat dishes, veal, pork, beef, lamb, duck, game, roast chicken, roasted, braised, and grilled dishes. Chateau La Patache is also good with Asian dishes, hearty fish courses like tuna, mushrooms, and pasta.
Château La Patache Wine Tasting Notes
10 Vintages 33,457 Views Sort by Vintage-Rating
2022
Château La Patache (Pomerol)

Forward, soft, silky, and fresh, the medium-bodied wine is nicely framed around its core of plums, cherries, licorice, and chocolate on the nose, and on the palate. You can enjoy this wine on release, and over the next 12-15 years with pleasure. Drink from 2025-2037. 91-93 Pts.

1,216 Views

Tasted

May 8, 2023

2021
Château La Patache (Pomerol)

Earthy plums and cherries with a touch of truffle on the nose. The wine is medium-bodied, fresh, soft and fruity, with cocoa and cherries in the medium-bodied finish. You can enjoy this on release and over the near future. Drink from 2023-2030. 87-90

1,365 Views

Tasted

May 20, 2022

2020
Château La Patache (Pomerol)

Mocha, mint, black raspberries, black cherries and floral accents get the medium-bodied, elegant, fresh, vibrant wine going. The soft, silky, finish leaves you with cocoa and sweet black raspberries. This is nice now, and already easy to drink and it should be even better in a year or two, as it should develop quickly. Drink from 2023-2035.

634 Views

Tasted

Aug 21, 2023

Medium-bodied, soft, silky, and fresh with nuances of truffles, smoke, espresso, and cherries, the wine is soft, silky forward, and polished, with a sweet, creamy, red cherry-packed finish. Drink from 2023-2036.

725 Views

Tasted

Mar 21, 2023

Soft, silky, fresh, bright, medium-bodied, forward, accessible. The wine is refined, easy to like and quickly focuses you on its cocoa infused plums and red cherries on the nose and palate. The wine was made from blending 85% Merlot and 15% Cabernet Franc. 90-92 Pts

1,907 Views

Tasted

May 20, 2021

2019
Château La Patache (Pomerol)

Soft, silky, elegant and fresh, the wine is forward, medium-bodied, refined and already just great to have in your glass thanks to all of its layers of sweet, juicy plums, cocoa, black cherries and chocolate. You can enjoy this wine on release, and over the next 12-15 or more years with ease. Drink from 2022-2036.

1,329 Views

Tasted

Mar 29, 2022

Medium-bodied, elegant, soft, forward and fresh, the sweet, ripe, red fruits show quite well already. You can enjoy this floral and cherry dominated silky-textured wine on release, and over the next decade or so. The wine was made from blending 85% Merlot and 15% Cabernet Franc. 90-92 Pts

2,261 Views

Tasted

Jun 8, 2020

2018
Château La Patache (Pomerol)

Forward, soft, sweet, early drinking, medium-bodied, refined, cherry filled wine with nuances of espresso and dark cocoa. You can enjoy this on release and over the next 10-15 years. The wine was made from blending 85% Merlot and 15% Cabernet Franc.

1,277 Views

Tasted

Mar 9, 2021

Fresh and forward, soft and plummy, this floral pour is round and fruity and will be easy to drink on release. The wine was made from blending 85% Merlot and 15% Cabernet Franc. 89-91 Pts

1,840 Views

Tasted

Apr 19, 2019

2016
Château La Patache (Pomerol)

Medium-bodied, soft, elegant, forward and already charming, the wine is plummy, silky and should be ready to enjoy with just a year or 2 of age.

2,360 Views

Tasted

Sep 21, 2019

Made from a blend of 85% Merlot and 15% Cabernet Franc, the wine shows good color, a medium body and a sweet, plummy character with elegant tannins and freshness.

2,831 Views

Tasted

Apr 29, 2017

2015
Château La Patache (Pomerol)

Medium-bodied, elegant, fresh, approachable, with a plummy, chocolate personality that is already just great for drinking today.

3,532 Views

Tasted

May 21, 2018

Licorice, black raspberry and wet earth on the nose lead you to a medium-bodied, soft wine with a fresh, sweet, dark plum and cocoa finish that has some persistence. Clearly, this is the best vintage the team has produced of La Patache. The wine was made from a blend of 85% Merlot and 15% Cabernet Franc. 89 - 91 Pts

3,398 Views

Tasted

Apr 27, 2016

2014
Château La Patache (Pomerol)

Medium-bodied, with an approachable, plum and citrus personality, the wine is soft, forward and will be easy to drink.

2,044 Views

Tasted

Mar 19, 2017

Medium-bodied, soft, short and sweet this wine has an accessible thyme and plum personality. 86-88 Pts

1,975 Views

Tasted

Apr 24, 2015

2013
Château La Patache (Pomerol)

With a spicy plum character, the wine is medium bodied, soft and open, offering uncomplicated drinking in its youth. 86-88 Pts

2,211 Views

Tasted

Apr 26, 2014

2012
Château La Patache (Pomerol)

Already showing some secondary characteristics, the wine is forward, medium bodied and focused on its strawberry and dark cherry center.

2,552 Views

Tasted

May 15, 2015