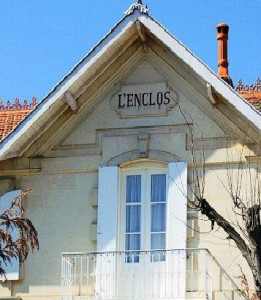 Learn everything about Chateau L'Enclos Pomerol with wine tasting notes with wine and food pairing tips. Learn the best vintages, a history of the property, information on the vineyards, and winemaking. If you want to read about other important, Bordeaux Chateaux: Links to all Bordeaux Wine Producer Profiles
Chateau l'Enclos History, Overview
Chateau L'Enclos has a history dating back to the 19th century. At one point, the estate was known as Au Grand Moulinet, (Moulinet is the name of the neighboring village) before it became L'Enclos Pomerol, which eventually morphed into simply Chateau L'Enclos.
The petit chateau was constructed in 1898 by Pierre Larroucaud, the owner of the property at the time. Descendants of the Larroucaud family continued to own and manage the Pomerol estate of Chateau L'Enclos until 2006 when it was purchased by the American owners, Stephen Adams, and Denise Adams.
The Adams family also owns Chateau Fonplegade in St. Emilion, as well as other Bordeaux properties and a vineyard in the Napa Valley, Adamvs, which is located on Howell Mountain as well as vineyards in Healdsburg.
Chateau l'Enclos Vineyards, Terroir, Grapes, Winemaking
The 9.5-hectare vineyard of Chateau L'Enclos is planted to 83% Merlot, 17% Cabernet Franc. The Malbec was removed from the vineyard in 2018 and replaced with more Merlot. The vineyard is located not far from Chateau Clos Rene. On average, the vines are 31 years of age.
The estate has old vines as well, dating back to 50 years of age. The vineyard is planted to an average of 6,500 vines per hectare. In time, the Right Bank estate plans to increase the percentage of Merlot in the vineyards.
There are three unique terroirs in the vineyards of Chateau L'Enclos with sand, gravel, and flint soils. There are also some iron deposits in the soil which add to the complexity of the wine.
The vineyard is as you might guess based on the 3 different soil types, located in various areas in Pomerol. Their best parcels are placed not far from Chateau Trotanoy and Chateau Clinet. Their lesser parcels are in sandy soils close to Chateau de Sales.
Alcoholic fermentation takes place in nine, temperature-controlled, cement vats that range in size from 81 hectoliters up to 116 hectoliters and 3 small, 50 hectoliter stainless steel vats. Malolactic fermentation takes place in a combination of tank and French oak barrels.
At the estate, L'Enclos has also recently started increasing the percentage of new oak to age the wine. Currently, the wines are aged in 30% new French oak barrels for close to 18 months. At Chateau L'Enclos they are now working on organic farming techniques in their vineyards. Michel Rolland is their consultant at Chateau L'Enclos.
The best vintages of Chateau L'Enclos are: 2022, 2021, 2020, 2019, 2018, 2017, 2016, 2015, 2012, 2010, 2009 and 2005.
When to Drink Chateau L'Enclos, Anticipated Maturity, Decanting Time
Chateau L'Enclos needs at least 3-5 years of aging in good vintages until it is ready to be enjoyed. Young vintages can be decanted for 1 hour or longer. This allows the wine to soften and open its perfume.
Older vintages might need very little decanting, just enough to remove the sediment. Chateau L'Enclos offers its best drinking and should reach peak maturity between 6-15 years of age after the vintage.
Serving Chateau L'Enclos with Wine, Food, Pairing Tips
Chateau L'Enclos is best served at 15.5 degrees Celsius, 60 degrees Fahrenheit. The cool, almost cellar temperature gives the wine more freshness and lift. Chateau L'Enclos is best paired with all types of classic meat dishes, veal, pork, beef, lamb, duck, game, roast chicken, roasted braised, and grilled dishes.
Chateau L'Enclos is also good with Asian dishes, hearty fish courses like tuna, mushrooms, and pasta.
Chateau L'Enclos is a fairly large property for the Pomerol appellation. On average their annual production is close to 3,000 cases per year. There is a second wine, Le Petit L'Enclos. Chateau L'Enclos is a Pomerol estate worth keeping your eye on as things can only continue to improve.
www.fonplegade.com/Our-Wines/Chateau-l-Enclos
Château L'Enclos Wine Tasting Notes
14 Vintages 64,472 Views Sort by Vintage-Rating
2020
Château L'Enclos (Pomerol)

With a strong note of florality, from there you find licorice, cherries, cocoa, mint and truffles. The wine is medium-bodied, soft, fresh and silky with loads of those sweet, ripe, elegant cherries that stick with you through to the finish. This is the finest vintage of L'Enclos ever produced! Drink from 2023-2040.

561 Views

Tasted

Mar 21, 2023

Plummy, silky, fresh, medium-bodied and already focusing on its core of chocolate-covered plums, licorice and espresso. You should be able to enjoy this on with just a year or two of age. 89-91 Pts

1,809 Views

Tasted

May 20, 2021

2019
Château L'Enclos (Pomerol)

Truffle, flowers, and cocoa come through easily in the nose. The wine is soft, sweet, silky and fresh with a gorgeous, refined, sense of purity to the sweet cherries on the palate and in the silky finish. I really like the spicy, chocolate note on the backend. Clearly, this is the best vintage of L'Enclos ever produced! Drink from 2023-2037.

1,755 Views

Tasted

Mar 29, 2022

The best vintage of L'Enclos ever produced! Round, silky, opulent and with ripe, dark fruits, licorice, smoke, espresso and black cherry with plum, now you find a texturally interesting wine with a lingering finish. 91-93 Pts

2,794 Views

Tasted

Jun 8, 2020

2018
Château L'Enclos (Pomerol)

Forward, soft and vinified for early approachability, here you'll find red plums, espresso, spice box and floral scents. Medium-bodied and elegantly styled, enjoy this in its youth for the purity of the silky, sweet, red fruits. The wine was made from a blend of 88% Merlot and 12% Cabernet Franc, reaching 14% ABV. 89-91 Pts

1,636 Views

Tasted

Apr 19, 2019

2017
Château L'Enclos (Pomerol)

Spicy black raspberries, incense and floral scents can be found with ease. On the palate, the wine is medium bodied, bright and focused on its sweet cherries, citrus and thyme. There is a hint of cocoa in the easy to like finish. Made from a blend of 88% Merlot and 12% Cabernet Franc, the wine reached 13.5% ABV. The frost damaged close to 60% of the harvest.

1,630 Views

Tasted

Apr 26, 2018

2016
Château L'Enclos (Pomerol)

Medium bodied, fruity and forward, the wine is soft, refined, elegant and charming. This early drinking Pomerol leaves you with sweet, red plums, espresso and licorice on the palate and finish.

2,484 Views

Tasted

Sep 21, 2019

With more depth of color than usual, the wine offers black raspberry, vanilla bean and earth. It is soft, sweet and fresh with a supple, dark, red berry finish. Made from a blend of 85% Merlot, 12% Cabernet Franc and 3% Malbec, the wine is 14% ABV.

2,776 Views

Tasted

Apr 29, 2017

2015
Château L'Enclos (Pomerol)

Sweet, fresh, ripe, elegant plums, licorice, cherry and cocoa are on the nose and palate. The wine is medium bodied, silky and very soft, finishing juicy, sweet plums. Give this 2-3 more years in the cellar. This is clearly the best vintage I've tasted from L'Enclos yet.

4,849 Views

Tasted

May 21, 2018

A refreshing glimmer of strawberry with plum and spice are the first things you notice in the nose. Medium/full-bodied, silky and soft, the plums are fresh, spicy and delight the palate. You can drink this young or wait a while. This is clearly the most impressive vintage I've tasted from L'Enclos. From 85% Merlot, 12% Cabernet Franc and 3% Malbec (surprise!), the wine reached 13.5% ABV. 90 - 92 Pts

3,378 Views

Tasted

Apr 27, 2016

2014
Château L'Enclos (Pomerol)

Early drinking effort, with a plum and olive core of fruit that is already drinking well.

2,992 Views

Tasted

Jul 2, 2017

Medium-bodied with an earthy, wild plum character, revealing notes of fresh strawberry and cherry at its core, this wine is best tasted in its youth. From 80% Merlot, 17% Cabernet Franc and 3% Malbec, the wine reached 12.5% ABV. 85-87 Pts

2,868 Views

Tasted

Apr 24, 2015

2013
Château L'Enclos (Pomerol)

Lighter style of a spicy, red berry dominated Pomerol for early drinking pleasure.

2,091 Views

Tasted

May 25, 2016

Medium bodied with raspberry, cherry and licorice in its character, the wine has soft textures in its espresso and red plum finish. 86-88 Pts

2,175 Views

Tasted

Apr 25, 2014

2012
Château L'Enclos (Pomerol)

Medium bodied, with a fresh, black raspberry, smoke and spicy nose, the wine is soft, forward and easy to like.

3,697 Views

Tasted

May 15, 2015

This vintage shows an increase in the use of micro vinification with 45% of the harvest undergoing the whole berry fermentation technique. Truffle, incense, floral and black plum notes open to an oaky, plum-filled finish. 89-91 Pts

3,608 Views

Tasted

Apr 26, 2013

2011
Château L'Enclos (Pomerol)

Produced from 85% Merlot, 12% Cabernet Franc and 3% Malbec. The Malbec is added to bring more density to the wine. Cocoa, flowers, black raspberries, medium body, soft textures and a round cherry finish are found in this Pomerol. 88-89 Pts

3,013 Views

Tasted

Apr 21, 2012

2010
Château L'Enclos (Pomerol)

L'Enclos Simple easy going, correctly made Pomerol without fault or distinction. With a new team in place coupled with a serious commitment to spend what it takes to make the best wine possible, things should pick up a this estate starting with the 2011 Bordeaux vintage. 87-89 Pts

5,366 Views

Tasted

Apr 21, 2011

2009
Château L'Enclos (Pomerol)

Already showing bricking in the color, the secondary notes of truffle, licorice, smoke and earth dominate the nose. Soft and round on the palate, this is at the peak of maturity. Drink this over the next 3-5 years before the fruit begins to fade.

2,323 Views

Tasted

Sep 20, 2019

Soft textures, medium bodied and a supple cherry personality.

3,778 Views

Tasted

May 3, 2012

2008
Château L'Enclos (Pomerol)

Fully mature, with no effort you find the wet earth and red fruity aromas. The wine is soft, light, elegant and will be best consumed over the next few years, allowing you to enjoy the freshness in the cherries, before they fade to more secondary characteristics.

1,983 Views

Tasted

Sep 17, 2018

Medium bodied with crisp red fruits, espresso and earthy notes, this is a wine to enjoy in its youth. The wine was made from a blend of 79% Merlot, 19% Cabernet Franc and 2% Malbec.

3,924 Views

Tasted

Aug 28, 2015

2006
Château L'Enclos (Pomerol)

Fully mature, elegant, soft, graceful style of wine, with an earthy, thyme, cherry and plum core of fruit with a soft, refined texture in the finish.

2,982 Views

Tasted

May 25, 2016