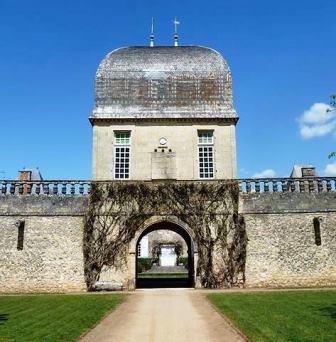 Learn everything about Chateau de Sales Pomerol with wine tasting notes and wine with food pairing tips. Learn the best vintages, a history of the property, information on the vineyards, winemaking. If you want to read about other important, Bordeaux Chateaux: Links to all Bordeaux Wine Producer Profiles
Chateau de Sales History, Overview
Chateau de Sales has been in the same family hands since 1464. This probably sets a record in Bordeaux for continuous ownership of a chateau and vineyard for a single-family. In 1464, Bertrand de Sauvanelles agreed to rent and manage the estate. That means Chateau de Sales has remained in the same family hands for close to 6 centuries!
The Chateau was created in the early 1600s, which was also quite rare for Pomerol at the time, as the region has never been the home to the type of grand chateaux found in the Left Bank. In fact, the chateau for de Sales is one of the few, truly regal chateau in the entire Pomerol appellation. Chateau de Sales did not become a working Bordeaux vineyard until some time in the late 1700s.
Chateau de Sales Vineyards, Terroir, Grapes, Winemaking
The large 47.8-hectare vineyard of Chateau de Sales is planted to 73% Merlot, 15% Cabernet Sauvignon and 12% Cabernet Franc. The terroir is gravel, sand, and a bit of clay in the soils. On average, the vines are 50 years of age. However, there are some parcels with old vines that are more than 60 years of age.
The vineyard of Chateau de Sales is unusual for not just its size, but because the vines are in 1, large parcel. Although it is interesting to note they also own 3 hectares in Lalande de Pomerol that they are allowed to include in their Pomerol.
Chateau de Sales is a massive vineyard for Pomerol. In fact, Chateau de Sales is the largest vineyard in the Pomerol appellation. When you think about it, with its enormous production, it could be more at home in the Medoc, than in the Right Bank.
In total, they own 90 hectares in Pomerol, with close to half of their land being cultivated with vines. The vines are located not too far from Clos Rene and Chateau lEnclos. The remaining portion of their estate is devoted to greenery, parkland, and forests.
To produce the wine of Chateau de Sales, the wine is vinified in traditional, large concrete vats ranging from 100 to 180 hectoliters. Malolactic fermentation is conducted in vats. The wine is aged in vat for between 12-14 months before it's aged in barrels for an additional 6 months.
The barrel aging program is complex as Chateau de Sales uses a diverse array of barrels. Only 5% of new, French oak barrels are used in the barrel aging process. The rest of the barrels are on average split between 30% one-year-old barrels, 30% two-year-old barrels and the remaining wood is 3 years old.
Only 50% of the wine is aged in barrel. The remainder of the wine is aged in tanks. More than 10,000 cases of Chateau de Sales are produced each year. There is a second wine, which used to be called Clos de Sales. Today, the second wine is sold under the name of Chateau Chantalouette.
The best vintages of Chateau de Sales are: 2022, 2021, 2020, 2019, 2018, 2017, 2016, 2015, 2014, 2012, 2010, 2009 and 2005. Starting with the 2020 vintage, it looks like there is a reemergence in the wines here as 2020 is the finest vintage of Chateau de Sales ever produced!
When to Drink Chateau de Sales, Anticipated Maturity, Decanting Time
Chateau de Sales can be enjoyed on the young side with an hour of decanting. This allows the wine to soften and open its perfume. Older vintages might need very little decanting, just enough to remove the sediment. However, I find the wine is usually better with 3-6 years of bottle age. Of course, that can vary slightly, depending on the vintage character. In the best years, Chateau de Sales will best between 4 to 12 years of age after the vintage.
Serving and Decanting Chateau de Sales with Wine, Food, Pairing Tips
Chateau de Sales is best served at 15.5 degrees Celsius, 60 degrees Fahrenheit. The cool, almost cellar temperature gives the wine more freshness and lift.
Chateau de Sales is best paired with all types of classic meat dishes, veal, pork, beef, lamb, duck, game, roast chicken, roasted, braised, and grilled dishes. Chateau de Sales is also good when matched with Asian dishes, hearty fish courses like tuna, mushrooms, and pasta.
Chateau de Sales is not my favorite style of Pomerol wine. The wines are light, dominated by red fruits and on the rustic side of the style range for Pomerol.
Château de Sales Wine Tasting Notes
13 Vintages 47,375 Views Sort by Vintage-Rating
2020
Château de Sales (Pomerol)

Medium-bodied, soft, forward, fresh and spicy, with a core of sweet, red pit fruits, spice, lift and dusty tannins, with a touch of cocoa and leafy herbs that come in along with the endnote. This is the best vintage of Chateau de Sales I have ever tasted. Drink from 2023-2035.

532 Views

Tasted

Mar 21, 2023

Flowers, licorice, roasted plums, cherries, coffee bean and cocoa on the nose create the perfume. Medium-bodied, soft, fresh and vivacious, the elegant wine offers loads of ripe, red pit fruits with bitter chocolate in the finish. This is the best vintage of Chateau de Sales I have ever tasted. 90-92 Pts

1,774 Views

Tasted

May 20, 2021

2019
Château de Sales (Pomerol)

With a solid core of cocoa infused, plums, flowers and wet earth, there is a nice vibrancy, freshness and silky touch to all the sweet, ripe red fruits. Elegant, refined, earthy and with a cool, truffle and herb accent on the nose, this is already nice and promises to be even better with a few years of age. Things have really been on the upswing here lately as the wines have really stepped up in quality lately starting with the 2018 vintage and 2019 is even better! Drink from 2024-2034.

1,522 Views

Tasted

Mar 29, 2022

2018
Château de Sales (Pomerol)

Medium-bodied, lean, classic, floral and cherry filled, this bright wine offers a forward approach for early drinking. 85-87 Pts

3,553 Views

Tasted

Apr 19, 2019

2017
Château de Sales (Pomerol)

Light in color and in fruit, the wine is unfussy, bright and easy to drink. This will be best in its youth.

1,651 Views

Tasted

Apr 26, 2018

2016
Château de Sales (Pomerol)

Medium bodied, fresh, bright, but not quite crisp, the focus on the light, red fruits, with just a bit of earth for complexity. This is not very deep, but there is just enough here to please folks yearning for older, classic styles of Pomerol. This is probably the best vintage from de Sales, I recall tasting.

4,116 Views

Tasted

Apr 29, 2017

2015
Château de Sales (Pomerol)

Light, bright, crisp red fruits abound with an herbal and earthy, lean, simple, red plum finish. Springtime in Pomerol. 83 - 85 Pts

3,078 Views

Tasted

Apr 27, 2016

2014
Château de Sales (Pomerol)

Light, bright, fresh, sharp, medium bodied, red fruit filled wine without a lot of depth.

2,852 Views

Tasted

Feb 9, 2019

2012
Château de Sales (Pomerol)

Light, bright, crisp red berries with a spicy, earthy accent. This will be best tasted on the young side.

3,157 Views

Tasted

May 4, 2016

2010
Château de Sales (Pomerol)

Light, bright, crisp red fruits abound with an herbal and earthy, lean, simple, red plum finish. Springtime in Pomerol.

5,194 Views

Tasted

May 25, 2016

Rustic, traditional, lean style of Pomerol with bright red fruits, earth and herbs that ends with a crisp, red plum finish.

4,324 Views

Tasted

May 7, 2014

2009
Château de Sales (Pomerol)

From the largest vineyard in Pomerol, the wine is lean with some green character in the spicy, red berry finish. This needs to be drunk on the young side.

3,817 Views

Tasted

May 1, 2012

2008
Château de Sales (Pomerol)

Lean, tart, dry and thin, with some red berries poking through in the finish.

5,591 Views

Tasted

Aug 6, 2013

2006
Château de Sales (Pomerol)

Light, bright and leaning to the red, tart berry side, the wine is more interesting on the earthy, floral, slanted cherry nose, than on the light red fruit palate. This is not a wine I would hold for evolution.

2,774 Views

Tasted

Feb 10, 2019

2005
Château de Sales (Pomerol)

Simple, medium bodied, fresh red berries, spice and earth aromas that finishes with red plum notes. This is not a wine for aging.

3,440 Views

Tasted

Feb 3, 2014