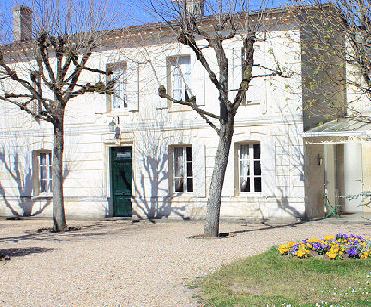 Learn everything about Clos Rene Pomerol with wine tasting notes, wine, and food pairing tips, best vintages, a history of the property, and information on the vineyards and winemaking. If you want to read about other important, Bordeaux Chateaux: Links to all Bordeaux Wine Producer Profiles
Clos Rene History, Overview
Clos Rene is one of the older estates in Pomerol dating back to the mid 18th century. At the time of its birth in 1734, it went under the name of Reney. As you can see, the name was later changed to match its phonetic sound. The original chateau pictured on the label was constructed in 1880.
At some point in the early 1940s, Clos Rene was managed and co-owned by Pierre Lasserre. Pierre Lasserre was at the time in charge of managing the property for the Durantou family that would become Chateau LEglise Clinet.
Today, Clos Rene is owned by both the Garde family and the Lasserre family. Clos Rene was one of the last producers in Pomerol to bottle their own production. It was the normal practice during the early part of the 20th century for chateaux to deliver their wine in barrel to the negociants who did the bottling.
By 1970 that practice was almost nonexistent. Clos Rene did not begin to bottle their own wine until the middle or later part of the 1970s.
Clos Rene Vineyards, Terroir, Grapes, Winemaking
The 12 hectare Pomerol vineyard of Clos Rene is planted to 70% Merlot, 20% Cabernet Franc and 10% Malbec. With 10% Malbec in their vineyards, they have the largest plantings in Pomerol as well as one of the largest plantings of Malbec in the Right Bank.
The vineyard is located in the far west of Pomerol. just south of Lalande de Pomerol and not far from Chateau LEnclos and Chateau de Sales. The terroir is mostly gravel and sand with some iron deposits in the soil. The vineyard is planted to a vine density of 5,500 vines per hectare. On average, the vines are kept at 35 years of age.
To produce the wine at Clos Rene, vinification takes place in temperature-controlled, traditional, cement vats. Malolactic fermentation takes place in tanks. The wines are then aged in 25% new, French oak barrels for an average of 18 months before bottling.
There is a second wine, Moulinet-Lasserre. On average, close to 6,000 cases are produced of Clos Rene Pomerol every vintage. Clos Rene was consulted by Michel Rolland. However, today, Thomas Duclos consults the property.
The best vintages of Clos Rene are: 2022, 2021, 2020, 2019, 2018, 2017, 2016, 2015, 2014, 2012, 2010, 2009, 2006, 2005, 2001 and 2000. Starting with 2018, the quality of Clos Rene has really improved.
When to Drink Clos Rene, Anticipated Maturity, Decanting Time
Clos Rene needs some time before it can be enjoyed. Young vintages can be decanted for an average of 1 hour, give or take. This allows the wine to soften and open its perfume.
Older vintages might need very little decanting, just enough to remove the sediment. Clos Rene is usually better with at least 3-5 years of bottle age. Of course, that can vary slightly, depending on the vintage character. Clos Rene offers its best drinking and should reach peak maturity between 4-15 years of age after the vintage.
Serving Clos Rene Pomerol with Wine, Food, Pairing Tips
Clos Rene Pomerol is best served at 15.5 degrees Celsius, 60 degrees Fahrenheit. The cool, almost cellar temperature gives the wine more freshness and lift. Clos Rene is best served with all types of classic meat dishes, veal, pork, beef, lamb, duck, game, roast chicken, roasted, braised, and grilled dishes.
Clos Rene Pomerol is also good with Asian dishes, hearty fish courses like tuna, mushrooms, and pasta.
Clos René Wine Tasting Notes
17 Vintages 57,736 Views Sort by Vintage-Rating
2022
Clos René (Pomerol)

Silky, fresh, supple ,medium-bodied, elegant, cherry, and plum filled wine with a spicy, savory edge to the lush, sweet, ripe, chocolate-coated berries on the palate and in the finish. Drink from 2025-2040. 91-93 Pts.

871 Views

Tasted

May 8, 2023

2021
Clos René (Pomerol)

The property lost 30% of their crop due to frost damage. The wine they were able to produce is medium-bodied, soft, fresh and forward, with a lean to the spicy, red plum and earthy side of the style range. This is a fine, well-priced, early drinking charmer. Drink from 2023-2035. 89-91

1,974 Views

Tasted

May 20, 2022

2020
Clos René (Pomerol)

Black cherries, licorice, flowers and truffle make an appearance in the nose. The wine is medium-bodied, with a lush, polished, silky, fresh palate presence which is perfect for all of its ripe, pure, energetic, red pit fruits and spice. This has really come on strong during its barrel aging. In fact, this is at the level of the older vintages from the 40s and 50s. Drink from 2024-2045.

1,073 Views

Tasted

Mar 21, 2023

Medium-bodied, with a smoky, ripe, earthy, fresh, bright approach to the fruit. The wine is lifted and energetic, finishing with touches of savory herbs and wet earth in the endnotes. Give this 5 years or so of aging before pulling a cork. 89-91 Pts

2,693 Views

Tasted

May 20, 2021

2019
Clos René (Pomerol)

Medium-bodied, soft, fresh and already sporting a nose filled with mint leaf, cherries and mocha. Approachable, fresh, vibrant and already easy to like, with all of its spicy cherries, you and drink this just about on release, or age it for a bit for more secondary nuances. Drink from 2023-2036.

1,939 Views

Tasted

Mar 29, 2022

2018
Clos René (Pomerol)

Medium-bodied, finesse styled Pomerol focusing on the softness in the tannins and sweetness in the plummy fruits. Elegant, fresh and with good tension in the mouth, give it a few years to fill out and it should be an even better wine.

1,672 Views

Tasted

Mar 9, 2021

The most concentrated wine in the history of Clos Rene, this is on the deep plum side with licorice, dark chocolate and tension in the mouth. The fruit makes its presence known --something that has been missing from this estate for a while. Much of that credit goes to their new consultant Thomas Duclos. 89-91 Pts

2,682 Views

Tasted

Apr 19, 2019

2017
Clos René (Pomerol)

The first thing you notice is the raspberry aromatics before moving to the soft, polished textures. The wine is easy to like and easy to drink. Medium bodied, forward and fresh, this experience ends with licorice, red fruits and espresso.

2,546 Views

Tasted

Apr 26, 2018

2016
Clos René (Pomerol)

Earthy red fruits and herbs with a nice note of thyme starts of this medium bodied, forward, cherry filled, early drinking Pomerol.

2,650 Views

Tasted

Sep 21, 2019

This is almost dark purple, which is not something you expect with Clos Rene. Silky tannins, ripe, dark red fruits and a blend of blackberry and licorice in the finish make this the best ever produced from this estate.

3,699 Views

Tasted

Apr 29, 2017

2015
Clos René (Pomerol)

Licorice, smoke and juicy plums percolate on the nose of this medium-bodied wine. Soft, likeable with fresh, but light cherries and black raspberries in the finish. 87 - 89 Pts

3,728 Views

Tasted

Apr 27, 2016

2014
Clos René (Pomerol)

This light, bright, early drinking Pomerol focuses on a red cherry center. 86-88 Pts

4,886 Views

Tasted

Apr 24, 2015

2013
Clos René (Pomerol)

With coaxing, red fruits come to the surface of this medium-bodied, supple and bold but simple Pomerol wine. 86-88 Pts

1,978 Views

Tasted

Apr 25, 2014

2012
Clos René (Pomerol)

This medium-bodied wine is filled with black cherries and cocoa raspberry with soft, easy-to-like textures and an oaky finish. 87-89 Pts

4,794 Views

Tasted

Apr 26, 2013

2011
Clos René (Pomerol)

Earthy cherries, medium body and a bitter chocolate, bright cherry finish. 87-89 Pts

2,847 Views

Tasted

Apr 21, 2012

2010
Clos René (Pomerol)

Certainly a contender for the best wine ever produced at the property. The medium bodied Pomerol is a bit stern, but you can find nice, ripe black cherries, wet earth, plum and mocha in the nose and finish. Drink this young, or age it 5 years before popping a cork.

4,787 Views

Tasted

Aug 22, 2014

2009
Clos René (Pomerol)

Medium bodied, light in the nose and lighter on the palate, the wine is dominated by red fruit, with a touch of dryness in the bright, red plum finish.

3,053 Views

Tasted

Jan 18, 2013

2008
Clos René (Pomerol)

Medium bodied, fresh and bright, with red, juicy plums and herbs, the wine is forward, with a lot of freshness in the cherry and raspberry powered finish.

3,015 Views

Tasted

Dec 13, 2017

2005
Clos René (Pomerol)

This nice, value priced Pomerol is already open and drinking well. Medium bodied with soft textures, there is plenty of fresh dark cherries, earth, plum and chocolate to be a fun, easy to like Bordeaux to drink in its first decade of life.

4,248 Views

Tasted

Mar 14, 2012

1983
Clos René (Pomerol)

Fading, with little fruit remaining, this bright cherry and earth filled wine requires consumption.

2,601 Views

Tasted

Nov 30, 2013