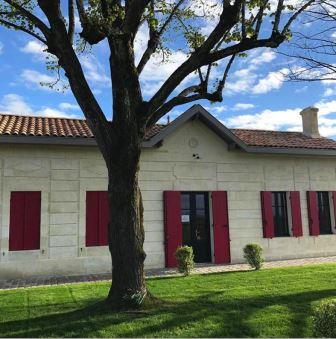 Learn everything about Enclos Tourmaline Pomerol, Bordeaux with wine tasting notes, and wine with food pairing tips. Learn the best vintages, a history of the property, information on the vineyards, and winemaking. If you want to read about other important, Bordeaux Chateaux: Links to all Bordeaux Wine Producer Profiles
Enclos Tourmaline History, Overview
Purchased in late 2011 by Peter Kwok, the property was originally slated to be known as Cornaline. But that name was quickly changed to Enclos Tourmaline. Enclos Tourmaline takes its name from a gemstone that is a type of black crystal.
The vines that are used to produce Enclos Tourmaline are located between Chateau Clinet and Chateau Feytit-Clinet on the Pomerol plateau. Previously, a part of the vineyard belonged to Chateau La Patache. 2012 marked the first vintage for the property.
Peter Kwok is an experienced Bordeaux vineyard owner. Peter Kwok owns 4 more Right Bank estates. Chateau Haut Brisson and Tour Saint Christophe, both of which are situated in the St. Emilion appellation. Chateau La Patache, also in Pomerol and Enclos de Viaud, is located in the Lalande de Pomerol appellation.
With the aid of Michel Rolland and Jean Christophe Meyrou, it is expected that the next step for this winery will be to create a new, state-of-the-art, gravity-fed winery that will be constructed for the production of Enclos Tourmaline and perhaps La Patache. Today, Howard Kwok, the son of Peter Kwok is in charge of the estate.
Chateau Enclose Tourmaline, Vineyards, Terroir, Grapes, Winemaking
Originally, the vineyard was about half of a hectare. Today, the vineyard has grown to 1.2 hectares of 100% Merlot. The vineyard has a terroir of clay and gravel soils. All the vineyard work that takes place is 100% organic. Today, close to 10% of the wine is vinified with the stems attached.
The entire production of Enclos Tourmaline is produced using micro-vinification. That means the wine is produced and aged entirely in barrels.
The grapes are whole berry fermented in 100% new, French oak barrels. Malolactic fermentation takes place in barrels and the wines will be aged in 100% new, French oak barrels.
Even though they are now up to a whopping 1.2 hectares of vines, as you can imagine, due to the size of the tiny, parcel of vines, very little wine is produced, making Enclos Tourmaline one of the more difficult wines to find from Pomerol. Production is close to 250 cases of wine per vintage.
The best vintages of Enclos Tourmaline are: 2022, 2021, 2020, 2019, 2018, 2017, 2016, 2015, 2014 and 2012.
When to Drink Enclos Tourmaline, Anticipated Maturity, Decanting Time
Enclos Tourmaline can be enjoyed on the young side with decanting. Young vintages can be decanted for an average of 1-3 hours, give or take. This allows the wine to soften and open its perfume.
Older vintages might need very little decanting, just enough to remove the sediment. Enclos Tourmaline is usually better with at least 8-10 years of bottle age. Of course, that can vary slightly, depending on the vintage character. Enclos Tourmaline offers its best drinking and should reach peak maturity between 10-25 years of age after the vintage.
Serving Enclos Tourmaline with Wine, Food, Pairing Tips
Enclos Tourmaline is best served at 15.5 degrees Celsius, 60 degrees Fahrenheit. The cool, almost cellar temperature gives the wine more freshness and lift. Enclos Tourmaline is best paired with all types of classic meat dishes, veal, pork, beef, lamb, duck, game, roast chicken, roasted, braised, and grilled dishes.
Enclos Tourmaline is also good with Asian dishes, hearty fish courses like tuna, mushrooms, and pasta.
Enclos Tourmaline Wine Tasting Notes
10 Vintages 46,457 Views Sort by Vintage-Rating
2022
Enclos Tourmaline (Pomerol)

The wine opens with chocolate, black raspberries, licorice, flowers, espresso, and a touch of smoke on the nose. On the palate, the wine is silky, opulent, and fresh. There is lift to the layers of sweet, ripe, deep red fruits, dark chocolate, and a lingering spicy note on the backend of the silky finish. The wine is a blend of 95% and 5% Cabernet Franc. 14.5% ABV, 3.52 pH. Yields were 38 hectoliters per hectare. Drink from 2026-2047. 96-98 Pts.

1,220 Views

Tasted

May 8, 2023

2021
Enclos Tourmaline (Pomerol)

Flowers, black raspberries, plums, and hints of truffle and cocoa are easy to find in the nose. On the palate, the wine is silky, polished and fresh with a cherry-filled, cocoa-dusted, mid-palate and refined, delicate finish. The production is quite small with about 175 cases produced this year. The wine is made from 100% Merlot, 13.2% ABV. Drink from 2023-2042. 92-94

1,773 Views

Tasted

May 20, 2022

2020
Enclos Tourmaline (Pomerol)

Deeply colored, this is a wine perfectly balanced between its intensity, opulence, concentration is flamboyant character. The nose, with its open display of flowers, chocolate, licorice, espresso, spice, dark red pit fruits and truffles is intoxicating. But, that is only the start. It is the velvety, opulent, richness with cashmere tannins and its wealth of sweet, ripe, fruits, chocolate, and spice that steal the show! The luxurious finish hits all the right notes and keeps on going. The only problem is finding any as the production of this 100% Merlot wine is only 200 cases produced. So, if you want it, jump on it, prices are not going to be lower. Drink from 2025-2050.

1,246 Views

Tasted

Mar 21, 2023

Dark in color, the wine shows off its black, blue and red fruits infused with flowers, smoke, licorice, truffle, cigar box and dark chocolate. Lush, supple, fresh and with a gorgeous sense of purity, the wine is concentrated, silky and rich. Made from 100% Merlot, this is a gorgeous, stylish Pomerol. Produced from 100% Merlot this will be outstanding with 5-7 years of age. The production is low in 2020 with about 200 cases produced. 95-97 Pts

2,821 Views

Tasted

May 20, 2021

2019
Enclos Tourmaline (Pomerol)

Opulent, deep, dark and rich with layers of silky-textured, chocolate-covered black plums and cherries. The wine is full-bodied, concentrated, lush and fresh, with length, purity and complexity. This is everything you want in a Pomerol. However, the wine will be quite difficult to find as only 260 cases were produced in this vintage. Drink from 2024-2049.

1,368 Views

Tasted

Mar 29, 2022

Richly-colored, the wine shoots out from the glass with floral, licorice, smoke, black raspberries, cherry and plum. There is freshness, elegance, refinement and most importantly, purity in the fruits. That sense of purity resonates in the long, opulent, finish that borders on decadence. Produced from 100% Merlot and reaching 14.5% ABV.The wine is aging in 100% new, French oak. This will be quite difficult to find as about 260 cases are produced in this vintage. 96-98 Pts

4,519 Views

Tasted

Jun 8, 2020

2018
Enclos Tourmaline (Pomerol)

The nose, with its licorice, flowers, plums and chocolate covered cherries entices you into wanting to know what's next. The answer is, velvety textured plums and seductive black cherries with silky tannins that grace your palate in all the right ways, finishing with layers of perfectly ripe red fruits coated in cocoa. This is a hedonistic beauty that is made from 100% Merlot. Sadly, this is difficult to find as only 275 cases were produced.

1,916 Views

Tasted

Mar 9, 2021

Deep in color, this wine is coaxing you to find flowers, plums, licorice and perfectly ripe cherries in its aroma. This is a hedonistic, erotic wine delivering a velvet drenched, plummy mouthful. Produced from 100% Merlot and reaching 14.7% ABV, it's aging in 100% new, French oak. This will be quite difficult to find as only 275 cases were produced. 95-97 Pts

2,821 Views

Tasted

Apr 19, 2019

2017
Enclos Tourmaline (Pomerol)

Dark in color, the wine is rich, supple, lush and ripe. The tannins are silky, the wine is full bodied and there is a depth of flavor here. It is easy to sense with all the dark black cherries, plums, and dark cocoa. You can drink this young, while waiting for the 2015 and 2016 to come around. But 3-5 years in the cellar is going to add a lot more character to the wine. That is if you can wait that long! The wine was made from 100% Merlot.

2,027 Views

Tasted

Apr 26, 2018

2016
Enclos Tourmaline (Pomerol)

Roses, cocoa, plums, cherries, anise and wet earth are already visible in the wine. Silk and elegance, and precision, with this fabulous sweetness, length and purity in the finish. Give this a decade and you'll have a stunner in your glass. The wine is made from 100% Merlot.

3,220 Views

Tasted

Sep 21, 2019

Produced from 100% Merlot and completely vinified in barrel, the wine shows a deep intensity of color. Intense floral notes combined with black raspberries, plum and earth with the right of chocolate in the finish, giving the wine more of a fat, sensuous, opulent nature. The fruits are sweet, with a strong sense of purity, freshness and energy. Open and expressive, this vintage shows the wine is a vintage on the upswing. The harvest took place October 4 and October 5. The wine reached 14.5% ABV with a pH of 3.8.

3,422 Views

Tasted

Apr 29, 2017

2015
Enclos Tourmaline (Pomerol)

While this was good in barrel, it is a knockout in bottle. The fruit is pure silk in texture. The plummy fruits are perfectly ripe giving you a blend of sweetness, freshness and polish. The opulent wine leaves with a blast of Chocolate, smoke and cherries in the finish.

3,856 Views

Tasted

May 21, 2018

Everything you want from a Pomerol is right here. Sensuous textures, depth of flavor, ripe, juicy, sweet, dark red fruits and a beautiful, full bodied, concentrated wine with silky tannins and flowery, truffle accents to the black cherries and chocolate in the finish.

3,671 Views

Tasted

Nov 13, 2017

Like an intricately cut garnet, there is a purple inflection in the color, supple in feel with silken tannins and a rich, chocolate-covered, plum finish straight outta Saint-Germain-des-Pres. This beauty should be even better with at least 5 years of age. The wine reached a healthy 14.8% ABV, but there is no touch of heat, just pure, sweet, delectable fruits. Produced from 100% Merlot and using only micro vinification techniques, the grapes were whole berry fermented and 10% of the stems were retained to give the wine more structure and freshness. The harvest took place from September 22 to October 1. In only three years, Enclos Tourmaline has turned out to be a solid contender amongst the great wines of Pomerol. 94 - 96 Pts

3,054 Views

Tasted

Apr 27, 2016

2014
Enclos Tourmaline (Pomerol)

From 100% Merlot, the wine is showing a sensuous, velvet character, with earthy plums, truffle and minerality to complicate matters. You can drink this young, while waiting for the gorgeous 2015 and 2016 to come around. Wine tasting is of course by its nature, completely subjective. Either I did not see the quality of this wine in barrel, or it truly blossomed in bottle. Either way, as you can see, my score has clearly jumped as the is just showing great today!

2,794 Views

Tasted

May 19, 2017

Previously known as Cornaline, this wine is soft, lush and even silky with sweet cherry fruit but beware a touch of dryness in the finish. From 100% Merlot and using 100% micro vinification techniques, the grapes were whole berry fermented and a portion of the stems were saved and included in 50% of the barrels. 87-89 Pts

3,235 Views

Tasted

Apr 24, 2015

2012
Enclos Tourmaline (Pomerol)

Smoke, espresso, caramel and red fruits start off in the right place, making this a successful debut vintage. But the soft red fruits are overwhelmed by the oak in the end note. Still, this is a wine to watch as the wine making team is very talented.

1,884 Views

Tasted

May 15, 2015

The debut vintage of this new Pomerol estate was produced from 100% Merlot, whole berry fermented fruit in barrel. The vineyard is a small .5 hectare parcel on clay terroir, located in front of Chateau Clinet. Coffee, licorice, truffle and black cherry notes create the perfume. The wine is plush, opulent and silky, with a lot of oak in the chocolate, plummy finish. 89-91 Pts

1,610 Views

Tasted

Apr 26, 2013