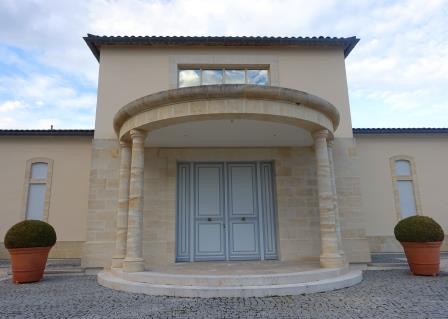 Learn everything about Chateau Haut Brisson St. Emilion with wine tasting notes and wine with food pairing tips. Learn the best vintages, the history of the property, and information on the vineyards and winemaking. If you want to read about other important, Bordeaux Chateaux: Links to all Bordeaux Wine Producer Profiles
Chateau Haut Brisson History, Overview
Chateau Haut Brisson, was located solely in the Vignonet sector of Saint Emilion, not far from Chateau Monbousquet and Chateau Teyssier after the estate was bought in 1997 by Peter Kwok.
Following the initial purchase, the new owner wanted to discover how far he could push the quality envelop for his Right Bank chateau. Before he could do that, Peter Kwok began purchasing additional parcels of land and increasing the size of their vineyards.
When Peter Kwok made the original purchase, the estate was only 8 hectares. Through additional purchases, today, Chateau Haut Brisson been able to vastly increase the size of its vineyards.
The next change took place when Peter Kwok bought the estate of Chateau Tourans. Once that sale was completed, the 12.6-hectare vineyard was divided into both of their Saint Emilion vineyards, 8 hectares was added to Tour Saint Christophe.
The remaining vines were placed into Haut Brisson. All the winemaking and barrel-aging was moved to Chateau Tourans. Today, most of the vines used for Haut Brisson come from their new parcels located in the cooler, clay-rich terroir found in the commune of St. Etienne de Lisse.
Starting with the 2005 vintage at Haut Brisson, they introduced the small production wine, Haut Brisson La Reserve. This higher-end Cuvee was made from a selection of their best parcels and the finest parcels from their vineyards. The wine was aged in 100% new, French oak barrels. On average, 400 cases were made each year. However, La Reserve Haut Brisson is no longer being produced.
The best vintages of Chateau Haut Brisson are: 2022, 2021, 2020, 2019, 2018, 2017, 2016, 2015, 2010, 2009 and 2005.
In September 2019, during the harvest season, Chateau Haut Brisson was purchased by Stephane Schinazi. The team of Haut Brisson, managed by Howard Kwok agreed to oversee all the operations of the vineyard for a 5 year period.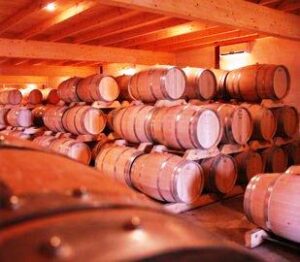 Chateau Haut Brisson Vineyards, Terroir, Grapes, Winemaking
The 17.94-hectare vineyards of Haut Brisson are planted to 65% Merlot, 25% Cabernet Franc and 10% Cabernet Sauvignon. The terroir is gravel and sand soils. The vines are close to 30 years of age.
Starting with the 2012 vintage, Chateau Haut Brisson Reserve began to use micro vinification techniques for a portion of the harvest, close to 35% of the crop for Haut Brisson is produced using Micro vinification, which consists of vinifying a portion of the wine in 225-liter barrels.
Malolactic fermentation takes place in barrels. The wine is then aged for four months on its post-malo lees before being placed in 100% new, French oak barrels for an additional 12 to 15 months.
Haut Brisson Reserve is also made from an average of 98% Merlot and 2% Cabernet Franc, which is a completely different blend than the standard Cuvee. Production of Haut Brisson La Reserve ranged from 400 to 600 cases per vintage.
In 2015, the chateau made a decision to take Haut Brisson in a new direction when they made the right decision and stopped producing their reserve wine. All the top grapes are now placed into Chateau Haut Brisson.
The amount of new French oak barrels used in the aging process has been reduced to an average of 30%, adding more freshness and less of an overt oak presence. Both these steps really pushed the wine in a positive direction. Having just tasted several vintages, for my palate, the 2015 and 2016 Haut Brisson vintages are clearly the best wines the estate has ever produced!
There is a second wine, Haut Brisson La Grave. Haut Brisson was certified organic in 2010. They are now farming more of their estate using biodynamic farming techniques. Michel Rolland is the consultant and Jean-Christophe Meyrou is the director. Production of Chateau Haut Brisson is on average 7,000 cases of wine per vintage.
When to Drink Chateau Haut Brisson, Anticipated Maturity, Decanting Time
Chateau Haut Brisson can be enjoyed on the young side with decanting. Young vintages can be decanted for an average of 1-2 hours. This allows the wine to soften and open its perfume.
Older vintages might need very little decanting, just enough to remove the sediment. Chateau Haut Brisson is usually better with at least 4-6 years of bottle age. Of course, that can vary slightly, depending on the vintage character. Chateau Haut Brisson offers its best drinking and should reach peak maturity between 5-15 years of age after the vintage.
Serving Chateau Haut Brisson with Wine and Food Pairings
Chateau Haut Brisson is best served at 15.5 degrees Celsius, 60 degrees Fahrenheit. The cool, almost cellar temperature gives the wine more freshness and lift.
Chateau Haut Brisson is best paired with all types of classic meat dishes, veal, pork, beef, lamb, duck, game, roast chicken, roasted, braised, and grilled dishes. Haut Brisson is also good when matched with Asian dishes, rich fish courses like tuna, mushrooms, and pasta.
Today, Chateau Haut Brisson is managed by the daughter of Peter Kwok, Elaine Kwok. In 2012, Peter Kwok added to their holdings in the Right Bank of Bordeaux when he purchased Chateau La Patache in Pomerol. He retained La Patache and created a new wine from his best terroir in Pomerol that is sold under the name of Enclos Tourmaline.
The purchase in Pomerol was much to the chagrin of other established owners in that sector, as they were hoping to buy the land as well.
That purchase was closely followed by another acquisition when Peter Kwok bought a vineyard located in the eastern portion of Saint Emilion, Tour Saint Christophe, which was followed by another vineyard acquisition, Chateau Berliquet. Peter Kwok also owns Enclos de Viaud in the Lalande de Pomerol appellation.
Château Haut-Brisson Wine Tasting Notes
18 Vintages 85,021 Views Sort by Vintage-Rating
2022
Château Haut-Brisson (St. Émilion Grand Cru)

On the palate, the wine is medium-bodied, forward, soft and fruity, with a chalky nuance in the plummy finish. The wine blends 95% Merlot with 5% Cabernet Franc. Drink from 2025-2038. 91-93 Pts.

1,489 Views

Tasted

May 8, 2023

2021
Château Haut-Brisson (St. Émilion Grand Cru)

Medium-bodied, bright, fresh and crisp, with a core of red plums, raspberries and red cherries. There is a lot of lift and freshness to the fruits on the palate and in the finish. Blending 90% Merlot with 10% Cabernet Franc, 13.5% ABV. Drink from 2023-2030. 89-91

1,315 Views

Tasted

May 20, 2022

2020
Château Haut-Brisson (St. Émilion Grand Cru)

With a touch of espresso, smoke, cocoa and red fruits, the wine is medium-bodied, fresh, spicy and fruity with a touch of dust, chalk and red fruits in the endnotes. Drink from 2023-2027.

867 Views

Tasted

Mar 21, 2023

Espresso, smoke, earth, incense and red fruits create the nose. The wine is medium-bodied, fresh, spicy and fruity with a touch of dusty cocoa that rides along with the cherries and red plums on the palate and the finish. Give this a few years to develop before pulling a cork. The wine is aged in 35% new, French oak barrels. 91-93 Pts

1,785 Views

Tasted

May 20, 2021

2019
Château Haut-Brisson (St. Émilion Grand Cru)

I like how they backed off the oak, allowing more of the sweet, red cherries and herbs to shine. Medium-bodied, fresh, soft and just about ready to go, you can already enjoy the layers of ripe plums and black raspberries with finishing touches of espresso and chocolate in the endnote. Give it a year or two in the cellar and it will be even better. Drink from 2024-2033.

1,887 Views

Tasted

Mar 29, 2022

Dark in color, the wine is rich, forward, round and soft. The fruit is ripe, open, lush, sweet and doesn't hide its charms. The finish is all about the toffee, licorice and dark plums. Give it 4-5 years in the cellar and drink it over the next 10-12 years after that. The wine was produced from a blend of 90% Merlot and 10% Cabernet Franc, reaching 13.95 ABV. Production is close to half its normal volume this year, as a large portion of the vineyard is being replanted. 91-93 Pts

3,551 Views

Tasted

Jun 8, 2020

2018
Château Haut-Brisson (St. Émilion Grand Cru)

Incense, cherries, plums, licorice and smoke combine well with the soft, silky, textures to create a medium-bodied, fresh, ripe, juicy, kirsch filled wine.

3,038 Views

Tasted

Mar 9, 2021

Soft, silky and juicy with sweetness, lift and elegance, give this a few years of aging to allow for all the complexity to develop. The wine was produced from a blend of 90% Merlot and 10% Cabernet Franc. 92-94 Pts

4,656 Views

Tasted

Apr 19, 2019

2017
Château Haut-Brisson (St. Émilion Grand Cru)

With a good depth of color, the wine is round, the textures are soft, the fruit has ripeness and in the finish you\\\'ll find sweet cherries, licorice and freshness at its core. The wine was produced from a blend of 90% Merlot and 10% Cabernet Franc.

3,125 Views

Tasted

Apr 27, 2018

2016
Château Haut-Brisson (St. Émilion Grand Cru)

With a strong sense of minerality, silky tannins, lush, salty fruit and pepper, this wine is smoky, fresh, concentrated and packed with ripe pit fruit. The wine was produced from a blend of 90% Merlot and 10% Cabernet Franc, reaching 14.4% ABV with a pH of 3.8.

6,371 Views

Tasted

Apr 29, 2017

2015
Château Haut-Brisson (St. Émilion Grand Cru)

Spicy, smoky, floral and filled with ripe cherries, you also find incense, espresso and spice box notes. On the palate, the wine is soft, supple, and rich. The finish is all abut the juicy plums and a hint of bitter chocolate in the finish. The reduction in the amount of new, French oak barrels used for the aging process has added a lot more freshness and energy to the wine. The first vintage made with their new parcels, and they no longer produce a reserve wine has created the best vintage of Haut Brisson ever made!

4,766 Views

Tasted

May 21, 2018

The first vintage made with their new parcels, and they no longer produce a reserve wine has created the best vintage of Haut Brisson ever made! The wine is deeply colored with a spicy, smoky, floral and dark cherry profile. On the palate, the wine is sweet, elegant, fresh and delivers a succulent mouthful of juicy plums and a hint of bitter chocolate in the finish. The reduction in the amount of new, French oak barrels used for the aging process has added a lot more freshness and energy to the wine.

5,439 Views

Tasted

Apr 29, 2016

2014
Château Haut-Brisson La Réserve (St. Émilion Grand Cru)

Florals, black raspberries and thyme emanate from this 85% Merlot and 15% Cabernet Franc blend. With more concentration and better purity of fruit than the standard Haut Brisson, this wine ends with fresh sweet cherries and licorice. 88-89 Pts

1,968 Views

Tasted

Apr 27, 2015

2014
Château Haut-Brisson (St. Émilion Grand Cru)

Medium bodied forward and already expressive, you find smoke, espresso, round textures and an elegant, red berry character. The wine was produced from a blend of 85% Merlot and 15% Cabernet Franc.

3,206 Views

Tasted

Jul 2, 2017

Smoky, thyme and stone aromatics open to a medium bodied, elegant expression of fresh red fruits. The wine was produced from a blend of 85% Merlot and 15% Cabernet Franc. 87-88 Pts

2,840 Views

Tasted

Apr 27, 2015

2013
Château Haut-Brisson La Réserve (St. Émilion Grand Cru)

With black raspberry, coffee and licorice on the nose, the wine has good freshness to the fruit and some weight on the palate, which comes from yields of only 8 whopping hectoliters per hectare. Vinified with a light touch, the wine leaves you with soft, delicate raspberries in the finish. From 90% Merlot and 10% Cabernet Franc, the wine reached 13.25% ABV. 88-90 Pts

1,962 Views

Tasted

Apr 28, 2014

2013
Château Haut-Brisson (St. Émilion Grand Cru)

From low yields of 10 hectoliters per hectare, this easy-drinking wine is soft, light and forward, showcasing smoky berries and licorice. This will be best in its youth. 86-88 Pts

1,604 Views

Tasted

Apr 28, 2014

2012
Château Haut-Brisson La Réserve (St. Émilion Grand Cru)

Fresh cherry liqueur, licorice and herbs the nose, move to a soft, and completely approachable wine with a lot of charm and personality, that will drink well early.

2,348 Views

Tasted

May 15, 2015

From 98% Merlot and 2% Cabernet Franc, the wine offers red berries, silky tannins and a forward, dill, oak and cherry finish. 89-91 Pts

2,436 Views

Tasted

Apr 26, 2013

2012
Château Haut-Brisson (St. Émilion Grand Cru)

Licorice, jammy blackberries, medium bodied, approachable red fruits with a complex saline quality in the finish.

3,354 Views

Tasted

May 15, 2015

With oak, bright cherry fruit, chocolate-covered cherry and a round finish. 87-89 Pts

2,275 Views

Tasted

Apr 26, 2013

2010
Château Haut-Brisson La Réserve (St. Émilion Grand Cru)

Deeply colored, filled with dark fruit, licorice and earthy aromas. Dense and structured, this St. Emilion from the Vignonet should age well. 88-90 Pts

7,483 Views

Tasted

Apr 17, 2011

2009
Château Haut-Brisson La Réserve (St. Émilion Grand Cru)

Deep in color, with a nose filled with licorice, coffee, black plum jam, earth and black cherry, the wine is deep, rich, supple, concentrated and long. This is probably as good as any wine can get from this sandy terroir of St. Emilion.

7,991 Views

Tasted

Feb 5, 2013

2005
Château Haut-Brisson La Réserve (St. Émilion Grand Cru)

Fresh, open, lively and offering a licorice, black cherry, smoke and earthy personality, the wine is soft, open and ends with sweet, black raspberries.

4,226 Views

Tasted

Jan 25, 2014

2005
Château Haut-Brisson (St. Émilion Grand Cru)

The truffle and licorice nose get you going. Simple, smooth and easy drinking, this is showing at a good level of potential today.

5,039 Views

Tasted

Jun 28, 2015