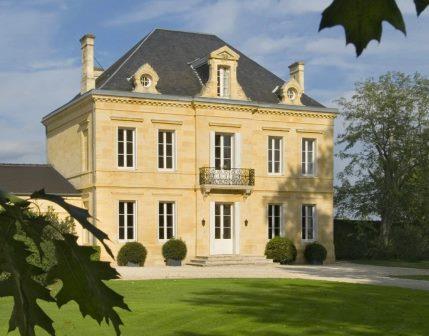 Learn everything about Chateau Teyssier St. Emilion with wine tasting notes and wine with food pairing tips. Learn all the best vintages, a history of the property and information on the vineyards and winemaking. If you want to read about other important, Bordeaux Chateaux: Links to all Bordeaux Wine Producer Profiles
Chateau Teyssier History, Overview
Chateau Teyssier has a long history in the Bordeaux region. In fact, wine has been produced at Chateau Teyssier since the 1700s. The estate dates back to at least 1714. In fact, during the nineteenth century, Teyssier was the largest wine producer in their sector of the Right Bank.
Currently, 10 different wines are produced at this renovated property and each is owned by Jonathan Maltus. With all those wines coming from the estate, perhaps once again, they are the largest operation in the sector.
Jonathan Maltus caught the wine bug after selling his engineering company in 1991. Chateau Teyssier was bought in 1994 by Jonathan Maltus. One of the first moves Jonathan Maltus made was to bring in the noted consultant, Gilles Pauquet as his consultant.
At that time of the original purchase, the Bordeaux vineyards consisted of 5.5 hectares in the Vignonet sector of St. Emilion. Jonathan Maltus increased the size of the Teyssier vineyard almost ten times. Currently, the vineyards of Chateau Teyssier are over 50 fifty hectares in size!
Jonathan Maltus also completely renovated and modernized every aspect of the estate from the vineyards, to the wine-making facilities, barrel cellars, vat rooms, and even the chateau in 2000.
The vinification vats were changed from traditional, large cement vats to temperature-controlled, stainless steel tanks. Everything is state of the art at Chateau Teyssier today. In 2012, they began using optical sorting machines.
Chateau Teyssier Vineyards, Terroir, Grapes, Winemaking
The large 45-hectare vineyard of Chateau Teyssier is planted to 75% Merlot and 25% Cabernet Franc. This shows a slight increase in the amount of Cabernet Franc planted in the vineyards. Located in the slightly off the beaten path of the Vignonet sector, not far from Chateau Canon La Gaffeliere, they have a terroir of sand with iron in the soils.
The wine is vinified in stainless steel tanks and aged in French oak, barrels. About 18,000 cases of Chateau Teyssier are produced each vintage.
The Best Vintages of Chateau Teyssier are: 2022, 2021, 2020, 2019, 2018, 2017, 2016, 2015, 2014, 2010, 2009 and 2005.
Chateau Teyssier also produces a small amount of white Bordeaux wine, Contre le Vent.
When to Drink Chateau Teyssier, Anticipated Maturity, Decanting Time
Chateau Teyssier is better with at least 3-6 years of bottle age. Of course, that can vary slightly, depending on the vintage. Chateau Teyssier is best enjoyed in the first 5-15 years of life.
Young vintages can be decanted for about 1 hour to 90 minutes. This allows the wine to soften and open its perfume. Older vintages might need very little decanting, just enough to remove the sediment.
Serving and Decanting Chateau Teyssier with Wine, and Food Pairing Tips
Chateau Teyssier is best served at 15.5 degrees Celsius, 60 degrees Fahrenheit. The cool, almost cellar temperature gives the wine more freshness and lift.
Chateau Teyssier is best served with all types of classic meat dishes, veal, pork, beef, lamb, duck, game, roast chicken, roasted, braised, and grilled dishes. Chateau Teyssier is a perfect match with Asian dishes, hearty fish courses like tuna, mushrooms, and pasta as well as cheese.
Jonathan Maltus produces several other wines in St. Emilion including, Chateau Le Dome, Le Carre, Les Asteries and Vieux Chateau Mazerat. Maltus also makes wine in the Napa Valley region under the name of Worlds End.
Château Teyssier Wine Tasting Notes
18 Vintages 68,653 Views Sort by Vintage-Rating
2022
Château Teyssier (Bordeaux)

Blending 80% Merlot with 20% Cabernet Franc, you find flowers, cherries, mint leaf, smoke, and licorice nuances in the nose. On the palate, the wine is medium-bodied, fruity, fresh, and finishes with creamy cherries in the endnote. You can enjoy this with pleasure on release. Drink from 2025-2035. 89-91 Pts.

860 Views

Tasted

May 8, 2023

2020
Château Teyssier (St. Émilion Grand Cru)

Cherries, licorice, flowers and a background note of cocoa come to the nose easily. The wine is soft, polished and medium-bodied, with a fresh, red plum and dusty cocoa finish. This is already delicious. You can enjoy this with pleasure on release. Drink from 2023-2032.

982 Views

Tasted

Mar 21, 2023

Camphor, jammy black and red fruits, herbs, mint, tobacco and forest leaf on the nose get you into the medium-bodied, soft, forward, fruity, easy to drink style here. The chewy finish comes along with a touch of mint and espresso in the end note. 88-90 Pts

2,494 Views

Tasted

May 20, 2021

2020
Château Teyssier (Montagne-St. Émilion)

Espresso, smoke, licorice and black plums are experienced on the nose and palate. Deeply colored, lushly textured and focused on its polished, lush, sweet core of fruits this is going to offer pleasure almost on release. Drink it over the following decade. 89-91 Pts

2,129 Views

Tasted

May 20, 2021

2019
Château Teyssier (St. Émilion Grand Cru)

Medium-bodied, lighter-styled, fresh and floral wine with a nice sweetness to all of its red plums and earthy cherries that are on display on the nose, palate and elegant finish. You can easily open this as soon as it hits the stores with pleasure. Drink from 2022-2031.

1,972 Views

Tasted

Mar 29, 2022

2018
Château Teyssier (St. Émilion Grand Cru)

Flowers, licorice, tobacco and sweet cherries are on the nose and palate, where you also find a dash of chocolate in the finish. Soft and silky, this will drink well on release and for at least 12-15 more years. The wine was produced from blending 70% Merlot and 30% Cabernet Franc.

1,682 Views

Tasted

Mar 9, 2021

With licorice, ripe red fruits, smoke and espresso bean on the nose, the wine is forward, soft and fruity with dusty tannins and a red plum note in the medium-bodied finish. The wine was produced from blending 70% Merlot and 30% Cabernet Franc. 89-91 Pts

2,111 Views

Tasted

Apr 19, 2019

2018
Château Teyssier (Montagne-St. Émilion)

Round, lush, sweet and juicy, with loads of ripe, black cherries, black raspberries and dark cocoa on the nose, mouth and finish. Drink it over the following decade.

1,412 Views

Tasted

Mar 9, 2021

2017
Château Teyssier (St. Émilion Grand Cru)

Medium bodied, forward, and already open, the wine delivers an easy drinking, warm, red berry profile with soft textures and rosy fruits in the finish. The wine was produced from blending 70% Merlot and 30% Cabernet Franc. Due to that vicious frost, a large portion of the harvest was lost.

2,340 Views

Tasted

Apr 26, 2018

2016
Château Teyssier (St. Émilion Grand Cru)

A forward crowd-pleaser with loads of freshness, ready dark red fruits, licorice and cherries. Drink it soon or age it for a few years. The wine was produced from blending 70% Merlot and 30% Cabernet Franc.

4,571 Views

Tasted

Apr 29, 2017

2015
Château Teyssier (St. Émilion Grand Cru)

Blending 70% Merlot and 30% Cabernet Franc produced a wine with a fresh, sweet, lush, plum character, weight and density and a black cherry and licorice-tinged finish.

4,367 Views

Tasted

Apr 29, 2016

2014
Château Teyssier (St. Émilion Grand Cru)

Forward with a licorice and sweet cherry character, this tasty wine is already approachable and should deliver pleasure on release. 87-89 Pts

3,235 Views

Tasted

Apr 27, 2015

2013
Château Teyssier (St. Émilion Grand Cru)

With a cherry, spearmint and fennel personality, this ready-to-drink Bordeaux finishes with soft, spicy and bright red plums. Using 70% Merlot and 30% Cabernet Franc in the blend, the wine reached 12.7% ABV. 86-88 Pts

4,220 Views

Tasted

Apr 29, 2014

2012
Château Teyssier (St. Émilion Grand Cru)

Coffee bean, fennel and black raspberries, medium-bodied and easy to drink with a dark cherry finish. From a blend of 70% Merlot with 30% Cabernet Franc. 87-89 Pts

5,641 Views

Tasted

Apr 26, 2013

2011
Château Teyssier (St. Émilion Grand Cru)

Stone, smoke, coffee and boysenberry are found in this soft-textured, medium-bodied wine that ends with bright cherry notes. 87-89 Pts

3,700 Views

Tasted

Apr 24, 2012

2010
Château Teyssier (St. Émilion Grand Cru)

Teyssier, The home property of Jonathan Maltus is produced from 70% Merlot and 30% Cabernet Franc. Licorice, dark berries, medium body and soft textured dark fruit are found in this wine. 88-89 Pts

6,022 Views

Tasted

Apr 22, 2011

2009
Château Teyssier (St. Émilion Grand Cru)

2009 Teyssier is filled with fennel, chocolate, plum, and spearmint scents. The wine finishes with spicy dark cherries and blackberries. 87/89 Pts

6,246 Views

Tasted

Jun 29, 2010

2008
Château Teyssier (St. Émilion Grand Cru)

08 Château Teyssier is the entry level offering from the enigmatic Jonathan Maltus. Produced from a myriad of different plots, this wine, 85% merlot and 15% cabernet franc from mostly sandy soils, will benefit from early drinking. Elegantly styled, with black fruit, herbs, and oak, the wine finishes with soft textures and ripe, dark berries. 88-91 Pts

4,681 Views

Tasted

Jul 1, 2009

2006
Château Teyssier (St. Émilion Grand Cru)

Licorice, coffee, jammy blackberries, coffee and smoke aromas work well with the wines fleshy and flashy charm. Round in texture, at 5 years of age, this is already showing well. The wine finishes with fennel, black and red plums.

4,884 Views

Tasted

Aug 15, 2011

2005
Château Teyssier (St. Émilion Grand Cru)

Delivering a lot of pleasure and bang for the buck with its licorice, black cherry, earth and vanilla nose, this wine is soft, medium/full bodied and ready to drink.

5,104 Views

Tasted

Dec 5, 2013