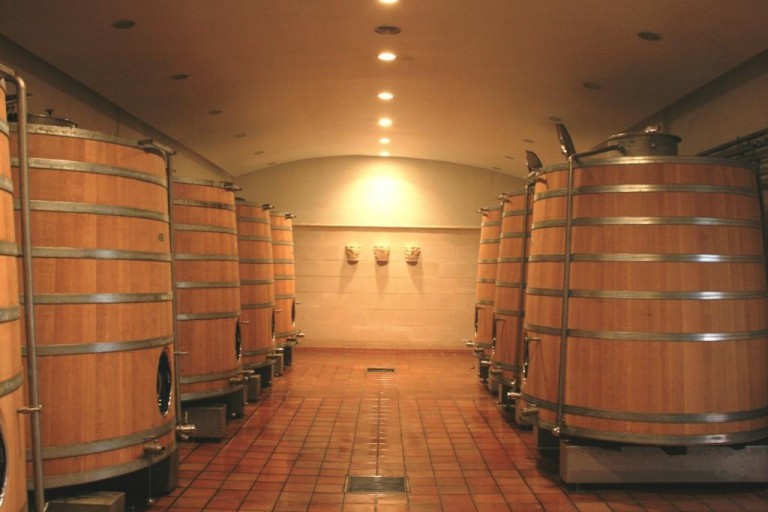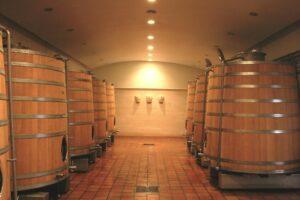 Learn everything about Les Asteries St. Emilion with wine tasting notes, wine, and food pairing tips, best vintages, a history of the property, and information on the vineyards and winemaking. If you want to read about other important, Bordeaux Chateaux: Links to all Bordeaux Wine Producer Profiles
Les Asteries History, Overview
Les Asteries takes its name from the specific type of limestone found in the Saint Emilion terroir. This specific type of limestone is incredibly dense. And because of its thick, hard qualities, the stone has often been used as building material for its dense qualities. Les Asteries is owned by Jonathan Maltus.
Jonathan Maltus is a very well-known vintner today in St. Emilion who counts among his holdings wineries including Le Dome, Vieux Chateau Mazerat, Chateau Laforge, and Chateau Teyssier. In fact, Les Asteries, which made its official debut in 2005, along with Le Carre. Those 2 wines were the first of the single-vineyard wines that Jonathan Maltus produces today. Starting with the 2013 vintage, Thomas Duclos began acting as their consultant.
Les Asteries Vineyards, Terroir, Grapes, Winemaking
The 1.2-hectare vineyard for Les Asteries is planted to 80% Merlot and 20% Cabernet Franc. The vines used to produce Les Asteries are located near Chateau Fonroque and not far from Chateau Clos Fourtet, just outside the beautiful village of St. Emilion.
The diminutive vineyard of Les Asteries has old vines. In fact, some of the vines are eighty years old! The terroir consists of clay over limestone soils. The fruit is cropped to a low, four bunches per vine here.
Because no actual cellars or chateau for Les Asteries exists, the wine of Les Asteries is made at their other, larger, Right Bank estate, Chateau Teyssier. The modern cellars of Chateau Teyssier ensure that all the wine is moved by gravity flow.
Vinification takes place in temperature-controlled, wood vats. Malolactic fermentation takes place in barrels and the wine is then aged in up to 100% new, French oak barrels.
The best vintages of Les Asteries are: 2022, 2021, 2020, 2019, 2018, 2017, 2016, 2015, 2014, 2012, 2010 and 2009.
The production is quite small. On average, close to 400 cases of wine are produced here each year.
When to Drink Les Asteries, Anticipated Maturity, Decanting Time
Les Asteries needs some time before it can be enjoyed. Young vintages can be decanted for an average of 2 hours. This allows the wine to soften and open its perfume.
Older vintages might need very little decanting, just enough to remove the sediment. Les Asteries is usually better with at least 5-7 years of bottle age. Of course, that can vary slightly, depending on the vintage character. Les Asteries offers its best drinking and should reach peak maturity between 6-18 years of age after the vintage.
Serving Les Asteries with Wine, Food, Pairing Tips
Les Asteries is best served at 15.5 degrees Celsius, 60 degrees Fahrenheit. The cool, almost cellar temperature gives the wine more freshness and lift.
Les Asteries is best paired with all types of classic meat dishes, veal, pork, beef, lamb, duck, game, roast chicken, roasted, braised, and grilled dishes. Les Asteries is also good when matched with Asian dishes, hearty fish courses like tuna, mushrooms, and pasta.
Not much Les Asteries is produced. Only 350 cases of this mineral-driven, Right Bank, Bordeaux wine is produced each vintage, making this very hard to find in the marketplace.
Les Asteries Wine Tasting Notes
13 Vintages 58,010 Views Sort by Vintage-Rating
2019
Les Asteries (St. Émilion Grand Cru)

Showing much better in the bottle than it did from the barrel, the wine is concentrated,, deep, long, plush and polished. The wealth of sweet, red fruits on the palate is made more interesting by addition of the wines salty tannins. Complex, rich, fresh and mineral driven, you find significant energy in the herb-tinged, spicy, chalky, peppery, red berry finish. Drink from 2025-2043.

1,088 Views

Tasted

Mar 29, 2022

Floral, with jammy black raspberres, herbs, leaf and fennel, the wine has soft tannins and a juiciness to the red berries on the palate and in the finish. 91-93 Pts

3,941 Views

Tasted

Jun 8, 2020

2018
Les Asteries (St. Émilion Grand Cru)

With smoke, espresso, black and red pit fruits you also find a distinctive salty edge to the tannins here. This wine has a lot to offer. There is enough concentration and freshness found in its long finish that you can keep busy tasting this over the next two decades. The blend was made from 83% Merlot and 17% Cabernet Franc.

1,597 Views

Tasted

Mar 9, 2021

Firm with a distinctive stony edge, this wine offers fresh red berries, flowers, minerals and a nice purity in the red berry finish. This is not vinified for early consumption so you will need to wait at least a decade before popping a cork. The blend was made from 83% Merlot and 17% Cabernet Franc. 93-95 Pts

2,339 Views

Tasted

Apr 19, 2019

2017
Les Asteries (St. Émilion Grand Cru)

Sweet and spicy red fruits with a distinctive, mineral driven character, this experience concludes pleasurably. The wine has the fruit and structure to age. The blend was made from 83% Merlot and 17% Cabernet Franc.

1,610 Views

Tasted

Apr 26, 2018

2016
Les Asteries (St. Émilion Grand Cru)

The blend of 83% Merlot and 17% Cabernet Franc produced a stony, mineral-driven wine with oak, smoky dark fruits, vanilla bean and black raspberry. Round textured and structured with sweet, dark fruits that stay throughout the finish, this wine is juicy and fresh with a strong note of coffee in the end.

3,053 Views

Tasted

Apr 29, 2017

2015
Les Asteries (St. Émilion Grand Cru)

83% Merlot and 17% Cabernet Franc produced a rich, polished, plush, ripe wine with silky tannins, concentration, ripe fruits and minerality. The wine reached 14.8% ABV with no sensation of heat.

2,121 Views

Tasted

Apr 29, 2016

2014
Les Asteries (St. Émilion Grand Cru)

Mineral driven fruits, fresh, spicy plums and smoky cherries culminate in a distinctive stony finish. 91-93 Pts

2,339 Views

Tasted

Apr 27, 2015

2013
Les Asteries (St. Émilion Grand Cru)

From 83% Merlot and 17% Merlot, the wine reached 12.8% ABV with a pH of 3.49. Minerally, floral and black cherry aromatics move quickly to a stone-driven, black raspberry layer of fruit and stone. 88-90 Pts

2,912 Views

Tasted

Apr 28, 2014

2012
Les Asteries (St. Émilion Grand Cru)

Blending 83% Merlot with 17% Cabernet Franc, the wine reached 13.5% ABV with a pH of 3.55. A strong sense of minerality, dark berries and stone, the wine delivers blackberries, fennel and cocoa powder. Austere in style, the wine will be interesting to see it develop over the wines. 89-92 Pts

3,734 Views

Tasted

Apr 26, 2013

2011
Les Asteries (St. Émilion Grand Cru)

83% Merlot and 17% Cabernet Franc create the blend. Deep in color with stone, leaf, plum and coffee, the wine is fleshy, ripe, tannic and offers sweet black raspberry and smoky oak in the finish. 91-92 Pts

3,692 Views

Tasted

Apr 24, 2012

2010
Les Asteries (St. Émilion Grand Cru)

Les Asteries 83% Merlot and 17% Cabernet Franc in the blend produce a minerality, licorice, black raspberry and chocolate, full bodied, structured, tannic, wine. 90-92 Pts

5,882 Views

Tasted

Apr 22, 2011

2009
Les Asteries (St. Émilion Grand Cru)

2009 Les Asteries starts off with licorice, minerals, plums, and coffee. This powerful, mineral driven wine finishes with crushed stone and dark berry flavors. 90-92 Pts

8,486 Views

Tasted

Jun 28, 2010

2008
Les Asteries (St. Émilion Grand Cru)

08 Château Les Asteries. The château takes its name from the type of limestone in the terroir, the hardest limestone available, and one often used for building material because of its strength. Inky and opaque, with intense mineral essences, this full bodied, concentrated wine has a lot of backbone. The wine ends with a blast of ripe, dark plums. The owner, Jonathan Maltus, calls 08 Les Asteries a thinking man's wine. 89-92 Pts

4,062 Views

Tasted

Aug 1, 2009

2005
Les Asteries (St. Émilion Grand Cru)

Filled with smoke, licorice, blackberry, tobacco and earthy notes, this structured wine needs time to develop.

5,928 Views

Tasted

Feb 17, 2011

This wine, which includes some parcels that are close to 80 years old, is ripe, rich and concentrated with some minerality. Balanced and full bodied, the sex pot of a wine is already approachable. Interestingly, Les Asteries and La Carre (both made by Maltus) are only about 100 yards apart, yet they are very different wines. Les Asteries takes its name from a type of Limestone found in St. Emilion.

5,226 Views

Tasted

Jun 12, 2008