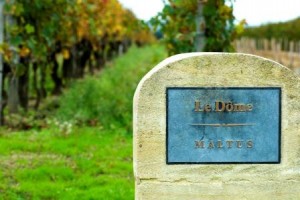 Learn everything about Le Dome St. Emilion with wine tasting notes and wine with food pairing tips. Learn all best vintages, a history of the property, information on the vineyards and winemaking. If you want to read about other important, Bordeaux Chateaux: Links to all Bordeaux Wine Producer Profiles
Le Dome History, Overview
Le Dome is the benchmark estate and wine of Jonathan Maltus. Jonathan Maltus owns a myriad of other chateaux in Bordeaux, all of which are located in the Right Bank.
The first vintage of Le Dome was produced in 1996. The wines of Le Dome are expensive, hard to find, and have a unique character, due to the high portion of Cabernet Franc in the blend.
Jonathan Maltus is fond of Cabernet Franc, as he has large plantings of that grape variety planted in several of his other properties.
Chateau Le Dome was created and developed by Jonathan Maltus from different parcels located close to Chateau Beau-Sejour Becot, Chateau Canon, and Chateau Angelus. While some of the other wines produced from Jonathan Maltus are also located in the same, general area, each has a unique terroir that allows for a myriad of styles and characteristics from the wines.
In 2017, Maltus sold 50% of his shares to an investor from Eastern Europe.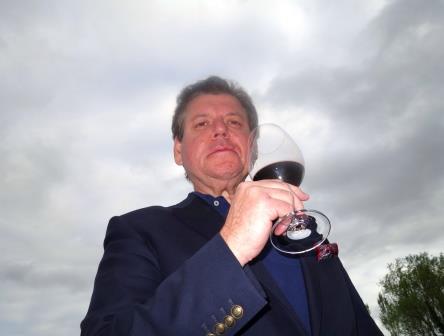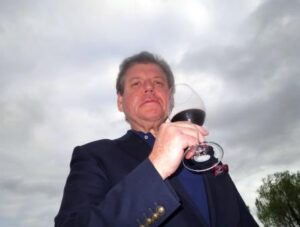 Le Dome Vineyards, Terroir, Grapes, Winemaking
The small, 3.5-hectare, Right Bank vineyard of Chateau Le Dome is planted to 80% Cabernet Franc and 20% Merlot. The vineyards of Le Dome utilizes one of the highest concentrations of Cabernet Franc in the Right Bank.
In some vintages, the blend is closer to 80% Cabernet Franc. The remainder of the Le Dome vineyard is planted to old vine Merlot. In fact, much of the vineyard was planted back in the 1950s, making the average age of the vines quite old.
Interestingly, when Jonathan Maltus purchased the first vines for the property, he thought he was buying Merlot. It was not until a few weeks later that he discovered he actually bought Cabernet Franc. However, as you can see from tasting the wine, he turned out to be very lucky indeed.
The terroir is sand over layers of iron in the soil. The vineyard is planted to a vine density of 5,750 vines per hectare. In a concerted effort to reduce the yields, Jonathan Maltus conducts three green harvests a year in his tiny vineyard. To further concentrate the wine and keep yields low, they prune to allow only 4 grape bunches per vine.
Because no actual cellars or chateau for Le Dome exists, (Which is the only reason the estate is not at a minimum a Grand Cru Classe') the wine of Chateau Le Dome is made at their other, larger and perhaps more popular, Right Bank estate, Chateau Teyssier.
However, in late 2019, the estate hired noted architect Norman Foster to design a completely new cellar. Foster is best-known in Bordeaux for his redesign and updating for the cellars at Chateau Margaux.
Vinification takes place in temperature-controlled wood vats. Malolactic fermentation takes place in barrels. The wine of Le Dome is aged in between 80% and 100% new, French oak barrels. Although, since the 2008 vintage, the amount of new oak used to age the wine has decreased to 80% on average.
The best vintages of Chateau Le Dome are: 2020, 2019, 2018, 2017, 2016, 2015, 2014, 2012, 2010, 2009, 2005 and 2000.
Thomas Duclos is the consultant. Close to 1,500 cases of Le Dome are produced in every vintage.
When to Drink Le Dome, Anticipated Maturity, Decanting Time
Le Dome needs time before it can be enjoyed. Young vintages can be decanted for an average of 2-3 hours. This allows the wine to soften and open its perfume.
Older vintages might need very little decanting, just enough to remove the sediment. Le Dome is usually better with at least 8-10 years of bottle age. Of course, that can vary slightly, depending on the vintage character. Le Dome offers its best drinking and should reach peak maturity between 10-25 years of age after the vintage.
Serving Le Dome with Wine and Food Pairings
Le Dome is best served at 15.5 degrees Celsius, 60 degrees Fahrenheit. The cool, almost cellar temperature gives the wine more freshness and lift.
Le Dome is best paired with all types of classic meat dishes, veal, pork, beef, lamb, duck, game, roast chicken, roasted, braised, and grilled dishes. Le Dome is also good when matched with Asian dishes, rich fish courses like tuna, mushrooms, and pasta.
Jonathan Maltus produces several other wines in St. Emilion including, Le Carre, Les Asteries, Vieux Chateau Mazerat, and Chateau Teyssier.
Aside from owning numerous estates in St. Emilion, the owner Jonathan Maltus also makes wine from Bordeaux-inspired blends in Napa Valley California with Worlds End and in Australia.
Château Le Dome Wine Tasting Notes
19 Vintages 104,538 Views Sort by Vintage-Rating
2020
Château Le Dome (St. Émilion Grand Cru)

Flowers, incense, crushed stone, smoke, thyme and red pit fruit aromas get the wine started in the right direction. Full-bodied, fresh, lively, rich, silky and mineral driven, there is purity, lift and richness, leaving you with a gorgeous, elegant, seductive wave of cherries in the end note that lingers long after the wine has left the glass. 96-98 Pts

2,029 Views

Tasted

May 20, 2021

2019
Château Le Dome (St. Émilion Grand Cru)

Fresh and stony, with good purity to the plums, cherries and blackberry, this wine offers additional complexities of spice box, crushed rock, licorice, mint and espresso. There is ample lift, weight, concentration and freshness, along with a wealth of fruit to keep you interested. 95-97 Pts

2,547 Views

Tasted

Jun 8, 2020

2018
Château Le Dome (St. Émilion Grand Cru)

Dark in color, the wine balances power with intensity. You find layers of richness, fruit, crushed rocks, stone, burnt caramel, espresso, ripe, lush plums, thyme and spice in every sniff, swallow and sip. The wine fills your palate while offering balance, complexity and a long, fruit-filled finish. Created from 80% Cabernet Franc and 20% Merlot, 14.7% ABV. 97 Points

1,092 Views

Tasted

Mar 9, 2021

Dark in color, intensive aromas of vanilla, blackberry, five spice, plum, spring flowers and jam bring you to a full-bodied, polished, refined wine. Slightly austere but in a good way. There is length, complexity and uniqueness of character. Created from 80% Cabernet Franc and 20% Merlot, reaching 14.7% alcohol, the harvest took place October 1-October 10. 95-97 Pts

2,323 Views

Tasted

Apr 19, 2019

2017
Château Le Dome (St. Émilion Grand Cru)

Intense in color with lush, polished textures, the wine pops with flowers, plums, herbs and black raspberries. Full bodied and concentrated, there is a freshness and a solid fruitiness right through to the finish. The wine was created from a blend of 80% Cabernet Franc and 20% Merlot. 92 Points

2,011 Views

Tasted

Apr 26, 2018

2016
Château Le Dome (St. Émilion Grand Cru)

Inky dark in color, the wine pops with all the flowers, black raspberries, smoke, licorice, cherry and vanilla bean you'll need. Full bodied, powerful and concentrated, there is lushness to the textures, ripeness to the fruit and a salty, mineral character that really hangs on your palate. The wine has one of the largest percentages of Cabernet Franc in all of Bordeaux at 80% with the remainder coming from 20% Merlot. The wine reached 15% alcohol with a pH of 3.81. Thomas Duclos is the new consultant at Le Dome and he's apparently kicked things up a notch. 94 Points

4,610 Views

Tasted

Apr 29, 2017

2015
Château Le Dome (St. Émilion Grand Cru)

Chocolate-covered black raspberries, ripe, juicy, smoky plums, crushed stone and cherry liqueur really makes an excellent impression on your palate. There is length, purity and fat, supple textures to be savored. This wine was made from a blend of 80% Cabernet Franc and 20% Merlot reaching 13.8% alcohol with a pH of 3.85. The harvest took place from October 2 to October 6. 95 Points

3,737 Views

Tasted

Apr 29, 2016

2014
Château Le Dome (St. Émilion Grand Cru)

Licorice, black plum liqueur, caramel and spice on the nose, this wine is concentrated with ripe tannins, minerals and a fresh, fennel, cocoa and black cherry finish. The wine was made from a blend of 80% Cabernet Franc and 20% Merlot reaching 13% alcohol with a pH of 3.71. 92-94 Pts

5,563 Views

Tasted

Apr 27, 2015

2013
Château Le Dome (St. Émilion Grand Cru)

With licorice, chocolate, plum and floral notes on the nose, the wine is fresh, spicy, medium bodied and plush with a soft chocolate, red plum and stone-driven finish. From 80% Cabernet Franc and 20% Merlot, the wine reached 12.9% alcohol with a pH of 3.65. The yields were 26 hectoliters per hectare. 90-92 Pts

2,436 Views

Tasted

Apr 28, 2014

2012
Château Le Dome (St. Émilion Grand Cru)

With a lot of Cabernet Franc for the vintage at 80%, the remainder taken up by 20% Merlot, the wine reached 13% alcohol with a pH of 3.72. Fresh flowers, black raspberries and espresso bean, polished, strong tannins and a fresh, black raspberry, structured, stern, mineral dominated finish. 92-94 Pts

3,898 Views

Tasted

Apr 26, 2013

2011
Château Le Dome (St. Émilion Grand Cru)

Inky in color and from a blend of 80% Cabernet Fran and 20% Merlot, the wine reached 13.10% alcohol. With espresso bean, licorice, earth and black cherry, this wine is densely packed with tannin, black cherry liqueur, licorice and coffee. Structured to age, this will take time to come around. 92-94 Pts

6,291 Views

Tasted

Apr 24, 2012

2010
Château Le Dome (St. Émilion Grand Cru)

Le Dome 80% Cabernet Franc and 20% Merlot combined to produce what's probably the wine with the highest percentage of Cabernet Franc from Bordeaux in the vintage. The wine reached reached 14.58% alcohol with a pH 3.8. A deep purple color leads into a licorice, floral, oak, and spicy blackberry perfume, plush textures and a finish that offers oak, coco and black cherries. About 1,000 cases were produced of this unique St. Emilion. 92-94 Pts

8,315 Views

Tasted

Apr 22, 2011

2009
Château Le Dome (St. Émilion Grand Cru)

2009 Le Dome is inky black. Produced from a whopping 80% cabernet franc, this unique wine offers licorice, fresh herbs, black raspberries, black cherry jam, coffee, espresso, and smoke aromas. Full bodied and filled with ripe fruit, this powerful wine ends with a long finish of blackberry, toasty oak, licorice, and mocha flavors. 92-94 Pts

7,606 Views

Tasted

Aug 28, 2010

2008
Château Le Dome (St. Émilion Grand Cru)

Château Le Dome is the top wine in the extensive catalogue of Jonathan Maltus, is an engaging bottling. With the highest level of cabernet franc used in Bordeaux, 75%, the wine has a definite personality not always easy to discern in barrel. From sandy, limestone soils and 100% new oak, this 750 case cuvee is the color of ink. This aromatically complex wine with coffee, spice, black and red fruits with BBQ and caramel notes has much to offer. Full bodied and concentrated, the wine finishes with strong flavors of boysenberry and fennel root. The 08 is the richest vintage yet for this winery, and also the most accessible one. 92 Points

4,992 Views

Tasted

Jul 1, 2009

2005
Château Le Dome (St. Émilion Grand Cru)

05 Le Dome Coffee, blackberry, juicy red plums, licorice and forest floor scents greeted your nose. With soft textures, this wine finishes with freshness, licorice, coca, plums and black cherries. Another 5 years will add a lot of roundness to this wine. 93 Points

7,422 Views

Tasted

Feb 17, 2011

This opens with fresh herbs, ripe red and black fruits, new oak and fennel. Medium bodied/full bodied, with silky textures and ample freshness to give it lift. The wine finishes with elegant ripe fruits. 93 Points

5,377 Views

Tasted

Jun 12, 2008

2002
Château Le Dome (St. Émilion Grand Cru)

The nose expresses berries, coffee. herbs and new wood scents. Some green was noted in the back of the mouth in the smooth, textured finish. 89 Points

4,720 Views

Tasted

Jun 12, 2008

2001
Château Le Dome (St. Émilion Grand Cru)

With its herbal aromas and blasts of red and black fruit, the wine was definitely open for business. Closer to medium bodied than full bodied, with soft textures, there is no reason to wait for this to develop further. 91 Points

4,163 Views

Tasted

Jun 12, 2008

2000
Château Le Dome (St. Émilion Grand Cru)

Full-bodied, rich, and intense, the wine is lushly textured with notes of licorice, flowers, crushed rocks, tobacco, thyme, dried flowers, espresso, and dark red berries. Still youthful, this can benefit from a few more years in the cellar. 93 Points

1,645 Views

Tasted

Sep 30, 2021

Soft, sweet, silky, spicy berries find their way to your palate, This full boded wine ends with a blend of black and red fruits, spice, fresh herbs,and licorice 92 Points

5,707 Views

Tasted

Feb 17, 2011

Blackberry, stone, smoke, licorice and grassy herbs are easy to find. With 3-4 hours of air, the wine softened and gained in compexity, ending in an anise, herb and dark berry finsh. 92 Points

5,016 Views

Tasted

Jul 4, 2010

1998
Château Le Dome (St. Émilion Grand Cru)

Le Dome Cigar box, caramel, licorice, plum and chocolate aromas are a pleasure to spend time with. Medium to full boded, this silky, elegant wine end with a sweet, chocolate covered, black cherry finish. 92 Points

5,069 Views

Tasted

Feb 17, 2011

1996
Château Le Dome (St. Émilion Grand Cru)

Charcoal, smoke, cassis scents in the nose. This medium bodied wine ends with herbs and tart black cherries. This is probably past its prime and is on the downside of life. This is the debut vintage for this wine. Subsequent vintages are better wines. 86 Points

4,150 Views

Tasted

Feb 17, 2011

1996 was the debut vintage for Le Dome. This was lacking the more elegant, richer, polished style that Maltus is producing at the property today. 87 Points

3,819 Views

Tasted

Jun 12, 2008