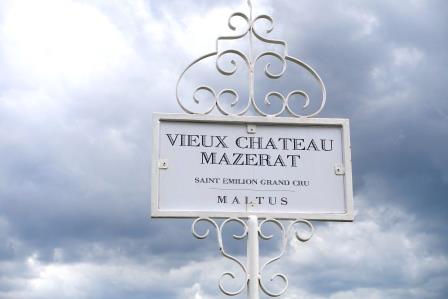 Learn everything about Vieux Chateau Mazerat St. Emilion with wine tasting notes and wine with food pairing tips. Learn the best vintage, a history of the property, information on the vineyards and winemaking. If you want to read about other important, Bordeaux Chateaux: Links to all Bordeaux Wine Producer Profiles
Vieux Chateau Mazerat takes its name from the Mazerat sector in St. Emilion where the vines are located. Owned by Jonathan Maltus, and located not too far from Chateau Angelus, this property is also the source used for the Bordeaux wine produced at Chateau Le Dome.
Jonathan Maltus made his first purchase in the Mazerat sector in 1996. He obtained the rest of the vineyard which is used for the production of Vieux Chateau Mazerat in 2008.
Vieux Chateau Mazerat Vineyards, Terroir, Grapes, Winemaking
The 5 hectare Saint Emilion vineyard of Vieux Chateau Mazerat is planted to 80% Merlot and 20% Cabernet Franc. You can divide the vineyard into two separate terroirs.
In the larger section, which is where the majority of the vineyard is located, the terroir is clay over limestone soil. Here, you also find some very impressive old vines which date all the way back to 1947.
The smaller second of their vineyards is located just between Chateau Angelus and the now famous vineyard of Jonathan Maltus used to produce Le Dome. That terroir is sand and Crasse de Fer soils. The vineyard is planted to a vine density of 5,795 vines per hectare.
Because no actual cellars or chateau for Vieux Chateau Mazerat, the wine of Vieux Chateau Mazerat is made at their other estate, Chateau Teyssier. Everything moves by gravity in their modern cellars. Vinification takes place in temperature-controlled wood vats. Malolactic fermentation takes place in barrels and the wine is aged in an average of 80% new, French oak barrels.
The Best Vintages of Vieux Chateau Mazerat are: 2022, 2021, 2020, 2019, 2018, 2017, 2016, 2015, 2014, 2010, 2009 and 2008.
The final blend here often varies from vintage to vintage with Vieux Chateau Mazerat. For example, 2009 is 65% Merlot and 35% Cabernet Franc, while other years have blends that are closer to the actual plantings of the vineyard. The production is less than 2,000 cases of wine per year.
When to Drink Vieux Chateau Mazerat, Anticipated Maturity, Decanting Time
Vieux Chateau Mazerat is better with at least 6-8 years of bottle age. Of course, that can vary slightly, depending on the vintage. Vieux Chateau Mazerat is best enjoyed in the first 8-25 years of life.
Young vintages can be decanted for about 1 – 2 hours. This allows the wine to soften and open its perfume. Older vintages might need very little decanting, just enough to remove the sediment.
Serving Vieux Chateau Mazerat with Wine, Food, Pairing Tips
Vieux Chateau Mazerat is best served at 15.5 degrees Celsius, 60 degrees Fahrenheit. The cool, almost cellar temperature gives the wine more freshness and lift.
Vieux Chateau Mazerat is best served with all types of classic meat dishes, veal, pork, beef, lamb, duck, game, roast chicken, roasted, braised, and grilled dishes. Vieux Chateau Mazerat is a perfect match with Asian dishes, hearty fish courses like tuna, mushrooms, and pasta as well as cheese.
Vieux Chateau Mazerat is a powerful, strong, minerality-driven Bordeaux wine from Saint Emilion that requires time in the cellar to show its best.
Jonathan Maltus produces several other wines in St. Emilion including, Chateau Le Dome, Chateau Le Carre, Les Asteries, and Chateau Teyssier.
Vieux Château Mazerat Wine Tasting Notes
15 Vintages 70,974 Views Sort by Vintage-Rating
2022
Vieux Château Mazerat (St. Émilion Grand Cru)

With black cherries, black plums, and blackberries front and center in the nose, the palate is loaded with soft, polished, vibrant, silky, dark red fruits, licorice, vanilla, spice, and chalk. The creamy finish has lift, length and ripe fruit with a touch of chocolate on the backend. The wine blends 90% Merlot with 10% Cabernet Franc. 15.5% ABV. Drink from 2025-2045. 92-94 Pts.

3,039 Views

Tasted

May 8, 2023

2021
Vieux Château Mazerat (St. Émilion Grand Cru)

Flowers, black raspberries, vanilla cream, licorice, black plum, and a hint of orange blossom on the nose. The palate, is fresh, soft and supple with silky tannins and a vibrancy to the red fruits with a savory edge. You also find a nice touch of minerality in the finish. The wine blends 90% Merlot with 10% Cabernet Franc. Drink from 2024-2039. 91-93

2,452 Views

Tasted

May 20, 2022

2020
Vieux Château Mazerat (St. Émilion Grand Cru)

Flowers, crushed rocks, black cherries and spice and leafy herbs form the nose. On the palate, the wine is medium-bodied, soft, supple, and fresh, leaving you with a touch of chalk, savory, leafy herbs, licorice, and chewy, red plums with a touch of salty cocoa that hits you in the backend of the finish. Drink from 2024-2042.

2,165 Views

Tasted

Mar 21, 2023

Spicy, fresh, vibrant and mineral driven, the wine shows off its ripe cherry, black raspberry, plum and floral elements with little effort. Medium/full-bodied, fresh, stony and with a combination of sweet red fruits and oak on the palate, this is going to take 6-8 years to come together. 92-94 Pts

3,770 Views

Tasted

May 20, 2021

2019
Vieux Château Mazerat (St. Émilion Grand Cru)

Deep red fruits, flowers, spice, savory herbs, cedar and cherry liqueur notes create the perfume. On the palate the wine is fresh, vibrant, chalky and plummy. There is volume, richness, and length here. The wine finishes with chocolate-covered plums, salt, espresso, licorice and peppery, 5 spice nuances. Drink from 2023-2040.

2,177 Views

Tasted

Mar 29, 2022

Take a pallet of crushed rocks and stone, add molten chocolate, and dark espresso bean and you get the perfume here. Full-bodied, crisp and fresh, with an energetic blast of fruits and more stone are found in the decidedly salty finish. It will take some time in the cellar before this is ready to show its stuff. 93-95 Pts

4,829 Views

Tasted

Jun 8, 2020

2018
Vieux Château Mazerat (St. Émilion Grand Cru)

Showing much better in bottle than it did while in barrel, the wine is dark in color. On the nose you find spicy aromas meshed with roasted dark plums, peppery herbs, flowers, rocks and stones. On the palate, the wine shows off its layers of lush, mineral driven, dark pit fruits, oyster shell, spice, espresso and cocoa on the mid-palate and in the long finish. This is going to get even better with 8 years or so of aging. The wine is a blend of 65% Merlot with 35% Cabernet Franc.

2,251 Views

Tasted

Mar 9, 2021

Spicy roasted plums, caramel and espresso join forces with intensive minerality. The salty tannins add complexity and structure but before you can enjoy all the ripe, juicy red fruits, flowers, licorice and espresso, you are going to need to age this for at least a decade. The wine is a blend of 65% Merlot with 35% Cabernet Franc. 92-94 Pts

3,295 Views

Tasted

Apr 19, 2019

2017
Vieux Château Mazerat (St. Émilion Grand Cru)

Dark red fruits meld with licorice, forest, espresso bean and smoky vanilla bean, all readily rising to the surface. This wine is on the elegant side with leafy, floral nuances and a touch of sea salt in the tannins.

1,882 Views

Tasted

Apr 26, 2018

2016
Vieux Château Mazerat (St. Émilion Grand Cru)

Deep in color with smoky vanilla bean, black plum with a whip of licorice on top, this wine is rich, full bodied and intense. There is concentration, depth and freshness. The wine was made from a blend of 65% Merlot and 35% Cabernet Franc and the fruit comes from a single lieu-dit.

2,211 Views

Tasted

Apr 29, 2017

2015
Vieux Château Mazerat (St. Émilion Grand Cru)

Showing a mineral-driven personality with a distinctive, stony edge, this wine has saline tannins, silky textures and real density in the finish. This is a wine to age.

3,159 Views

Tasted

Apr 29, 2016

2014
Vieux Château Mazerat (St. Émilion Grand Cru)

Mineral driven with crisp, ripe, red fruits and a crushed limestone character, this wine will need sufficient time to come together. 90-91 Pts

3,804 Views

Tasted

Apr 27, 2015

2013
Vieux Château Mazerat (St. Émilion Grand Cru)

Black licorice, coffee bean, vanilla, mint and smoke transition to an interesting, fresh and stony layer of blackberries in the finish. Blending 65% Merlot and 35% Cabernet Franc, the wine reached 12.8 % ABV with a pH of 3.69. The wine is aging in 80% new French oak. 89-91 Pts

2,337 Views

Tasted

Apr 29, 2014

2012
Vieux Château Mazerat (St. Émilion Grand Cru)

According to Jonathan Maltus, the final blend is 60% Merlot and 40% Cabernet Franc, which produced a wine that reached 13.5% ABV with a pH of 3.79. Very spicy in this vintage, with a structured, floral, firm, mineral-driven style, the wine offers a lot fennel, coffee and black jammy raspberries in the finish. 91-93 Pts

4,494 Views

Tasted

Apr 26, 2013

2011
Vieux Château Mazerat (St. Émilion Grand Cru)

65% Merlot and 35% Cabernet Franc create a wine that is deep in color. With jammy black raspberry and stone, this intense wine is packed with minerality, iron and black cherry. Full bodied, severe, mineral driven and structured, the wine ends with coffee bean and black cherry. 89-91 Pts

5,339 Views

Tasted

Apr 24, 2012

2010
Vieux Château Mazerat (St. Émilion Grand Cru)

Vieux Chateau Mazerat 65% Merlot and 35% Cabernet Franc, the Cabernet Franc is from vines planted in 1947, the wine reached 14.3% ABV in this vintage. Licorice, floral, black raspberry, earth and mocha scents are easy to find. The round, soft wine finishes with sweet black cherry, oak and licorice 91-93 Pts

5,304 Views

Tasted

Apr 22, 2011

2009
Vieux Château Mazerat (St. Émilion Grand Cru)

2009 Vieux Chateau Mazeret is deeply colored with a strong mineral presence. From 65% merlot and the remainder cabernet franc, this limestone based wine feels like pure stone and fruit, coupled with licorice, dark berries, chocolate, and cherries. 89-91 Pts

6,641 Views

Tasted

Jun 29, 2010

2008
Vieux Château Mazerat (St. Émilion Grand Cru)

Licorice,plums, minerality spice and red fruits. Lots freshness and a rich, round, ripe, plum and anise finish.

5,970 Views

Tasted

Feb 17, 2011

08 Vieux Chateau Mazerat comes from Mazerat, a sector that abuts Chateau Angelus. 2008 marks the debut for this wine. With 65% merlot and 35% cabernet franc, from some vines almost 60 years old, this floral, mineral, smoky, dark fruited wine is nicely concentrated. It finishes with plush sensations of boysenberry and dark, black cherry. 90-93 Pts

5,855 Views

Tasted

Aug 1, 2009