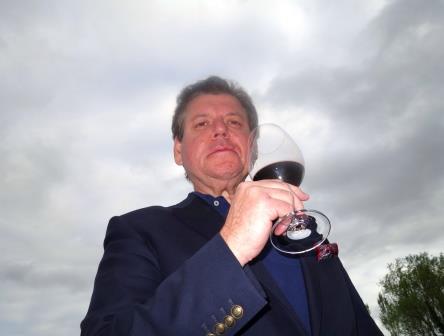 Learn everything about Le Carre St. Emilion with wine tasting notes and wine with food pairing tips. Learn all the best vintages, a history of the property, information on the vineyards, and winemaking. If you want to read about other important, Bordeaux Chateaux: Links to all Bordeaux Wine Producer Profiles
Le Carre Vineyards, Terroir, Grapes, Winemaking
Le Carre is produced from a very small 1.5-hectare parcel of vines that are located not far from the picturesque village of St. Emilion. The vineyard is also placed very close to Chateau Clos Fourtet, Chateau Beau-Sejour Becot, and Chateau Canon on the St. Emilion plateau.
Le Carre takes its name from the French word for square. The owner, Jonathan Maltus purchased the vines from Chateau Canon in 2004. Before falling under the ownership of Chateau Canon, the vines were previously part of the Chateau Cure Bon estate.
That estate no longer exists as those vines were placed into the vineyards of Chateau Canon. The debut vintage for Maltus at his Le Carre property was 2005, which is considered to be an almost perfect year for the appellation of St. Emilion.
The terroir of Le Carre is clay and limestone soils. The vineyards are planted to 80% Merlot and 20% Cabernet Franc. Because no actual cellars or chateau for Le Carre exist, the wine of Le Carre is made at their other estate, Chateau Teyssier.
The modern cellars of Chateau Teyssier ensure that all wine is moved by gravity flow. Vinification takes place in temperature-controlled oak, wood vats for the Merlot. The Cabernet Franc is vinified in French oak barrels. Malolactic fermentation takes place in barrels. The wine of Le Carre is then aged in an average of 80% new, French oak barrels.
The best vintages of La Carre are: 2022, 2021, 2020, 2019, 2018, 2017, 2016, 2015, 2014, 2012, 2010, 2009 and 2005.
Production, as you would expect, is quite small. Close to 500 cases per year are produced of Le Carre making this wine difficult to find in the marketplace.
When to Drink Le Carre, Anticipated Maturity, Decanting Time
Le Carre needs some time before it can be enjoyed. Young vintages can be decanted for an average of 90 minutes to 2 hours. This allows the wine to soften and open its perfume.
Older vintages might need very little decanting, just enough to remove the sediment. Le Carre is usually better with at least 5-8 years of bottle age. Of course, that can vary slightly, depending on the vintage character. Le Carre offers its best drinking and should reach peak maturity between 7-20 years of age after the vintage.
Serving Le Carre with Wine and Food Pairings
Le Carre is best served at 15.5 degrees Celsius, 60 degrees Fahrenheit. The cool, almost cellar temperature gives the wine more freshness and lift.
Le Carre is best paired with all types of classic meat dishes, veal, pork, beef, lamb, duck, game, roast chicken, roasted, braised, and grilled dishes. Le Carre is also good when matched with Asian dishes, rich fish courses like tuna, mushrooms, and pasta.
Jonathan Maltus produces several other wines in St. Emilion including, Chateau Le Dome, Les Asteries, Vieux Chateau Mazerat, and Chateau Teyssier. Maltus also makes wine in the Napa Valley with the Worlds End.
Château Le Carré Wine Tasting Notes
13 Vintages 39,109 Views Sort by Vintage-Rating
2019
Château Le Carré (St. Émilion Grand Cru)

Medium-bodied, soft, elegant, polished and refined, the red fruits are fresh, clean and pure. The finish, with its touches of spice, espresso, mint and stone leaves you with layers of sweet, cherries that linger, allowing you to enjoy all of their sweet, fresh characteristics and the creamy-textured finish. Drink from 2024-2040.

814 Views

Tasted

Mar 29, 2022

With good color, the wine shows off its 5 spice and black pit fruit character easily. Full-bodied with soft, supple textures, you get a wall of sweet juicy fruit in the creamy finish. The wine is a bend of 85% Merlot with 15% Cabernet Franc. 93-95 Pts

3,084 Views

Tasted

Jun 8, 2020

2018
Château Le Carré (St. Émilion Grand Cru)

Espresso, licorice, tobacco and spice hits the nose. Silky, sweet, fresh and juicy with a ripeness and purity to the fruit I really like a lot. With creamy tannins, espresso and cocoa to round things out in the endnote, give this a few years and it will be even better. The wine is a bend of 85% Merlot with 15% Cabernet Franc.

942 Views

Tasted

Mar 9, 2021

Spiced black cherries and espresso form the core of the wine. From there, the wine offers polished, elegant tannins and a creamy, dark cherry and vanilla-tinged finish. The wine is a bend of 85% Merlot with 15% Cabernet Franc. 93-95 Pts

1,471 Views

Tasted

Apr 19, 2019

2017
Château Le Carré (St. Émilion Grand Cru)

Deep red cherries, smoke, wood and a touch of wild strawberry create the perfume. Crafted from 80% Merlot with 20% Cabernet Franc, the wine is soft, forward, fresh and fruity.

1,440 Views

Tasted

Apr 26, 2018

2016
Château Le Carré (St. Émilion)

Smoke, wood, truffle, vanilla bean and black raspberry are the initial scents you'll find. Full bodied, round, silky and offering, dark ripe plums and licorice on the palate, this should reward aging nicely. Made from blending 85% Merlot with 15% Cabernet, the wine reached 14.5% ABV with a pH of 3.71.

1,671 Views

Tasted

Apr 29, 2017

2015
Château Le Carré (St. Émilion)

With 85% Merlot and 15% Cabernet Franc, this wine shows a depth of color, sweet, ripe, fruit and sensuous textures along with length and precision.

1,574 Views

Tasted

Apr 29, 2016

2014
Château Le Carré (St. Émilion)

Smoky black and red fruits, licorice, floral and spicy notes open to a stony, structured, fresh, red plum-filled wine. 90-92 Pts

1,474 Views

Tasted

Apr 27, 2015

2013
Château Le Carré (St. Émilion)

Smoky black cherries, coffee bean and licorice segue into an abundant helping of bright fruit and a saline, cherry finish. From a blend of 85% Merlot and 15% Cabernet Franc, the wine reached 13.4% ABV and pH of 3.64. 88-90 Pts

1,554 Views

Tasted

Apr 28, 2014

2012
Château Le Carré (St. Émilion)

Blending 85% Merlot with 15% Cabernet Franc, the wine reached 13.35% ABV with a pH 3.35. Deep in color with boysenberry, coffee, licorice, and a sweetness to the dark berries, this wine is fresh and taught with a mineral-driven finish. 89-92 Pts

2,288 Views

Tasted

Apr 26, 2013

2011
Château Le Carré (St. Émilion)

85% Merlot and 15% Cabernet Franc open to black cherry, oak, licorice, caramel and smoke. The round, mineral-driven finish includes black cherry, oak and anise. 91-92 Pts

2,240 Views

Tasted

Apr 24, 2012

2010
Château Le Carré (St. Émilion)

Le Carre 85% Merlot and Cabernet Franc 15% 14.65% ABV deep color stony black cherry, toast, round textured, black cherry, oak with some dryness in the finish. 89-92 Pts

4,244 Views

Tasted

Apr 22, 2011

2009
Château Le Carré (St. Émilion)

2009 Le Carre has caramel, dark berry, licorice, and coffee aromas. This full bodied wine ends with chocolate covered dark berries, licorice, and plums. 91-93 Pts

5,393 Views

Tasted

Jun 28, 2010

2008
Château Le Carré (St. Émilion)

08 Château La Carre. The château is next to Clos Fourtet, just outside the walls of St. Emilion. The vineyards have several vine plots close to 50 years old. With 88% merlot and 12% cabernet franc, grown in clay and limestone, the wine shows intense minerality along with black fruits, oak, coffee and jam. The wine finishes with long notes of fresh, ripe black cherries. 90-92 Pts

2,437 Views

Tasted

Aug 1, 2009

2005
Château Le Carré (St. Émilion)

Le Carre is tight at the moment. Air and a lot coaxing brought out crushed stone, licorice, black cherry and spice notes. This wine has gone to sleep. Based on previous tasting's, this will improve when it wakes up. I would not open this for at least 5-8 years.

5,144 Views

Tasted

Feb 17, 2011

The name, which means square in French, is anything but square. Black fruit with tropical accents make up the aromatics. This opulent, full bodied wine ends in a blackberry, licorice filled finish. Interestingly, Les Asteries and La Carre (both made by Maltus) are only about 100 yards apart, yet they are very different wines.

3,339 Views

Tasted

Jun 12, 2008