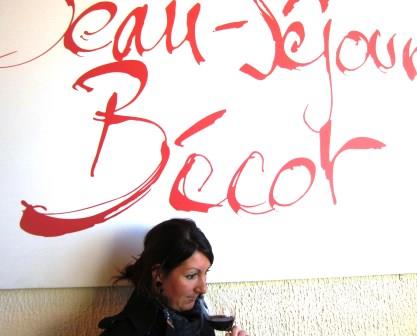 Learn everything about Chateau Beau-Sejour Becot St. Emilion, Premier Grand Cru Classe B with wine tasting notes, and wine with food pairing tips. Learn the best vintages, a history of the property, information on the vineyards, and winemaking. If you want to read about other important, Bordeaux Chateaux: Links to all Bordeaux Wine Producer Profiles
Chateau Beau-Sejour Becot History, Overview
The vineyards of Chateau Beau-Sejour Becot have a long and interesting history in the region. In fact, what we know of as Beau-Sejour Becot today was first cultivated with vines by the ancient Romans more than 2,000 years ago. There are cut stone remnants on their land to prove this.
In more modern times, what we know of as Chateau Beau-Sejour Becot began life as an estate owned by the monks of St. Martin Abbey in Saint Emilion. The monks managed the vineyards at what later become Chateau Canon as well as the vines used to eventually create Beau-Sejour Becot.
The first part of Beau-Sejour Becot found its name in 1787 with the help of a member of the Carles de Figeac family. Once, General Jacques de Carles said the estate should be called Beau-Sejour. The name stuck.
Skipping ahead over 100 years, Pierre-Paulin Ducarpe split the Beau-Sejour vineyards between his two children, giving the chateau, plus other structures along with half his vineyards to his daughter.
After she married, she took her husband's name, Duffau-Lagarosse. That marriage gave birth to what we now know of as Chateau Beausejour-Duffau-Lagarosse. The other half of the property eventually became what we know of as Chateau Beau-Sejour Becot today.
In 1924, Chateau Beau-Sejour became the property of Doctor Jean Fagouet who renamed the property Beau-Sejour Fagouet. That name would not last long. During the 1940s, the wine was sold under the name of Chateau Beausejour. The next chapter in the estate's history involved the Becot family. Michel Becot, who was working as an auto parts dealer, and his family were well acquainted with the land as they had been living in St. Emilion since 1760. They were also experienced wine producers as they owned neighboring Chateau La Carte since 1929.
In those days, Chateau La Carte was quite small with only 4.45 hectares of vines. Michel Becot increased the size of the estate with the purchase of 9 hectares of vines from the Beau-Sejour Fagouet vineyard. It was at that time, they renamed the estate, Chateau Beau-Sejour Becot.
Ten years later, the Becot family purchased the 4.5-hectare parcel of Trois Moulins, located next to what we know of now as Chateau Beau-Sejour Becot today.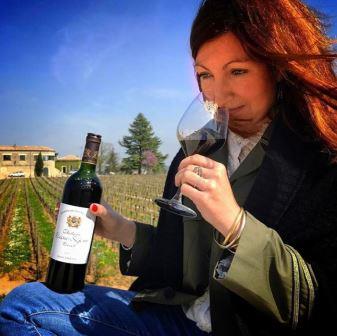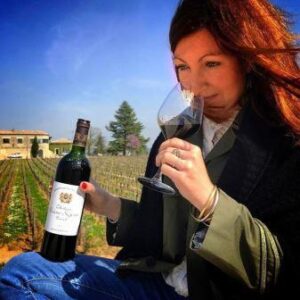 Chateau Beau-Sejour Becot The Modern Era
Gerard Becot took over managing Beau-Sejour Becot in 1970. At this point, things should have been easy for the Becot family. But they weren't. In 1979, they decided to merge their vineyards, placing all their grapes into Chateau Beau-Sejour Becot.
However, they did this without the approval of the INAO, which was a violation of the St. Emilion classification rules. For that transgression, Chateau Beau-Sejour Becot was demoted from their Premier Cru Classe classified status in 1986.
To remedy the situation, they hired their longtime friend, Michel Rolland and appealed the decision of the INAO. It took until the next classification, but Beau-Sejour Becot was once again promoted to Premier Cru Classe status in 1996.
Starting in 1985, the property has been managed by his sons, Gerard Becot and Dominique Becot. It was at this point that the family started making improvements at the property, lowering yields and producing better wine.
The daughter of Gerard Becot, Juliette Becot was later picked to become more involved in running Beau Sejour-Becot, as well as the family's other properties in Saint Emilion and Joanin Becot, which is her estate in the Cotes de Castillon appellation.
Things changed again in 2014 when Juliette Becot and Julien Barthe were placed completely in charge of Chateau Beau-Sejour Becot, as well as the family's other estates. Michel Rolland, who has been working with the estate since the 1980s ceased consulting the property in 2018. He was replaced by Thomas Duclos.
Chateau Beau-Sejour Becot Vineyards, Terroir, Grapes, Winemaking
The 22-hectare vineyard of Chateau Beau-Sejour Becot has 17 hectares of vines with the goal of being 65% Merlot and 35% Cabernet Franc. There is also a minor amount of Cabernet Sauvignon in the vineyard as well which is going to be removed.
On average the vines are close to 45 years of age. But they have old vines as well. In fact, some of their oldest Merlot vines date back almost 75 years. The Right Bank vineyard is planted to a vine density of 6,600 vines per hectare. Although new plantings are taking place at higher levels of density at 7,200 vines per hectare.
Chateau Beau-Sejour Becot is located on the limestone plateau of Saint Emilion with a terroir of clay that has deep, limestone soils. Below the surface there is an endless array of limestone tunnels and quarries, that really explain what makes the wine of Beau-Sejour Becot so special.
The vineyard increased in size in 2012. The increase in size was due to the inclusion of the vines previously used by their other Saint Emilion estate, La Gomerie. With the exception of that parcel, most of it is on top of the plateau.
The best vintages of Chateau Beau-Sejour Becot are: 2022, 2021, 2020, 2019, 2018, 2017, 2016, 2015, 2014, 2012, 2010, 2009, 2008, 2005, 2001, 2000, 1998 and 1990.
To produce the wine of Chateau Beau-Sejour Becot, a portion of the grapes are whole berry fermented. Vinification takes place in stainless steel tanks ranging in size from 80 to 100 hectoliters following a 4-day cold maceration. Microbullage is no longer used.
Malolactic fermentation takes place in the tank with the first four months of the aging spent on its post-malolactic lees. The remainder of the wine goes through malolactic fermentation in tanks.
The wine of Chateau Beau-Sejour Becot is aged in an average of 55% new French oak barrels. Although today, about 25% of the harvest is aged in clay amphora jars for an average of 18 months before bottling. Blending takes place quite early for the Right Bank in late December or January after the malolactic fermentation has completed.
The property produces close to 7,500 cases of Chateau Beau-Sejour Becot each year. There is a second wine, Tournelle de Beau-Sejour Becot, which was renamed in 2012 to Petit Becot by Beau-Sejour.
The family also produces a generic, AOC Bordeaux wine for early, drinking pleasure, made from vines outside of the Saint Emilion appellation, "Instant Becot".
When to Drink Chateau Beau-Sejour Becot, Anticipated Maturity, Decanting Time
Chateau Beau-Sejour Becot is much better with at least 10-15 years of aging in good vintages. Young vintages can be decanted for 2-3 hours or more. This allows the wine to soften and open its perfume.
Older vintages might need very little decanting, just enough to remove the sediment. Chateau Beau-Sejour Becot offers its best drinking and should reach peak maturity between 10-30 years of age after the vintage.
Serving Chateau Beau-Sejour Becot with Wine, and Food Pairing Tips
Chateau Beau-Sejour Becot is best served at 15.5 degrees Celsius, 60 degrees Fahrenheit. The cool, almost cellar temperature gives the wine more freshness and lift.
Chateau Beau-Sejour Becot is best served with all types of classic meat dishes, veal, pork, beef, lamb, duck, game, roast chicken, roasted, braised, and grilled dishes. Chateau Beau-Sejour Becot is a perfect match with Asian dishes, hearty fish courses like tuna, mushrooms, and pasta as well as cheese.
Chateau Beau-Sejour Becot is a great style of Saint Emilion combing richness, soft textures, and minerality. 2005, 2009, 2010, 2015, and 2016 were clearly the finest vintages produced by Chateau Beau-Sejour Becot, until I tasted 2018, 2019, and 2020! Beau-Sejour Becot is on a roll these days.
Château Beau-Séjour Bécot Wine Tasting Notes
29 Vintages 271,247 Views Sort by Vintage-Rating
2022
Château Beau-Séjour Bécot (St. Émilion Grand Cru)

The bouquet of red and purple flowers stands out in the nose before you get to the sweet, red, black and blue fruits, licorice and spice. On the palate the wine is incredibly dense, sensuous, opulent and deep. Yet, with all the concentration, the wine is weightless, and effortless to drink. On the mid-palate, the waves of fruits keep coming as they coat your palate. The purity in the fruit, the energy, length, balance, and complexity is at a new level here. The seamless finish, with its ocean of berries, topped by a salty, crushed stones hits the 60 second mark. The best part of the experience is the velvet-drenched-texture that needs to be experienced. The wine blends 76% Merlot, 22% Cabernet Franc and 2% Cabernet Sauvignon, 14.5%, ABV, 3.55 pH. The harvest took place, September 5 - September 26. Yields were 33 hectoliters per hectare. Make no mistake, this is the best wine ever produced at Beau-Sejour Becot. Drink from 2027-2060. 98-100 Pts.

6,180 Views

Tasted

May 8, 2023

2021
Château Beau-Séjour Bécot (St. Émilion Grand Cru)

Flowers, cherries, licorice, leafy herbs, spice, tobacco leaf and dark chocolate create the perfume. On the palate the wine is lush, soft, fresh, clean and most importantly, the wine expresses a gorgeous sense of purity in the red fruits that you sense in the mid-palate, which carries all the way through to the elegant, fresh, vibrant, long, energetic, sensual finish. The wine blends 85% Merlot, 13% Cabernet Franc and 2% Cabernet Sauvignon, 13.5% ABV. The harvest took place September 21 - October 12. Drink from 2025-2050. 94-96

4,770 Views

Tasted

May 20, 2022

2020
Château Beau-Séjour Bécot (St. Émilion Grand Cru)

Beau-Sejour Becot is on a hot streak and 2020 shows why. Opening with a wealth of flowers before you get to all the red, black and blue fruits, thyme, spice-box, espresso beans, cocoa and licorice in the bouquet. The palate is even better with its multiple-layers of crushed stones, sensuous fruits, velvet-tannins and long, expansive, lifted finish, with its hint of salt in the endnote. As I penned after tasting a barrel sample, this is a new level of quality at Beau-Sejour Becot that embraces less volume, but more intensity, and purity in the fruit. With their new cellars about to come into use, you are looking at a new level of Beau-Sejour Becot! Drink from 2025-2055.

2,797 Views

Tasted

Mar 21, 2023

With striking floral notes on the nose, you also find licorice, Asian spice, spearmint, cigar wrapper and an array of red and black plums. The wine is lifted, elegant, refined and focused on its purity and silky tannins. The energetic palate leaves you with layers of velvet-textured, sensuous, spicy fruits that lingers and expands for over 50 seconds in the finish. This is a new level of quality at Beau-Sejour Becot and also a change in style with less volume, but more intensity, purity and precision. The wine blends 85% Merlot, 13% Cabernet Franc and 2% Cabernet Sauvignon, 14.3% ABV. 96-98 Pts

8,274 Views

Tasted

May 20, 2021

2019
Château Beau-Séjour Bécot (St. Émilion Grand Cru)

Deep, dark, rich, full-bodied, concentrated and vivacious, the wine is packed with dark, black and red pit fruits, crushed stones, chocolate, licorice, flowers and forest leaf. The wine is powerful, refined, deep and fresh, with a finish that resonates with all of its ripe fruits and a touch of salinity in the long finish. This is their third vintage with Thomas Duclos as the consultant and each year seems to get better and better here. They are certainly on a hot roll at Beau-Sejour Becot these days! Give the wine a few years in the bottle and enjoy it for at least 2 decades after that. Drink from 2026-2055.

5,905 Views

Tasted

Mar 29, 2022

2018
Château Beau-Séjour Bécot (St. Émilion Grand Cru)

Deeply colored, the wine is all about its sensuality. Texturally, the wine is silk and velvet with its layers of sweet, luscious plums, cherries, smoke and licorice. Full-bodied with a fabulous depth of flavor, seamless textures, vibrancy and purity of fruit, this is just great. The silky finish coats your mouth with flavor and the essence of pure fruit as it builds and expands. The wine is a blend of 80% Merlot, 15% Cabernet Franc and 5% Cabernet Sauvignon.. If I hadn't tasted the 2019, or heard about the 2020, I would have said this was the finest vintage ever produced at Beau-Sejour Becot.

7,426 Views

Tasted

Mar 9, 2021

Just when I was sure the 2016 Beau-Sejour Becot was the best wine ever produced at the property, along comes the 2018! Deep in color, the wine shows a strong floral and mint accent with dark chocolate, black plums and even darker cherries. This is the highest level of concentration experienced with their wine, but it is also remarkably energetic. There is lift, vibrancy, minerality and multiple platforms of fleshy, opulent, sensual ripe, dark pit fruits. The silky finish coats your mouth with flavor and the essence of pure fruit. This is perfectly balanced between power and sensuality. The wine is a blend of 80% Merlot, 15% Cabernet Franc and 5% Cabernet Sauvignon, aging in a combination of 65% new, French oak with 35% of the wine raised in amphora and used oak casks. The Merlot was harvested from September 12-25 and the Cabernet's was picked between October 4 and October 10. 96-98 Pts

10,483 Views

Tasted

Apr 19, 2019

2017
Château Beau-Séjour Bécot (St. Émilion Grand Cru)

Layers of lusciously textured, dark red fruits, licorice, smoke, black cherries, plums and spice create the perfume. Soft and silky in texture, with ample concentration, length freshness and complexity, this is a very good wine, especially for the vintage.

4,727 Views

Tasted

May 17, 2020

Soft, lush, round and polished, the wine has flesh, ripeness, concentration and length. With a strong sensation of underlying minerality, you are also treated to dark chocolate, juicy ripe fruits, sweetness and volume. There is length, depth and a great mouth feel. This is the first vintage with Thomas Duclos as the consultant. It looks like they are on a roll here!

2,667 Views

Tasted

Apr 26, 2018

2016
Château Beau-Séjour Bécot (St. Émilion Grand Cru)

Fleshy, sensuous, polished and packed with all the ripe black fruits, licorice, smoke, crushed rock and truffle you could ask for. Full-bodied, silky and rich, with a long, fruit-intensive finish, hold your bottles for a decade and this is going to be star!

3,582 Views

Tasted

Sep 21, 2019

This is the best wine from the Becot family yet! The wine is sexy, fleshy, opulent, polished and packed with all the fresh, ripe, silky, pure red fruits you need. The crushed rock, thyme and floral accents make this even better. Give this beauty 8-10 years in the cellar and you'll have a winner on your hands! This is one of those rare wines that still sell for a fair price, when you consider the extreme high-quality found here.

3,409 Views

Tasted

Feb 11, 2019

Fresh, bright, crisp and stony, the full bodied, richly textured, polished wine is silky, multi-dimensional and offers nuances of crushed rocks, stones and flowers.

3,735 Views

Tasted

May 21, 2018

Fresh, silky, ripe, soft and pure, there is a lovely stone, floral and dark berry quality with length and polished textures. The wine was made from 80% Merlot, 15% Cabernet Franc and 5% Cabernet Sauvignon, reaching 14.5% ABV with no touch of heat and freshness galore.

3,427 Views

Tasted

Apr 29, 2017

2015
Château Beau-Séjour Bécot (St. Émilion Grand Cru)

Clearly the best ever produced at Beau-Sejour Becot. You know it from the moment you place your nose in the wealth of flowers, licorice, smoke, black and red plums, dark cherry, espresso, and forest aromatics. Once the wine hits your palate, the wine really takes off with its sensuous textures, silky tannins and long, concentrated layer of perfectly ripe, sweet, fresh fruits. As the wine remains on your palate, the flavors expand and the sensation of crushed stone makes its presence known as well.

6,562 Views

Tasted

Mar 12, 2018

Spice, licorice, smoke, flowers and fresh plums create the nose. On the palate, the wine is a long, deep, silky, sexy and sensuous, French kiss. There is an alluring finesse in the tannins and a strong sense of purity in the fruit that is seldom seen. There is no sensation of heat in the wine, even though the ABV is the highest ever recorded at the estate. This wine was made from a blend of 80% Merlot, 16% Cabernet Franc and 4% Cabernet Sauvignon, reaching 15% ABV with a pH of 3.6 and aging in 70% new, French oak barrels. The harvest took place from October 2 to October 15. There might not be a second wine produced this year as the Becot family is very happy with the harvest and the small amount of wine designated for the second wine is probably too small to bottle separately.

5,273 Views

Tasted

Apr 29, 2016

2014
Château Beau-Séjour Bécot (St. Émilion Grand Cru)

Round, soft, silky tannins, ripe, fresh, sweet, cherries, smoke, licorice and espresso on the nose, a fresh, mineral driven, red berry finish, create a delicious, age worthy treat. The wine was produced from a blend of 87% Merlot, 9% Cabernet Sauvignon and 4% Cabernet Franc.

5,577 Views

Tasted

Feb 5, 2017

Earthy, truffle, black cherry and licorice scents are found on the nose. On the palate this wine serves up a luxurious, plumy, cocoa and mineral-filled finish. 91-93 Pts

2,581 Views

Tasted

Apr 27, 2015

2013
Château Beau-Séjour Bécot (St. Émilion Grand Cru)

Deep ruby in color with a nose of licorice, espresso, clay and black raspberry, the wine is medium bodied with an accessible, soft personality. The wine is fresh, spicy and finishes with sweet black cherries. From a blend 73% Merlot, 21% Cabernet Franc and 6% Cabernet Sauvignon, the wine reached 14% ABV, and yields were 27 hectoliters per hectare. 90-92 Pts

5,281 Views

Tasted

Apr 28, 2014

2012
Château Beau-Séjour Bécot (St. Émilion Grand Cru)

Polished, elegant, concentrated and silky smooth, with a good concentration of flavor, length and a supple, mineral and plum filled finish.

5,711 Views

Tasted

Mar 11, 2015

This is the first vintage using the new cellar with the inverted stainless steel vats for vinification. The wine is filled with the essence of minerals, licorice and juicy plums with fresh blackberries, vanilla and fennel in the finish. Using 75 % Merlot, 20% Cabernet Franc and 5% Cabernet Sauvignon, the wine reached 14% ABV. 90-93 Pts

6,086 Views

Tasted

Apr 26, 2013

2011
Château Beau-Séjour Bécot (St. Émilion Grand Cru)

70% Merlot, 25% Cabernet Franc and 5% Cabernet Sauvignon create the blend. The wine will be aged in 70% new oak. With deep color, truffle, floral, black raspberry, cherry blossom, licorice and vanilla, this round-textured wine ends with plush, polished and silky boysenberry, black cherry and stone. 40% of the wine is now being whole-berry fermented in 600% hectoliter barrels, which, according to Juliette Becot, adds richness and more opulent textures to the wine. 92-93 Pts

2,851 Views

Tasted

Apr 24, 2012

2010
Château Beau-Séjour Bécot (St. Émilion Grand Cru)

With deep color, the wine offers silky, polished textures, sweet dark berries, licorice, crushed stone and ripe tannins. On the palate, the rich wine ends with layers of plush, ripe, generous fruits, that will only get better with time.

5,613 Views

Tasted

May 7, 2013

Beau-Sejour Becot From an assemblage of 70% Merlot 25% Cabernet Franc with the remainder split evenly between Cabernet Sauvignon and Petit Verdot, this lovely wine opens with a perfume of crushed stone, licorice, jammy black plums and floral scents. Soft and opulently textured, this fresh, sweet, ripe St. Emilion wine ends with a mouthful of anise, minerality, red and black fruits. 92-94 Pts

4,983 Views

Tasted

Apr 22, 2011

2009
Château Beau-Séjour Bécot (St. Émilion Grand Cru)

Clearly from a sunny vintage, the fruit is ripe, lush and sweet, while retaining its freshness. Secondary nuances of flowers, stone, spice, smoke, licorice and herbs are there from start to finish. The wine is full-bodied, lush and close to fully ready to drink.

2,900 Views

Tasted

Sep 20, 2019

Close to fully mature, with a sensuous style coupled with juicy ripe plums, cocoa powder, tobacco, stone and truffle notes that ends with a plummy, spice filled, sweet finish.

6,203 Views

Tasted

Dec 18, 2013

70 % Merlot along with 15% Cabernet Franc and 15% Cabernet Sauvignon created a wine with intense floral, boysenberry, stone and licorice aromas that give way to a soft, low acid, sensuous, perfumed St. Emilion. This ends with plush, silky, fennel, chocolate and cherry.

7,107 Views

Tasted

Feb 10, 2012

2009 Beau-Sejour Becot is a deeply colored wine filled with the aromas of minerals, ripe blackberries, licorice, and chocolate. This full bodied, opulent, round textured, ripe wine has a long, chocolate covered black cherry finish with hints of licorice. 92-94 Pts

6,144 Views

Tasted

Jun 28, 2010

2008
Château Beau-Séjour Bécot (St. Émilion Grand Cru)

Developing quite nicely, the wine offers freshness, crushed rocks, stones, florality, plums, espresso and thyme. Silky in texture, with a juicy, crisp character to the fruit in the finish, this is already starting to drink quite nicely. The wine was made from blending 70% Merlot, 24% Cabernet Franc and 6% Cabernet Sauvignon.

2,267 Views

Tasted

Sep 17, 2018

Coffee bean, cassis, blackberry and vanilla scents make up the perfume. Soft and round in texture, there is a lightly dusty sensation to the tannins. The wine ends with mineral, chocolate and black cherries.

8,361 Views

Tasted

Feb 17, 2012

This wine opens with oak, stone, caramel, plum and black cherry aromas. It's full bodied, concentrated and elegant in texture with a finish that is filled with layers of sweet, fresh, black and red fruits. 92 Pts

5,919 Views

Tasted

Jan 25, 2011

2008 Beau-Sejour Becot starts with spice filled aromatics complicated with licorice, blackberry, oak, and earthy scents. Plush and full bodied, the wine ends with a mouthful of deep, fresh blackberry. 93 Pts

5,978 Views

Tasted

Jul 18, 2010

08 Château Beau-Sejour Becot shows a lot of black cherry, minerals, and plum on the nose. Full bodied, structured, and stuffed with ripe fruit, the wine offers a long, black fruit filled finish. 91-94 Pts

6,092 Views

Tasted

Aug 1, 2009

2007
Château Beau-Séjour Bécot (St. Émilion Grand Cru)

Ready to drink, the wine is medium bodied, and leaning to the brighter, red fruit range, but not quite, with its dark cherry and plummy fruits. Soft, elegant and fresh, with tobacco, earth and floral nuances, this is drinking at close to peak today.

5,180 Views

Tasted

Aug 26, 2017

2006
Château Beau-Séjour Bécot (St. Émilion Grand Cru)

Showing maturity in color, the tobacco, earth, truffle and plum aromatics are ready to shine. Medium bodied, silky, soft and mineral driven, this is just starting to drink in its sweet spot, where it should remain for years.

2,903 Views

Tasted

May 25, 2016

From an assemblage of 70% Merlot, 24% Cabernet Franc and 6% Cabernet Sauvignon, this deep colored St. Emilion offers an enticing nose of fennel, stone, espresso, black plums, flowers and spice. With round textures and a good depth of flavor, this vintage of Beau-Sejour Becot is developing better than expected. Give it another 5 more years of bottle age, to allow it to add more complexity and softer textures.

4,455 Views

Tasted

Oct 8, 2011

2005
Château Beau-Séjour Bécot (St. Émilion Grand Cru)

Ready to go at close to 17 years of age, the wine delivers its mineral driven, dark red fruits, herbs, licorice, plum and dried floral nuances easily. Medium/full-bodied, soft, earthy tinged cherries and plums are all over the place on your palate and in the finish.

4,630 Views

Tasted

Oct 8, 2021

From a blend 70% Merlot, 24% Cabernet Franc and 6% Cabernet Sauvignon, this is showing better than ever. Lush, sexy textures, crushed stone, sweet, fresh, vibrant black cherry, licorice and cocoa on the nose, a long, fresh, silky finish are what you find in this beauty.

6,049 Views

Tasted

Jun 27, 2015

Still young and needing coaxing to bring out the stone, blackberry liqueur, truffle and sweet oak notes, this full bodied, deep, refined wine ends with fresh blackberry, cherry and minerality essences. Another 5 years will add a lot of complexity and depth to this wine. When matrue, this should gain a Pt or two in the ratings. 2005 remains my favorite vintage of Beau-Sejour Becot.

10,202 Views

Tasted

Jul 12, 2011

Balance, ripeness, richness and a very sexy palate feel with good structure make this a wonderful wine. This will age longer than most vintages of Beau-Sejour Becot.

10,553 Views

Tasted

Jan 20, 2008

2004
Château Beau-Séjour Bécot (St. Émilion Grand Cru)

Medium bodied, soft, elegant and fresh, the plummy, cherry, licorice and earthy, mineral driven wine delivers a lot of pleasure today. The wine was made from a blend of 70% Merlot, 24% Cabernet Franc and 6% Cabernet Sauvignon.

3,875 Views

Tasted

Nov 30, 2014

2003
Château Beau-Séjour Bécot (St. Émilion Grand Cru)

Soft, supple, forward and ready to go, with its sweet, red and dark berries, smoke, licorice and forest floor personality. Lush and polished in texture, the wine has charm, complexity and character.

3,883 Views

Tasted

Jul 2, 2015

2002
Château Beau-Séjour Bécot (St. Émilion Grand Cru)

Not without charm, but the wine is better on the nose, with its earthy, herbal, tobacco and red plum notes, than on the palate, which leans to the austere side.

3,062 Views

Tasted

Dec 21, 2017

2001
Château Beau-Séjour Bécot (St. Émilion Grand Cru)

Soft, round and luscious in texture, this truffle, black cherry, stone and licorice infused wine is drinking great today.

5,954 Views

Tasted

Nov 27, 2012

2000
Château Beau-Séjour Bécot (St. Émilion Grand Cru)

At just past 10 years of bottle age, this is starting to open nicely, with a nose packed with earth, truffle, crushed stone, juicy plums and tobacco. Refined, elegant and soft, the finish leaves you with a rich sensation of pure, ripe blackberries.

4,547 Views

Tasted

Jan 29, 2013

With a nose filled with truffles, minerals, plums and smoke, this soft, round textured, elegant, St. Emilion wine is open and enjoyable to drink today. The wine ends with fresh, sweet, jammy blackberries, earth and dark cherry notes. The wine has improved since I last tasted it about 3 years ago.

5,442 Views

Tasted

Feb 4, 2012

Already showing a bit of lightness around the edges, this black fruit, earth, mineral and truffle perfumed wine improved a lot in the glass. Full bodied with soft textures, this is starting to display all its ample charms.

7,064 Views

Tasted

Jan 15, 2009

1999
Château Beau-Séjour Bécot (St. Émilion Grand Cru)

Medium-bodied, bright and on the sharp red fruit side, the nose, with its earth, licorice, smoke and kirsch nose is better than on the crisp, red plum palate.

2,072 Views

Tasted

Feb 9, 2019

1998
Château Beau-Séjour Bécot (St. Émilion Grand Cru)

Fully mature, the gorgeous nose with its focus on truffles, flowers, earthy cherries and tobacco get the wine going. At this stage, there is the patina of age which shows silky textures, and an elegant, earthy, dark cherry and licorice tinged finish.

4,596 Views

Tasted

Aug 23, 2017

1995
Château Beau-Séjour Bécot (St. Émilion Grand Cru)

Fully mature, this is one of the better wines from this often, stern vintage. The tannins are soft and polished. The fruit is fresh, ripe, clean and pure. The nose offers up a distinctive, thyme, espresso, truffle, mocha covered, black cherry and plum personality. The silky texture and ripe, red fruits taste as nice as it feels. You can drink this now, or age it for further development.

3,401 Views

Tasted

Nov 18, 2017

1990
Château Beau-Séjour Bécot (St. Émilion Grand Cru)

Fully mature, with the color and texture that comes with the patina of age. Spicy, earthy, tobacco and cherry notes, with a hint of flowers come out first. From there you find, elegant textures and a soft, polished, sweet cherry finish. There is no reason to hold this bottle any longer.

4,221 Views

Tasted

Jun 18, 2017

Fully mature, with a nose of truffle, earth, tobacco, blackberry, thyme and plum, the wine is soft, smooth and ready for prime time drinking.

3,094 Views

Tasted

May 13, 2015

1989
Château Beau-Séjour Bécot (St. Émilion Grand Cru)

Kicked off with a spicy nose filled with blackberry, truffle and cherry. This medium bodied wine is fully mature. The '89 lacks the same level of depth and ripeness found in current vintages.

5,005 Views

Tasted

Jun 18, 2009

1961
Château Beau-Séjour Bécot (St. Émilion Grand Cru)

Tasting much younger than it's 53 years of age suggests, this charmer was round, polished and complex, with a tobacco, truffle, smoke, earth and sweet, ripe, black cherry and plummy filled personality. What a treat and thrill to taste.

2,188 Views

Tasted

Oct 6, 2014